This Zucchini Ribbon Salad Gives Zucchini Noodles a Run for Their Money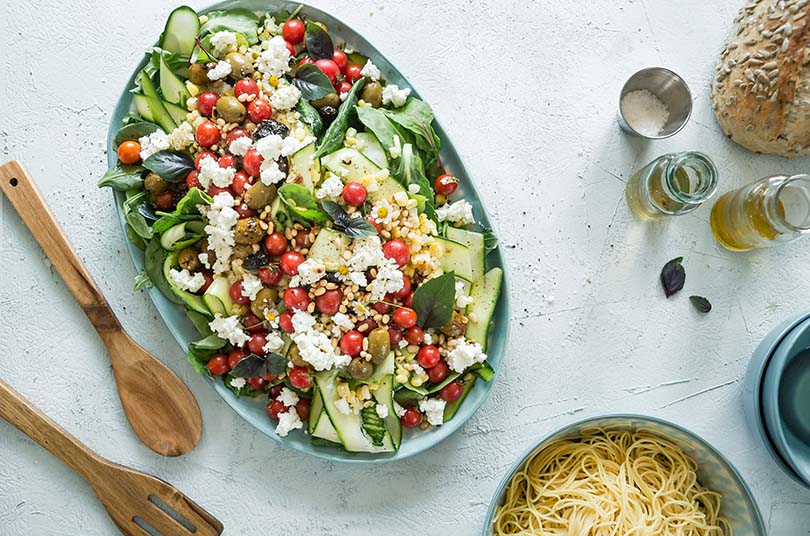 The summer bumper crop of zucchini is starting to take over the garden. It's growing like a weed, rivaling the size of the family puppy. Time to pull out the zucchini recipes–allll the zucchini recipes.
Thankfully, zucchini lends itself to more than a few tasty eats. From sweet to savory, we've got a few favorites that make the most of this late summer veggie. Plus a new take on zucchini that we're currently obsessing over–zucchini ribbon salad.
BUT FIRST, A JOKE
Okay. Too cute not to share…
What does a vegetable wear to the beach?
Zucchini. (Of course!)
Okay, that out of the way, let's eat…
SWEET ZUCCHINI RECIPES
Bring zucchini to the breakfast table with these tasty Healthy Zucchini Muffins — great for making on a Sunday and enjoying all week long. And if you haven't tried Gluten-Free Chocolate Avocado Zucchini Bread, prepare your butter knife. You're going to need it for slice after delicious slice.
SAVORY ZUCCHINI RECIPES
Whip out the hummus and serve Dehydrated Zucchini Chips as an appetizer or snack. Then serve up three creative dinners with recipes for One Pot Healthy Zoodles, Grilled Summer Vegetable Pizza, and these clever Zucchini Meatball Boats. All three make for quick and simple meals with minimal prep time. A great way to use up that zucchini in a variety of unexpected ways.
AND ONE MORE…
Zucchini noodles may be the trendy rage for health conscious eaters. But move over zoodles, we are currently crushing on zucchini ribbons.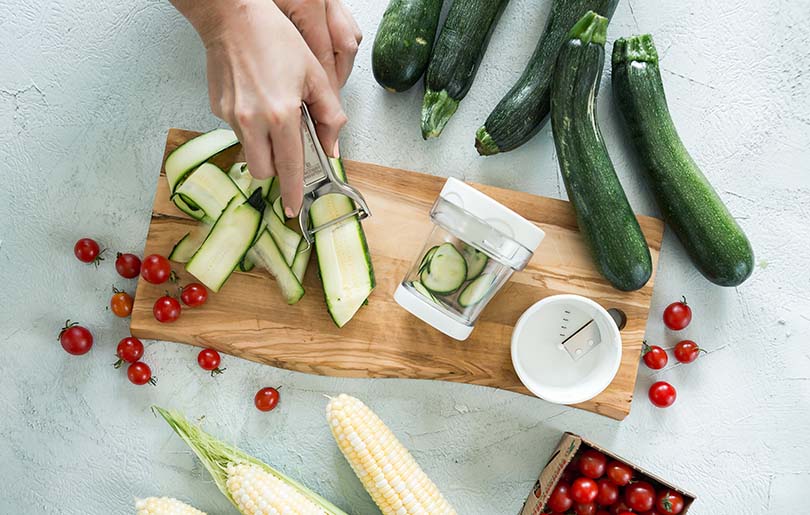 They're easy to make with a spiralizer designed to cut veggies into ribbons or you can use a simple hand peeler like the classic Kuhn Rikon Swiss Metal Peeler. The super sharp carbon steel blade cuts zucchini into razor thin ribbons. So while you won't get those long curliques with the peeler method, you will have a whole plate full of handmade zucchini ribbons in 45-seconds flat.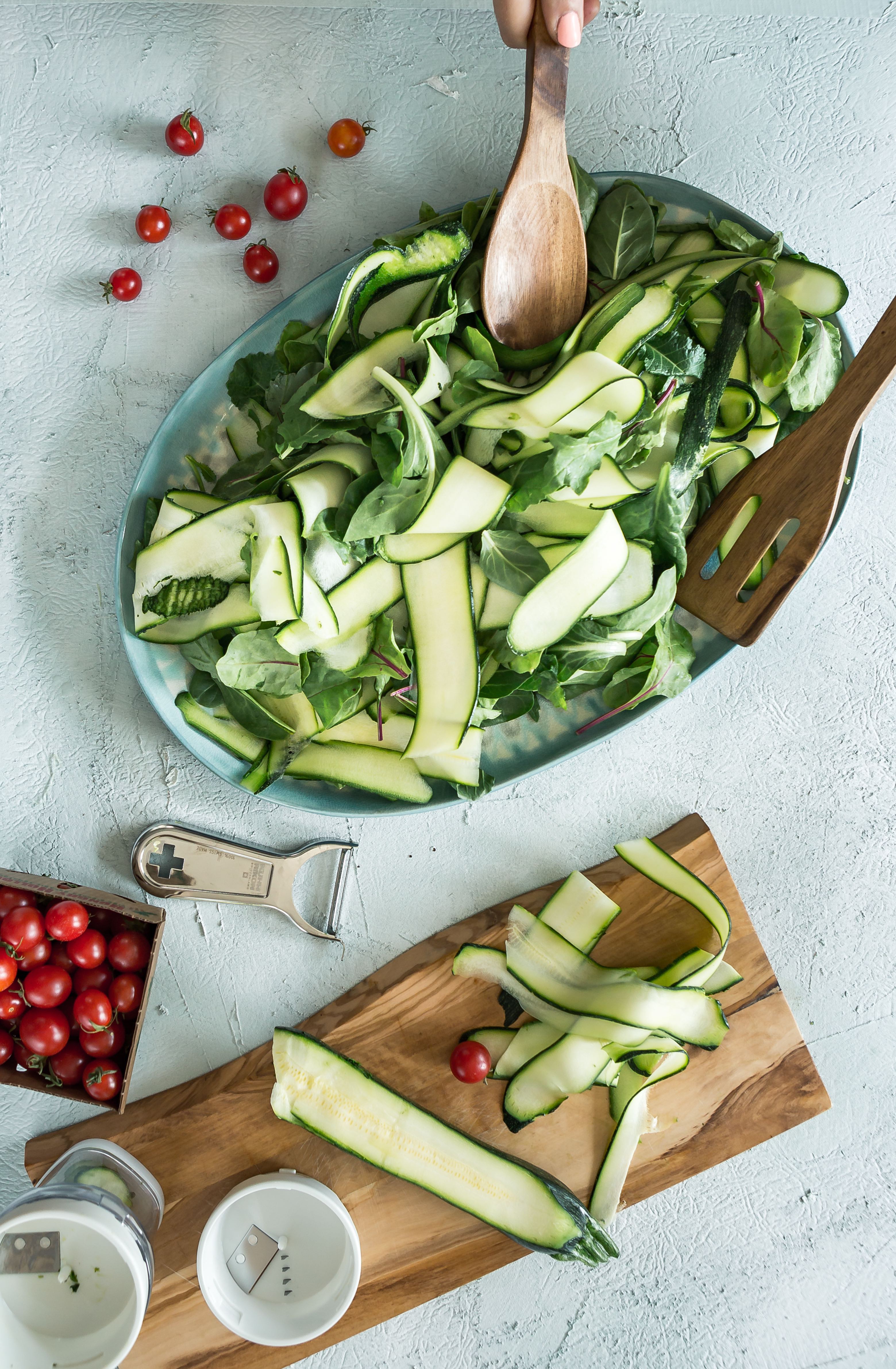 And while you can always toss your salad into a bowl, it looks particularly beautiful on great serveware, like these from Baum. With a lightly organic shape and beautiful crackle glaze, you can enhance your table with a relaxed, casual feel that's perfect for lazy, late summer nights.
Bright and fresh, this salad features ribbons of zucchini tossed with spinach and summer fresh veggies. Makes a quick and delicious side dish for barbecues.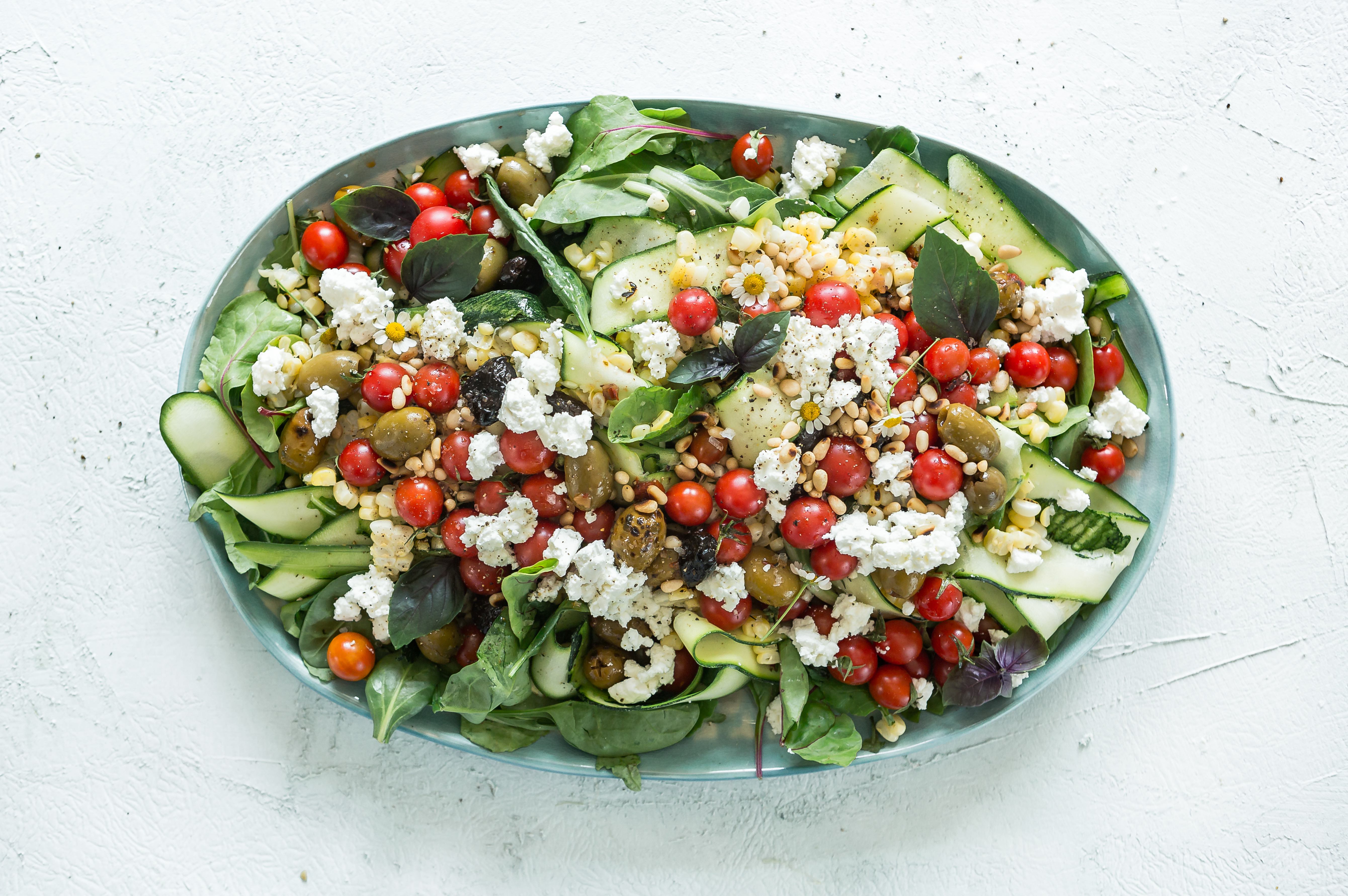 Zucchini Ribbon Salad Recipe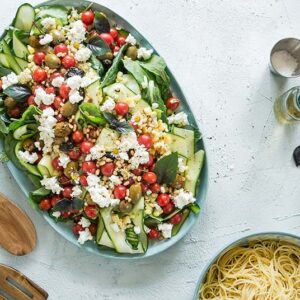 INGREDIENTS
For the Salad:
10 oz baby spinach mix
1 cup loosely packed fresh basil
2 zucchini, ribboned
1 pint cherry tomatoes
4 cobs grilled corn, kernels cut from cob
6 oz feta or sheep feta
1/3 cup toasted pine nuts
For the Dressing:

¼ cup white balsamic vinegar
¼ cup olive oil
1 tablespoon garlic puree
1 tablespoon honey
Salt and pepper, to taste
INSTRUCTIONS
Toss all salad ingredients together, arrange on a platter.
Whisk dressing ingredients together. Drizzle atop salad just before serving.