How to Cook with Intuitive Eating in Mind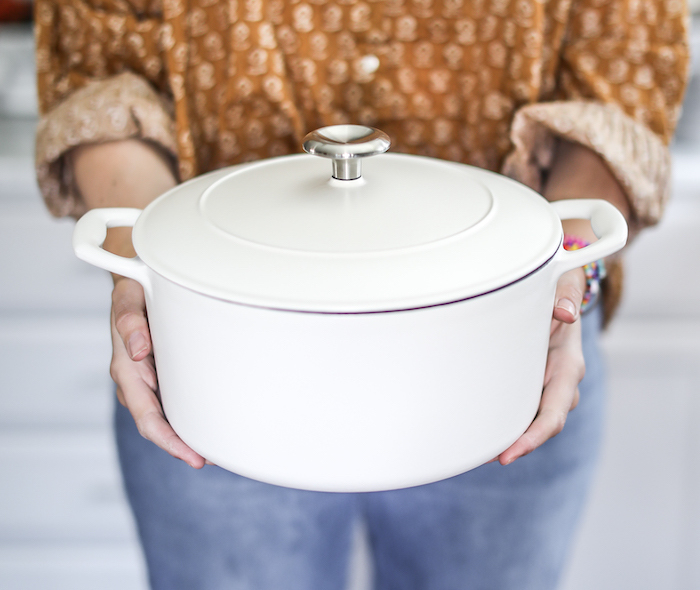 I love Intuitive Cooking because it so wonderfully welcomes Intuitive Eating into the kitchen. Intuitive cooking is simply a mindset that empowers you to cook in a way that honors satisfaction, mental wellbeing, and physical health.
You get to decide what to eat, when to eat, and how to get that food. Intuitive cooking honors your time, budget, lifestyle, and desire. It helps to make life a little easier in order to give you room to live it fully.
If you aren't familiar with Intuitive Eating, you can find a little background information in my article, Everything you Need to Know About Intuitive Eating.
While there is no equation or principles to follow with Intuitive Cooking, there are a few suggestions I have to get you started:
Acknowledge Comfort Foods
The biggest limitation I see to long-term success with Intuitive Eating and Cooking is when people try to ignore, change, or refuse to acknowledge their comfort foods. This plays heavily into dichotomous thinking about food, i.e. good v. bad food. Most of the time I see people struggle with going too far in either direction and they end up forgetting to honor balance, variety, or satisfaction.
On either end of this spectrum, comfort foods play a big role. My hope for you is that you feel empowered to cook meals that truly taste delicious, and make your feel great, mentally, and physically.
The point of acknowledging your comfort foods is to look at the thing that's keeping you away from balance, no matter which end of the spectrum you fall on, and finding ways to honor your tastes and preferences with both comfort and "healthy" foods. Honoring comfort foods plays a vital role in Intuitive Cooking.
Acknowledge Your Schedule
Recognize the realities and limitations of your day-to-day. The bottom line is: don't try to fit a square peg into a round hole. If you are trying to achieve "health" by creating drastic changes in your eating and cooking, but fail to acknowledge the realities of your life, nothing is going to stick. Plus, extreme changes won't serve you in the long run.
Intuitive cooking is about serving your needs realistically with the time and energy you have. It's about honoring nutrition through variety by making room for all types of cooking scenarios. It means making foods from scratch, buying convenience, and ordering takeout. It means playing and sometimes failing in the kitchen. It means baking and enjoying the pleasure of food.
The key is to recognize your schedule and brain space given your unique lifestyle. Then, realistically prepare with the tools to help you feel empowered to feed yourself and your family in a way that feels right.
Plan for Success
When it comes to Intuitive Cooking, you won't get very far if you don't have the tools you need. Your kitchen doesn't need to be stocked, but it's important to make the meals you desire as easy and accessible as possible. Cooking at home is so much more enjoyable when you set yourself up for success and take it from this chef, it starts with having the right tools.
A few items that are must-haves in any kitchen:
A sharp chef's knife.
This should be your most used tool in the kitchen, and you deserve to have a quality knife. Take good care of it, sharpen it regularly, and make the job of chopping to much more pleasant (and safe!).
Quality cutting boards.
I always recommend Dexas cutting boards because they are well made and easy to clean. I like to have a few boards of different purposes. It's not fun to cut melon on a board that you've recently chopped a bunch of garlic on — yuck! I try to keep a meat board for meat, a produce board for fruits and veggies, and a separate board for strong scented or colored produce (like garlic and beets!).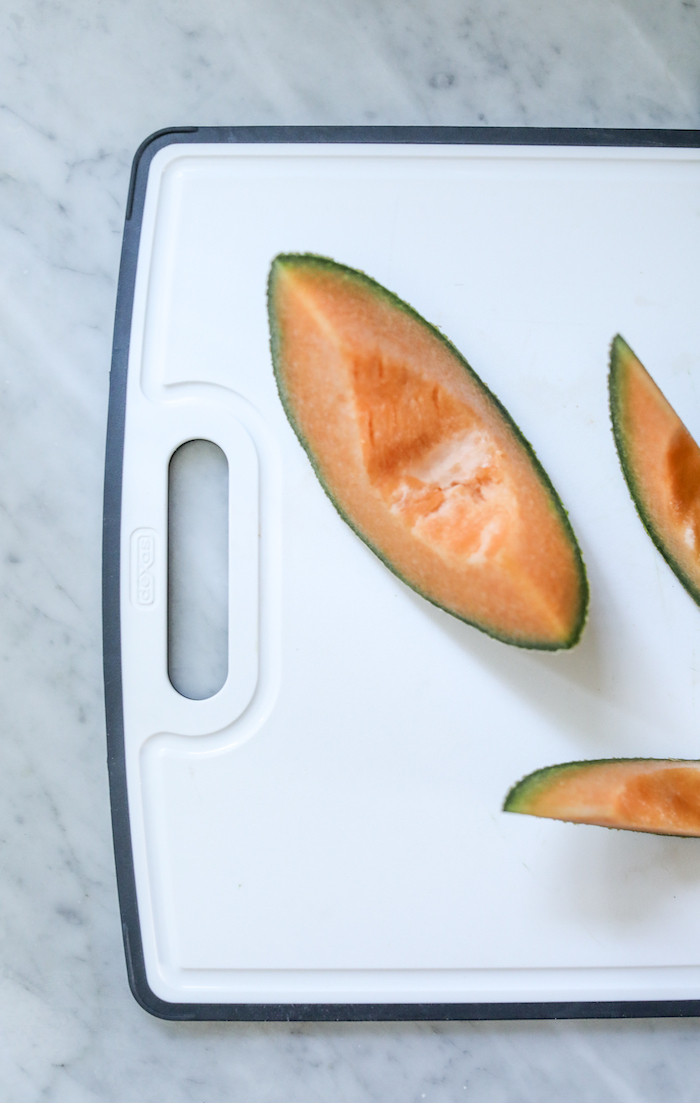 PolyDuo Granite Cutting Board

By Dexas

Shop Now
A big water bottle.
Okay, this might not actually be a piece of kitchen equipment, but it helps me plan for success when I have a nice drinking bottle. I find time and time again that I neglect water if I don't have a bottle to carry around with me. I always make it a point to drink water in my Klean Kanteen when I'm cooking because the kitchen is an easy place to refill and remind myself to drink up!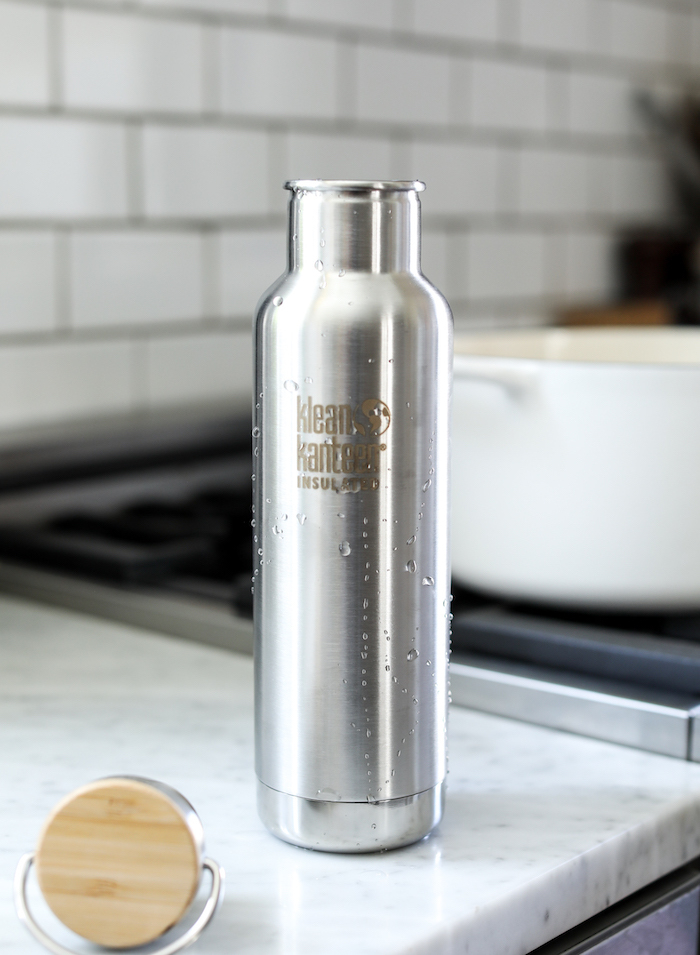 Insulated Water Bottle

By Klean Kanteen

Shop Now
Mixing bowls.
Go ahead and get a set of nesting mixing bowls. I find that most people have far too few mixing bowls in their kitchen. They can be used for literally anything, and I find that it's much easier to breeze through cooking when I have plenty of appropriate sizes to pull from. Nothing kills the flow of cooking like having to stop and wash a high-traffic item. Having enough of these is surprisingly underrated, especially when they nest and store away so easily.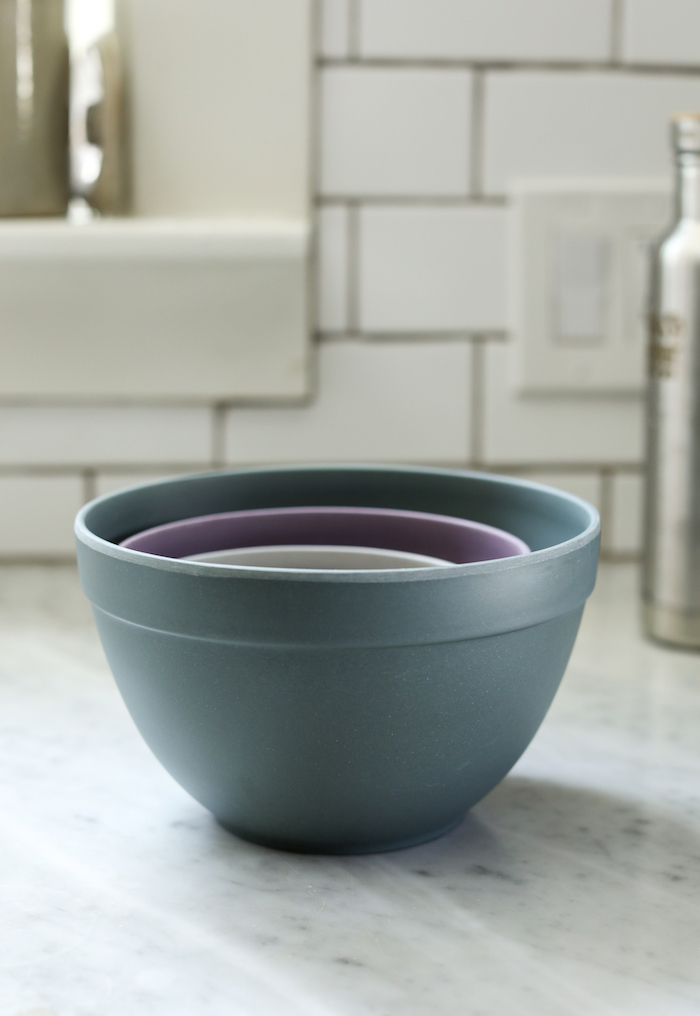 Thistle Nesting Bowls

By Bamboozle Home

Shop Now
A high-speed blender.
I've recently changed my mind about this. I used to make the case that a blender was lower on the list of must-haves and above it was the food processor. And while it's nice to have all the equipment to do all the things, it's not totally necessary. Especially not with Intuitive Cooking.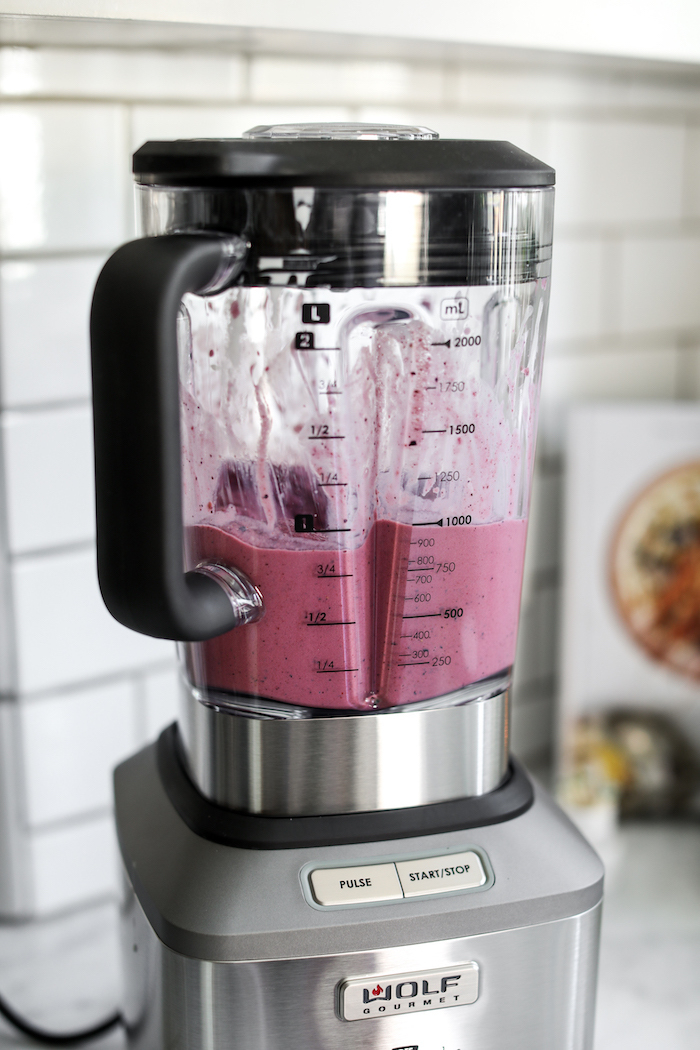 Gourmet High-Performance Blender

By Wolf

Shop Now
I think the tool that will get the most traction is a high-speed blender. You can make simple smoothies, blend hummus, or cream soups. You can chop ice or pulse grains. It can do everything a food processor can, but more. I love the aesthetics of this Wolf blender, and it has a nice wide base to make blending easy.
Spatulas.
Okay another random one, but again, I'm always shocked at the number of people who don't have this tool. Or if they do, it's broken, too small or too big. I like to have a classic spatula on hand like this one from Swissmar because it's a perfect size and is really high quality. It can be placed in the dishwasher and is multi-functional. A spatula will make your life so much easier so you can cook without a second thought.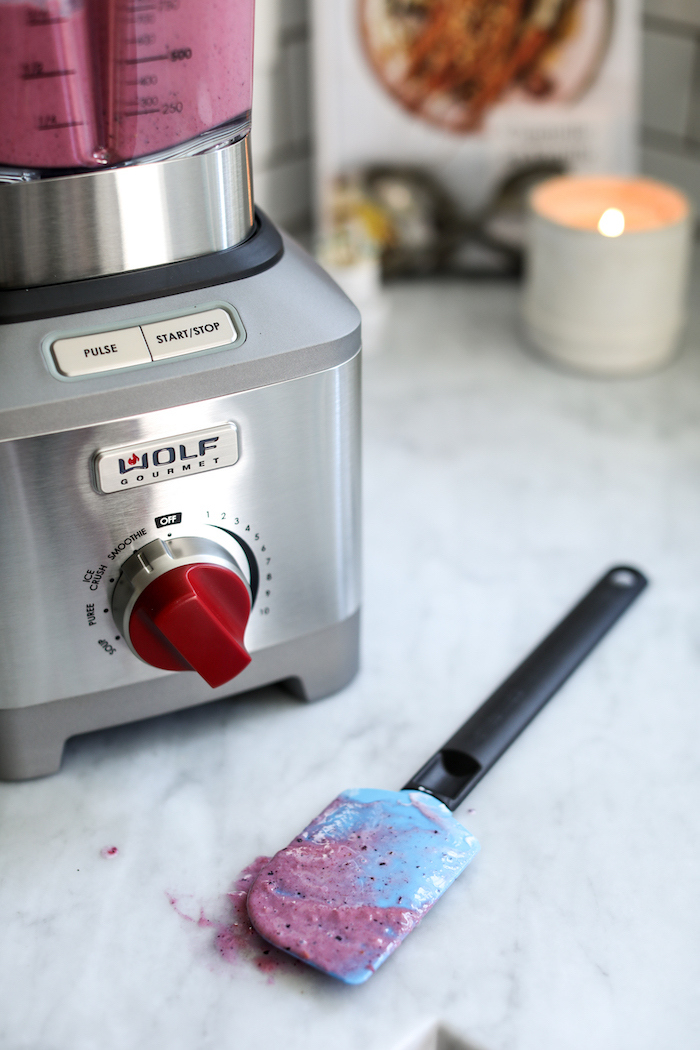 Wooden spoons.
I find wooden spoons to be so romantic. They remind me of a grandmother cooking her Sunday sauce, wearing an apron, and humming over a bubbling pot. And while that vision is sweet, the point is that they are a timeless, all-purpose kitchen tool. They are softer than metal, thus gentler on the food and your cookware. There are a million options out there, but I think nothing beats a classic size and shape.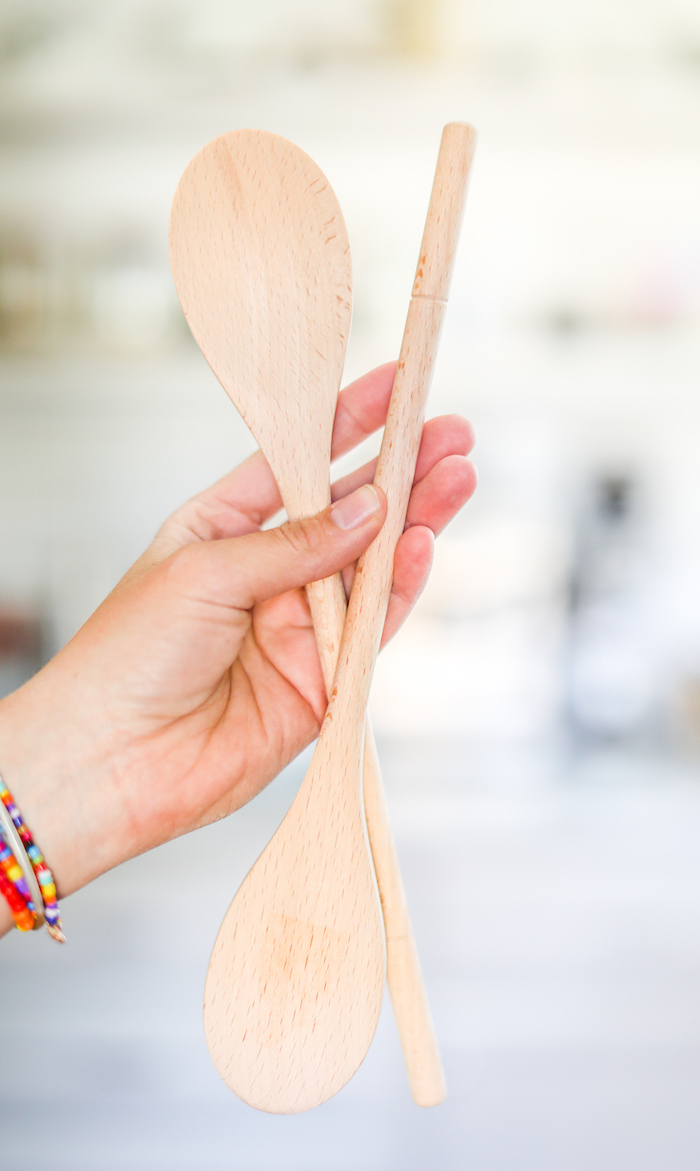 Dutch oven.
An enameled cast iron pot is a wonderful cooking vessel. It is so multi-purpose and can last a lifetime. Make soups and stews, fry, bake bread, use it on the grill, cook rice, beans, grains. The power of this Tramontina pot is in the fact that the heavy bottom of cast iron creates an even cooking environment, while the enamel has a gentle touch for a nice non-stick surface. Luckily there are so many options that you can pick what best fits your budget and style, but I like to have one anywhere between 5 and 7 quarts.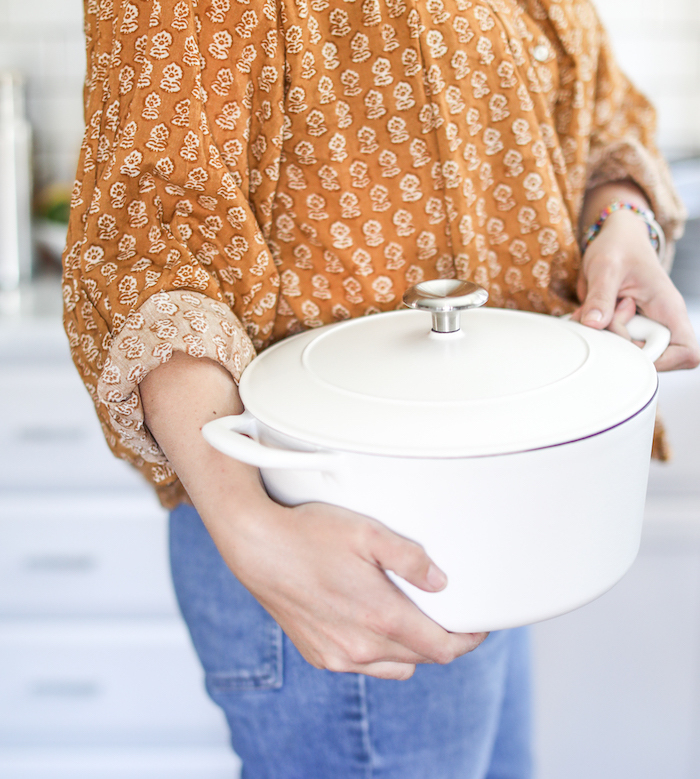 Enameled Cast Iron Dutch Oven

By Tramontina

Shop Now
Measuring cups and spoons.
Don't forget to check your drawers. Do you have a full set of all measuring cups and spoons? If you are missing one or two and try to follow a recipe, you may be setting yourself up for disaster. Measurements are very precise and it's best to always have what you need to measure accurately. The more you can empower yourself in the kitchen the better. Mistakes are always welcome (even if they are annoying!), but I don't want you discouraging yourself altogether.
Storage containers.
I can't emphasize enough how important it is to have storage containers to fit your needs. It's kind of like the goldilocks of kitchen equipment because it can take some trial and error to find the kind the works best for your lifestyle.
Maybe you need plastic so it travels to and from work without adding too much weight. Or maybe the glass is better so you can reheat it in any way necessary. Maybe you need more jars than classic storage containers because you freeze a lot of soups or grains. Maybe you need a diversity of sizes to store bulk and pantry items.
I am loving this Botto Design storage container because it adjusts size, squeezes out any extra air, just fit your needs at any given moment. That has intuitive cooking and eating written all over it.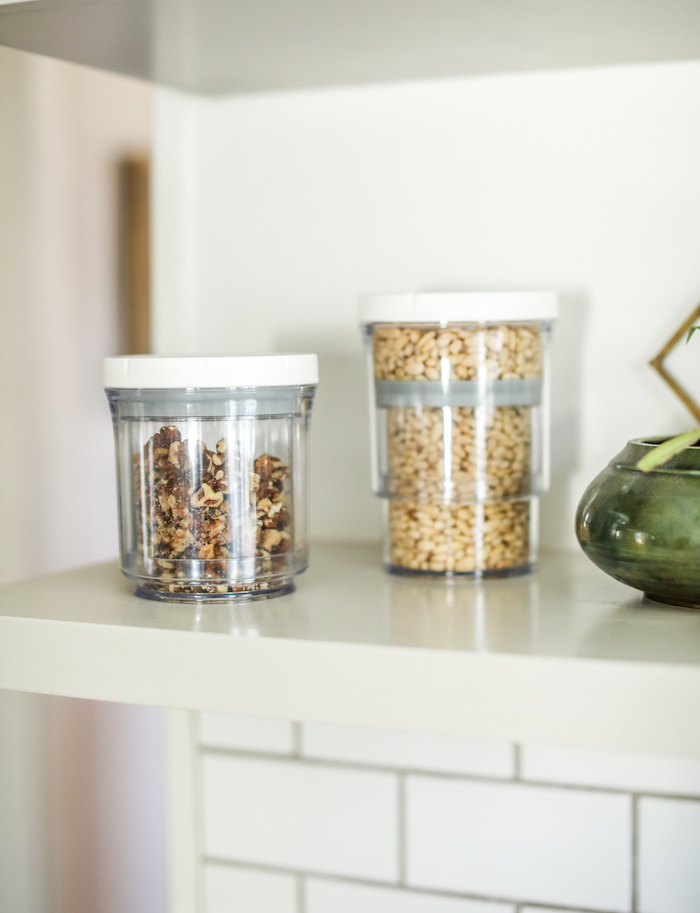 The beauty of Intuitive Eating and Intuitive Cooking is that the sole point is to help you put yourself back in the driver's seat of your life. It's about acknowledging your unique life and body and finding ways to serve yourself first, without too much noise. It's meant to be imperfect, and it's meant for you to make it into your own. Happy eating, friends!
Looking for more healthy eating tips?