Orecchiette with Vegan Sausage and Broccolini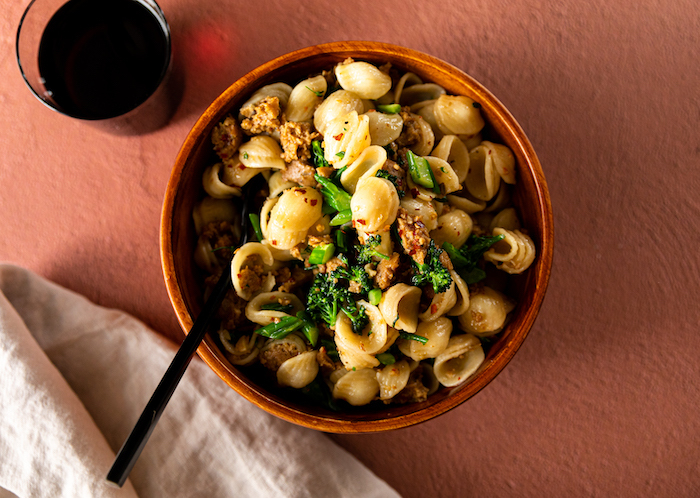 This recipe was born out of a desire to create a deeply satisfying vegan meal for myself and my husband. I wanted something that appeared beautiful and laborious but was really actually light and simple. What really makes this dish is the wonderful flavor of the vegan sausage, amplified with fresh garlic, red pepper flakes, and a deep, buttery extra virgin olive oil.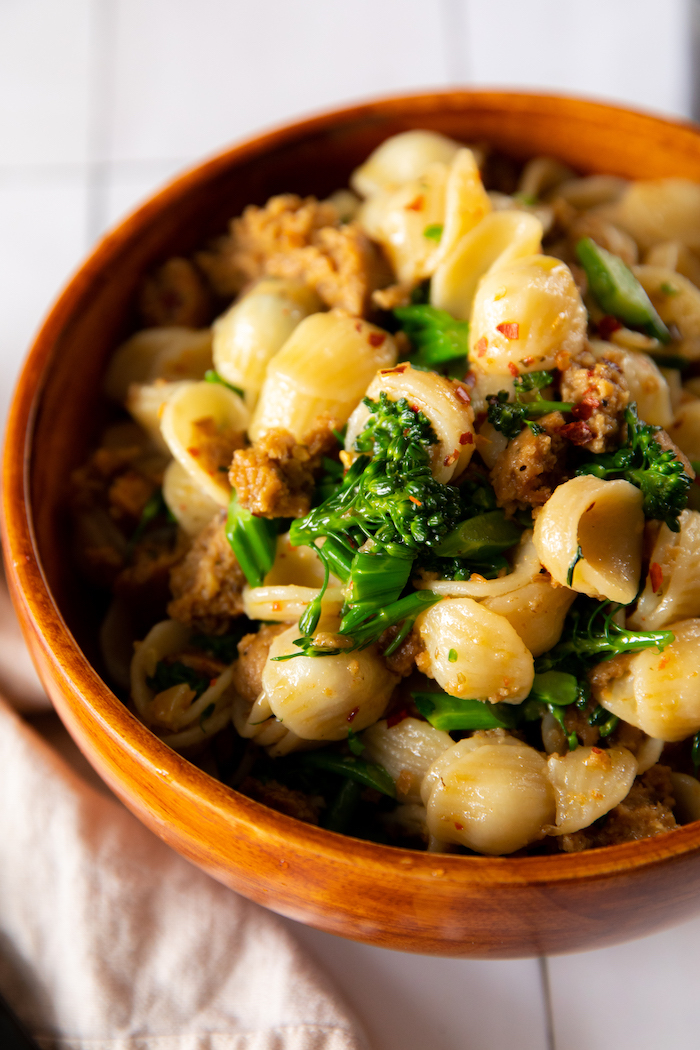 Field Roast Sausages has been a brand on my radar going on 10 years. When I was vegan during my college years, I loved that they began to expand their products and offer different flavor sausages.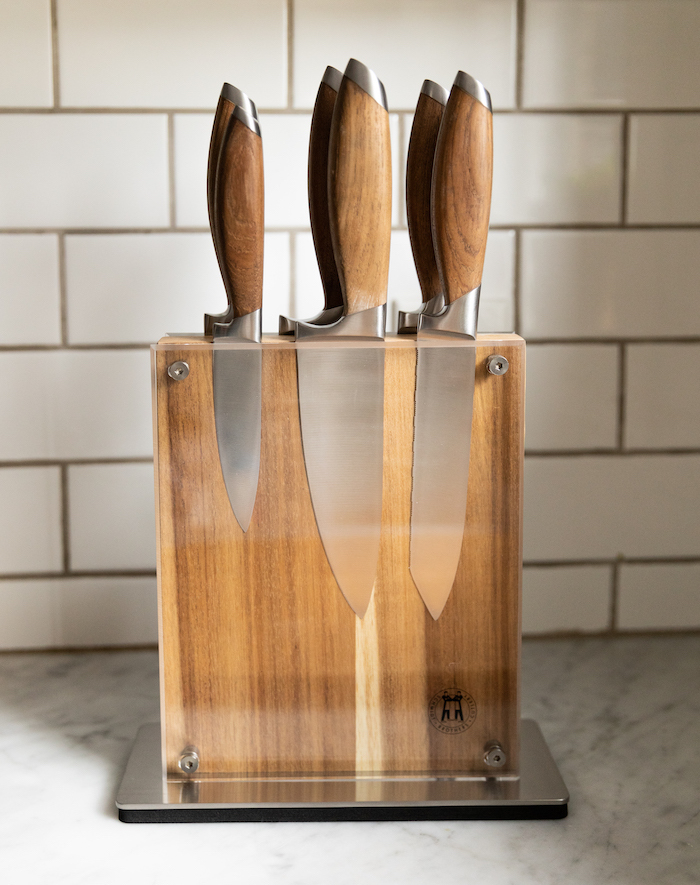 Bonded Teak 7-Piece Knife Set

By Schmidt Brothers

Shop Now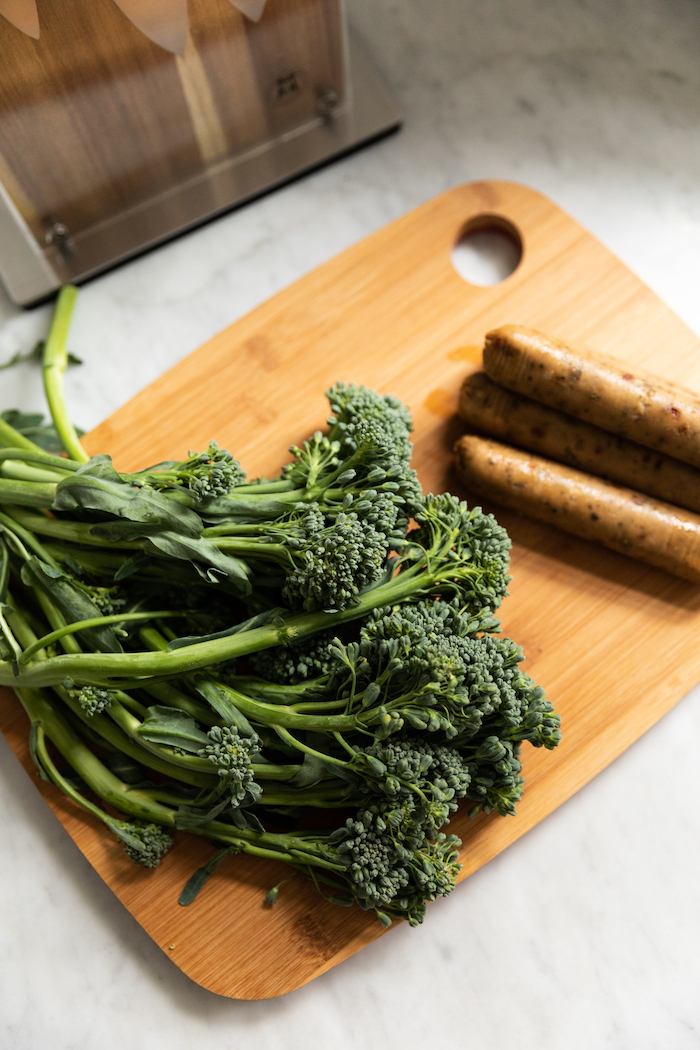 2-in-1 Cutting Board

By Westinghouse

Shop Now
It really gave me something to play around within the kitchen, without much extra thought. Their spicy sausage is great, and I think that any of their options would be lovely in this dish, but I've decided to call for their classic Italian for this recipe for one simple reason: fennel seed.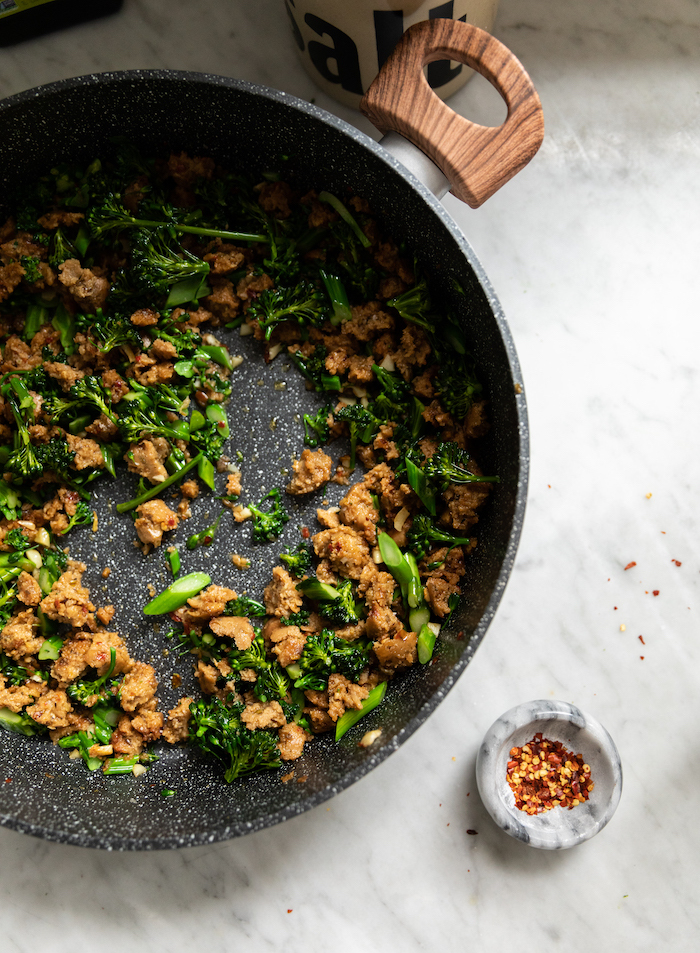 Grey Marble Finish Low Casserole

By Westinghouse

Shop Now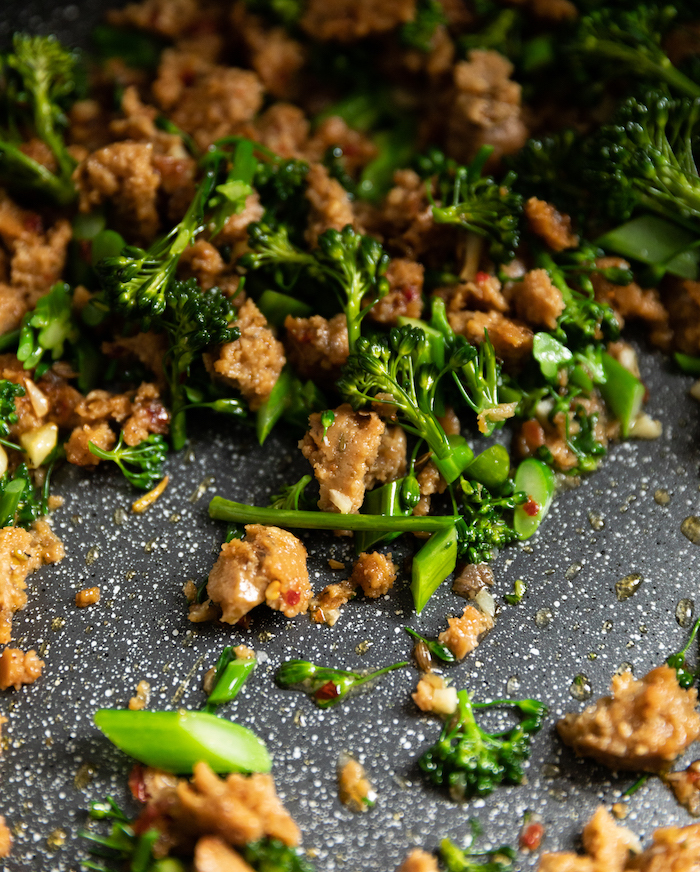 In the instructions, I call for crumbled sausage, and with that releases a little bit of fennel seed embedded within the sausage. This adds a touch of bright earthy flavor that rounds this simple dish out nicely.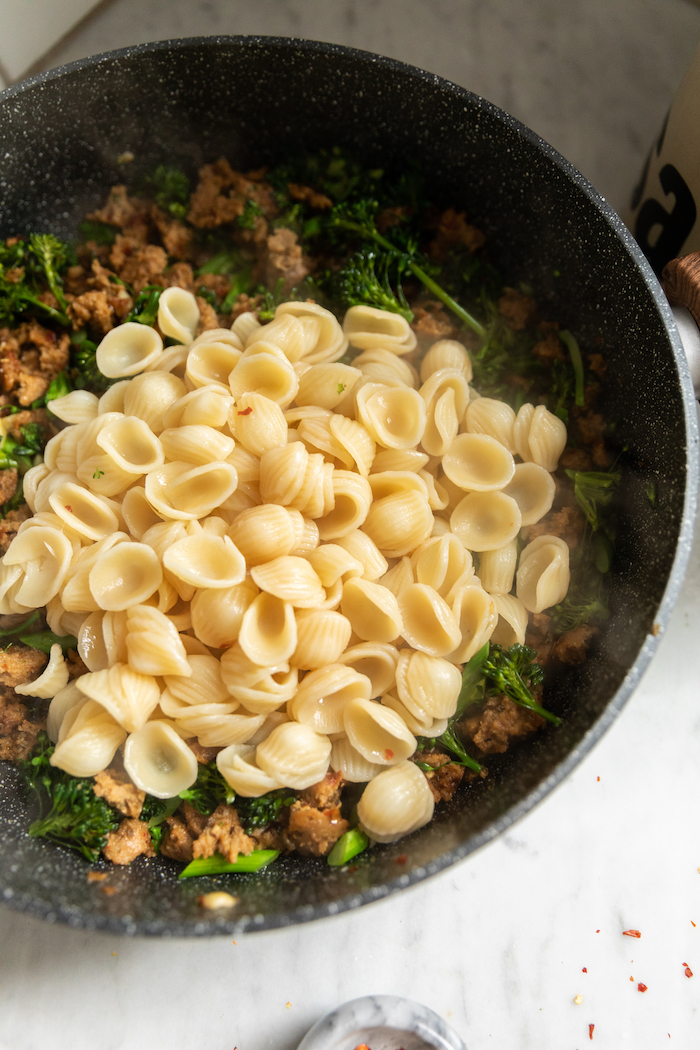 Another key part of this recipe is rich tasty olive oil, and layering in the salt at different stages. Don't over-salt in the beginning, because once the pasta water gets added, more salt comes with it. For the most part, this recipe is pretty intuitive and allows a lot of room for adaptation and adjusting for your flavor preferences.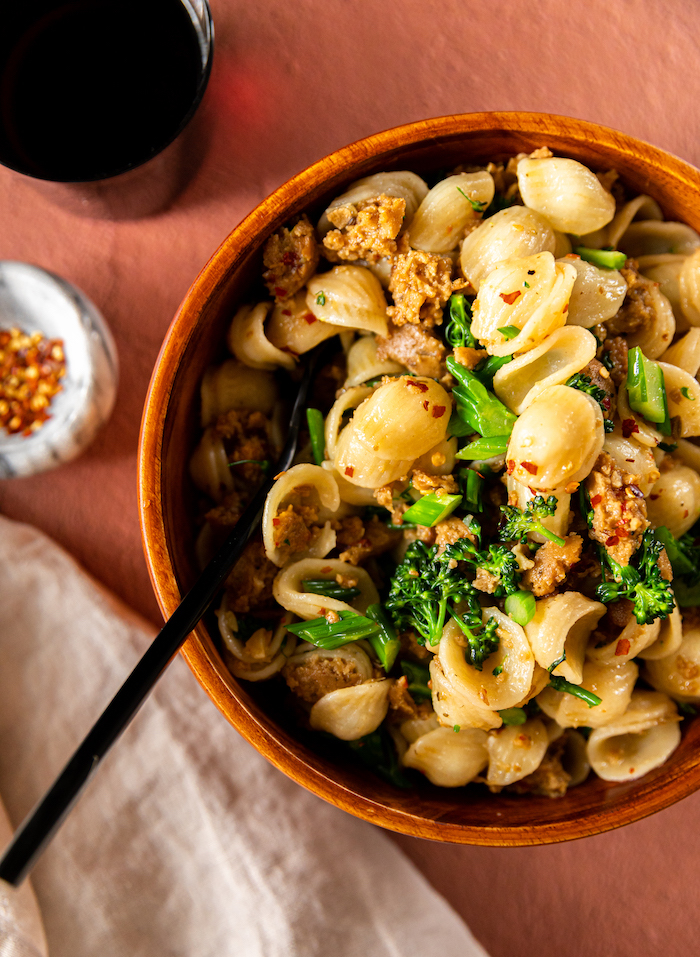 Orecchiette with Vegan Sausage and Broccolini
This satisfying vegan dish is light and simple. What makes it really wonderful is the flavor of the vegan sausage amplified with fresh garlic, red pepper flakes, and a deep, buttery extra virgin olive oil.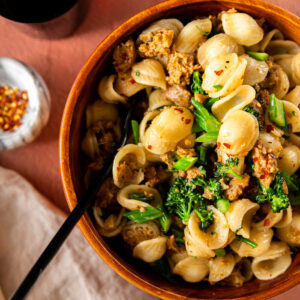 Ingredients
0.75

lb

dried Orecchiette pasta

3

large garlic cloves, chopped

1

4-piece package of Field Roast Italian Vegan Sausages, plastic removed

1

bunch broccolini, trimmed and cut into bite-size pieces

1

tsp

salt, divided

0.25

cups

extra virgin olive oil, divided

0.5

tsp

red pepper flakes, divided
Instructions
In a medium pot, bring water to a boil. Cook Orecchiette following the package instructions, using ½ teaspoon of salt to flavor the boiling water. Save a small bowl of pasta water for later use.

Meanwhile, use your hands to crumble the vegan sausages. Set aside.

Bring a large braising pan or deep dished pan to medium-high heat and lightly coat the bottom of the pan with olive oil. Cook the garlic until fragrant and just a touch brown, about 3 minutes max.

Add a heavy pinch of red pepper flakes, stir, then add in the crumbled sausage. Continue to cook for about 4 minutes, until slightly brown and you begin to smell the sausage's fennel. Sprinkle in a pinch of salt, and add a bit more oil to encourage the browning of the vegan sausage, as needed.

Add in the chopped broccolini, and stir to combine and cook for about 2-3 minutes. Add a small scoop of starchy pasta water to help steam cook the broccolini. Cook, stirring the mixture frequently, until the greens darken to a deep rich color, about 3-5 minutes.

Add the cooked and drained pasta to the mixture and drizzle remaining oil. Mix to combine, and taste. Add any additional salt and red pepper flakes necessary.
Nutrition
Serving:
227
g
Calories:
475
kcal
Carbohydrates:
55.5
g
Protein:
21
g
Fat:
20.6
g
Saturated Fat:
3.1
g
Unsaturated Fat:
15.8
g
Sodium:
543.7
mg
Fiber:
6.1
g
Sugar:
3.3
g
Looking for more vegan recipes?