Traditional Irish Bread and Butter Pudding Recipe with Cinnamon & Custard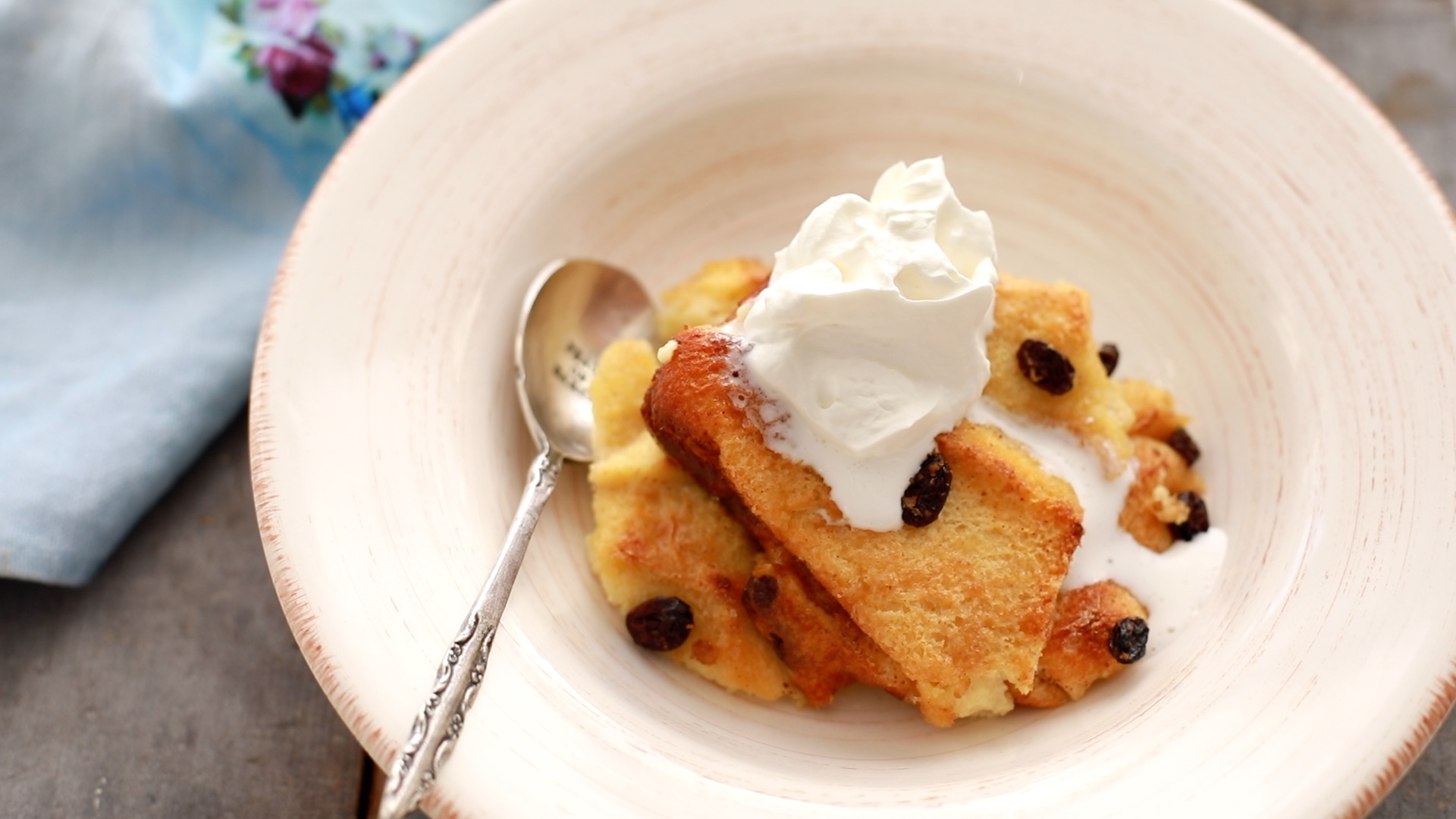 An Old-Fashioned Dish for Every Age
My traditional Irish bread and butter pudding recipe was a staple in my home (and many Irish homes for donkey's years) growing up. In fact the exact recipe you'll see below is the very recipe that my mum would make for us growing up. and has been a staple in many Irish homes for donkey's years.
Growing up in Ireland, I'm used to eating hearty, comforting desserts like puddings. The UK comes with a lot of cold weather and dark grayish days, so dishes like bread and butter pudding always made for a great way to warm you up and keep you cozy. I might be biased, or perhaps just a wee bit nostalgic, but I personally believe that my mammies' bread and butter pudding recipe is the best bread pudding recipe I've ever had. I just love how the warm cinnamon and egg mixture combines with the buttery bread when it bakes.
History of Bread Pudding
Born from humble beginnings, bread pudding made its first appearance sometime in the 11th century. Originating in the UK, specifically in England, bread pudding became the cure for preventing any wasted food like stale bread. However, instead of milk, homemakers would use water in addition to whatever sweet spices they could afford to get their hands on.
Different Ways to Make Bread Pudding
Like a lot of traditional dishes, this recipe came about as a way to use up leftover, day-old bread, and because there are bread lovers and eaters all over the world, different iterations of bread pudding have appeared in countries like:
The United States (especially Louisiana) 🇺🇸
Ireland 🇮🇪
England 🏴󠁧󠁢󠁥󠁮󠁧󠁿
Belgium 🇧🇪
China 🇨🇳
Argentina 🇦🇷
Brazil 🇧🇷
Malaysia, and more! 🇲🇾
These regional variations lean on different approaches to making the tale-as-old as time dish based on the ingredients sitting around in their pantry or the dishes leftover in their kitchen. See them below:
Bread pudding using Hawaiian rolls – Portuguese-style sweetened breads and biscuits always make the heart grow fonder.
Bread pudding using a rice cooker – for an easy, time-saving method to making bread pudding.
Bread pudding using condensed milk – ideal for using up a long-shelf life ingredient staple.
Bread pudding using panettone – recycle your classic Italian Christmas dessert with this sweet dough.
Bread pudding using pillsbury cinnamon rolls – turn an American sweet breakfast staple into a spiced vanilla pull-apart pudding.
Bread pudding using pound cake – bring new life to a leftover dessert originating from northern Europe.
Scroll to the bottom of the page for an all-around classic bread pudding recipe that's perfect for virtually any occasion.
Common Bread Types for Bread & Butter Pudding
No matter what type of leftover bread you've got in your kitchen, you can find ways to salvage it and turn it into a sweet masterpiece. You can use anything from:
Plain white bread – breakfast toast bread (sliced or unsliced works wonders), English muffins and naan bread
Raisin bread – Irish soda bread and cinnamon (raisin) rolls
Butter heavy breads – sweet brioche buns, braided challah bread, homemade butter rolls, and stale croissants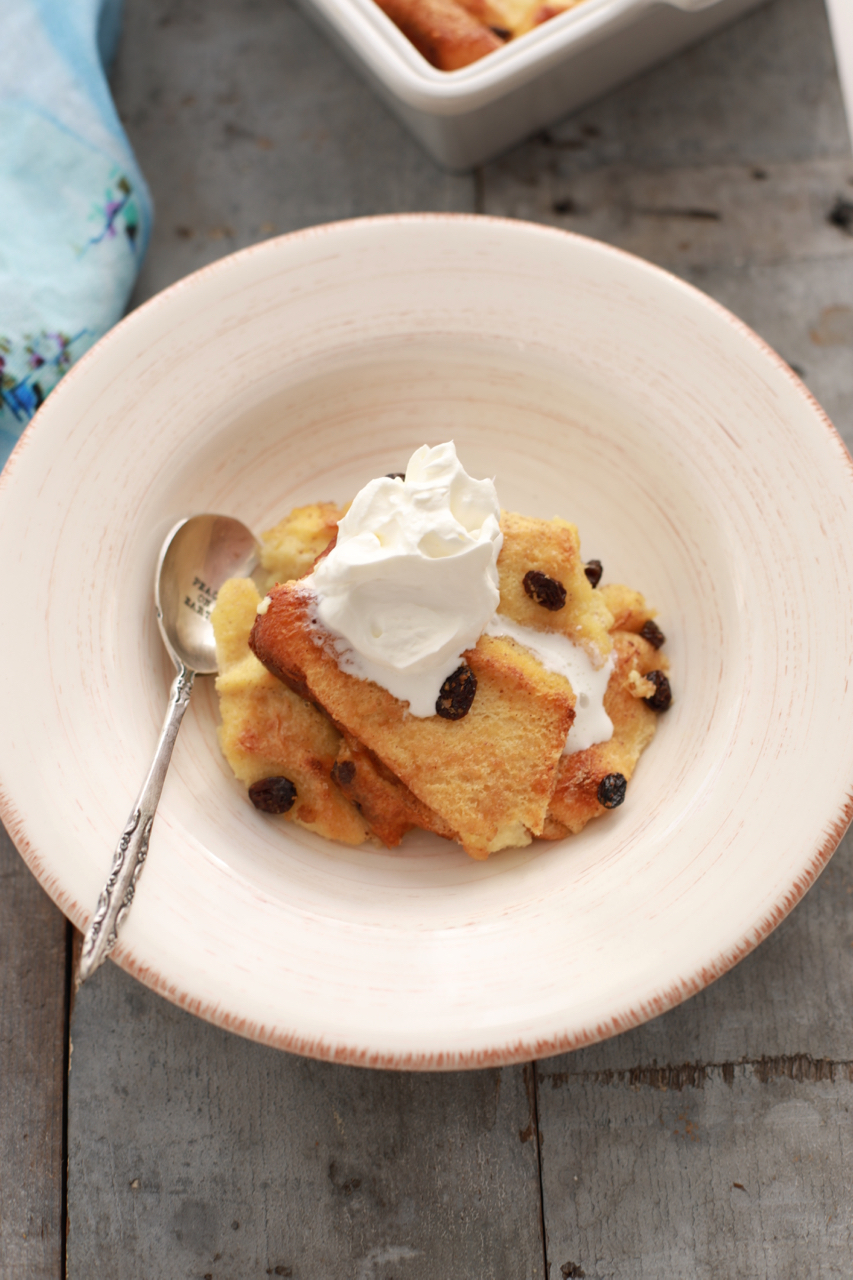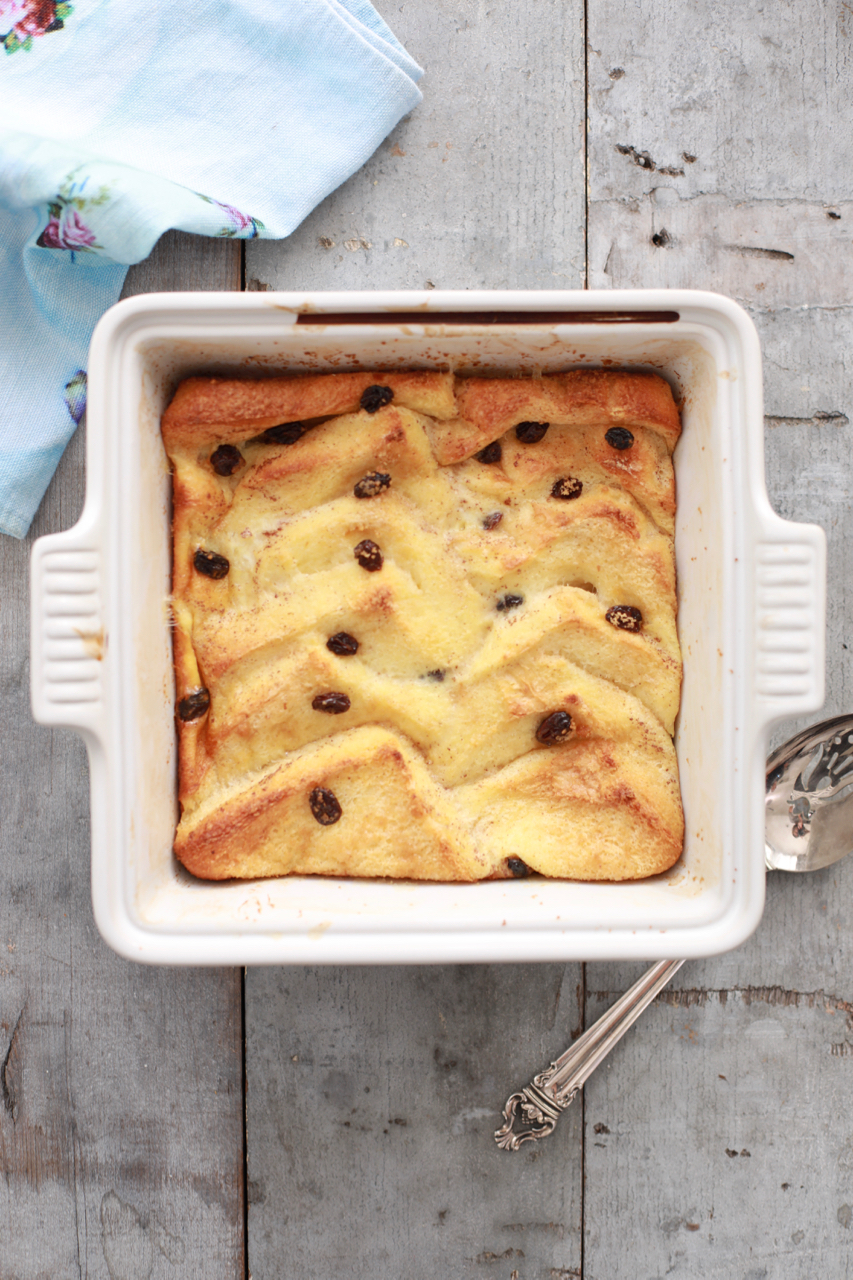 How to Make Bread & Butter Pudding
Bread pudding is one of the easiest recipes to make to satisfy a sweet tooth on a budget. Read the tips below for ways to make the process go by as smoothly as the butter.
What to Prepare Before Making Bread & Butter Pudding
You can prepare this recipe one day in advance and store it in the fridge until you're ready to bake it. When you're ready to start combining the "pudding" mixture with the bread follow these simple steps:
Step 1: Gather the ingredients and set everything out on your kitchen counter.
Step 2: Grease whatever cookware you plan to use. Hint: Your taste buds will thank you if you choose to paint melted butter onto the pans.
Step 3: In order to keep your bread from collapsing, make sure it rises less by whisking, not beating the "pudding" mixture that you'll end up pouring all over the bread.
Don't forget to top your Irish Bread & Butter Pudding with freshly whipped cream or even ice cream if you like. I hope you enjoy my Bread & Butter Pudding for St. Patrick's Day or anytime of year. Hopefully it will warm your heart and home like it did mine.
Kitchen Tools Needed to Make Bread & Butter Pudding
There are a few things you'll want to have readily available in your kitchen when making this delectable dessert:
How to Reheat Bread & Butter Pudding
In the microwave
Place a serving size or individual slice portions in a microwave-safe container. Then add a little bit of milk, cream or leftover "pudding" mixture so that it doesn't dry out upon heating.
In the oven
Preheat the oven to 350(ish) degrees. Then add a little bit of milk, cream or leftover "pudding" mixture, to moisten it up. Then cover up your dish with aluminum foil so that it locks in the heat, add it to the oven, and let it reheat for 10 to 15 minutes. It's as simple as 1,2,3!
How to Store Bread & Butter Pudding
Store bread pudding in the fridge for no longer than 4 days. After that, feel free to store bread pudding in your freezer for up to three months. For maximum freshness, let your serving size thaw in the fridge overnight before reheating it.
Traditional Irish Bread and Butter Pudding Recipe
This traditional Irish Bread and Butter Pudding recipe is a hearty dessert, perfect for St. Patrick's Day or any time of year!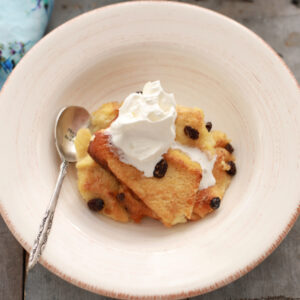 Ingredients
12

floz

Milk

.25

tsp

Ground cinnamon

4

tbsp

Sugar

6

Thin slices white bread

.25

cups

Butter, softened

3

Large eggs

.25

cups

Raisins
Instructions
1. Whisk together the eggs, sugar, cinnamon and milk in a large bowl. Set aside.

2. Meanwhile, spread the slices of bread with almost all of the butter, and grease the dish with the rest. Cut off the crusts and cut each slice of bread into triangles. Lay the triangles, butter side up in the dish. Scatter the raisins between the slices.

3. Pour the custard over the bread soaking every slice. Set it aside to absorb for 15 minutes.

4. Bake the pudding at 350oF (180oC) for about 1 hour or until the pudding has risen and is golden in color. Serve immediately. Top with freshly whipped cream and enjoy!
Looking for More Old-World Dinner & Dessert Recipes?
Generational cooking is the best kind of cooking, and the below recipes deserve a comeback. Here are some other traditional treats that have withstood the tests of time and are worth the passing of the baton from one cook to another:
Looking for More St. Patrick's Day Recipes?
Celebrate everything about the Emerald Isle with these Irish-inspired favorites: