Pumpkin & Peanut Butter Homemade Dog Biscuits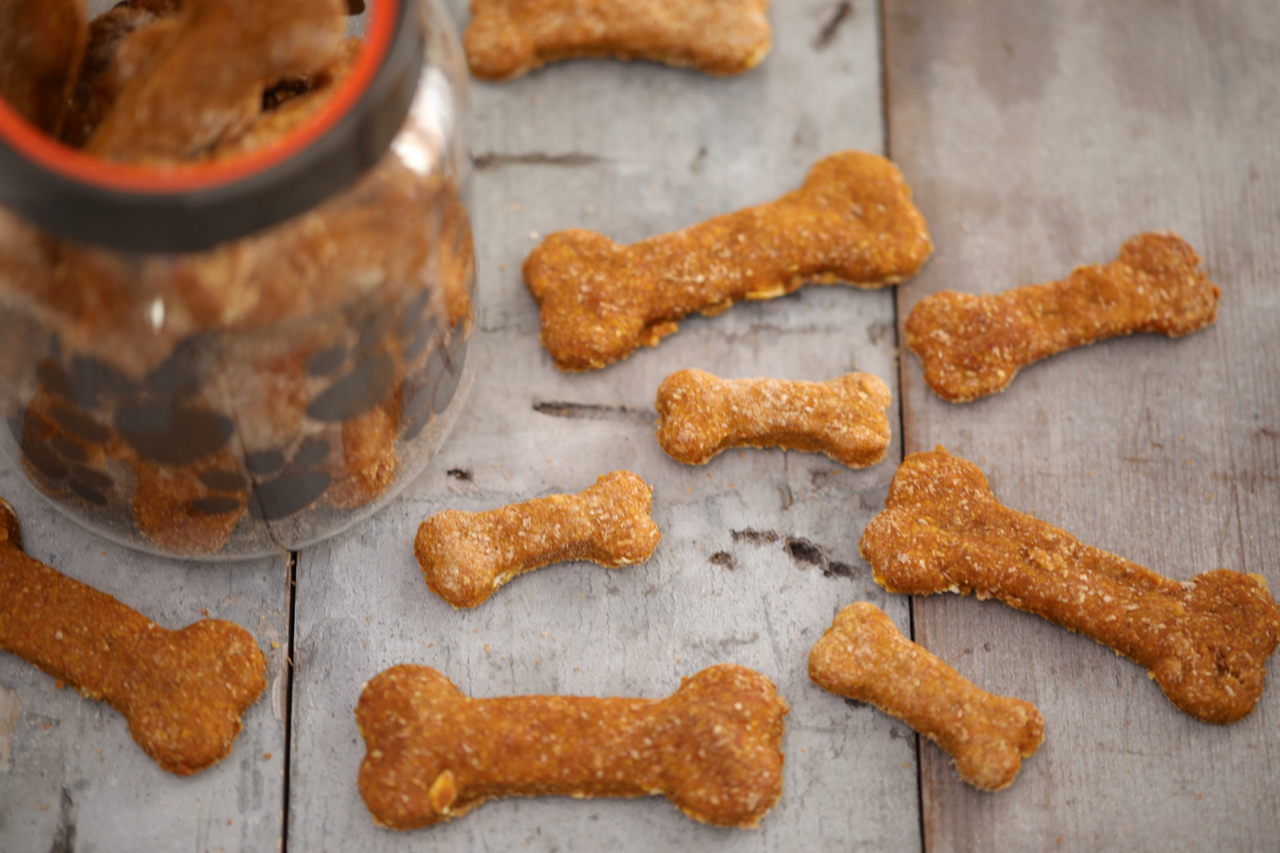 When it comes to baking, no man, woman or dog will be left behind in my home! There's no doubt that our dog Waffles gets the royal treatment here so it should be no surprise to you that I also make him Homemade Dog Biscuits.
I'm a stickler for using good ingredients to get great results and the same goes for baking my doggie treats. These Homemade Dog Biscuits are not only made of good quality ingredients but they all have benefits for your furry friends inside and out.
Our dog Waffles is a 3 year old, Terrier Lhasa Apso mix. We rescued him 2 years ago from a great facility here in Los Angeles called NKLA. This organization rescues dogs from high kill areas and gives them a better chance of survival and a better chance at finding their forever home. After a lengthy adjustment period, Waffles is now the furry glue that holds us together.
Just like when baking for family and friends there is something so satisfying about making Homemade Dog Biscuits for your pet. I feel immense pride when he snatches them from my hand and runs off to eat it on the carpet.
I used my Fox Brands Cookie Cutter Set to make three different sizes of biscuits which not only look great but allow for portion control.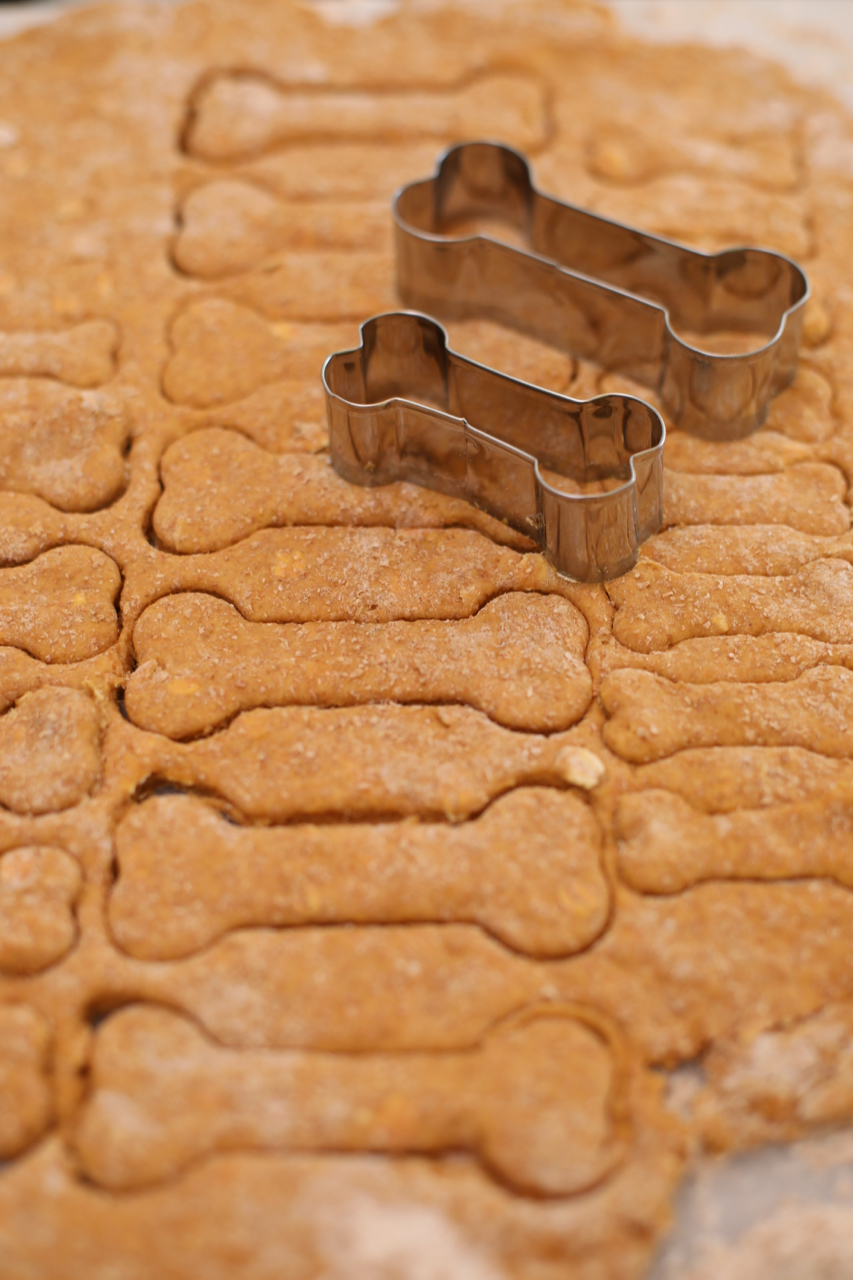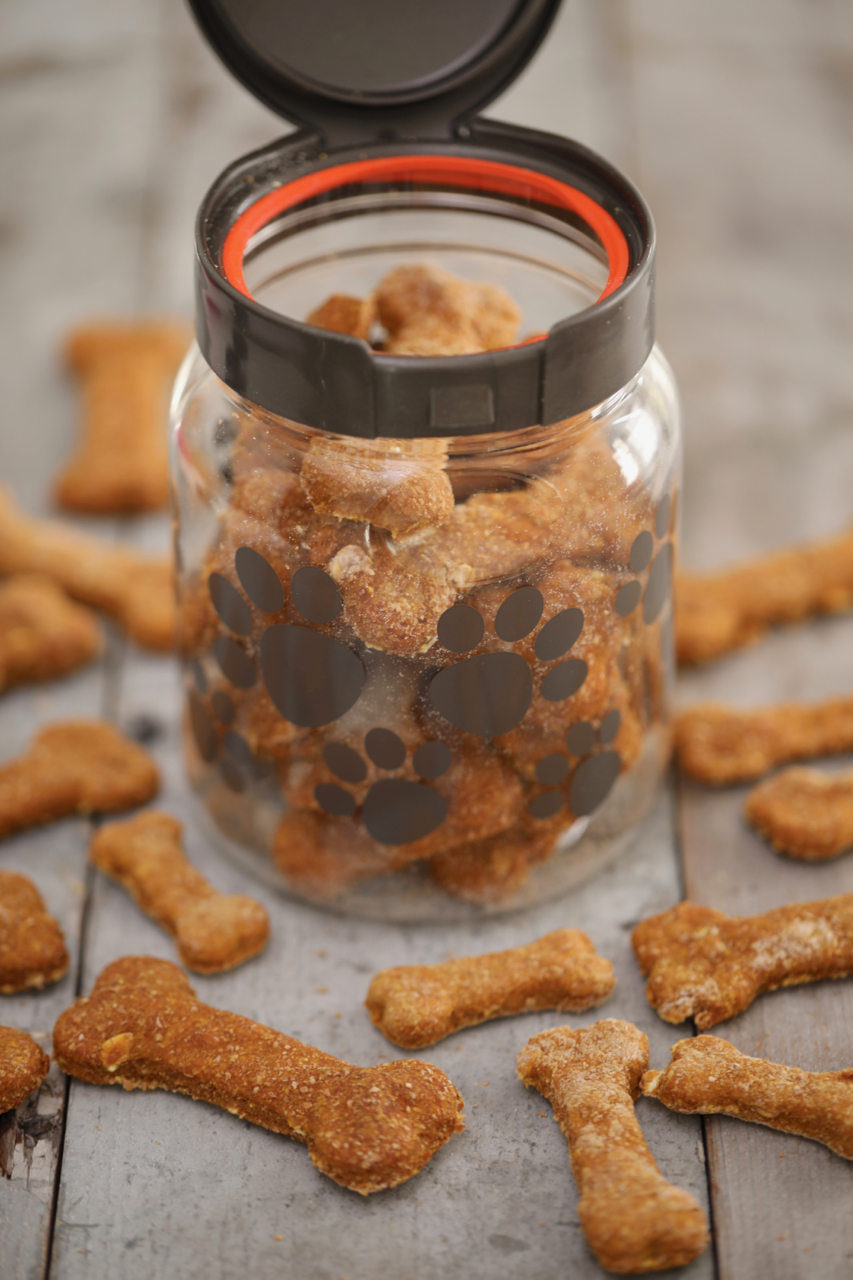 These Homemade Dog Biscuits stay fresh in my Snapware Airtight Pet Treat Container for up to 8 weeks. They also freeze for up to 3 months. Just leave out at room temperature for 5 minutes and then watch that tail wag.
Also, you may have noticed my adorable Bear Hands Oven Mitts from Fred & Friends. Waffles gets a little confused when I wear these but all is well when he gets his treats!
Pumpkin & Peanut Butter Homemade Dog Biscuits Recipe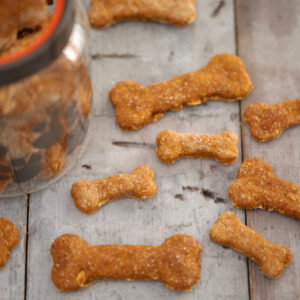 INGREDIENTS
1-15 oz (2 cups/470g) pumpkin puree (do not use pumpkin pie filling)
2 eggs
3 tablespoons all natural peanut butter (low sodium)
½ cup (11/2oz/45g) rolled oats
3 cups (16oz/ 450g) whole wheat flour
INSTRUCTIONS
Preheat oven to 350F (180C) .
In a large bowl, whisk together all of the ingredients until combined and a dough forms.
The dough may be a little sticky, so dust your hands and rolling pin with flour. Pour dough onto a floured surface and roll out to ½ inch thick. Cut out using a cutter.
Bake for 25 to 30 minutes until golden brown.
Place on cooling racks and let cool thoroughly. They will harden as they cool.
Put them in an air tight container and store for 6 weeks. Also you can keep them in the freezer for 3 months.
Looking for more delicious, healthy, homemade dog treats & food?