Homemade Howl-iday Treats for Furry Family Members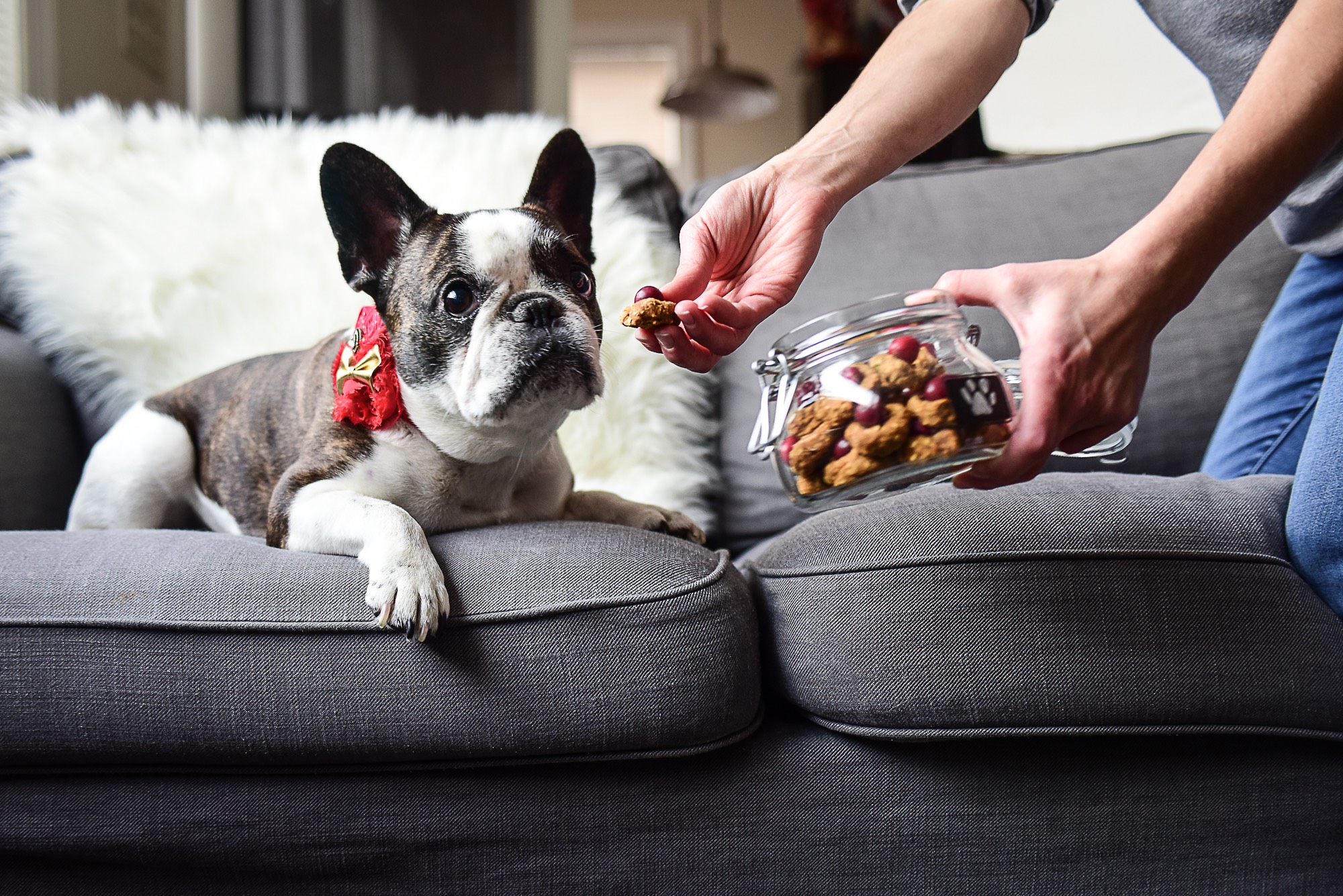 Pets love the holidays as much as their people, but feeding them too many table scraps is an easy way to land on the Naughty list. Instead, use a food dehydrator to transform holiday leftovers like roast turkey and sweet potatoes into healthy, all-natural treats that pets (and pet lovers) will adore.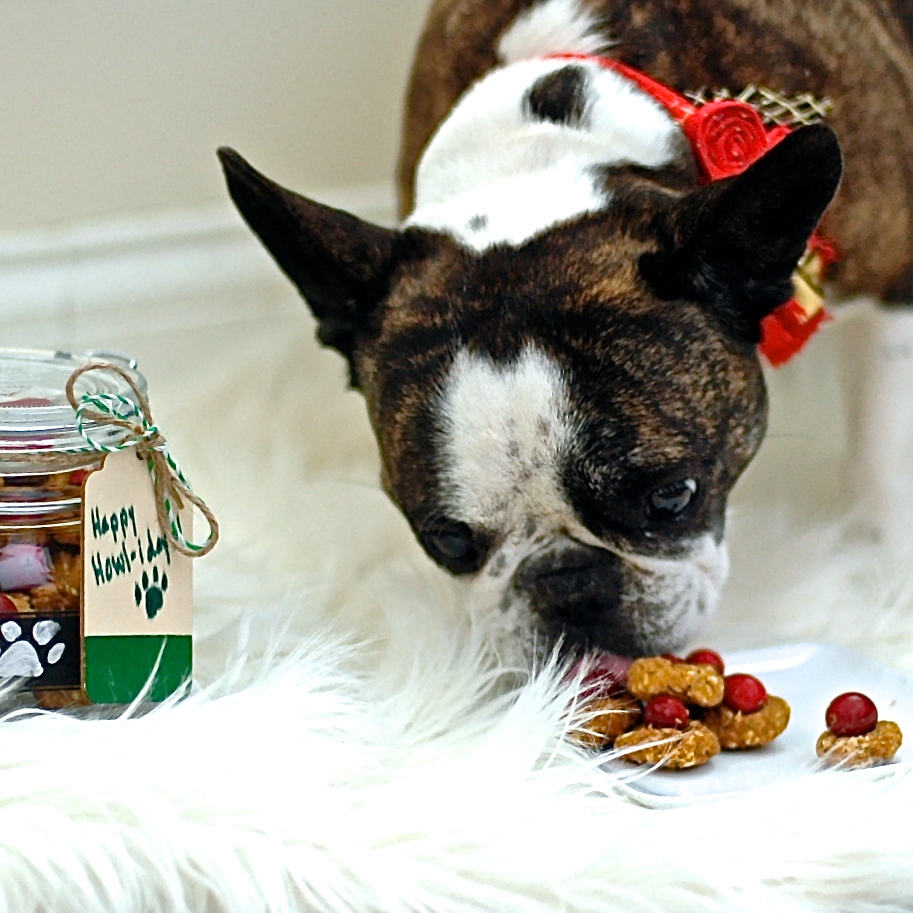 Packed with seasonal foods, these homemade pet treats are incredibly easy to prepare and make an adorable gift when packaged in a cute glass jar or airtight container. To start, raid your fridge for leftover roast turkey (roast chicken works great too), and plain roast sweet potatoes. To those ingredients, we'll be adding in dry oatmeal, molasses and parsley (a natural breath freshener).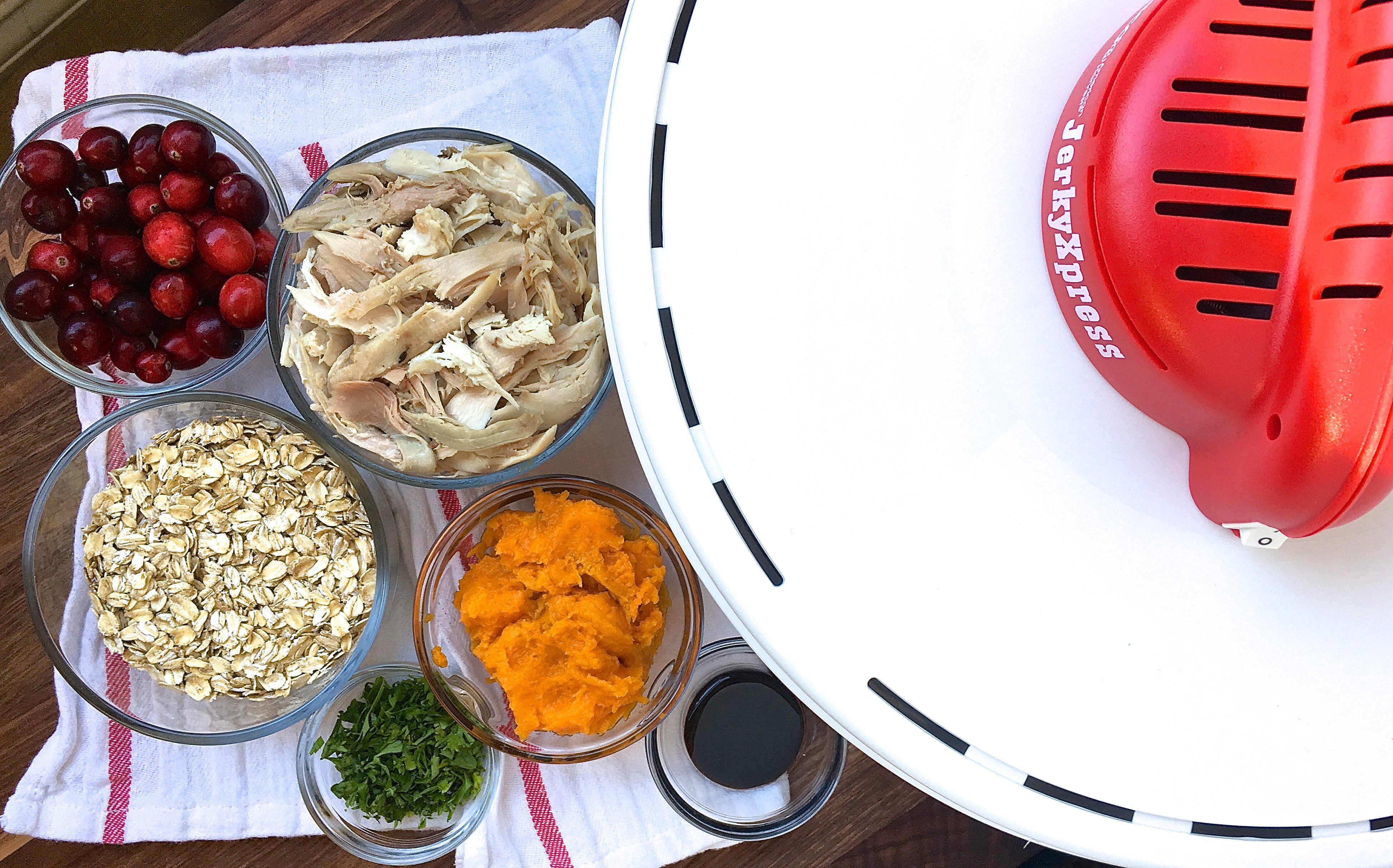 Everything gets combined in a food processor to create a thick dough. Next, roll the dough into walnut-sized balls and place them on the trays of a food dehydrator like the Nesco Jerky Express (which also makes great jerky for humans). Finally, top each treat with a fresh cranberry for a festive touch. Turn on the dehydrator. The treats are finished when they are completely dry, but not crumbly, about 6 hours. Store the treats in an airtight container for up to two weeks.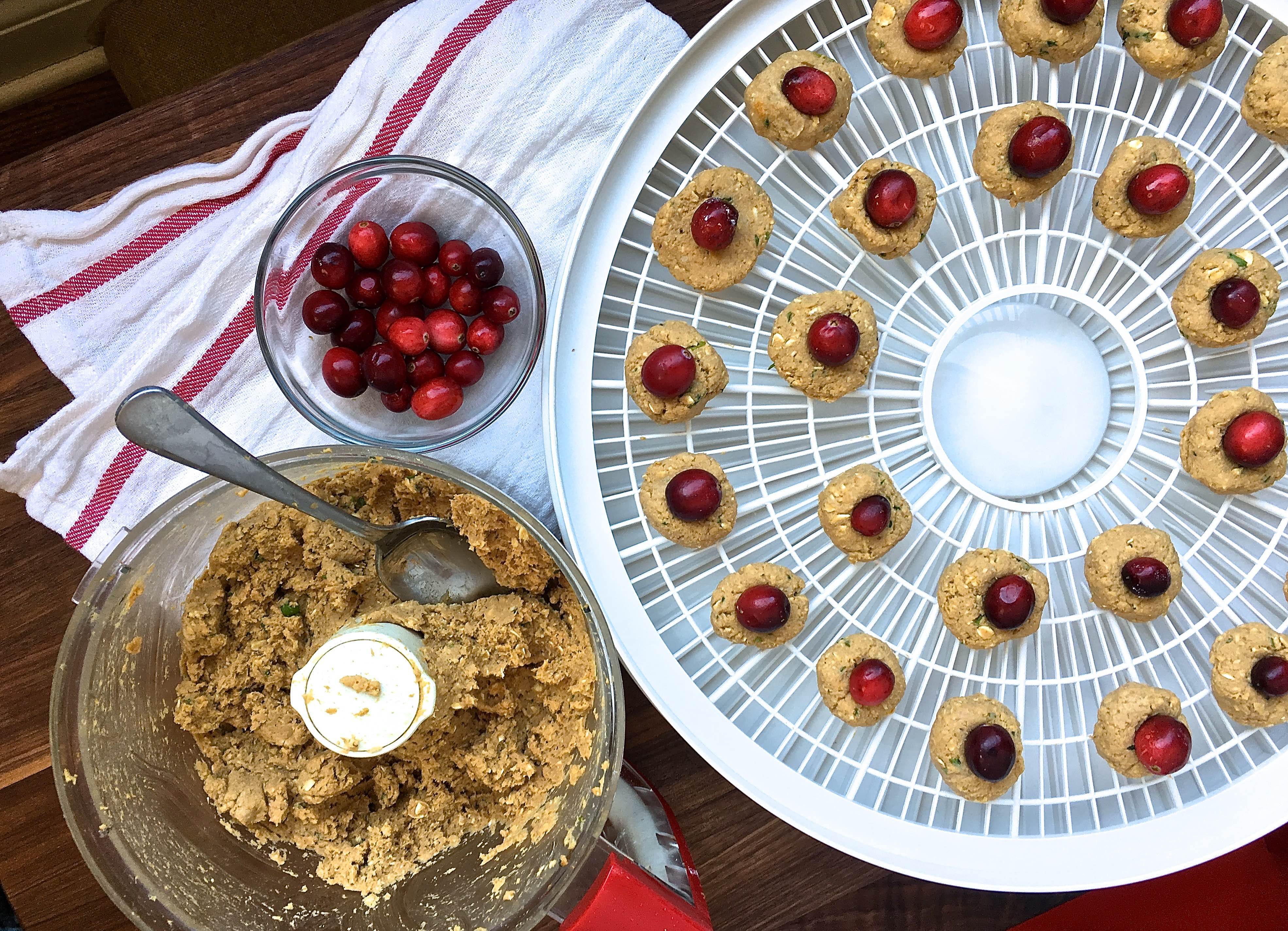 They make an adorable gift when packaged in a glass jar with a festive ribbon. I alsolutely love these fido glass jars with a chalkboard design on the front from Bormioli Rocco. chalkboard Draw a paw print on the label and add a "Happy Howl-days" gift tag to complete the gift.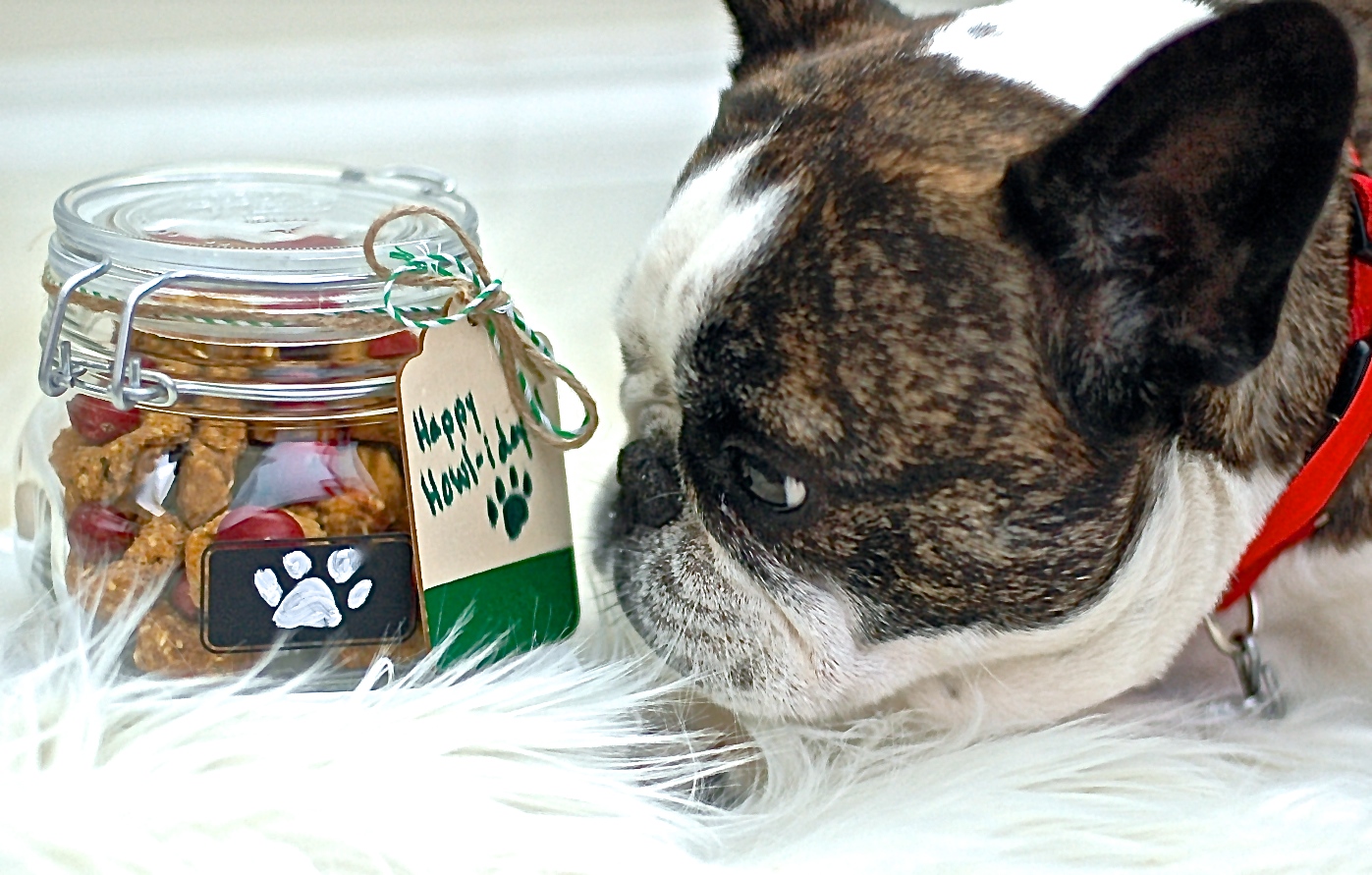 Our French bulldog, Zoey, went absolutely wild for this tasty treats, which we plan to share with our furry friends throughout the howl-iday season.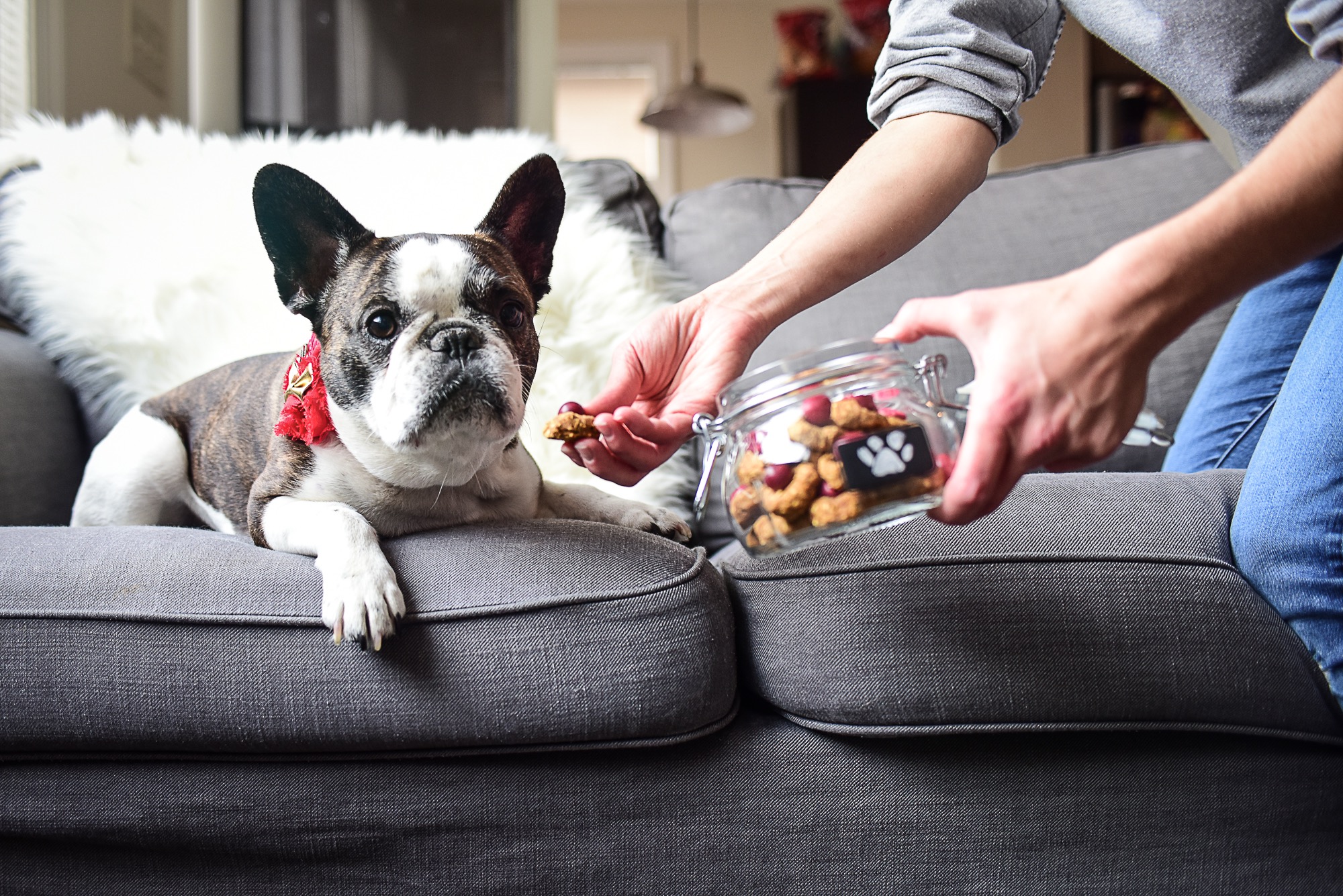 Howl-iday Roast Turkey & Cranberry Dog Treats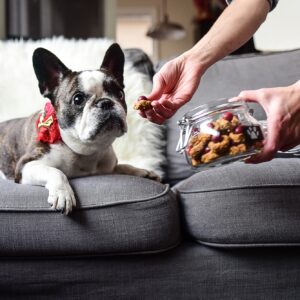 INGREDIENTS
2 cups boneless skinless turkey meat, cooked
1 cup sweet potato, (about 1 small) cooked, skin removed
1 ½ cups oatmeal, dry, uncooked
2 tablespoons fresh parsley, chopped
1 tablespoon molasses
½ cup water
2 dozen cranberries, fresh or frozen
INSTRUCTIONS
Place turkey in food processor and process until finely chopped. Add sweet potatoe and blend into a paste. Add oatmeal, parsley and molasses and continue blending. With motor running, gradually add water through the spout until the mixture reaches the consistency of a thick dough.
Scoop dough by the teaspoon and roll into walnut-size balls, with wet hands. Place each ball on a food dehydrator tray. Place a cranberry on top of each treat, pressing it in slightly so that the berry is secured in the center.
Turn on food dehydrator and dehydrate for 6 hours, until treats are completely dry but not crispy or crumbly. Store treats in an airtight container for up to two weeks.
*Please note that these treats should be fed to pets in moderation and should not replace healthy, balanced meals.