Air Fryer Pumpkin Spice Churros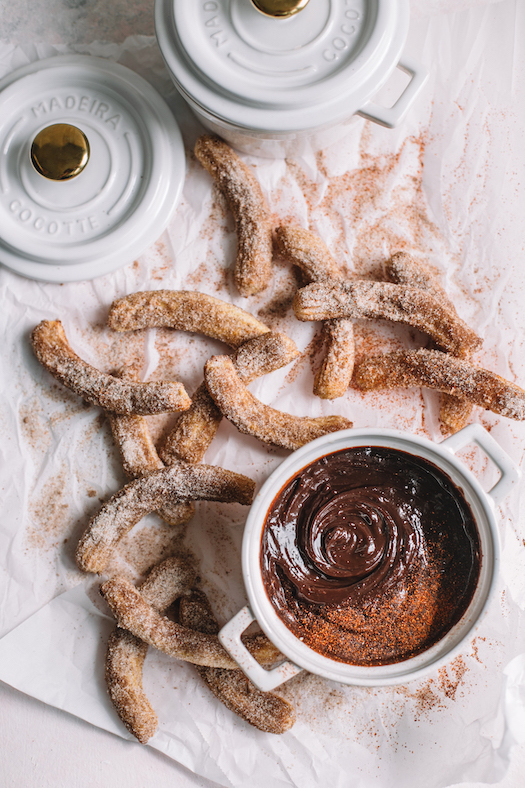 It's that time of year again! Pumpkin spice season is currently scented through our homes with candles and our coffee shops with PSL's. It has been a long, wonderful summer but I think I'm finally ready to start embracing chilly temperatures and begin the Holiday season.
I love a pumpkin spice latte (and the new pumpkin cold brew!) just as much as the next girl but each year I try and dive into something a bit different. Classic pumpkin recipes that return year after year are pumpkin spice cinnamon rolls and pumpkin loaf. We're doing off pumpkin season with a twist: pumpkin spice churros! Are you as excited as I am?!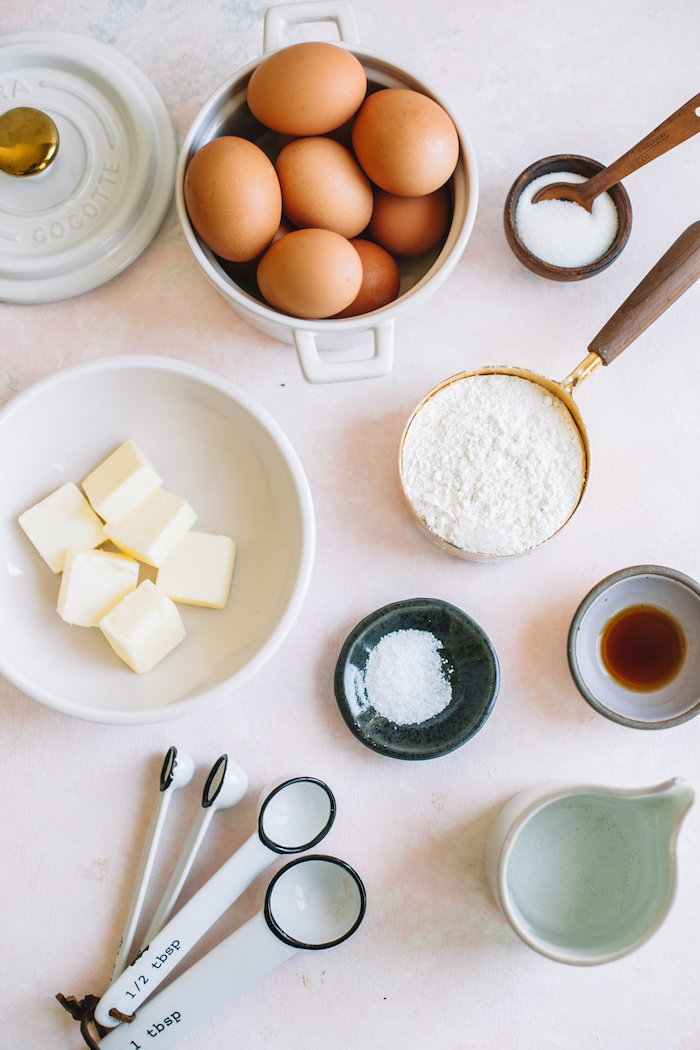 The churro is my go-to "fun treat" when I'm at Disneyland or any theme park. There is something so warm and exciting about getting a foot-long treat covered in cinnamon and sugar. Homemade churros are surprisingly easy to make! I even switched up the typical deep-fry method with my Emeril Lagasse Air Fryer. I love using an air fryer method for this because having to figure out how to dispose of an entire Dutch oven of used oil is pretty much the bane of my existence.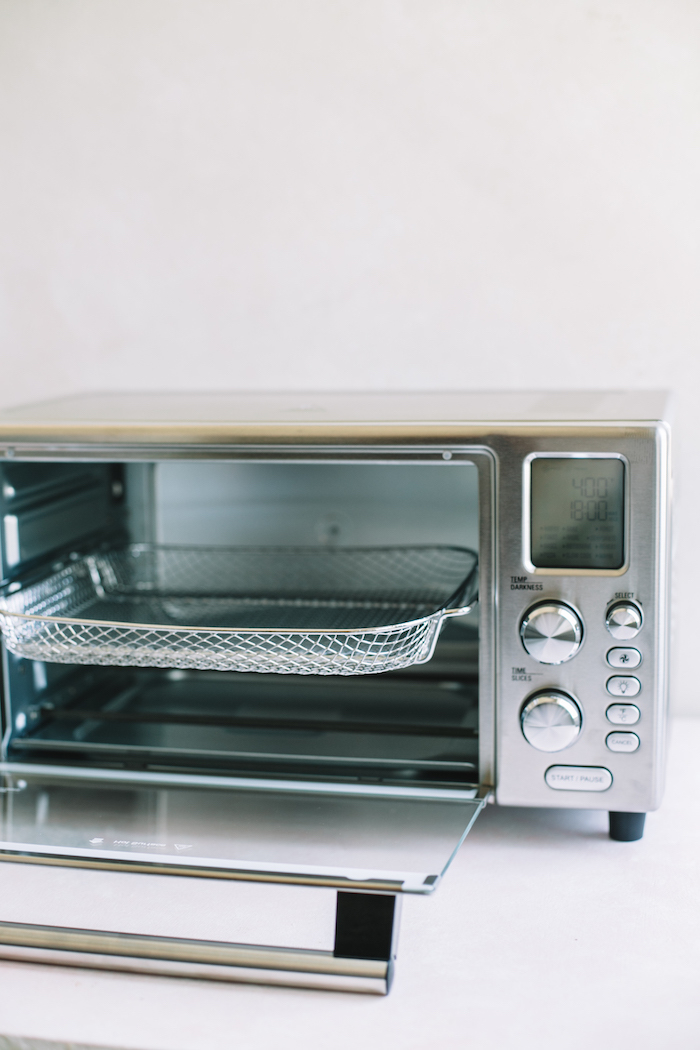 Power AirFryer 360

By Emeril Lagasse

Shop Now
How to make churros in an air fryer
The whole process is so simple!
Churros are made with a French pastry batter called "pâte à choux" which is basically an easy batter that doesn't use a leavening agent like yeast in order to rise. It's highly moist which creates steam to allow the pastry to puff.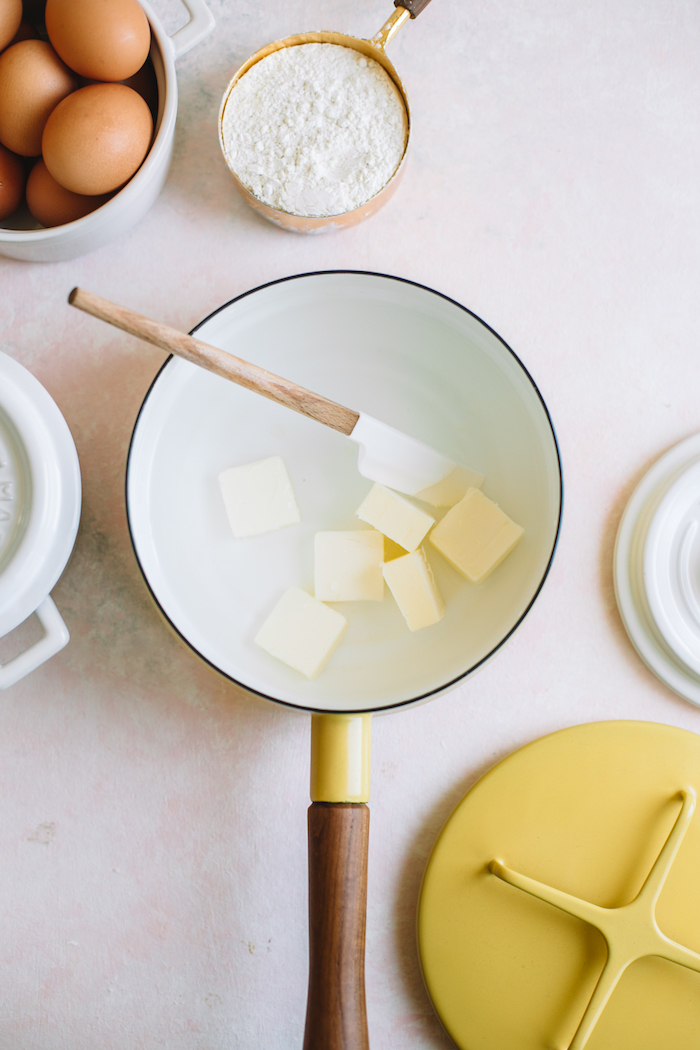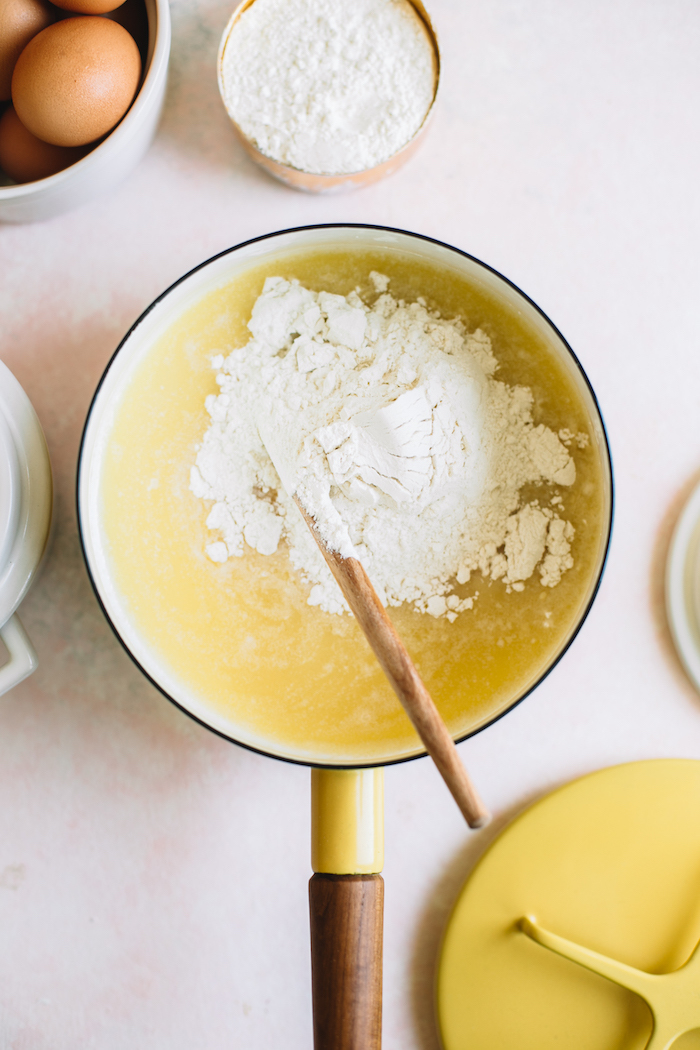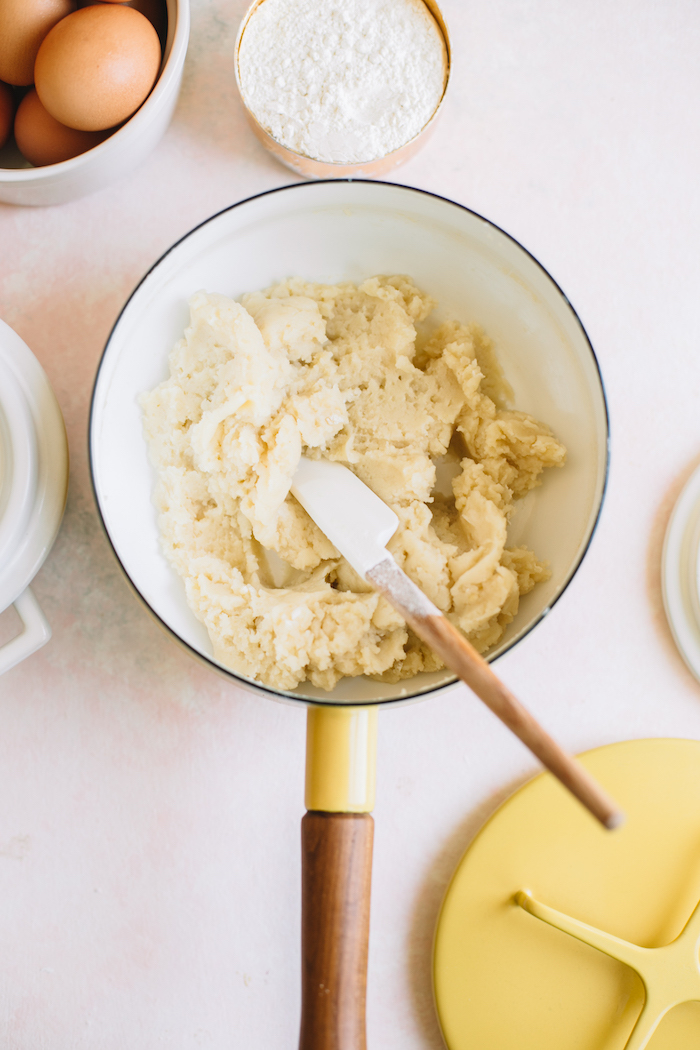 This type of batter works great fried or dry baked in an air fryer or oven. Simply pipe the pastry right onto the air frying basket. I sprayed mine with non-stick spray beforehand to prevent sticking! Set the air fryer to "fry" which will cook the churros for 20-25 minutes for a perfect golden brown.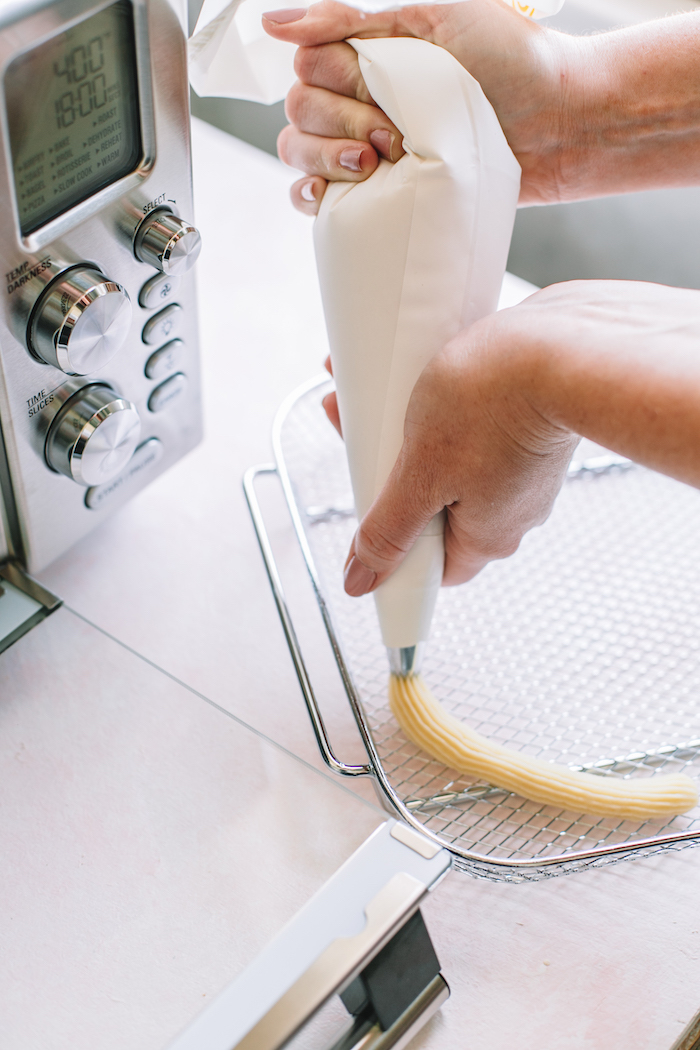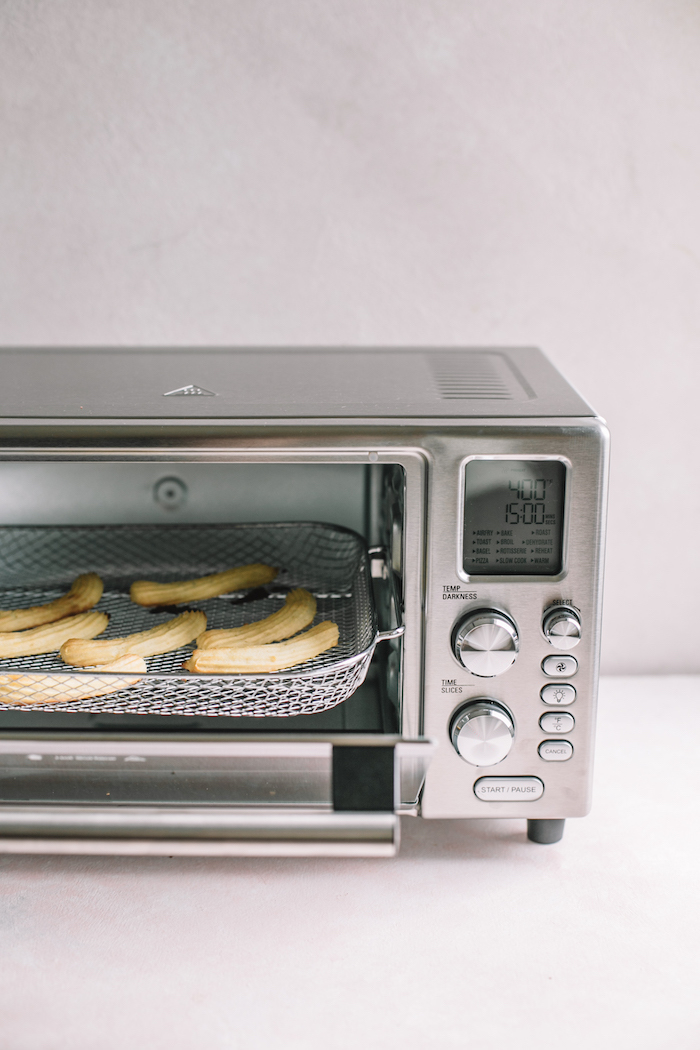 When you're all done, brush your churros extremely lightly with butter and dunk into a sugar mixture. You can also mix up this super easy Chocolate Dipping Sauce.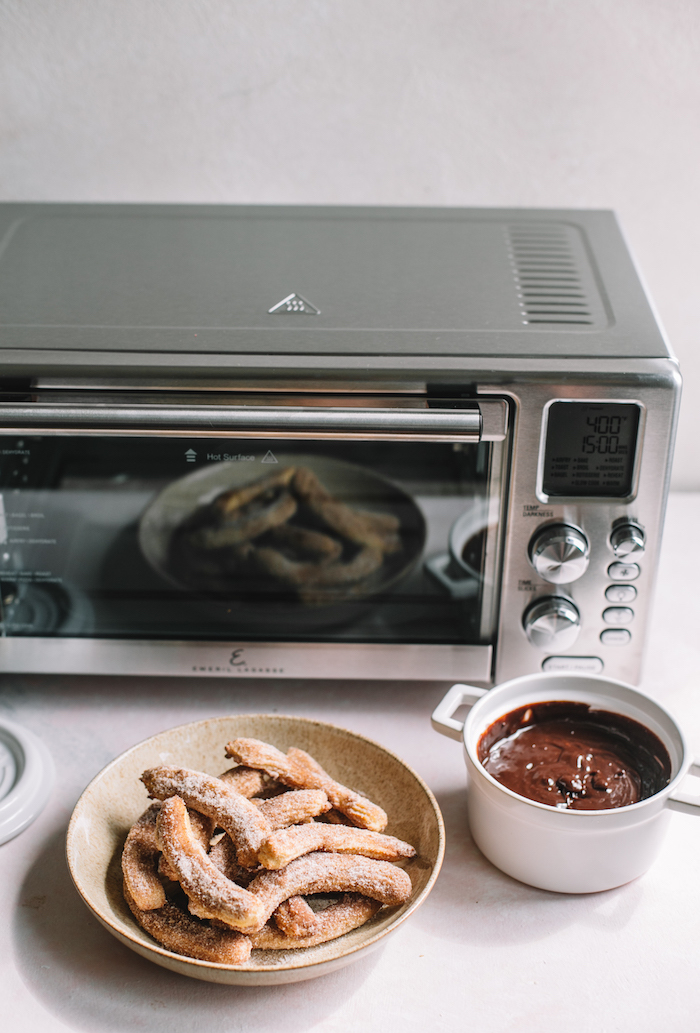 Tips for Making Great Churros
Be sure to get yourself a great piping bag and piping tip set. I like using a large star tip or round tip to pipe the churros right onto the air fryer basket.
If you find your batter is feeling flimsy between batches, just pop the pastry bag into the refrigerator to firm it up.
Air frying doesn't leave as much moisture as regular frying, so I brush them with a very thin layer of butter before dipping them into the sugar mixture.
If pumpkin spice isn't your jam, feel free to add more cinnamon for that classic churro taste.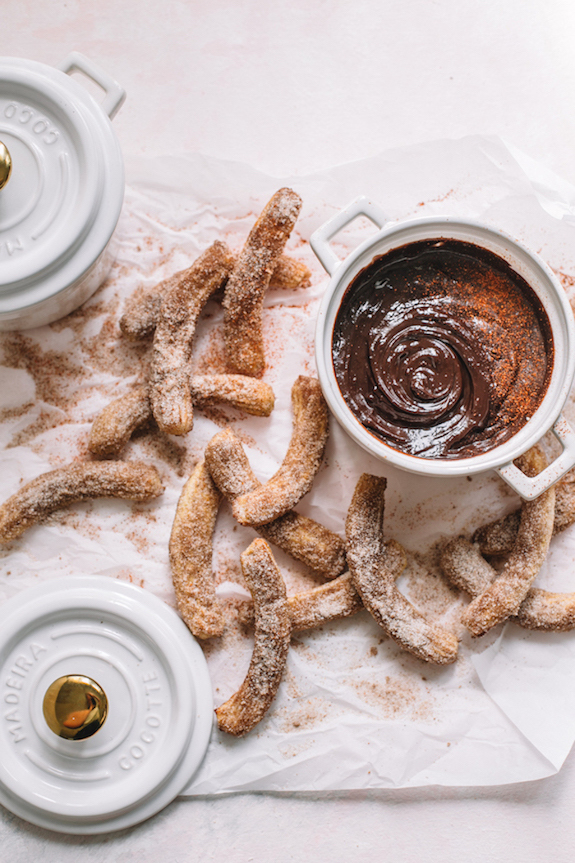 Air Fryer Pumpkin Spice Churros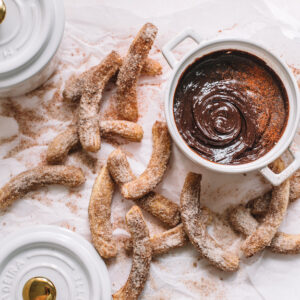 INGREDIENTS
For the Churros:
1 cup water
6 tbsp of unsalted butter
1 tbsp. granulated sugar
1 tsp. pure vanilla extract
1 cup of all-purpose flour
1 tsp. kosher salt
2 large eggs
For the Pumpkin Spice Sugar:
1 cup of granulated sugar
1 Tablespoon of pumpkin pie spice

½ cup of unsalted butter, melted
For the Chocolate Dipping Sauce:

1 cup of dark chocolate chips
1 cup of heavy cream
1 teaspoon of cinnamon
INSTRUCTIONS
To make the Churros: In a large saucepan over medium heat, add water, butter, and sugar. Bring to a boil and then add vanilla. Turn off heat and add flour and salt. Stir with a wooden spoon until thickened. Let mixture cool for 10 minutes.
To cooled mixture, using a hand mixer, beat in eggs one at a time until combined. Transfer mixture to a piping bag fitted with a large open star tip.
Pipe churros into air fryer basket and "fry" for 20 minutes or until golden brown.
To make the Pumpkin Spice Sugar: Whisk together granulated sugar and pumpkin pie spice.
Brush churros lightly with melted butter and dunk into pumpkin pie sugar mixture.
To make the Chocolate Dipping Sauce: In a large pot, heat the heavy cream until simmering. Remove from heat and pour over chocolate chips in a heatproof bowl. Let sit for 5-10 minutes. Whisk together chocolate and cream and add cinnamon until well combined.