3 Easy Grilled Desserts You Need to Make This Weekend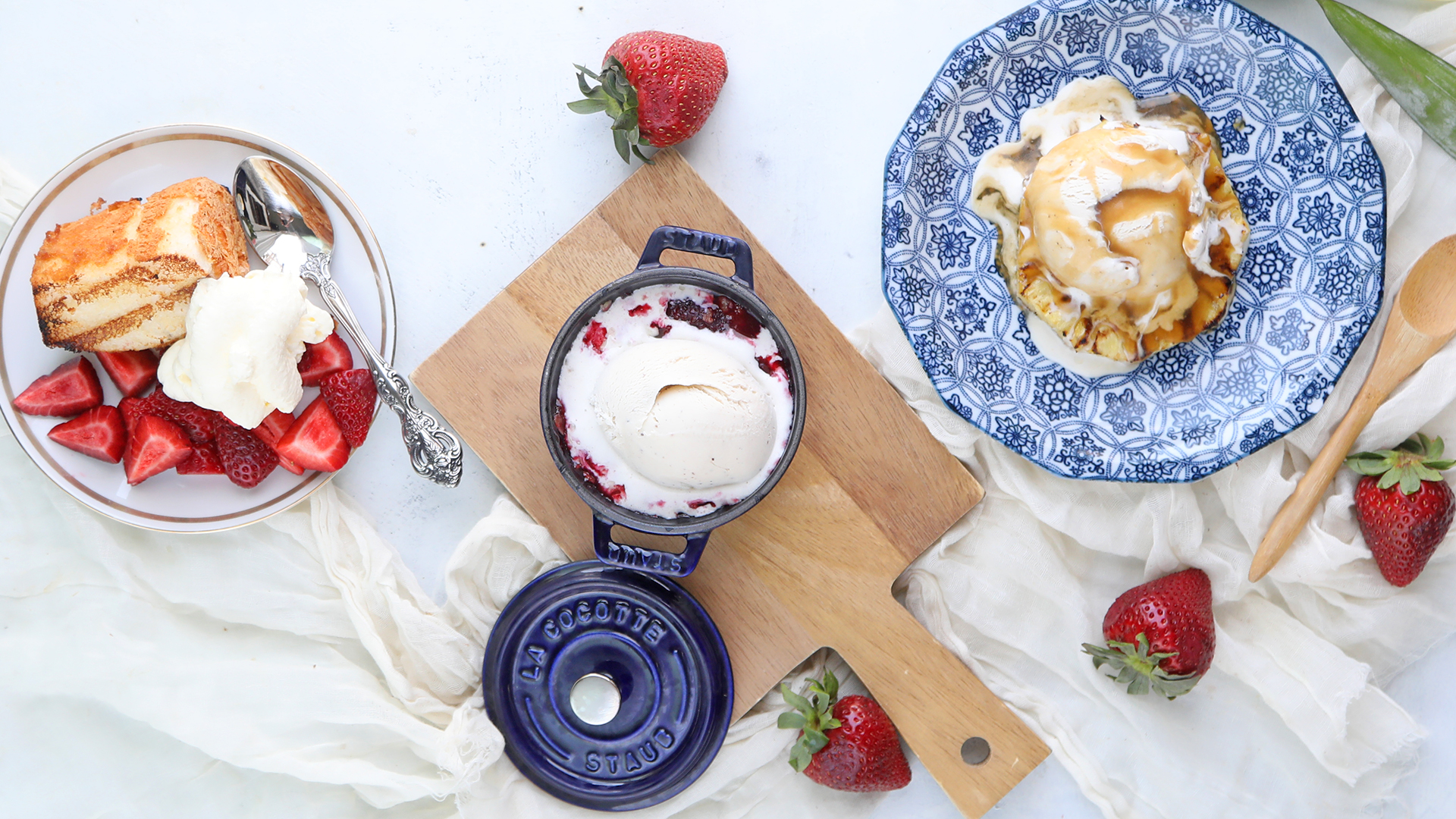 I'm sure you're wondering what on earth I am doing trying to make dessert out on the grill, but bear with me – I promise I've got some great easy ideas for you. If you're ever throwing a backyard soiree, you're most likely grilling and eating outside, so to keep everything out there I came up with 3 easy desserts that you can cook up outside on the grill. I'm always down to twist up classic recipes or change them up through cooking methods, just like in these desserts.
The first dessert I made was a berry crisp in mini cocottes that can handle the heat from the hot grill. Not only is this super easy to prepare, it literally cooks in 10 minutes because the grill gets so hot. You can absolutely change up the fruit in this recipe just in case you don't like blackberries. Try using raspberries, peaches or blueberries in this recipe for a little different taste. I made a simple oatmeal streusel, put the top on and grilled it. I finished it off with a simple scoop of vanilla bean ice cream. These are great single serving desserts that are sure to impress your guests!
Next, I grilled up some fresh pineapple and topped it off with ice cream then finished it with a homemade dark rum caramel. The caramel is incredibly easy to make and holds really well. You could put a pot right on the grill and make it, but I kept it traditional and cooked it on the stove top. You want to butter up the pineapple so that it doesn't stick to the grill and simply caramelize it up. The browner the better as more natural sugars will come out of the pineapple. Finish it with ice cream and caramel and you're good to go!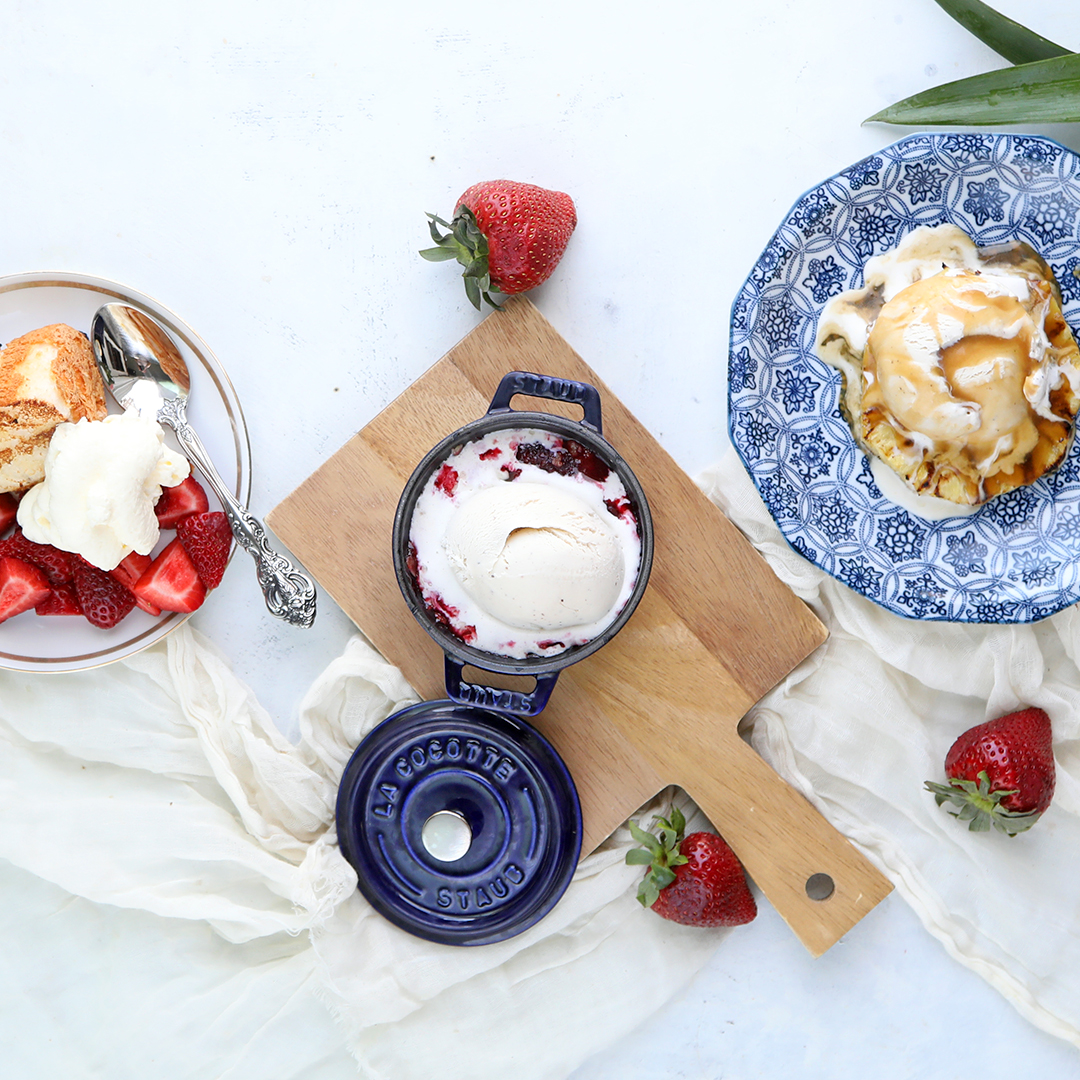 Lastly, I grilled up some angel food cake to make a cool outdoor grilled version of strawberry shortcake. The only prep for this recipe is making the whipped cream ahead of time and slicing up and buttering the angel food cake. You just want to toast the cake on the grill which literally cooks in under 2 minutes. Once it's toasted toss on some fresh strawberries and finish it with whipped cream! SOOO GOOD!
Happy dessert grilling everyone!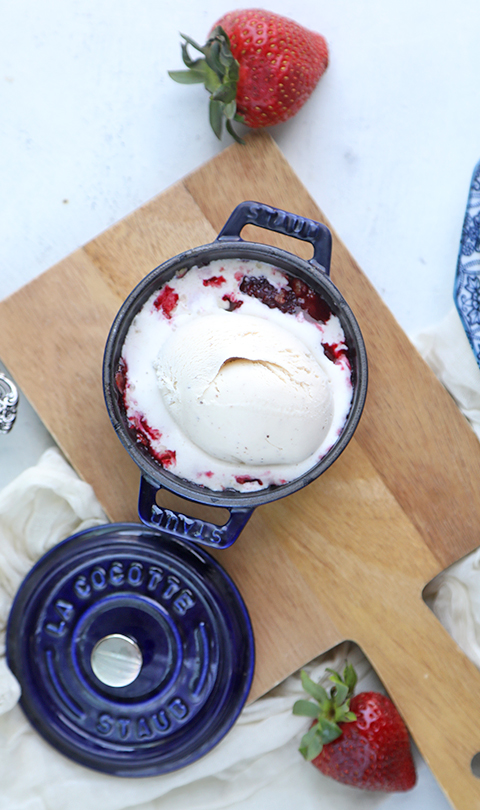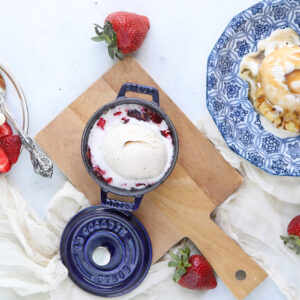 INGREDIENTS
2 cups of blackberries
juice of 1 lemon
¼ cup of sugar
¼ cup of flour
½ cup of brown sugar
½ cup of rolled oats
¾ stick of unsalted butter
Ice cream
INSTRUCTIONS
Preheat the grill to high heat.
In a bowl mix together the berries, lemon juice and sugar, and transfer them to 4 cocottes.
Next, mix together the flour, brown sugar, oats and butter with a pastry knife until the butter is cut in. Top the blackberries off with the oatmeal mixture, put on the lid and grill for 10 minutes or until the streusel is cooked. Serve with ice cream.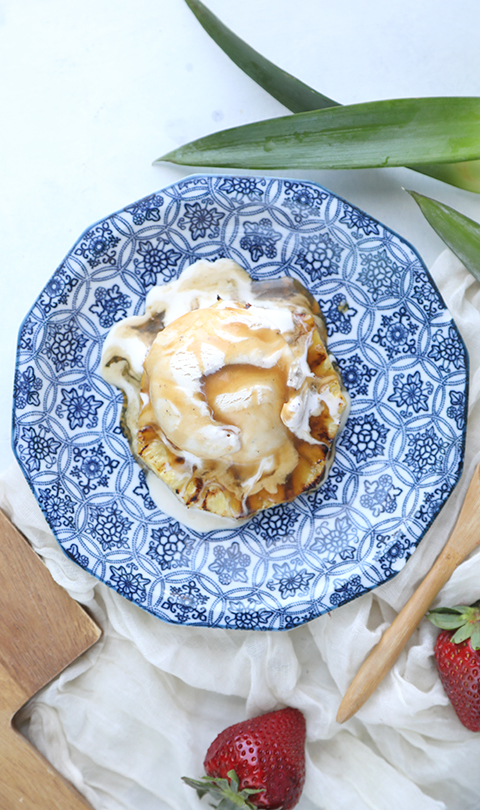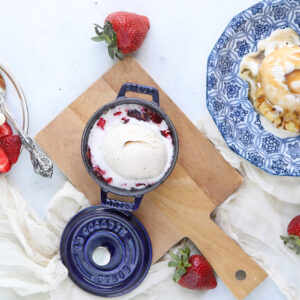 INGREDIENTS
1 cup of packed light brown sugar
1 stick of unsalted butter
¼ cup of heavy whipping cream
¼ cup of dark rum
1 peeled and cored fresh pineapple, sliced
¼ cup of unsalted melted butter
Vanilla ice cream
INSTRUCTIONS
Preheat the grill to high heat.
In a medium size pot over medium heat whisk together the brown sugar, butter and heavy whipping cream until smooth, about 4 to 5 minutes. Remove the pot and stir in the rum. Return to the heat to thicken. Keep warm.
Next brush the pineapple on both sides with butter and grill for 2 to 4 minutes on each side or until browned and tender.
Remove from the grill and top off with ice cream and rum caramel.