Great Food Gifts: Pumpkin Apple Bread & Pumpkin Spice Coffee Creamer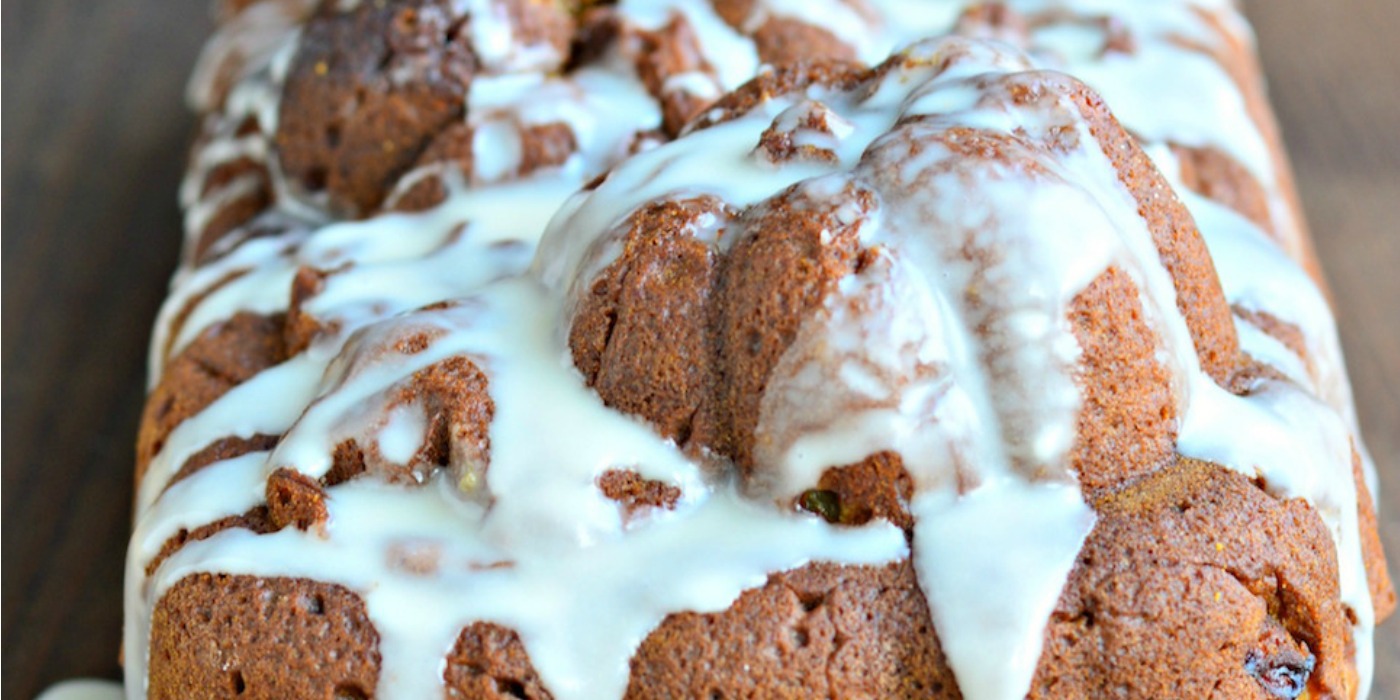 Looking for some great new recipes to take advantage of fall's favorite produce? We have you covered! Try these Pumpkin Apple Bread & Pumpkin Spice Coffee Creamer recipes for yourself, or as perfect thank you gifts for anyone in your life!
One way that we like to show our appreciation to these heroes in our community is by bringing them some homemade treats. Typically, we drop off some baked goods to our local police and fire station with a small note of thanks for all that they do. Our gesture is always well-received and these two recipes are some of our favorites!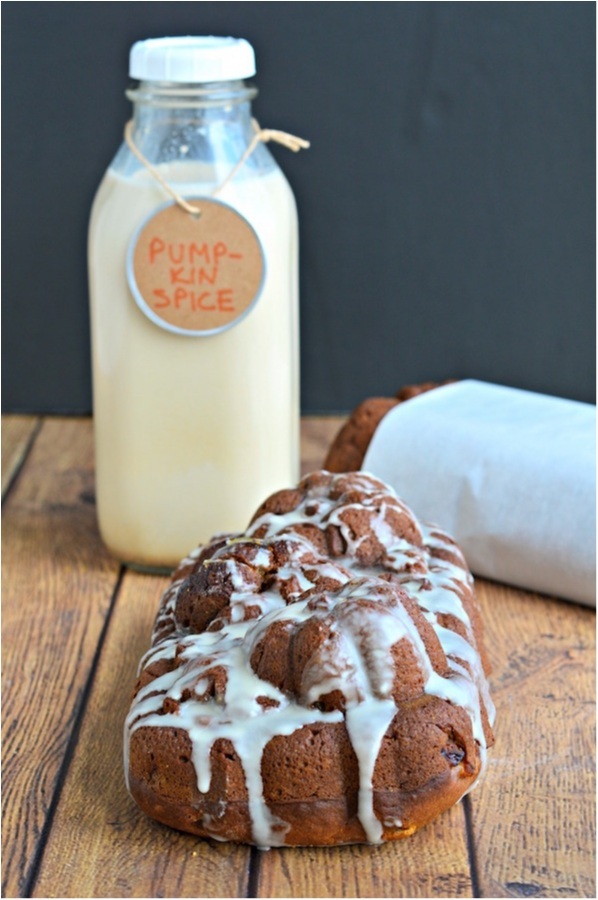 Another idea is to bring some homemade goodness to your local hospital as a thank you to the nurses who work so hard. If you have ever had a loved one in the hospital, you know that the nurses are the unsung heroes of our health care system. They are often on their feet all day, caring for four or five patients, with almost no time to eat or drink. So why not bring the food to them?
Today, I am sharing a fun idea for an edible care package that is perfect for giving to nurses, teachers, or anyone else deserving. The package includes two loaves of pumpkin apple bread — enough to feed a big group — and a homemade pumpkin spice coffee creamer because everyone needs coffee!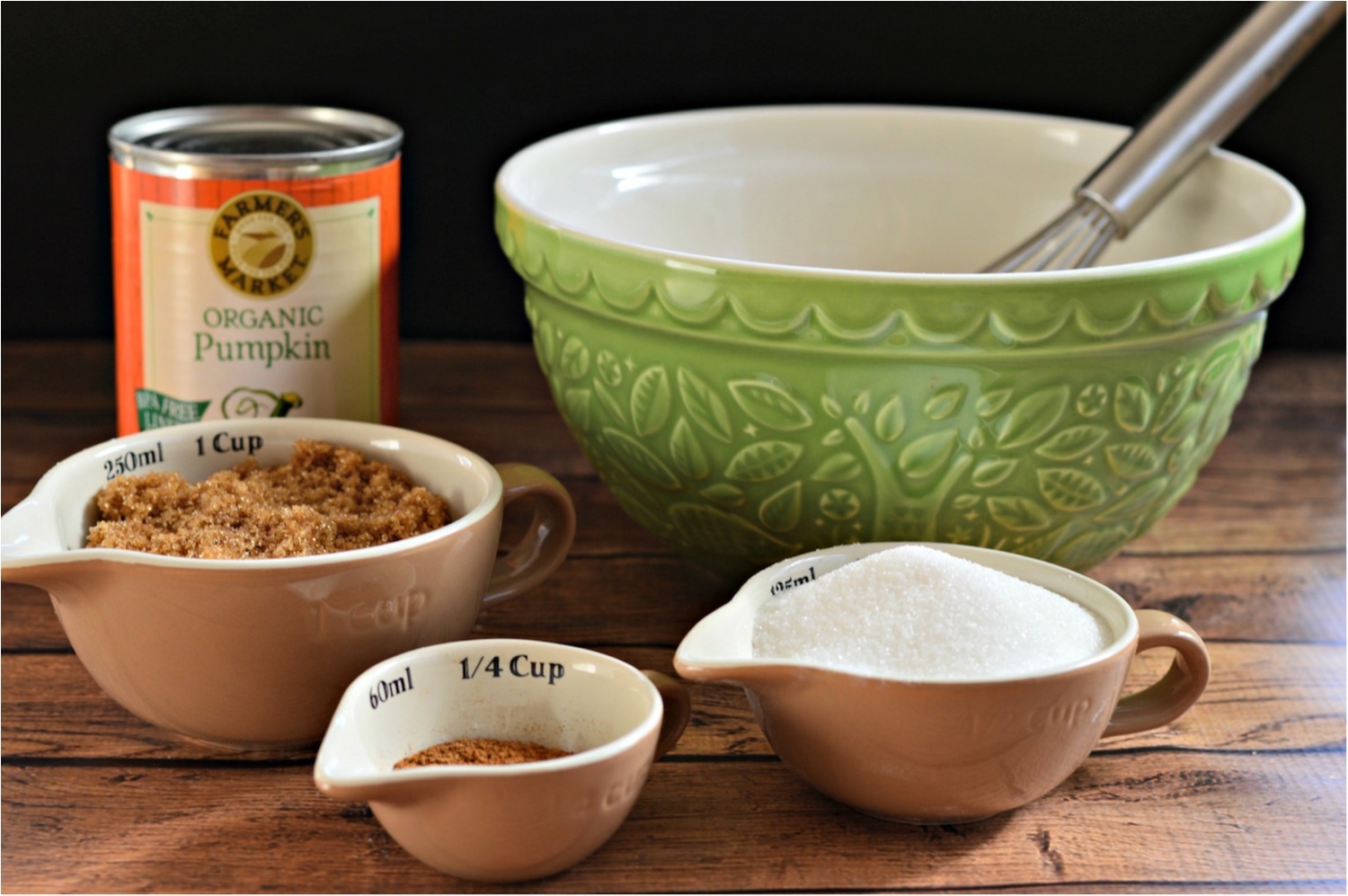 This pumpkin apple bread recipe comes together really quickly. All you need is two bowls, like these stunning In the Forest Mason Cash mixing bowls. With bowls this beautiful, you will look for any excuse to bake! The patterned outside makes them easy to hold, even with wet hands, and the white interior ensures that you can see what you are mixing. No wonder Mason Cash mixing bowls have been a favorite with bakers for 200 years.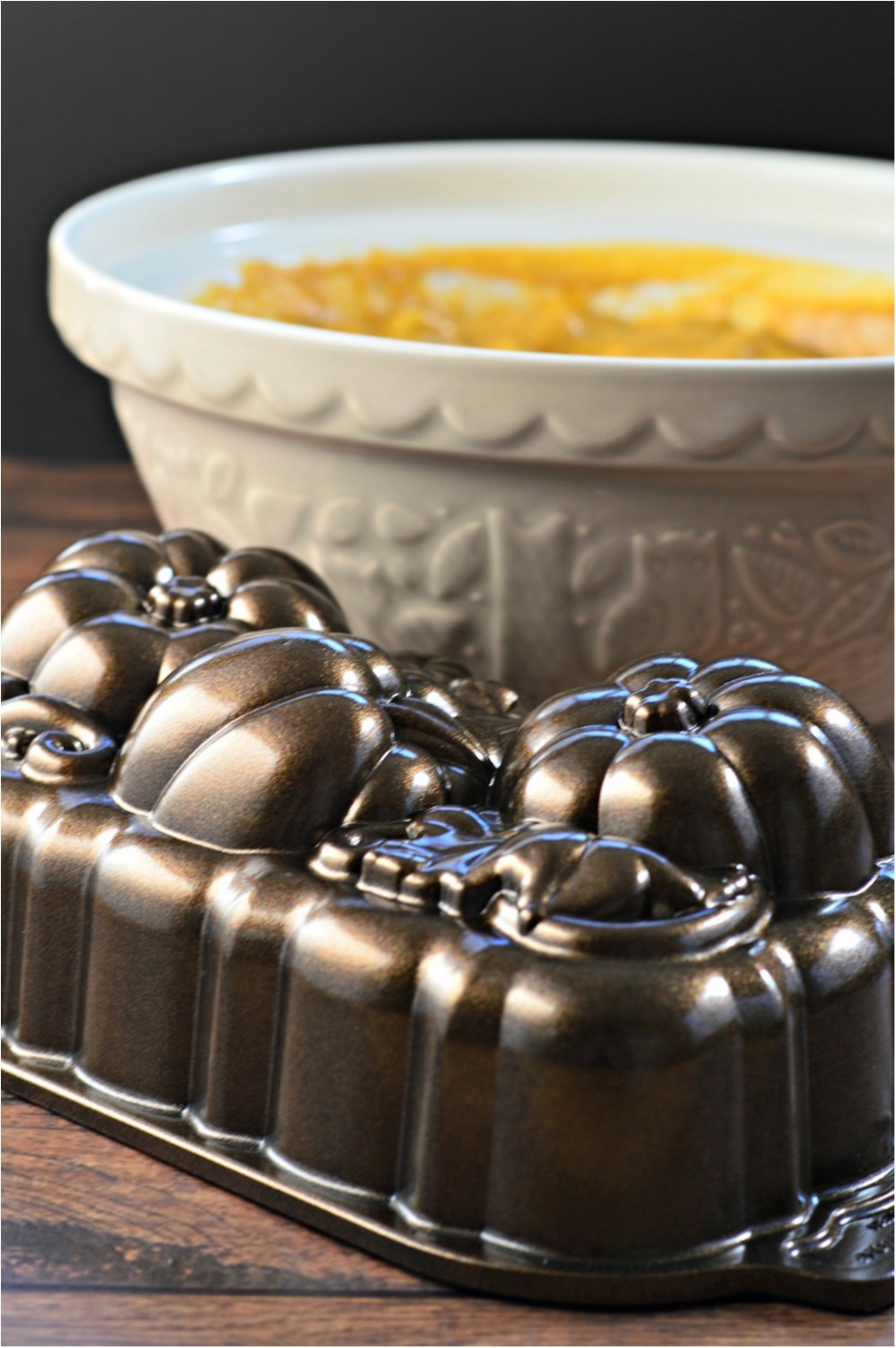 I like to bake my pumpkin apple bread in a decorative pan like this NordicWare Botanical Pumpkin Loaf Pan. That way, your bread looks beautiful without any glaze or topping. (Of course, we are going to add a maple glaze anyway for fun!) The heavy cast-iron construction ensures even baking.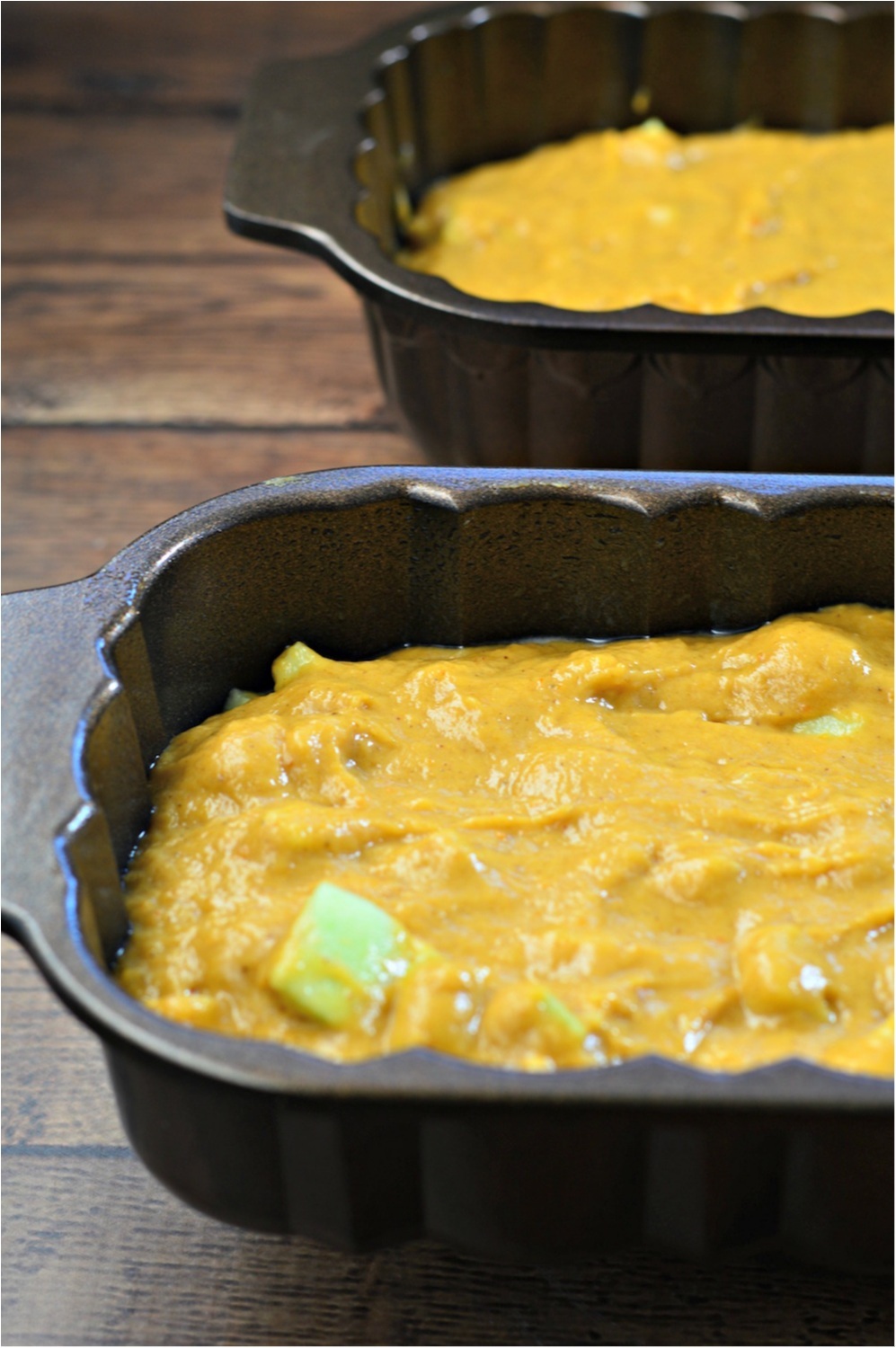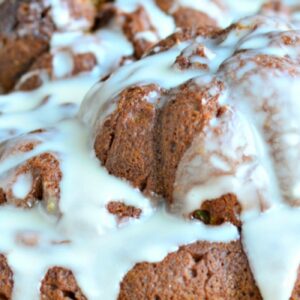 INGREDIENTS
Bread
3 cups all-purpose flour
2 tsp baking soda
3 tsp pumpkin spice*
1 tsp salt
4 eggs at room temperature
15 oz can pumpkin puree
3/4 cup olive or vegetable oil
1 brown sugar
1/2 cup granulated sugar
2 apples, peeled and diced
Maple Glaze

1 cup powdered sugar, sifted
1/4 cup maple syrup
Water
INSTRUCTIONS
Preheat the oven to 350 and grease two loaf pans.
In a medium mixing bowl, whisk together the flour, baking soda, pumpkin spice and salt. Set aside.
In a large mixing bowl, whisk together the eggs, pumpkin, oil and sugars. Mix until combined.
Gradually add the dry ingredients and blend until combined.
Fold in the diced apple.
Divide batter evenly between the two loaf pans.
Bake loaves for 50-60 minutes or until a tester inserted in the middle comes out clean.
Cool on a wire rack before removing from the pan.
To make the glaze, whisk together the sifted powder sugar and maple syrup. If the glaze is too thick, add water, one teaspoon at a time, until the desired consistency is reached.
Drizzle the glaze over the loaves.
*Note: To make your own pumpkin pie spice, combine one teaspoon each cinnamon and ginger with one-half teaspoon each allspice, cloves and nutmeg.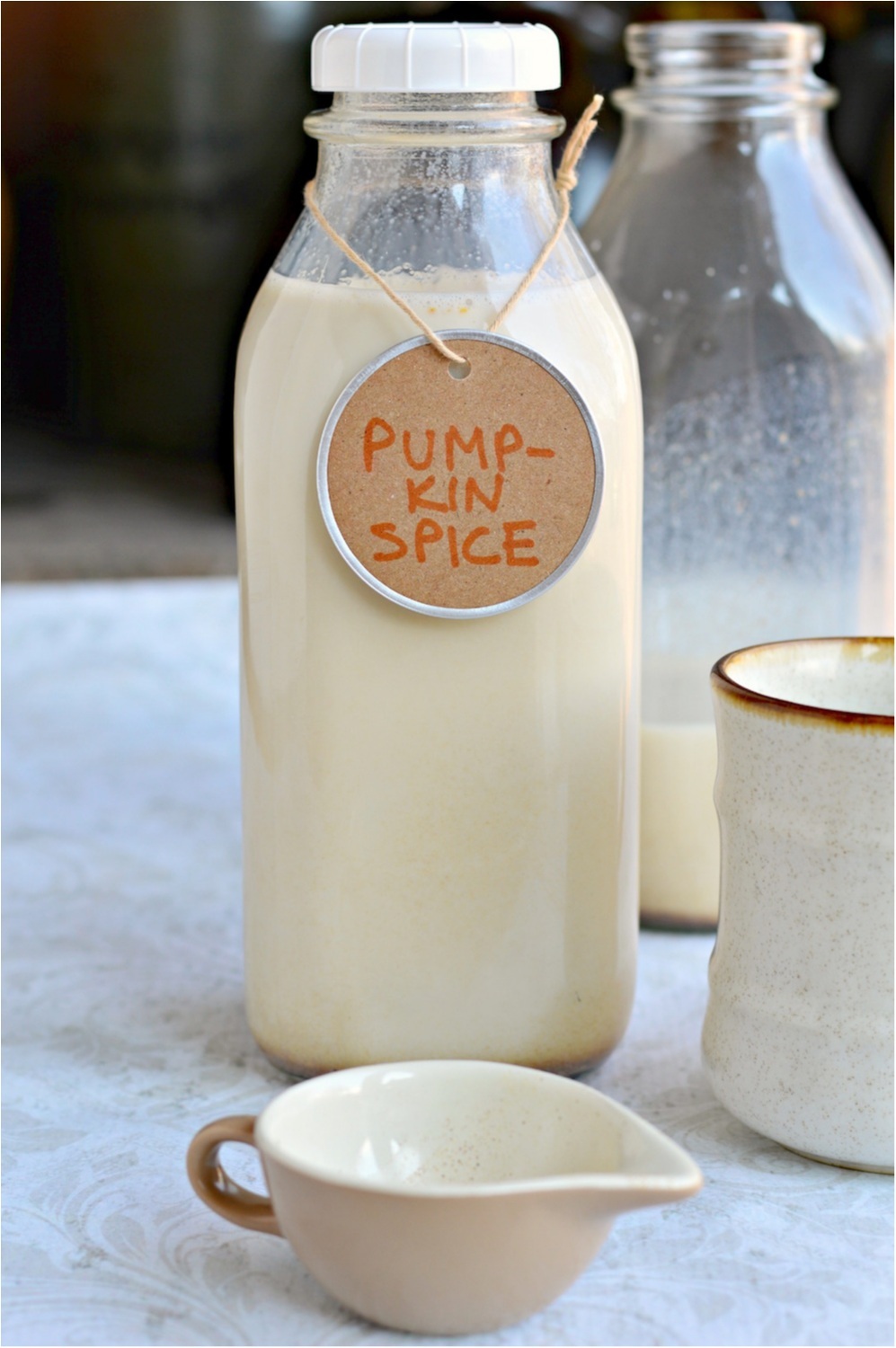 This homemade pumpkin spice coffee creamer contains no artificial ingredients and lets you bring the coffeehouse experience to any home or workplace. To make, simply whisk together whole milk, pumpkin puree, spices and natural sweeteners like sugar and maple syrup — I like this BergHOFF stainless steel whisk set because it contains three different-sized whisks — and heat in a small saucepan. For a charming vintage look, pour the mixture into these adorable Libbey Milk Bottles and add a festive label.
What a fun way to show our appreciation to those who serve our community!
Pumpkin Spice Coffee Creamer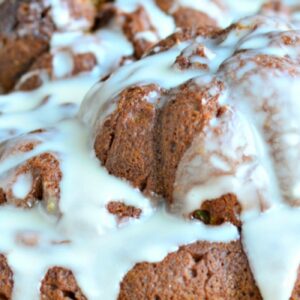 INGREDIENTS
4 cups whole milk
1/4 cup pumpkin puree
1/4 cup maple syrup
1 TB brown sugar
2 1/4 tsp pumpkin pie spice
2 tsp vanilla extract
INSTRUCTIONS
Combine milk, pumpkin, maple syrup and sugar in a two-quart saucepan and bring to a simmer over medium heat, whisking to dissolve the sweeteners.
Whisk in the pumpkin pie spice and vanilla.
Allow to cool slightly before pouring into bottle.
Store in refrigerator.