3 One Pan Breakfast Recipes For Your Sunday Brunch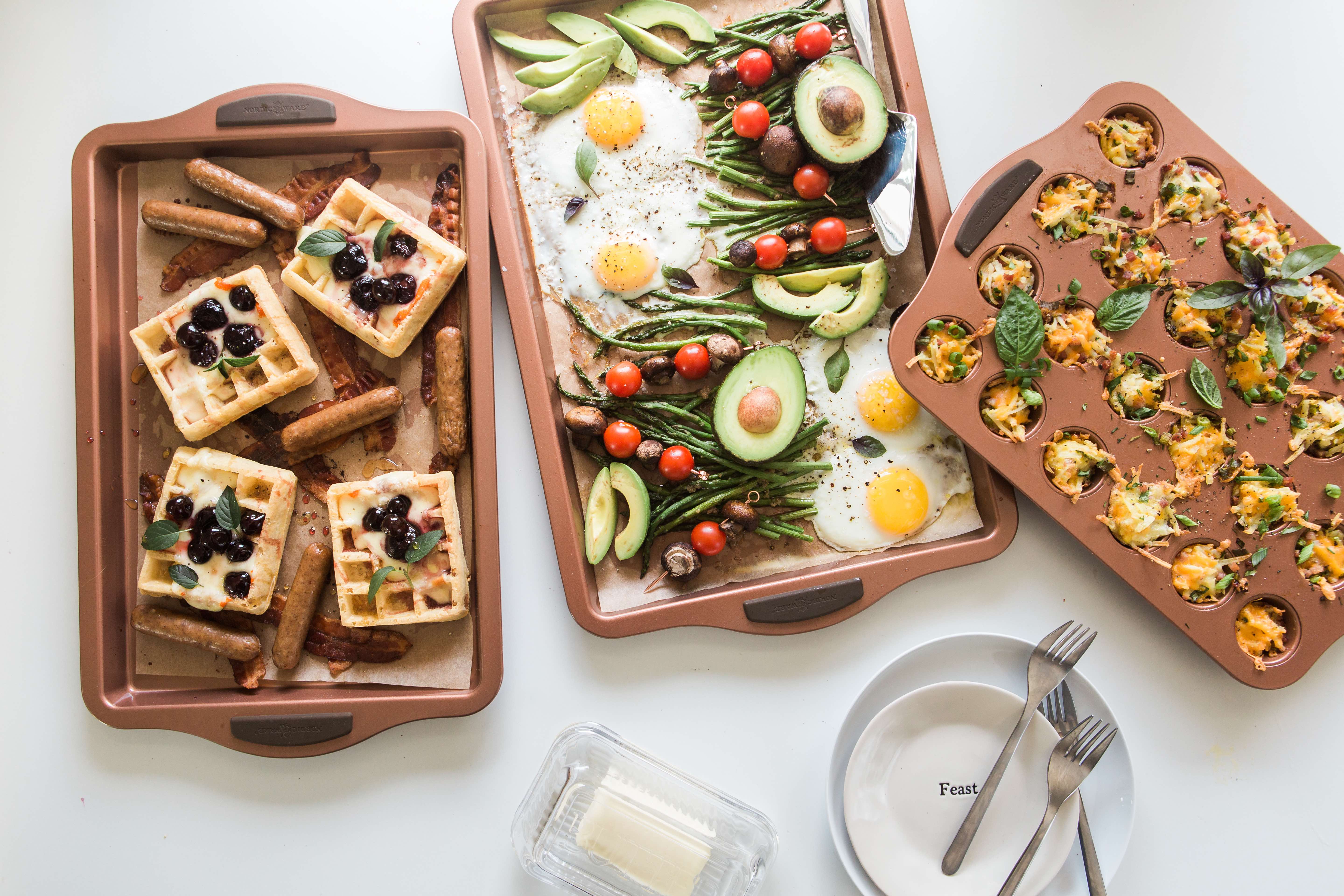 Ever wish you had an excuse to call the best friends over, simmer into a Sunday morning with mimosas in hand, and brunch away the weekend? Well, now you do.
Start the sheet pan cooking craze a little earlier in your day with these three simple one pan brunch recipes that are the perfect reason to gather. Call up the neighbors, the tribe, the besties. Kids or no. Spouses or singles. No matter what crew you choose to invite to brunch, here are three recipes that will have everyone happy to be at your house.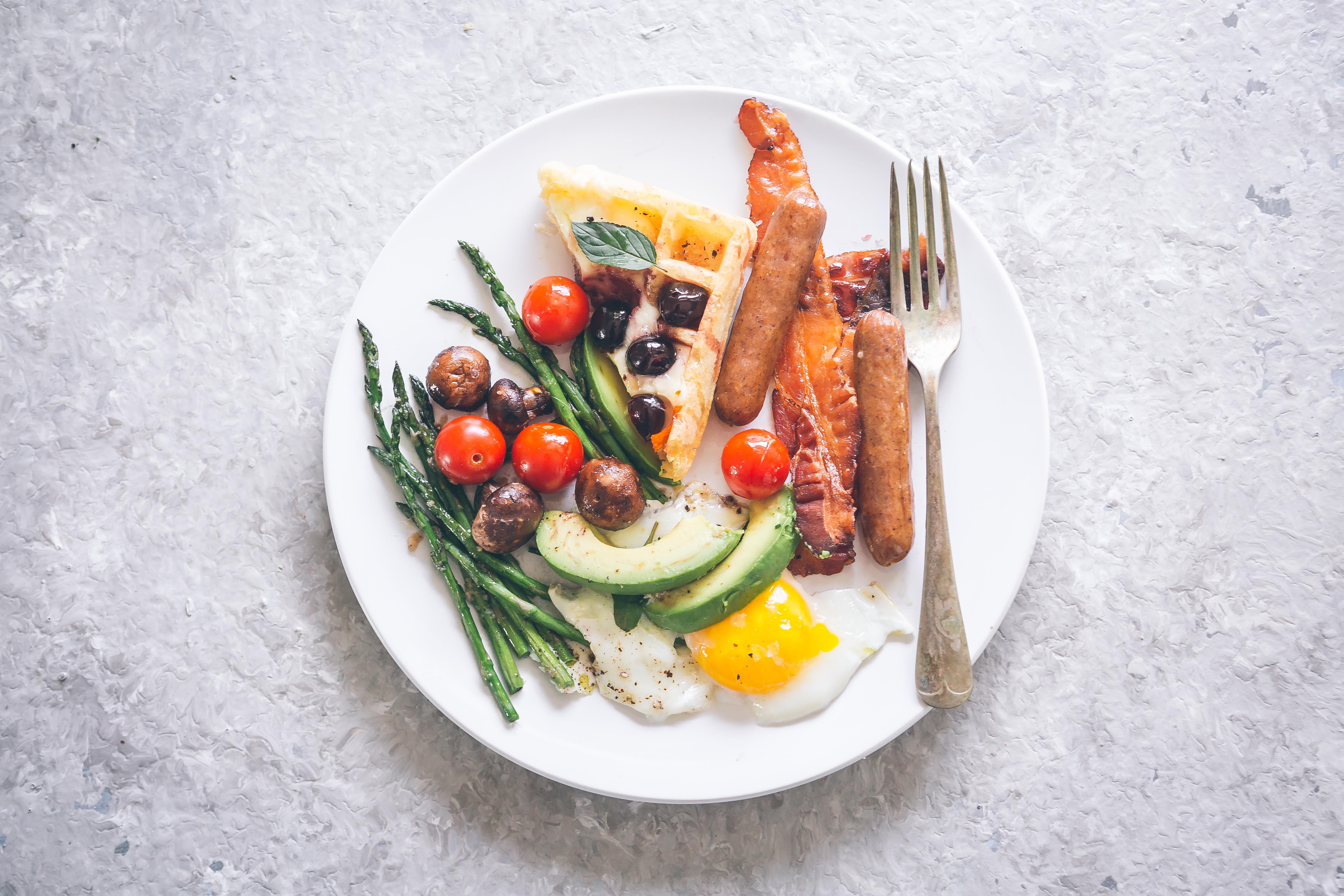 Each of the recipes can be assembled in under 10 minutes, and are designed to stand alone. But the flavors and ingredients complement each other so nicely, and the cleanup will be so simple, we say serve up all three options at once. Prep, bake, party. These sheet pan recipes make for an effortless event. Once baked, simply set the stunning copper pans on the table, lay out Tag Food For Thought Tidbits Plates (such a fun way to set the table with welcoming messages like "feast" and "savor!") and sleek pie servers, and let you party people dive on in.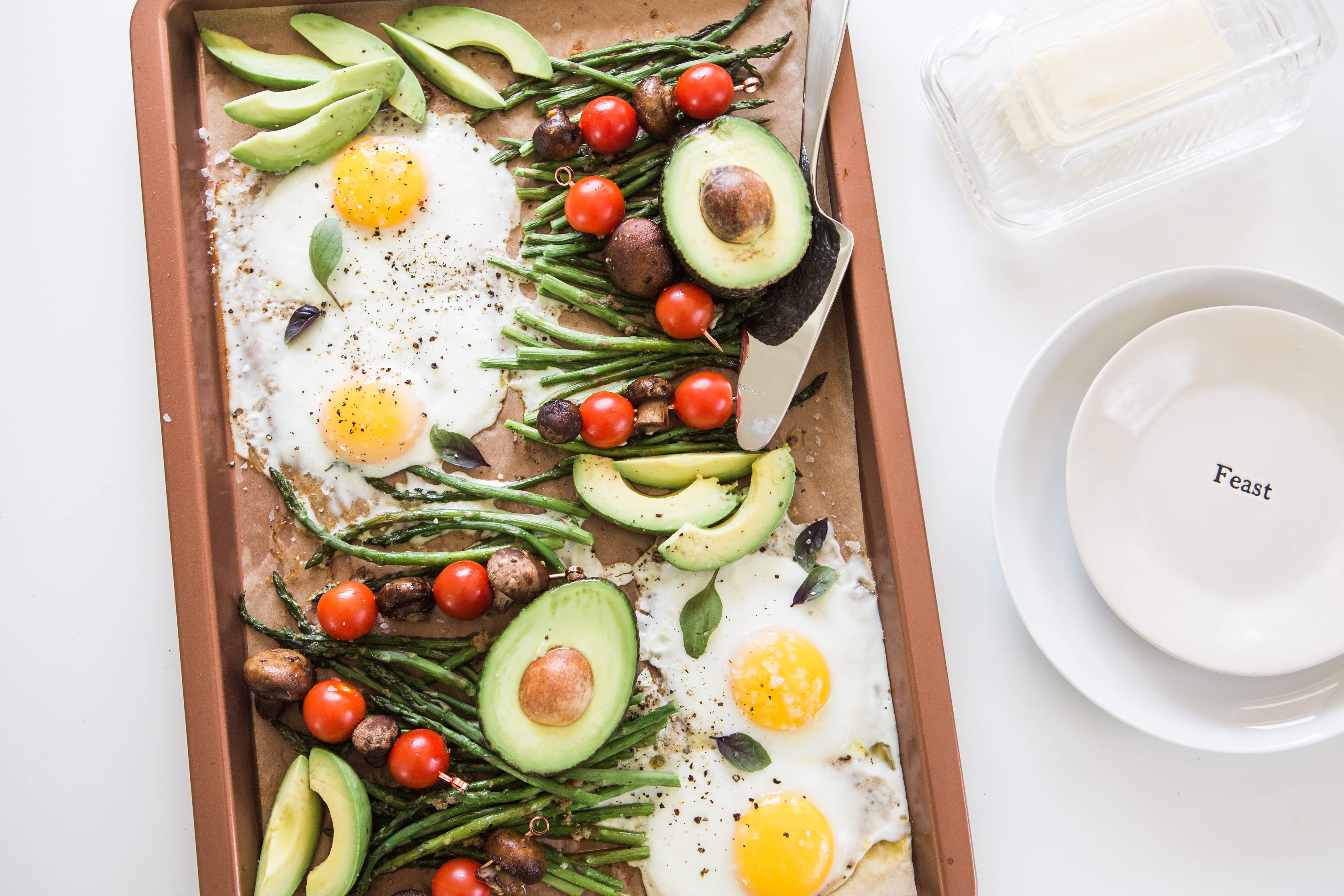 The Deconstructed Veggie Omelet Bake
First up, a veggie filled option your healthy, gluten-free and vegetarian guests will love. Start by lining a Nordic Ware cookie sheet with parchment paper, spread rows of asparagus along each side, then top with pretty copper skewers from Viski. Tomatoes and mushrooms make for a perfect flavor pair. A quick drizzle of garlic and olive oil, then bake. Just before serving, crack eggs onto the pan and cook just until soft baked. Top with avocados, and call in the crew. Brunch is served!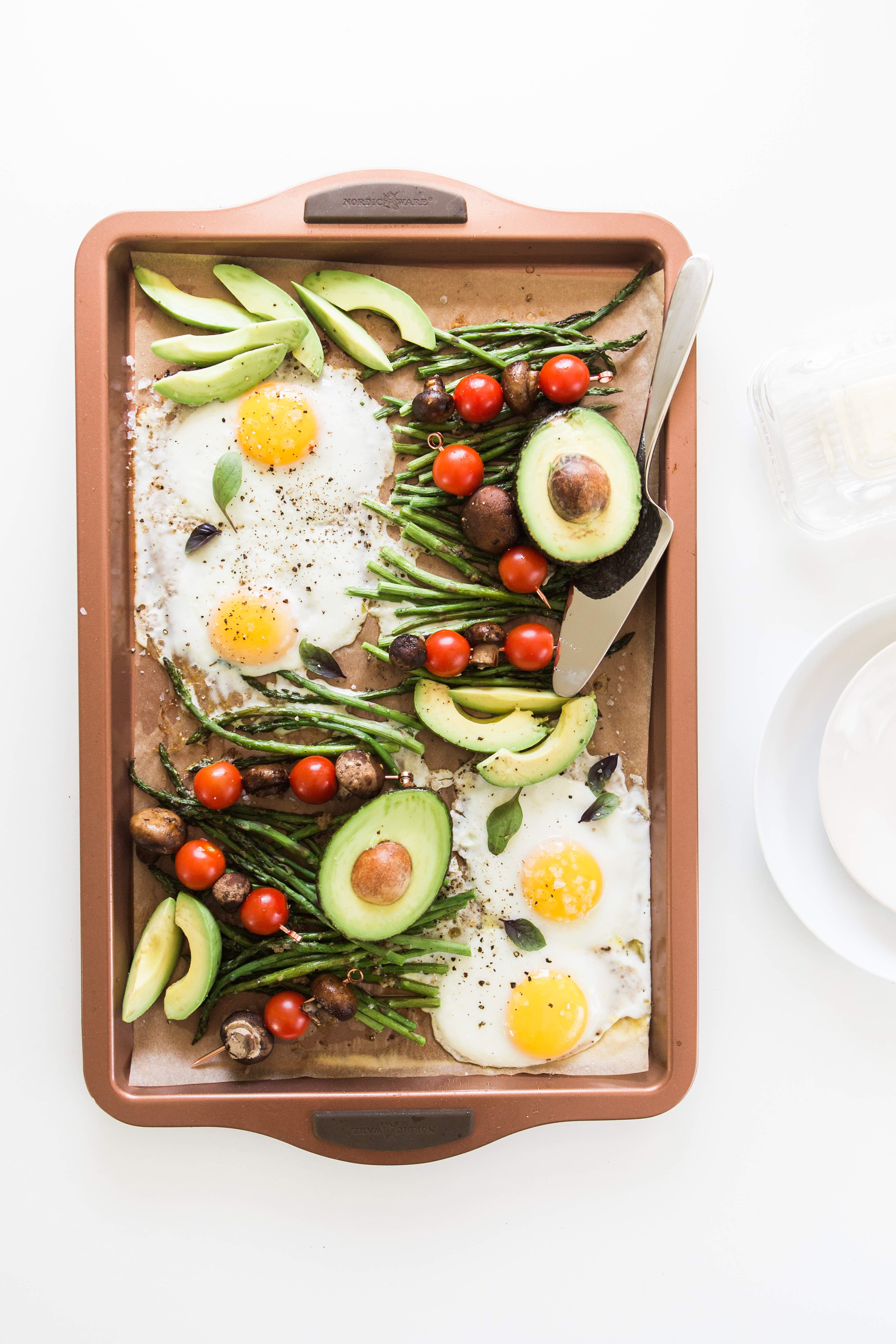 Deconstructed Veggie Omelet Bake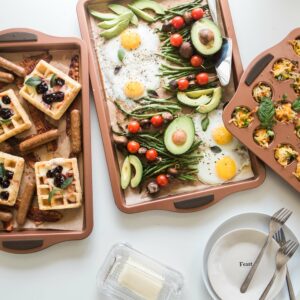 INGREDIENTS
12 oz asparagus, trimmed to 6"
8 cremini mushrooms
8 cherry tomatoes
2 cloves garlic, finely chopped
3 Tbsp olive oil
4 eggs
2 avocados, sliced
½ lemon, freshly squeezed
Salt and pepper, to taste
Fresh Basil or chopped parsley for garnish (optional)
INSTRUCTIONS
Preheat oven to 400°F.
Line a cookie sheet with parchment paper. Spread asparagus three-quarters of the way down the top left and bottom right of the pan.
Skewers mushrooms and tomatoes with cocktail picks and place atop asparagus.
Whisk together garlic and olive oil. Drizzle over pan. Salt and pepper generously.
Bake for 10-15 minutes, or until asparagus and mushrooms begin to sizzle and turn tender.
Crack eggs into the open sections of the pan. Return to oven and bake 3-5 minutes more, just until the egg whites are white.
Drizzle avocado slices with lemon juice. Arrange slices around pan.
Garnish with basil or parsley. Enjoy!
The Mini Muffin Tin Side Dish
One of the best parts of brunch is catching up with friends. One of the worst parts of brunch is: it's hard to fit in chatting when you're trying to work your way through mouthfuls of food. Rather than serving full-sized plates of food, one-bite brunch sides allow guests to get a taste of the good stuff, while still finding time to talk.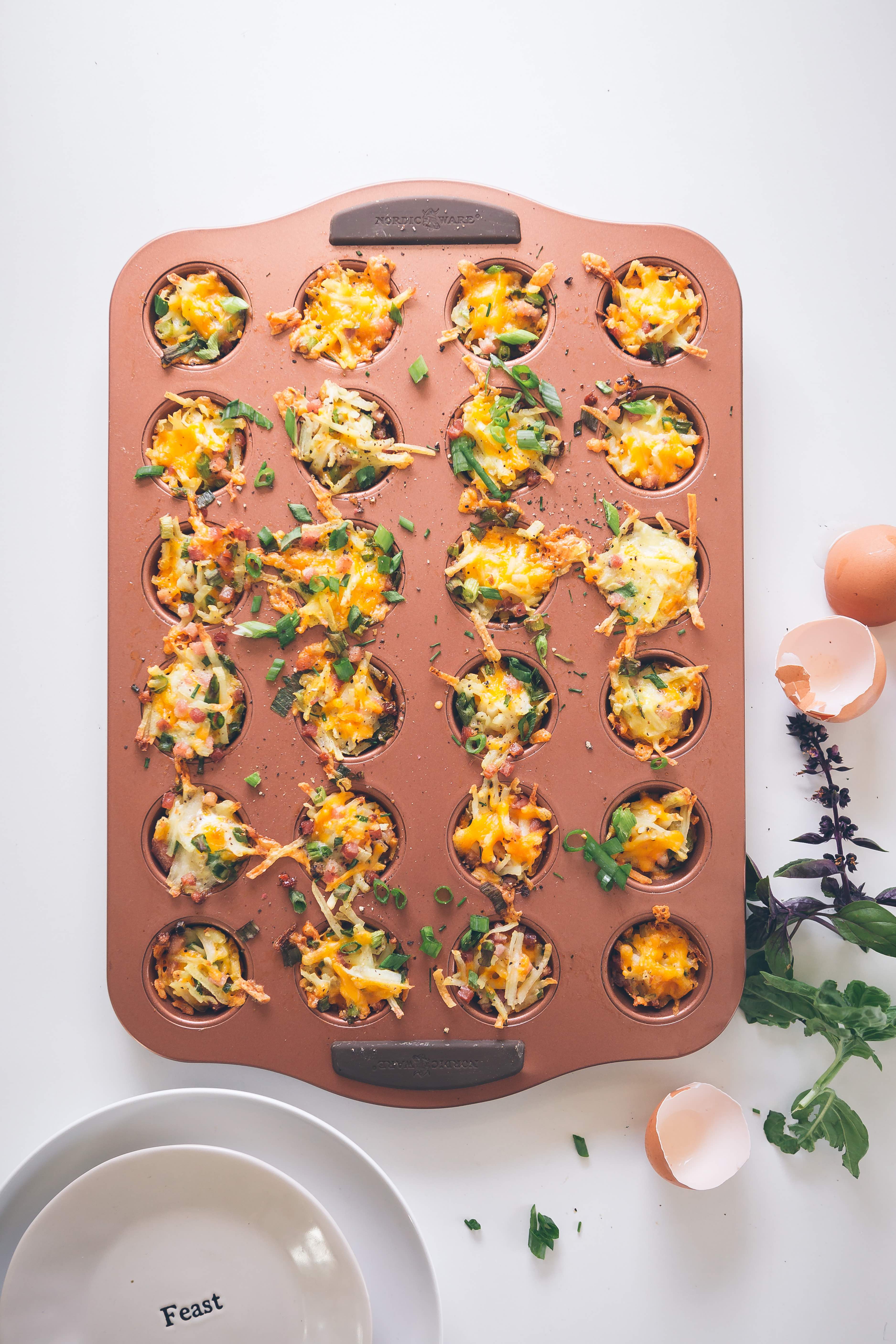 For this fun twist on a classic side dish, we've taken frozen hashbrowns, tossed them with cheddar, pancetta and green onions, and baked them 'til crispy in a mini muffin pan. Brilliantly delicious. And perfect for when you want to eat…but you really want to get in on the latest brunch gossip, too.
Mini Muffin Tin Hashbrowns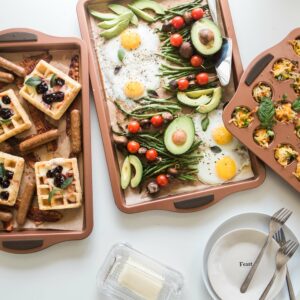 INGREDIENTS
Nonstick baking spray
2 cups frozen hashbrowns
1 egg
½ cup sharp cheddar cheese
1 tbsp olive oil
4 oz pancetta
½ cup diced green onions
Fresh chopped chives (for garnish)
INSTRUCTIONS
Heat oven to 400°F. Spray a mini muffin pan with nonstick baking spray.
In a large bowl, mix together all ingredients (except chives). Press firmly into a mini muffin tin. Bake for 20 minutes, or until the edges begin to turn a light golden brown. Allow to cool slightly before popping from pan and serving.
The Waffle Brunch Bake
Frozen Belgian waffles make a great shortcut for this sweet sheet pan recipe, or you can make up a batch of these homemade Belgian waffles ahead of time. Bacon, sausage, creamy port cheese, and Luxardo cherry topping may be the most beautiful brunch combo ever. And we think your guests will agree.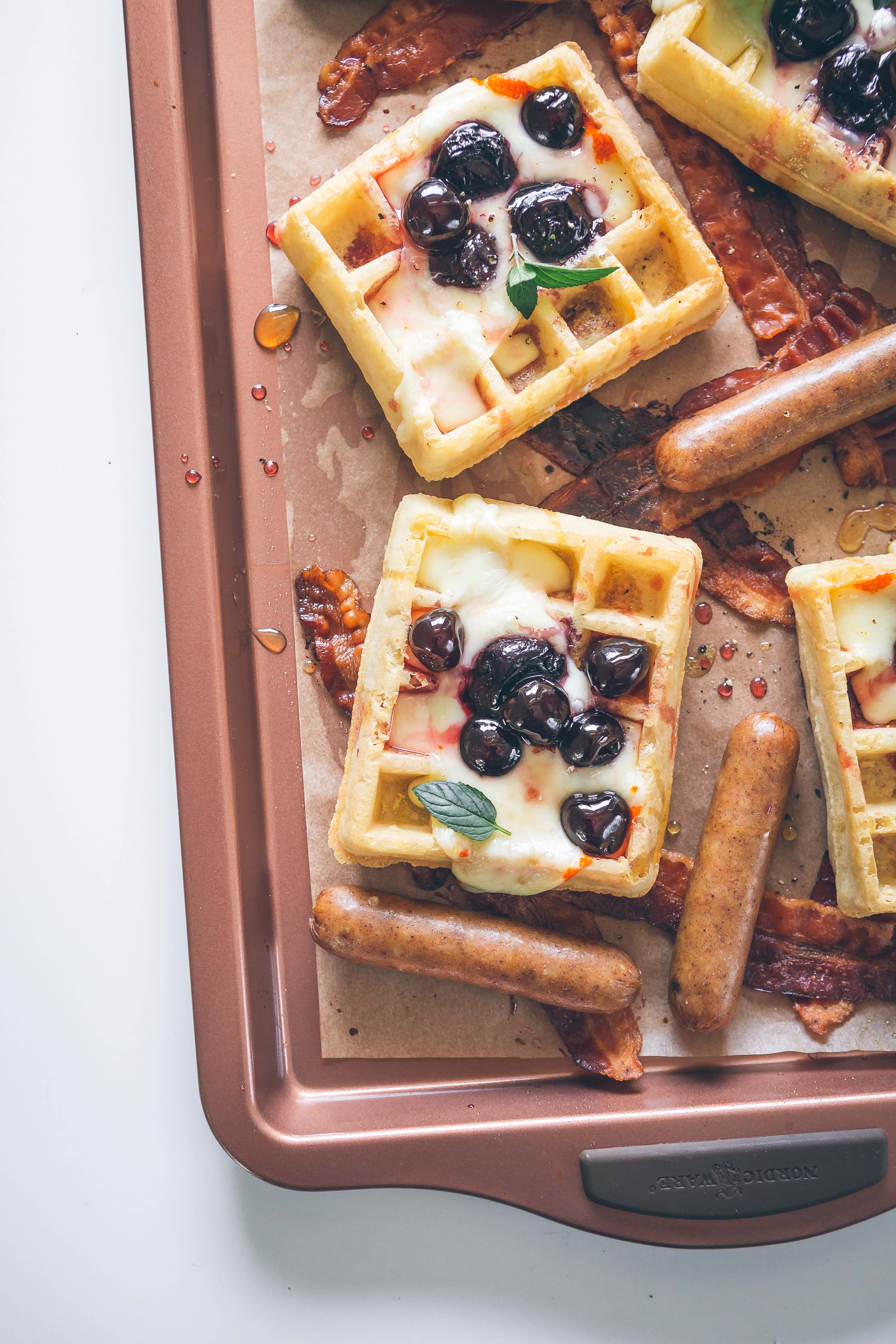 When shopping for the ingredients, you'll typically find Port in the deli and cheese section. It's a soft cheese with an orange rind. So mild in flavor, you'll think it's a tangy, melted mascarpone. Before you leave the grocery store, grab a bottle of pure maple syrup and French butter (which can be nicely displayed in this Amici Home butter dish). Though the waffles are divine without additional toppings, we found the kids in the crew (and a few of the kids-at-heart) loved slathering theirs with extra butter then drizzling with syrup. And really, who can blame them? A waffle without syrup is like…well…a brunch without a sheet pan recipe. Happy noshing!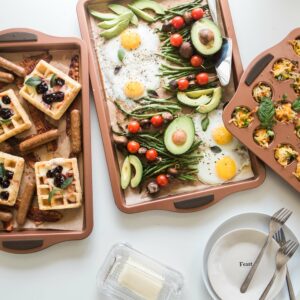 INGREDIENTS
6-8 slices precooked bacon
4 frozen or homemade Belgian waffles
1/3 lb port cheese, cut into 4 slices
½ cup Luxardo or Toschi Black Cherries in syrup (I added a few black cherries, for fun)
6-8 breakfast sausage links (precooked)
Fresh mint (for garnish)
INSTRUCTIONS
Heat oven to 400°F. Line a cookie sheet with parchment paper.
Arrange bacon on the pan. Top with waffles. Place a slice of cheese atop each waffle. Drizzle cheese with cherries and syrup. Arrange sausage on pan.
Bake for 12-18 minutes, or until cheese is melted.
If desired, serve with butter and maple syrup.