Start a Saturday Morning Family Breakfast Tradition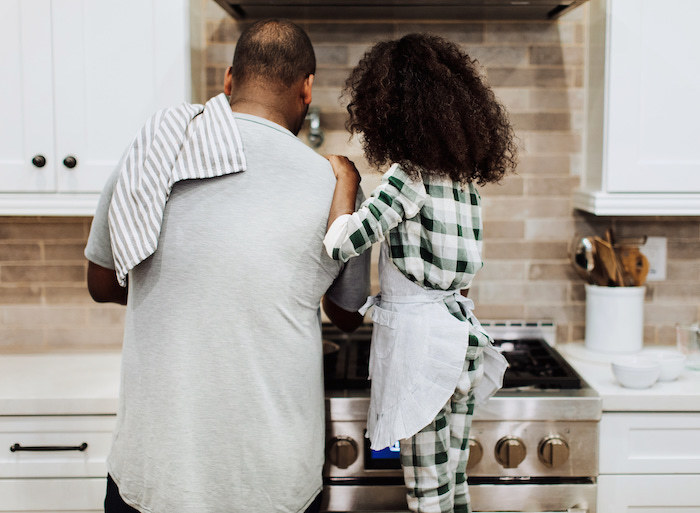 Our family of five rarely finds itself with a free Saturday morning. Between football practice, dance practice, dance competitions, recitals, basketball games, school projects, my husband running a small business, and me doing all the things at home, we go full steam. So when we do get a break, we cherish a Saturday morning ritual imagined in the early days of our marriage.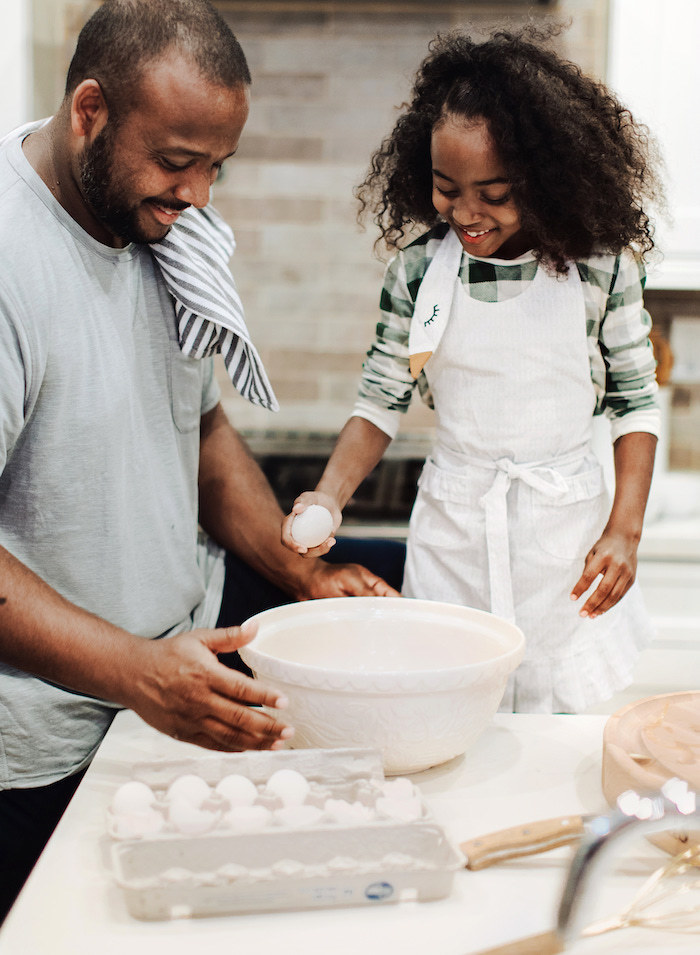 My husband Reggie has always been the king of breakfast. In those early days, when it was just the two of us, he would make a delicious all-American breakfast every Saturday morning. We had no kids. Our weekends were carefree. We would wake up late after a crazy work week, eat breakfast, and do a house project or two. It was simple, and it was a routine that we enjoyed together.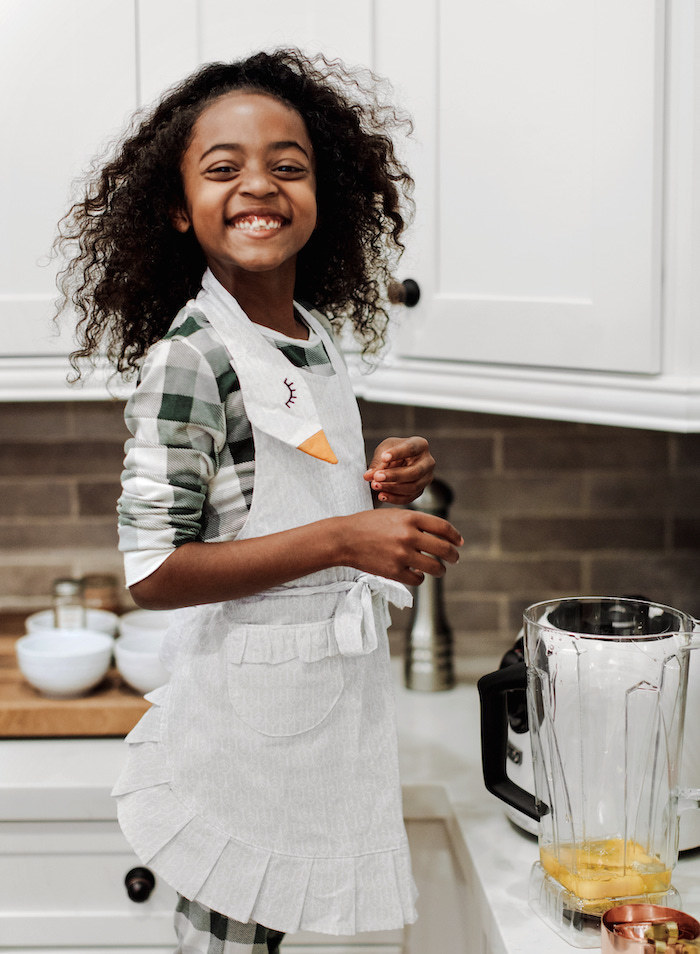 As our family grew and our children were still young, we all eagerly anticipated those Saturday mornings when daddy would get up and make his special breakfast of Daddy's Famous Cheesy Eggs (named by the kids), Texas-sized French toast, crispy bacon, and fresh squeezed orange juice.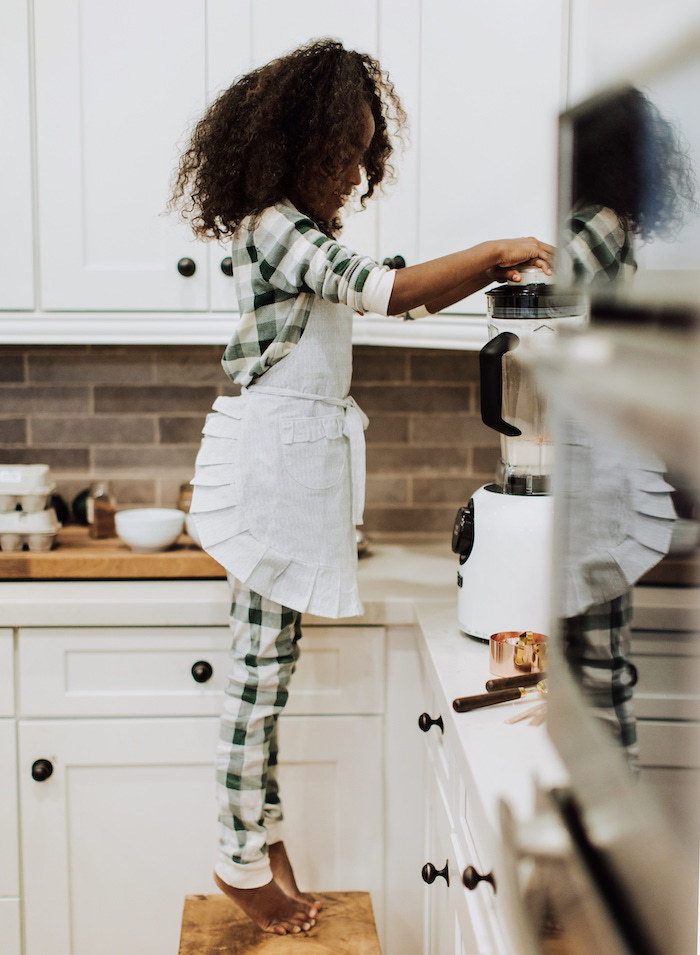 The boys and I would snuggle on the sofa and watch cartoons, while Livy, a toddler at the time, would make her way into the kitchen to be with her Daddy.
"Daddy, can I mix the eggs?"
"I want to add the salt, Daddy."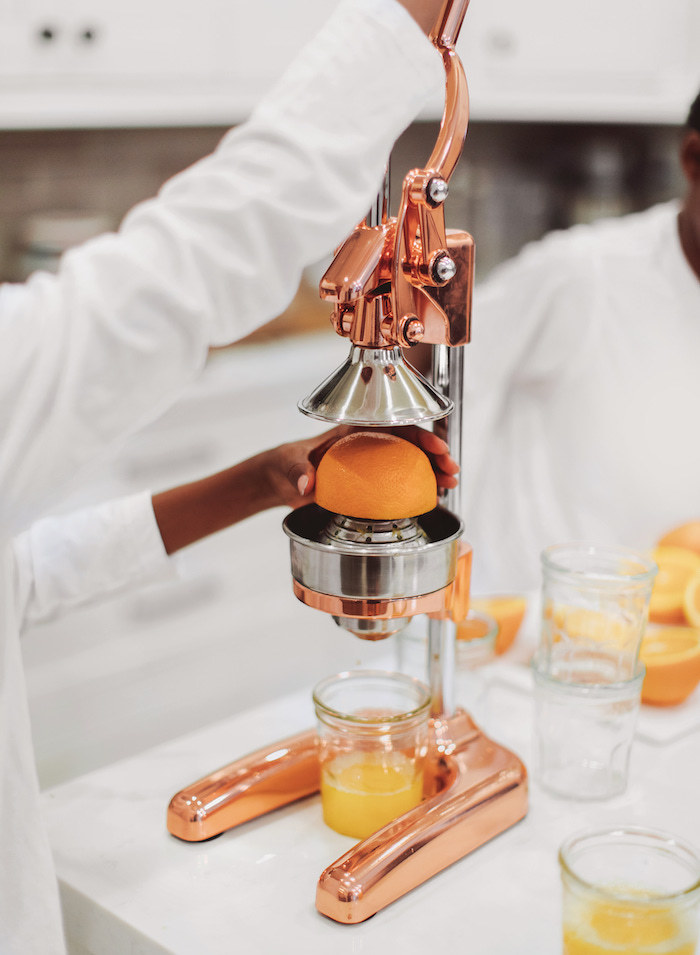 I savor that time watching my husband and daughter together. On occasion, the boys and I pitch in by squeezing the fresh-from-the-orchard oranges. Mostly though, I have the pleasure of simply relaxing and eating.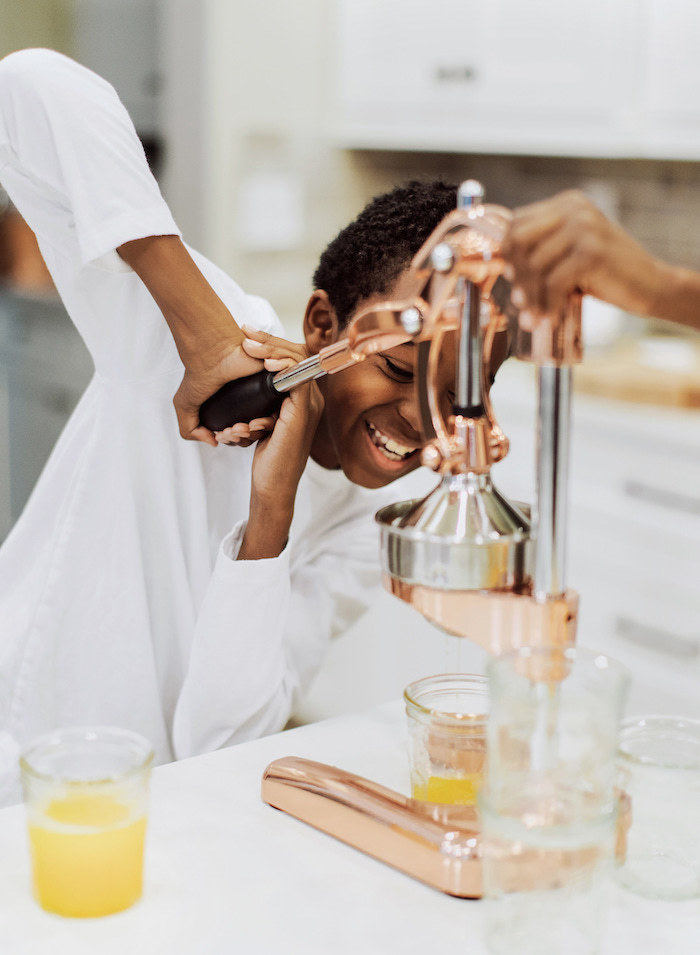 When we are fortunate enough for the uninterrupted time, this Saturday morning breakfast is the highlight of my week. I hope I always look up and find Reggie and Livy in the the kitchen together, bonding over cracked eggs, and I hope the boys and I are always hungry enough to join.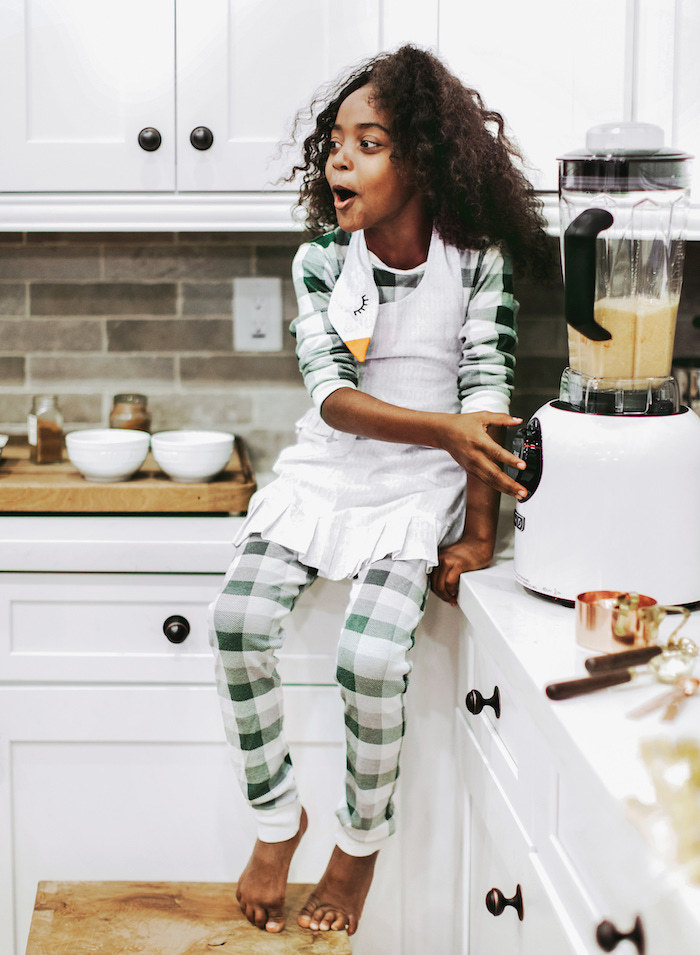 In our family, if you can cook, we love you. If you can eat, we love you even more.
Daddy's Famous Cheesy Eggs
Whip up some of these classic scrambled eggs (with lots of cheese) on a Saturday morning for a very happy family.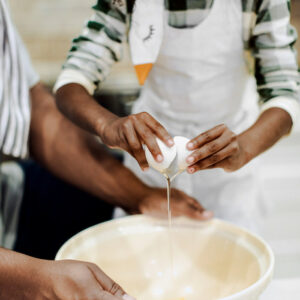 Ingredients
6

large eggs

Salt & Pepper

3

tbsp

olive oil

4

slices American cheese

.25

cups

minced onion
Instructions
In a medium mixing bowl, whisk together eggs. Add salt and pepper.

Add three tablespoons of olive oil to a non-stick skillet. Heat skillet over medium-high heat. Reduce heat and add the minced onions; sauté until soft, about 1-2 minutes.

Add whisked egg mixture. Gently move the eggs from side to side and the mixture begins to settle. Add American cheese slices one by one and melt them into the eggs.

Cook eggs until the are nice and fluffy and minimal liquid is left.

Serve hot and enjoy!
Nutrition
Serving:
1
g
Calories:
359
kcal
Carbohydrates:
3.9
g
Protein:
17.8
g
Fat:
31
g
Saturated Fat:
9.3
g
Cholesterol:
394
mg
Sodium:
495
mg
Fiber:
0.2
g
Sugar:
3.3
g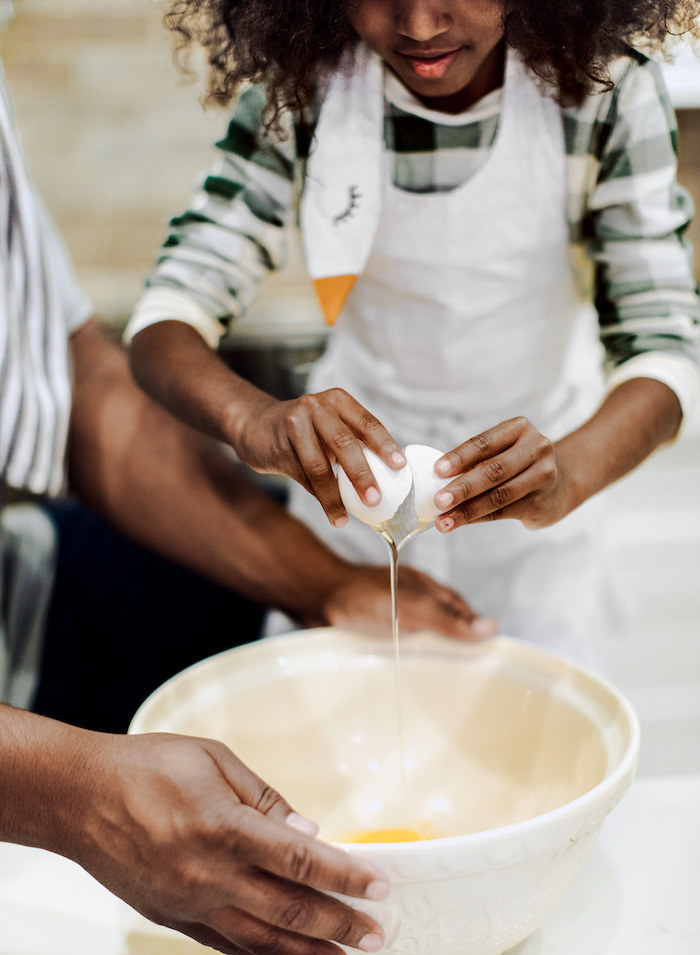 This Texas-toast size French toast is the perfect sweet addition to your family breakfast this weekend.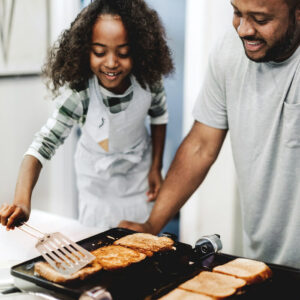 Ingredients
4

tbsp

soft butter

8

slices thick/Texas Toast bread

3

large eggs

.75

milk or cream

pinch of salt

.25

tsp

nutmeg

.25

tsp

cinnamon

2

tbsp

sugar

1

tsp

vanilla extract
Instructions
Heat an electric griddle to 350°F.

To a blender, add eggs, milk, salt, nutmeg, cinnamon, sugar, and vanilla. Blend until smooth. Into a shallow casserole dish large enough to hold two pieces of bread, pour the batter.

Place two pieces of bread in the casserole dish. Let them soak for about 30 seconds, then turn them over, and let soak for about 30 seconds on the other side. Make sure the bread is not soggy.

Just before you place the bread on the preheated griddle, place a small amount of butter on the skillet and melt. Grill until both sides are golden brown.

Serve hot with butter and maple syrup!
Nutrition
Serving:
2
g
Calories:
365
kcal
Carbohydrates:
40.9
g
Protein:
10.4
g
Fat:
18.2
g
Saturated Fat:
9.1
g
Cholesterol:
174
mg
Sodium:
346
mg
Fiber:
2.1
g
Sugar:
10.5
g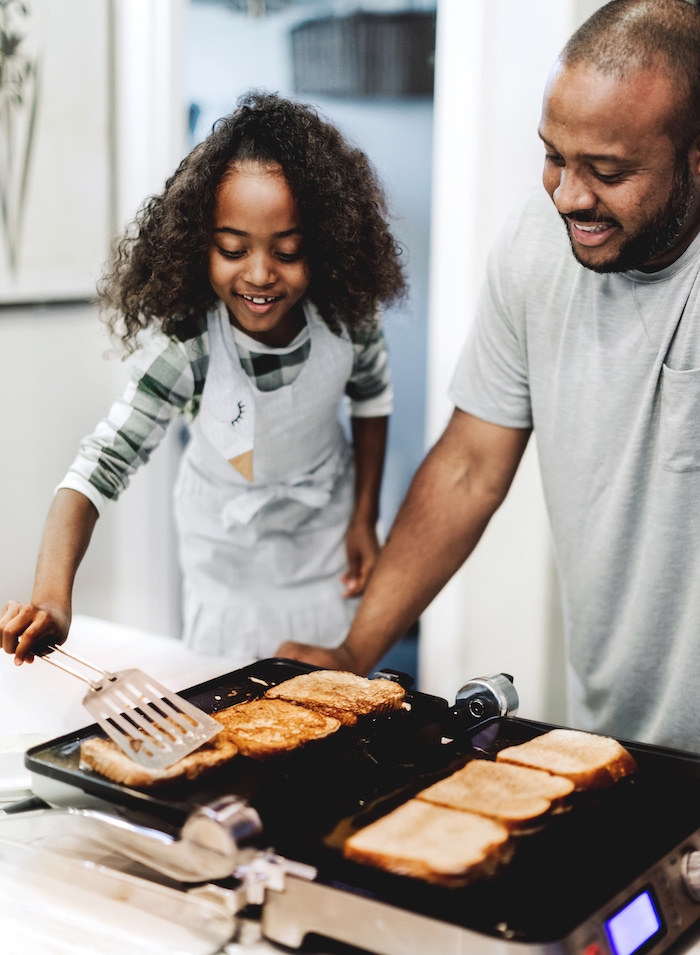 Copy by Destiny Alfonso / Photography by Constance Mariena
Destiny Alfonso is a Phoenix-based home living and lifestyle blogger. Aside from her husband and three kids, one of her greatest loves is making, creating, and sharing beautiful things. Find more of her recipes at justdestinymag.com.
This story originally appeared in the Fall/Winter 2018 issue of The Inspired Home Journal, titled "Breakfast Buddies."