The Ultimate Green Bean Casserole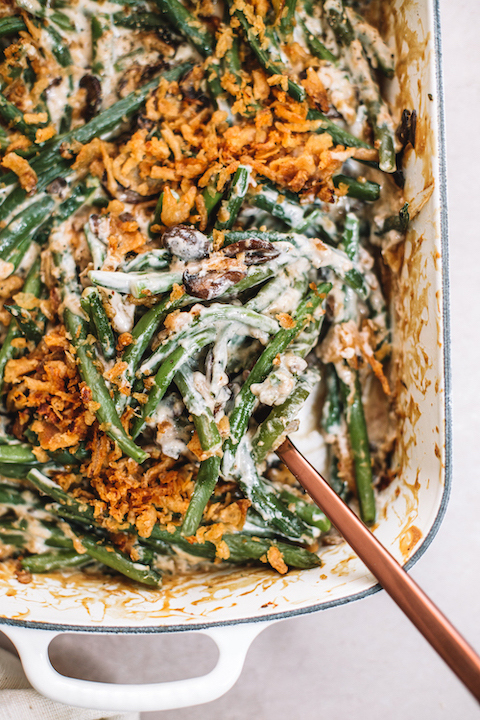 I can only speak for myself but is anyone else's family totally obsessed with green bean casserole!? It's the number one requested Thanksgiving side dish at our house and I am happy to oblige. For as long as I can remember I have been in charge of the green bean casserole. Or 'the bean casserole' as my dad likes to say.
No matter what, green bean casserole is at the top of our Thanksgiving sides lineup. This ultimate green bean casserole is made with the classics like Campbell's cream of mushroom soup and French's fried onions but made decadent with ingredients like fresh golden brown mushrooms and fresh green beans. The perfect pair for Thanksgiving turkey, pork roast or tri tip. Bookmark this green bean casserole recipe for all your Thanksgiving needs.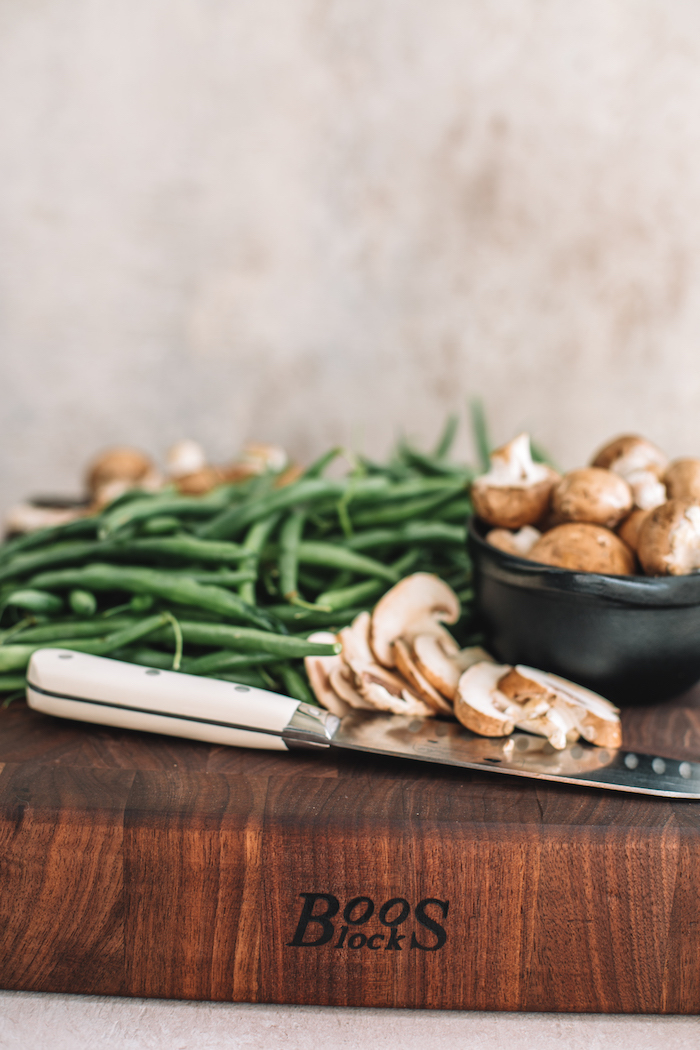 Walnut Square Chopping Block

By John Boos

Shop Now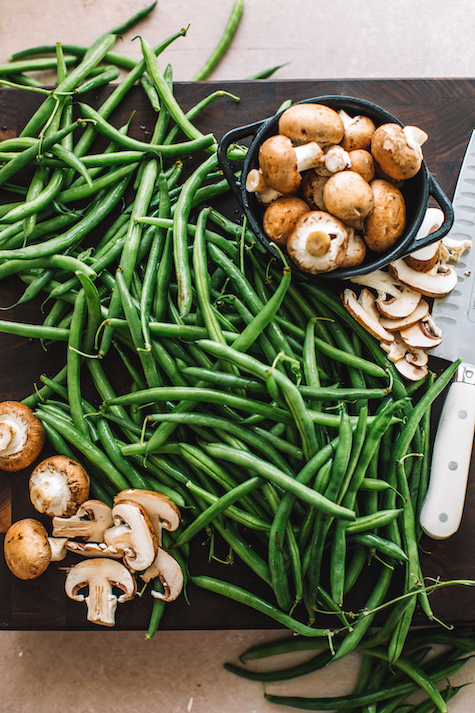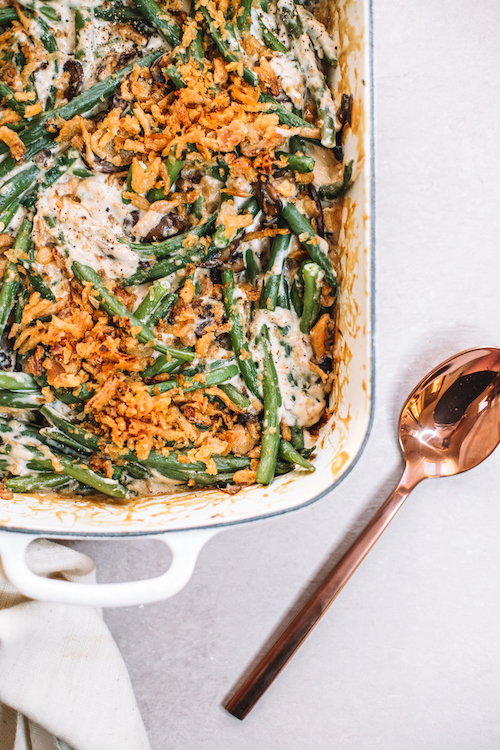 Arezzo Rose Serving Spoon

By Fortessa

Shop Now
Can I prep the Green Bean Casserole the night before?
Yes, girl! I know that Thanksgiving prep can be bananas and you can totally mix this green bean casserole the night before. You will make it according to the recipe, just be sure to add in the crunchy onions right before baking so they don't get soggy overnight. Mix in the onions and bake accordingly!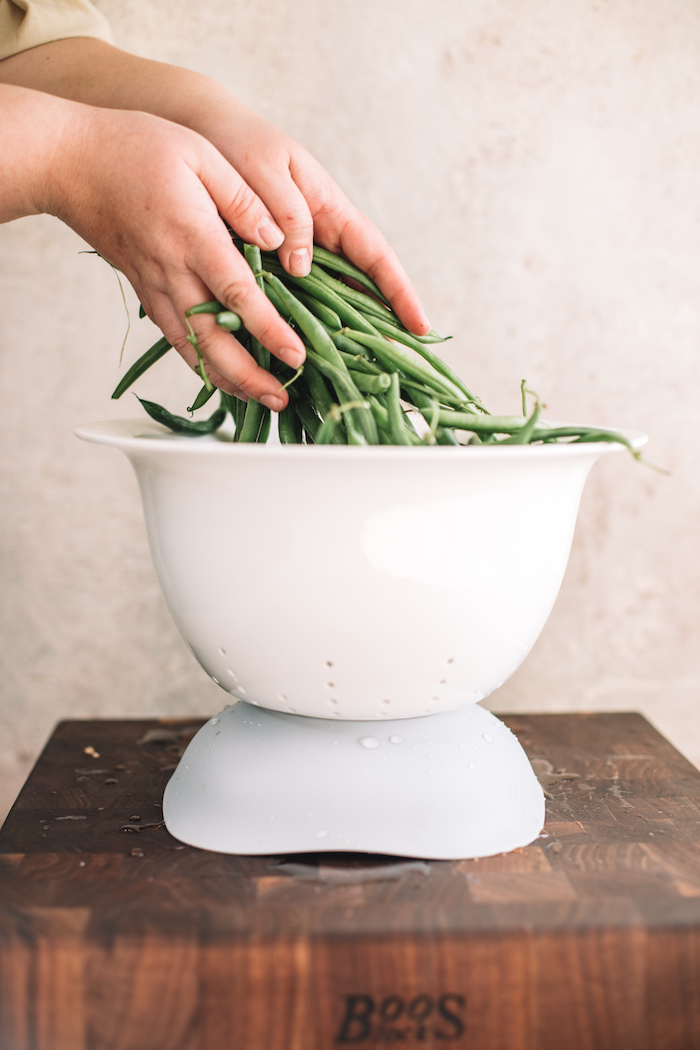 I make up the green bean casserole in my extra large Le Creuset roaster the night before, wrap tightly, and bake right in the same pan the next day. This roaster is perfect for green bean casserole because I ALWAYS double the recipe and it extra large enough to handle it!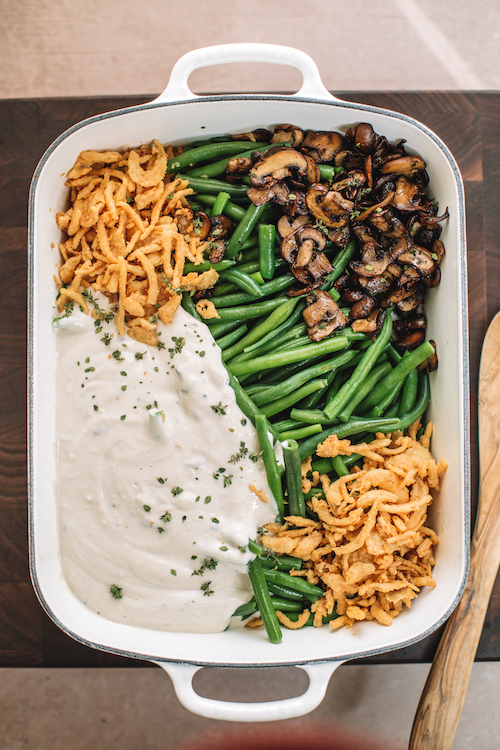 Signature Roaster

By Le Creuset

Shop Now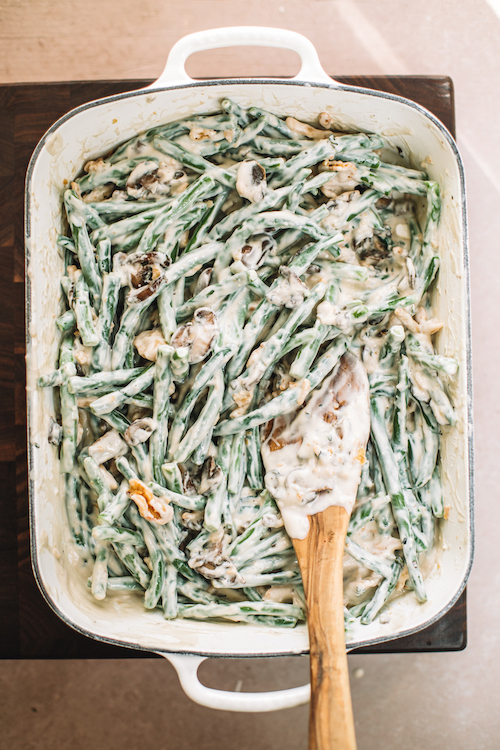 What goes with Green Bean Casserole?
I truly think green bean casserole should be instituted all year long BUT it is a Thanksgiving classic. This creamy, savory casserole pairs perfectly with roasted turkey, pork tenderloin, mashed potatoes and sweet marshmallow topped yams.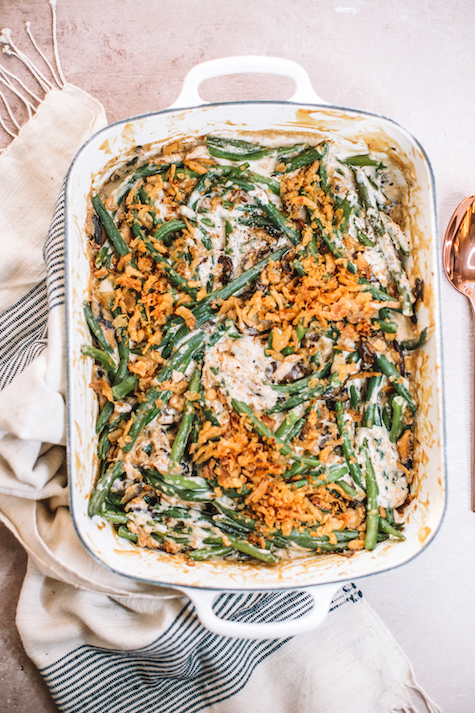 Tips for The Best Green Bean Casserole:
Use fresh beans! I cannot tell you enough! The fresh beans will add such depth and flavor to the casserole. Plus, they hold up WAY better than canned beans and never get mushy.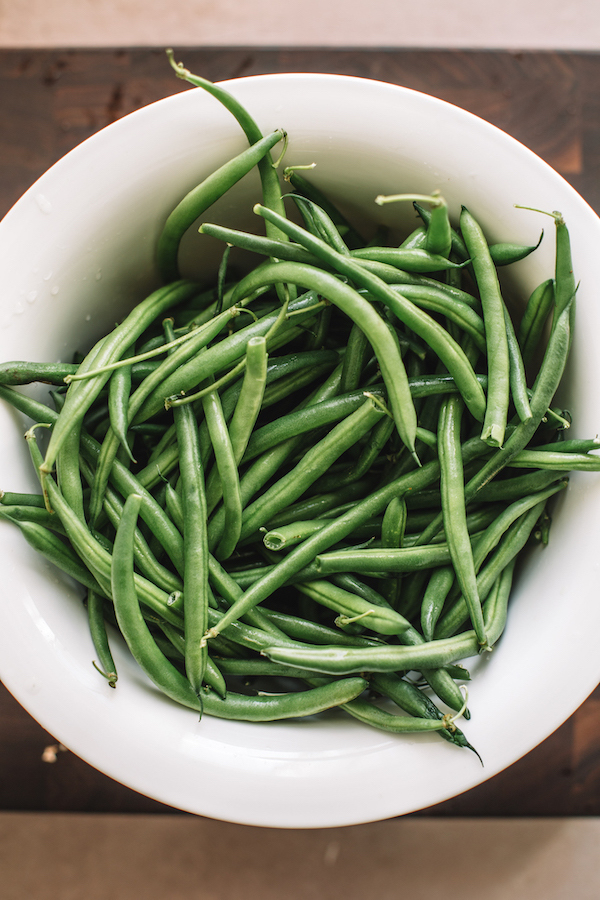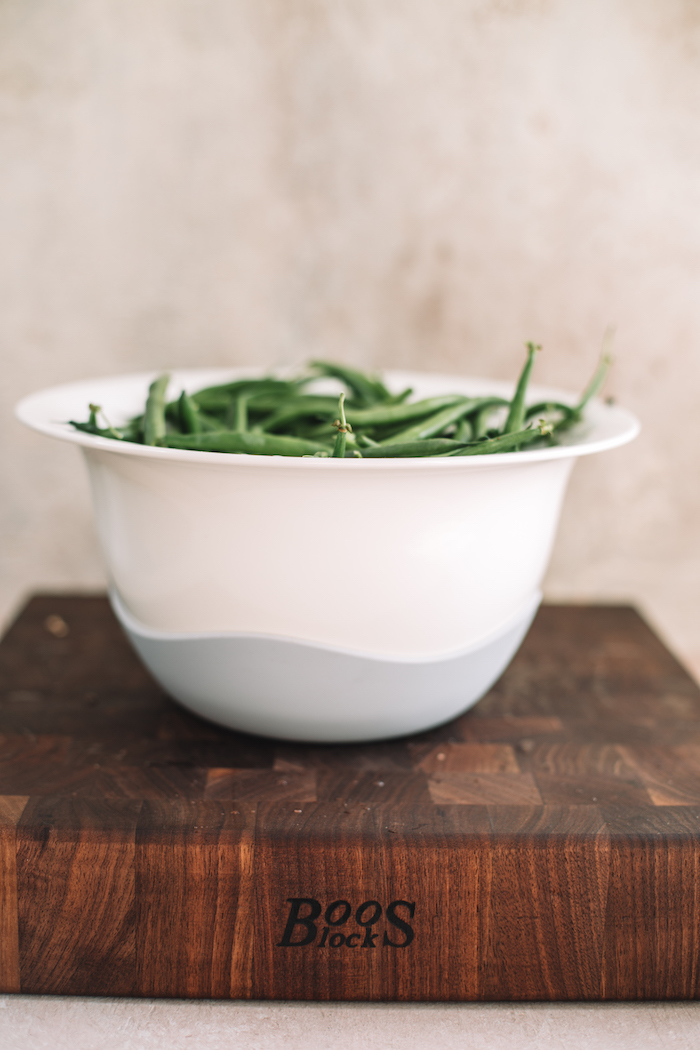 Clever Cooking Strainer/Serving Bowl

By Villeroy & Boch

Shop Now
Don't deviate from the classic too much. I love using the nostalgic items like Campbell's cream of mushroom soup and French's fried onions but add in fresh mushrooms for extra added flavor. Bacon is also a great addition for more flavor!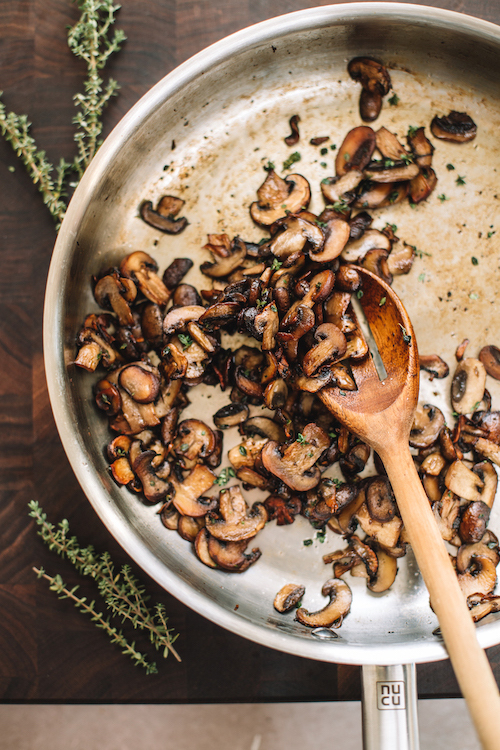 Be sure to blanch your beans and put them right into an ice bath! They will continue to cook in the oven and become perfectly tender.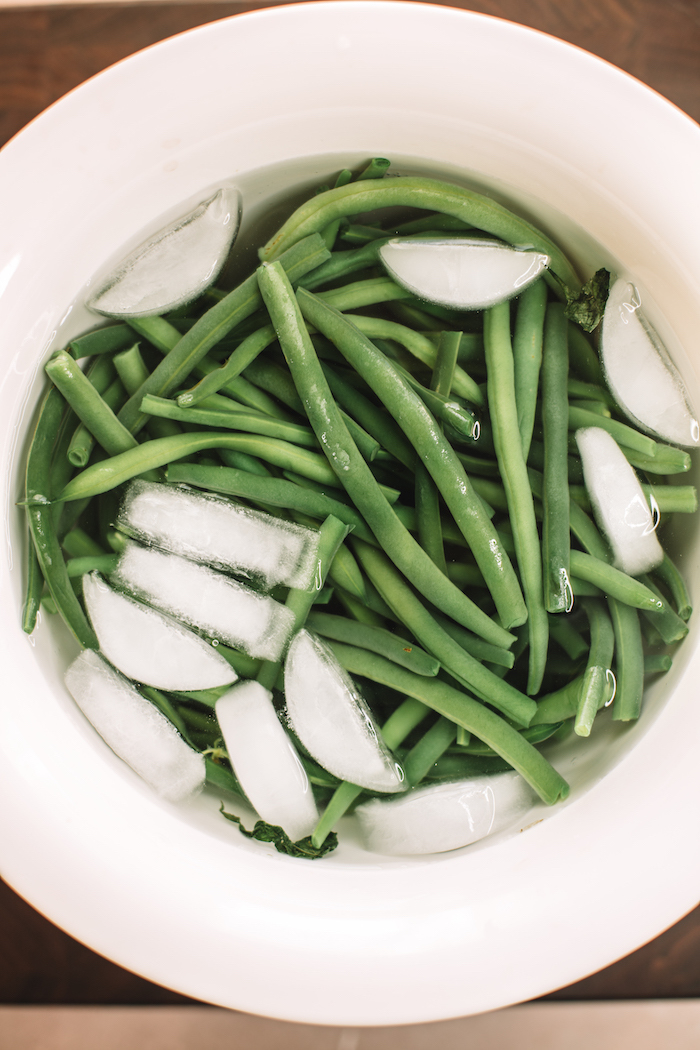 Reheating for leftovers: tent the casserole loosely with foil and bake for 15-20 minutes at 350 F or until heated through.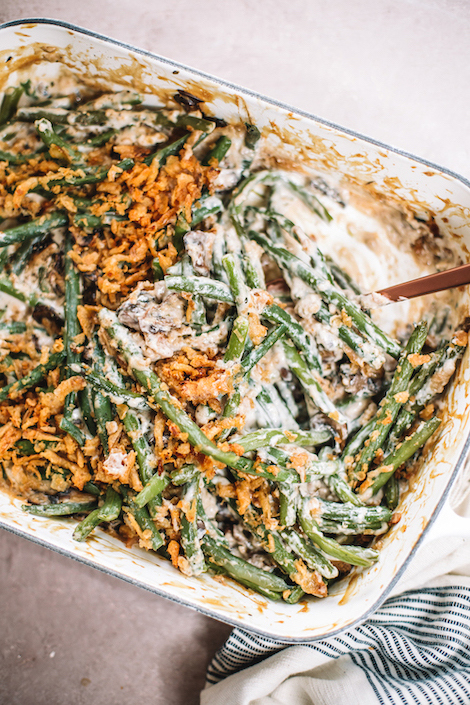 The Ultimate Green Bean Casserole
INGREDIENTS
2 lbs. of fresh green beans, trimmed
3 tablespoons of unsalted butter
16 oz of cremini mushrooms, sliced
3 garlic cloves, minced
2 cans of Campbell's cream of mushroom soup
1 cup of half and half
1 tablespoon of soy sauce
2 cups / 1 can of French's Crispy Fried Onions
INSTRUCTIONS
Preheat oven to 350 F.
Bring a large stock pot of water to a rolling boil. Cook green beans for 3-4 minutes and transfer into a large bowl filled with ice water. This will stop the cooking process of the beans. Once cooled, drain and transfer beans to a separate large bowl.
In a large sauté pan, melt butter on medium heat. Add in sliced mushrooms and cook for 5-10 minutes or until mushrooms are golden brown. Add in minced garlic and cook for 1-2 minutes or until fragrant.
In a large bowl, stir together the soup, half and half, black pepper, soy sauce and ½ of the crispy fried onions.
Combine the soup mixture and green beans together. Transfer mixture to a large casserole dish. Cover with foil and bake for 20 minutes. Remove foil, top with remaining onions and bake for an additional 5-10 minutes or until bubbly and golden brown.
Note
*If making the recipe the night before, make up until step 4, cover with plastic wrap and wait to add the crunch onions until just before baking.
More Thanksgiving Side Dish Recipes You'll Love: