Spring Sheet Pan Chicken Dinner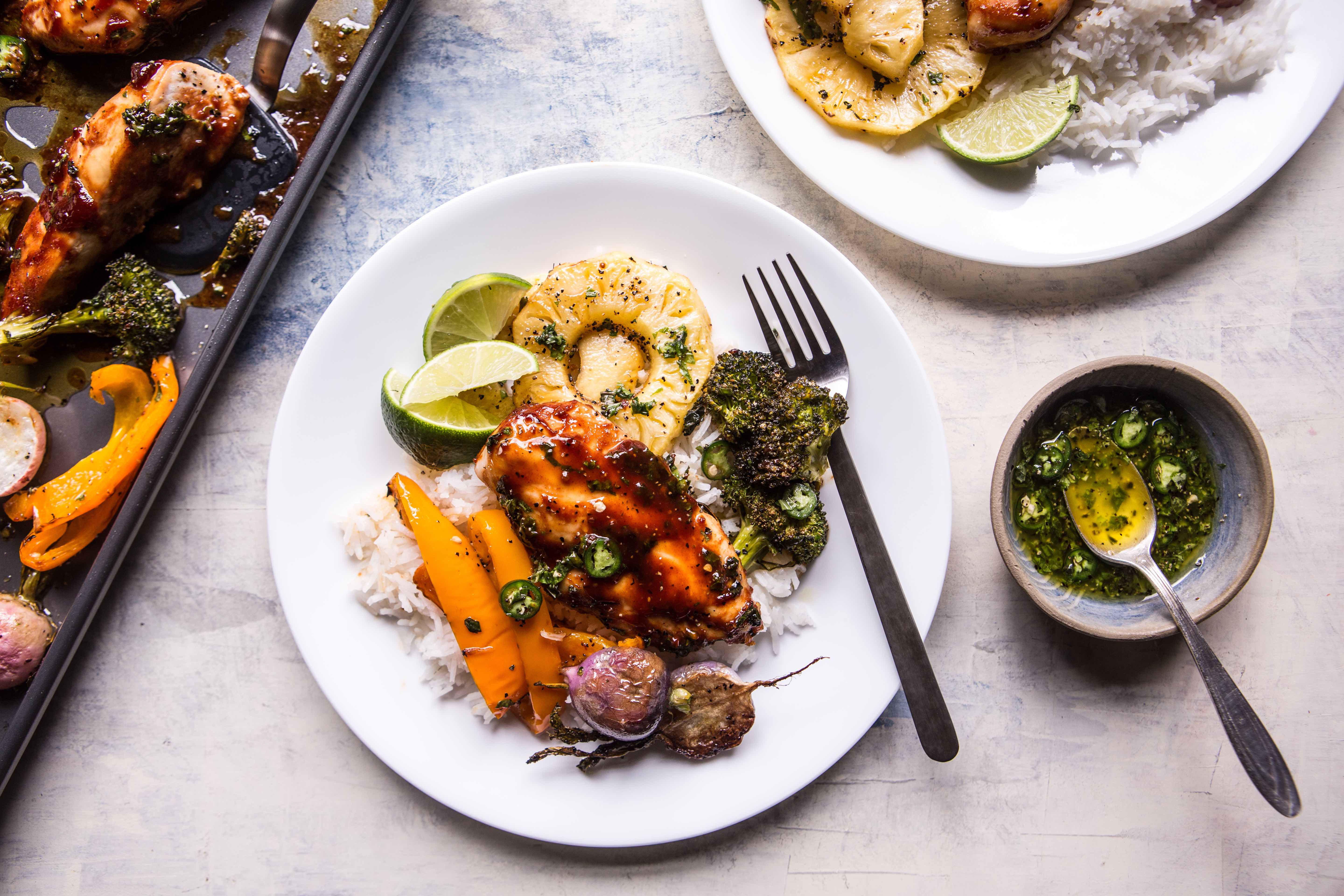 When spring finally decides to emerge here in the mountains I couldn't be more excited. The fresh air, blooming flowers and longer sunnier days are simply the best.
When I think of spring dinners, foods with color fill my mind…bright salads, pastas loaded with veggies, plenty of dishes topped with eggs, and simple chicken dinners laden with my favorite spring veggies.
Today I'm sharing one of those simple chicken dinners, but with a Hawaiian twist! One of my most desired flavors is Hawaiian BBQ, it's sweet and spicy, and I always pair it with fresh pineapple…my favorite!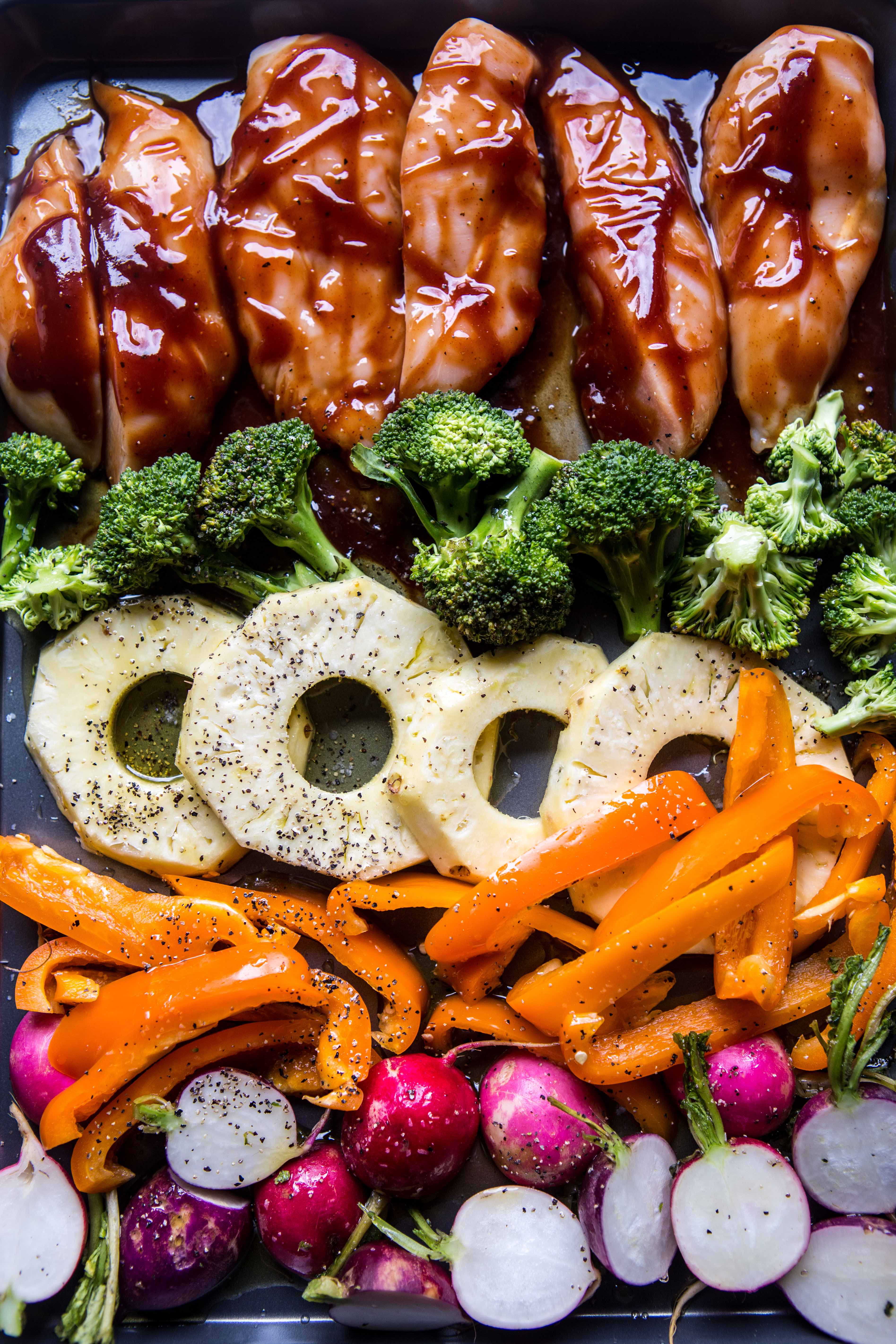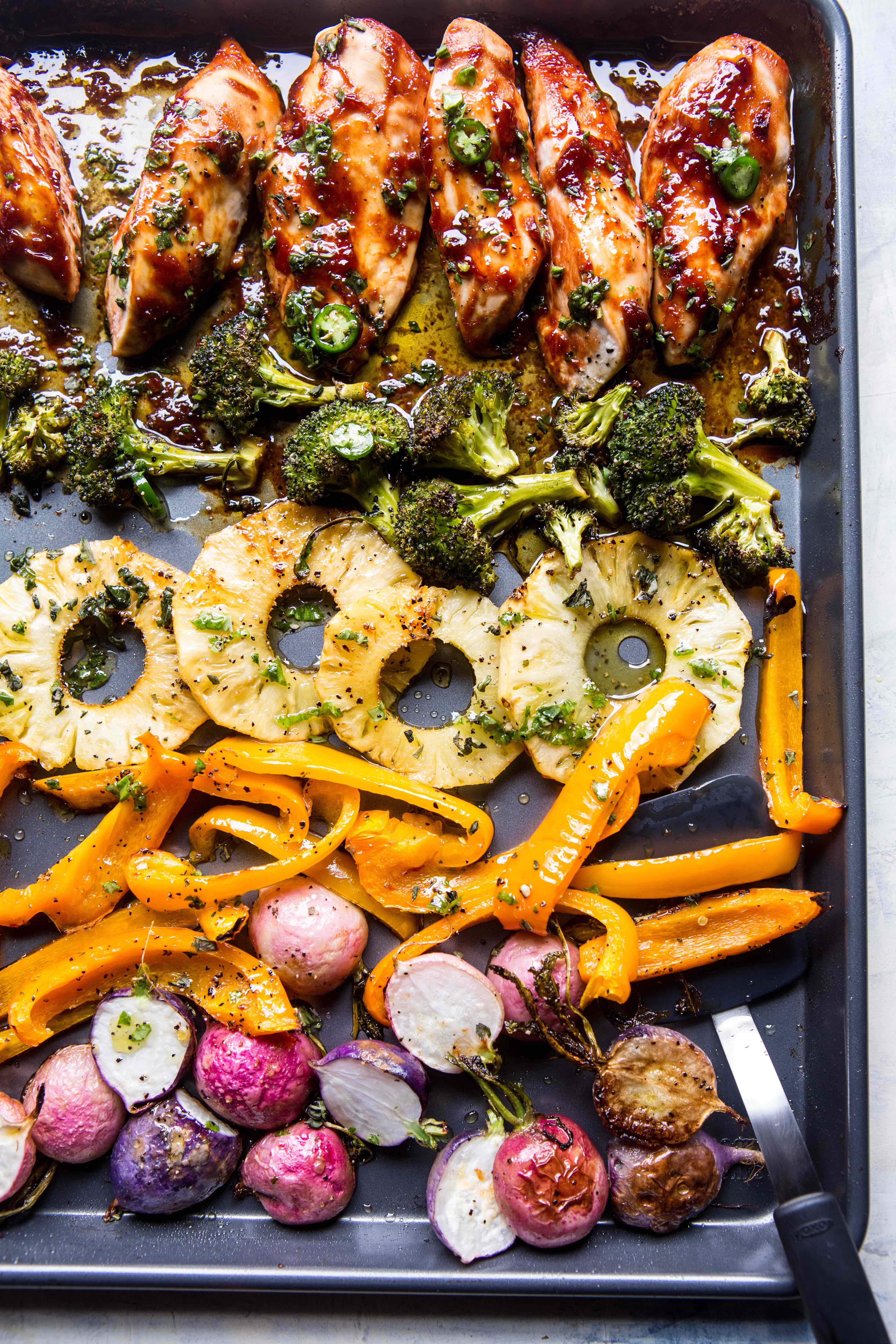 Since weeknights are always hectic, I like to keep things quick and simple. Roasting the chicken, veggies, and pineapple all on ONE sheet pan makes for quick and easy cleanup. Yes, please!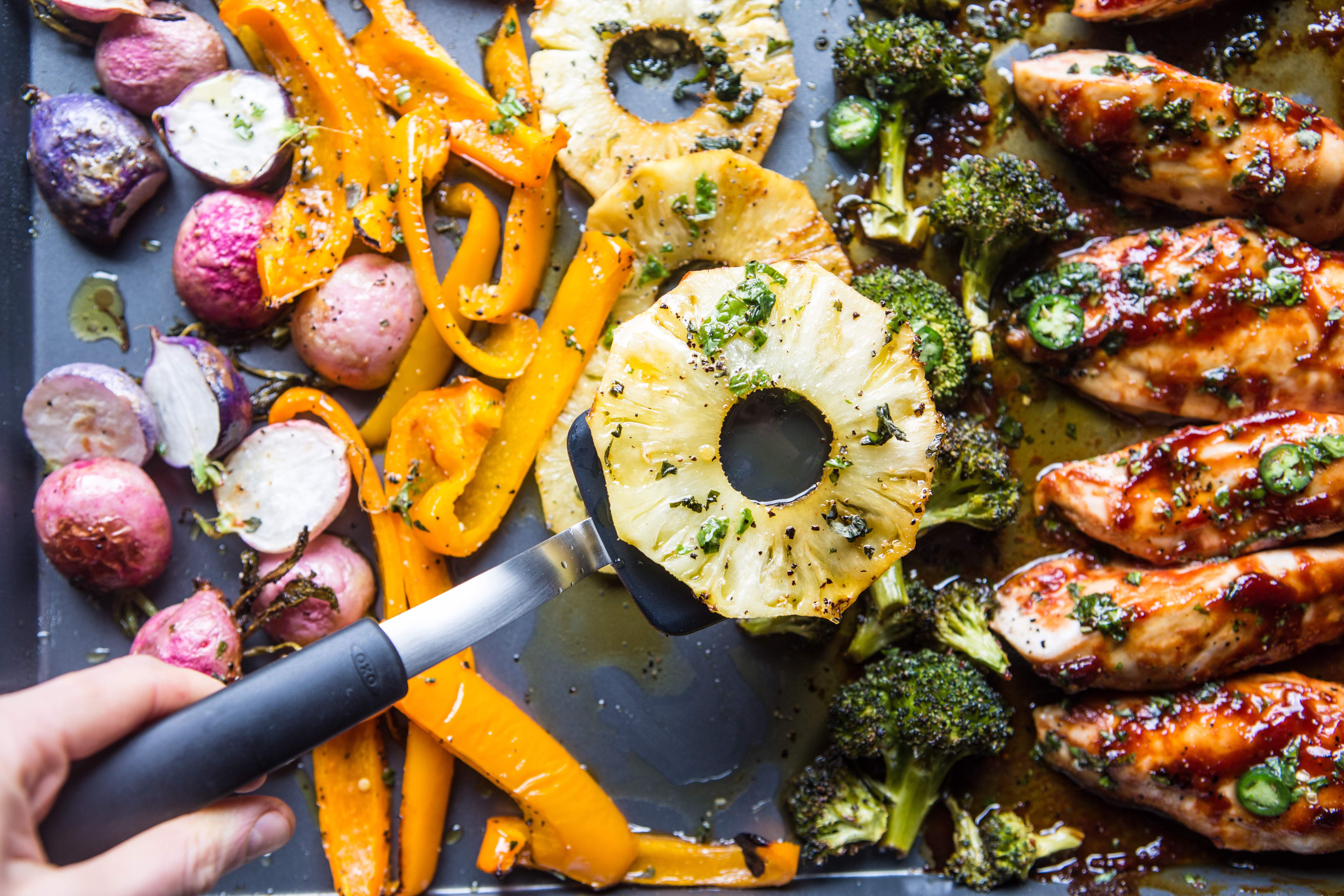 I like to serve this chicken with a side of steamed white rice and a simple Honey Lime Vinaigrette. It's the perfect healthy spring dinner that's also packed with protein, veggies and even some fruit. But most importantly, this dish is packed with flavor! It has quickly become a favorite amongst my family.
If you'd like to switch things up a bit, try replacing the chicken with salmon filets, and don't be afraid to use a combo of your favorite veggies. Pretty much anything goes, just be sure to cut everything in similar sizes for even cooking.
Spring One Sheet Pan Dinner Recipe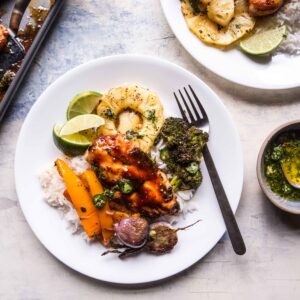 INGREDIENTS
1 ½ pounds boneless, skinless chicken breasts
½ cup of your favorite BBQ sauce
¼ cup pineapple juice
1 head broccoli, cut into florets
1 orange or red pepper, sliced
6 radishes, halved
1 small pineapple, cut into rings or chunks
¼ cup olive oil
Kosher salt and pepper
1 jalapeno, seeded and sliced
Juice of 1 lime
1-2 teaspoons honey, to taste
¼ cup fresh cilantro, chopped
INSTRUCTIONS
Preheat the oven to 425 degrees F.
In a small bowl, stir together the BBQ sauce and pineapple juice.
On a rimmed baking sheet, combine the chicken and half of the BBQ sauce. Toss well to evenly coat the chicken. Add the broccoli, bell pepper, radishes, and pineapple and toss with 2 tablespoons olive oil and a pinch of both salt and pepper. Arrange everything in an even layer and then transfer to the oven. Roast for 30-40 minutes, turning halfway through cooking until the chicken is cooked through and the veggies tender.
Meanwhile, make a Honey Lime Vinaigrette: combine the remaining 2 tablespoons olive oil, jalapeno, lime juice, honey, cilantro, and a pinch of both salt and pepper
To serve, top the chicken with the Honey Lime Vinaigrette. Serve with rice.
Looking for more sheet pan recipes?