Mediterranean Sorghum Bowl with Chicken and Marinated Feta Cheese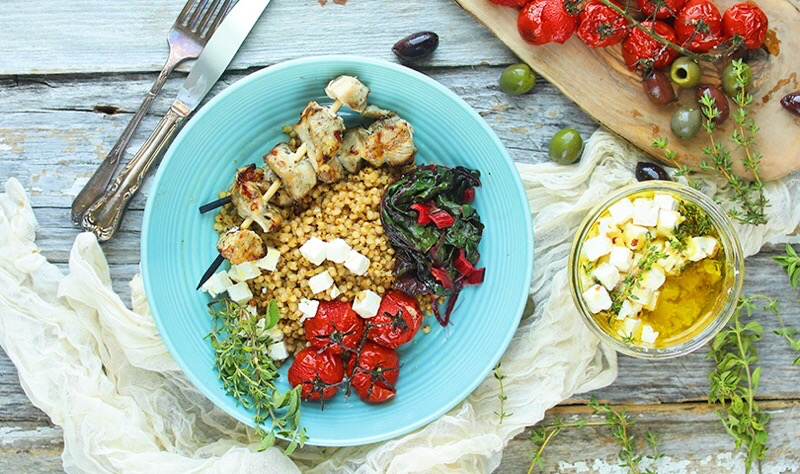 We are big on wanting several different food option in this family, so food bowls always seem to be a homerun. I actually never used to be like this until I met my wife, and now I find myself ordering like five appetizers when I go to a restaurant instead of one main dish. Funny how marriage can change even the simplest of things in your life, like eating habits. I made this Mediterranean chicken bowl with the intent of offering up several tasty treats in one dish, and it did not disappoint.
As a chef, I often get asked if I know this food or that food or how to cook this or that, etc. I don't know everything there is to know about the food world and guess what, no one does. I can't tell you the first thing about Somali cuisine or Nicaraguan food but I can tell you a ton about French or Italian. When you enter the culinary world, you sort of learn what you learn, or want to learn, or build the foundation from there.
Cuisine is one of the only subjects on earth where no one can possibly know everything there is to know; it's just too vast. I've never in my life cooked with sorghum before today, so I had to do a little research on what it tastes like, how to cook it, etc.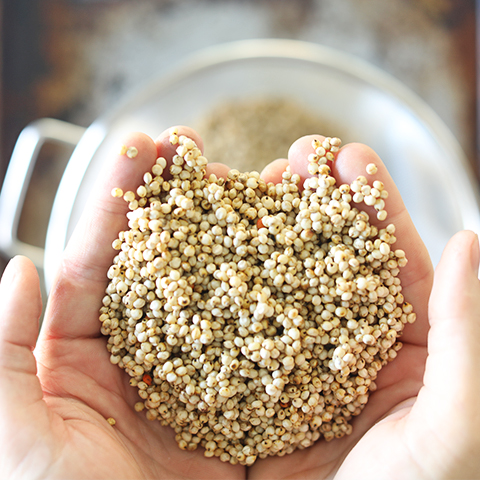 Sorghum is a gluten-free grain that originated in Africa and then spread to Mediterranean and Indian cuisine. It's got a slightly nutty flavor and it reminds me quite a bit of barley, which would make it excellent in soups. Sorghum takes about an hour to cook, so be sure to give yourself plenty of time when preparing.
In addition to the grains and meat, I wanted to add some vegetables and of course, some cheese. I mean, what is Mediterranean food without some marinated feta, right? Marinating feta cheese just makes it so much better. Same rule applies by marinating overnight or for at least an hour to maximize flavor. The cool thing about marinating feta is that you can get really creative with the flavors. You can use vinegars or roasted garlic or a myriad of different herbs to pull out some really interesting flavors in the feta.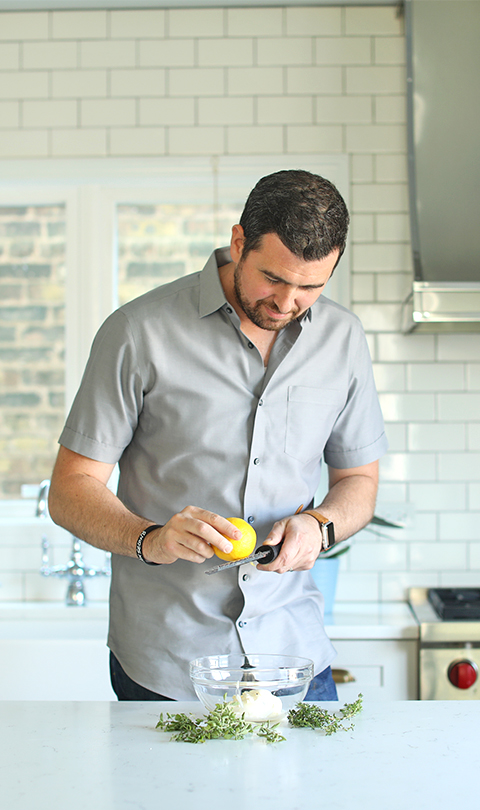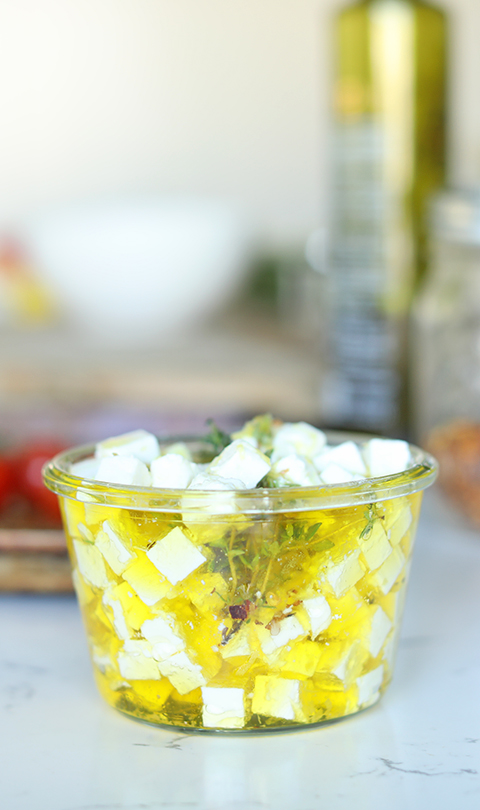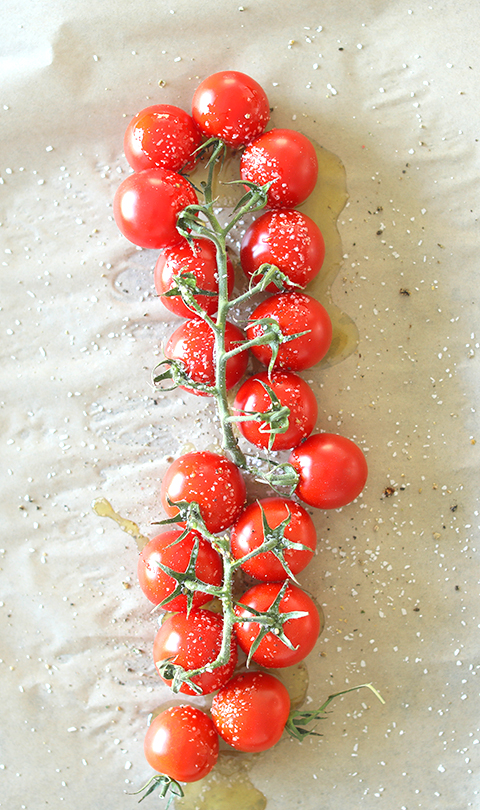 The last two things I made were some roasted cluster tomatoes and some braised greens. Roasting tomatoes is really easy and all you need to do is coat them in olive oil, season with salt and pepper, and pop them in the oven for 20 minutes.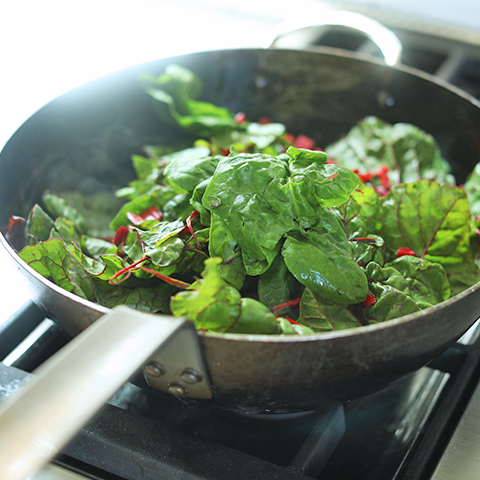 For the greens, I used a combo of Swiss chard and spinach. Both of these greens are really popular in Mediterranean cuisine and are ridiculously good for you. Greens like this can often be bitter, so in order to counter those flavors, I seared them up with some garlic and lemon juice and woah were they good! Simple to make, yet so flavorful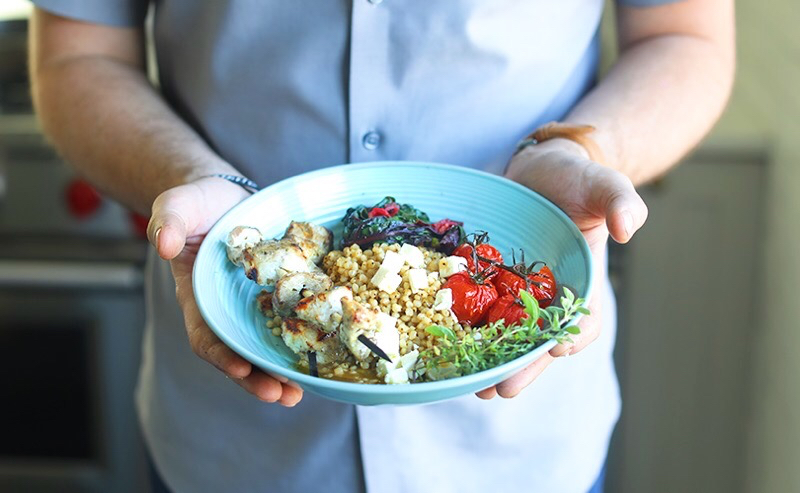 Everything in this Mediterranean sorghum bowl is really simple to make, it just requires a little bit of prep.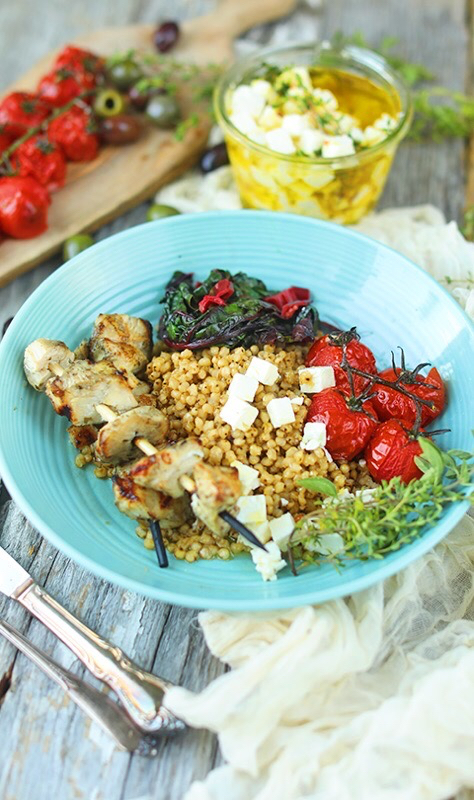 Mediterranean Chicken Bowl with Sorghum and Marinated Feta Cheese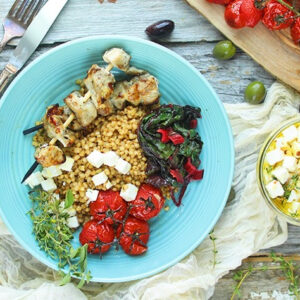 INGREDIENTS
For the Mediterranean Chicken:
1 cup of greek yogurt
Zest and juice of 1 lemon
1 teaspoon of chopped fresh oregano
1 teaspoon of chopped fresh thyme
¼ cup of extra virgin olive oil
1 ½ pounds of chicken cut into 1" squares and placed on skewers
Kosher salt and fresh cracked pepper to taste
For the Bowl:

2 cups of sorghum
6 cups of vegetable stock
4 ounces of feta cheese cut into ½" squares
½ cup of olive oil + 2 tablespoons
2 sprigs of thyme
zest of 1 lemon + juice of 1 lemon
¼ teaspoon of crushed red pepper flakes
1 pound of cluster cherry tomatoes
1 tablespoon of finely minced garlic
1 head each trimmed Swiss chard and spinach
Kosher salt and fresh cracked pepper to taste
INSTRUCTIONS
Preheat the grill to medium high heat (350° to 400°).
Preheat the oven to 400°.
Chicken: Combine all of the ingredients except the chicken in a bowl. Pour the marinade over the chicken and marinate over night or for at least 1 hour. Remove the chicken and cook over a medium-high heated grill until lightly browned and cooked through out. Keep warm before serving.
Sorghum: Bring the sorghum and vegetable stock to a boil in a medium size pot. Place on a lid and simmer for 1 hour or until tender. Keep warm before serving.
Feta: In a small bowl whisk together ½ cup of olive oil, 2 sprigs of thyme, zest of 1 lemon and red pepper flakes and submerge the feta pieces in the mixture. Marinate over night or for at least 1 hour. Keep cool before serving.
Place the tomatoes on a sheet tray lined with parchment paper and drizzle on 1 tablespoon of olive oil, salt and pepper and roast in the oven at 400° for 20 minutes. Keep warm before serving.
Greens: In a large sauté pan over medium heat, add in 1 tablespoon and cook garlic for 1 to 2 minutes or until lightly browned. Next, add in the greens and cook until slightly wilted.
Deglaze with lemon juice and season with salt and pepper.
To Plate: Place the cooked sorghum in a bowl and add on some grilled chicken kebabs, braised greens, marinated feta cheese and roasted tomatoes.