Sous Vide Asian Short Rib Tacos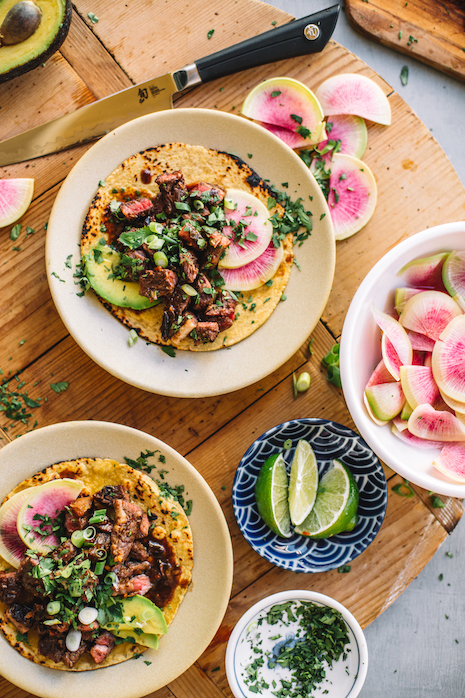 Would you believe me if I told you that these tacos have been my all time favorite taco of the ENTIRE year! I'm not exaggerating even an ounce when I say that these Asian short rib tacos will have you making this recipe again and again and again!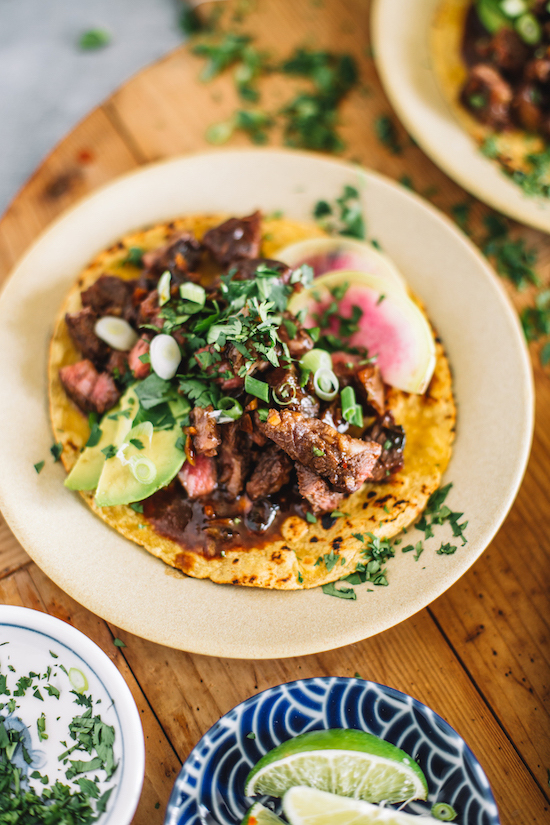 I have been quite curious about pressure cookers and sous vide machines, especially with warm months ahead! I'll take any excuse I can to leave my oven off. If you don't have a grill or it's just not your thing, a sous vide machine is for you!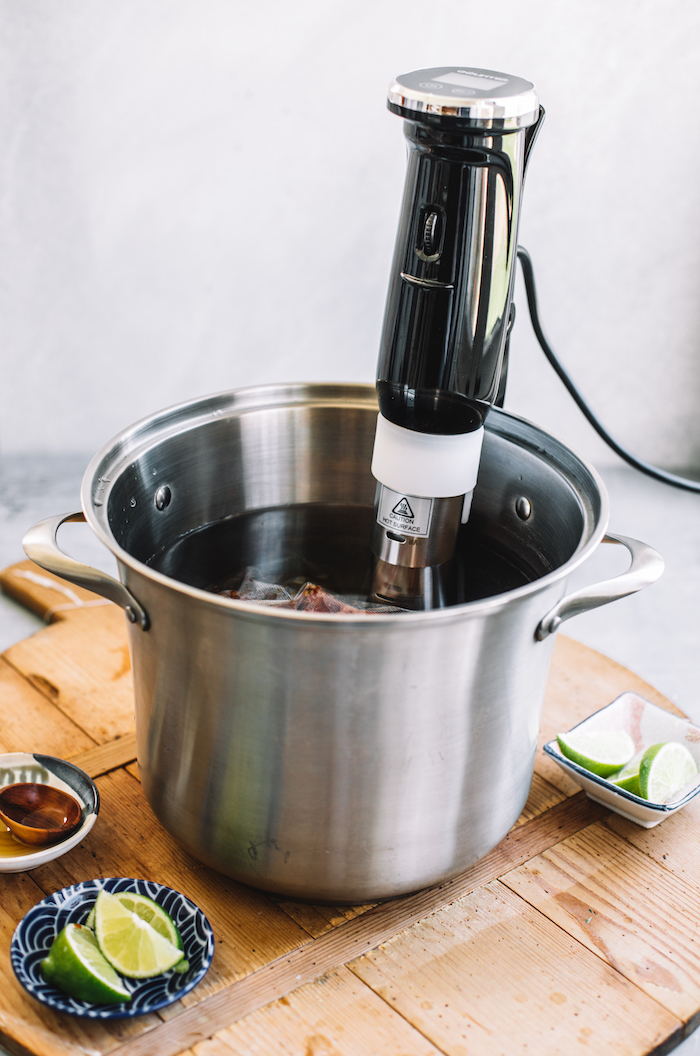 This Gourmia Sous Vide Cooker has been my favorite new kitchen appliance. I love breaking the sous vide out when I want to make a special Friday night dinner or when people are coming over and I need something super tasty.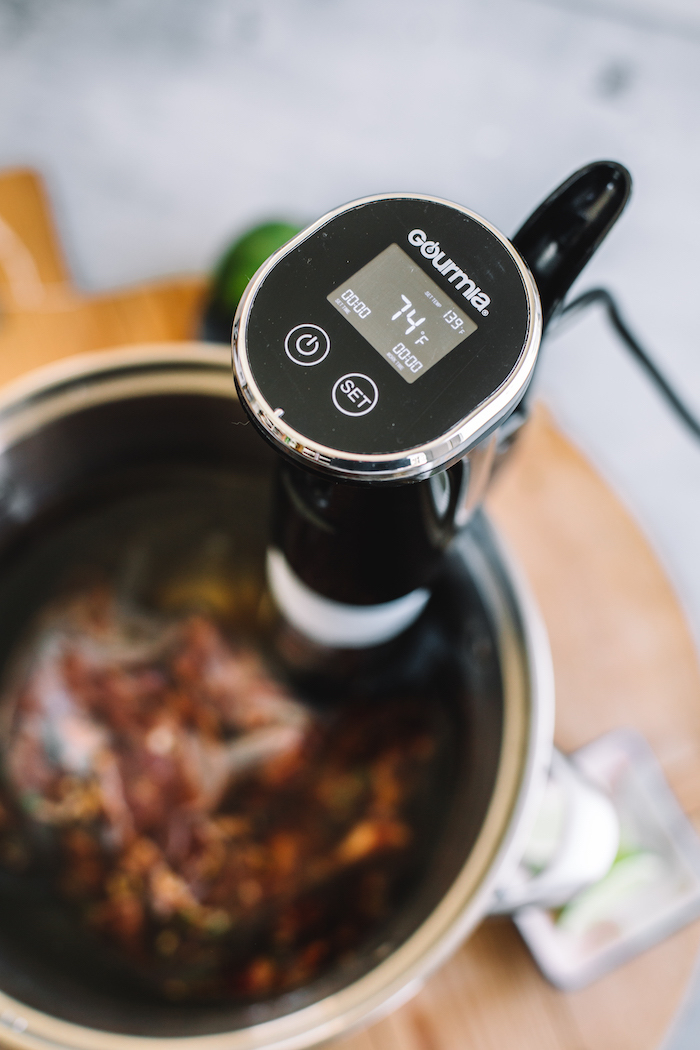 Not only does the sous vide machine make the most juicy, succulent meats it has an extremely small clean up time for a recipe that tastes like it would take your entire kitchen arsenal to make!
What is sous vide anyway?
It sounds so fancy doesn't it?! I'll be honest I was a little nervous to master this new appliance but it couldn't have been easier. All you need is a few vacuum-sealed bags, a big stockpot and your sous vide machine, THAT'S IT!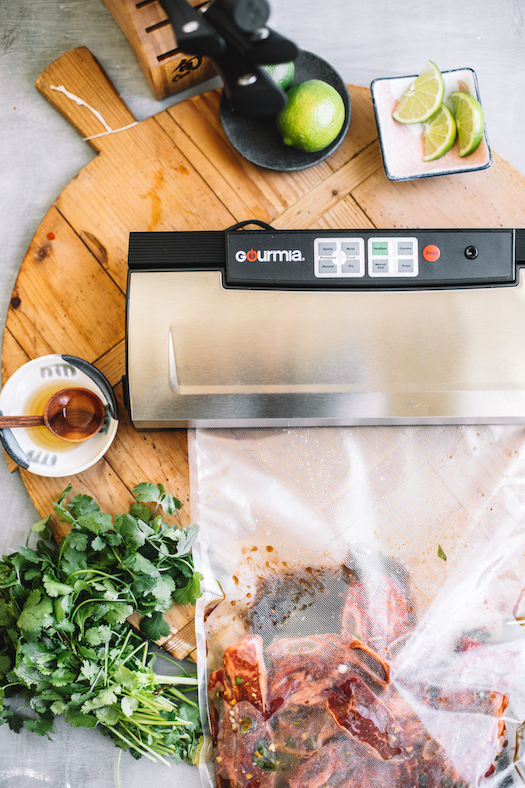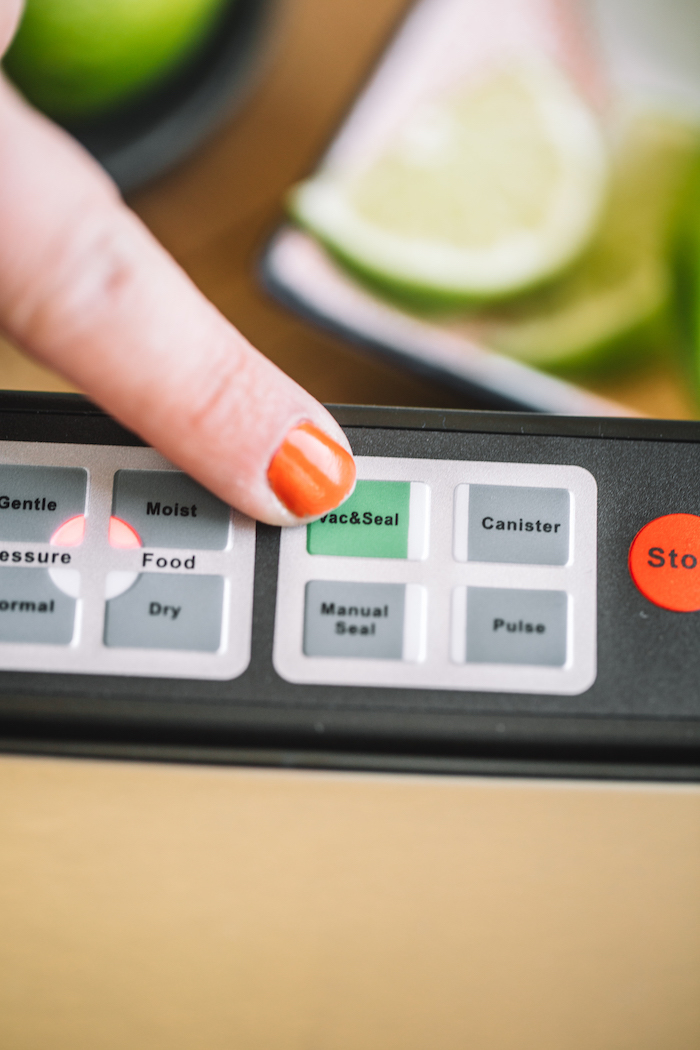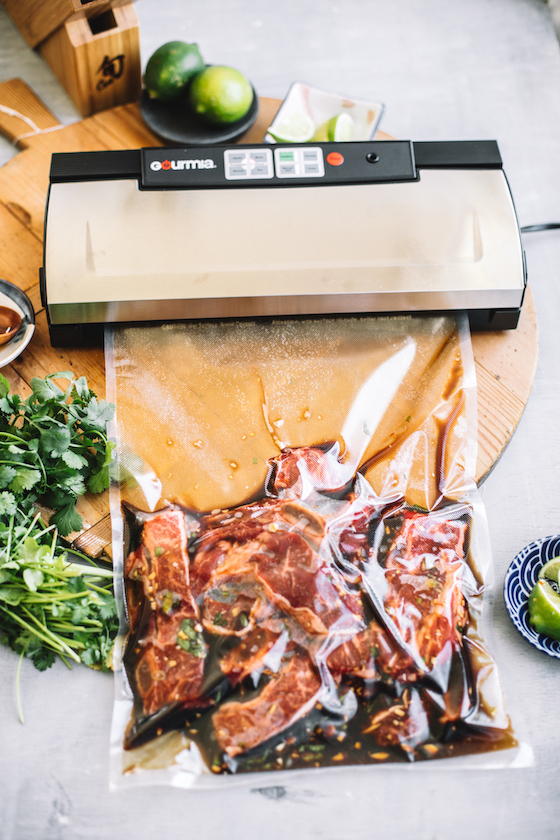 Once you have vacuum-sealed your ingredients the entire bag cooks in a temperature controlled water bath. The meat for these Asian short rib tacos took about four hours but this varies depending on what you're cooking!
Are Ziploc bags safe for sous vide?
I wouldn't recommend using Ziploc bags with a sous vide machine. The cooking bag needs to be able to hand a bit of heat and these Gourmia vacuum sealer bags are perfect for this! They were simple to use and sealed in every ounce of flavor from the marinade! I am testing out these Stasher bags for a new recipe this weekend, they also can handle the sous vide.
Speaking of marinade…
I have to tell you what we used for these Asian short rib tacos. These tacos pack a mean punch of Asian flavors. I love breaking out my Shun knife set for smaller and more intricate produce cuts.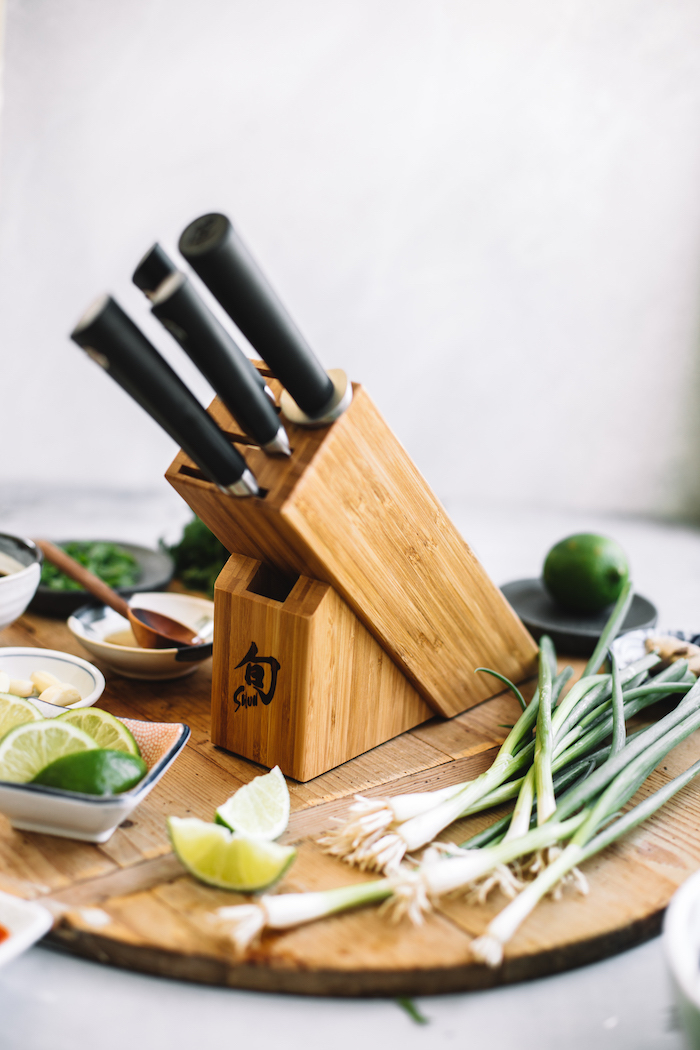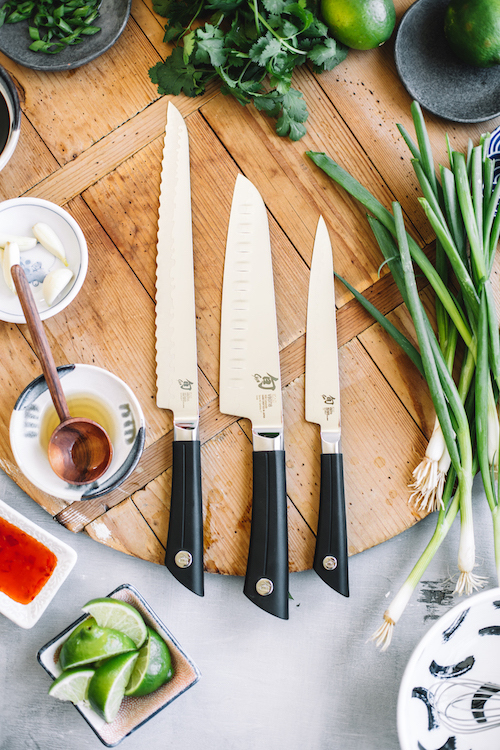 This marinade involves fresh ginger, garlic and scallions, which means I need a super sharp knife for mincing. Whisk up all of the ingredients and pour them straight into your vacuum seal bag with the short ribs.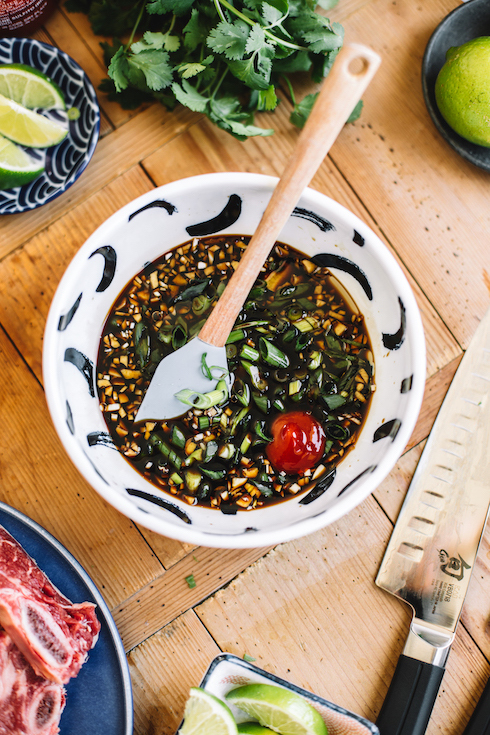 What happens when the meat is finished cooking?
If you feel like you're meat has a 'grey' color that people talk about from cooking with a sous vide, there is a remedy! I heated a skillet on high heat with some oil and seared each side of the meat for 30-60 seconds. This will give your short ribs a golden brown coloring/crust but still remain juicy and flavorful!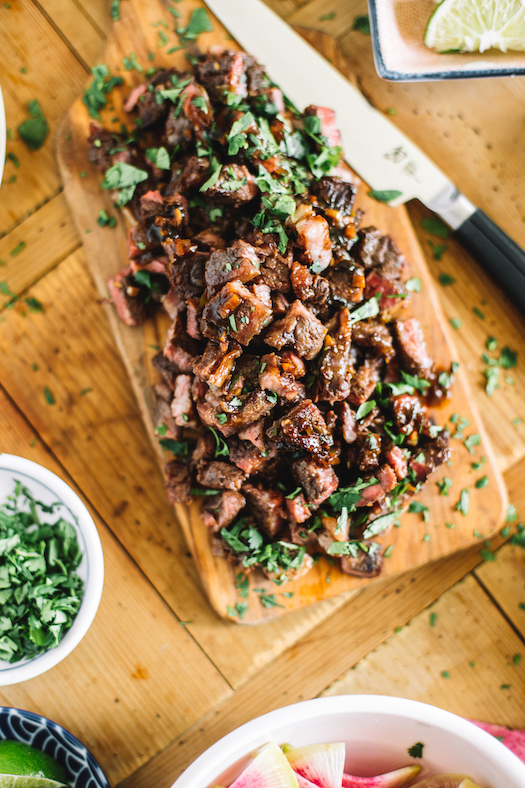 Then you just dice up your short rib pieces and you can plate up each taco! Top with the short rib meat, sauce from the marinade, avocado, and cucumber slices.
Zion Matte Coupe Salad Plate

By Tuxton Home

Shop Now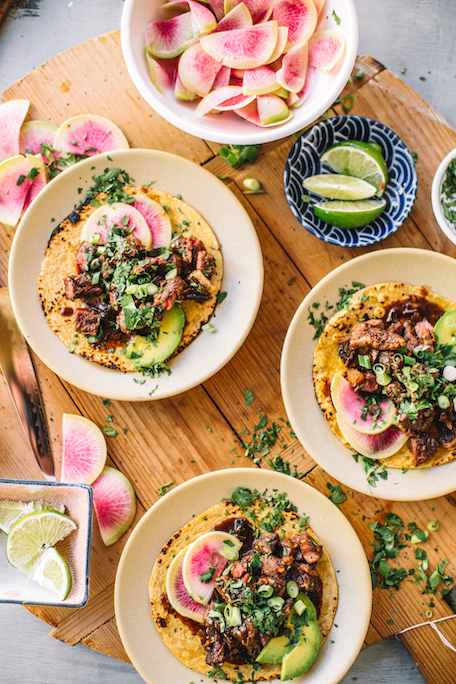 Sous Vide Asian Short Rib Tacos
These Sous Vide Short Rib Asian Tacos pack a mean punch of Asian flavors with fresh ginger, garlic, and scallions? And the best part: you can use your sous vide for the perfect cook every time.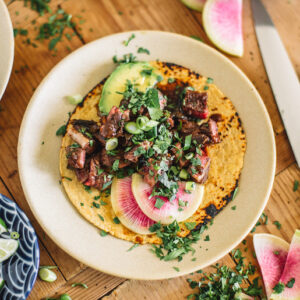 Ingredients
2

lb

short ribs

.5

cups

soy sauce

1

tbsp

sesame oil

1

tbsp

red chili sauce

2

tbsp

honey

2

tsp

sriracha

5

cloves of garlic, minced

1

thumb of fresh ginger, minced

Corn tortillas, heated

Fresh cilantro

Cucumber slices
Instructions
Set sous vide to 140 F.

In a medium bowl, whisk together soy sauce, sesame oil, red chili sauce, honey, sriracha, garlic, green onions, and ginger until combined.

Add ribs and marinade to vacuum seal bag and submerge and cook for 2 hours.

Heat a large skillet with olive oil on medium high heat. Cook short ribs for 1-2 minutes on each side or until golden and crusted.

Pour remaining marinade from sous vide bag into a small saucepan. Heat on medium heat until sauce has thickened and reduced.

Dice short rib pieces and being to build each taco. Top with short rib meat, sauce from marinade, avocado slices and cucumber slices.
Nutrition
Serving:
1
g
Calories:
1962
kcal
Carbohydrates:
26.9
g
Protein:
69.3
g
Fat:
173.3
g
Saturated Fat:
73.5
g
Cholesterol:
341
mg
Sodium:
4136
mg
Fiber:
1.1
g
Sugar:
18.8
g