Indian Lentils with Mango Salsa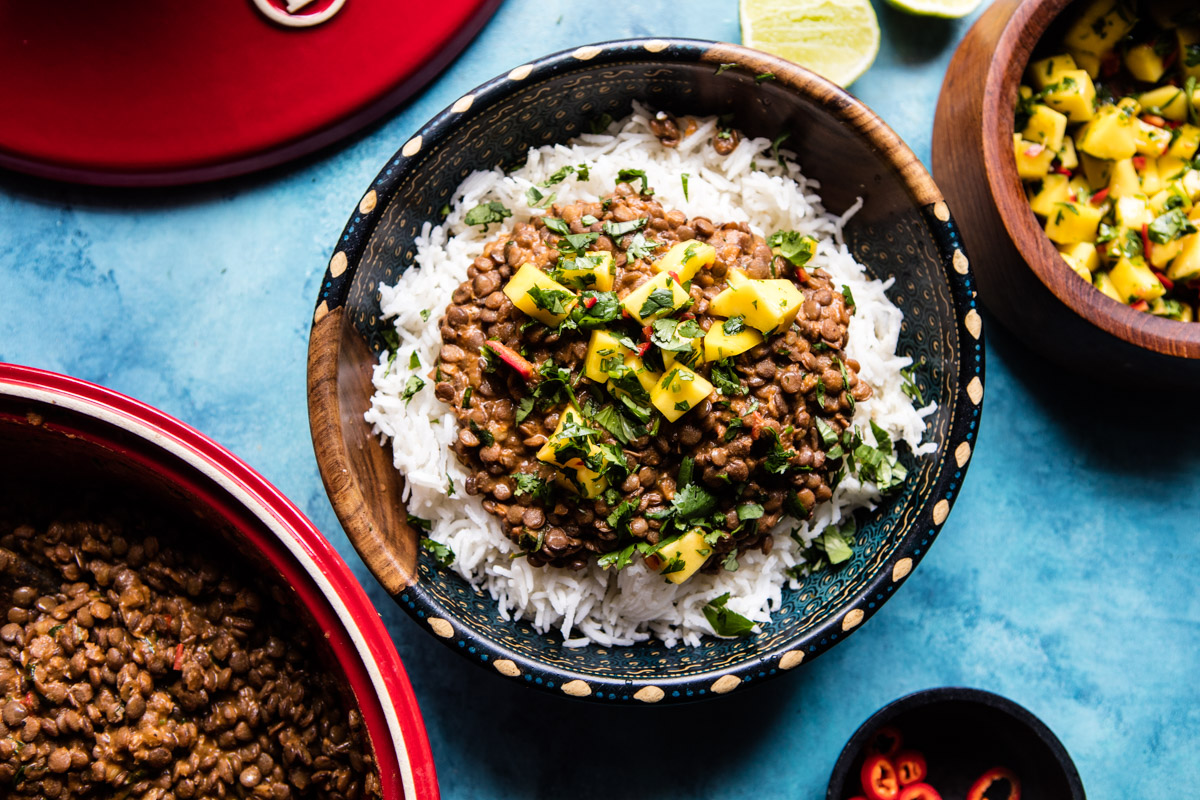 I am a huge fan of Indian food, but I live in a smallish mountain town and my Indian food options are pretty much non-existent. This means if I want Indian style food, I'm making it myself.
Totally fine by me, as I love being able to control all the ingredients that go into my food… meaning light on the onions and turmeric for me!
My cousin was just recently in India and she brought me back a cookbook from the area where she was. It's a small cookbook, but it is filled with traditional Indian recipes. These lentils caught my eye immediately. The simple dish was just what I wanted to make. I added a few things like my all time favorite; Thai curry paste, but for the most part kept the recipe as is.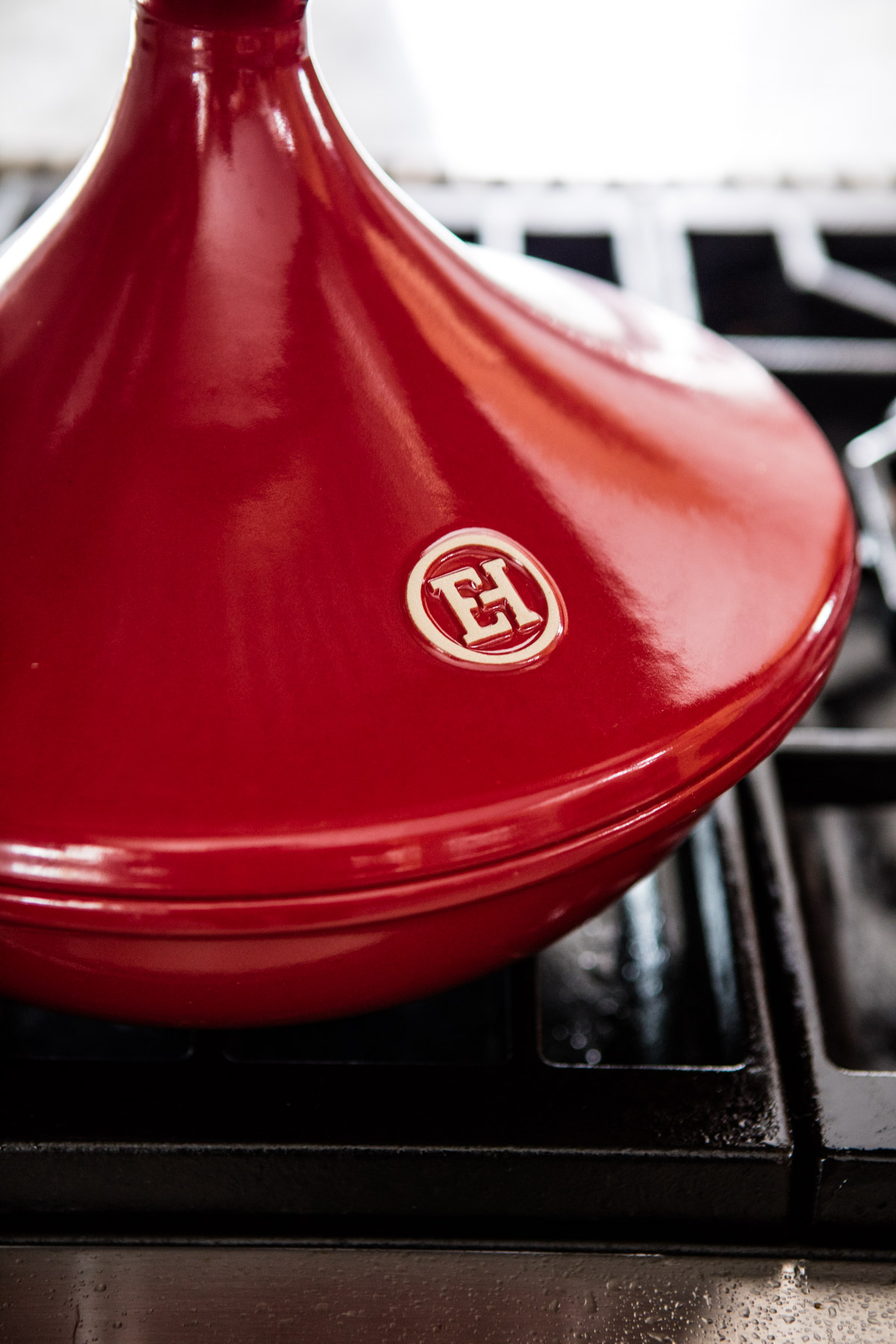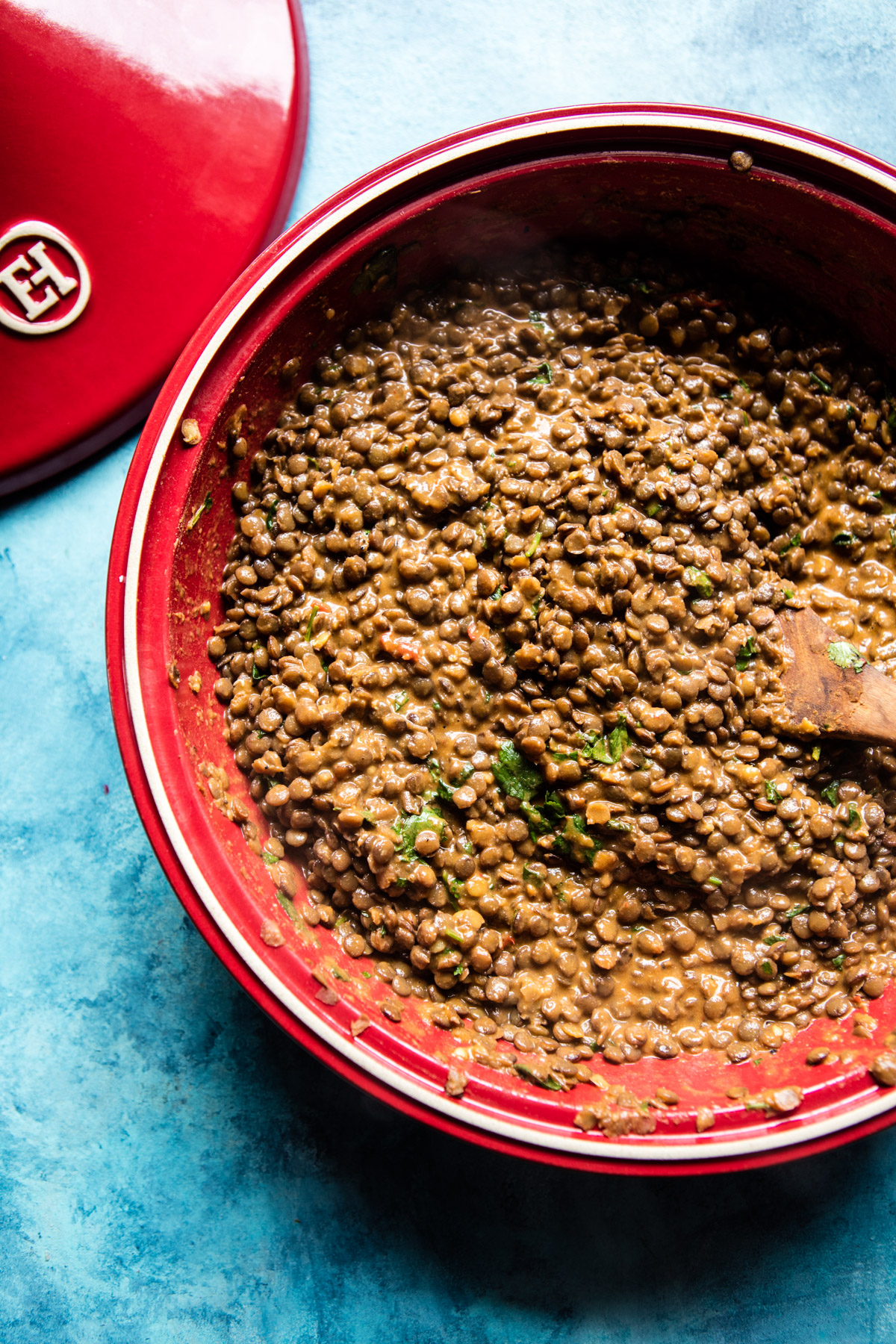 These lentils are really easy, healthy and perfect for pretty much any night of the week. I like to serve them over a bed of rice with a side of fresh homemade naan. Oh, and most importantly… I love topping my bowl of lentils with some mango salsa. The sweet mangos balance out the spice in the lentils. It's perfection.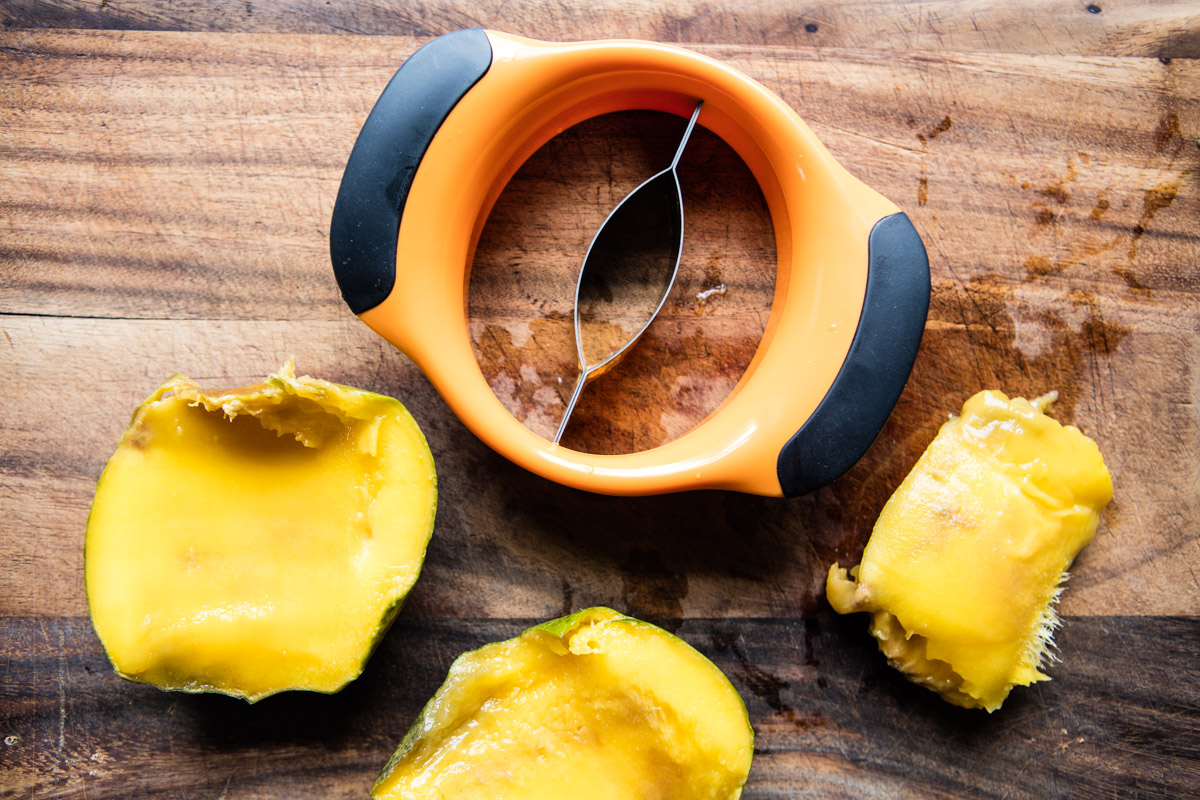 I used a tagine to cook my lentils, which is really fun. If you have a tagine of your own, I highly recommend using it. You can cook veggie dishes and rice in your tagine too. It cooks food evenly and keeps it warm for serving.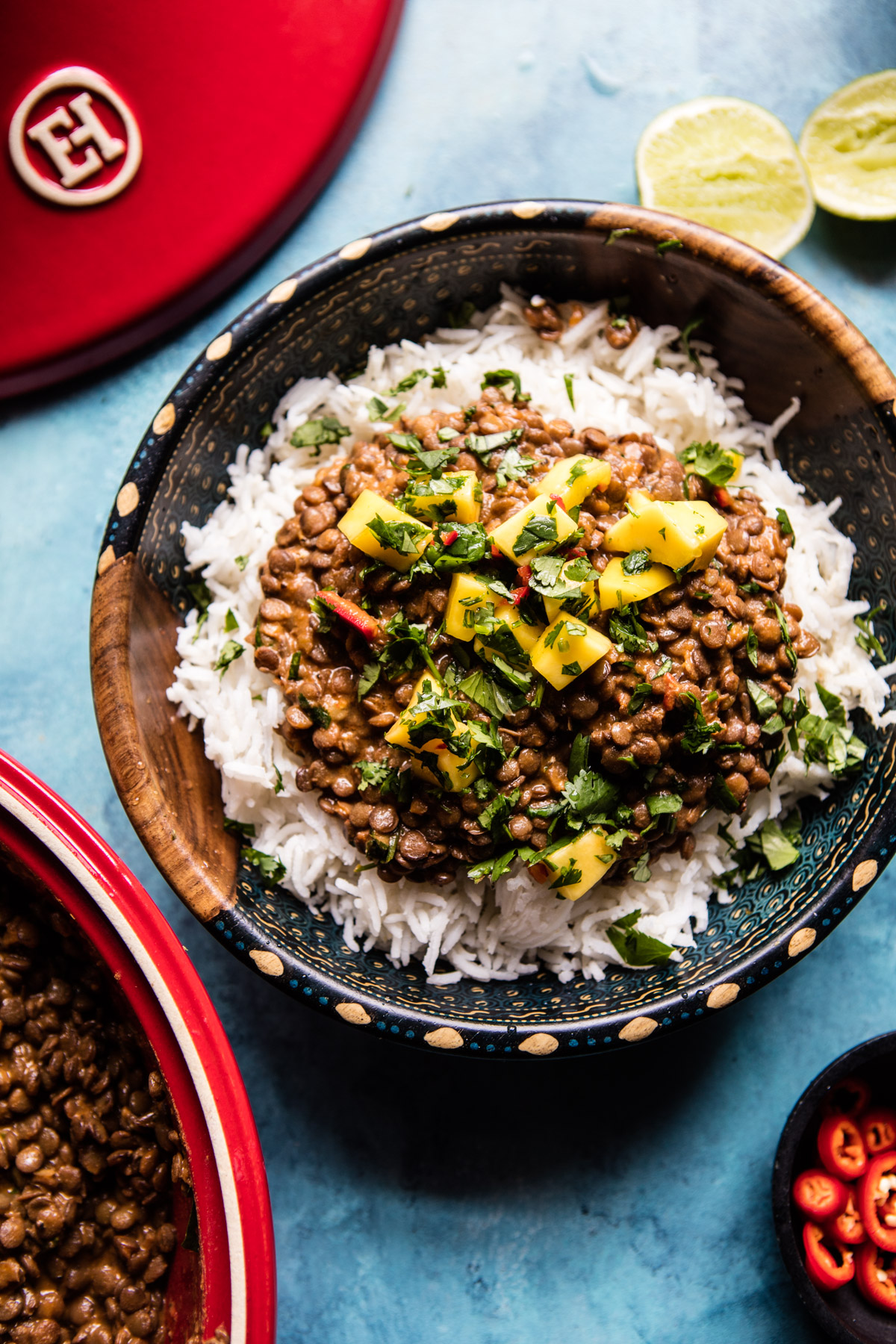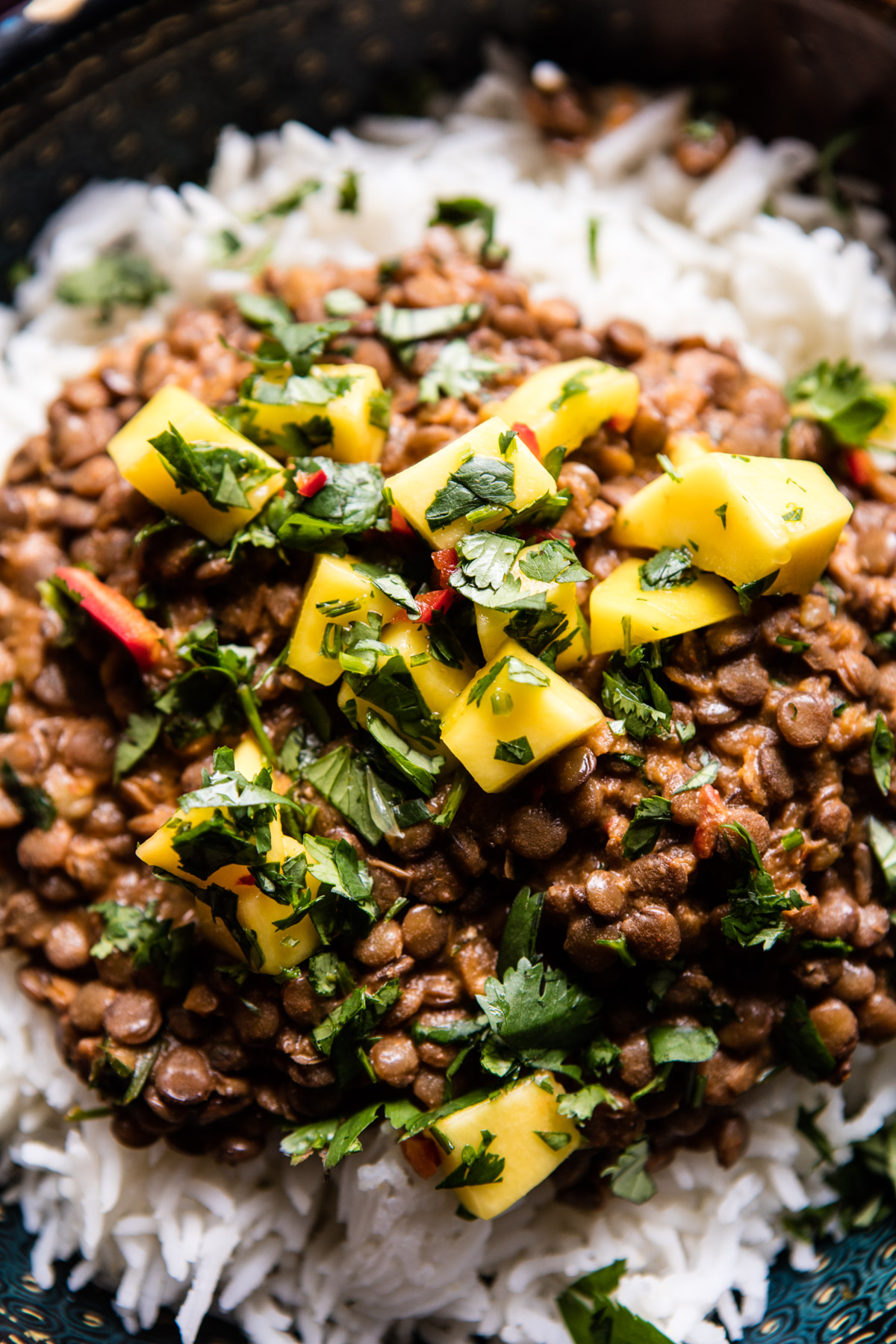 Indian Lentils with Mango Salsa Recipe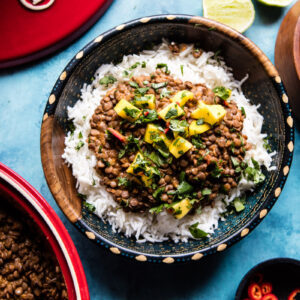 INGREDIENTS
For the Lentils:

1 ½ cups green lentils
4-6 cups water
2 tablespoons Thai red curry paste
1 tablespoon tomato paste
2 red fresno chilies, seeded + diced
½ teaspoon ground cumin
½ teaspoon turmeric
kosher salt and pepper
juice from 1 lime
½ cup fresh cilantro, chopped, plus more for serving
Steamed white rice, for serving
Fresh naan, for serving
For the Mango Salsa:
2 mangos, peeled + diced
1 red fresno chili, seeded + diced
1 cup fresh cilantro, chopped
Juice of 1 lime
INSTRUCTIONS
For the Lentils:
In a large pot combine the lentils and water and bring to a boil over high heat. Add the curry paste, tomato paste, fresno chilies, cumin, turmeric and a large pinch of both salt and pepper. Cover and reduce the heat to medium low. Simmer for 25-30 minutes or until the lentils are tender. If needed, add water to continue cooking the lentils. I typically use around 5 cups water total.
When the lentils are cooked and the sauce has thickened, stir in the lime juice and cilantro. Taste and adjust the salt as needed.
To serve, spoon the lentils over rice and garnish with cilantro and mango salsa. Enjoy!
For the Mango Salsa:
Combine all ingredients in a bowl. Serve over top the lentils. Leftovers can be stored in the fridge for up to 4 days.