One-Pot Healthy Zoodles Pasta Recipe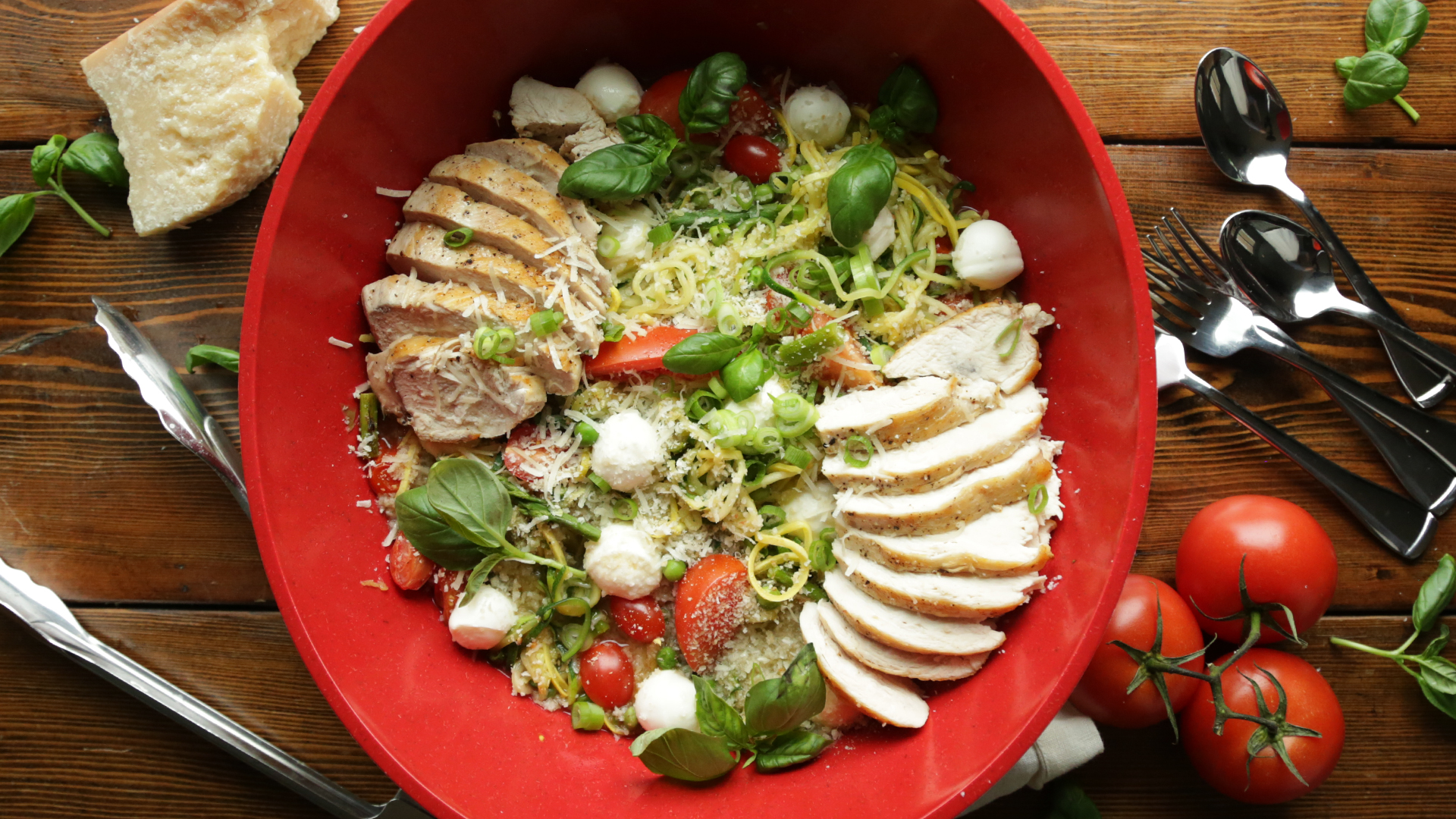 I cannot even begin to tell you how obsessed I am with saying the word "zoodles." It's ridiculous.
It kind of reminds me of those 1980's little girl makeup cases, caboodles. Only reason I know what that is, is because my older sister had one! Zoodles have been all over the internet the past 3 years or so. If you are unfamiliar with what the term means it's simply a combination of zucchini and noodles, hence zoodles.
There are now a ton of recipes for sweet potato noodles, potato noodles, carrot noodles, etc. I like zucchini and squash because they are relatively soft vegetables and they cook quickly. It's funny because my daughter doesn't like zucchini at all, but for some reason when I made them into a noodle, or zoodle, she can't stop eating them. Whatever works I guess?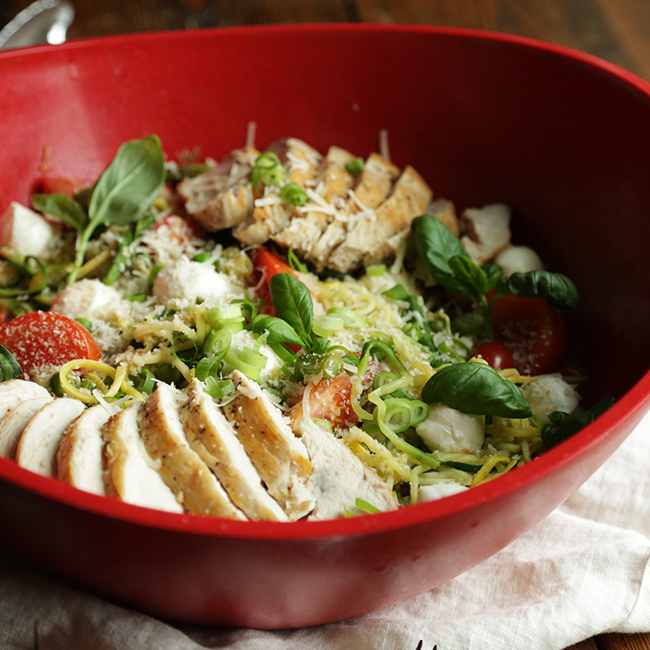 Zoodles are of course incredibly versatile. You can pretty much pair them up with just about anything and it will taste great. I used tomatoes, asparagus, peas and chicken, but you could certainly try spinach, or kale, or even some pork. I love ingredients that work so well with others, makes eating more fun! Happy Cooking!
One-Pot Healthy Zoodles Pasta
INGREDIENTS
1 tablespoon of olive oil
2 8-ounce boneless skinless chicken breasts
2 cups of sliced asparagus stalks
1 cup of peas
4 each spiralized green zucchini and yellow squash
3 cups of sliced assorted tomatoes
½ cup of vegetable stock
1 cup of ciliegine mozzarella
½ cup of bread crumbs
¼ cup of shredded parmesan cheese
Fresh basil leaves and sliced green onions for garnish
Kosher salt and fresh cracked pepper to taste
INSTRUCTIONS
Heat the olive oil in very large sauté pan over high heat and add in the chicken breasts. Season the chicken with salt and pepper once it's in the pan.
Flip the chicken over after 3 to 4 minutes or until it's golden brown, turn the heat to medium-high, and season the other side with salt and pepper. Continue to cook until the chicken is cooked throughout, about 7 to 8 minutes.
Remove the chicken from the pan.
Add the asparagus, peas, zucchini and squash to the hot pan and saute for 3 to 4 minutes or until the veggies become lightly browned.
Next, add in the tomatoes and vegetable stock and cook for a further 3 to 4 minutes over high heat.
Season everything with salt and pepper and transfer the mixture to a large bowl.
Slice the chicken and add it to the top of the pasta along with the mozzarella, bread crumbs, parmesan cheese, basil leaves and sliced green onions.
Serve hot!