Shot Glass Desserts 4 Ways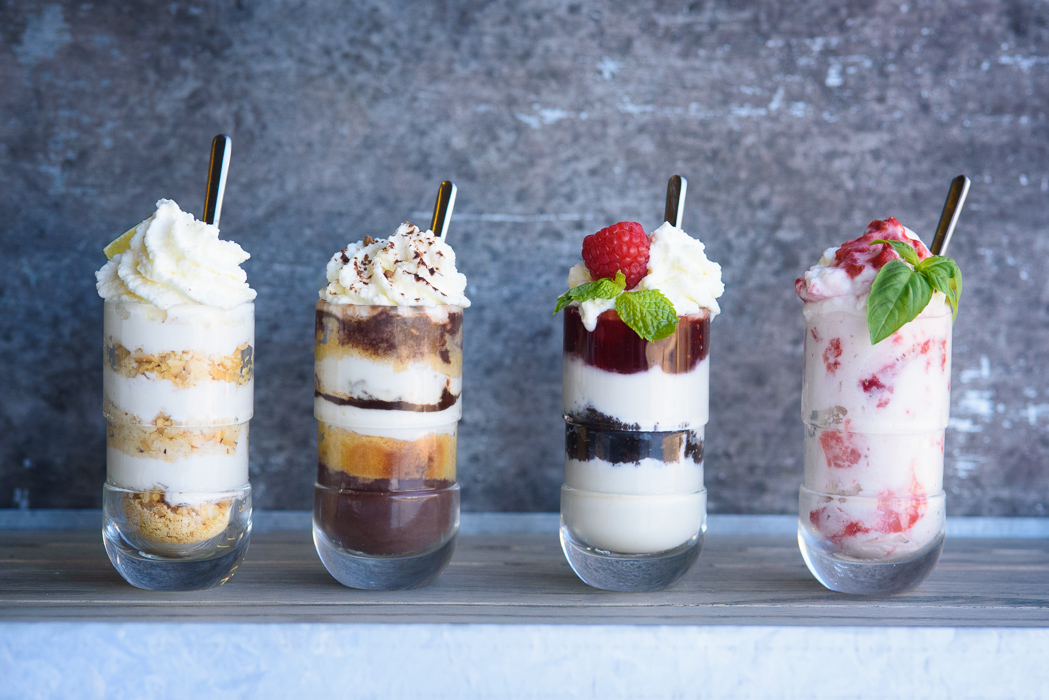 Shot glass desserts are the perfect little sweet treat after dinner and these recipes are sure to be the highlight of any party you throw.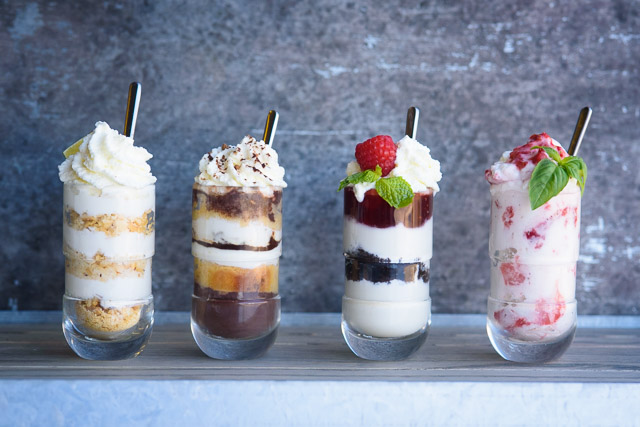 I absolutely love dessert and yet I'm not always the best when it comes to portion control. Which is part of why I am loving these little desserts in shot glasses! Just the right size with all the style and class of a full-size dessert.
We want to pull together all the ingredients we need to use before we get started. The great thing about these desserts is you can really use a ton of different fillings with everything from the store or everything made from scratch for gourmet versions.
Today we will be making 4 desserts: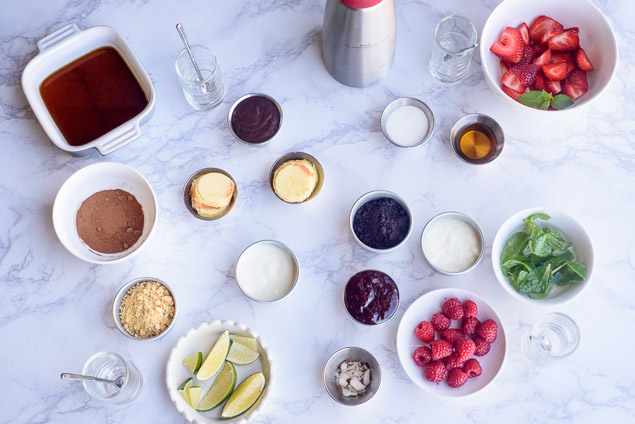 The Raspberry Chocolate is made with the following ingredients: chocolate pudding, raspberry jam, chocolate cookie crumbles, yogurt or vanilla pudding, raspberries, mint, sliced almonds and whipped cream.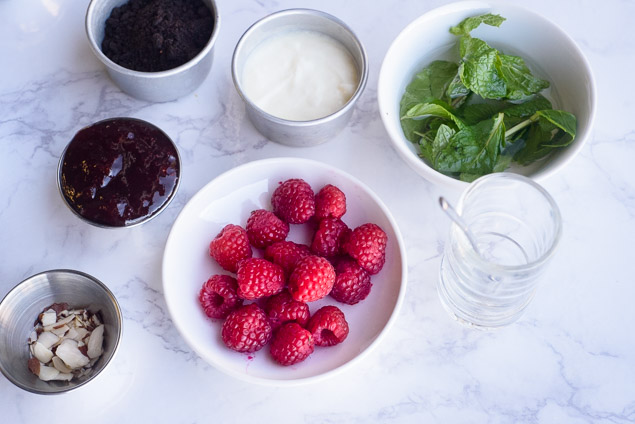 The Key Lime Pie is made with: vanilla cookie crumbles or pie crust crumbles, yogurt blended with lime juice and mascarpone cheese, and limes.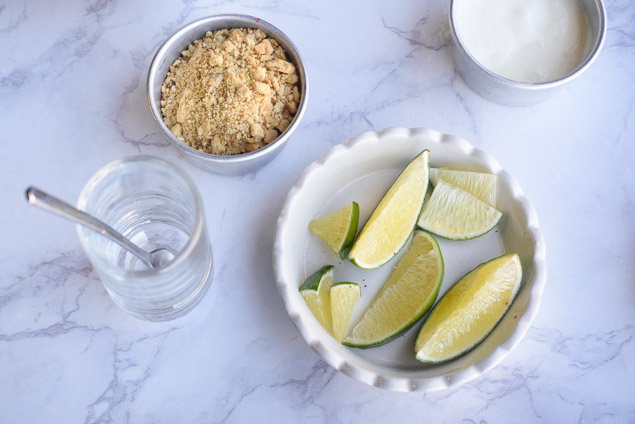 Tiramisu is made with coffee and rum soaked ladyfingers traditionally. Since ladyfingers can be hard to find we substituted a delicious poundcake. You will also need: ¼ cup coffee mixed with shot of rum, chocolate coffee pudding, cake layers, cocoa powder, vanilla yogurt or vanilla pudding and whipped cream. Mixing mascarpone cheese with a bit of yogurt is a personal favorite of mine!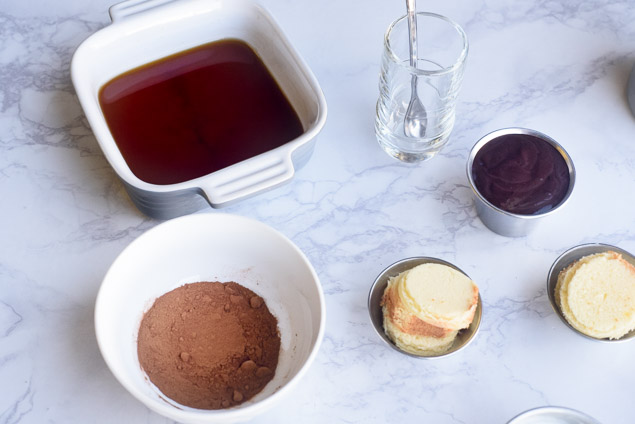 And last but not least the Strawberry Fool: strawberries, rum, sugar, whipped cream and mint.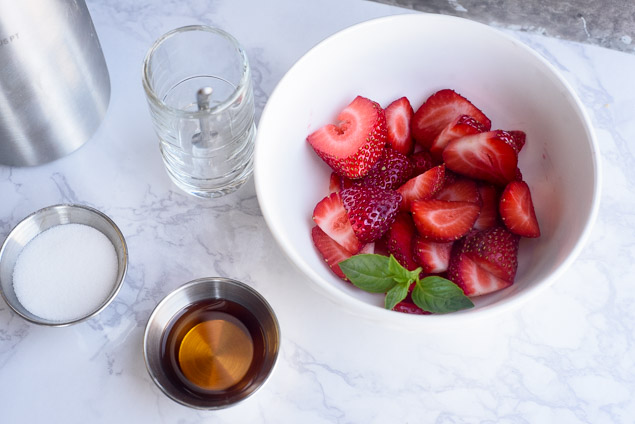 Let's get started!
Now that we have everything assembled it is time to get our whipped cream made up. We are using this amazing whipped cream canister.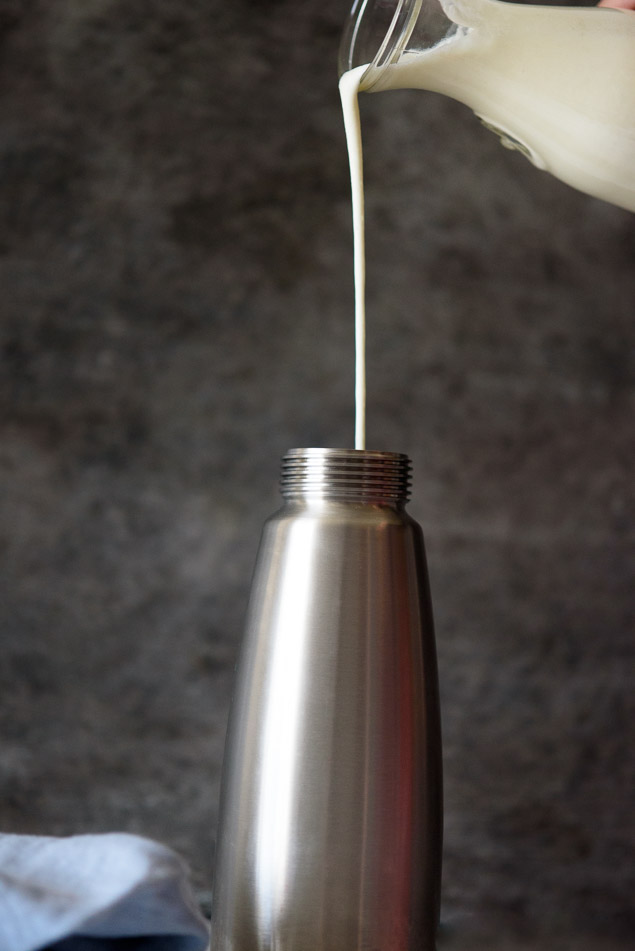 All the ease and convenience of a bottle of whipped cream with the ability to fully customize the filling=perfection.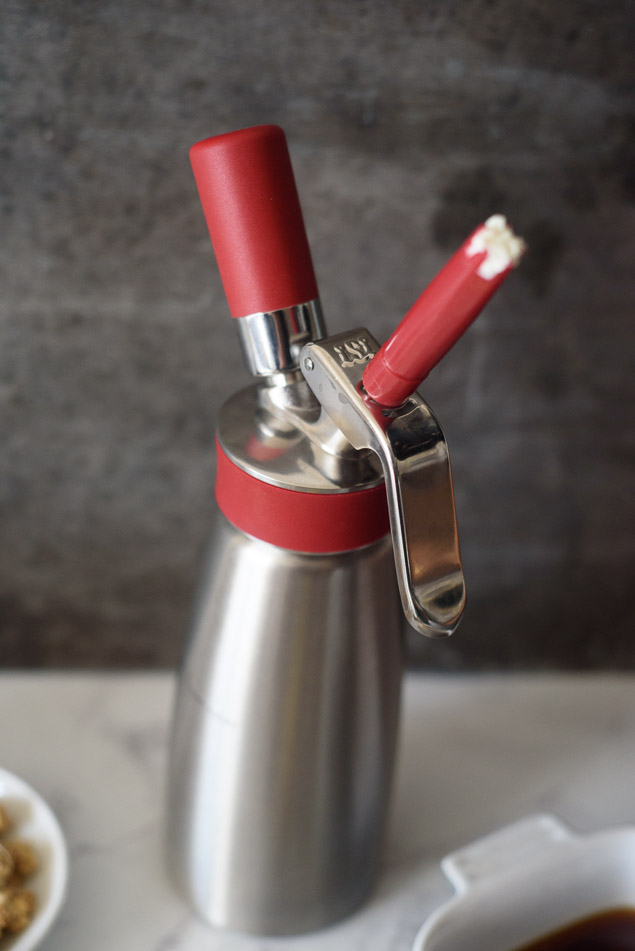 I may have been known just to eat a shot glass of whipped cream for dessert. Shhhh!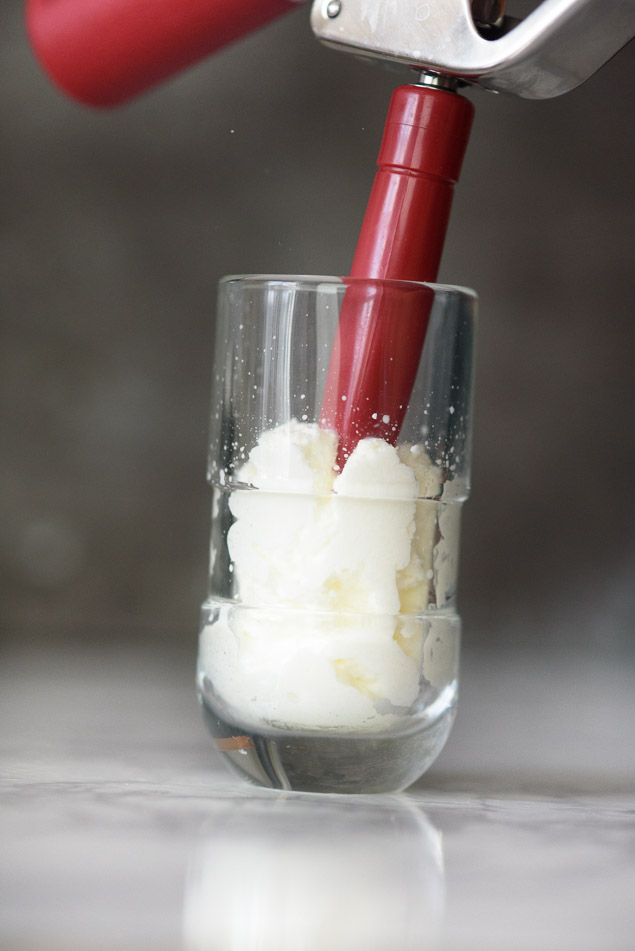 Here are a few tips on making each one.
Tiramisu: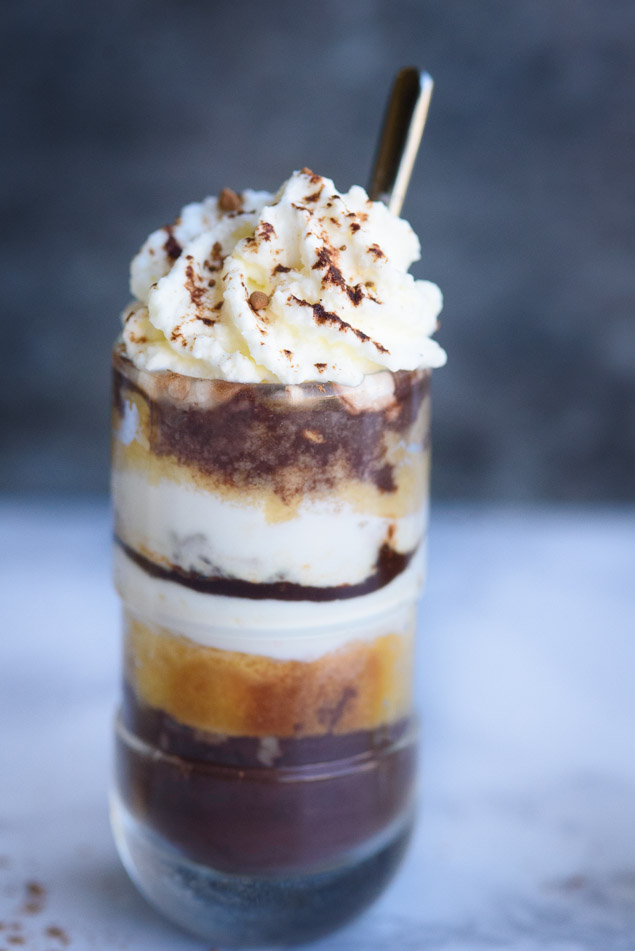 The mascarpone filling in this is so easy, just start with mascarpone cheese and thin it down with yogurt until it's easily stirrable. You can also use vanilla pudding or vanilla yogurt if that is what you have on hand!
Layering order
Chocolate pudding
Cake
Vanilla Yogurt/Mascarpone Yogurt/Vanilla Pudding
Cocoa powder
Vanilla Yogurt/Mascarpone Yogurt/Vanilla Pudding
Cake
Chocolate pudding
Whipped Cream
Tips on getting the perfect cake pieces.
Cut your cake into even slices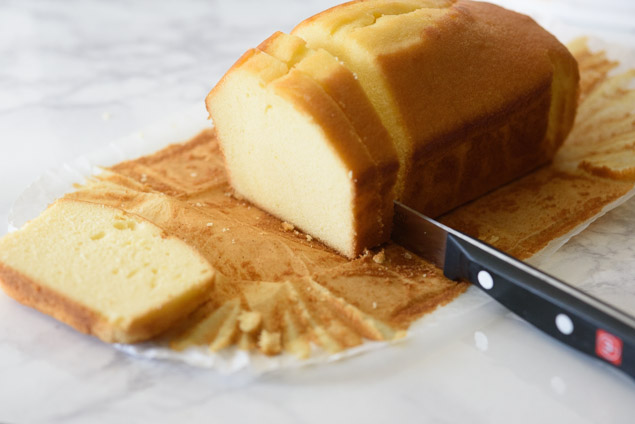 Then use your shot glass and cut out perfect little circles of cake.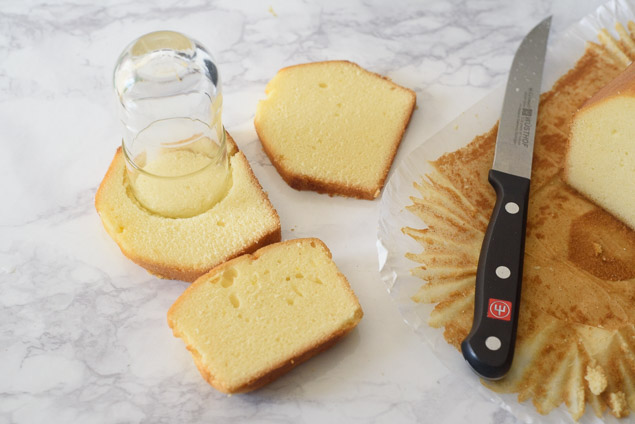 Don't toss the edges though! They make a yummy addition to any dessert you pick.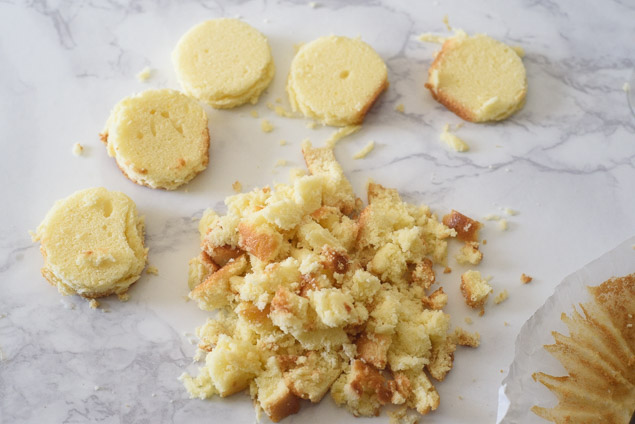 Mix ¼ cup coffee with 2 tablespoons of rum and quickly dip the cake slices in it (1 second each side), use them immediately.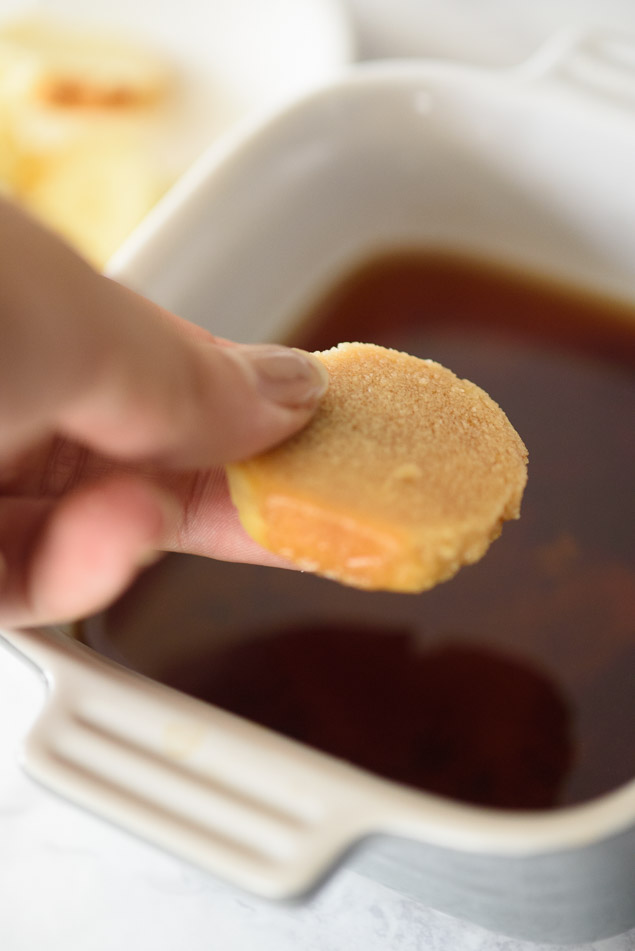 Stawberry Fool: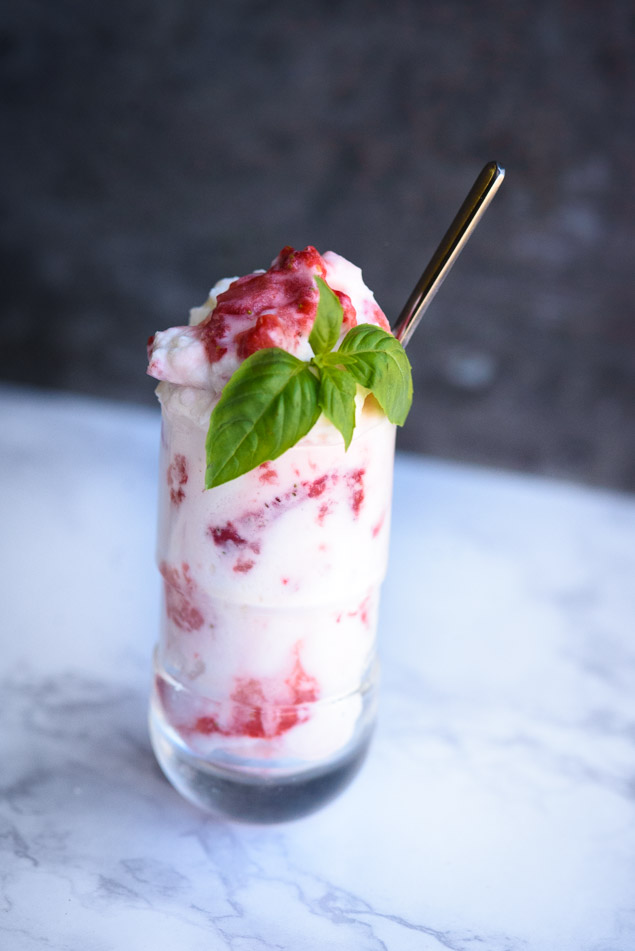 To make the strawberry fool start with 2 cups sliced berries, add 2 tablespoons of rum.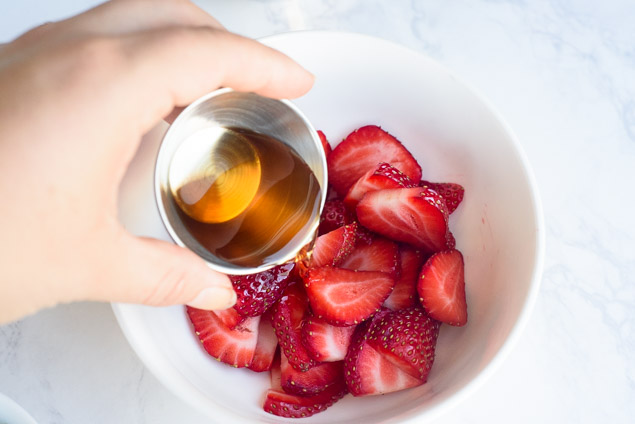 And 2 tablespoons of sugar to the berries.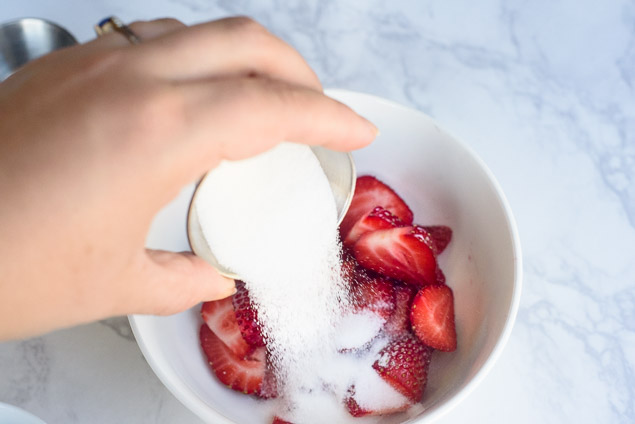 Allow to macerate for 10 minutes.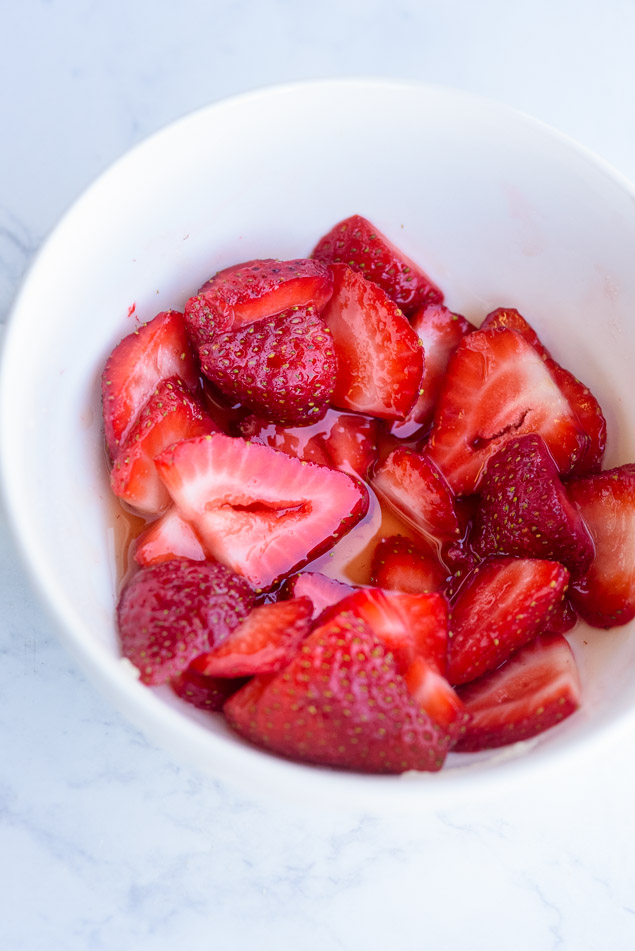 Mash them with a potato masher.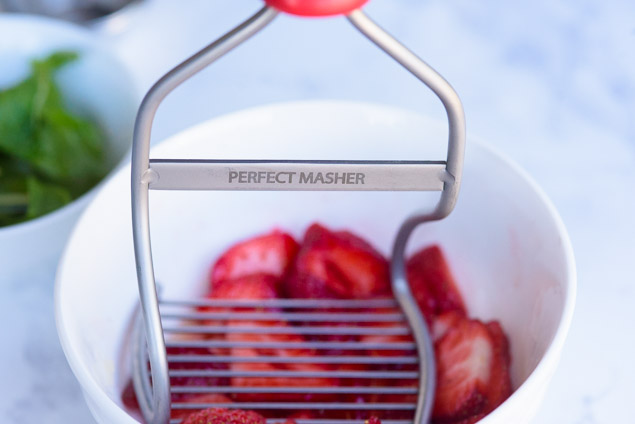 And allow them to rest 5 more minutes. Boozy sweet berries? Yes!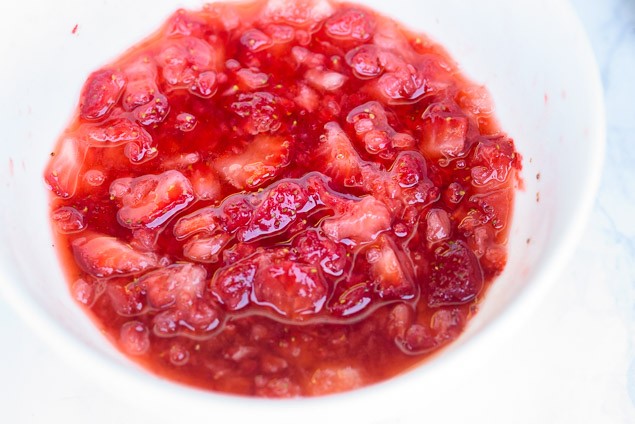 Top with a cup or two of whipped cream!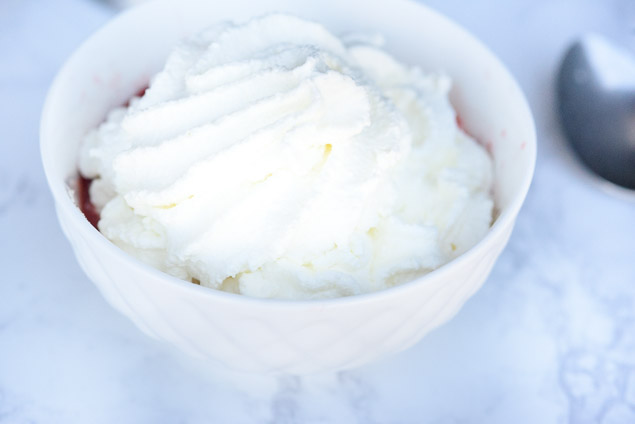 And gently fold it together 2 times. Just two times here is crucial, you want to see all those gorgeous colors swirling not just pink whipped cream.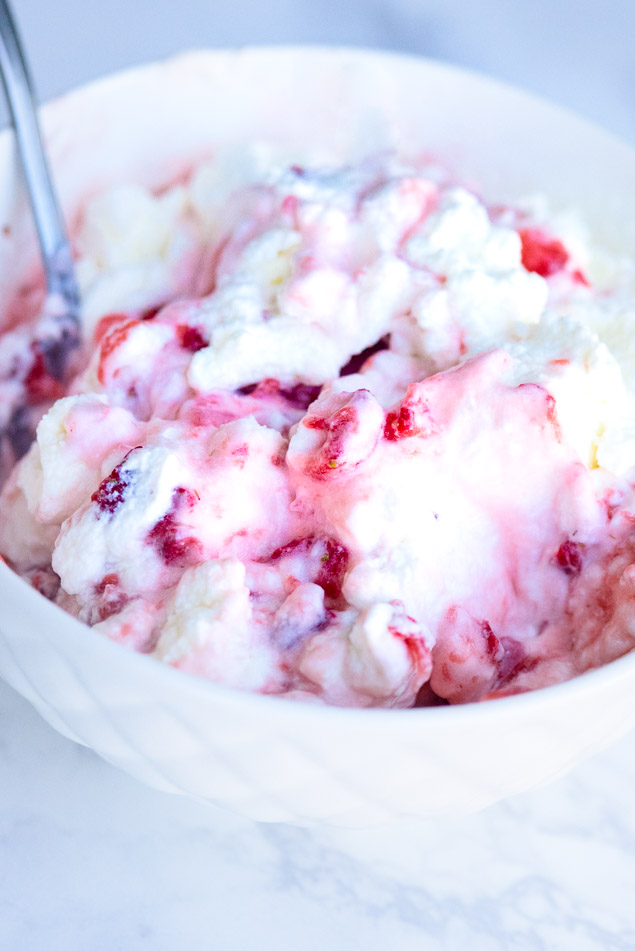 Then pile it into your shot glasses!
Raspberry Chocolate: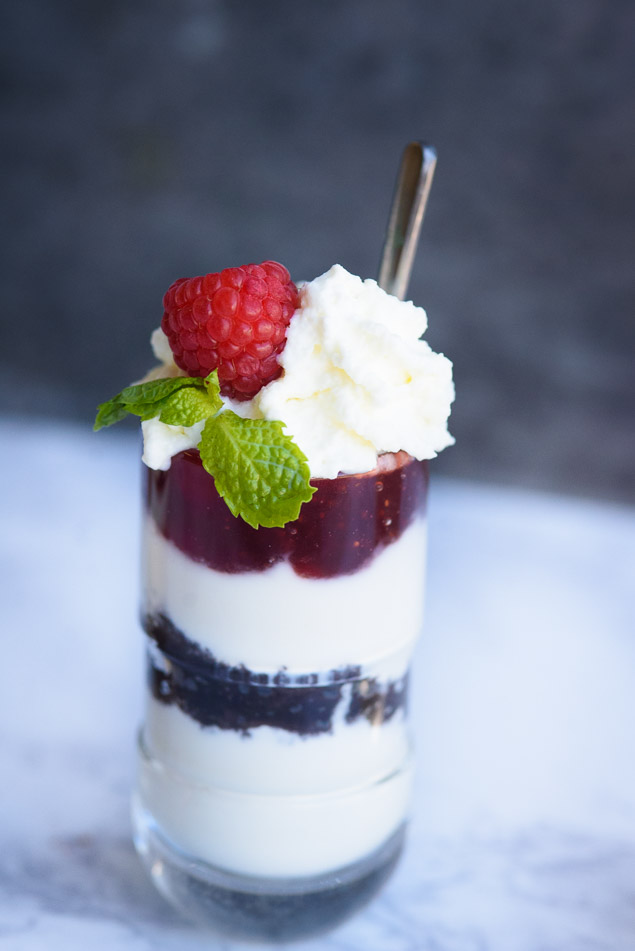 For this one you're going to want to use a good quality raspberry jam, yogurt, mascarpone cheese or vanilla pudding, chocolate pudding and chocolate cookie crumbles. Top with a raspberry, mint and whipped cream.
Layering Guide:
Chocolate Pudding
Yogurt/Mascarpone Cheese/Vanilla Pudding
Chocolate Cookie Crumbles
Yogurt/Mascarpone Cheese/Vanilla Pudding
Raspberry Jam
Top with a raspberry, mint and whipped cream!
Key Lime Pie: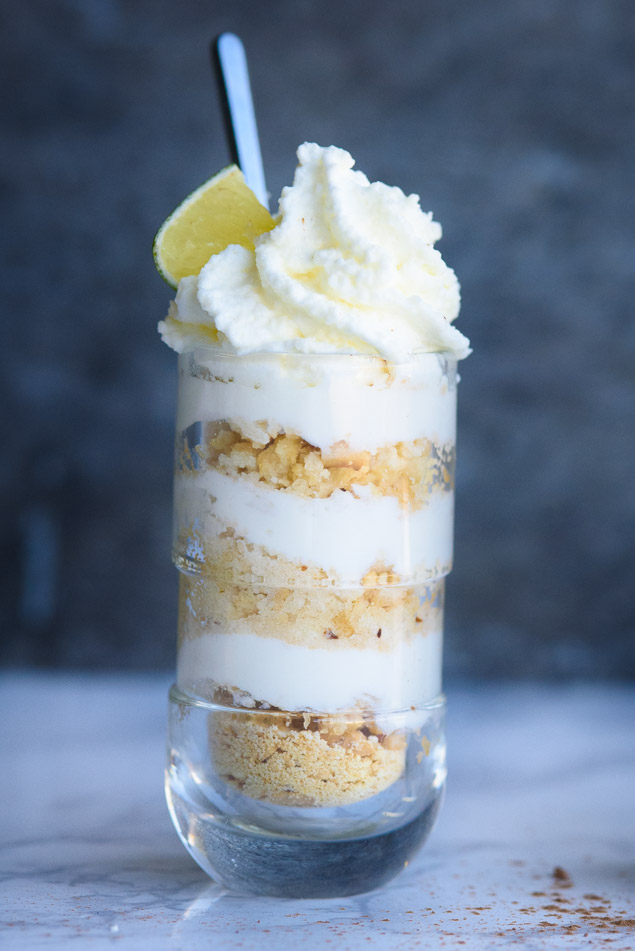 Mixing the filling for the key lime pie shooters are super simple. My favorite mixture is the mascarpone cheese thinned down with yogurt and lime juice. But vanilla pudding also works and vanilla yogurt is totally easy to make work too if that's what you have on hand.
Layering Guide:
Vanilla Cookie Crumbles/Crumbled Pie Crust/Pound Cake Crumbles
Lime Mascarpone Yogurt or Lime Vanilla Pudding
Repeat x 3
Top with whipped cream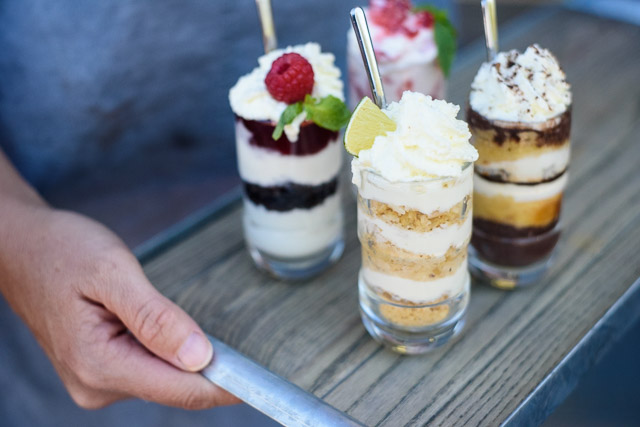 I hope this has helped inspire you to tackle some of these at home! Remember to use what you have available and love to make them your own unique dessert!
Here's 24 more mini dessert recipes to drool over.