Homemade Horchata Ice Cream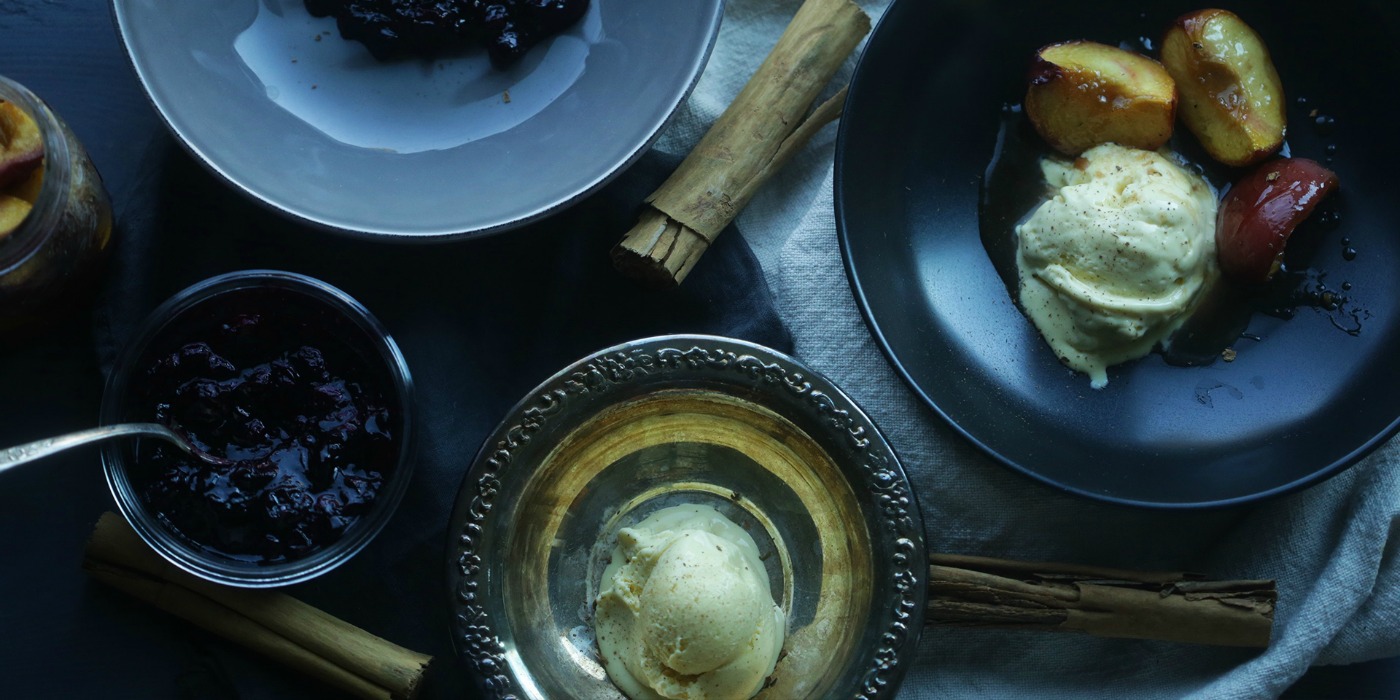 If you've never made homemade ice cream before, it's actually really simple. Think of it as the constant transfer of liquids until it's frozen. By that I mean you go from cooking in a pot to adding it to a bowl, to going back to the pot and then back to the bowl to chill. Finally, you pour the liquid into the ice cream machine and then it's back to the freezer. Follow me? No worries, I'll walk you through the process with this amazing homemade Horchata ice cream recipe!
I had my first experience with Horchata, the drink, at a local hip Mexican restaurant about 7 years ago. I kept hearing everyone around me ordering it, so when in Rome, I ordered myself one and whoa! The delicious creamy sweetened rice milk was like doing the dab on my taste buds. It was amazing. I don't get back to that restaurant too often because I moved a bit further away, but every time I go there I get one. The inspiration for this recipe came from when I recently chatted with a good friend, who now lives out of state. He was with me the last time I had it, which coincidentally was the last time I talked to him. It reminded me, and my palette, of those delicious flavors and I thought of how cool it would be to turn it into ice cream… Well, here we go!
Start by heating up some milk, cream, sweetened condensed milk, a cinnamon stick and some grated up long grain white rice. I grated the rice in one of those cool old fashioned coffee grinders, but you can put everything in a blender before transferring to the pot to cook.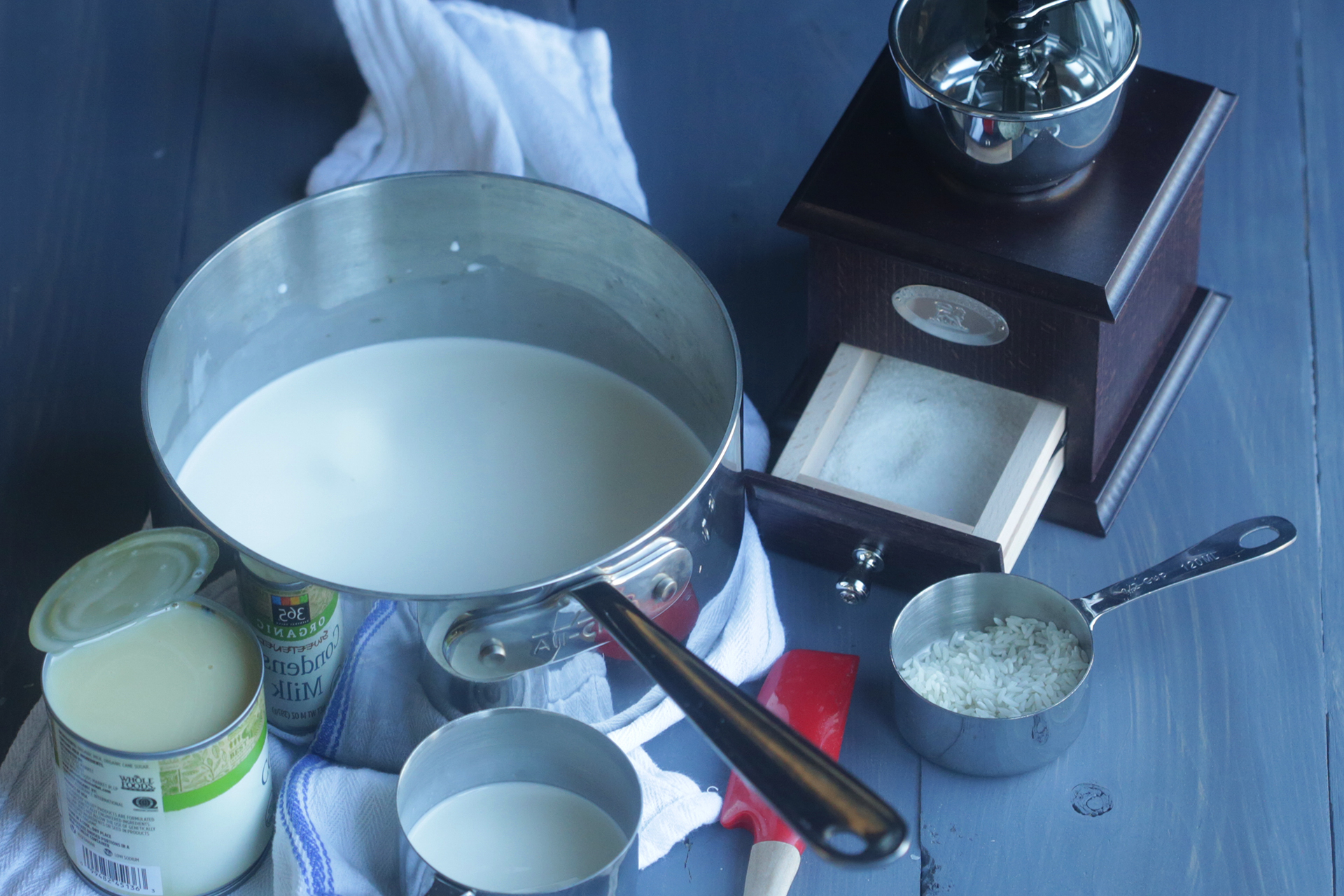 While the milk is cooking, whisk together some egg yolks, a little bit of sugar, vanilla and a pinch of salt. Essentially what we are looking to make is a custard that has the flavors of an Horchata. Once the milk is done cooking, about 30 minutes, strain it through some cheese cloth into the egg mixture; this will help to get rid of the grainy rice. Next, return that mixture back to the pot and cook over low heat while constantly stirring. You should notice that it gets pretty thick and be able to coat the back of a spoon. Us foodies call this consistency "nappe!"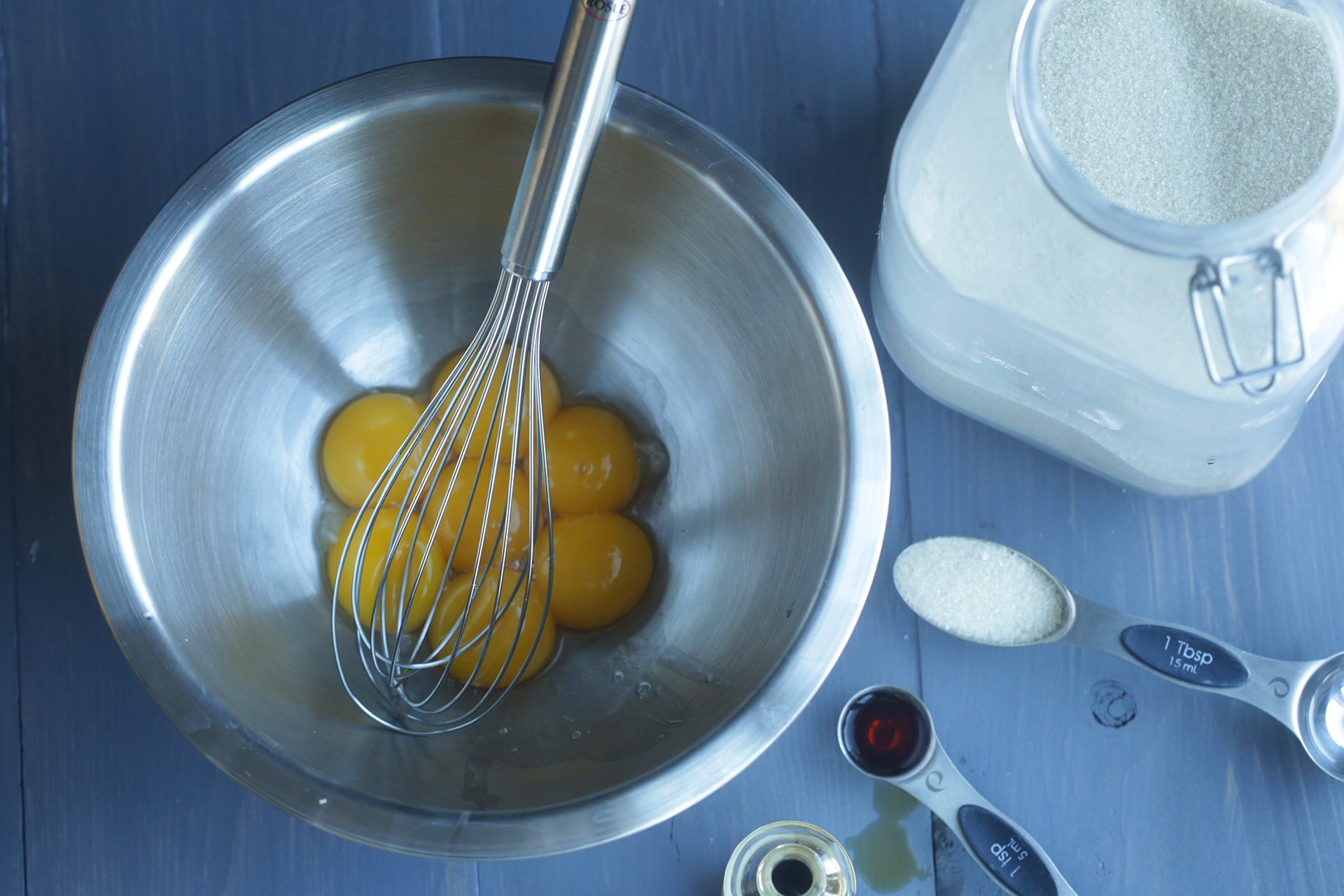 Now get that delicious horchata custard out of that hot pot and into another bowl, add in another cinnamon stick and chill it completely, about 4 hours or so. Just as a note, if you haven't put the ice cream maker bowl into the freezer you're going to need to wait until the next day to make the ice cream it because that thing needs to be frozen solid. Just a friendly reminder for you 🙂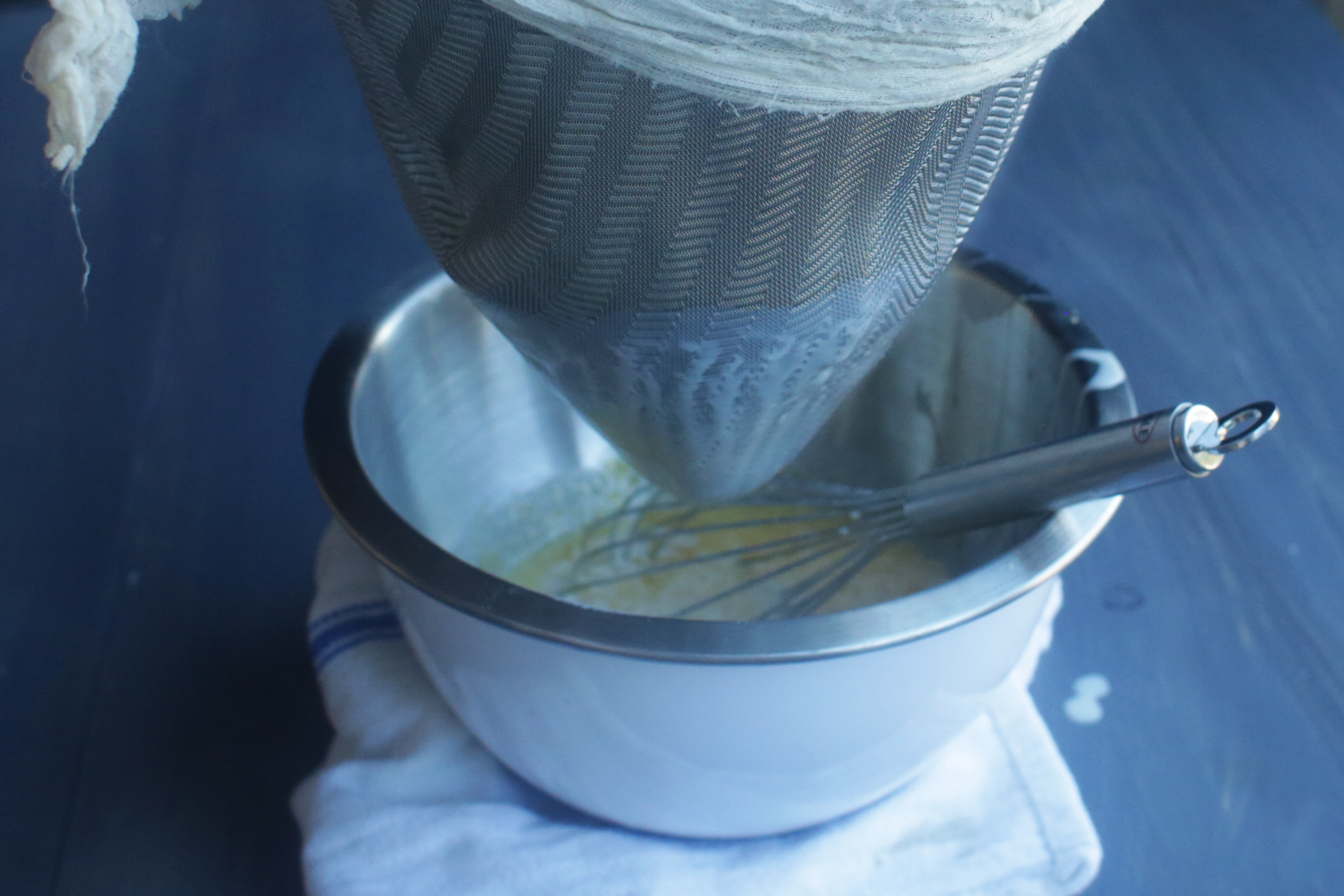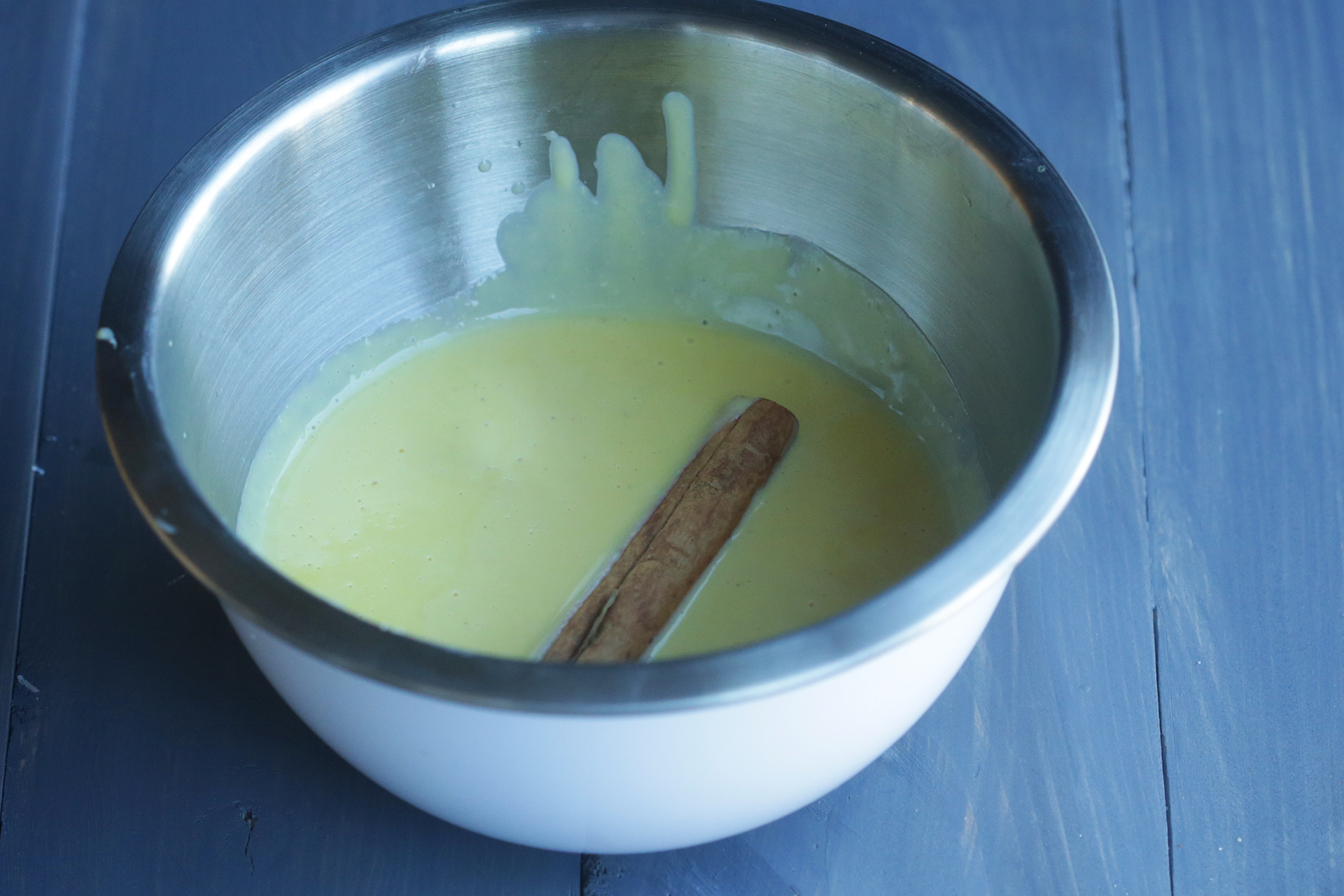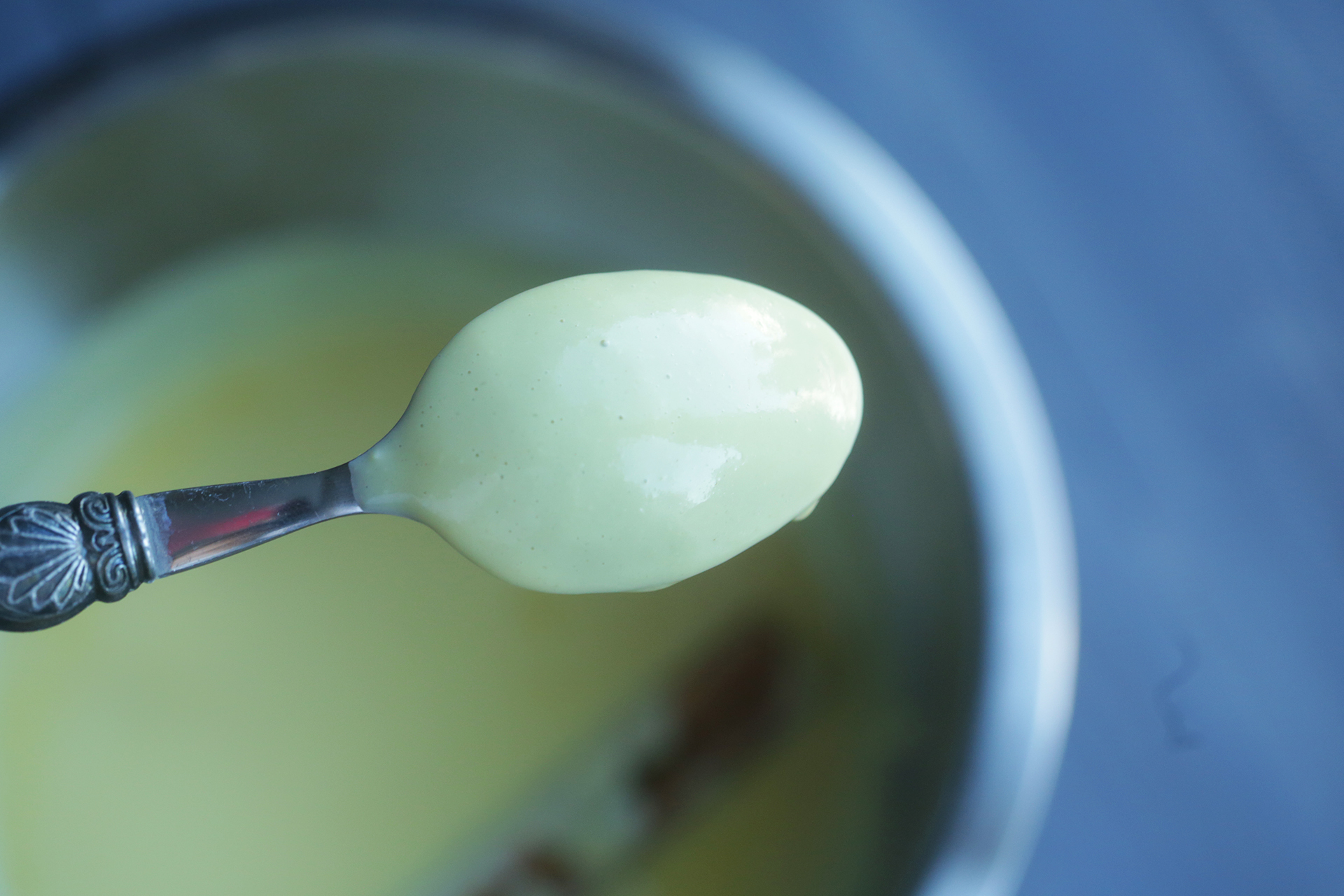 Once the horchata custard is completely cooled and your ice cream maker bowl is frozen solid, simply pour in the custard and cream the custard for 45 minutes. It will get creamier and begin to solidify more, but you will need to return that bowl to the freezer for 4 hours for the ice cream to completely freeze. See, just like I said, the transferring of liquids!
While the Horchata ice cream was hardening up, I felt a little ambitious and thought it would be cool to add a few homemade toppings, so I whipped up a fresh blueberry sauce and some roasted peaches in butter and brown sugar. You don't have to do either of those things, because trust me when I say that the ice cream is amazing all by itself, but it sure is delicious!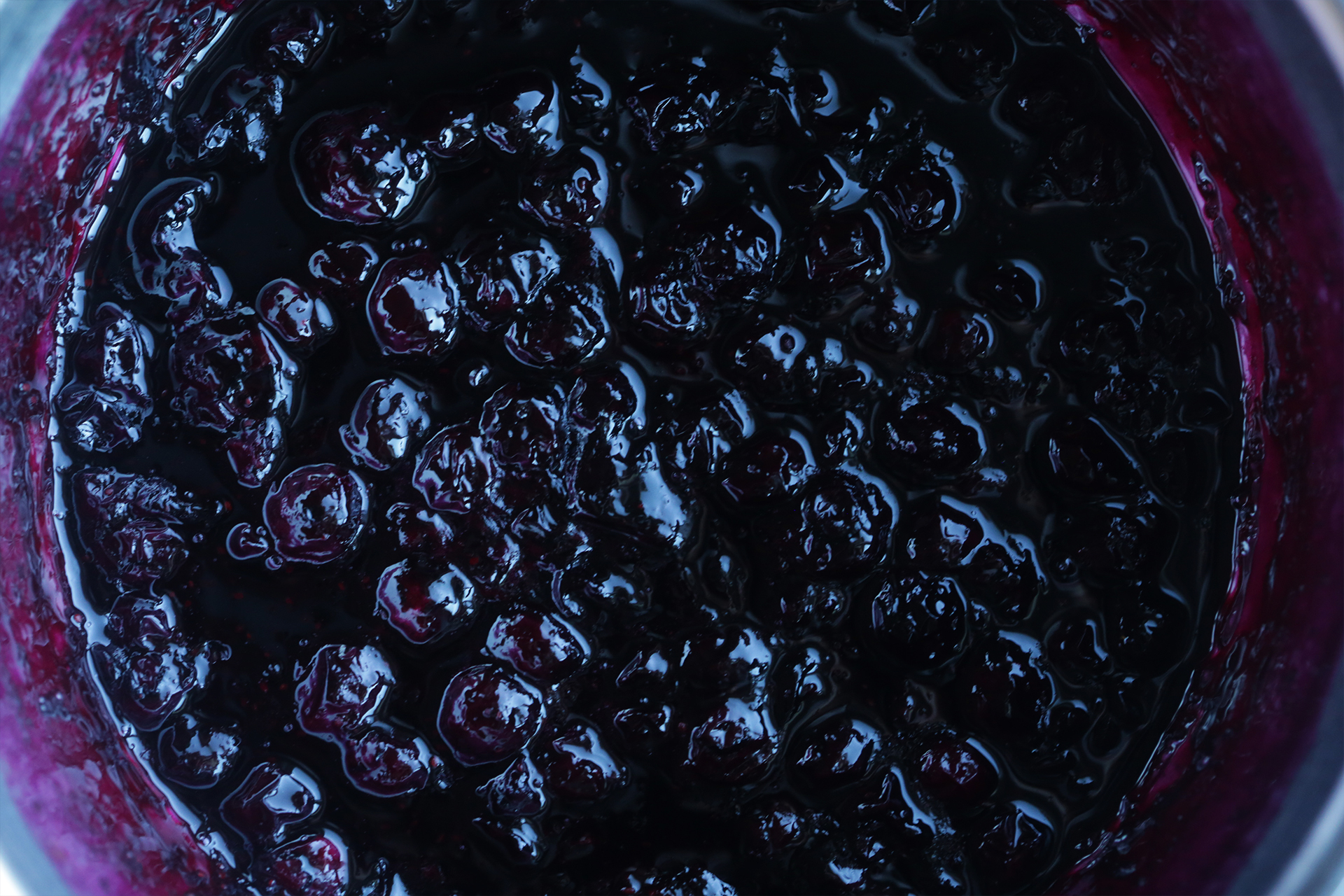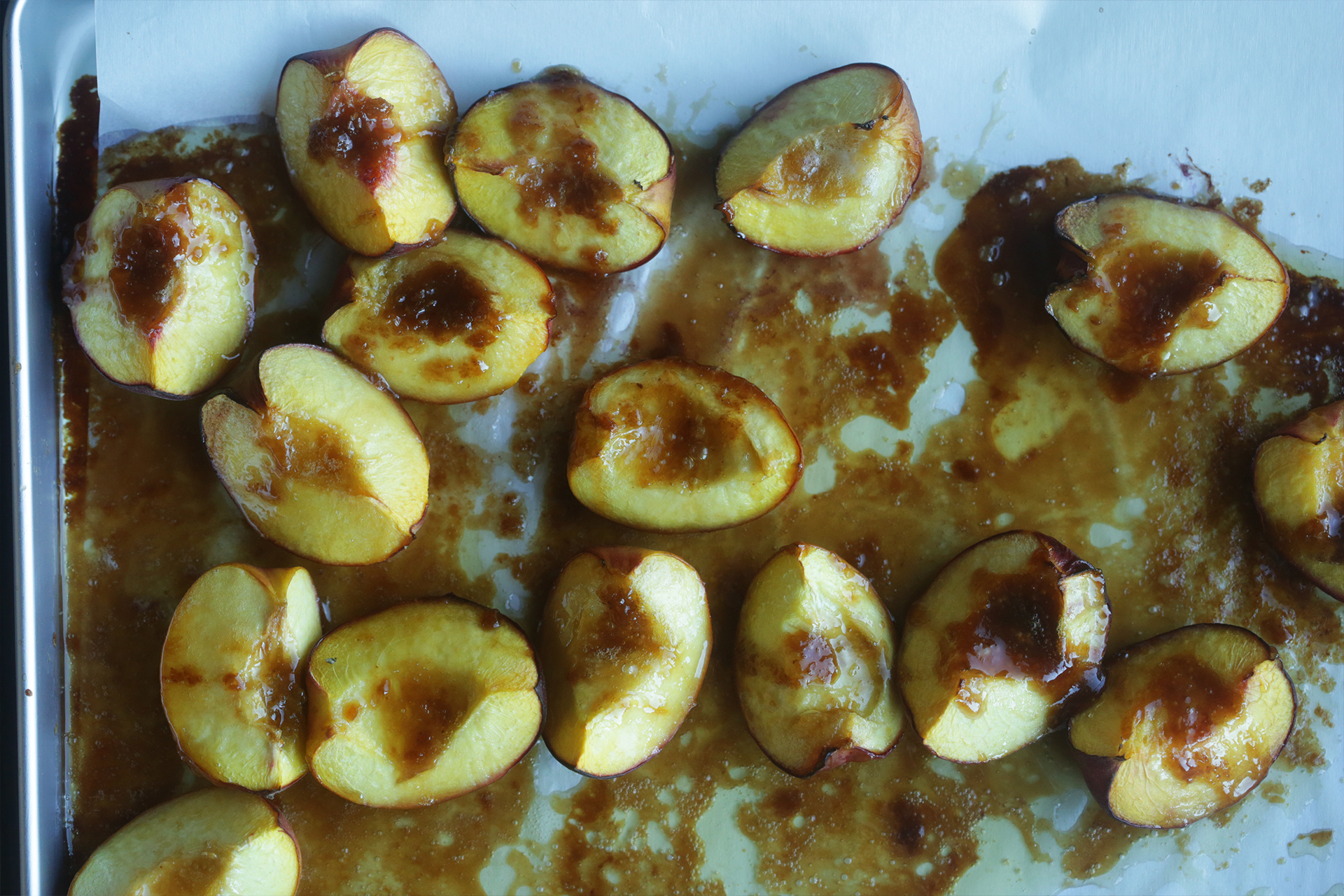 The last thing you'll do before serving is grating some cinnamon onto the ice cream! Enjoy!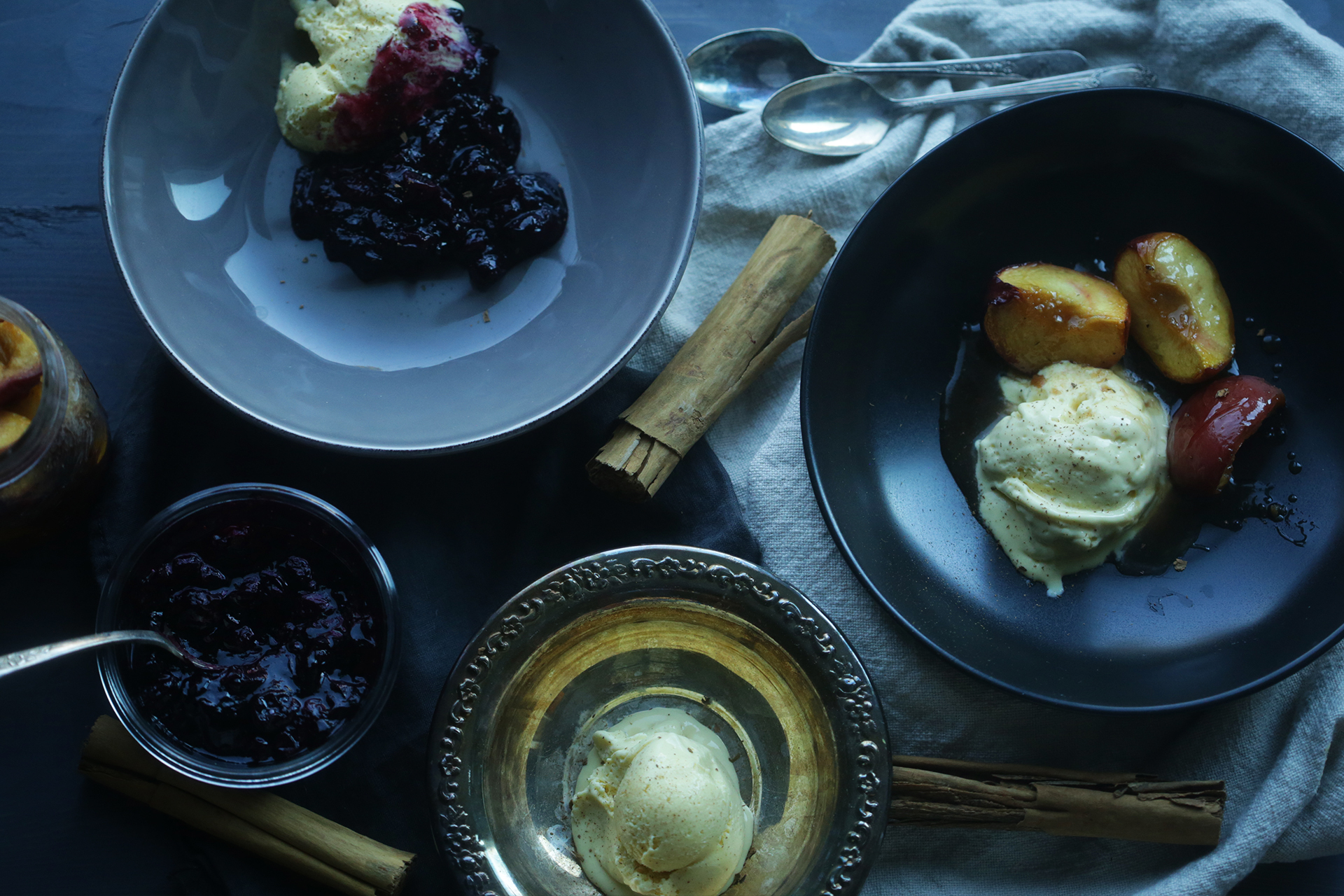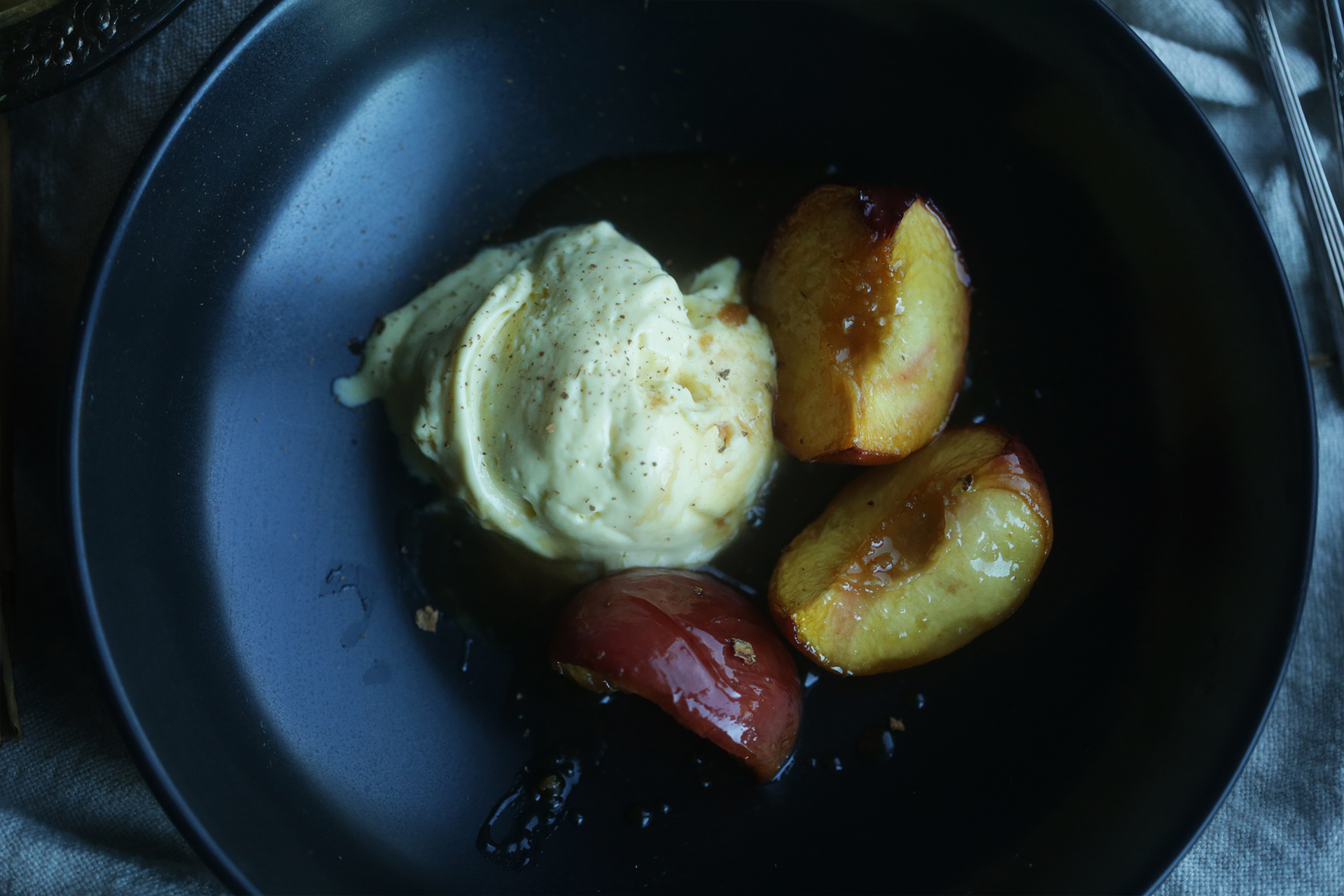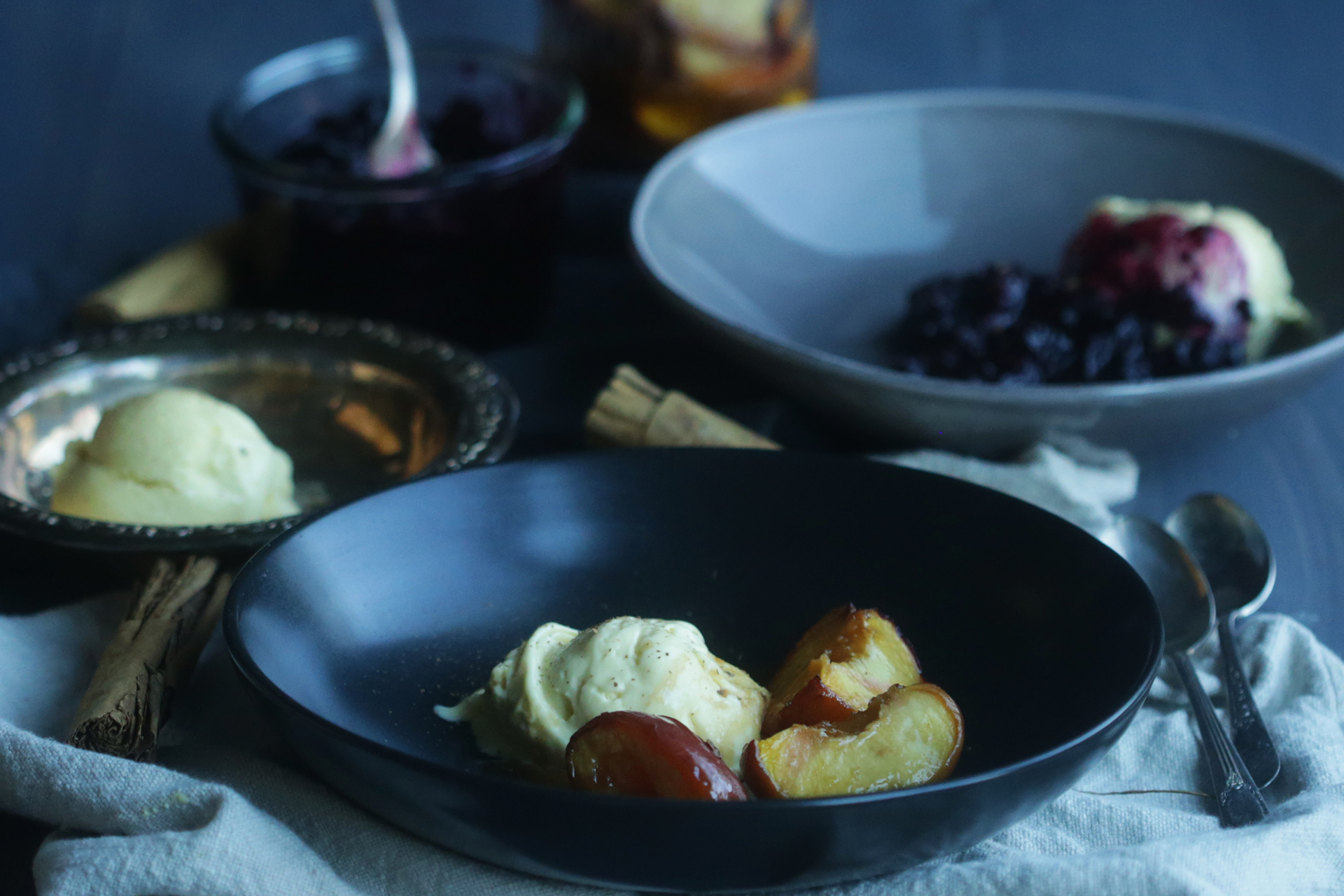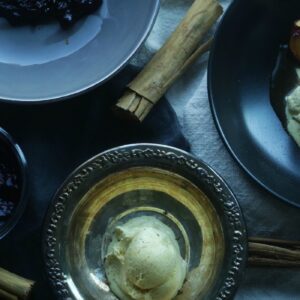 INGREDIENTS

For the Ice Cream:
2 cups of whole milk
1 cup of heavy cream
14-ounce can of sweetened condensed milk
½ cup of ground long grain white rice
2 cinnamon sticks
6 egg yolks
1 tablespoons of sugar
1 teaspoon of vanilla
pinch of Kosher salt
For the Blueberry Sauce:
2 cups of fresh blue berries
¾ cup of sugar
juice of ½ lemon
¼ cup of water
For the Peaches:
4 pitted peaches cut into 4 wedges
1 stick of unsalted butter
¾ cup of packed brown sugar
INSTRUCTIONS
For the ice cream: Warm the milks, cream, rice and 1 cinnamon stick together in a medium size pot over low heat for 30 minutes.
While the milk is cooking whisk together the eggs, sugar, vanilla and salt.
Once the milk and rice is done cooking strain it using cheese cloth into the egg mixture bowl and whisk.
Return the liquid to the pot and cook for 30 more minutes over low heat while constantly stirring.
Once it becomes thick transfer the liquid to a bowl and chill completely in the refrigerator, about 4 hours.
Next, pour the custard into your ice cream maker and churn for 45 minutes. Freeze the ice cream for about 4 more hours or until it is completely frozen before serving.
Blueberry sauce: Combine all ingredients in a medium size pot and cook over medium heat for 45 minutes. Cool before serving.
Peaches: Preheat the oven to 400°.
Combine the butter and brown sugar together using a pastry knife.
Place the peaches skin side down on a cookie sheet tray lined with parchment paper and place on the butter and brown sugar mixture on top of each peach and roast in the oven for 45 minutes. Serve warm.