Classic Dutch Oven Bread Pudding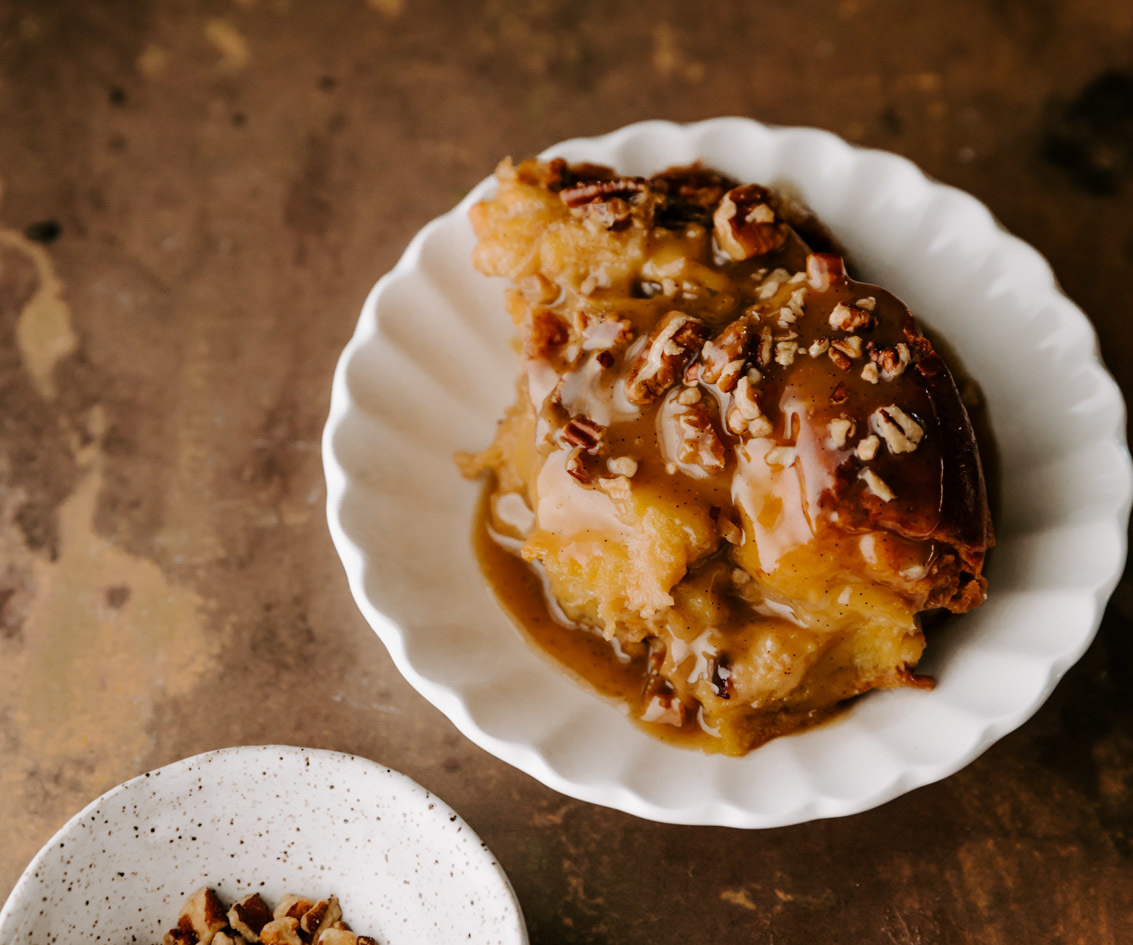 Dutch Oven Bread Pudding is your solution to the question: What do I do with this stale bread? because it takes minimum brainpower. It's the perfect easy entertaining dessert idea. And it's the underdog crowd-pleaser that uses all the random leftover dessert and pantry items.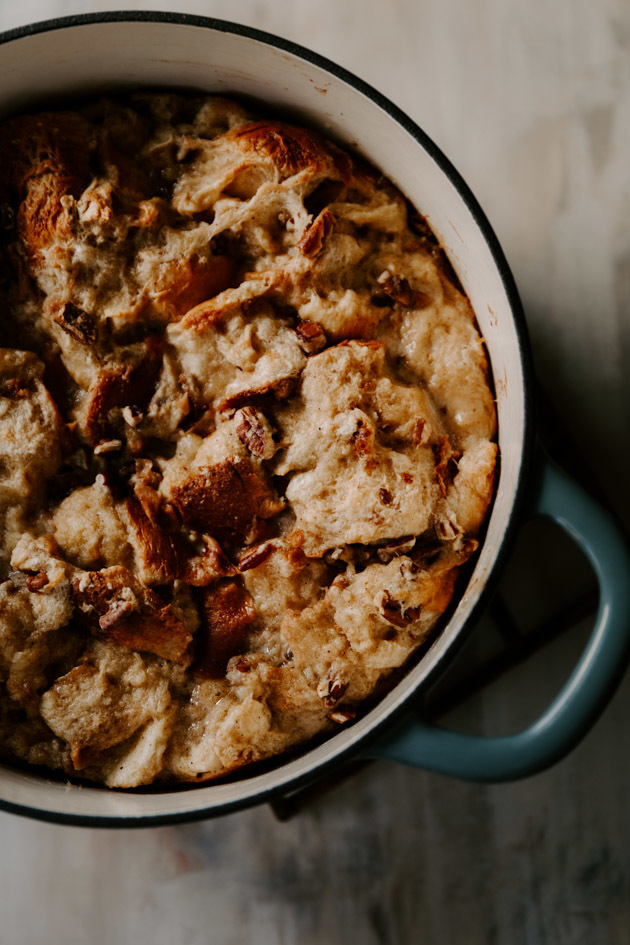 Enameled Cast Iron Oval Dutch Oven

By Crock Pot

Shop Now
Bread pudding is basically a dessert strata and, much like the savory strata, doesn't get enough attention. It's really nothing fancy, just a whole lot of delicious. A classic that should not be overlooked.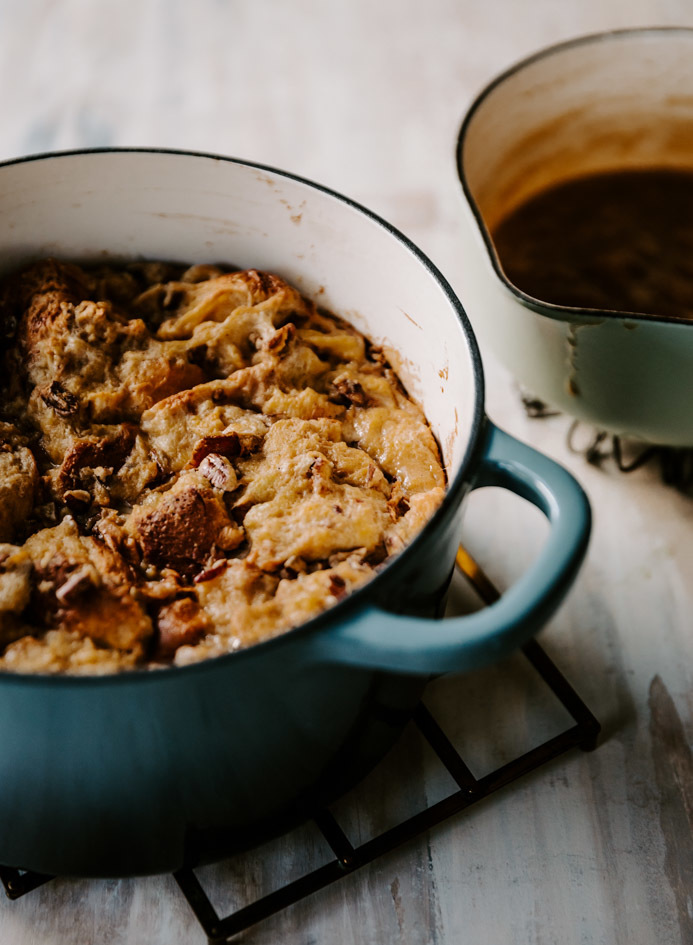 This bread pudding is a classic that should not be overlooked. It is nothing fancy, but easy and a whole lot of delicious.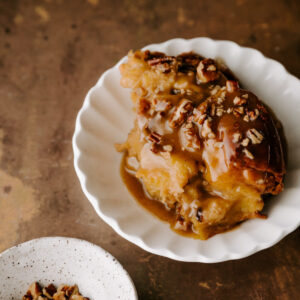 Ingredients
2

loaves (about 2 lbs.) brioche, ripped into pieces

3

eggs

2

egg yolks

.5

cups

packed light brown sugar

2

cups

heavy whipping cream

2

cups

whole milk

2

tbsp

vanilla extract

1.5

tsp

Vietnamese cinnamon (regular will do too)

1.5

tsp

nutmeg

For the Bread Pudding:

——————–

.5

cups

salted butter, melted (1 stick)

1

cups

chopped pecans

For the Sauce:

1

cups

heavy whipping cream

1.5

cups

packed light brown sugar

.5

tsp

corn startch

2

tbsp

salted butter, melted

1

vanilla bean pod cut down the long way, seeds removed and added with the pod

.25

tsp

Vietnamese cinnamon

Light pinch salt

——————–

Optional Garnish:

Pinch of flaked salt

Chopped roasted pecans
Instructions
In a large bowl using a hand whisk beat eggs, egg yolks, brown sugar, cinnamon, and nutmeg. Pour in cream, milk, and vanilla extract and continue to mix until well combined.

In an even larger bowl mix butter, pecans, and ripped bread. Pour egg and milk mixture over top. Set aside and let the bread absorb the mixture for about 30 minutes.

Heat oven to 350 degrees and grease a 5 qt. dutch oven with butter. Pour bread pudding into the dutch oven and bake for 40 minutes or until the center is fully set.

In a medium saucepan, combine all of the sauce ingredients and bring to a boil, stirring constantly for 10 minutes, or until thick. Discard the vanilla pod. If extra cornstarch is needed to thicken, add in a heavy pinch at a time. Whisk until smooth and glossy.

Serve bread pudding with sauce over each individual serving, add more pecans and a pinch of flaked salt if so desired.
A few recipe notes:
Bread. Use whatever you have, but I highly suggest Brioche. It can be already flavored with chocolate or maybe nuts and dried fruit. Really whatever you have or inspires you at the grocery.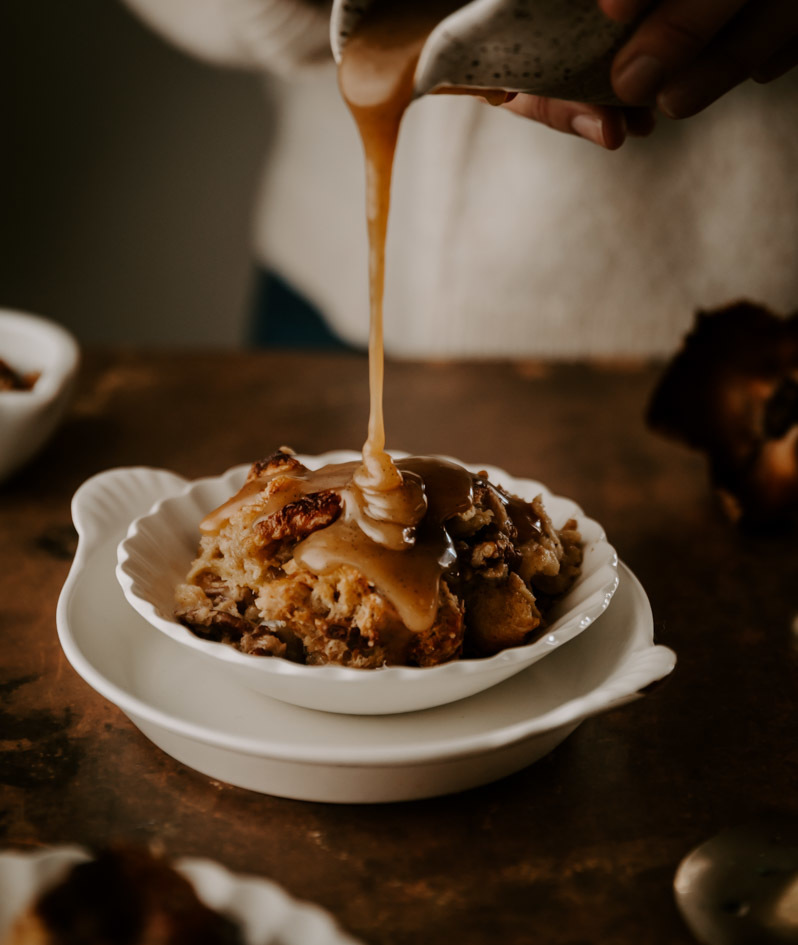 Whipping cream. Use whatever leftovers you have, may it be buttermilk, half and half, only whole milk. Just make sure it has a higher fat content.
Vietnamese cinnamon. Okay, this is a bit of a curveball. Regular will do, however, I highly encourage you to make Vietnamese cinnamon your normal go-to. It's so much more flavorful and exciting. Worth it.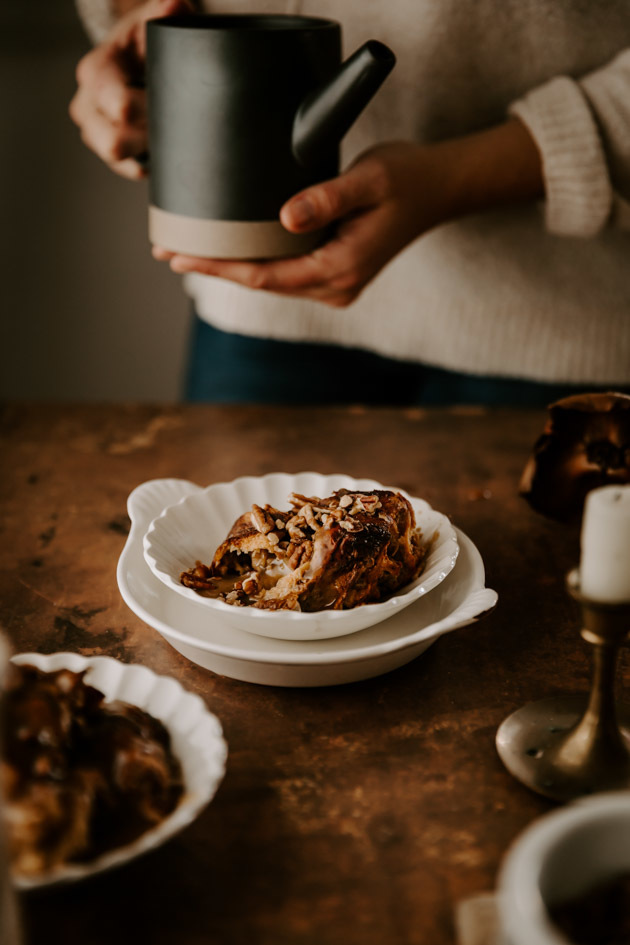 Contour Pour Over Coffee Set

By Now Designs

Shop Now
Butter. I always use salted and cultured butter. I think it adds such richness and flavor to both savory and sweet dished. Use whatever you have, but add a pinch more salt if you're using unsalted.
Pecans. I chose this nut to add extra crunch and because it seems like a natural fit. Feel free to omit or change it up to whatever you desire. Have fun and play — that's what this is all about!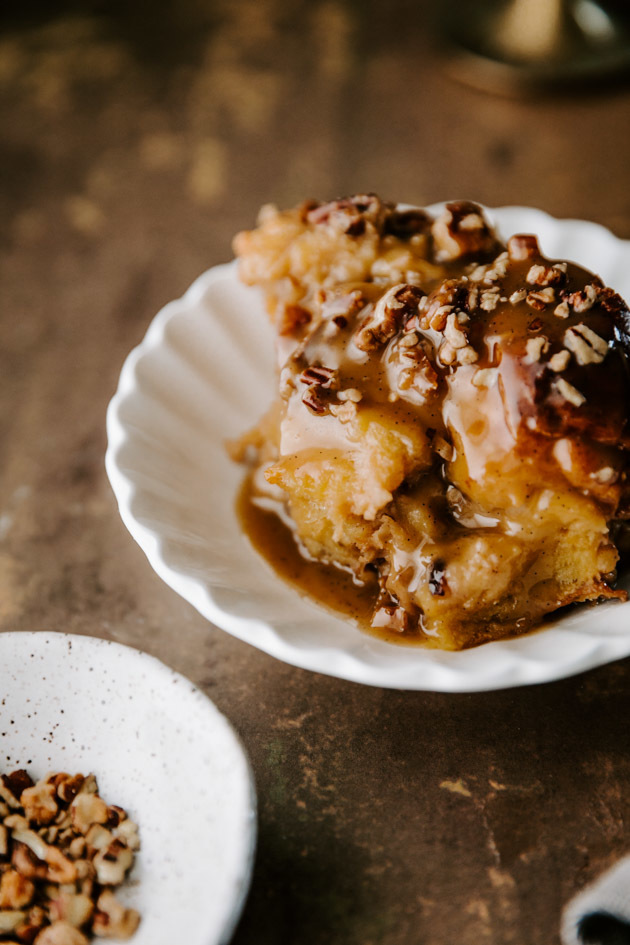 Sauce. If you don't have cornstarch or another thickening substitute, flour will do! Double it and cook with the butter as you melt it so it completely cooks off. Or, boil longer to reduce and thicken everything. Another thing to note is you could absolutely make an icing using confectioner's sugar if that's what you have instead of a cup more whipping cream.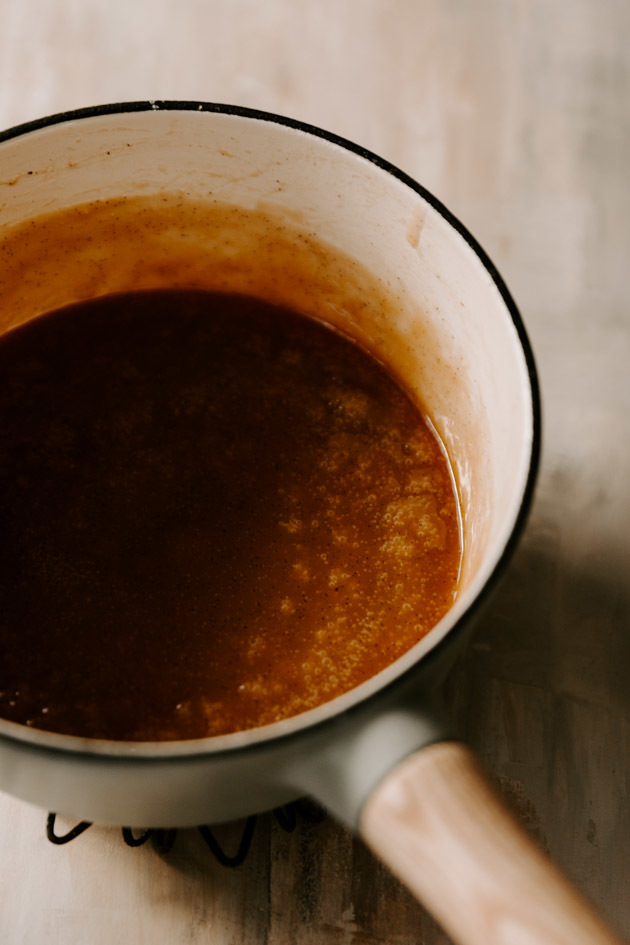 Modern Cast Iron Saucepan

By BergHOFF

Shop Now
Lastly, vanilla bean. I LOVE the way the sauce looks with the speckle of vanilla beans. You're welcome to scrape the pod clean and not add the pod as the sauce cooks, however, I like to get the most mileage out of the pods as possible. I find it infuses a bit more flavor this way. Another option is to use just vanilla extract or a ½ to 1 teaspoon of vanilla bean paste.