​Pumpkin Cinnamon Rolls with Vanilla Spice Cream Cheese Frosting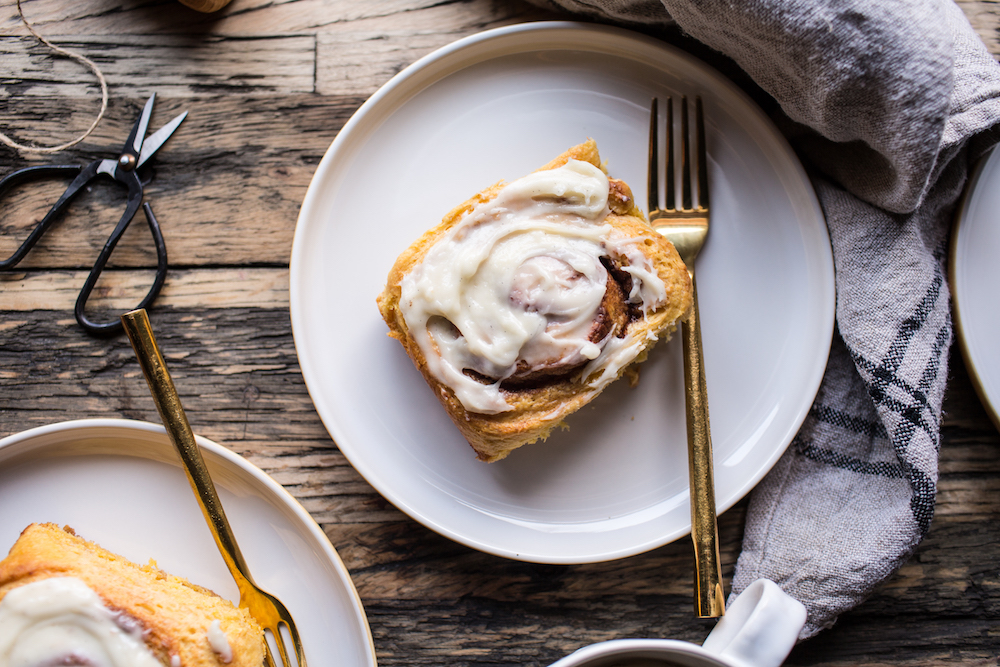 Pumpkin Cinnamon Rolls with Vanilla Spice Cream Cheese Frosting? What could be more delicious for a breakfast or brunch? While this recipe screams fall and cooler weather, it's so delicious, I just know this could be a year-round favorite for you!
I always try and have a few recipes up my sleeve that I know everyone will absolutely love. Recipes like an easy pot roast, a classic lasagna and a fun breakfast treat like these pumpkin cinnamon rolls. I don't know about you and your family, but my family LOVES cinnamon rolls. As kids, we used to make them from a can, but when I got older and started baking, I began making them from scratch. Nothing is better than a homemade cinnamon roll, and this recipe for pumpkin cinnamon rolls is no exception. They're simple and easy to make, and always a HUGE hit!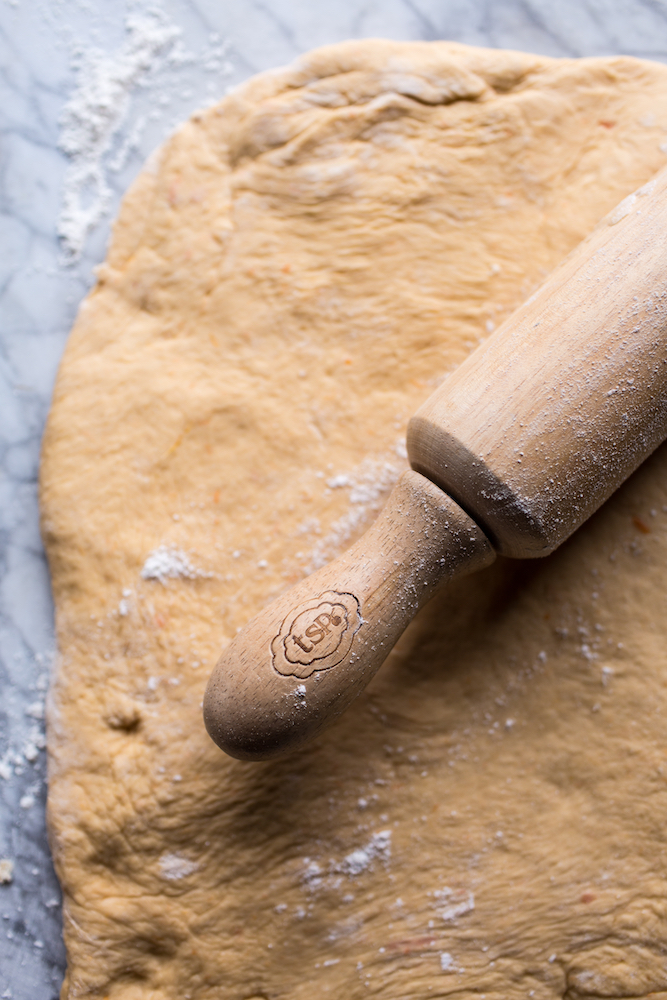 OK and now for some fun facts about these cinnamon rolls. The pumpkin in them makes for the most soft, moist and delicious dough. To be honest, I may start making all my cinnamon rolls with a touch of pumpkin because these turned out SO good. The dough is also really easy to work with and totally fuss free. The frosting is extra special. It's filled with vanilla, cream cheese, butter and a touch of sugar.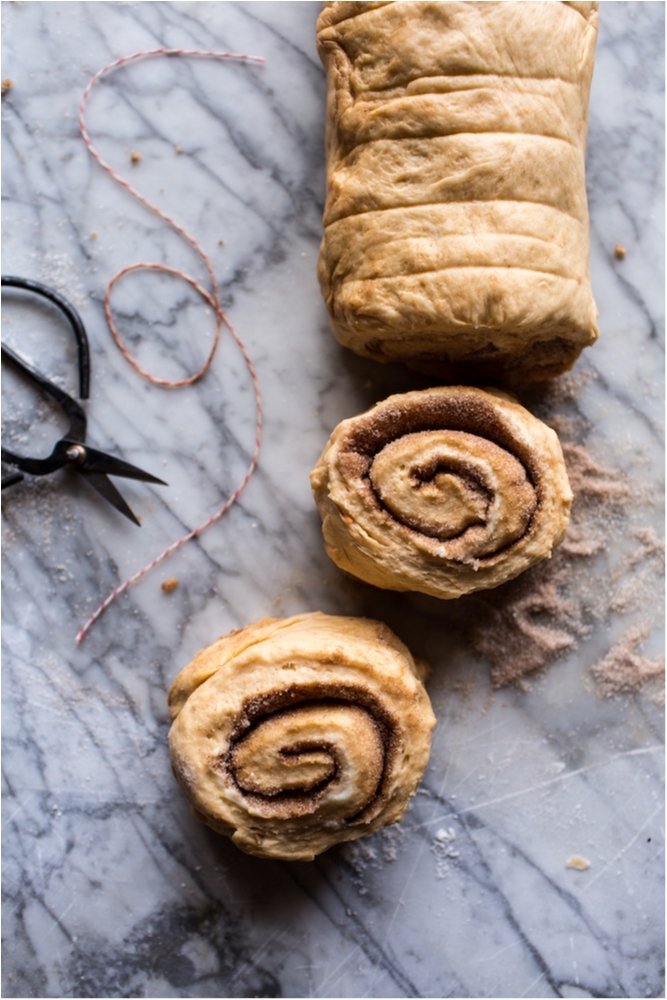 Honestly, cinnamon rolls do not get better.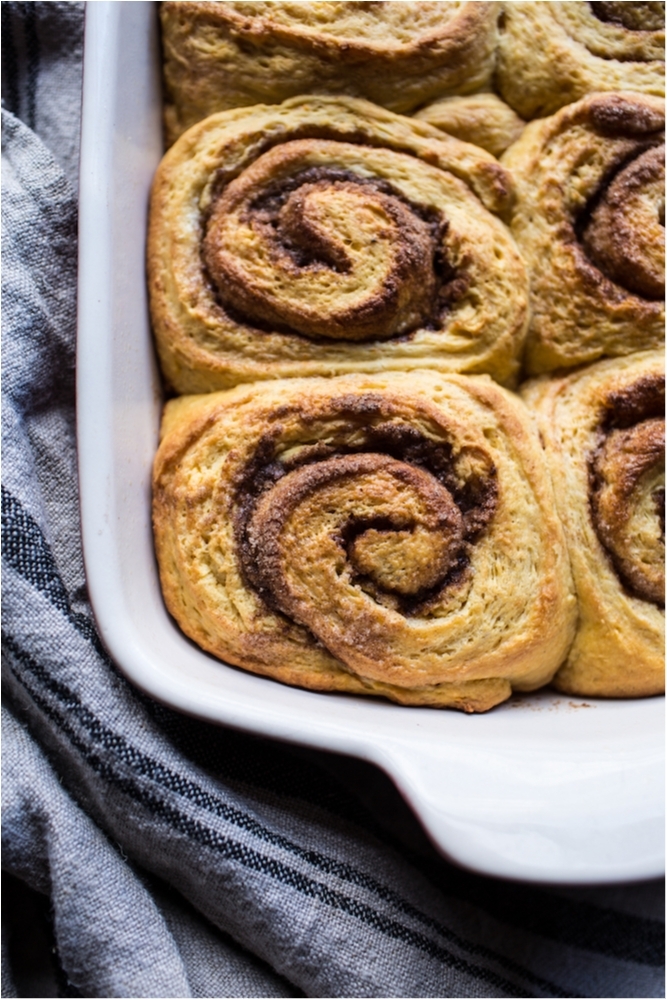 So is it time for pumpkin cinnamon rolls yet?!? Yes, I think so. Let's do this!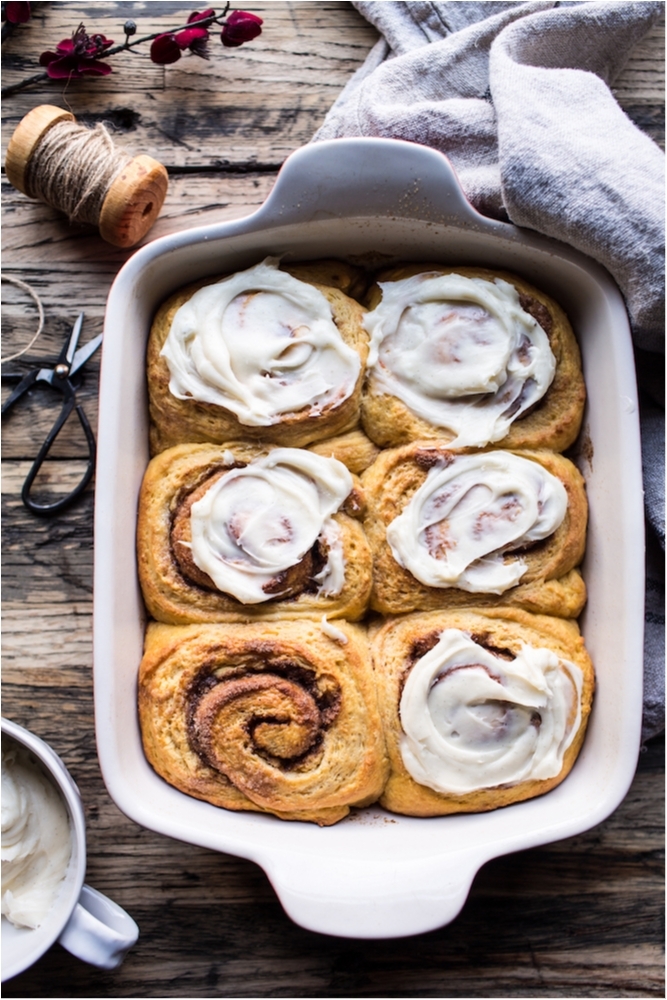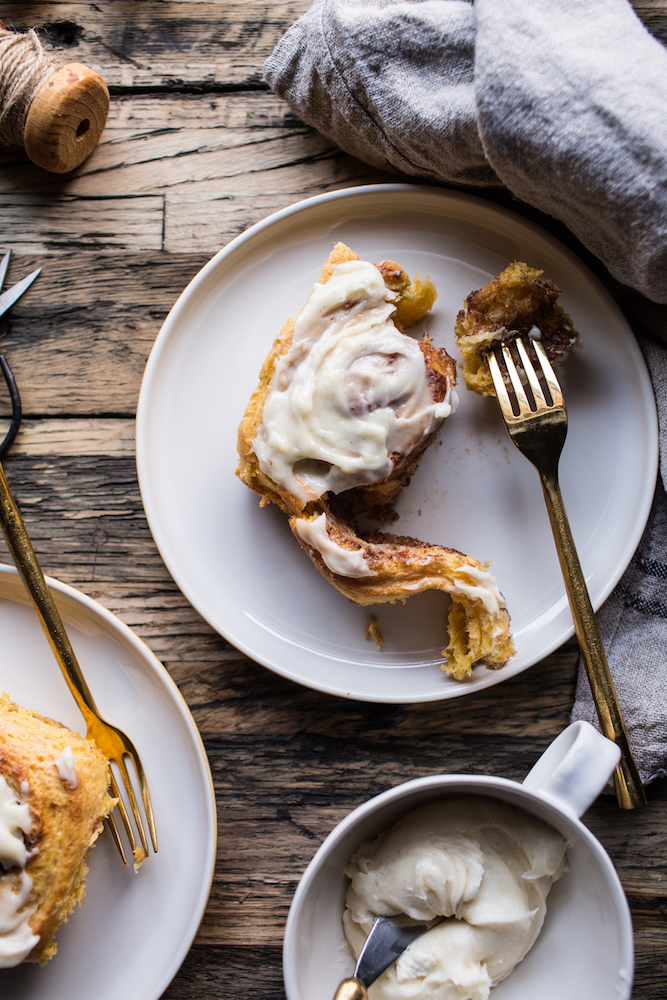 Pumpkin Cinnamon Rolls with Vanilla Spice Cream Cheese Frosting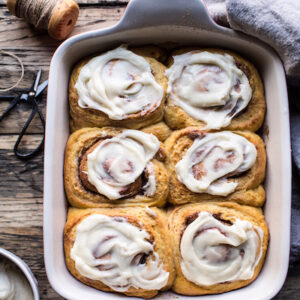 INGREDIENTS
For the Dough:
2 ¼ teaspoons active dry yeast (I like to use Red Star Platinum yeast)
¼ cup warm water
2 tablespoons light brown sugar
1 stick (½ cup) unsalted butter, melted
½ cup warm milk
½ cup pumpkin puree
1 egg
3½ - 4 cups all-purpose flour
¼ teaspoon salt
For the Filling:
½ cup granulated sugar
1 tablespoon cinnamon
1 stick butter (½ cup), very, very soft (I like to place mine in the microwave for 15 seconds until extremely softened)
For the Frosting:
4 ounces cream cheese, softened
4 tablespoons unsalted butter, softened
1 cup powdered sugar
1 vanilla bean, seeds removed OR 2 teaspoons vanilla extract
Pinch of nutmeg
INSTRUCTIONS
To make the dough. Place yeast and sugar into a stand mixer with the dough hook attached. Add the warm water and gently stir. Let sit until yeast has doubled and is puffed and foamy on top, about 10 minutes.
To the bowl add the melted butter, warm milk, pumpkin puree and egg, stir to combine. Add in the flour and salt. Knead the dough with the dough hook until the dough is smooth and forms a ball, about 5 minutes. Remove the dough from the bowl and oil the bowl or use cooking spray. Place the dough back in the bowl and cover with plastic wrap. Let the dough rise in a warm area for about 1 hour or until doubled in size.
To make the filling. Add the sugar and cinnamon to a bowl and mix well. Generously grease a 9x13 inch baking dish, or slightly smaller baking dish, with butter.
Lightly dust a surface with flour. Roll the dough into a rectangle (about 9x24 inches). Spread about 6 tablespoons of the butter (softened almost to a melted phase) evenly over the dough. Spread the cinnamon sugar evenly over the butter and lightly push the cinnamon sugar into the butter.
Starting with the long edge closest to you, carefully roll the dough into a log, keeping it fairly tight as you go. When you reach the edge, pinch along the edge to seal. Place dental floss or a thin piece of string (do it!! it works so well!) under the roll where you want to cut. Mine are usually about 3/4 to 1 inch thick, but vary. Take the ends of the floss in each hand and wrap them around the roll. Keeping the ends of the floss in each hand (don't let go) tighten the floss so it starts to cut through the roll. Again, don't change hands. Tighten until the floss comes out and the individual roll is separated. You can make eight larger rolls OR 10-12 smaller rolls.
Place rolls in the prepared pan. Cover with a damp cloth or plastic wrap and allow to rise in a warm place until doubled in size, about 30 minutes.
Preheat the oven to 350. Just before baking brush the remaining 2 tablespoons of butter on top of the rolls. Bake the rolls for 25 minutes or until golden brown.
Meanwhile, make the frosting. Beat the cream cheese and butter together until light and fluffy. Slowly add the powdered sugar until combined. Add the vanilla bean seeds (or vanilla extract) and nutmeg, mix until smooth and creamy.
Spread the frosting on warm rolls. EAT!