Make These Gluten-Free Waffles Rancheros for a Great Twist on the Classic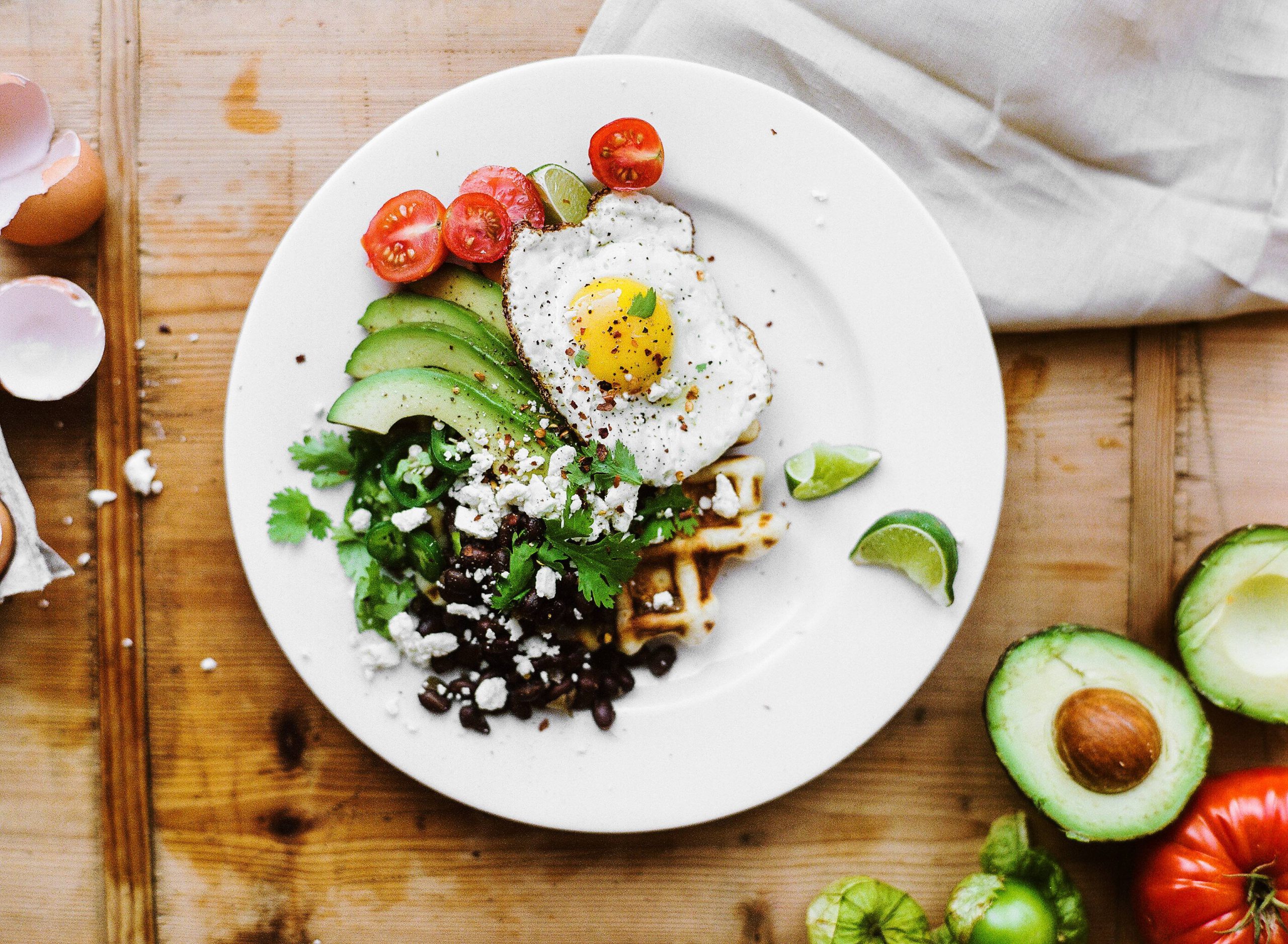 There is something about the start of a new year that really does inspire you to kick things into gear and make some changes in your life. Call it corny, but I absolutely love New Year's resolutions. It is like my personal Super Bowl. I draft an initial list, rearrange into order of importance, separate into months, and break them down into sections. It may make me sound like a loon, but I love a good excuse to be introspective and challenge myself for the coming year. I get that resolutions aren't everyone's thing, but if you need some encouragement or help organizing, I am your freaking gal.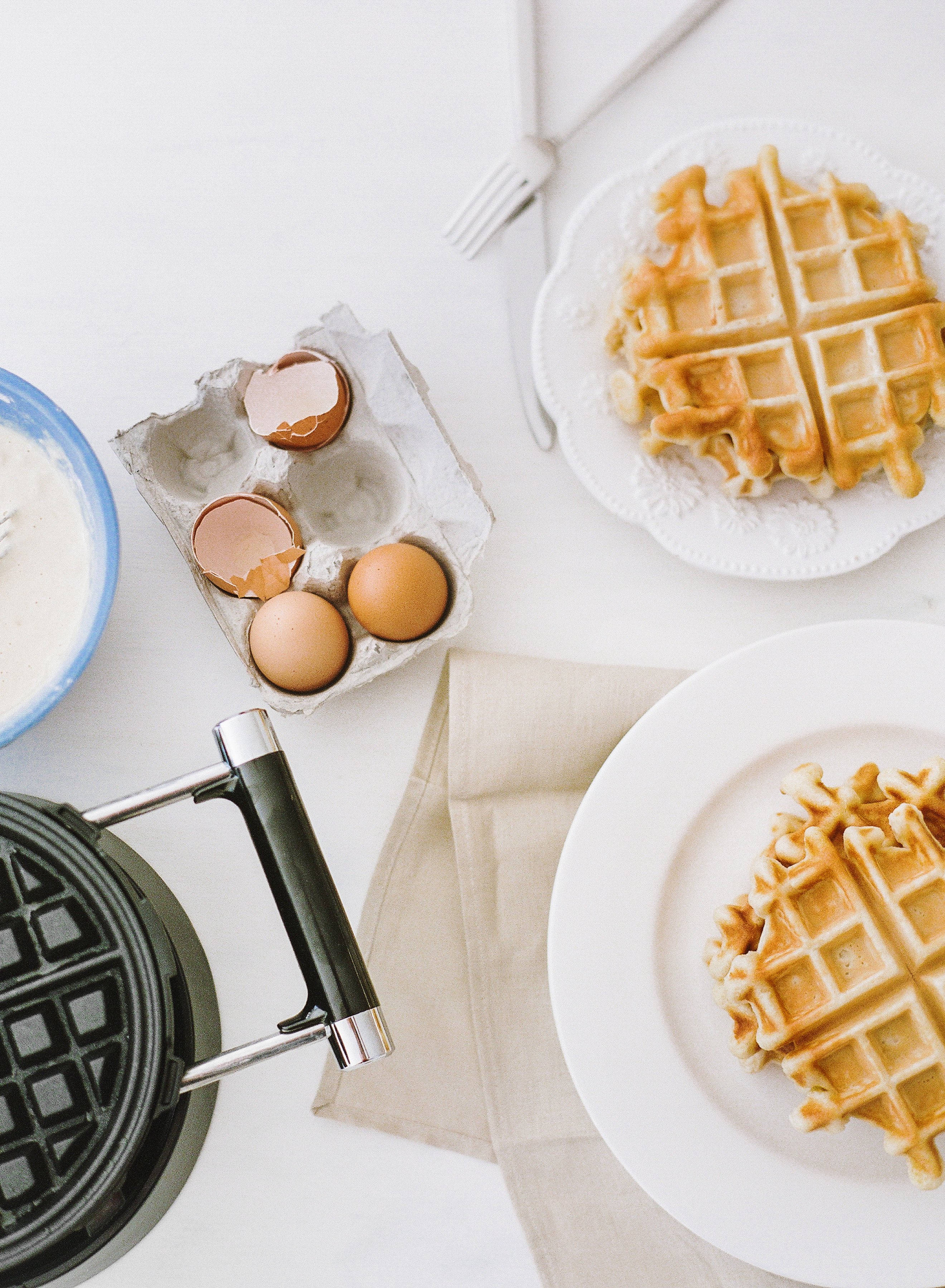 Just like everyone and their mother, "eat better" is absolutely on my list of things to prioritize in 2018 and my husband and I are experimenting with the cutting down on processed sugar (watch one documentary on sugar and you'll be like *gasp*) and becoming gluten avoiders. Are we gluten intolerant? Not at all, but it has been recommended to both of us that we cut down on gluten, so… why not put it on the resolutions list? #newyearnewme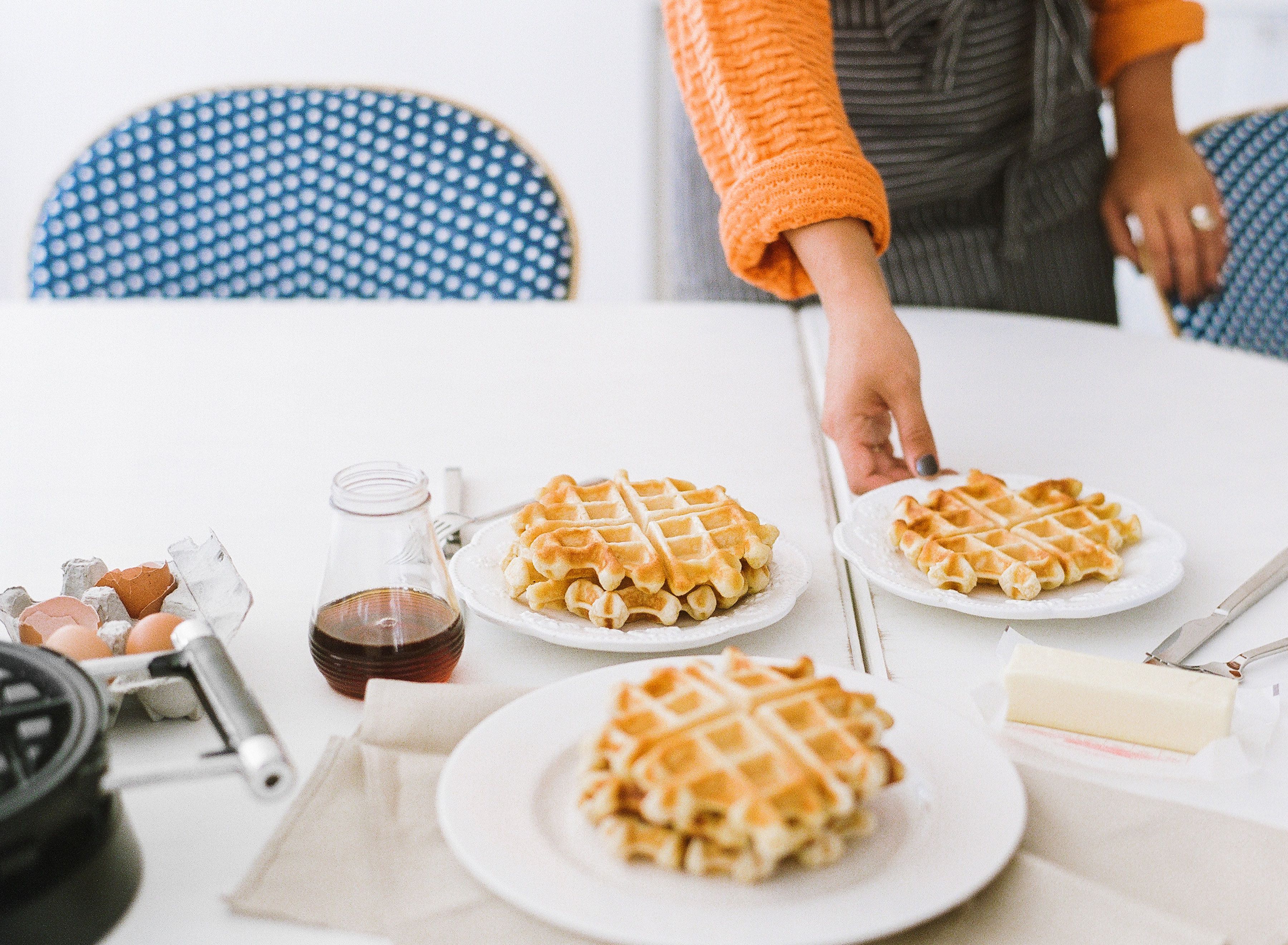 Having lived in Texas for close to 10 years, I love a good rancheros anything and this is a fun twist on the classic huevos rancheros… just with waffles… that are, you guessed it, GLUTEN-FREE! Now the recipe does call for some sugar, but you can either swap that for your sugar alternative (coconut, stevia, whatever you prefer) that is totally up to you! Give it a try and let me know what you think.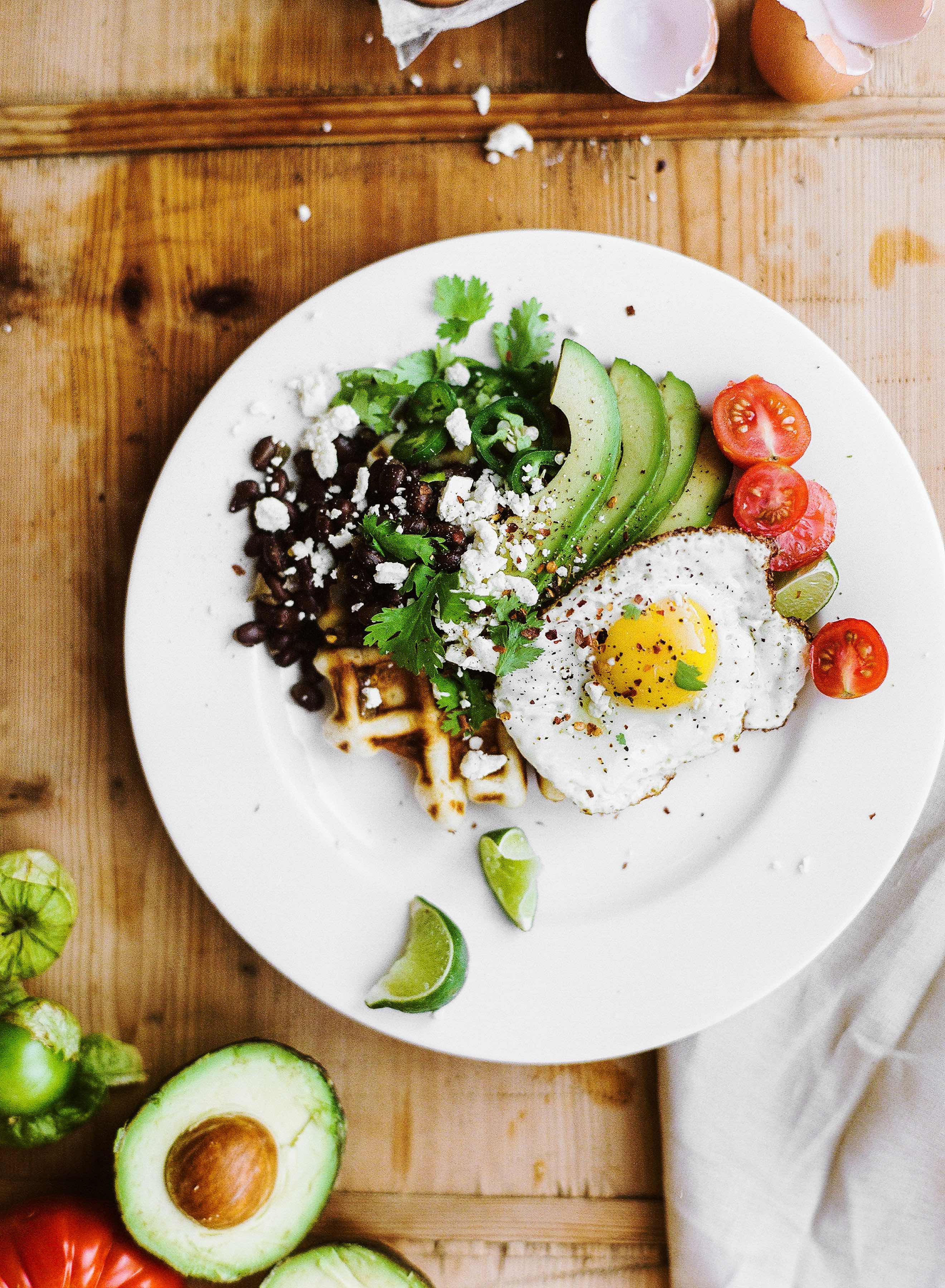 Gluten-Free Waffles Rancheros
Dive into this tasty gluten-free waffle recipe!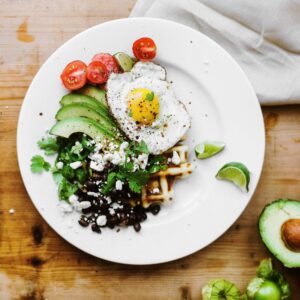 Ingredients
For the Beans:

2

tbsp

EVOO

1

cups

chopped onion (about half an onion)

3

cloves of garlic, diced

28

oz

chopped tomatoes (in juice)

1

tsp

ground cumin

15

oz

black beans, rinsed and drained

.25

cups

loosely packed cilantro, chopped

salt

For the Waffles:

1.75

cups

whole milk

.25

cups

chopped onion

1

garlic clove

.5

jalapeño pepper, seeded and chopped

1

tbsp

sugar

1

tsp

salt

1

cups

Gluten-Free All-Purpose Flour

2

tsp

baking powder

2

large eggs

.5

cups

unsalted butter, melted and cooled

For the Eggs:

1

tbsp

unsalted butter

4

large eggs

salt and pepper

For the Toppings (optional):

Crumbled queso fresco

Sliced avocado

Sour cream

cilantro

Lime wedges
Instructions
First up, the beans! Grab a medium saucepan and heat up your oil, add in the chopped onion and garlic and let cook over medium heat until softened. Stir in the can of tomatoes (with juice), chipotle pepper, adobo sauce, and cumin and cook for 5 minutes. From there, stir in the beans, cilantro, and salt to taste and cook for about 3-4 minutes.

While the beans are cooking, you can prep the waffles. Grab a blender and combine the milk, onions (from the waffles ingredients list), garlic, jalapeño, sugar and salt. Preheat a waffle iron to medium-high and grease with a vegetable oil.

Once that part of the batter is done, set aside. Grab a large bowl and whisk the flour and baking powder together, whisking in eggs, butter (melted), and above blendered portion of the batter until thoroughly combined. Pour about a ¼ of the batter into the waffle maker at a time (or more depending on your prefered waffle thickness and size), close, and cook until crisp.

While in between waffle duty, it's time to prepare the eggs! In a large skillet, heat up the butter (from the eggs ingredients list) and crack in the eggs. Season with salt and pepper to taste and cook over medium heat until whites are set and yolks are slightly running. Do not turn more than once!

Grab some plates, transfer your waffles over and top with beans and your fabulous fried egg. Top off with crumbled queso fresco, sliced avocado, sour cream, cilantro, lime wedges, or whatever else you are feeling.
Nutrition
Serving:
1
g
Calories:
529
kcal
Carbohydrates:
59.5
g
Protein:
24.6
g
Fat:
21.6
g
Saturated Fat:
7.1
g
Cholesterol:
297
mg
Sodium:
1149
mg
Fiber:
9.2
g
Sugar:
8.7
g
P.S. These waffles are also great with just syrup.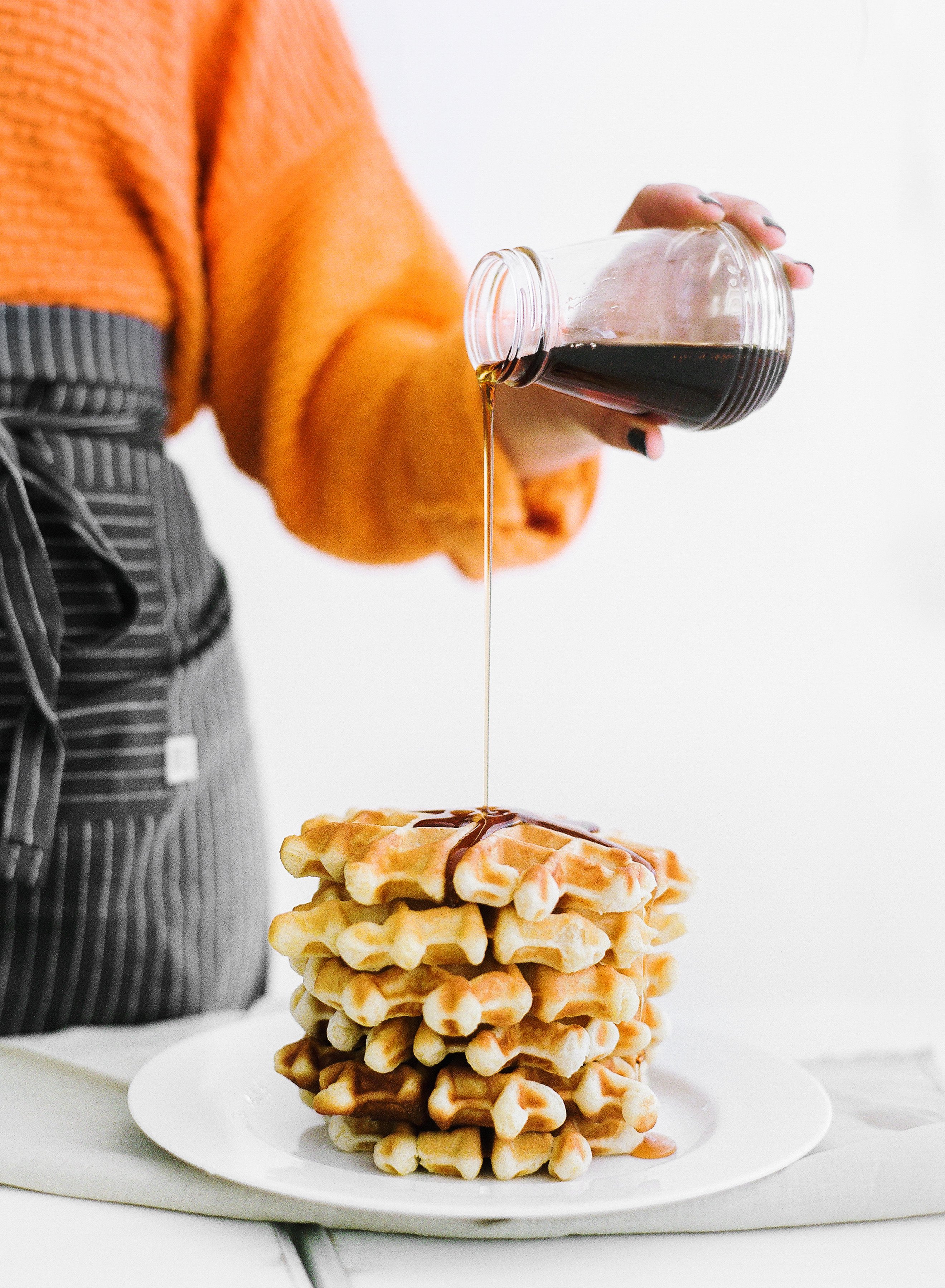 Check out more Mexican-inspired recipe ideas