Pumpkin Cheesecake with Bourbon Caramel Pecans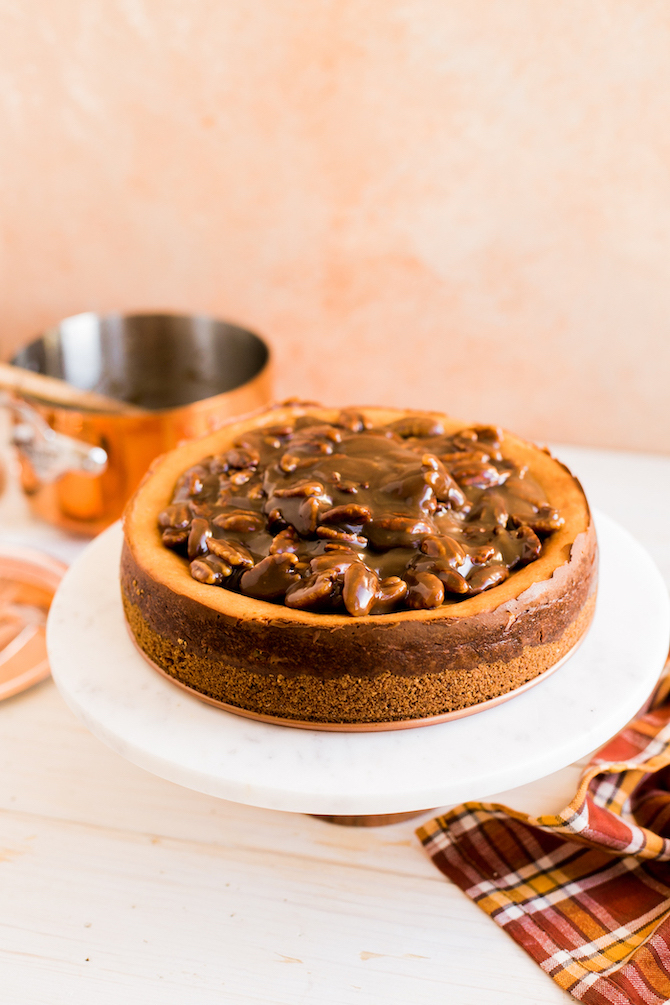 This pumpkin cheesecake is layered with a crunchy graham cracker crust, a creamy pumpkin spice center, and topped with the richest bourbon caramel pecan topping. This pumpkin cheesecake needs a seat at your Friendsgiving or Thanksgiving gathering this year!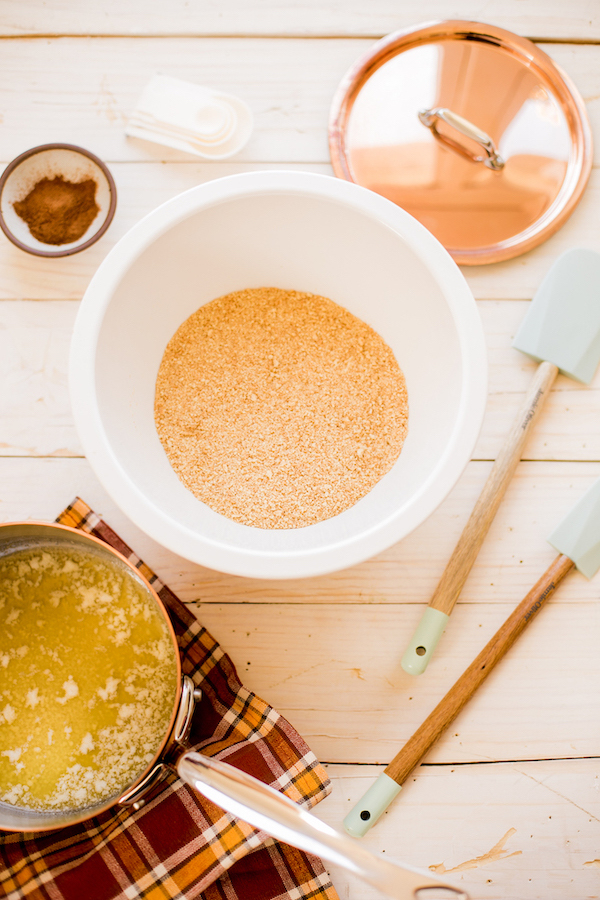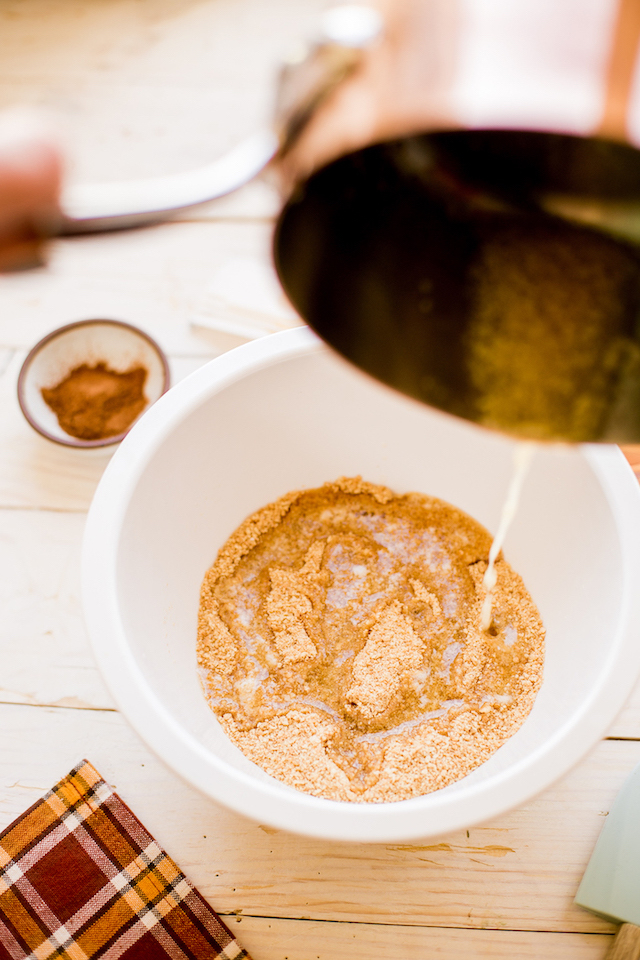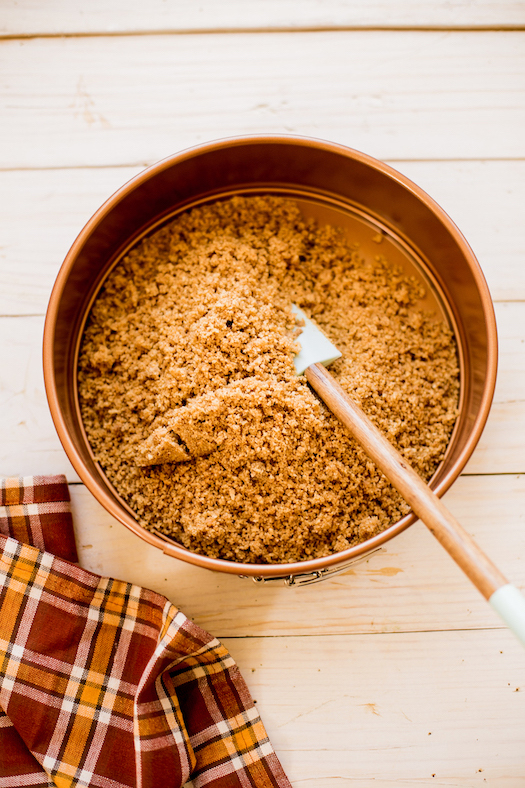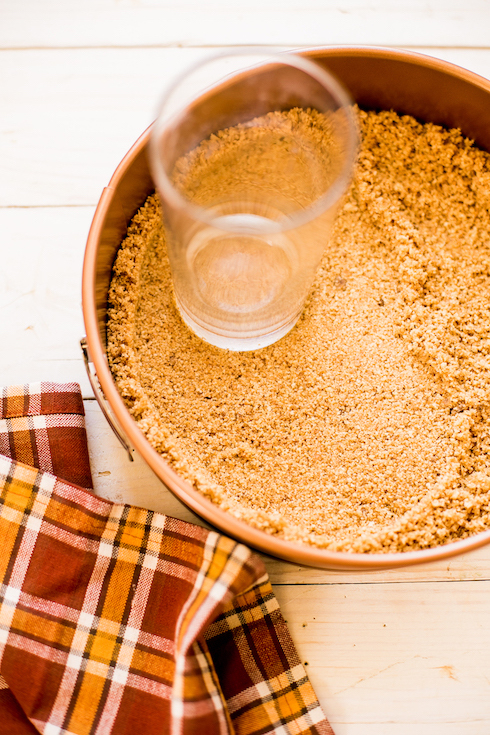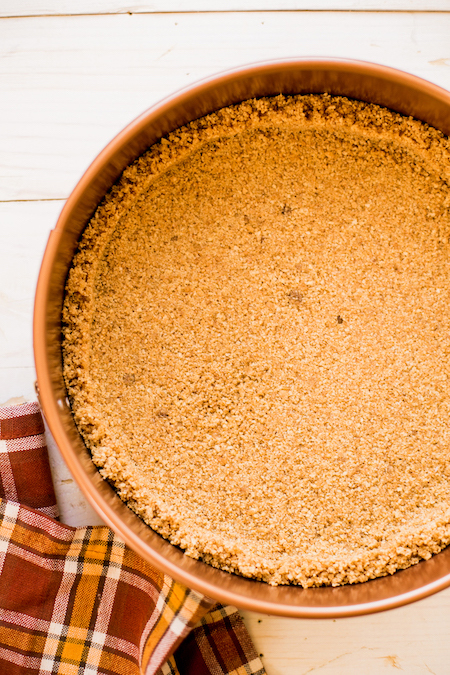 Now that Halloween is over, I think we have finally reached the point where it is socially acceptable to write 'cozy night in' down for Saturday night plans, are you with me?! I spent last weekend trying out new chili recipes, planning Thanksgiving with my mom and cozying up on the couch while football is on.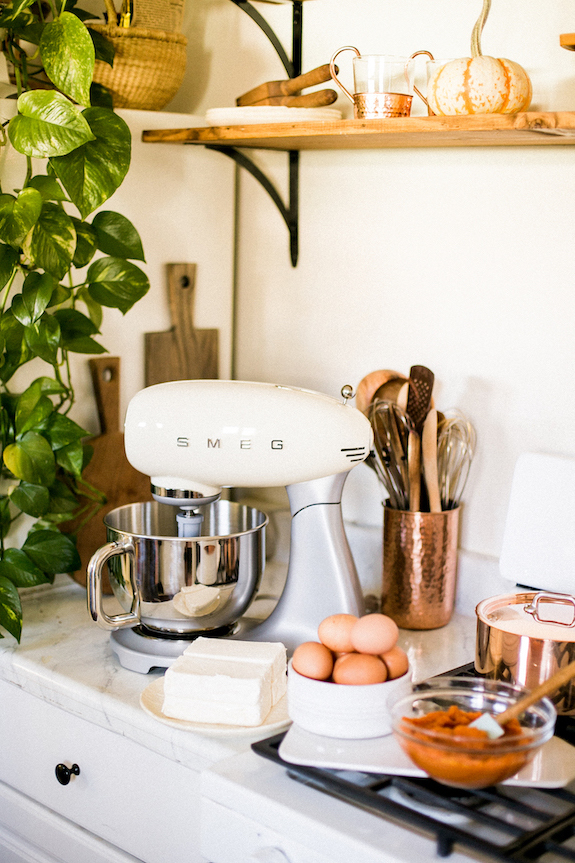 I look forward to these fall weeks all year. I'm breaking out all of my favorite baking necessities and planting a home for my Smeg stand mixer. All. Season. Long.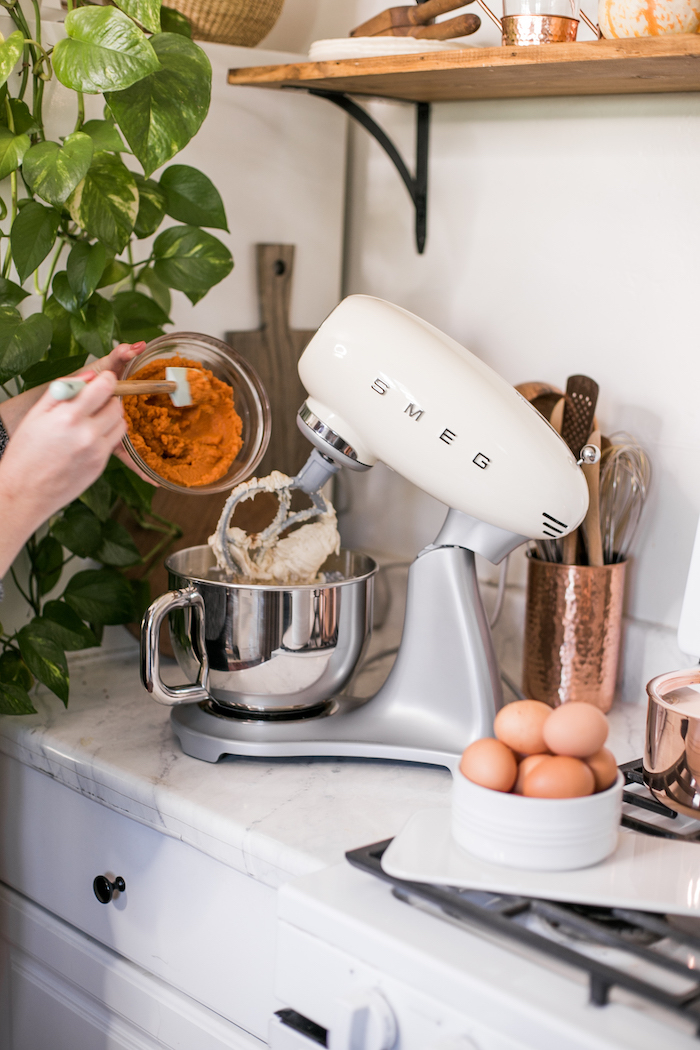 We always have classics like mac and cheese and green bean casserole, but this year I felt like we needed something a little different. My entire family pretty much requests a cheesecake as their birthday 'cake' so it felt only natural to try out a pumpkin cheesecake and man it didn't disappoint. Cheesecake Factory, you better watch out. I'm coming for you with this one!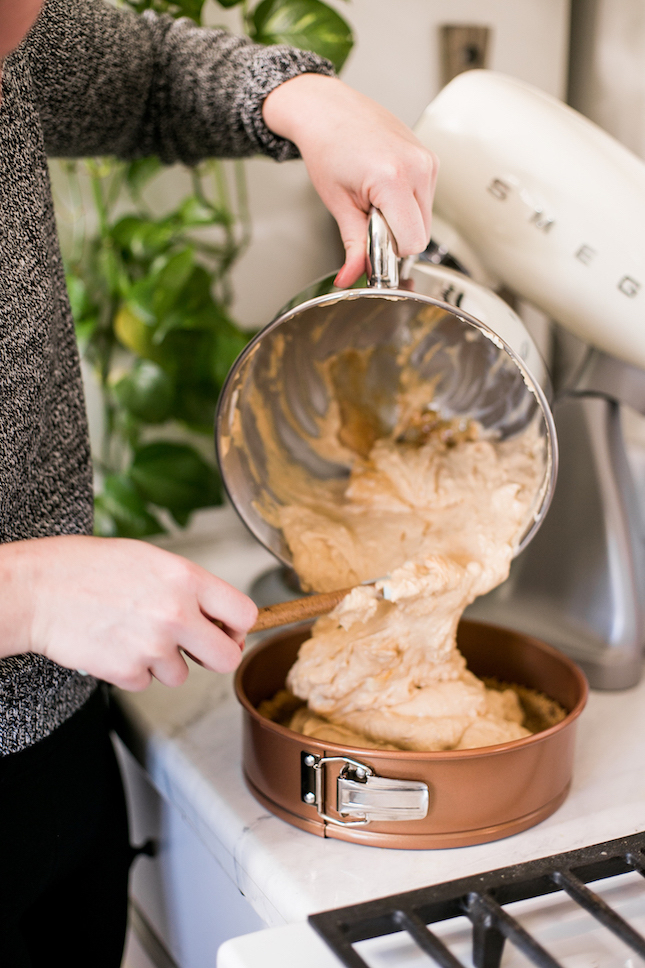 Nonstick Springform Pan

By Ayesha Curry

Shop Now
The base is a graham cracker crust filled with a classic cheesecake center with a pumpkin spice kick and topped with the most decadent bourbon caramel pecan topping. I could put those saucy bourbon caramel pecans on just about anything. With this recipe you still get all the classic cheesecake feel, with all the fall flair.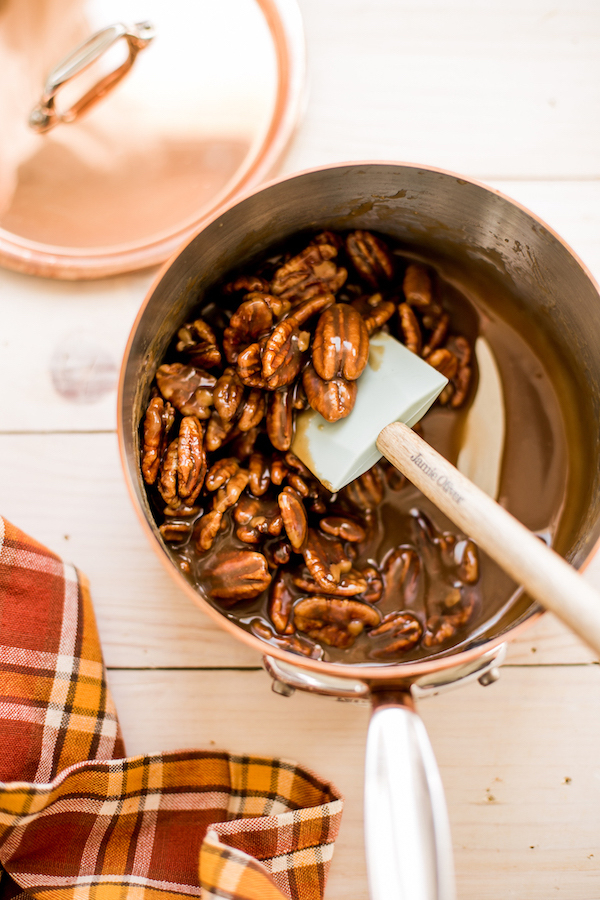 Rustic Sunflower Dishtowel

By Design Imports

Shop Now
How to Prevent Cheesecake Cracks
I'll be the first one to tell you that cheesecake is a bit more delicate than any other desserts. To prevent those dreaded cracks on top of your cheesecake do NOT skip the period of time where the cheesecake will cool inside of the oven, yes inside of the oven (with the door cracked!). It's weird, I know, but this will help your cheesecake from cooling too quickly and cracking on you.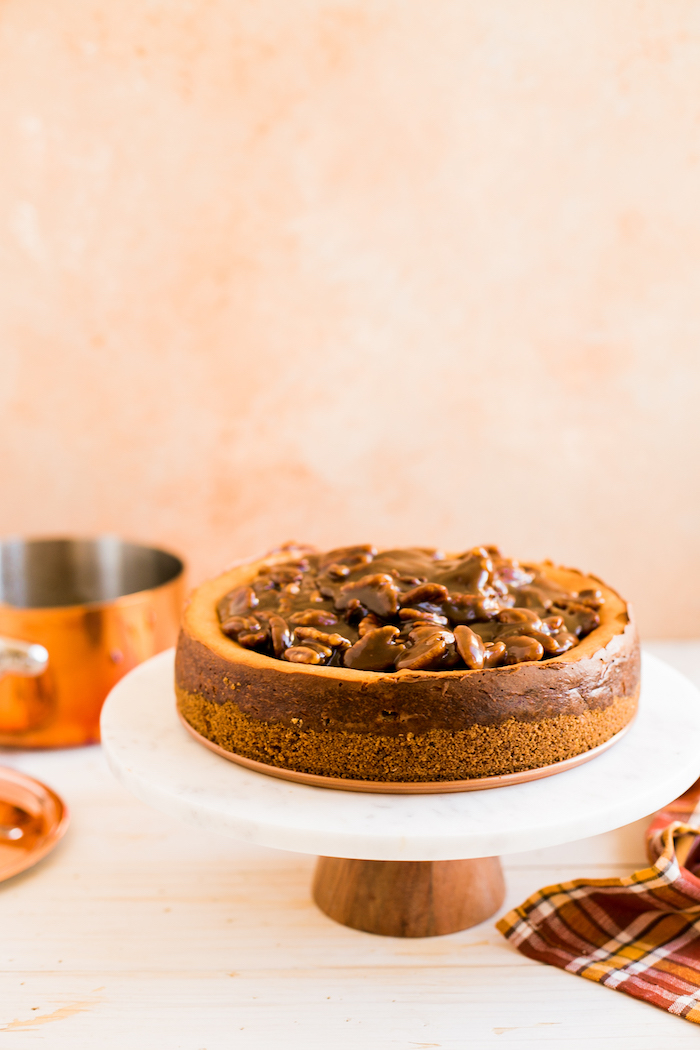 How do you know when cheesecake is done?
A cheesecake is finished baking once the outside edges are set and the middle jiggles slightly. Sort of like jello or flan. It shouldn't be liquidy though! Also, if your cheesecake does start to crack this can mean that it is starting to overcook. Start the cooling down process immediately. But don't worry too much about those cracks, it will still taste scrumptious!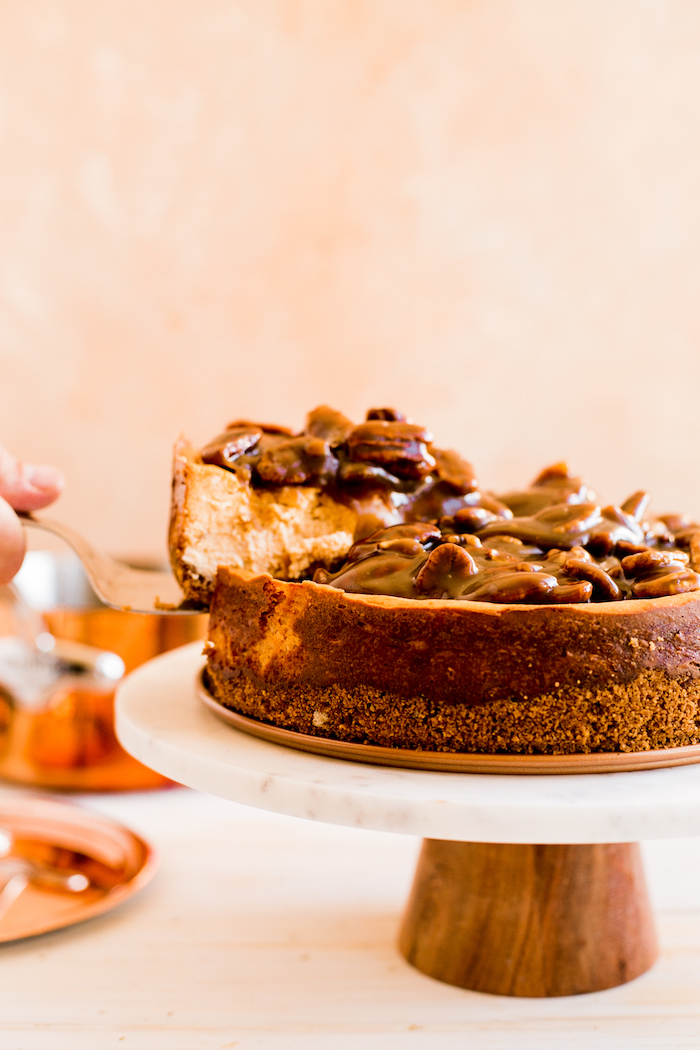 Once your cheesecake is finished cooling in the oven (about an hour or so), let the cheesecake look at room temperature until no longer hot. Transfer your cheesecake to the refrigerator for 4 hours or overnight. Serve up on your favorite cake stand with plenty of bourbon caramel pecan topping!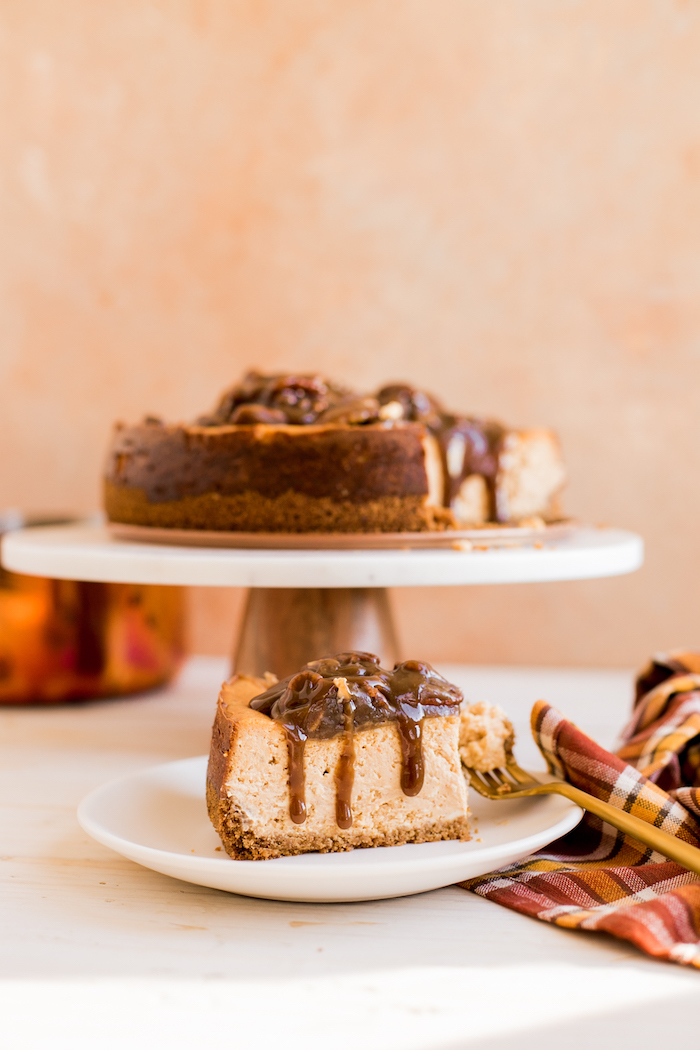 Marble and Wood Cake Stand

By Laurie Gates

Shop Now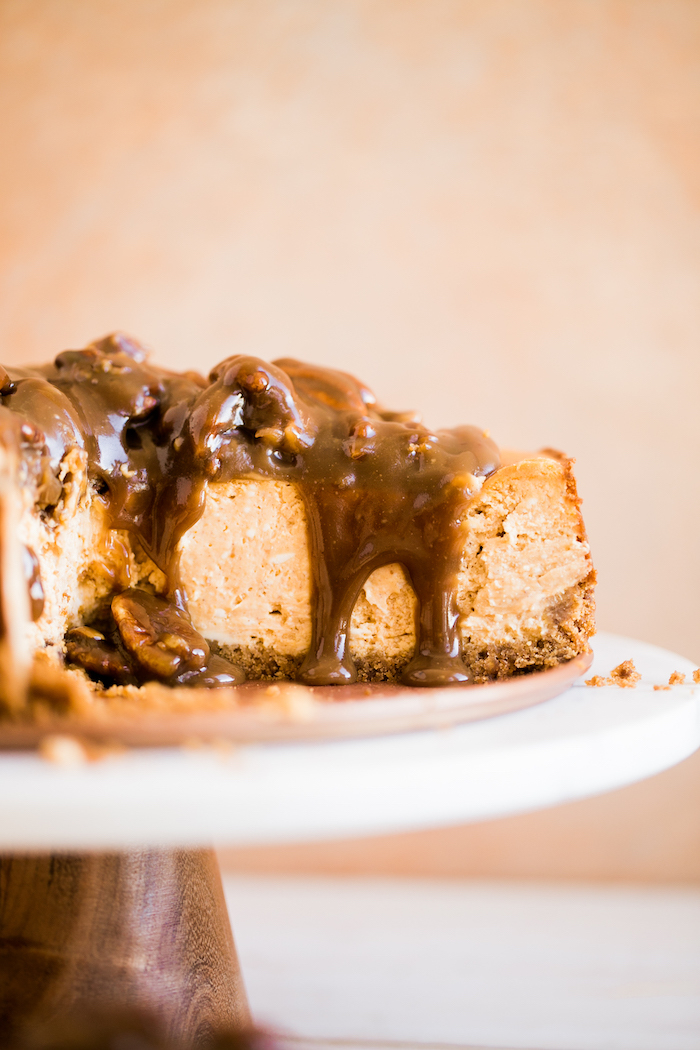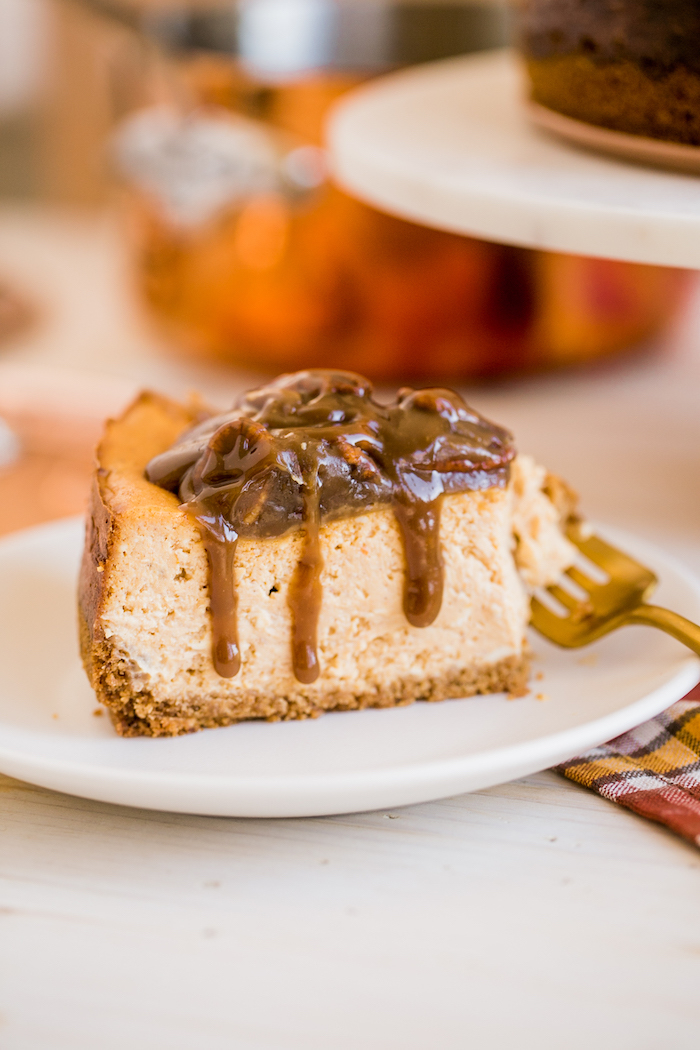 Pumpkin Cheesecake with Bourbon Caramel Pecan Topping
INGREDIENTS
For the Crust:
2 cups of graham cracker crumbs
3 tablespoons of brown sugar
1 teaspoon of pumpkin pie spice
1 stick of unsalted butter, melted (start out with 6 tablespoons)
For the Cheesecake:
4 (8) ounce packages of cream cheese, at room temp
2 teaspoons of vanilla extract
½ cup of brown sugar
1 cup of granulated sugar
1 cup of canned pumpkin puree
1/3 cup of sour cream
2 tablespoons of pumpkin pie spice
3 whole eggs, at room temp
For the Bourbon Caramel Pecan Topping:
½ cups of unsalted butter
1 cup brown sugar
½ cup heavy whipping cream
2 tablespoons of bourbon
2 cups of toasted pecans, chopped
INSTRUCTIONS
Preheat oven to 350 F.
For Crust:
In a large bowl mix together graham cracker crumbs, brown sugar, pumpkin pie spice and melted butter until well combined.
Press into springform pan and bake for 8-10 or until golden brown.

For Cheesecake:
With an electric mixer beat cream cheese, sugars and vanilla extract until smooth.
Add in pumpkin puree, sour cream, and pumpkin pie spice until smooth and creamy.
Add in eggs one at a time, on low speed, beating after each addition, until just incorporated. Do not over mix the batter.
Spread the cheesecake filling evenly onto cooled crust and tap down the pan onto the counter several times to release air bubbles in cheesecake.
Bake for 55-60 minutes or until the center is lightly jiggly but mostly set. Turn the oven off and crack open the door.
Let the cheesecake cool for 1 hour inside the oven.
Remove from oven and cool until room temperature and then transfer to the refrigerator for 4 hours or overnight before serving.

For Bourbon Caramel Pecan Topping:
Heat the butter and sugar in a small copper saucepan over medium heat until bubbling, let it bubble for 3 minutes.
Carefully add the heavy cream, mix until smooth and add the pecans and let cool before pouring on the cooled cheesecake.

More Pumpkin Recipes You'll Love: