Pulled Pork Pancakes with Whiskey Maple Sauce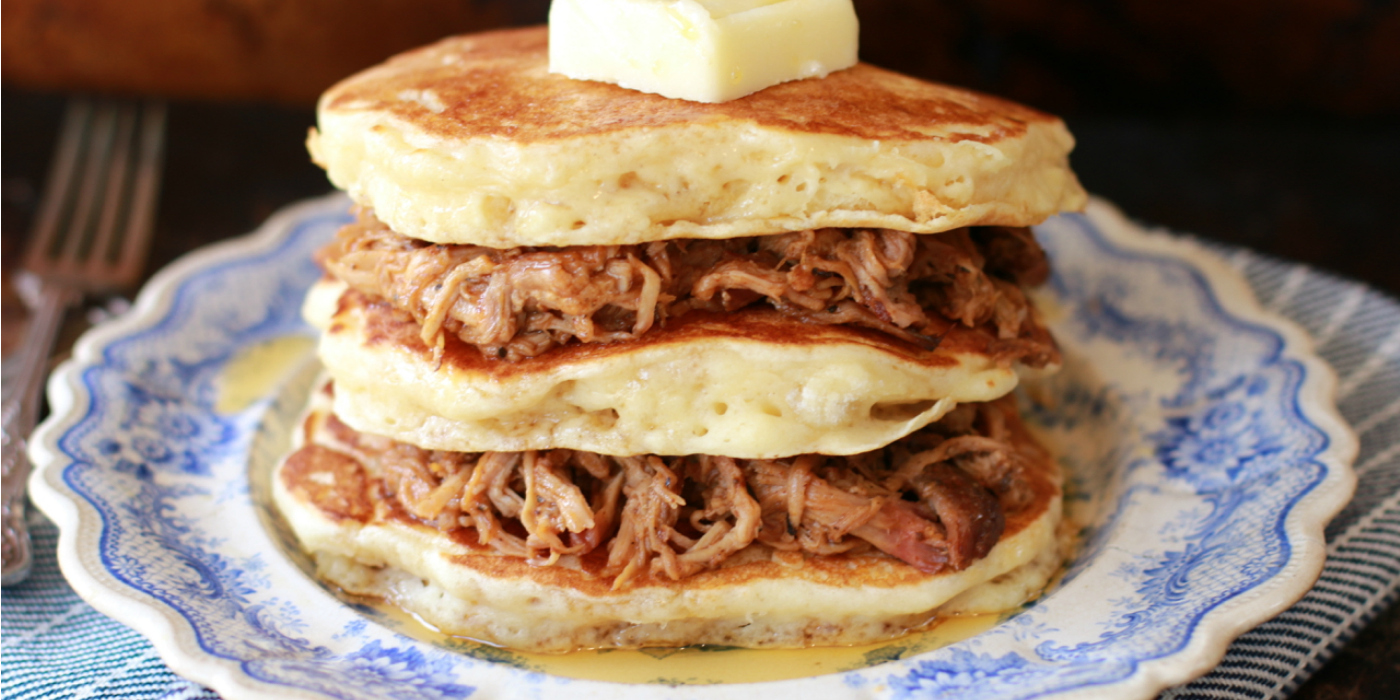 Hi Bold Bakers! What do you get for the dads in your life on Father's Day? Going by my own experience, I feel like Dads are pretty easy to shop for. My dad seemed pretty happy with the clay mug I made for him when I was 9. So much so that he still has it on his desk holding pens.
However, I'm older and wiser now and feel like maybe I can come up with something a bit more creative. There is one thing I got from my father and that is my love for food. Lucky for and him (and us) my mum is a great cook. A love for great food is the one thing everyone in my family has in common. Some families are sporty, some artistic… we are just hungry!
So, considering my dad and all the other dads I think this recipe would make any Father's Day the best! Failing that, I'll make him another mug.
My Pulled Pork is a nicely spiced and seasoned selection of meat, nothing too crazy. Keeping in mind what would be coming later I wanted a bit of spice but mainly let the meat speak for itself. Now just slow cook that bad boy for 6-7 hours.
If you are not familiar with my World's Best Buttermilk Pancakes then you have been missing out. Years and years of working as a breakfast caterer and hands down this is the best recipe I have ever tried for Buttermilk Pancakes.
They are incredibly light and fluffy and will be a part of your weekend breakfast for years to come, I promise you that. I left out the vanilla this time just because they were being served with the pork.
Serving a Whiskey Maple sauce with these pancakes is definitely Bold to say the least. The whiskey gives the pancakes more edge and even some sophistication if you will. Regardless, it is not for the faint of heart but more so a meal fit for a king maybe.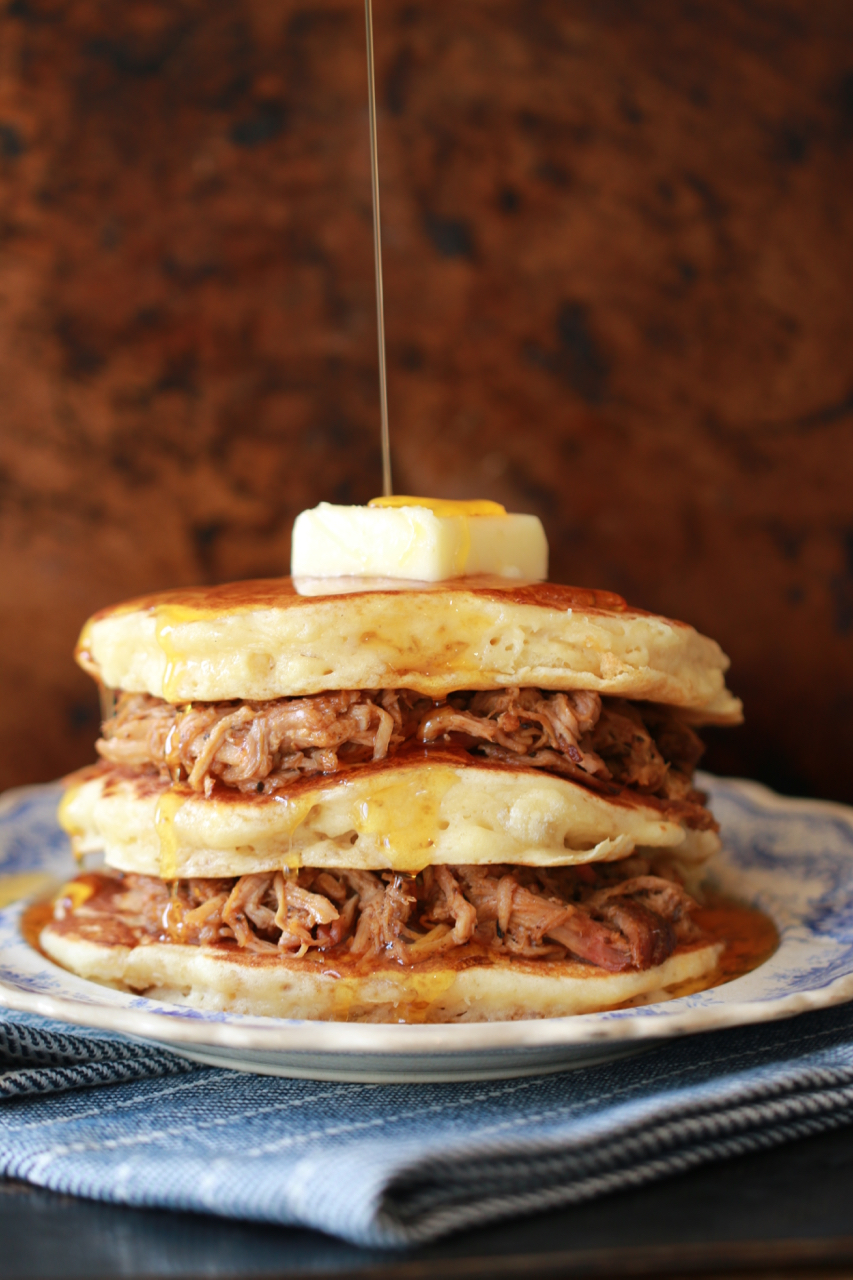 Pulled Pork Pancakes with Whiskey Maple Sauce Recipe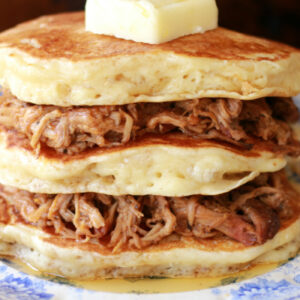 INGREDIENTS
For the Buttermilk Pancakes:
2 cups (10oz/280g) all purpose flour
2 teaspoon baking powder
1 teaspoon baking soda
3 tablespoons sugar
1 teaspoon salt
2 whole eggs
2 cups (450floz/½ litre) buttermilk
4 tablespoons (2oz/60g) butter, melted
For the Pulled Pork:

1 boneless pork butt, about 3-4 pounds
1 tablespoon ground black pepper
2 teaspoons cayenne pepper
2 tablespoons chile powder
3 tablespoons ground coriander
1 tablespoon dark brown sugar
1 tablespoon dried oregano
2 tablespoons paprika
4 tablespoons Worcestershire sauce
For the Whiskey Maple Sauce:

1 Cup (8oz / 240g) maple syrup
1 Cup (8oz / 240g) whiskey
INSTRUCTIONS
For the Pulled Pork:
Place the pork butt in your Slow Cooker and cover with the spices and Worchestire sauce.
Cover with the lid, turn the Slow Cooker on high and allow your pork to braise until tender and pulls apart with a fork, about 6-7 hours. (Tip: lay some parchment on top of the pork to keep in the steam while it cooks)
When the pork is completely tender, pull it apart. It's best to do this while it's still warm as it's much easier. Set aside while you make your pancakes.
For the Pancakes:
First, melt the butter and set aside to cool.
Mix together the dry ingredients in a large bowl.
In a jug, whisk together the buttermilk and eggs.
Add the liquid to the dry mix and starting lightly mixing together. The secret to thick, fluffy pancakes is not to over mix. My trick is to stir it enough times to spell P.A.N.C.A.K.E, and then stop.
Slowly drizzle in the cooled butter and stir another 3 times. Lumps are ok, resist the urge to mix more
Preheat your griddle to a medium heat-low heat.
Spoon one big spoon of the batter per pancake.
Cook for roughly 4 minutes on one side. It is time to turn them over when you see bubbles forming on the top of the pancake and the edges turn color.
Flip and cook for another on the other side a little longer, until brown. 13. Enjoy with butter and maple syrup.
For the sauce:
In a medium saucepan, heat the maple syrup and whiskey over medium heat. Bring to a simmer and then turn it off. Keep warm to serve.
To serve, layer hot pulled pork between the 3 pancakes. Cover with the Maple Whiskey sauce and top with a pat of butter. Enjoy!