These Pumpkin French Toast Waffles Are the Fall Breakfast of Your Dreams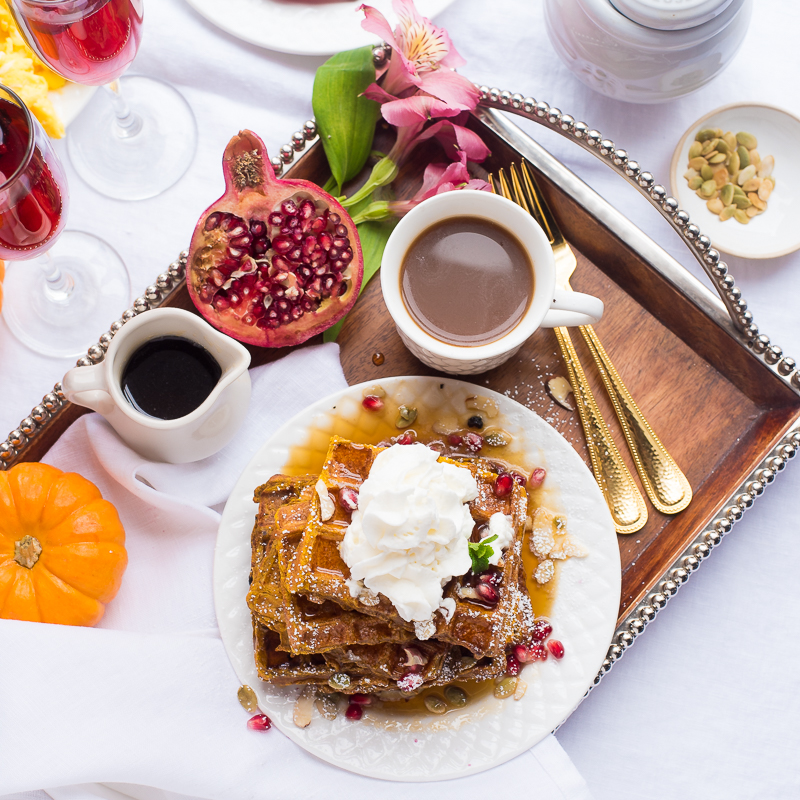 Take your French Toast to another level with this recipe for Pumpkin French Toast Waffles. Warm spices, pumpkin puree and hearty whole wheat bread cook up in your waffle iron for the perfect fall breakfast!
It's hard to believe that it's fall already. We went from a sweltering hot, smoky summer to turning on the heater and having snow in the mountains literally overnight here in Oregon this year. The snow is early and so welcome with all the fires we have had raging through our forests.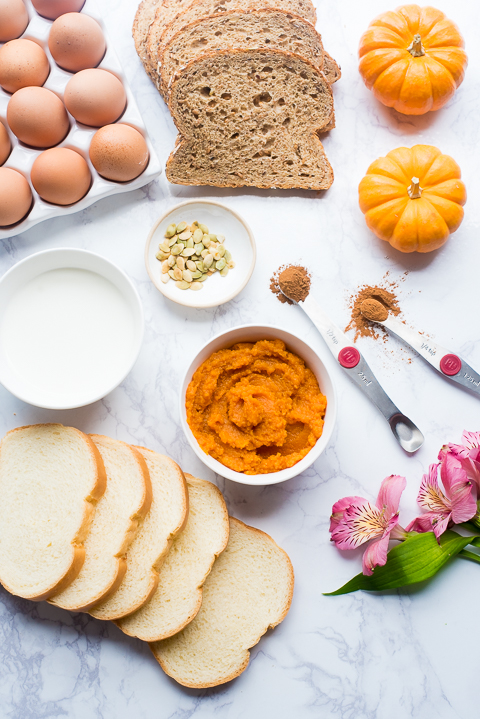 Eggs, milk, spices, pumpkin puree and a good hearty whole wheat bread make this fall breakfast dish come together in a flash. You could use white bread, or a nice thickly sliced brioche would be amazing too!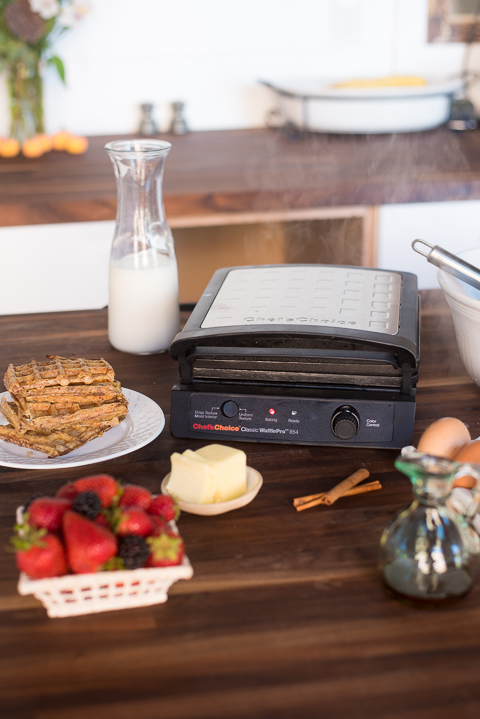 These "waffles" are really just a fun way to cook up your French Toast of course, but I love how it gives us those perfect butter and syrup catching valleys. We used real pumpkin puree in the egg and milk batter which lends a soft tender cook on this recipe which I love. You can cook your French Toast Waffles them a bit longer to make them crispier if that's your jam.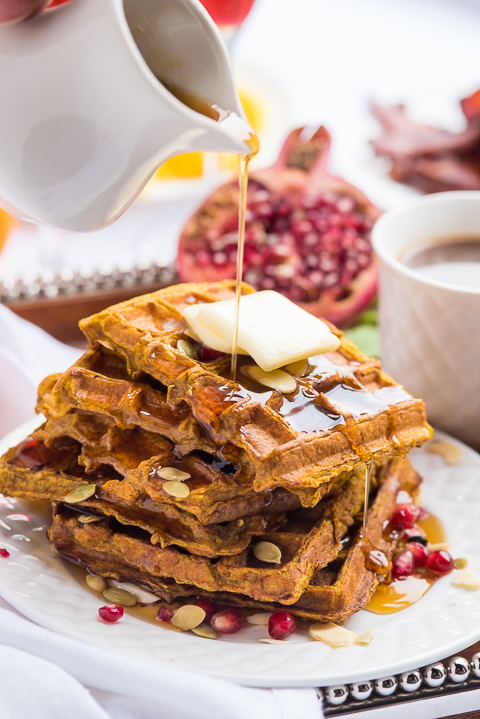 You can make these in any waffle iron of course, but I especially love this Chef's Choice waffle iron. We've had a smaller round waffle iron for years, but I love that this one is just a bit bigger and lets me do four pieces of Pumpkin French Toast (or real waffles) at once. The bigger our family has grown the faster those waffle pieces seem to fly out of the kitchen with more eager hands waiting for the next batch to roll off the griddle.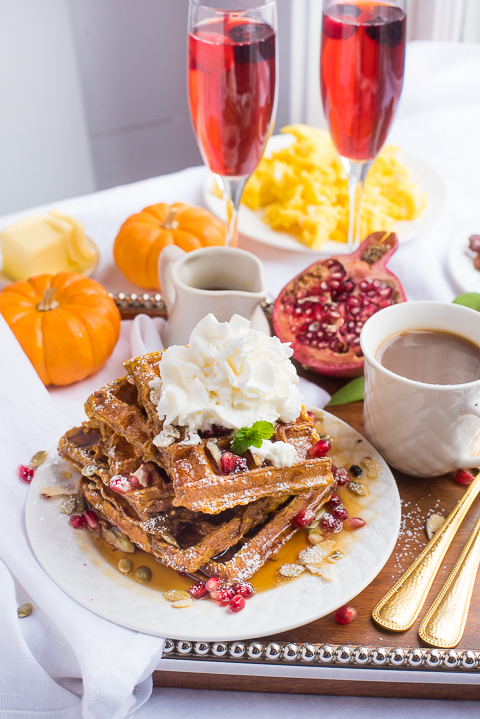 Top them with butter and good quality maple syrup, a sprinkling of crunchy pomegranate seeds, almonds, and pumpkin seeds for the perfect fall breakfast or brunch. If you need a hair more sweetness than that, a light dollop of whipped cream is never a bad idea.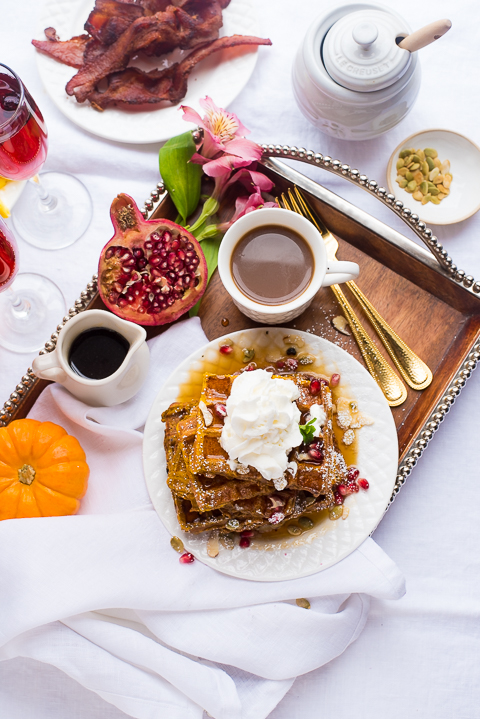 For my crew of boys it's almost unspoken that eggs, bacon and coffee are a must with this kind of breakfast. But I can't help but sneaking in a fun little pomegranate or orange mimosa with some fruit too! Happy brunching!
Pumpkin French Toast Waffles Recipe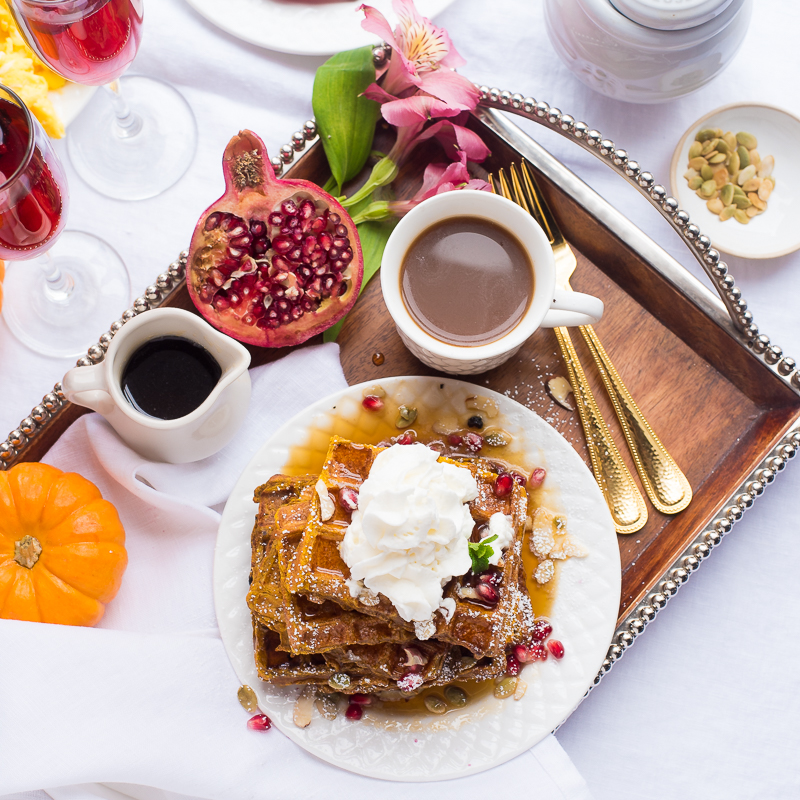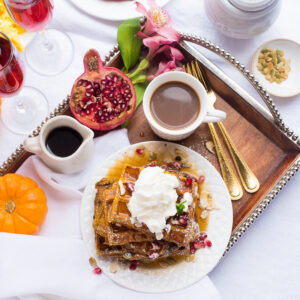 INGREDIENTS
8-10 pieces bread (we like whole grain)
6 eggs
½ cup milk
½ cup pumpkin puree
2 tablespoons pumpkin pie spice
Pinch of nutmeg
2 teaspoons vanilla extract
Serve with: butter, maple syrup, pomegranate seeds, almonds, pepitas (pumpkin seeds), whipped cream
Non-stick spray (for griddle)
INSTRUCTIONS
Preheat waffle iron and spray with nonstick spray or brush with alternative fat source.
Whisk eggs, milk, pumpkin, spices and vanilla together.
Remove crusts from bread if desired. Soak 4 pieces at a time until thoroughly saturated (about 1 minute).
Transfer to waffle iron and press down. Cook through, time varies per machine. Leave for an extra minute or two for extra crispy or just until browned for more moist French Toast.
Serve with butter, maple syrup, pomegranate seeds, almonds, pepitas (pumpkin seeds) and whipped cream (if desired).