Pin These For Later: Seven Fail-Proof Dinners Your Family Will Love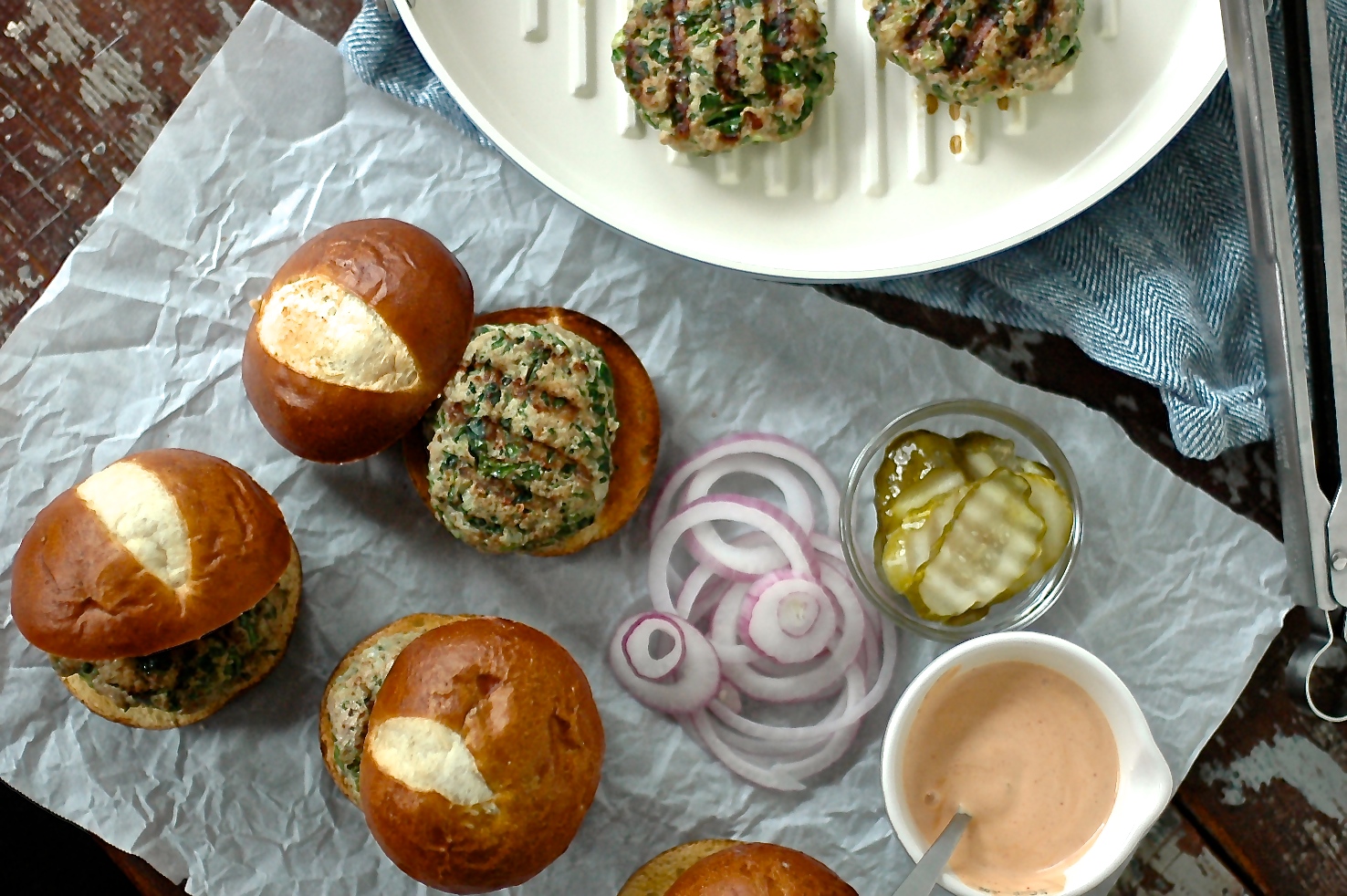 Everybody needs a few tried-and-true, easy-to-execute homerun recipes in their back pocket for those hectic nights when there's no time for extra fuss. Perhaps your family already has a few in your regular rotation – a favorite Tuesday taco recipe or Grandma's famous feel-better chicken soup, for example.
For the rest of the nights, or for that moment when you sit down to write your weekly meal plan and your mind goes blank, we've got you covered. Here we've collected seven very different recipes with one thing in common — they are winners on all accounts. We're talking easy-to-make, nutritious, budget-friendly favorites (and a few soon-to-be-favorites) that your entire family will love.
Get your Pinterest boards ready — you're going to want to save these recipes. At the end I've shared my family's absolute favorite weeknight recipe: Turkey Spinach Sliders on Pretzel Buns with Sriracha Mayo.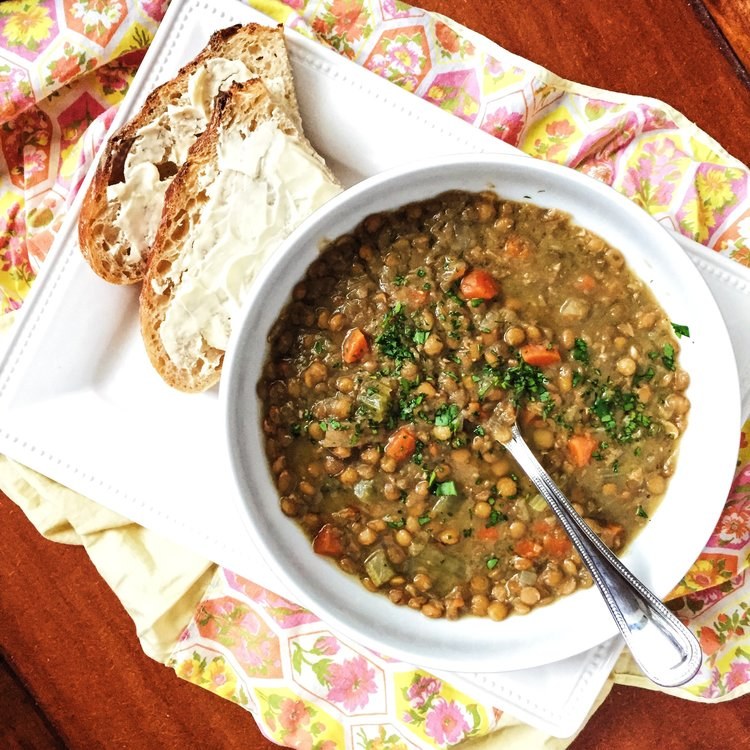 Photo credit: homemakershabitat.com
This endlessly customizable recipe is an instant family favorite. Even the kids will be asking for seconds once they taste this rich, hearty comforting soup. Some nights I add bacon or ham, on others we skip the meat and use vegetable stock for Meatless Monday perfection. If we have kale in the crisper I chop it up and toss it in. Pair it with a green salad and your favorite warm bread for a hearty, satisfying meal.
The slow cooker is such an amazing tool for preparing dinner for the family with minimal stress. Imagine prepping this in the morning and returning home on a chilly night to a bubbling pot of beefy goodness at a bargain price using budget-friendly chuck roast. Simply toast the rolls, add cheese and garnish and dig in.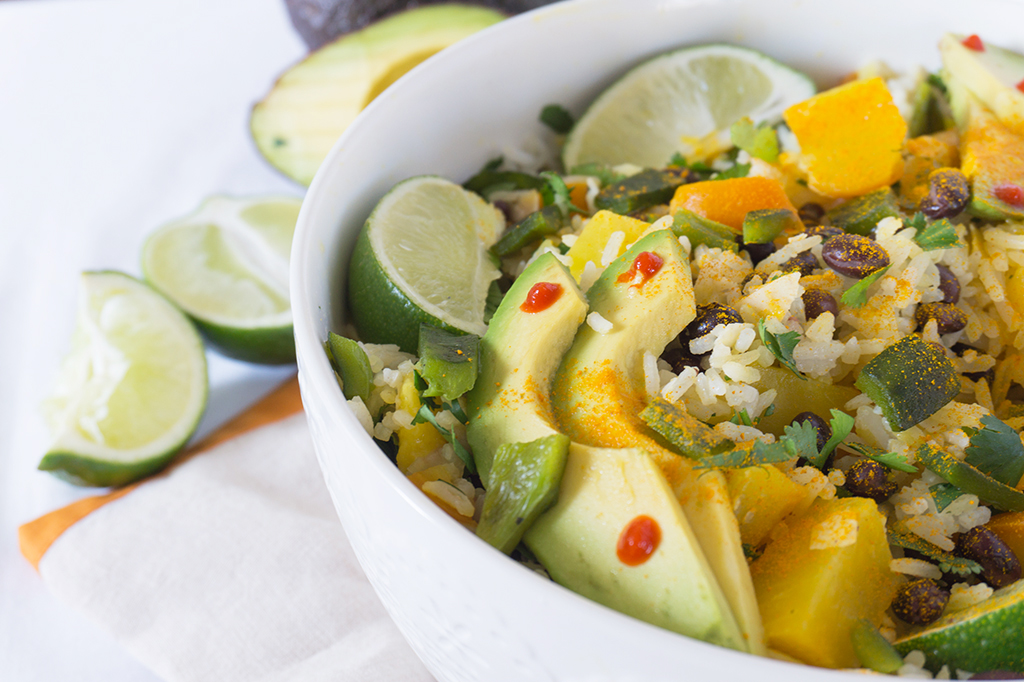 Photo credit: oatandsesame.com
This tropical spin on the traditional burrito bowl recipe can be made in the time it takes to cook rice. The recipe features roasted beets but if you're in a time crunch you could easily skip them without missing a thing. In addition to traditional ingredients like black beans and avocado, this recipe features chunks of mango and coconut flakes for a taste of the tropics any night of the week.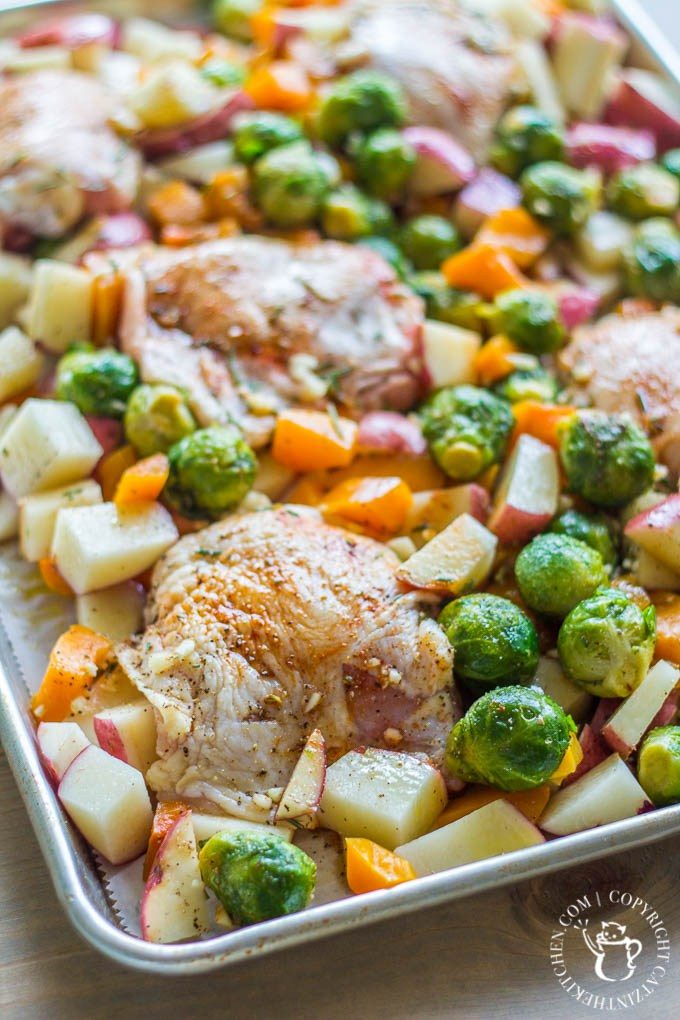 Photo credit: catzinthekitchen.com
Roast chicken and veggies may sound (and smell) like a Sunday supper but you can enjoy them any night of the week with the help of one humble sheet pan. Instead of a whole chicken, this dinner recipe features inexpensive, quick-cooking chicken thighs paired with hearty autumnal veggies, diced to bite size for faster roasting. All this and there's just one pan to clean.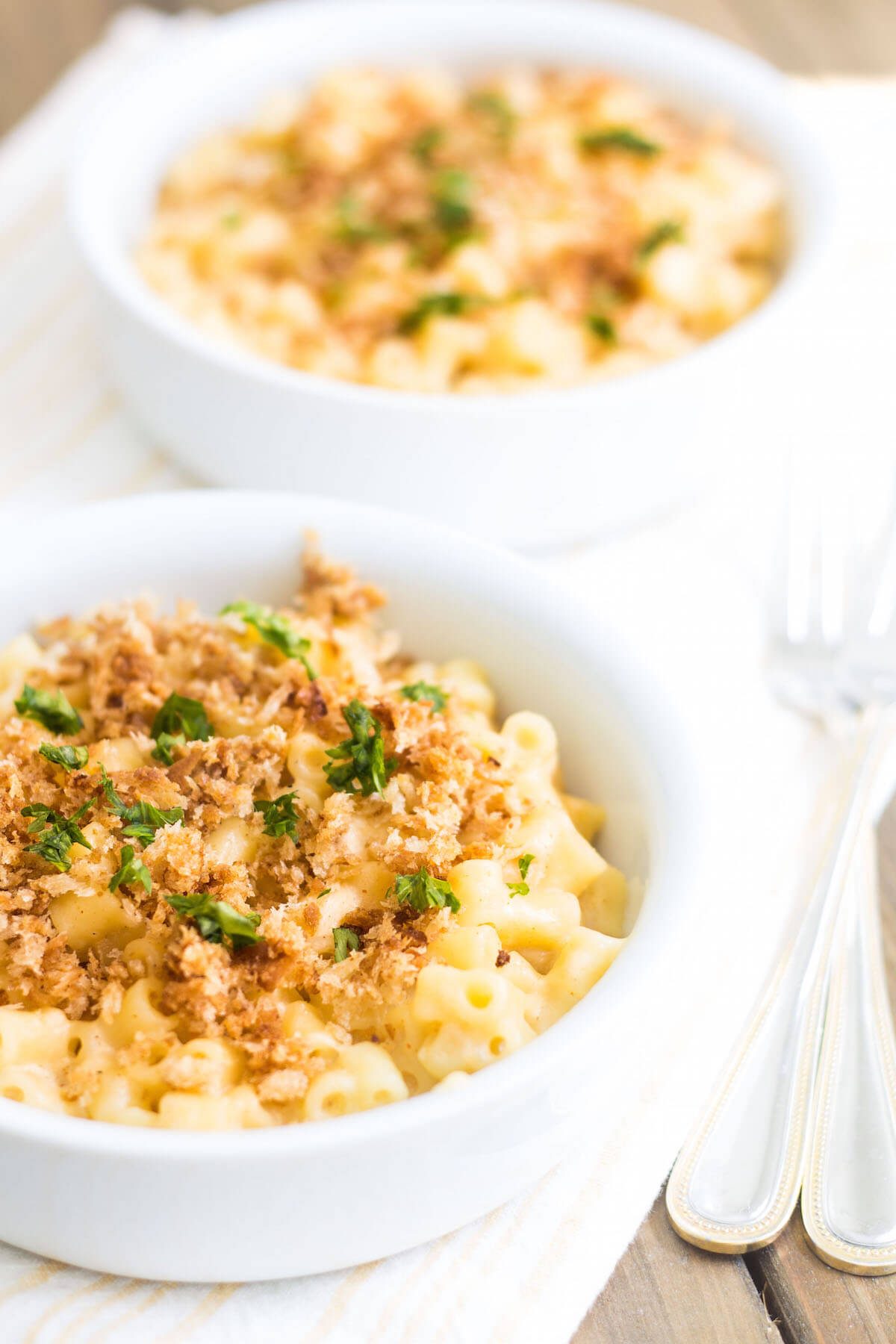 Photo credit: monpetitfour.com
Talk about a classic. Mac n cheese is always a favorite and there are so very many ways to make it. Sometimes its nice to get back to the basics and this recipe does just that. No fancy ingredients or techniques. Just a really great baked mac n cheese, topped with a crunchy parmesan crumble. I like to pair this one with my insanely easy version of Panko Crusted Chicken and a side of steamed peas for a stellar (and kid-friendly) meal.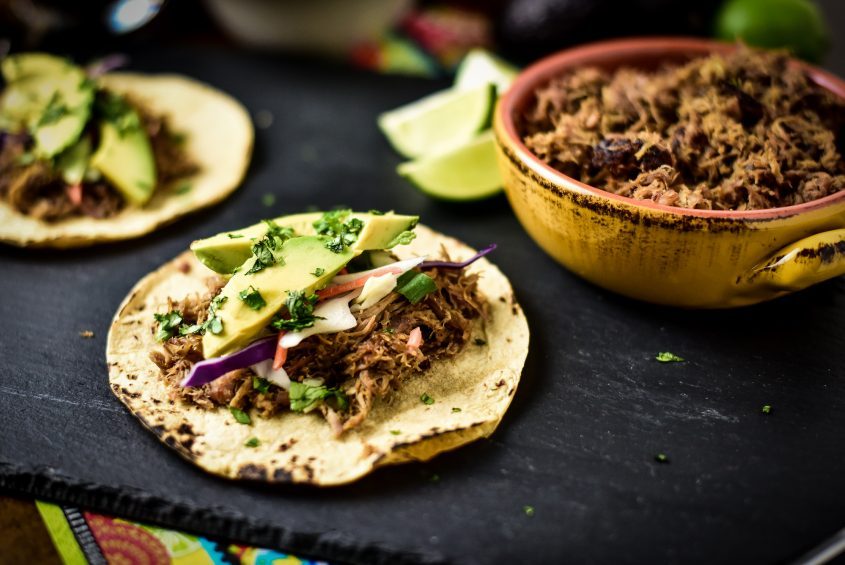 When that Tuesday taco craving hits, you'll be ready with these authentic carnitas simmering away. This version is made in a multi-cooker for truly easy execution but the same effect could easily be accomplished in a slow cooker with a quick oven transfer at the end. And the recipe makes enough to share. Use the leftovers to top that tropical black bean and rice bowl in number 3.
7. Turkey Spinach Pretzel Sliders with Sriracha Mayo
Finally, this list would be incomplete without my family's favorite weeknight meal. When they see the pretzel buns they know what's happening. These wholesome little sliders pack an incredible flavor and nutrition punch. Chopped baby spinach and green onions get mixed in with the ground turkey and spices, providing moistness and amping up nutrition at the same time.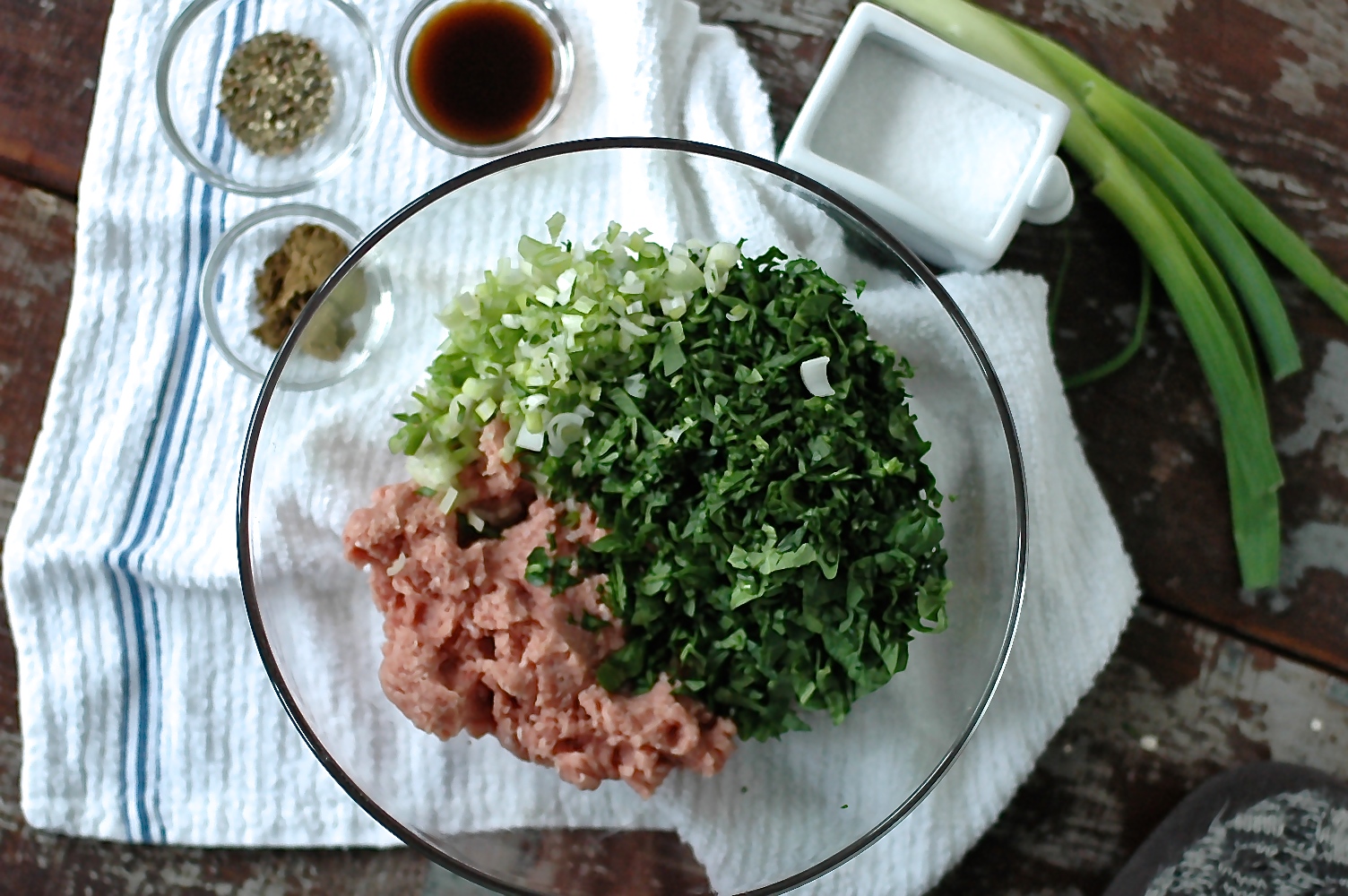 My kiddos, who are often squeamish about eating their veggies, happily gobble them up in burger form. Grownups can add even more flavor in the form of my signature Sriracha mayo, sliced onions and dill pickles. Plus they cook up quick in a grill pan. We pair these sliders with oven-roasted potatoes (or store-bought tater tots) and a Disney flick for Friday family fun nights.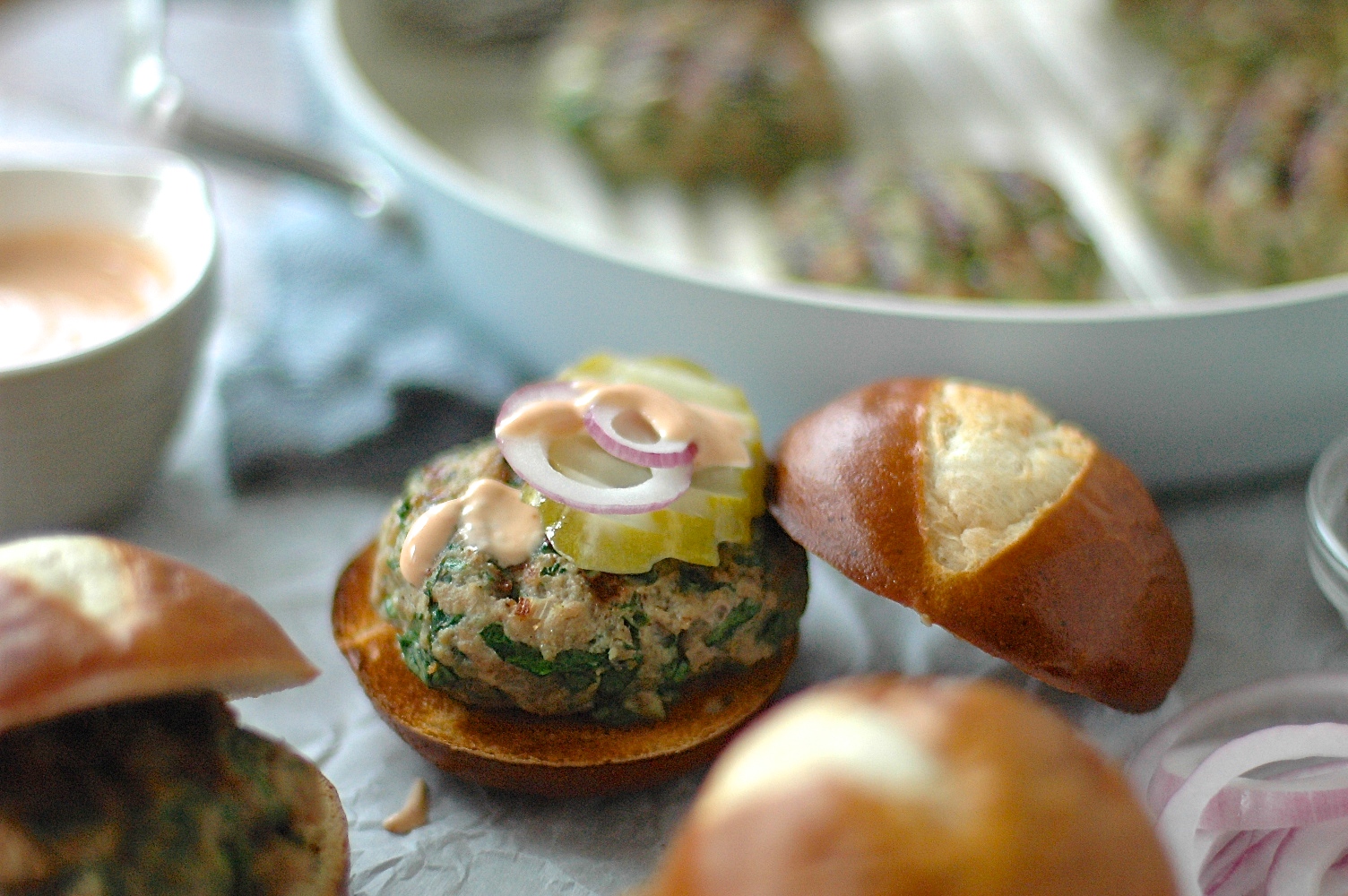 Turkey Spinach Sliders with Sriracha Mayo Recipe
You're going to want to pin these seven fail-proof dinners your family will love to use later!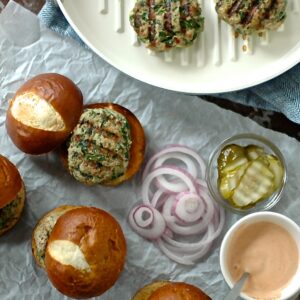 Ingredients
2

cups

Loosely packed baby spinach, finely chopped

2

Green onions, finely chopped

1

lb

Ground turkey meat

1

tsp

Cumin

1

tsp

Kosher salt

1

tsp

Fresh ground pepper

1

tbsp

Worcestershire sauce

2

tbsp

Olive oil

8

Pretzel dinner rolls or slider buns, split and toasted

Optional toppings: Sriracha Mayo, dill pickle chips, sliced red onions

.25

cups

Prepared mayonnaise

1

tbsp

Worcestershire sauce

2

tsp

Sriracha (more or less to your taste)
Instructions
For the Turkey Spinach Sliders: 1. Combine ground turkey, spinach and green onions in a large bowl. Add cumin, salt, pepper and Worcestershire sauce and gently mix until evenly combined. Form mixture into 8 slider size burgers. 2. Heat a non-stick grill pan over medium high heat. Brush burgers on both sides with olive oil. Working in two batches, cook sliders until golden brown, about five minutes per side. Transfer patties to a plate to rest. 3. Serve sliders on toasted pretzel buns with Sriracha mayo (see below), pickles and onions. For the Sriracha Mayo: 1. Combine all ingredients in a small bowl and whisk until evenly mixed. 2. Use as a topping on burgers, sandwiches or French fries.