Feed Your Family & Someone Else's: Creative 2-for-1 Dinners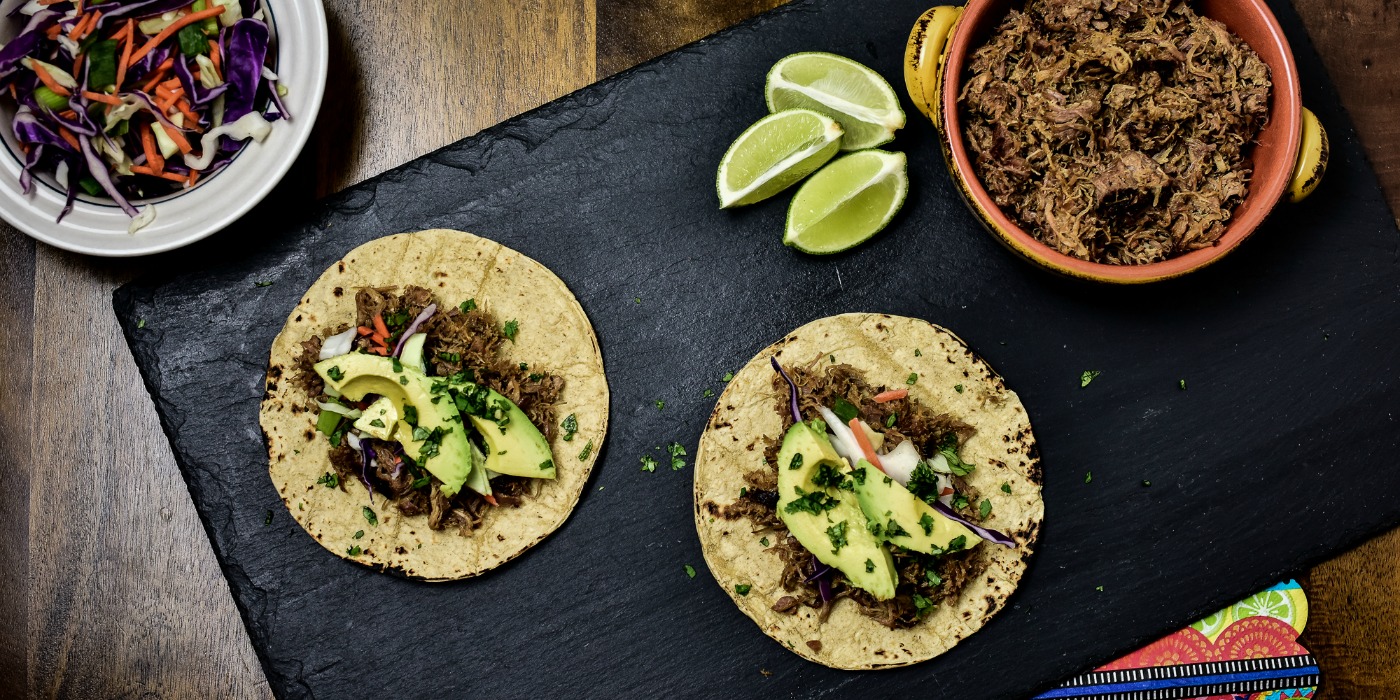 At some point, nearly every family finds themselves in a position to either give or receive a home cooked meal. The occasion may arise due to an illness, a new baby or even a kitchen remodel. No matter the reason, nothing says: "we're here for you," quite like a warm plate of food.
While providing a meal to someone in need can be truly rewarding, choosing a dish that's universally appealing and also travels and reheats well can feel a bit daunting. It can also feel overwhelming if you're responsible for preparing your own family's dinner at the same time. By relying on a handful of sure-fire recipes, some handy gadgets and food industry tricks, preparing a meal to share can be fulfilling (and filling) for everyone involved.
Double Your Pleasure
Start by choosing recipes that are loved by everyone that also double easily. In colder months, a hearty soup, stew or chili is an ideal choice. Pastas can be great too, but beware: if the family in need has been receiving meals from others, it's likely their fridge is already overflowing with lasagna and baked ziti. I like to offer something unexpected, like a taco bar or a roast chicken dinner. Both can be surprisingly easy to prepare and transport with the right equipment.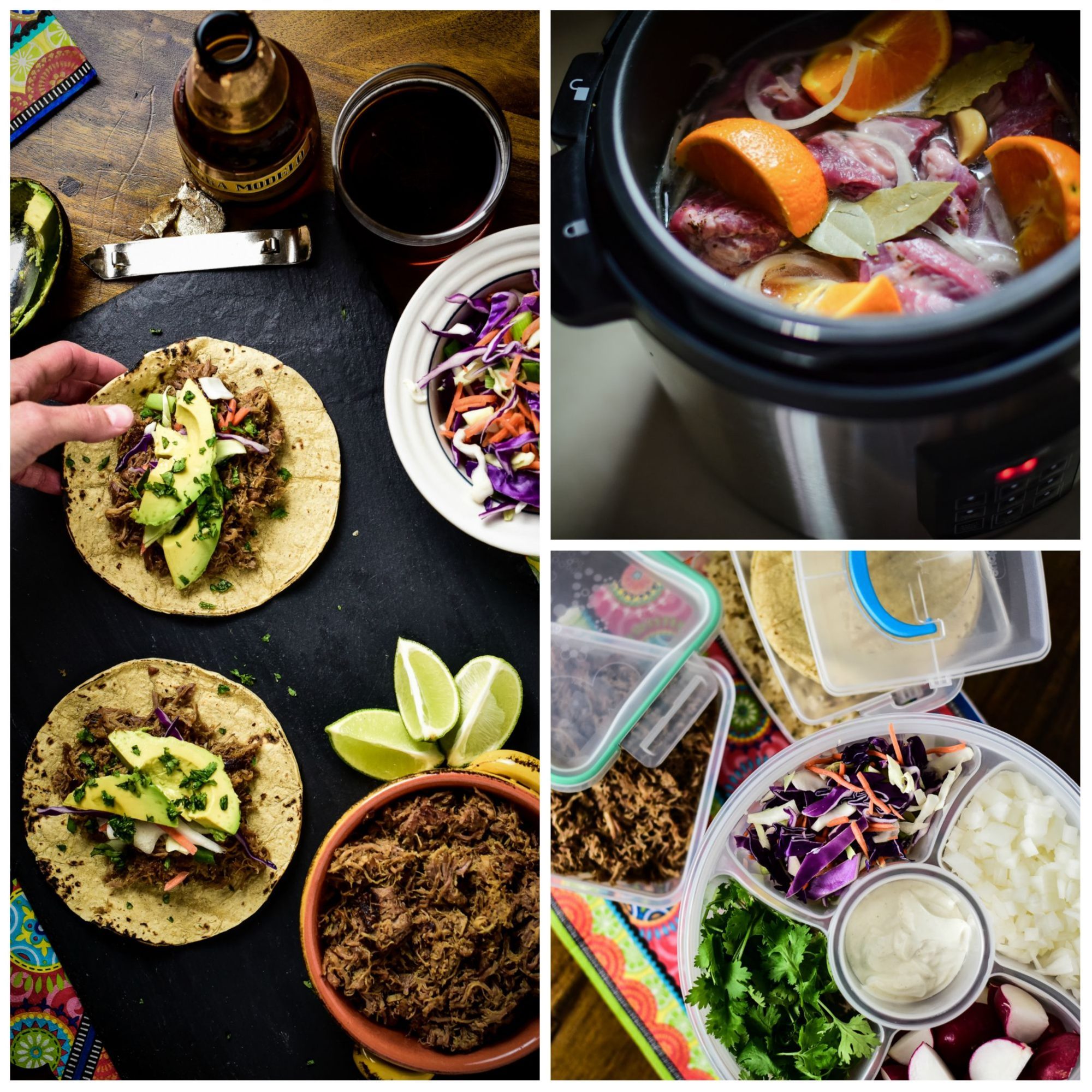 Be the Taco Truck
Everybody loves tacos. They're the perfect crowd-pleaser when you pick the right protein. Pork carnitas is my go-to choice for a large batch situation. Starting with an inexpensive pork shoulder roast, it's easy to prepare enough to feed 8 to 10 hungry adults. The key to making perfect carnitas is to braise low and slow, then let the meat fry in its own fat to create those distinctively flavorful, crispy bits that set really great carnitas apart.
I've found my Fagor 3-In-1 Multi-Cooker is the ideal appliance for creating perfect carnitas. Better than a standard slow cooker, a multi-cooker has a slow cooking function, a pressure cooking function and even a rice cooker setting. Plus, the Fagor unit offers a "Brown" function that's ideal for creating crispy carnitas. Simply add all the ingredients to the cooking pot and braise for about 4 hours using the "High" slow cooker function. Then, remove the lid from the multi-cooker and switch to "Brown" until the moisture evaporates and the meat begins to brown, leaving behind flavorful, fork-tender carnitas with perfect, crispiness in every bite. Round out the meal with some cilantro-lime rice, a pile of tortillas and a variety of gourmet toppings such as shredded cabbage, chopped onions and cilantro, diced avocado and a can of seasoned black beans.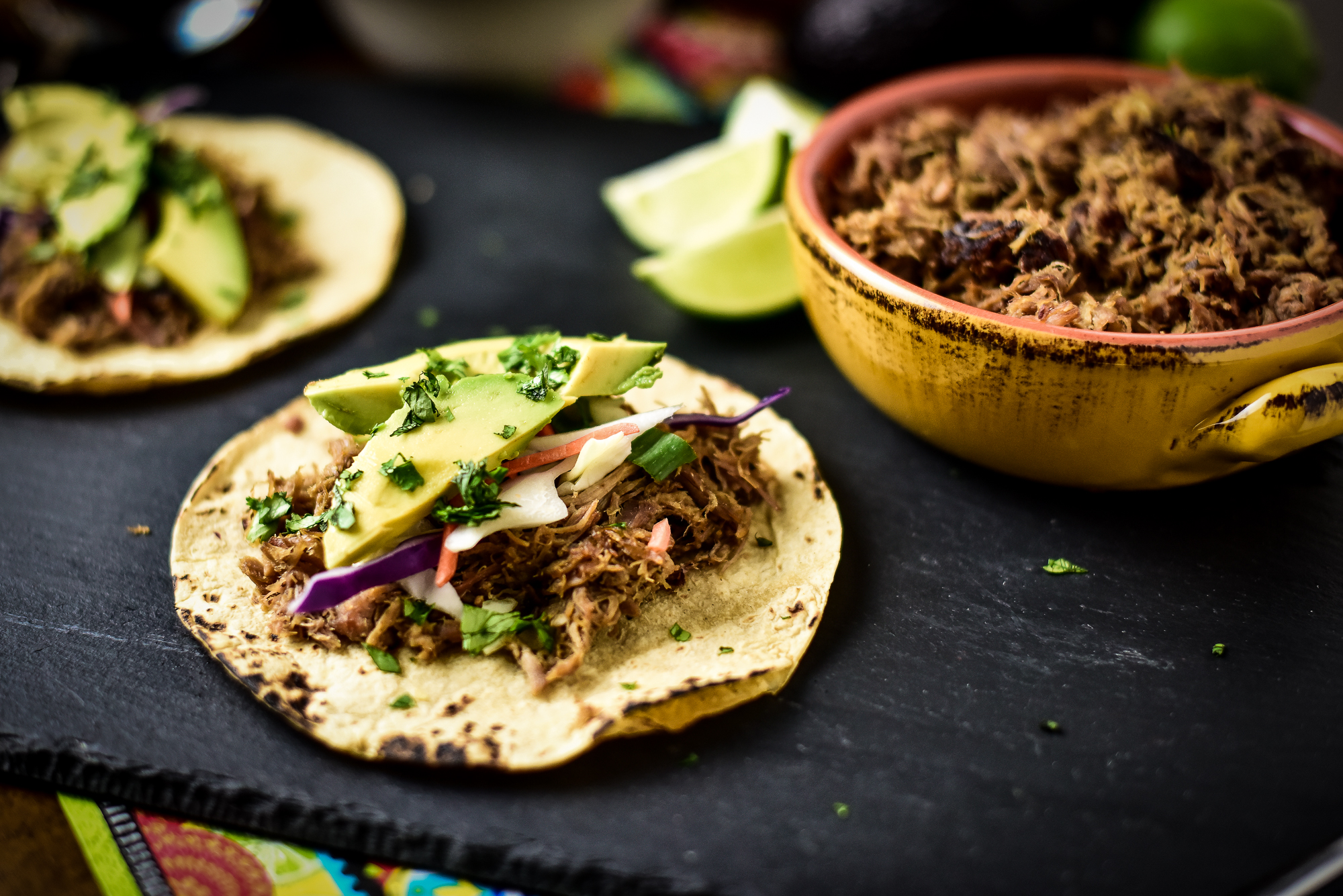 At some point, nearly every family finds themselves in a position to either give or receive a home cooked meal. The occasion may arise due to an illness, a new baby or even a kitchen remodel. No matter the reason, nothing says: "we're here for you," quite like a warm plate of food.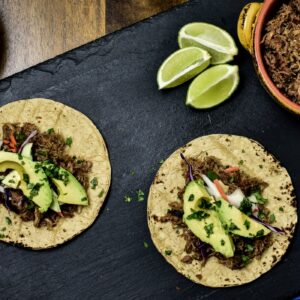 Ingredients
5

lb

Bone-in pork shoulder roast, large fat cap removed and cut into 2 inch pieces

1

Medium yellow onion, thinly sliced

1

Naval orange, quartered

10

Cloves garlic, peeled

3

Bay leaves

2

tsp

Dried Mexican oregano

2

tsp

Kosher salt

1

tbsp

Half and half

.25

cups

Vegetable oil

3

cups

Water
Instructions
Place first 8 ingredients into the multi-cooker cooking pot. Use your hands or a large wooden spoon to stir until onions, garlic, oregano and salt are evenly distributed.

Pour vegetable oil and water over the meat. Secure lid on the multi-cooker and set the unit to the "High" slow cook setting for 4 hours.

After four hours, remove lid from multi-cooker and use a fork to check meat for tenderness. Meat should shred easily with a fork. Remove orange segments and bay leaves and discard. Switch multi-cooker to "Brown" setting. Do not replace lid.

Allow meat to continue cooking until all the moisture evaporates (this may take up to 40 minutes) and the meat begins to brown. Stir occasionally to prevent meat from burning on the bottom.

When the meat reaches desired crispness, add salt and pepper to taste and serve warm with tortillas and your choice of toppings.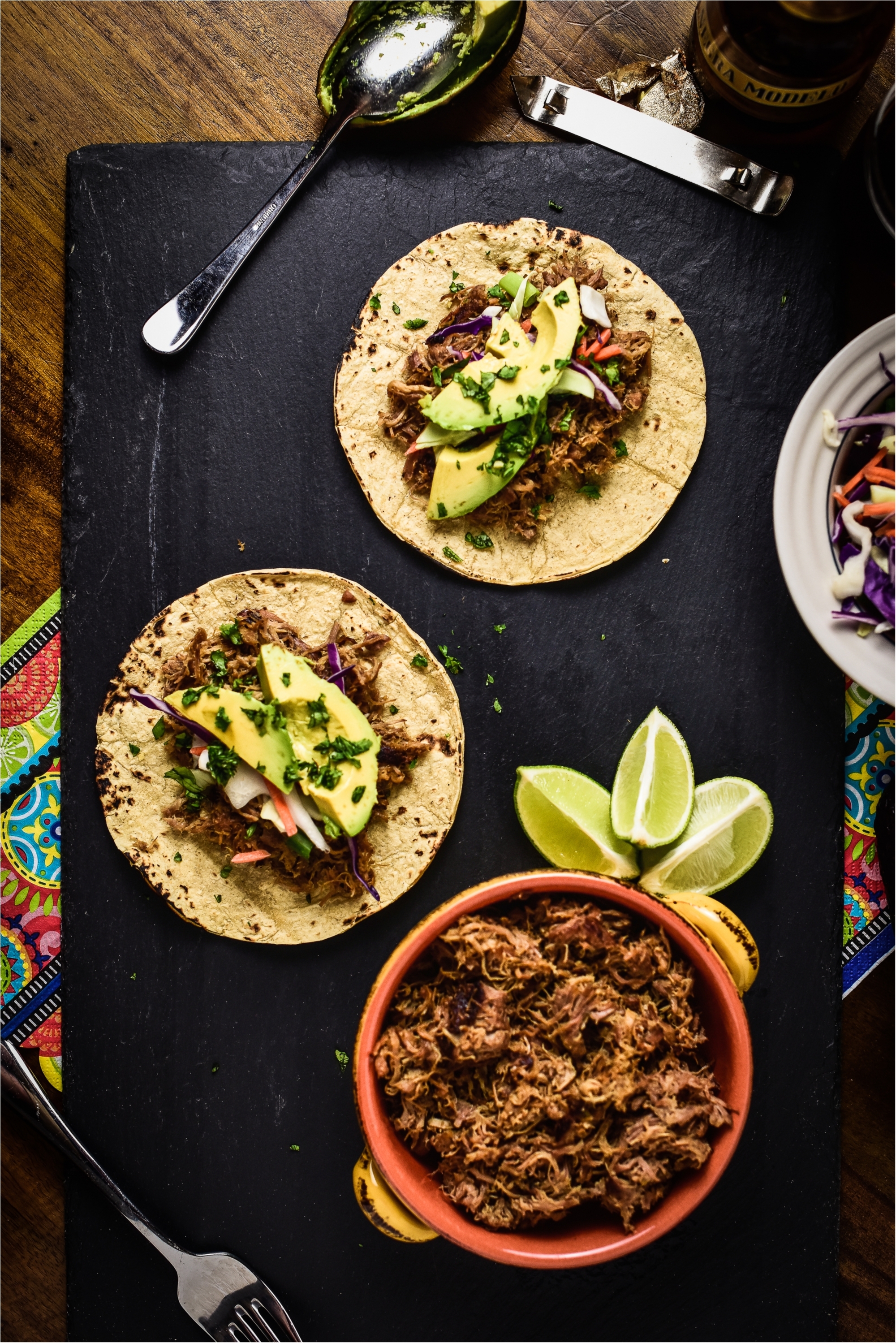 Winner, Winner, Chicken Dinner
My other favorite unexpected dish to share is a whole roast chicken. By roasting two at a time, both families will have plenty left over for sandwiches. Most roasting pans can easily accommodate two 4 to 5 pound chickens. Using a Cuisipro Dual Roaster, you can roast two chickens vertically in the oven or on the grill (this is also a great item for summer cookouts). To round out the meal, add a side of mashed potatoes and some roasted baby carrots. Or, go lighter, by offering a Caesar salad and a crusty baguette. Both families will be delighted.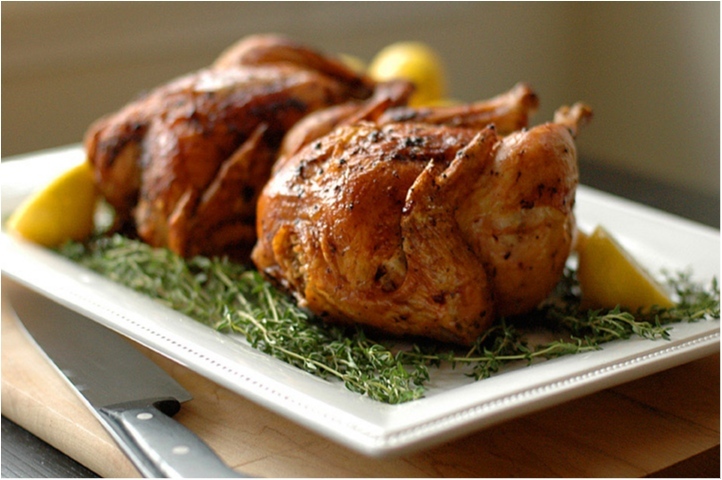 Dual Roast Chickens with Lemon, Garlic & Thyme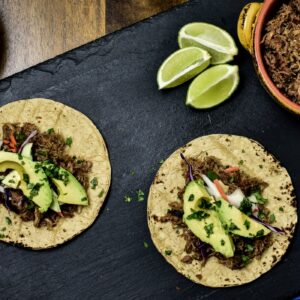 INGREDIENTS
3 tbsp (44 ml) fresh thyme, minced
6 cloves garlic, crushed
2 tsp (10 ml) lemon zest
1 tsp (5 ml) kosher salt
1 tsp (5 ml) freshly ground pepper
2 tbsp (30 ml) extra virgin olive oil
2 whole "fryer" chickens, 3-4 lbs. each (1360 g)
2 tbsp (10 ml) butter, softened and divided into four equal pieces
1 lemon cut in half width-wise
INSTRUCTIONS
Preheat oven to 450 degrees F (232 degress C). Place Dual Roaster inside a roasting pan.
Combine thyme, garlic, lemon peel, salt, pepper and olive oil in a small bowl to create a paste.
Rinse chickens and pat dry. Evenly spread one piece of butter under the skin of each breast. Rub garlic-thyme paste in an even layer over the outside of each chicken. Place lemon half in the chicken cavity, cut side down.
Align cavity of the chicken and place on roaster (breasts facing out). Place in oven. Roast chickens for 30 minutes. Baste chickens with pan juices. Reduce oven temp to 400 degrees F (204 degrees C). Continue to roast until core temperature is 180 degrees F (82 degrees C) about 60 to 90 minutes.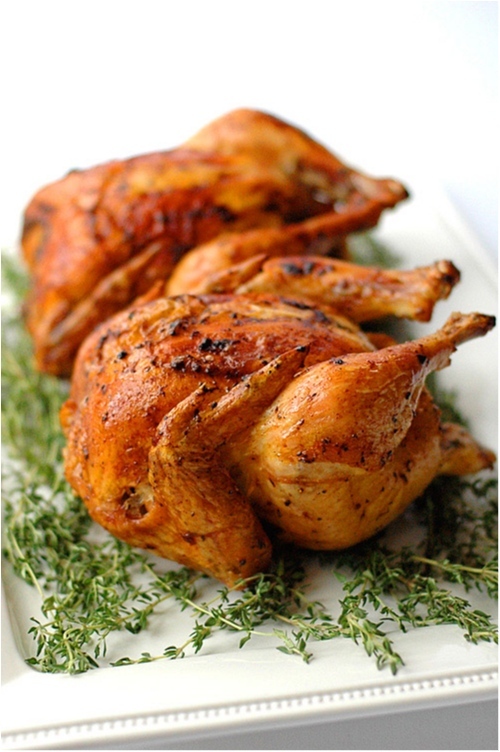 Pack Like a Pro
When it comes time to deliver the meal, plan ahead for easy transport and a perfect presentation. Look for containers in appropriate sizes that lock for a tight seal. Bonus points for carry handles. When packing up the toppings for my taco bar, I love the individual sections in the 4-PC Fruit and Veggie-Tainer from Snapware. I love that my recipients can set up their taco bar by simply removing the lid. Snapware also has a 29-Cup Container with Handle that's ideally suited to carrying a whole roast chicken. For seamless transport from your kitchen to theirs, think like a caterer and pack everything in a hard-sided cooler or large plastic storage tub (even a large laundry basket will do). Use a bath towel to separate hot foods from cold for extra insulation and to keep everything at the appropriate temperature.