Lemon and Blueberry Crepes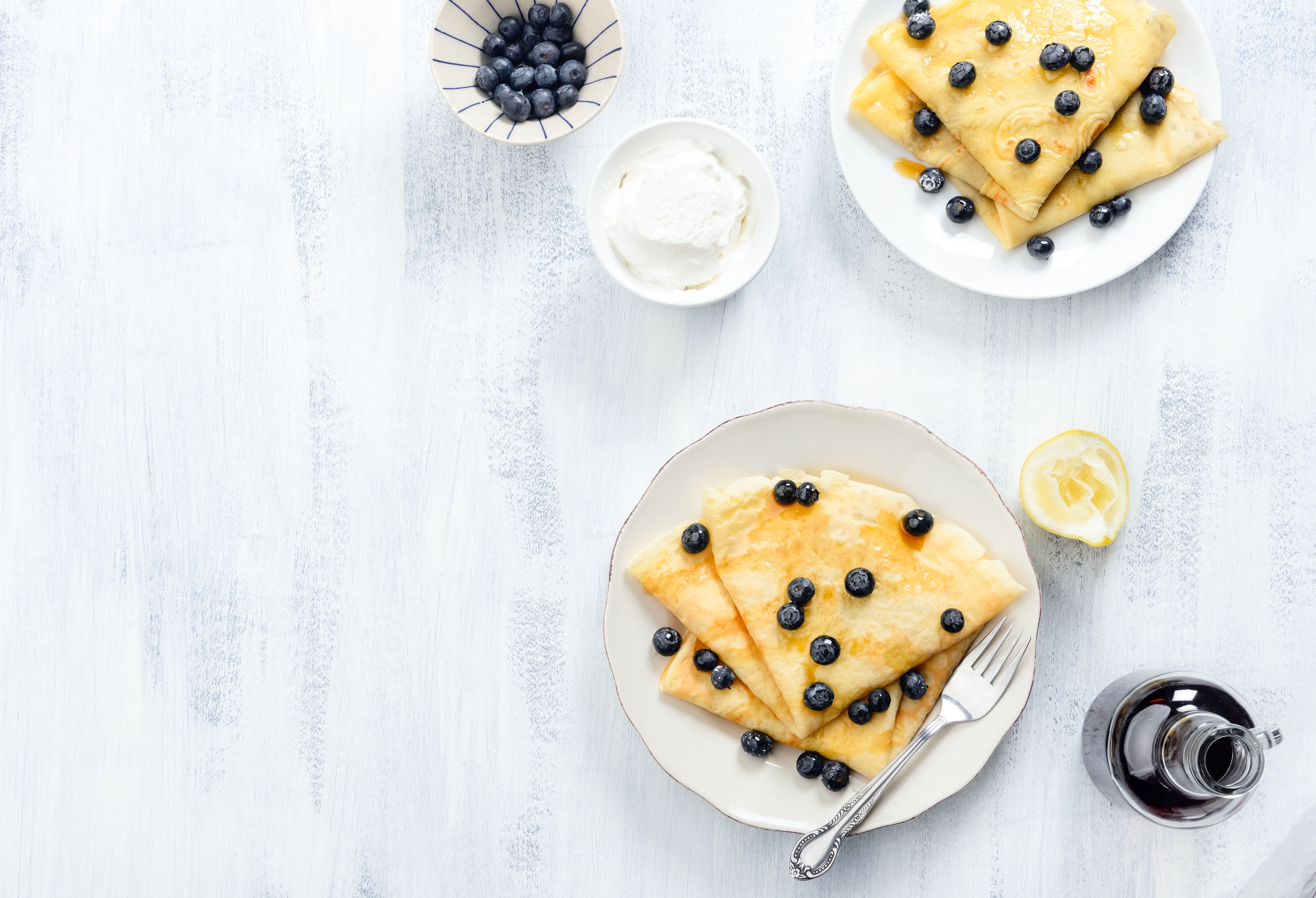 Spring is here and Mother's Day is just around the corner. This recipe for lemon and blueberry crepes is sure to brighten any morning!
I love to experiment with all the lovely fruit we have in season, especially fresh berries! While I like to bake with berries adding them to muffins, cobblers and cakes I also like to let their natural flavors shine. One of my favorite ways to do this is by folding them into delicious crepes, which makes for a sweet and tangy dish for your mum to enjoy!
Crepes are one of my favorite things to make as they lend themselves to so many different flavor combinations. From sweet versions like my Homemade Nutella Crepes, to savory ones filled with cheeses and meats, the options are endless! Crepes are like paper thin pancakes made of a thin batter of flour, milk, egg and melted butter. The butter is what gives them their rich flavor and lovely smell.
Since blueberries are juicy and sweet right now I decided to whip these up and pair them with my favorite homemade Lemon Curd recipe. Lemon and blueberry are a match made in heaven. Wrap them together inside a crepe, cover them with powdered sugar and you will not believe how amazing it tastes. This is a great main course for a Mother's Day Brunch, or even as an alternative to a baked dessert anytime.
I made these crepes using some new kitchen equipment and tableware perfect for Mother's Day. To create beautiful crepes, it's helpful to have the right pan like my Le Creuset Non-Stick Crepe Pan. It's wide enough to make nice big with and it has many other uses like making toasted sandwiches.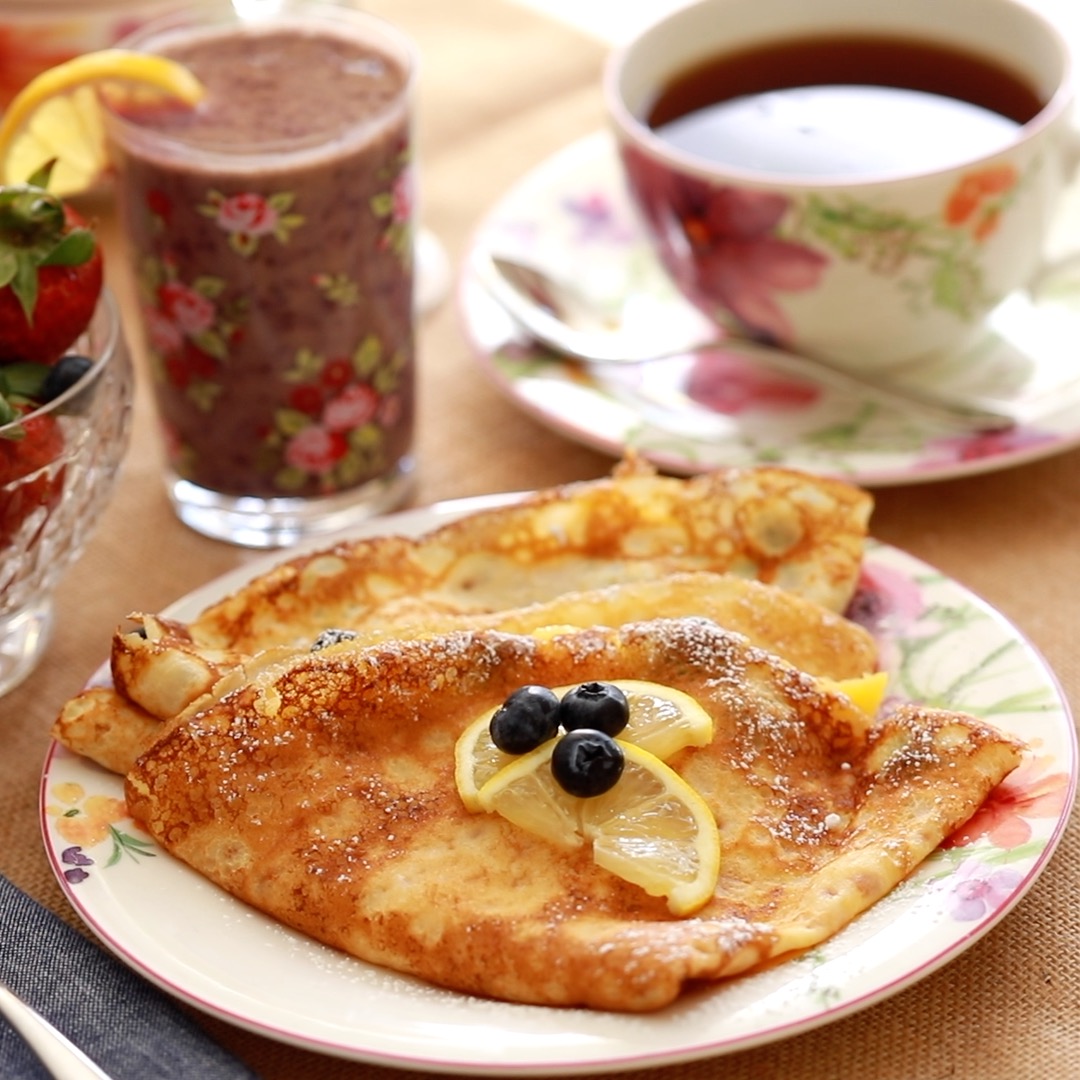 When you serve these Lemon and Blueberry Crepes, you'll want to plate them beautifully. That's why I chose the Mariefluer collection from Villeroy & Boch. The plates, tea pots, and cups will help you set a gorgeous table for your mum.
I even used a burlap runner and chambray napkins from Now Designs to complete the picture and help create the best setting for the lovely recipes you've created.
Go the extra mile this Mother's Day and she will surely appreciate your thoughtfulness and effort.
Lemon and Blueberry Crepes Recipe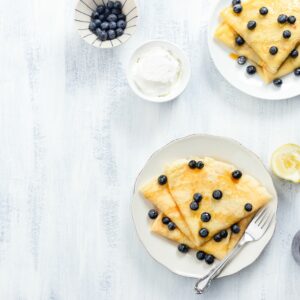 INGREDIENTS
½ cup (100g/4oz) all purpose flour
1 egg
a pinch of salt
1 1/3 cup (300ml/1floz) milk
1 tablespoon (15g) butter, melted
3 tablespoons lemon curd
A handful of blueberries
Powdered sugar for dusting
INSTRUCTIONS
Add the flour and a pinch of salt into a large mixing bowl and make a well in the centre. Crack the eggs into the middle.
Pour in the the milk and start whisking from the centre, gradually drawing the flour into the egg and milk. Once all the flour is incorporated, whisk until it is smooth. Then whisk in the melted butter. Add a little more milk if it is too stiff.
Rest your batter in the fridge for 30 minutes. This is an important step and yields better crepes.
Heat the pan over a medium heat, then wipe it with butter. Ladle some batter (roughly ⅓ cup/ 4 tablespoons) into the pan, tilting the pan to move the mixture around for a thin and even layer. then leave to cook, undisturbed, for about 30 secs.
If the pan is the right temperature, the pancake should turn golden underneath after about 45 secs and will be ready to turn.
Flipping pancakes: Hold the pan handle, ease a fish slice under the pancake, then quickly lift and flip it over. Make sure the pancake is lying flat against base of the pan with no folds, then cook for another 30 secs before turning out onto a warm plate. Continue with the rest of the batter, serving them as you cook or stack onto a plate.
To serve: Gently spread to crepes with lemon curd then sprinkle over 1/2 the blueberries.
Fold the crepes in thirds to create 2 triangles and arrange on your serving plate. Garnish with remaining blueberries and powdered sugar. Enjoy immediately!