Homemade Rocky Road Ice Cream to Satisfy Those Chocolate Cravings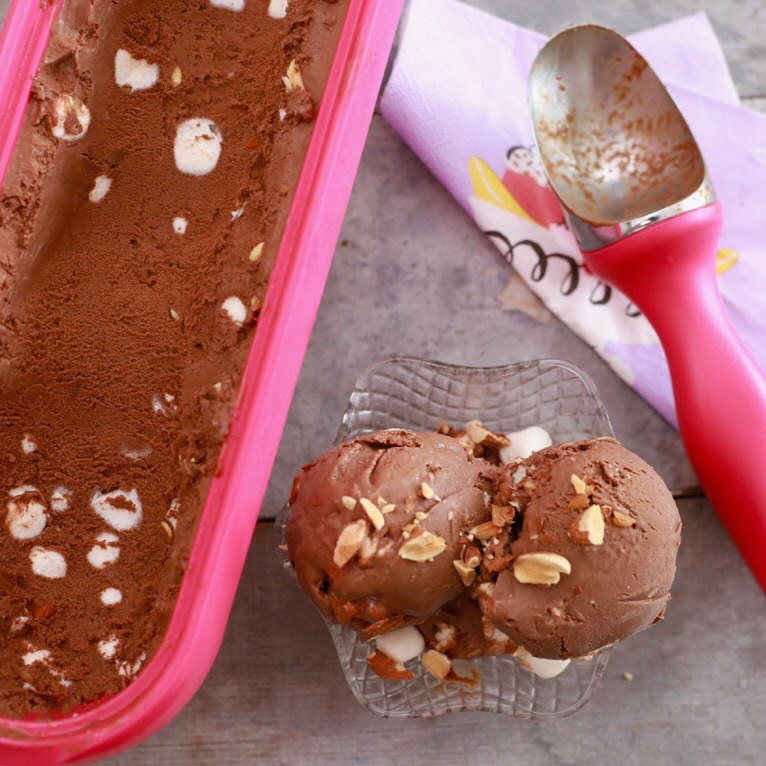 One of the boldest ice cream flavors around is Rocky Road! Who doesn't love the classic combination of rich chocolate ice cream, crunchy toasted almonds and sweet fluffy marshmallows? We all know and love this childhood favorite but the truth is this flavor is for everyone.
My recipe for Rocky Road Ice Cream is over the top. It's updated and made more complex in flavor by using good quality ingredients. My Rocky Road starts like any good homemade ice cream with a rich custard base. Eggs yolks, cream, milk and sugar are mixed with rich cocoa powder and melted chocolate. The chocolate is enhanced by vanilla extract and a healthy pinch of salt creating a flavor that is almost naturally malt-like.
After the chocolate base churns for a bit in my KitchenAid Ice Cream Maker attachment I add in all the good stuff and I do not skimp. It's really easy to use and great that you don't need a separate machine for the process. A healthy dose of crushed, toasted almonds and mini marshmallows get mixed throughout before this sets up in the freezer. Because I make a lot of ice cream I'm a huge fan of Tovolo's Glide-A-Scoop Ice Cream Tubs. They are really well insulated so they keep your ice cream free of freezer burn. Also the shape allows you to get the perfect scoop of ice cream.
All of these textures and flavors come together to create a super rich ice cream with loads of flavor in every bite. You must give this Rocky Road Ice Cream a try!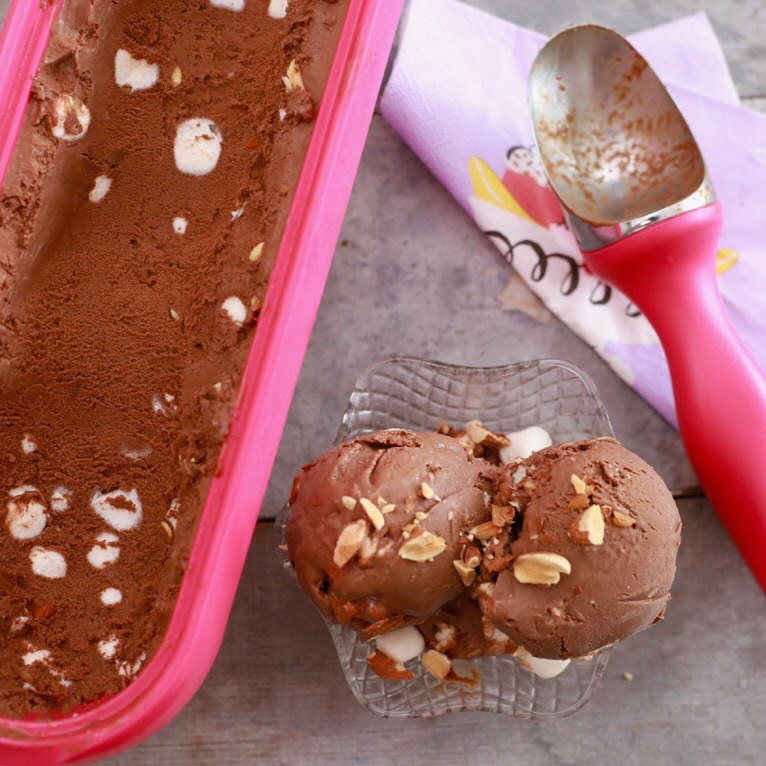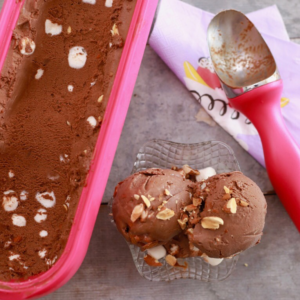 INGREDIENTS
1 cup (8 fl oz/240 ml) cream
2 cups (16 fl oz/480 ml) whole milk
3 tablespoons unsweetened or Dutch-process cocoa powder
¾ cup (4½ oz/135g) bittersweet chocolate, chopped
1 teaspoon vanilla extract
¾ cup (6 oz/180g) granulated sugar
5 egg yolks
½ teaspoon salt
2 cups of mini marshmallows
1 cup of chopped, toasted almonds
INSTRUCTIONS
In a medium saucepan, warm the cream, milk, cocoa powder and chocolate, whisking to blend cocoa.
Bring mixture to a simmer and heat until the chocolate has melted.
Remove from the heat and add in the salt and vanilla extract. Stir until smooth.
In a separate bowl, whisk the yolks and sugar together lightly. Slowly pour the warm chocolate, milk mixture into the egg yolks, whisking constantly, then pour the mixture back into the saucepan to cook.
Constantly stir the mixture over medium heat with a heat resistant spatula, scraping the sides and bottom. The mixture will begin to thicken and coat the spatula. Remove immediately and pour through the mesh sieve into the chocolate mixture.
Place the bowl over an ice bath to cool and then place in the refrigerator to chill thoroughly (approximately 30 min - 1 hour).