Gingerbread Scones Are Going to Be Your New Christmas Go-To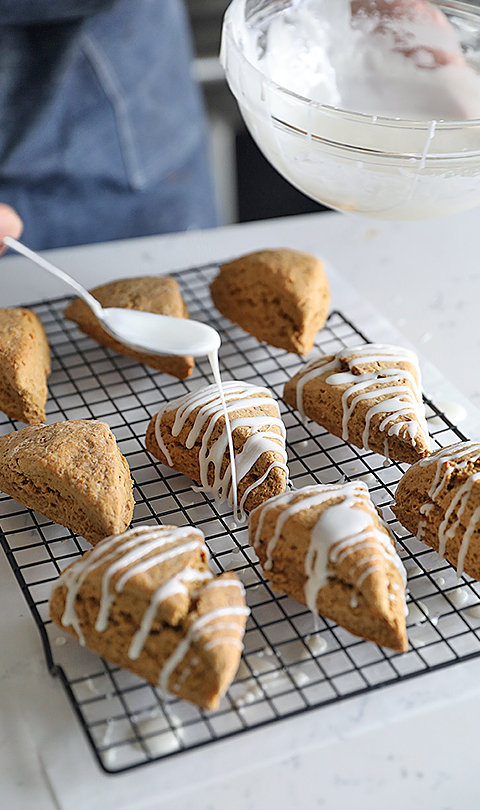 As a parent, is there anything more exciting than waking up on Christmas morning to smiling kids who cannot wait to tear through presents under the tree? It is such a happy morning filled with flying wrapping paper, coffee, laughter, and breakfast.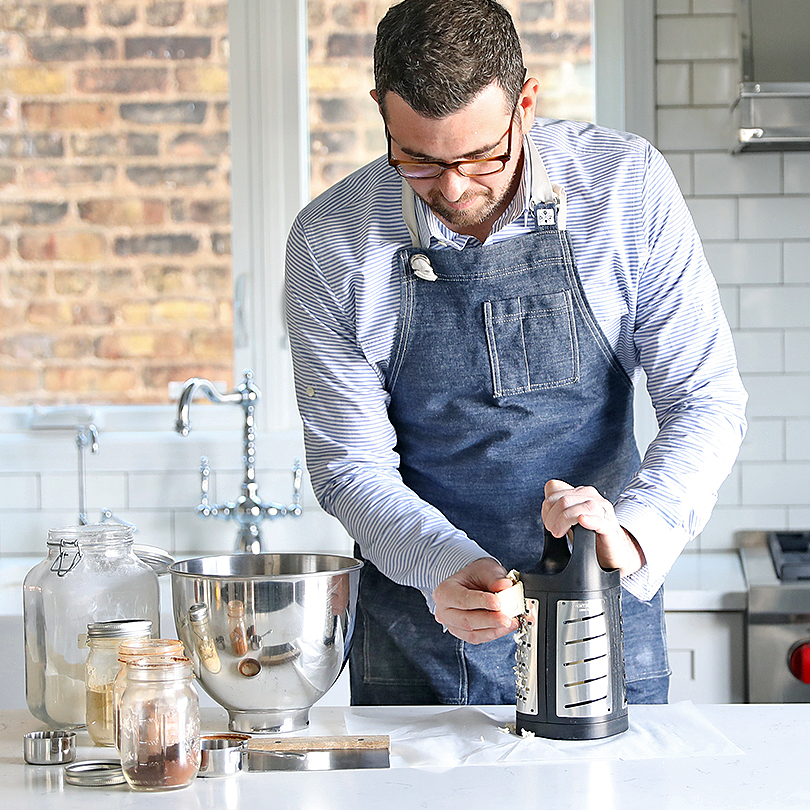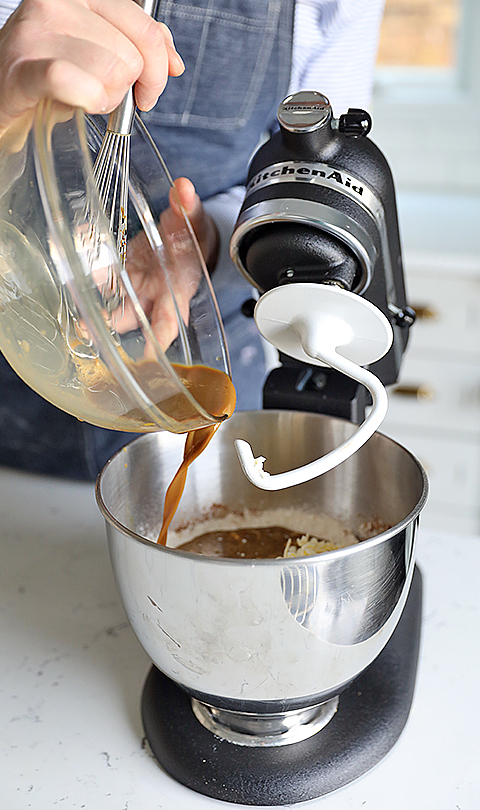 When I was younger, I remember anxiously waiting for my parents to wake up so that I could begin to pile up my presents (keeping them separate from my sisters' presents, of course) in anticipation of opening them up. It's cool now to see those same emotions on my daughter's face as she wakes up the house ready to shred the Santa wrapping paper off of each box. Now that I'm a dad, it's WAY cooler to be on this end than it was to be a kid on the receiving side of things. Funny how that works…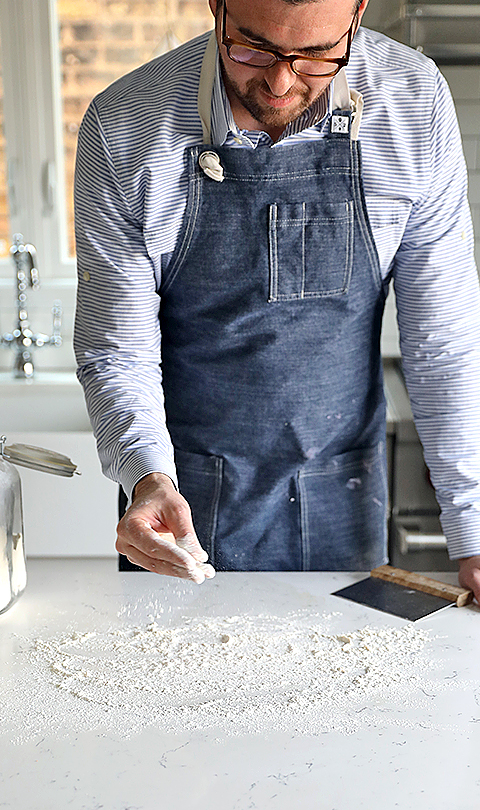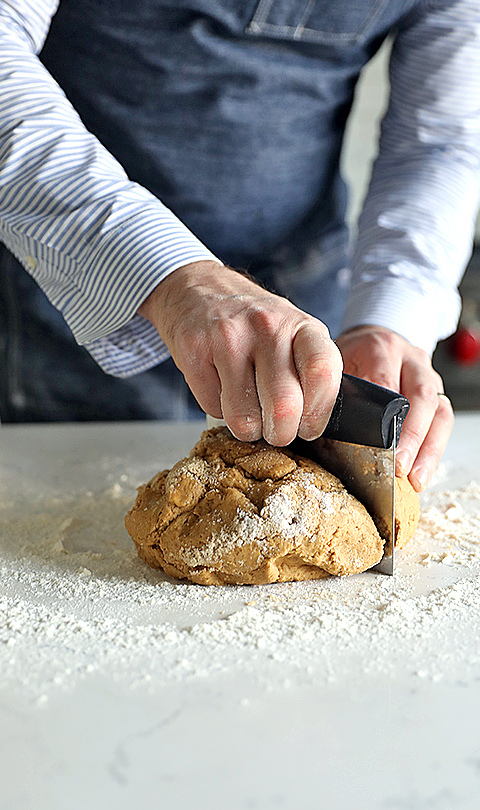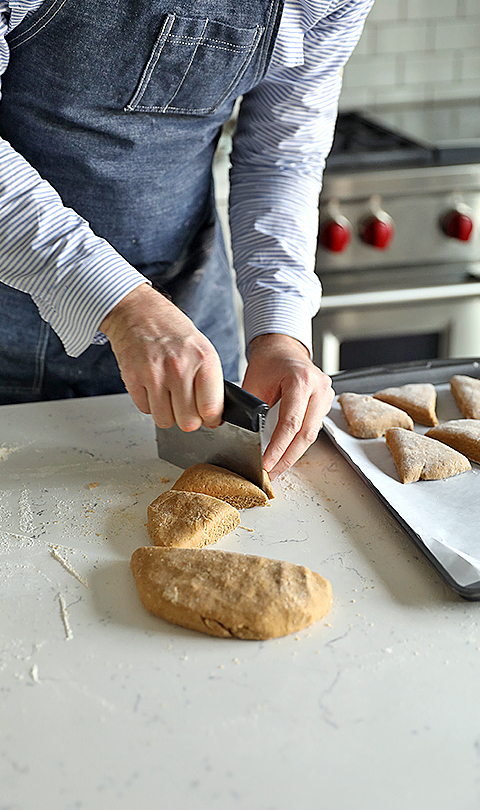 I'm a pretty emotional person who is always trying to think of ways to create long lasting memories. And since I'm a chef, the easiest way to do this is through food. We now have a two year running tradition of making cookies a few nights before Christmas, and this year I plan on introducing this recipe for glazed gingerbread scones to the mix of things I'd like to make and serve up on Christmas morning. They may not always be gingerbread flavored but I like the idea of scones in the morning. Truth be told, they aren't as loaded with sugar as most other morning pastries are, which makes it a little saner when mixing in kids and a plethora of presents. You'll thank me later for this 🙂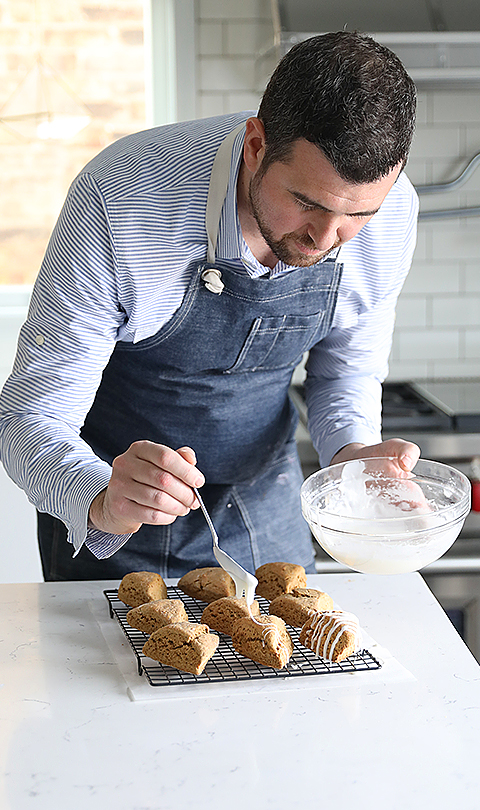 Scones are pretty much sweet homemade biscuits that can be infused with just about any flavorings you'd like. I've done buttermilk scones, blueberry scones, strawberry scones… you name it, I've made them. I think that is the beauty of making them; they can be tailored to your taste buds. If you happen to like extra sweet morning pastries, then you can drown them in a sugary glaze. If you happen to like things on the slightly sweet side, then you can skip the glaze. It's totally up to you. The other cool part about making scones is that the base is the same. All you need to do is mix in whatever flavor you are trying to make at the end.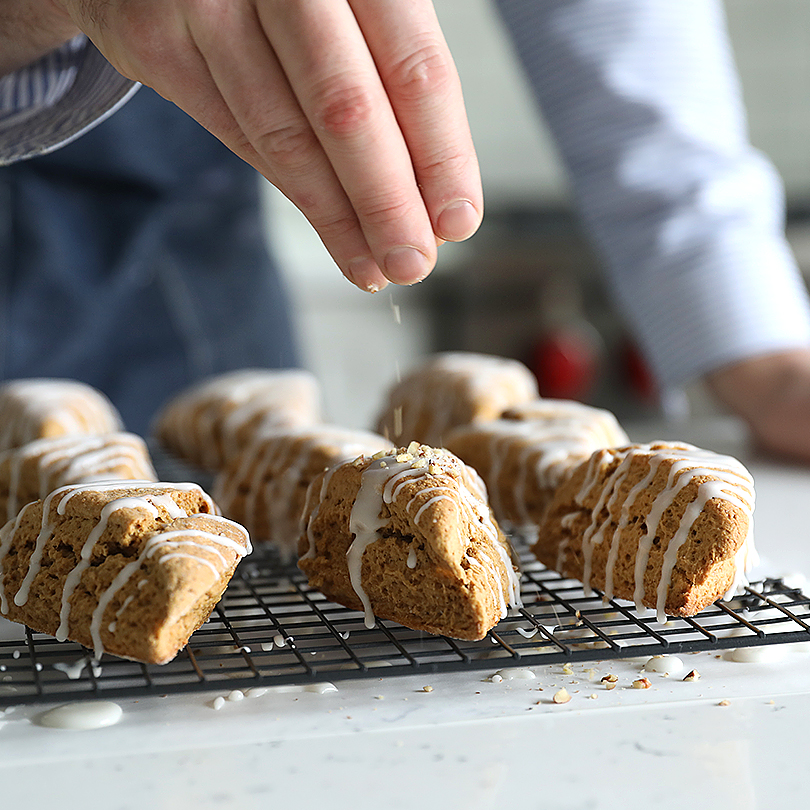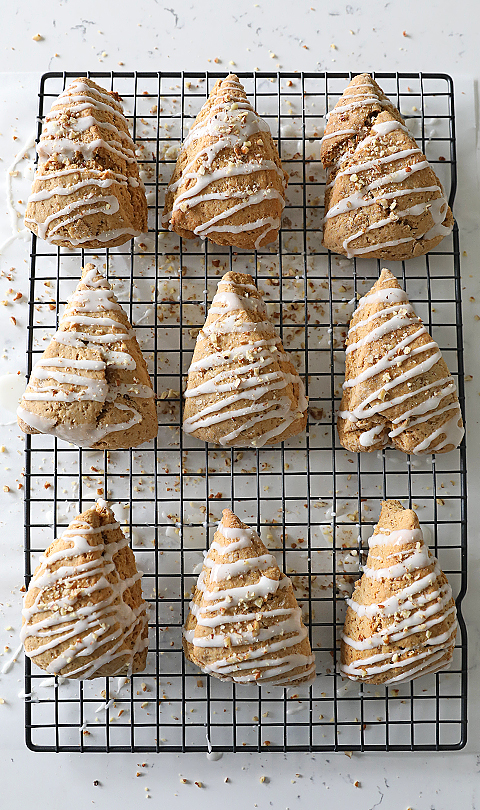 I went with gingerbread this Christmas because it's a seasonal flavor, and to see if my daughter likes them so we can begin a new tradition in our house. I can't tell you what shirt I wore last week, but I can tell you every second of my daughter experiencing joy when she furiously rips through her Christmas morning presents, and eating something she loves.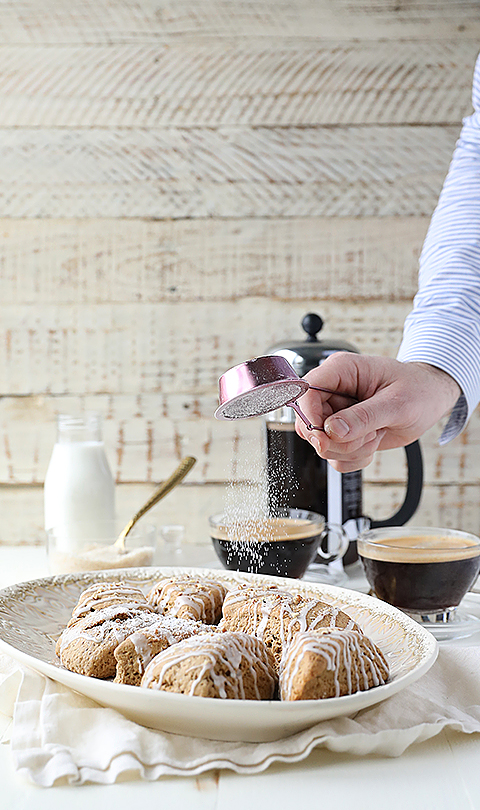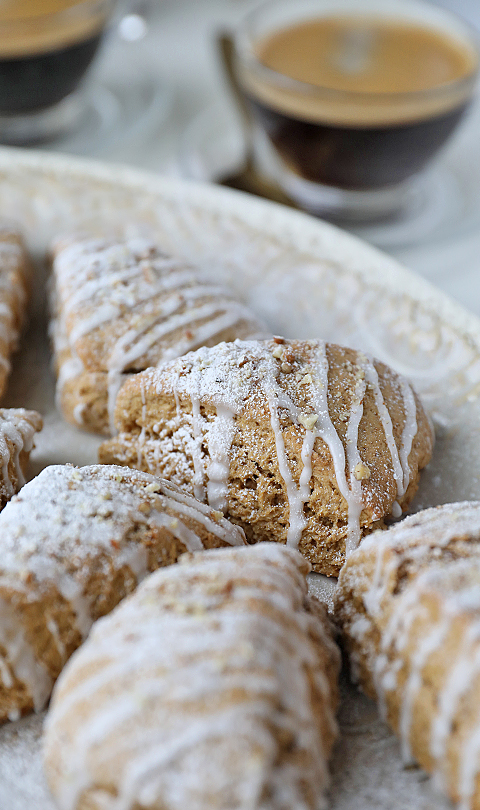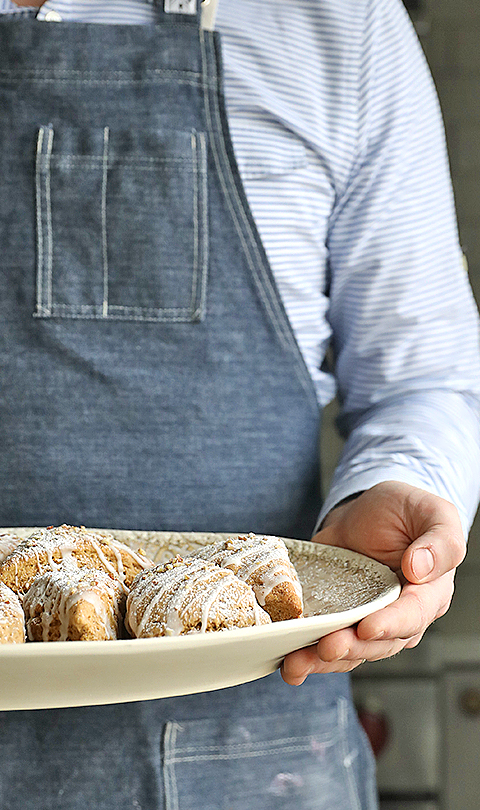 Here's to happy holidays and new family traditions!
Sugar Glazed Gingerbread Scones with Chopped Pecans Recipe
Channel your inner child with this delicious scone recipe that will leave you wanting more!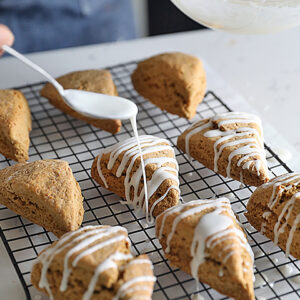 Ingredients
For the Scones:

.5

cups

sugar

1.5

tbsp

baking powder

pinch of salt

4.5

cups

all-purpose flour + more for dusting

2

tsp

ground ginger

.5

tsp

ground cloves

.5

tbsp

ground cinnamon

1.5

sticks of grated ice cold unsalted butter

2

eggs

.75

cups

whole milk

.5

cups

maple syrup

.25

cups

dark molasses

For the Glaze:

1

cups

powdered sugar + more for dusting

3

tbsp

whole milk

.25

cups

finely chopped pecans
Instructions
Preheat the oven to 375°.

In a bowl of a standing mixer with the hook attachment combine together the sugar, baking powder, salt, flour, ginger, cloves, cinnamon and butter. Set aside.

In a separate small bowl, whisk together the eggs, milk syrup and molasses until combined and then add it to the other bowl with the dry ingredients. Mix on low speed until a soft dough has been formed.

Transfer the dough to a clean surface that has been lightly dusted with flour. Form a large disc and the divide it in half and form 2 discs.

Make 8 slices into the each of the dough discs and transfer each slice to a cookie sheet tray lined with parchment paper.

Bake in the oven for 20 to 22 minutes or until lightly golden brown on top. Let cool to room temperature.

In a small bowl whisk together the powdered sugar and milk until smooth and drizzle over the cooled scones.

Garnish with chopped pecans and powdered sugar. Serve!
Nutrition
Serving:
1
g
Calories:
342
kcal
Carbohydrates:
53.3
g
Protein:
5.3
g
Fat:
12.6
g
Saturated Fat:
6.2
g
Cholesterol:
45
mg
Sodium:
92
mg
Fiber:
1.5
g
Sugar:
23.4
g