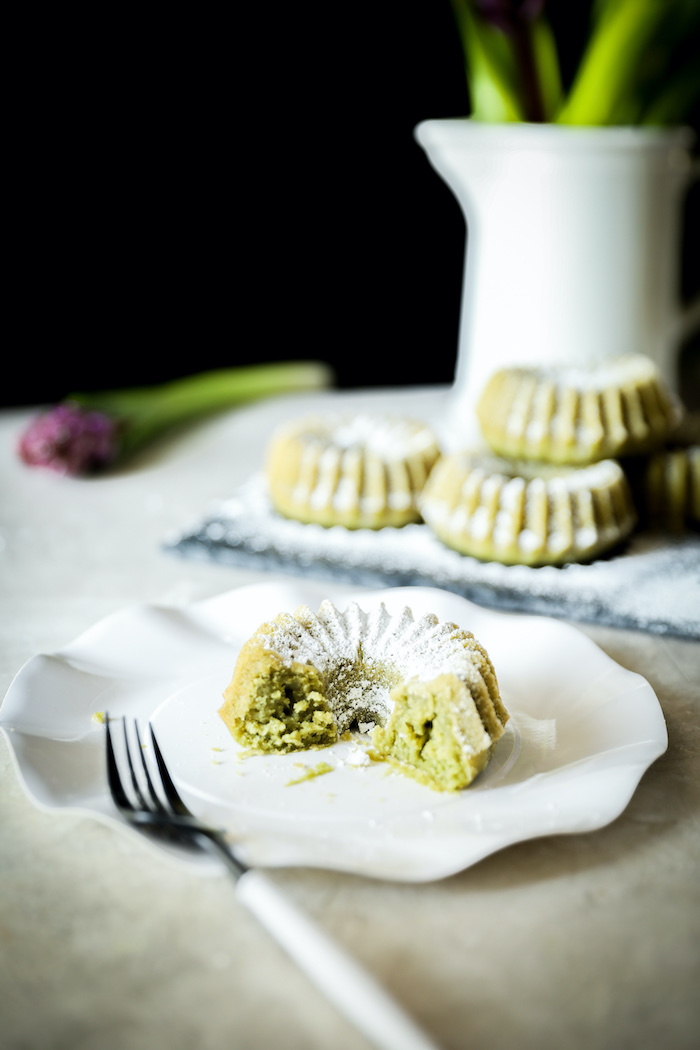 This recipe is perfect to bring to a party. I was thinking specifically a bridal or baby shower because these mini cakes are super cute, just unique enough, and totally easy to pull together in no time. I love using the mini bundtlette pans from Nordic Ware because they make the green tea cakes feel extra special without adding any extra hassle.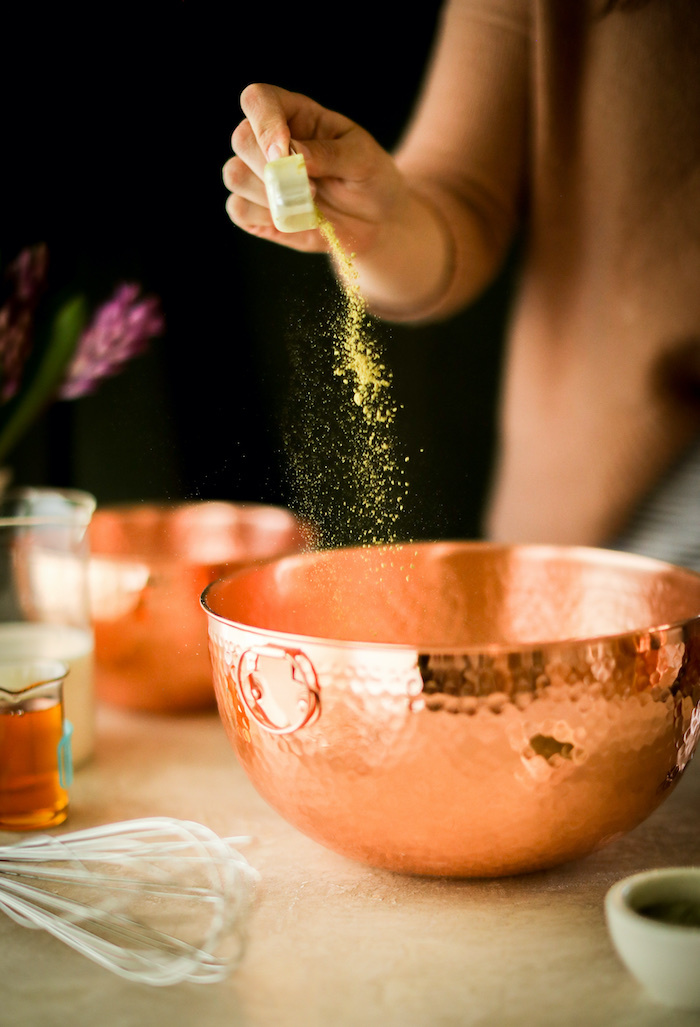 Stone Hammered Solid Copper Mixing Bowls

By Old Dutch International

Shop Now
This recipe has traveled with me since culinary school, where my final project group created a green tea cake as the final dessert to our Friday Night Dinner.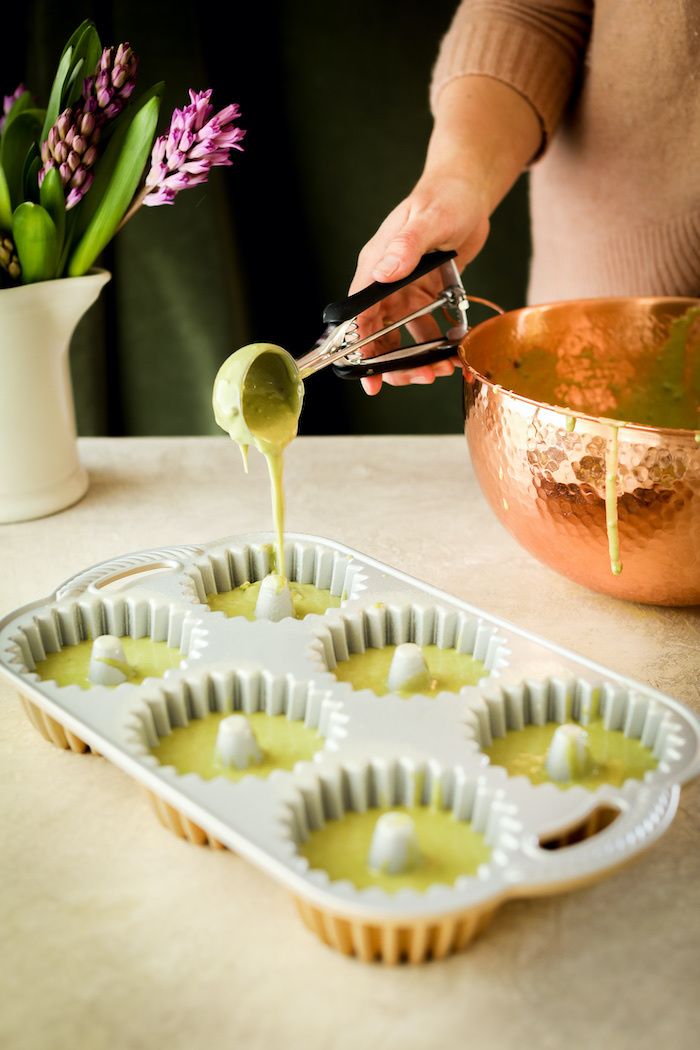 Brilliance Bundtlette Pan

By Nordic Ware

Shop Now
I attended The Gourmet Institute for Health and Culinary Arts, where all cooking and baking was vegan, hence the vegan nature of this recipe. If, however, you prefer to bake with dairy or honey I have suggested swaps below.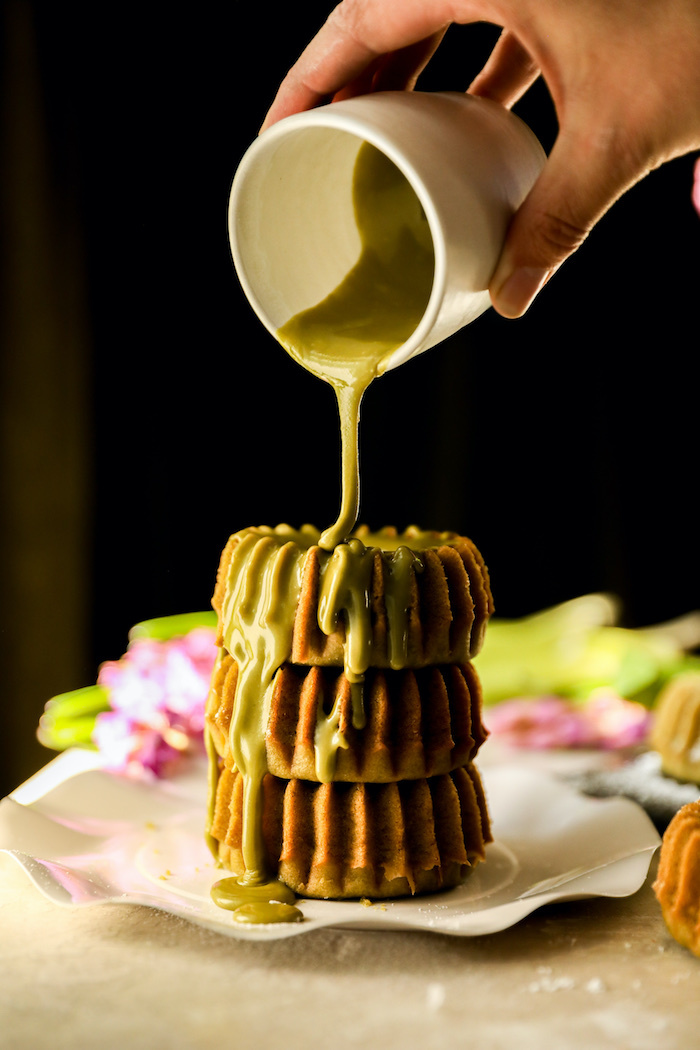 Pearly White Wavy Paper Salad Plate

By Sophistiplate

Shop Now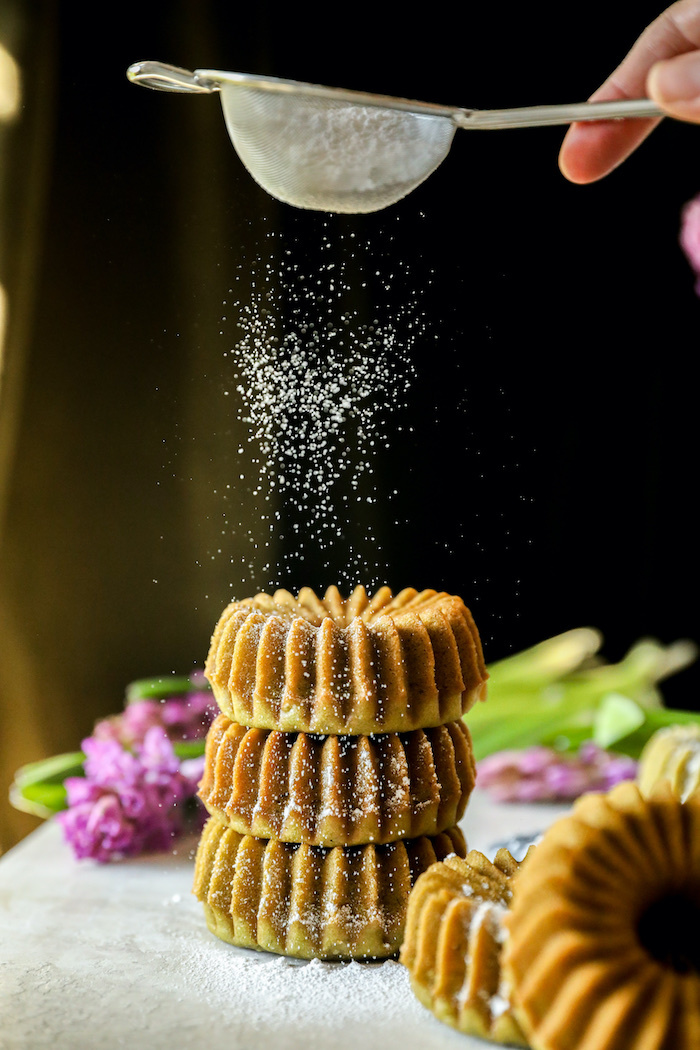 If you love matcha, you'll love this recipe. Happy baking!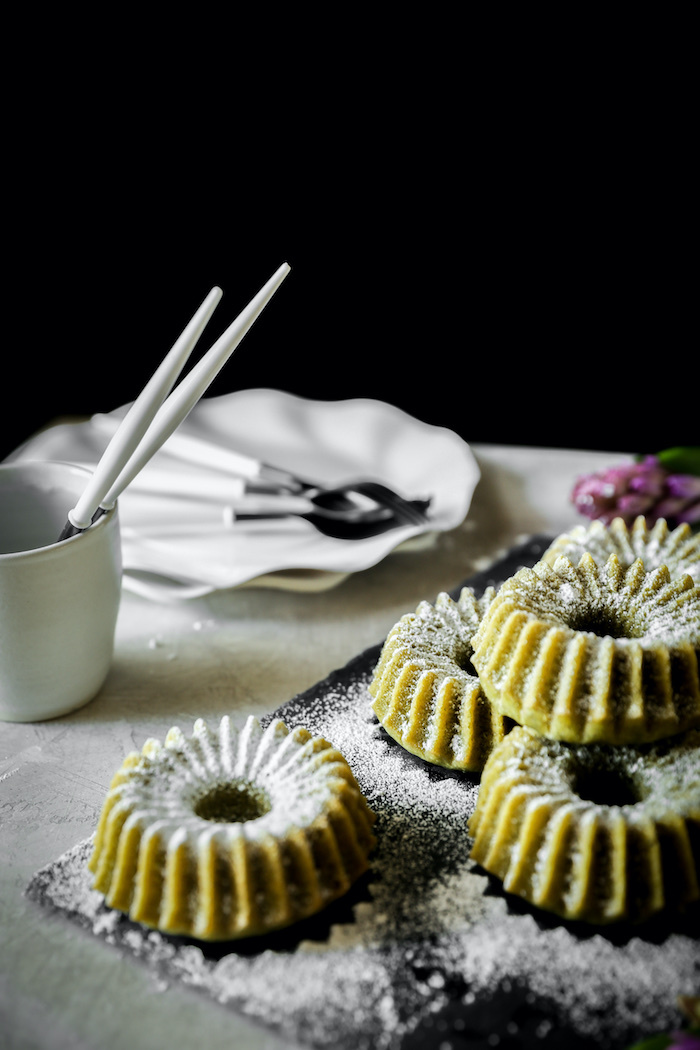 Rectangular Slate Serving Board

By Frieling

Shop Now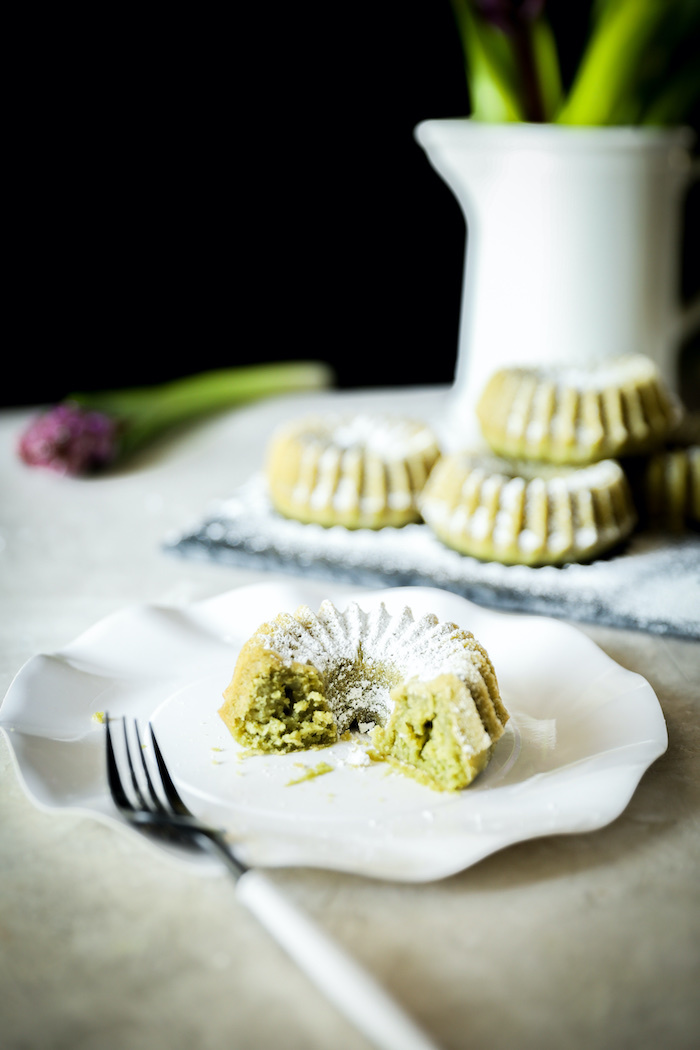 These mini cakes are super cute, just unique enough, and totally easy to pull together in no time! If you love matcha, you'll love this recipe.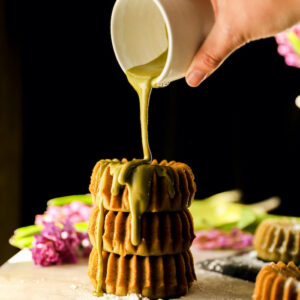 Ingredients
3

cups

all-purpose flour

2

tbsp

baking powder

1

tsp

salt

2

tbsp

green tea powder (plus more for garnish)

1

tsp

chlorophyll powder

2

cups

almond milk

1

cups

light agave nectar

.5

cups

canola oil

1

tbsp

apple cider vinegar

confectioner's sugar for garnish
Instructions
Preheat oven to 350 F. Using Baker's Joy cooking spray, carefully coat each rib of the mini bundtlette pans.

In a large bowl, sift together flour, baking powder, salt, green tea powder, and chlorophyll. Set aside.

In a medium bowl, whisk together almond milk, agave nectar, canola oil, and apple cider vinegar.

Pour the wet mixture into the dry mixture. Whisk until just combined. Don't over mix.

Using a 3 tablespoon-sized cookie scoop, scoop batter two and a half times into each bundtlette. Slam against the counter to force any extra air bubbles to the top.

Bake for 15-20 minutes, or until a toothpick inserted in the center comes out clean with a few crumbs clinging to it.

Cool the cakes for about 5 minutes before turning out to cool fully.

To garnish and serve, top with vegan matcha royal icing by combining 3:1 confectioner's sugar to matcha, thinned out with hot water and whisked until thick but pourable consistency is achieved. Alternatively, garnish with powdered sugar sifted through a fine-mesh strainer, or topped with a dollop of freshly whipped coconut cream with a touch of vanilla extract.
Nutrition
Serving:
12
g
Calories:
343
kcal
Carbohydrates:
40
g
Protein:
6.5
g
Fat:
18.9
g
Saturated Fat:
9.2
g
Sodium:
203
mg
Fiber:
4.1
g
Sugar:
14.1
g
Recipe Notes
Sifting.
Do not forget to sift the dry ingredients together. Not only will this help you achieve a lighter crumb, but it will also help to smooth out any lumps in the batter so you don't run the risk of over-mixing. This can be done with a fine-mesh strainer. The strainer can also be used to sprinkle with powdered sugar after baking!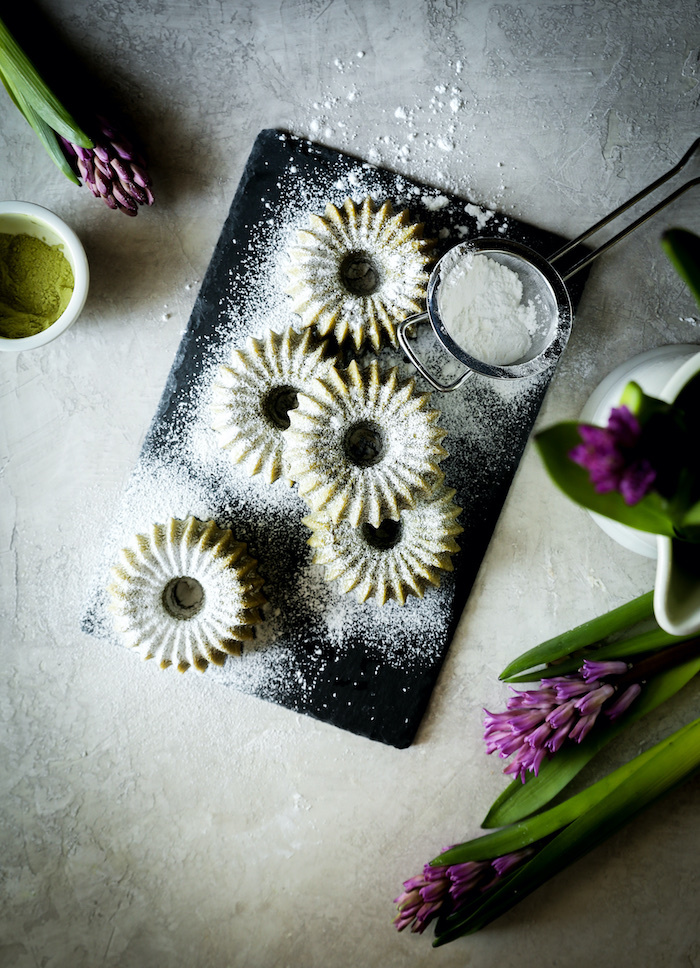 Classic Fine Mesh Strainer

By Küchenprofi

Shop Now
Dairy Alternatives.
I've made this cake with whole milk in place of almond milk, and any dairy alternative milk would work (like say Oat milk). Another option is to use buttermilk and omit the apple cider vinegar.
Agave.
If you prefer to use honey in place of agave, by all means. Replace using the same quantity. Just remember it will no longer be vegan.
Chlorophyll.
If you have a hard time finding chlorophyll powder, try to use a superfood green powder that contains primarily chlorophyll and wheat grass. It's okay if it has kale powder and other greens, just be sure it's not flavored with something or you'll totally alter the final taste.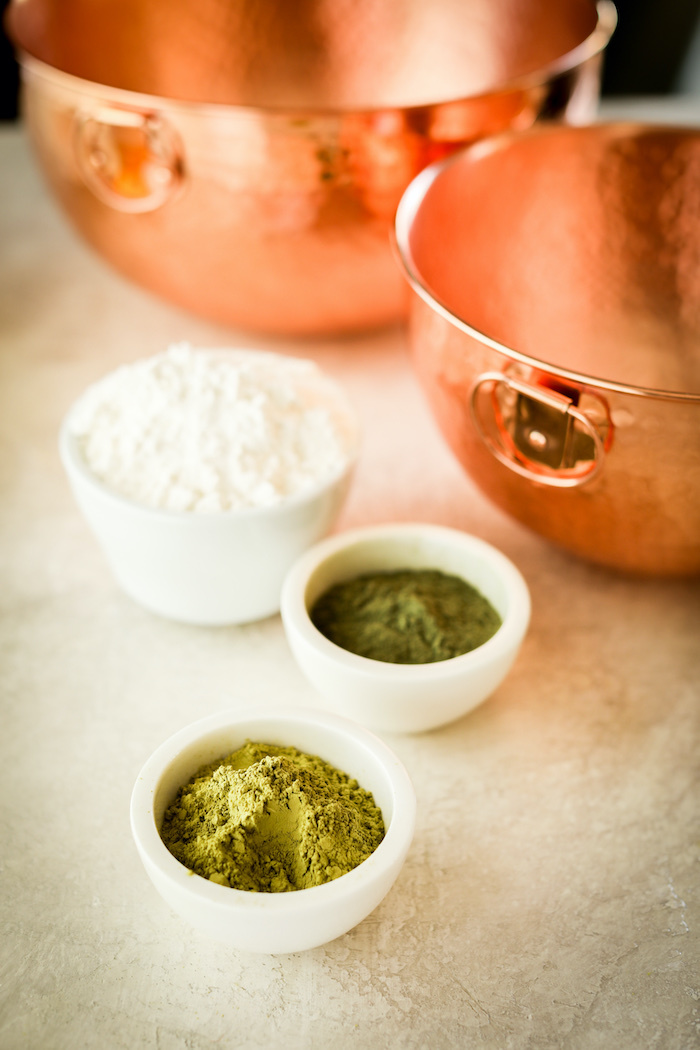 Bake Time.
I've noticed that a bake time adjustment of just 5 minutes can turn the green exterior into a brown exterior. It will not change the flavor if that's what's necessary to cook the cakes fully. Depending on which I've achieved, I will garnish differently. If it's a nice, bright green cake I will garnish with powdered sugar. If it's a bit brown, I'll garnish with my vegan matcha royal icing.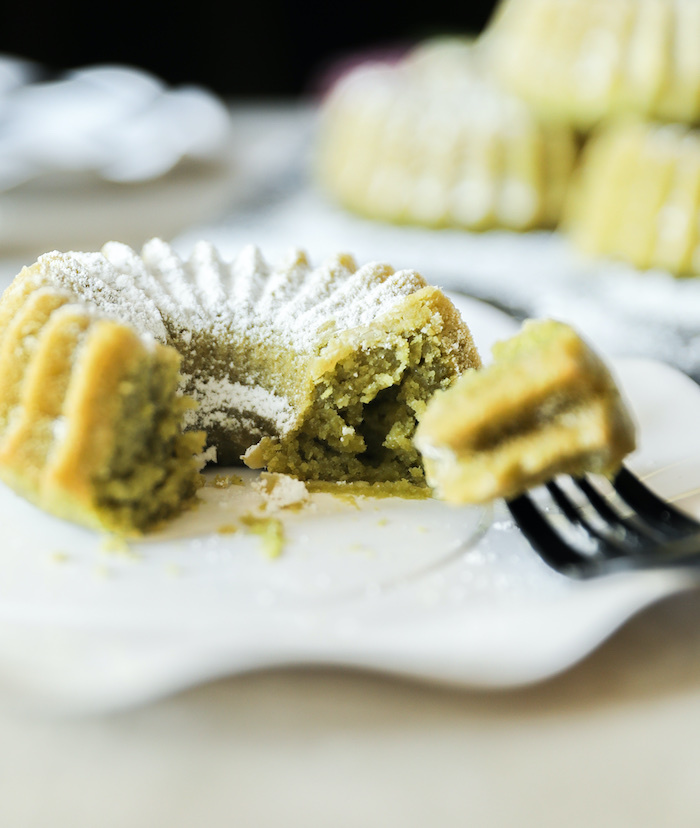 Cutlery with White & Black Handle

By Sophistiplate

Shop Now
Vegan Matcha Royal Icing.
If you decide to garnish with Matcha Royal Icing, follow a 3:1 (powdered sugar to matcha powder) ratio. Whisk the two together with hot water until a thick, glossy icing is formed. Luckily, royal icing can be easily adjusted and I usually just eyeball the ratio until my preferred taste, texture, and color is achieved. Play around until you get it where you want it.