Ease Your Post-Brunch Clean-Up Anxiety with These Simple Solutions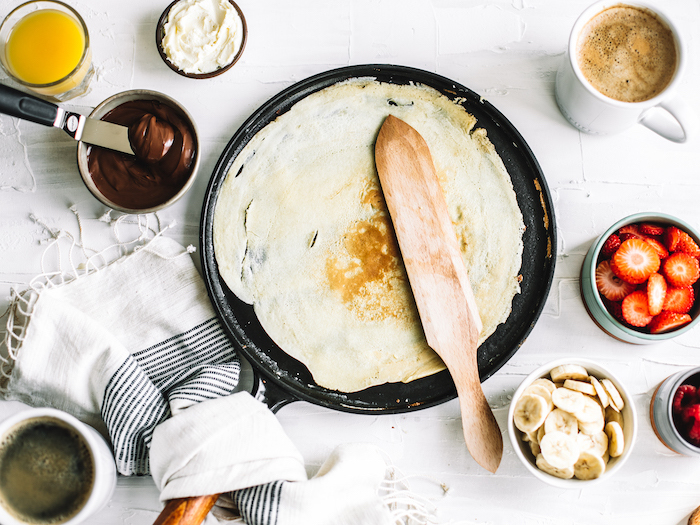 I love hosting a good brunch. I love looking at gorgeous brunch photos on Instagram as well as crafting a menu to delight a crowd while perusing several blogs and cookbooks. I enjoy setting the table. I even enjoy cooking. One thing I don't enjoy is spending hours cleaning up after a party. And you know what? No one talks about this but we all feel the same way! People spend tons of time talking about the prepping and the décor, but never about cleaning up. It's taboo.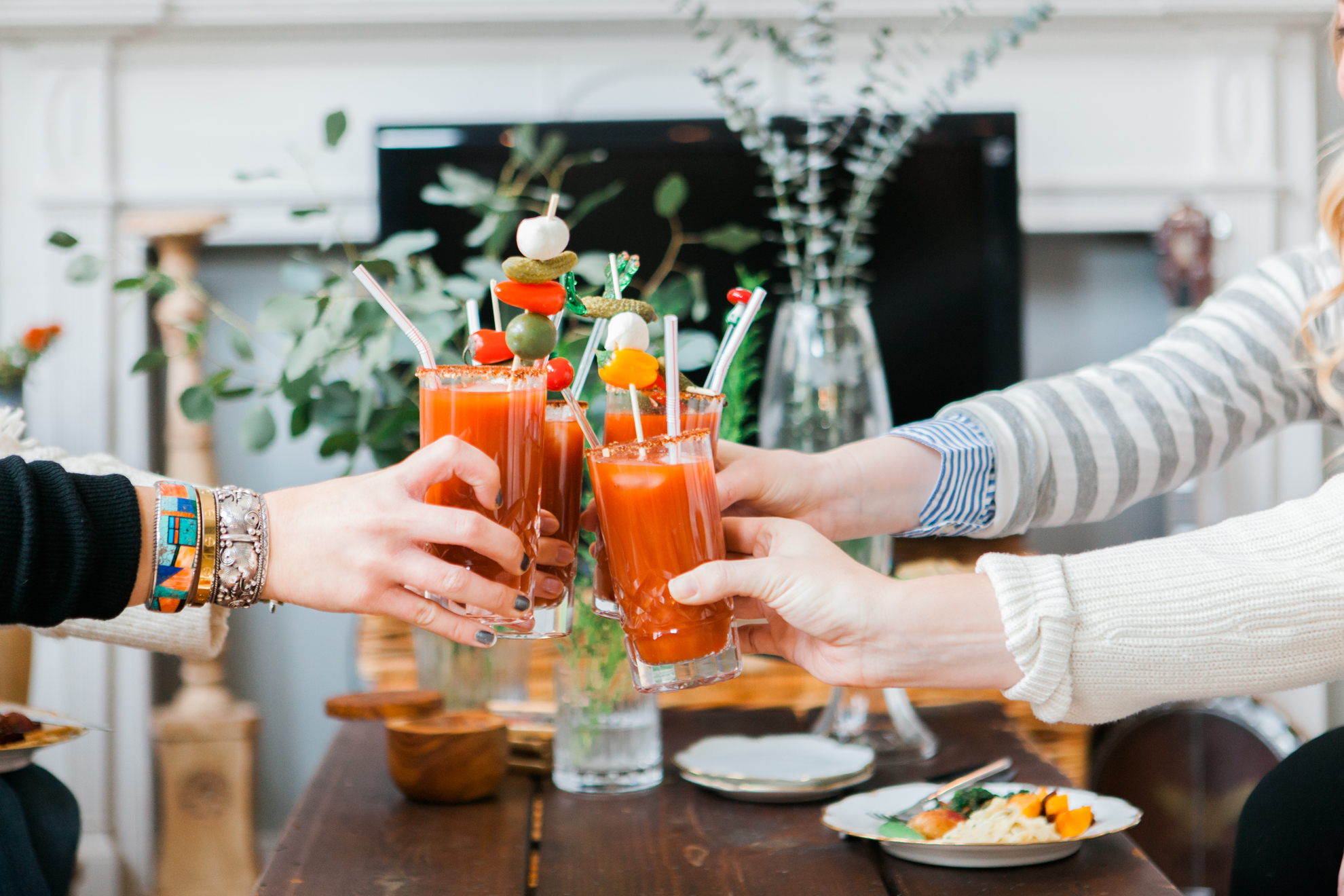 During the party, there's that crescendo moment when the fete is in full swing and people are eating and laughing and having a great time – we smile inside knowing it was a job well done. But there's a tiny anxiety that starts to grow as the brunch draws to a close, the anxiety of the post-brunch cleanup. Thankfully, I've hosted enough and have been able to integrate my cleaning expertise into a post-party blitz that will have you tidied and just in time for an afternoon nap — no two-hour cleaning marathon here. So finish your mimosa or bloody mary and let's get on with the clean up:
Crusty Casserole Dish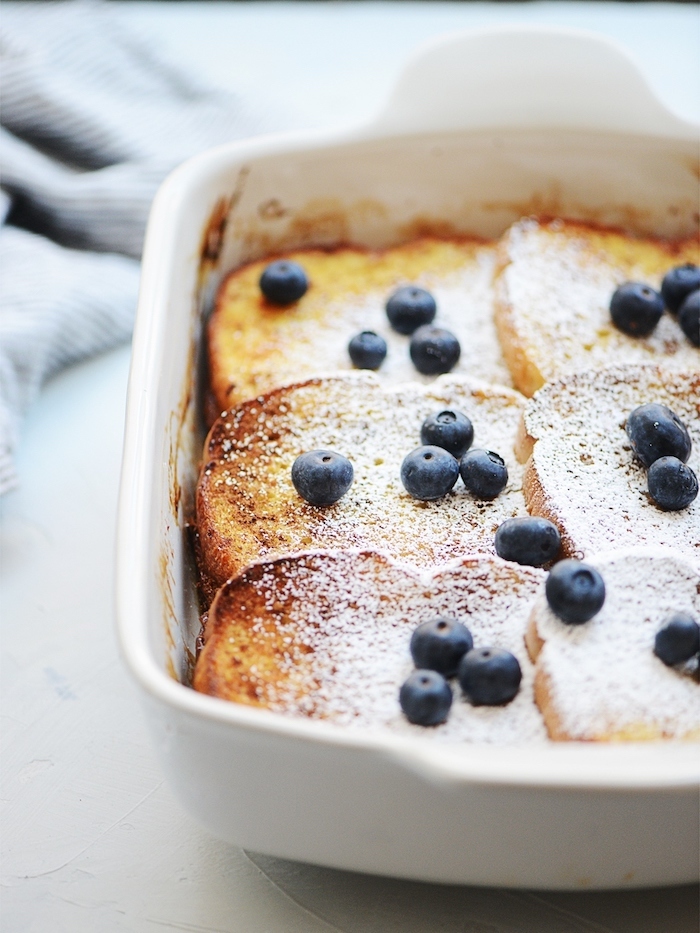 The Problem: Most of us are accustomed to serving casseroles on the table in their original dish which presents beautifully and beckons guests to have seconds (and thirds). As the casserole cools, so will the baked-on food which will make the dish harder to clean.
The Solution: Soak the emptied casserole dish for at least an hour by adding a tablespoon of dish soap to the bottom and filling the dish almost up to the top with warm water. Add a half cup of baking soda and allow to sit. If there are crusty bits on the exterior, create a paste made from equal parts baking soda and dish soap and apply directly onto areas. When done, scrub gently to remove build-up and rinse well. Hand dry with a soft dish towel.
Try these delicious French Toast Casserole Ideas: Raspberry Rose Baked French Toast, French Toast Casserole with Cream Cheese Filling and Overnight Baked French Toast.
Egg or cheese hardened on a plate: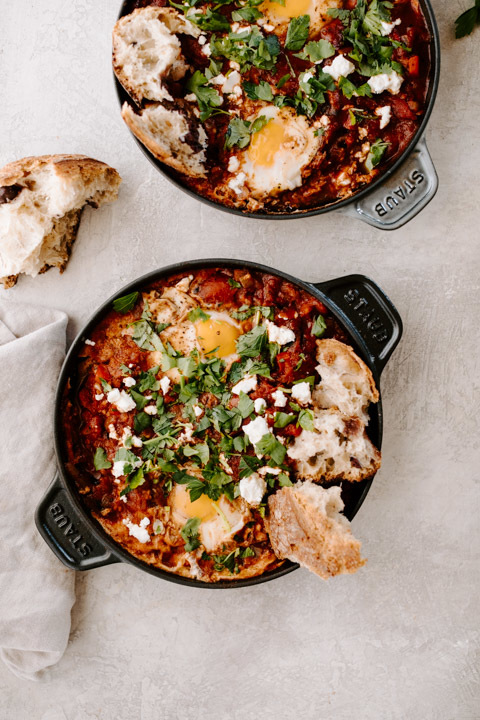 The Problem: Difficulty removing hardened egg or cheese from plates.
The Solution: Placing hardened egg or cheese on a plate in the dishwasher makes it even more difficult to remove after. Instead, take half a lemon and rub the fleshy part over the affected area, allow the lemon juice to saturate the area well and leave for 5 minutes. Then, take a scraper and gently push away the crusted on food to reveal a clean plate. Hand wash or place in the dishwasher as usual.
Some ideas for next brunch: Shakshuka with Feta Harissa, Mini Brunch Quiches and Burrata, Prosciutto and Basil Slab Quiche.
Hand washing serving pieces: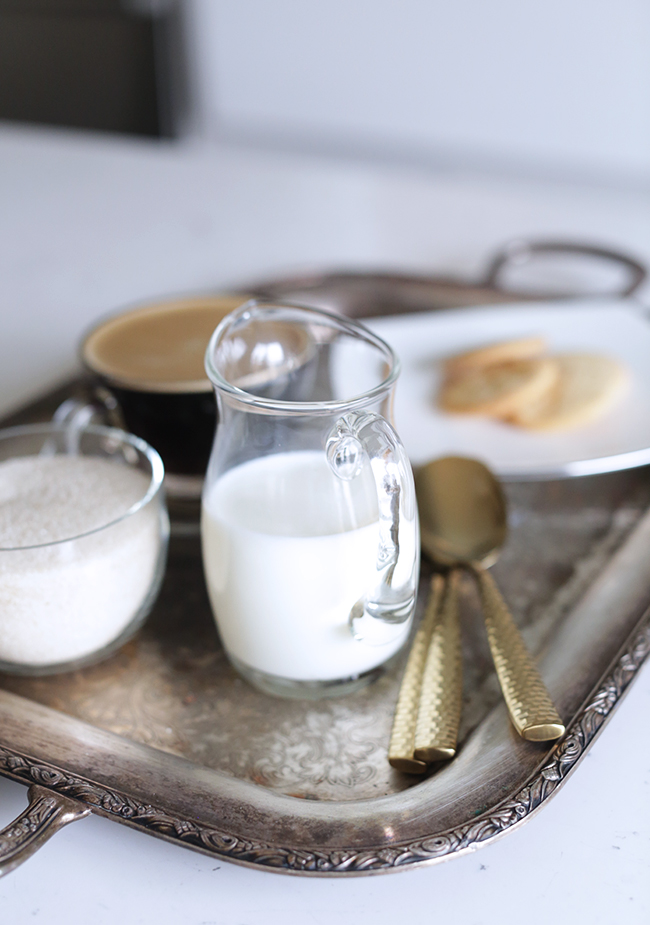 The Problem: Removing residue from gorgeous platters and bowls and restoring them to a beautiful shine.
The Solution: Depending on the material, I like using a microfiber cloth to clean these — the pieces generally don't have much build-up or difficult cleaning challenges to navigate through. Add a small squirt of dish soap to the center of the cloth and run under cool water to foam up slightly. Hold the service piece securely in one hand and use the cloth in another and wipe gently. Rinse well and hand dry with a soft towel or leave in a drying rack.
Microfiber Soap & Water Cloth

By Ritz

Shop Now
Hand washing barware and glasses: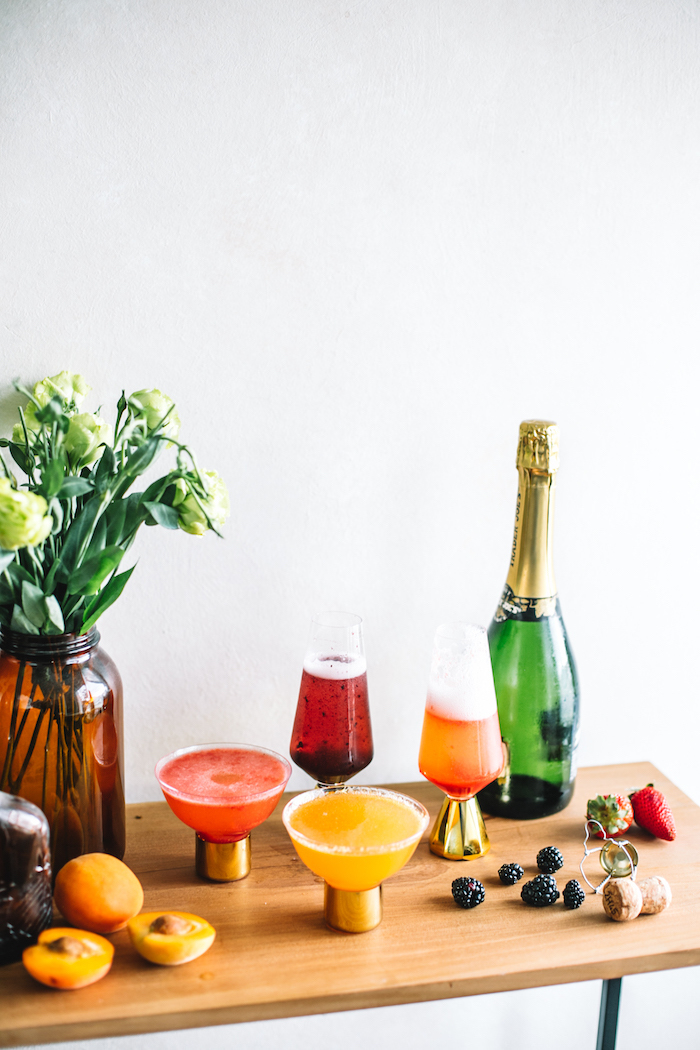 The Problem: Washing barware and glass carafes that aren't dishwasher safe or have stubborn stains.The Solution: There are tons of fun barware cleaning tools out there, and we're going to use a few for this task. For carafes holding juice, pitchers holding sangria or flutes holding mimosas, bottle and glass brushes in all sizes will come in handy. I like to add a bit of water to the bottom of the vessel, wet the appropriately sized brush (you can find bendable ones, too) and treat the brush with a bit of dish soap before dunking. Swish around and rinse well. For stubborn lipstick stains, apply rubbing alcohol to a cotton pad and wipe the affected area. It'll come right off.
Crystal-Clear-2.0

By Full Circle

Shop Now
Stains from napkins and tablecloths: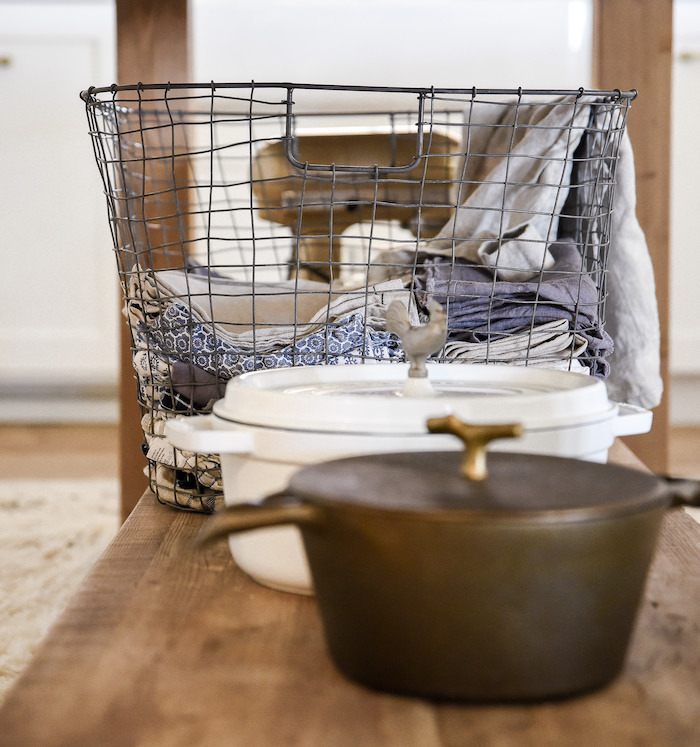 The Problem: Table linens can look gorgeous but can also get stained so easily.
The Solution: For anything major, wipe or blot up as it happens to keep the stain from spreading and then just make a mental note to deal with it later. Keep a stain pre-treater handy and once guests leave, head over to the stain and treat asap (it would indeed be rude to spritz product amid someone's bagel buttering). When laundering add a scoop of oxygen bleach to the wash along with regular detergent for an added boost. I find this one-two punch works on just about all stains.
Small Rectangular Cabo Basket

By Design Ideas

Shop Now
Finishing touches: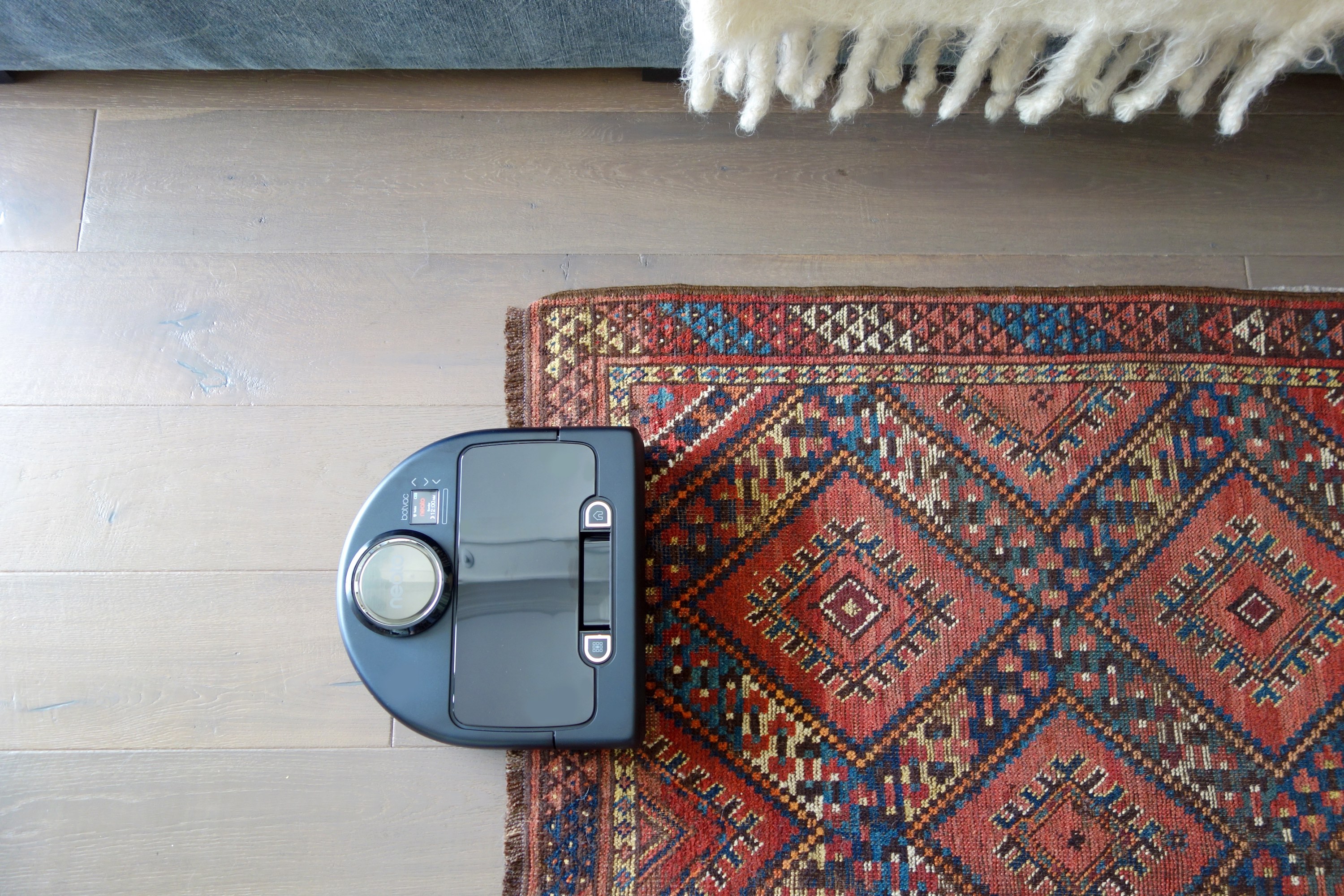 Wiping up surfaces is easy enough, use a gentle all-purpose cleaner and microfiber cloth to get finishes clean and shiny. While you're working up top, place a sweep/mop robot vacuum in action and let it pick up and mop up the mess your guests so cheerfully made.
Brunch IS fun to host and now, we've shone a light on the most taboo brunch topic; post-party cleanup. Pass the bagels and lox, please!