The Best Chocolate Cupcakes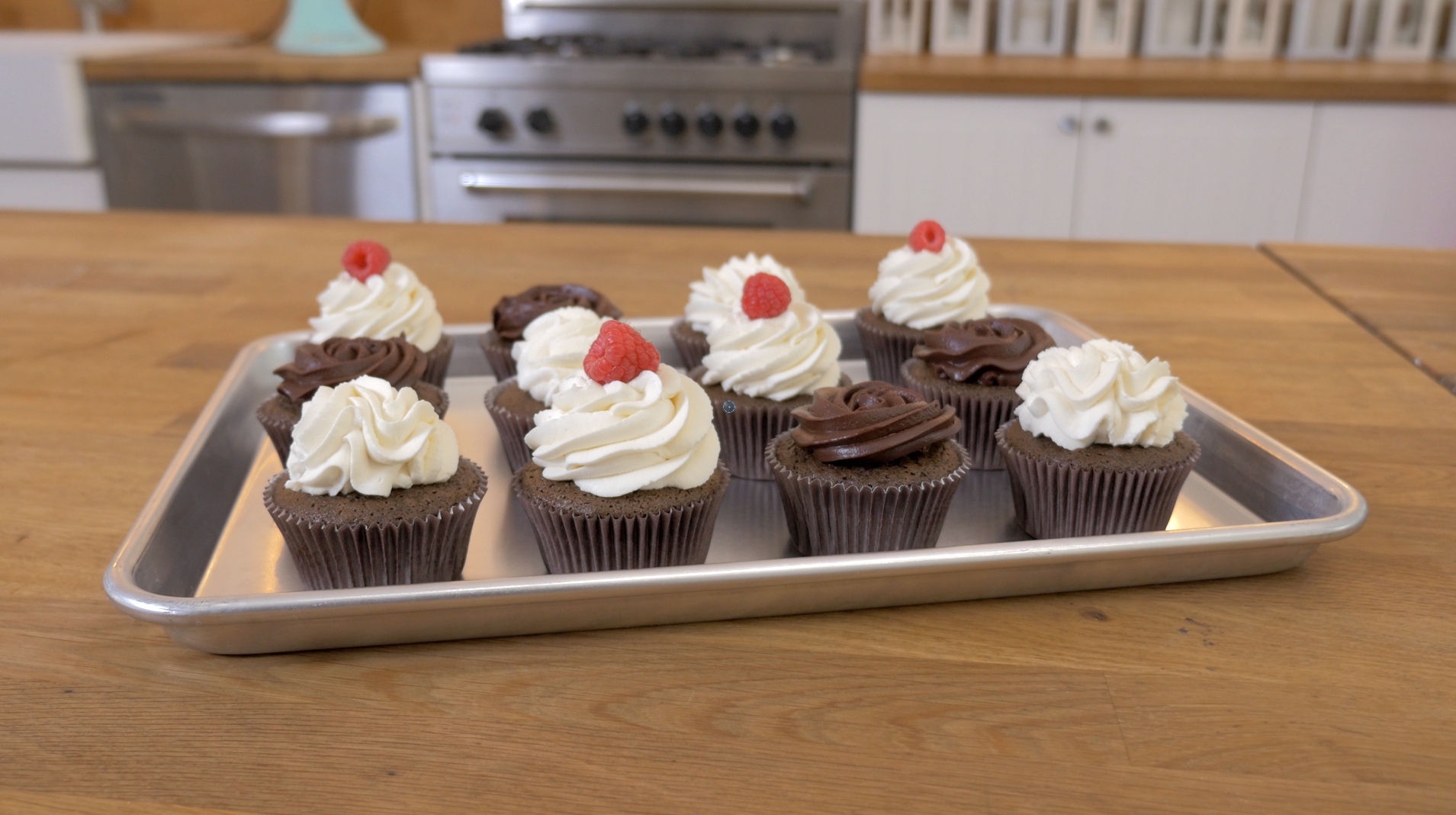 If you need a foolproof recipe for the best-ever chocolate cupcakes, here it is…
This is my absolute favorite cupcake. The cakes are moist and oh-so delicious! The chocolate ganache on top is lusciously silky, and the addition of coffee makes the chocolate flavor extra special. If you're more of a vanilla fan, the Vanilla Mascarpone frosting is also a wonderful addition to these cupcakes.
The Best Chocolate Cupcake Recipe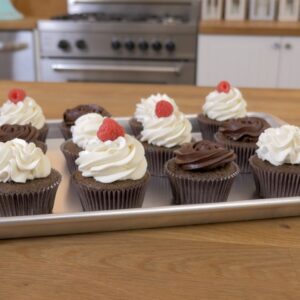 INGREDIENTS
1 2/3 cup All-Purpose Flour
½ cup Good Quality Cocoa Powder
1 tsp Baking Soda
½ tsp Baking Powder
1 tsp Salt
2 Large Eggs
1 ¼ Cup Regular Sugar
1 tsp Vanilla Extract
¾ cup Mayonnaise (Not Low Fat)
¾ cup + 1 Tbsp Warm Water
INSTRUCTIONS
Preheat the oven to 330 F. Line one or two cupcake trays with 16 paper cases. Sift together the flour, cocoa powder, baking soda, baking powder and salt and set aside.
Put the eggs, sugar, and vanilla extract into a mining bowl and beat on medium speed for 5 minutes. Scrape the inside of the bowl with a rubber spatula and beat for another 5 minutes, now on high speed. Scrape the inside of the bowl again, add the mayo and beat until blended into the mixture. Sift in the flour mixture in two addition alternating with the water and stir until everything is well blended. Divide the mixture between the paper cases, and bake on the middle rack for 20-25 minutes, or until a cake tester comes out clean. Transfer to a wire rack to cool.
Frost using your choice of frosting, top with some sprinkles or fresh fruit and serve!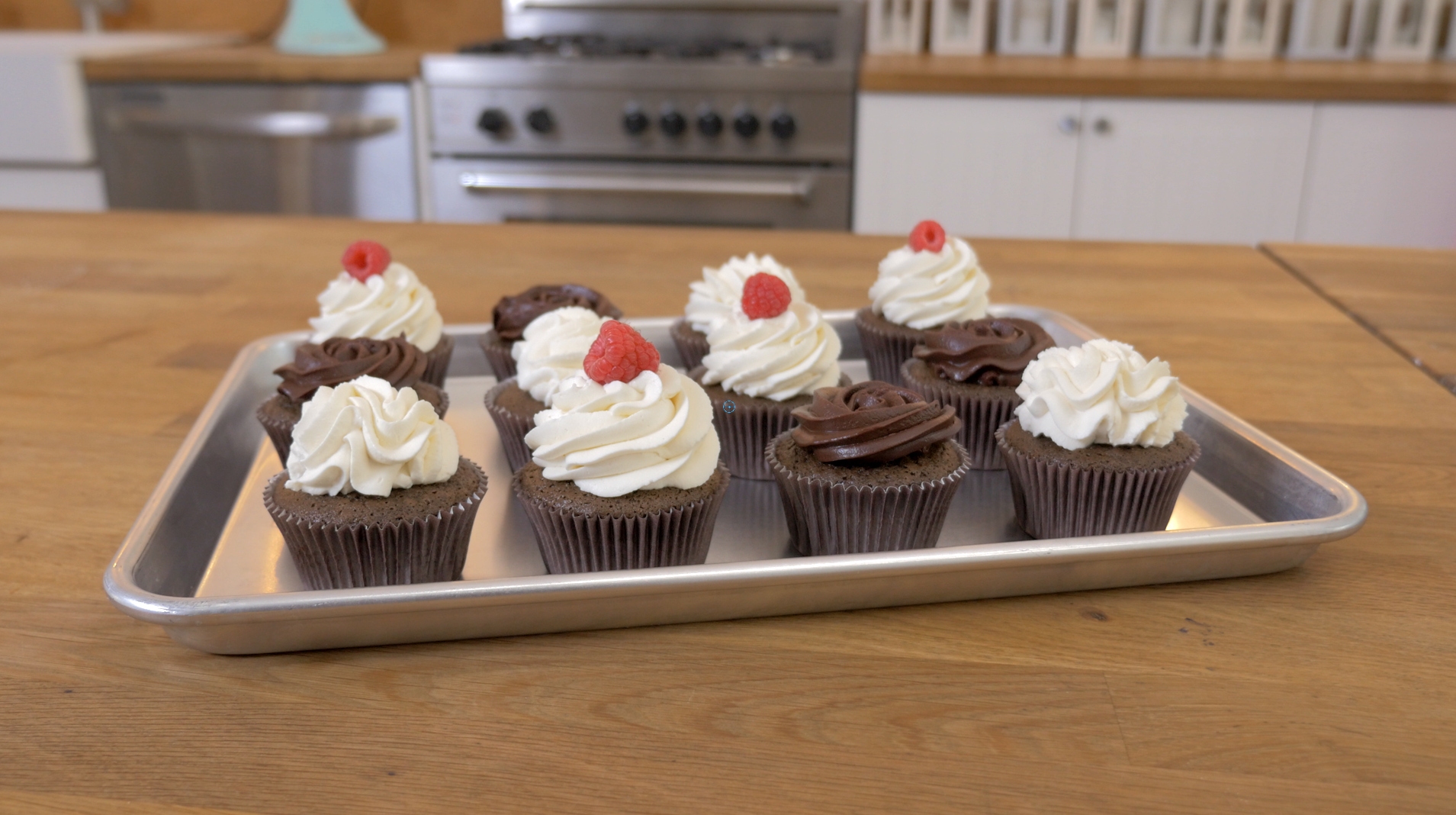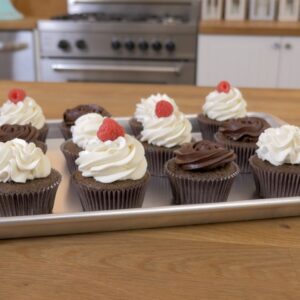 INGREDIENTS
1 cup + 1 Tbsp Heavy Cream
2 Tbsp Runny Honey
1 Tbsp Instant Espresso Powder
9 oz. Dark Chocolate (66% Cocoa Solids)
1/3 cup Unsalted Butter
INSTRUCTIONS
Put the cream, honey, and instant espresso powder into a small saucepan and bring to boil. Remove from the heat and pour over the chopped dark chocolate and diced butter in 2-3 additions, stirring well after each addition. Let cool. Cover with plastic wrap and leave to set overnight at room temperature.
The next day, transfer the ganache to a piping bag fitted with a tip of your choice and pipe 2 swirls on top of each cupcake. Decorate with pretty sprinkles and serve.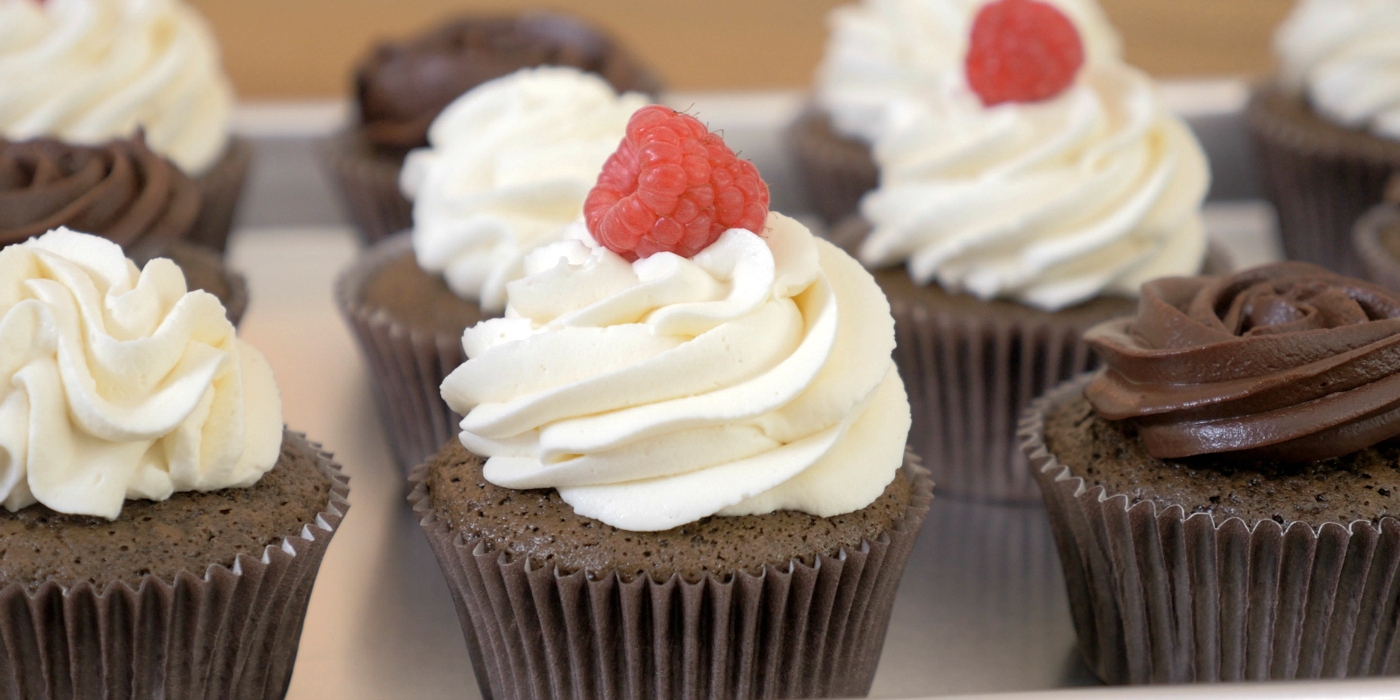 Vanilla Mascarpone Frosting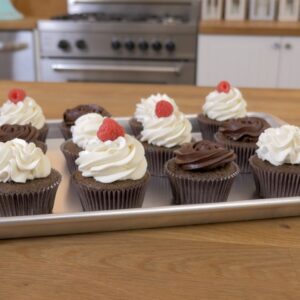 INGREDIENTS
1 ¼ cup Heavy Cream
½ cup Mascarpone
½ cup Powdered Sugar
2 tsp Vanilla Paste
INSTRUCTIONS
Place the carton of cream in the freezer for 20 minutes. After 20 minutes, remove the cream from the freezer and pour into a mixing bowl with the mascarpone, powdered sugar, and vanilla paste. Whisk until nice and airy.
Gently roll out the cake and spread out a decent layer of the mascarpone whipped vanilla cream. Tumble over some raspberries, and gently roll up again. Place the roulade onto a cake stand or plate, dust with powdered sugar and decorate with more raspberries, if you like.
BONUS
You can also use this Vanilla Mascarpone as the filling for my Raspberries & Cream Roulade. Delicious!