Gluten-Free Chocolate Avocado Zucchini Bread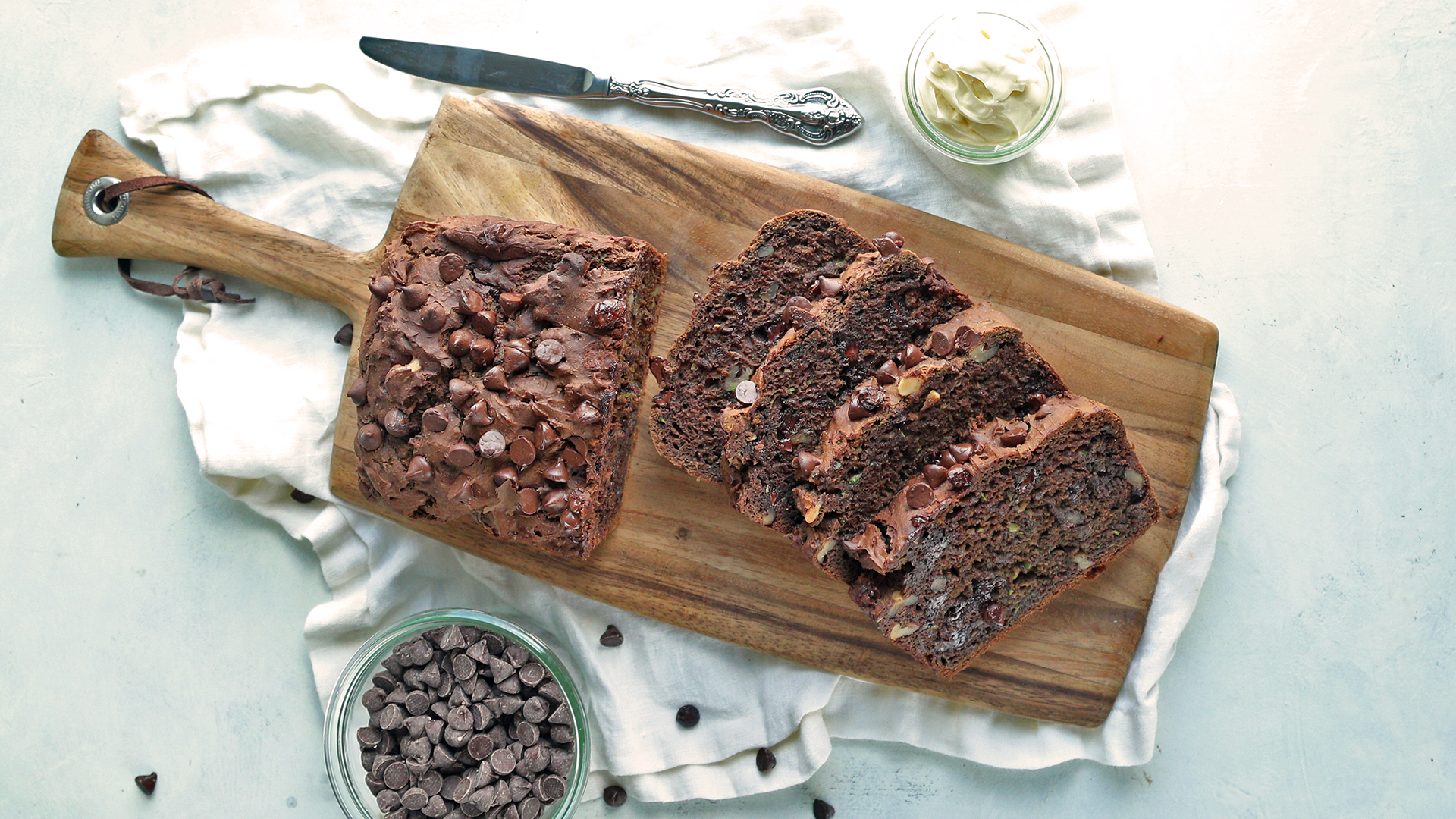 Wow, there is a lot going on in the title of this recipe, but don't let any of it scare you! It's quite simple to make and incredibly delicious. I actually fooled my friend who came over right after I made it and asked him if he wanted a piece of chocolate bread. Of course he said yes, and immediately said that it tasted like a healthy brownie, only it was really tasty. Honestly, that is exactly how I would categorize it myself: an incredibly delicious healthy brownie!
When I was brainstorming about creating this recipe, I always knew I wanted to make a zucchini bread, but never thought of adding in zucchini until I read about avocado bread. There are tons of recipes for avocado bread, so I figured I would sort of combine the two and mix in some chocolate.
This Gluten-Free Chocolate Avocado Zucchini Bread Recipe takes about 25 minutes to prepare and about an hour in the oven at 350°. It's a very dense bread so it requires more time in the oven and a little extra time cooling to room temperature, but I promise every send of making this bread is worth it. It is ridiculously moist and bursting with yummy chocolate flavor, not to mention the fat in it is great since it's avocado and coconut oil.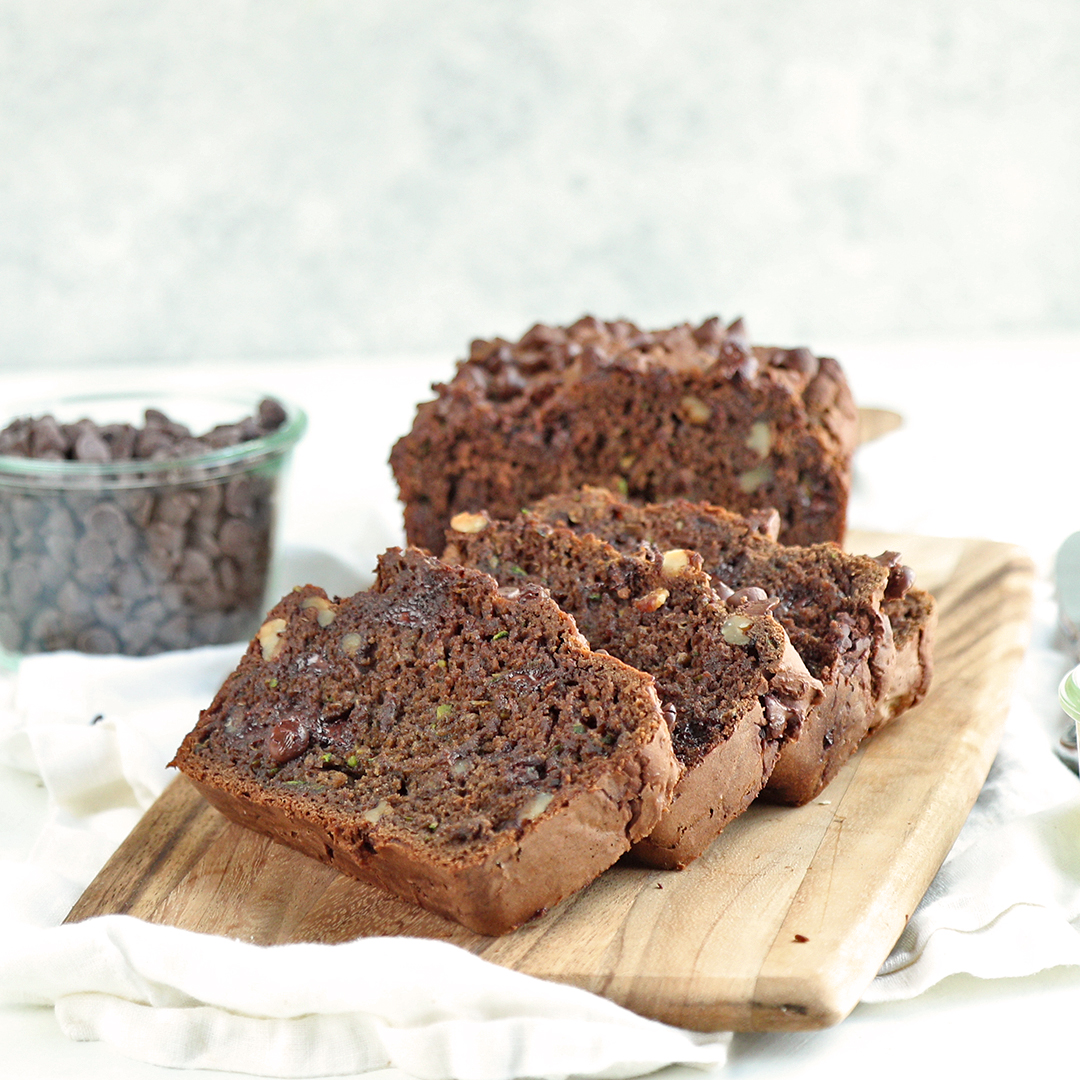 If you are looking for a really tasty gluten free bread, look no further! This Gluten-Free Chocolate Avocado Zucchini Bread is the best!
Gluten-Free Chocolate Avocado Zucchini Bread recipe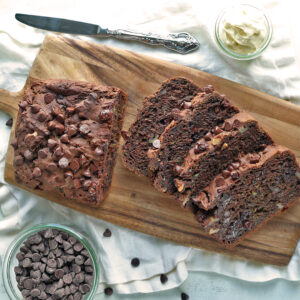 INGREDIENTS
5 cups of Bob's Red Mill 1 to 1 gluten-free baking flour
2 teaspoons of baking soda
1 tablespoon of baking powder
½ teaspoon of Kosher salt
1/3 cup of cocoa powder
1 peeled and seeded avocado
¼ cup of coconut oil
1 cup of maple syrup
4 eggs
1/3 cup of melted semi-sweet chocolate
3 shredded zucchini
½ cup of chopped walnuts
1 cup of semi-sweet chocolate chips + more for garnish
INSTRUCTIONS
Preheat the oven to 350°.
In a large bowl mix together the flour, baking soda, baking powder, salt and cocoa powder until combined and set aside.
In a separate large bowl mash the avocado and coconut oil using a hand blender on medium speed until it becomes light and fluffy, about 3 to 4 minutes.
Add in the maple syrup, eggs, melted chocolate and zucchini. Mix on medium speed until combined.
Next, add in the bowl of dry ingredients and mix on low speed until completely combined.
Add in the walnuts and 1 cup of chocolate chips and fold together to combine.
Transfer the batter to a 9x5 loaf pan lined with parchment paper and garnish the top with chocolate chips.
Bake in the oven for 50 to 60 minutes or until a toothpick comes out clean after piercing the center.
Cool on a rack completely to room temperature. Slice and serve.