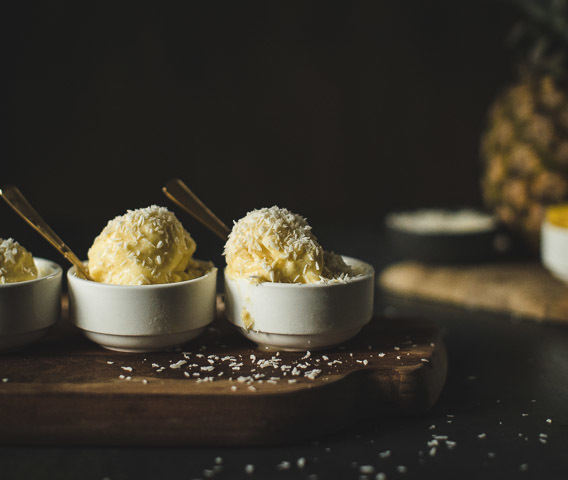 This recipe is a really fun, family-friendly "ice cream". It calls for only two ingredients (and a pinch of salt) and is so delicious. My secret ingredient is sweetened condensed coconut milk, which helps the texture and flavor resemble that of the real deal Dole Whip straight from Disney.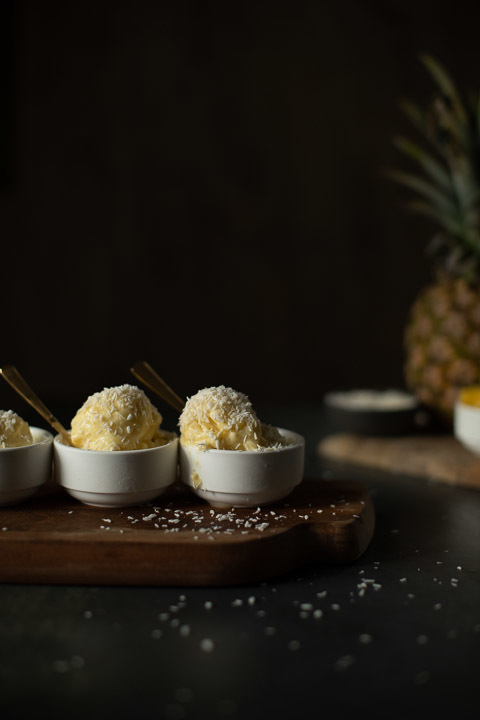 Fortaluxe Accent Ramekins, Set of 12

By Fortessa

Shop Now
I recipe tested 3 times, using two variations of regular coconut milk, and I can say confidently that the texture gets too flakey if you don't use the sweetened condensed variety. Depending on preference, more coconut can be added to increase sweetness, but I found the entire 11 oz can to be just too much.
Pro-Tip: Pour a little dark rum over top and you my friend will have a little piece of adults-only paradise in the comfort of your own home.
OXO Pineapple Corer.
I must admit, I am a bit of an elitist when it comes to kitchen equipment. I don't like to have a ton of random, highly specific "do-ers" when a good old chef's knife can do the job just fine. But when it came to pineapple, I always botched the job. I would cut too much flesh off with the skin to avoid the little "eyes", or not enough flesh and keep too much skin.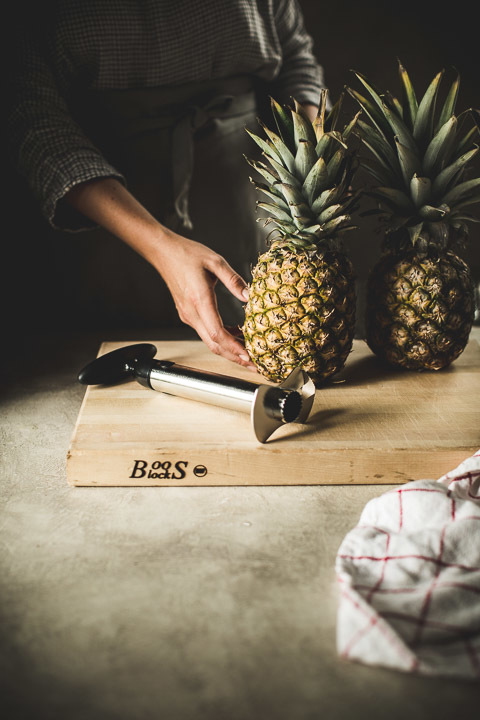 I would inevitably cut some of the fibrous core into the pieces, which is never fun to eat. Pineapple chunks would go flying. I'd always almost cut my fingers as the pineapple slid under hand. It was always a straight up mess.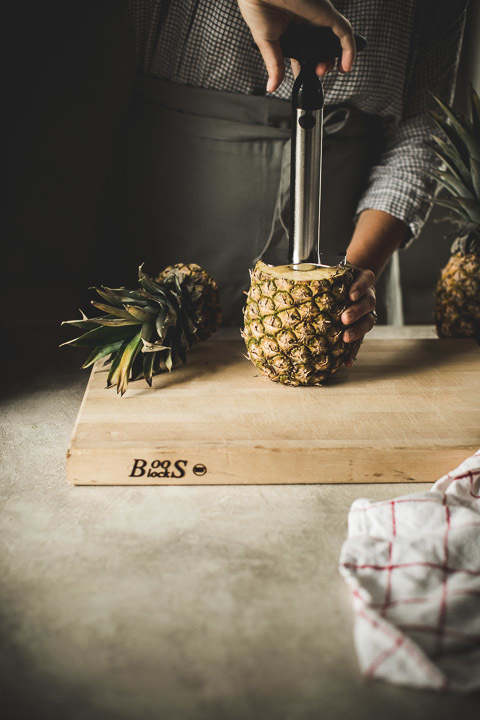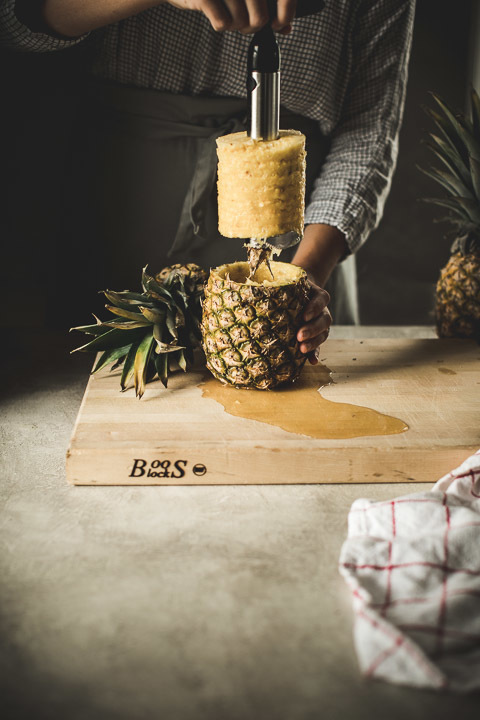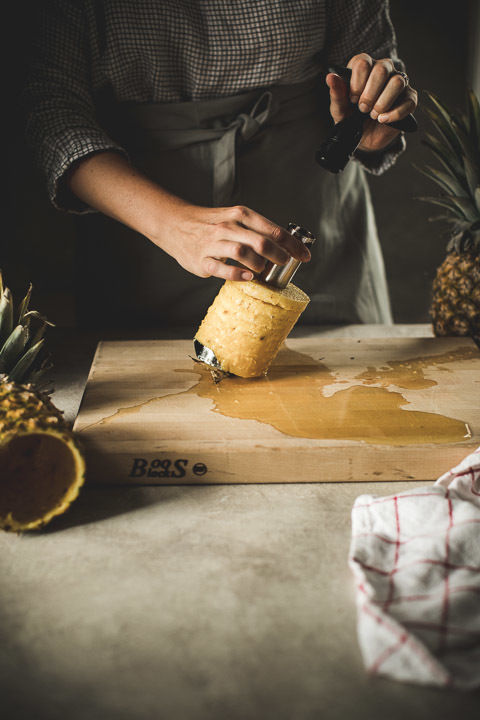 Enter OXO Pineapple Cutter. Literally a dream. It's so easy to use and makes clean up really easy. I'm kind of mad I didn't get one sooner, but super excited that I have this handy gadget for the future. My oldest daughter LOVES pineapple, so it will definitely get plenty of use.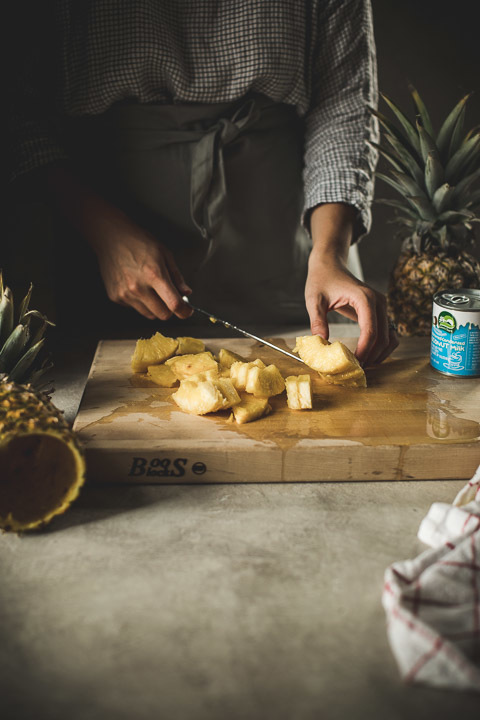 Good Grips Pineapple Slicer

By OXO

Shop Now
Yonanas
A few notes on the Yonanas machine before you get started! As I've indicated in the recipe, the frozen fruit needs to soften a little out of the freezer before you can successfully use the machine. It takes a little while to get through the whole bag of pineapple and condensed coconut milk, which needs to be chopped to fit the feed, so I find the whole thing kind of melts unevenly by the time you've finished. Best to re-bag the mixture and freeze it again before serving.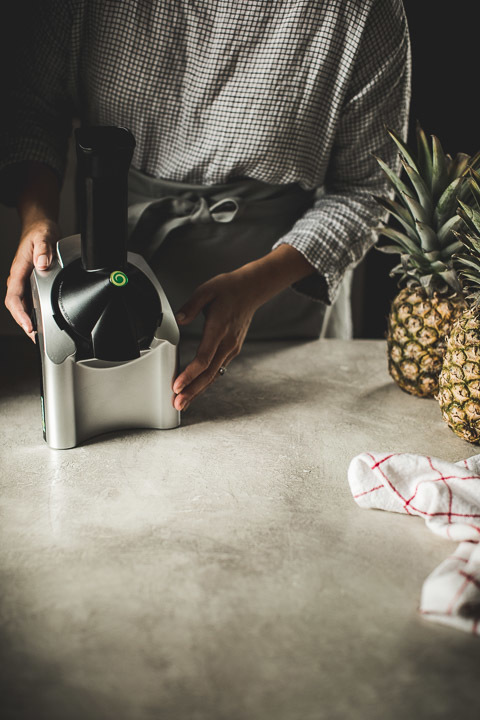 Classic Dessert Maker

By Yonanas

Shop Now
This machine is awesome for creating single-ingredient frozen fruit ice-cream, which makes it great for families with allergies because you don't have to worry about what kind of milk will work. In the recipe below, coconut milk is a crucial ingredient for the Dole Whip copycat, but it can definitely be omitted for a yummy sorbet-like dessert. I love that this machine provides a perfect excuse to save over-ripe fruit. It helps with food waste and it's something fun to use the leftovers for other than smoothies.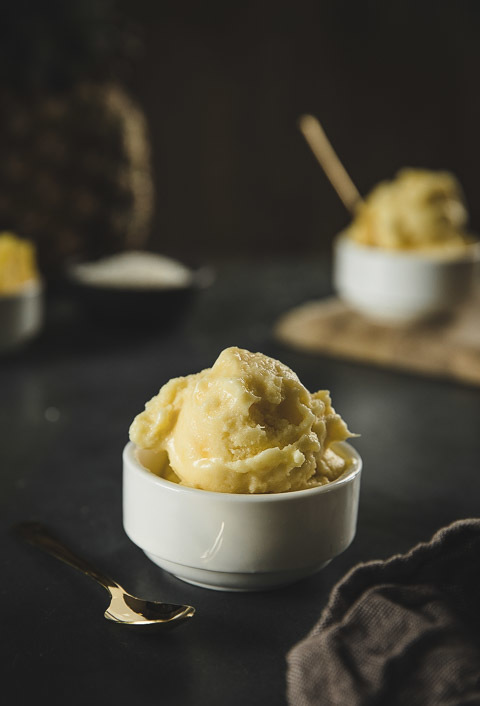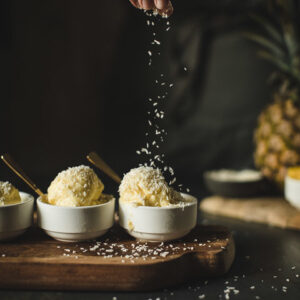 INGREDIENTS
2-3 large pineapples (or 2 lbs frozen pineapple chunks)
6 oz. sweetened condensed coconut milk
Pinch of salt
Garnish Option: coconut flakes
INSTRUCTIONS
Slice the tops of each pineapple off then, using the OXO pineapple slicer, remove the fruit from the skin and core. Chop into chunks and place into a gallon freezer bag.
Pour sweetened condensed milk over top add a pinch of salt. Seal the bag tightly and place in the freezer overnight. If you are using pre-frozen pineapple you can skip this step and use room temperature sweetened condensed milk in the next steps.
Remove mixture from the freezer and let it sit out about 10 minutes to soften up just a little. Chop frozen pineapple mixture into small chunks and feed into the Yonanas machine until you've used the entire bag (alternative option: pour the mixture in two parts into a high-speed blender and mix until smooth. This may take a few times of scraping the sides and pushing the mixture down into the blades).
Place the mixture back into the bag, and freeze again for another 10 minutes. Remove from freezer and cut a ½" off of the bottom corner of the gallon bag and pipe into cups. Enjoy!