Chocolate Coconut Chia Pudding Pops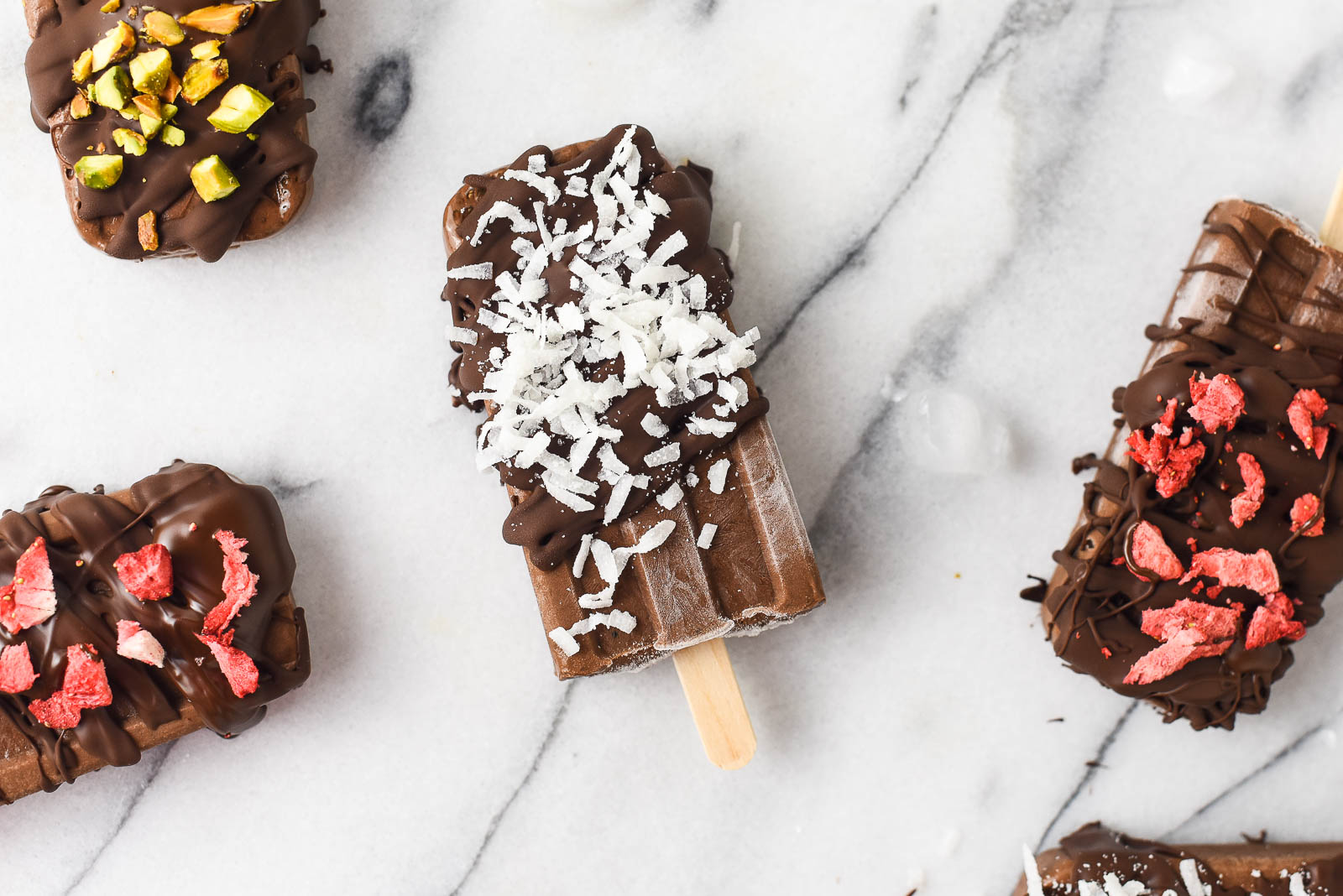 Pudding Pops were one of my favorite frozen treats when I was a kid. As a certified chocoholic, when the other kids were reaching for Dreamsicles and Bomb Pops, I was clamoring for a creamy, fudgey, Pudding Pop. It was a sad day when they were discontinued.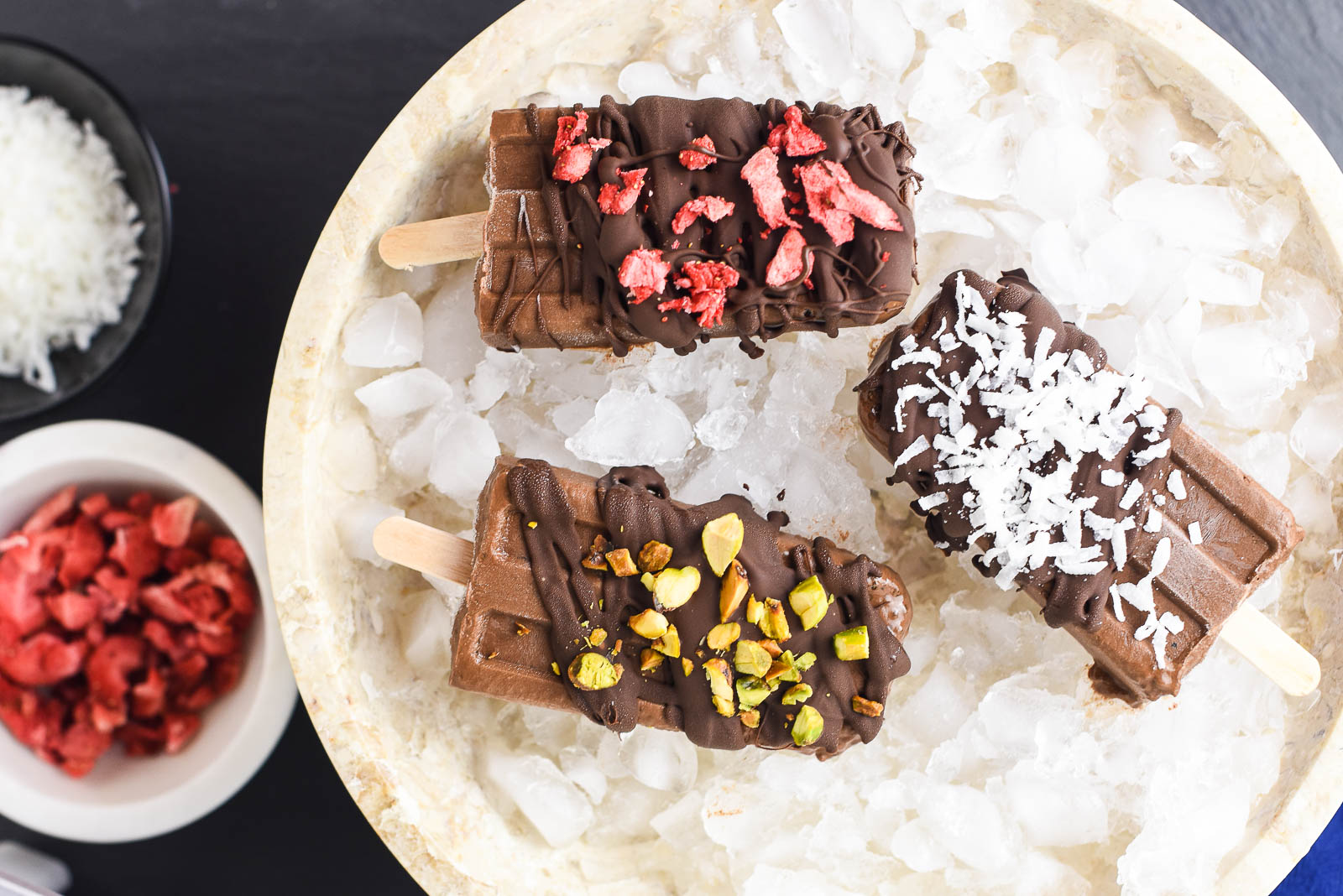 These days, I love making my own version to share with the kids as a nostalgic (and secretly nutritious) treat. My super rich homemade Chocolate Coconut Chia Pudding Pops are just as amazing as my beloved childhood treat but made with homemade chocolate coconut chia seed pudding for a superfood twist.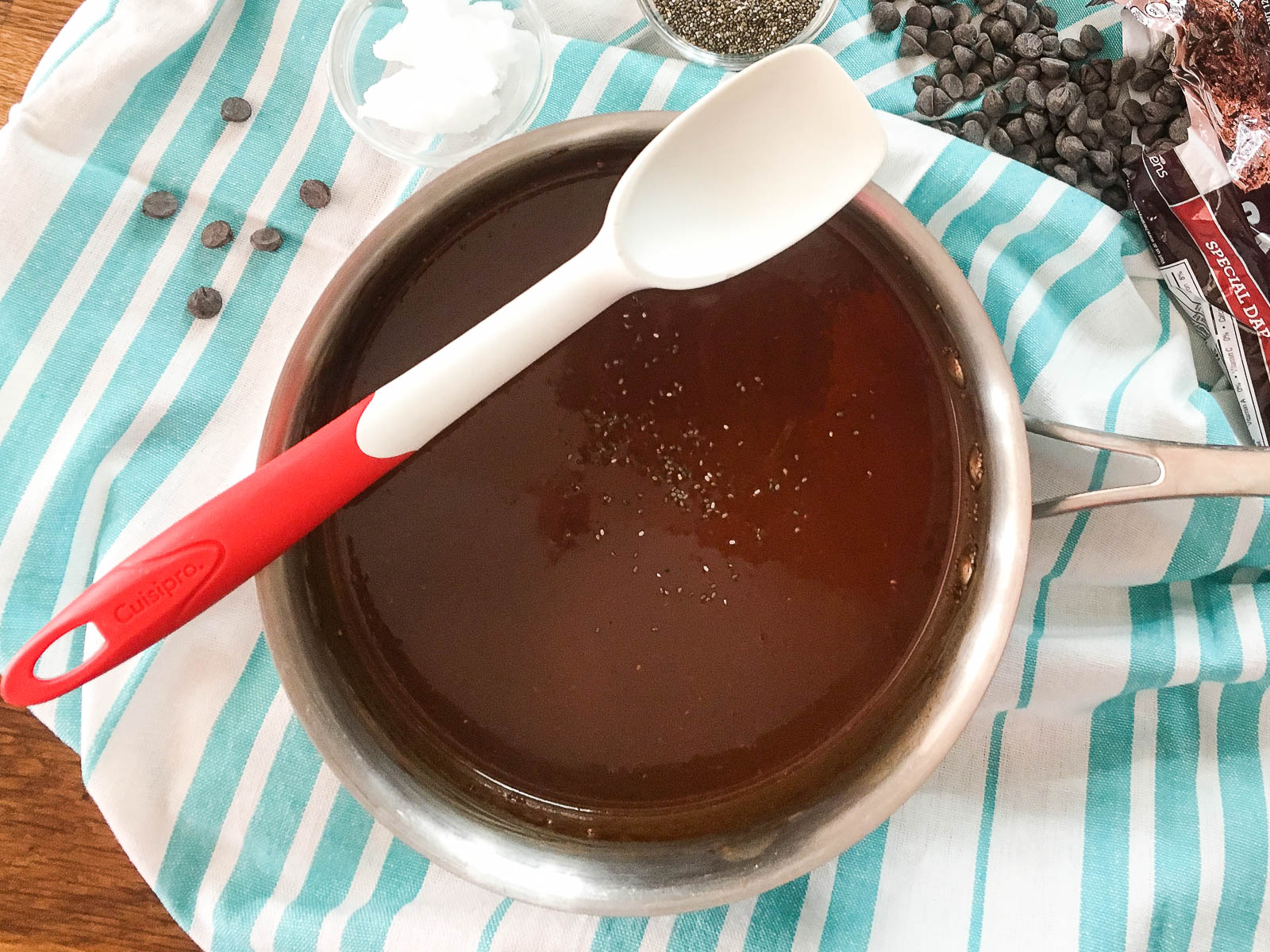 The base for this amazing dessert is a rich, delicious chocolate coconut pudding. Simply combine dark chocolate chips and cocoa powder with unsweetened coconut milk, honey and a dab of coconut oil in a saucepan over low heat. Stir until the mixture is melted and smooth, then add your chia seeds and vanilla. Set the mixture in the fridge for a few hours and when you come back those chia seeds will have thickened it to a perfect, rich pudding consistency.
In addition to their magical thickening properties, chia seeds are also a rich source of fiber, omega-3 fats, protein and vitamins. Combine them with dark chocolate, which is known for its antioxidant properties, and you've got a decadent treat thats deliciously good for you!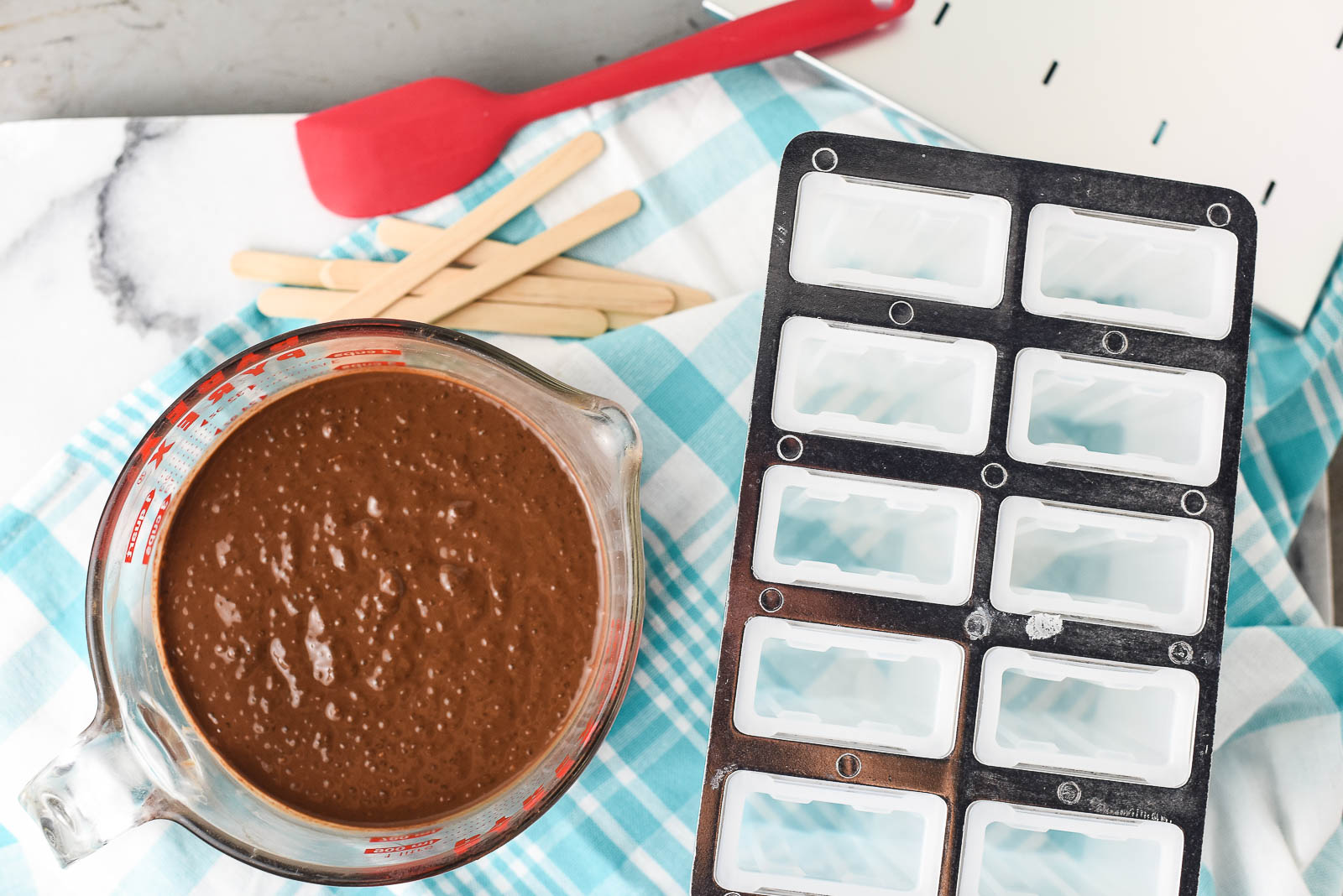 Quite frankly, you could stop right here and have an amazingly delicious pudding dessert but we're going to take it a few steps further by freezing it into molds.
You could eat them as soon as they're frozen of course — they're rich and creamy and delicious as-is. But to make them even more rich and decadent, I drizzle them with homemade chocolate shell—this magical combination of rich dark chocolate and coconut oil freezes solid moments after hitting the popsicles— leaving just enough time to sprinkle on a few crunchy yummy toppings for even more delicious, nutritious fun.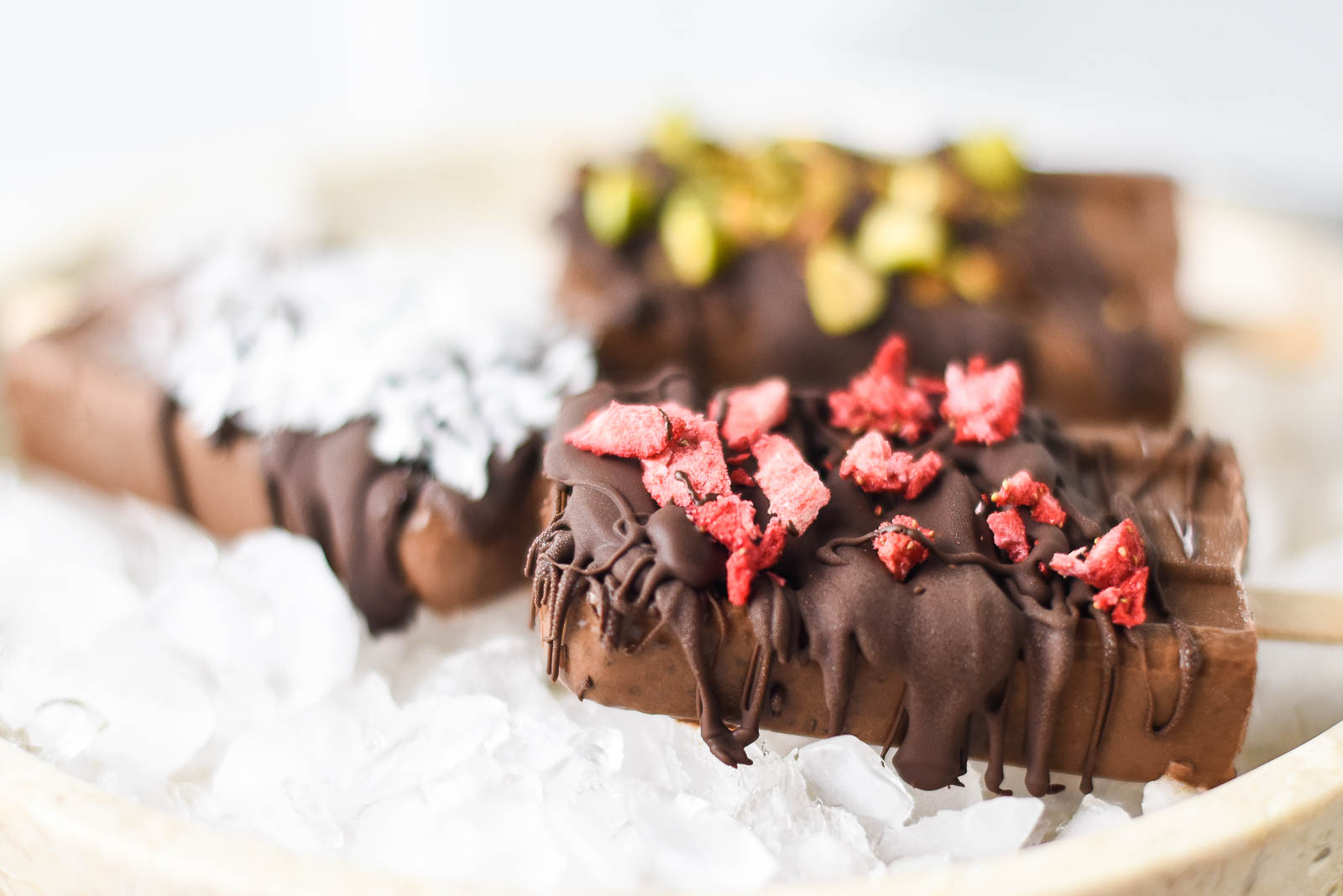 My favorite topping is chopped pistachios, which add a salty, nutty crunch, but my daughter is more of a purist —- coconut and chocolate all the way. No matter how you eat them this is one cool treat thats sure to bring back some warm memories.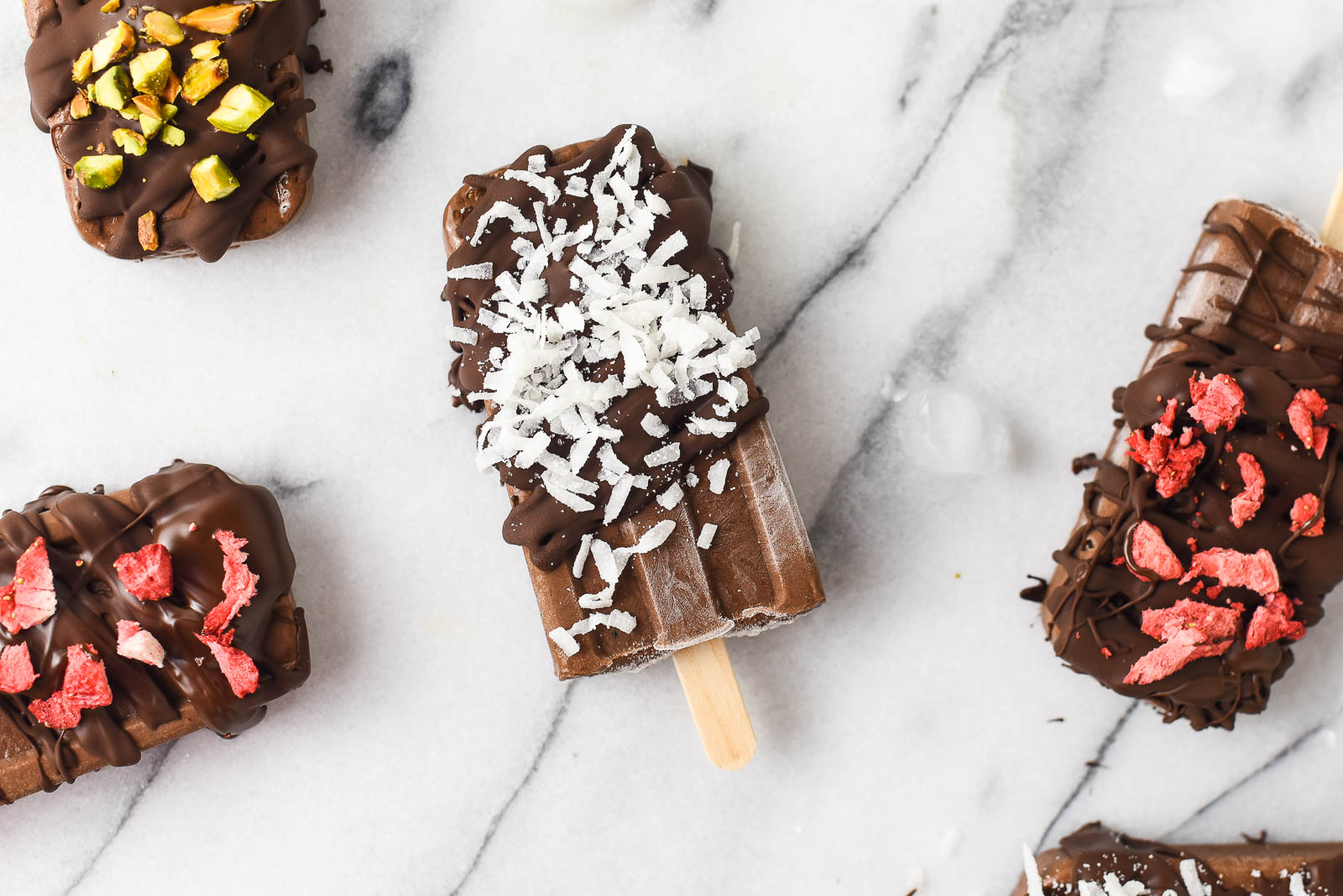 Chocolate Coconut Chia Seed Pudding Pops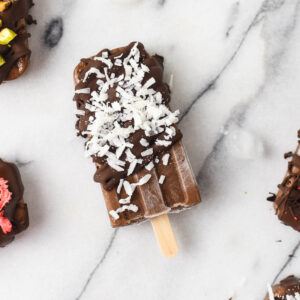 INGREDIENTS
2 ½ cup unsweetened coconut milk
4 oz. dark chocolate chips
6 Tablespoons cocoa powder
4 - 6 Tablespoons honey (adjust to your taste)
1 teaspoon coconut oil
1/8 teaspoon salt
6 Tablespoons chia seeds
1 teaspoon vanilla extract
1 batch chocolate shell dipping chocolate (see recipe below)
Optional toppings: sweetened flaked coconut, chopped salted pistachios. chopped freeze dried berries
INSTRUCTIONS
Combine the coconut milk, chocolate, cocoa, honey, coconut oil and salt in a medium saucepan set over low heat. Cook, whisking constantly, until the chocolate melt and the mixture is smooth, about 6 minutes.
Remove saucepan from heat and add chia seeds and vanilla extract. Allow mixture to cool to room temperature, about 1 hour, then transfer to the refrigerator and chill completely, allowing the mixture to reach a pudding consistency — 1 to 2 hours more.
Carefully pour pudding into 8 popsicle molds, add sticks and place in freeze for at least 8 hours or overnight.
To remove pops, run the bottom of each mold briefly under hot water before sliding out the pop.
Immediately drizzle or dip each pop in the chocolate shell mixture and sprinkle with optional toppings as desired. Enjoy immediately.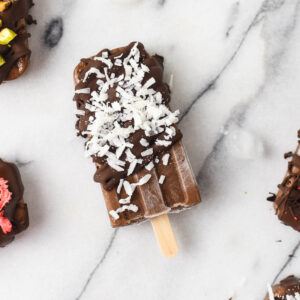 INGREDIENTS
3/4 cup dark chocolate chips
1 Tablespoon coconut oil
INSTRUCTIONS
Combine chocolate chips and coconut oil in a double boiler over simmering water on low heat on the stovetop. Stir mixture continuously until the chocolate is melted and coconut oil is fully combined and smooth.
Remove from heat and allow the mixture to cool briefly before dipping or drizzling over cold desserts such as Chocolate Coconut Chia Seed Pudding Pops.