Boo on the Block: A Neighborhood Halloween Party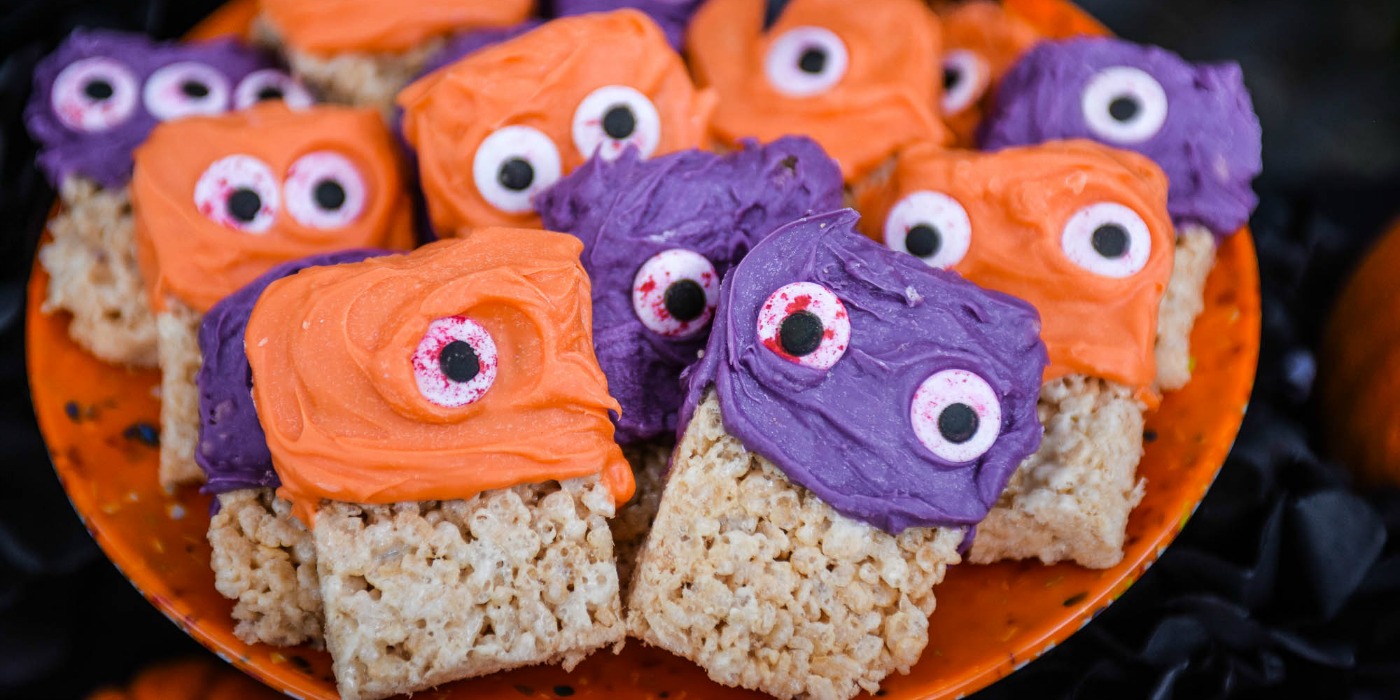 Halloween is on a Saturday this year, which means the fun can start early. Why not round up your neighbors for a Pre-Trick-or-Treat Block Party? After all, you'll be ringing one another's doorbells in a few hours anyway. This is a great excuse to get together for some fun one last time before the winter chill drives everyone indoors.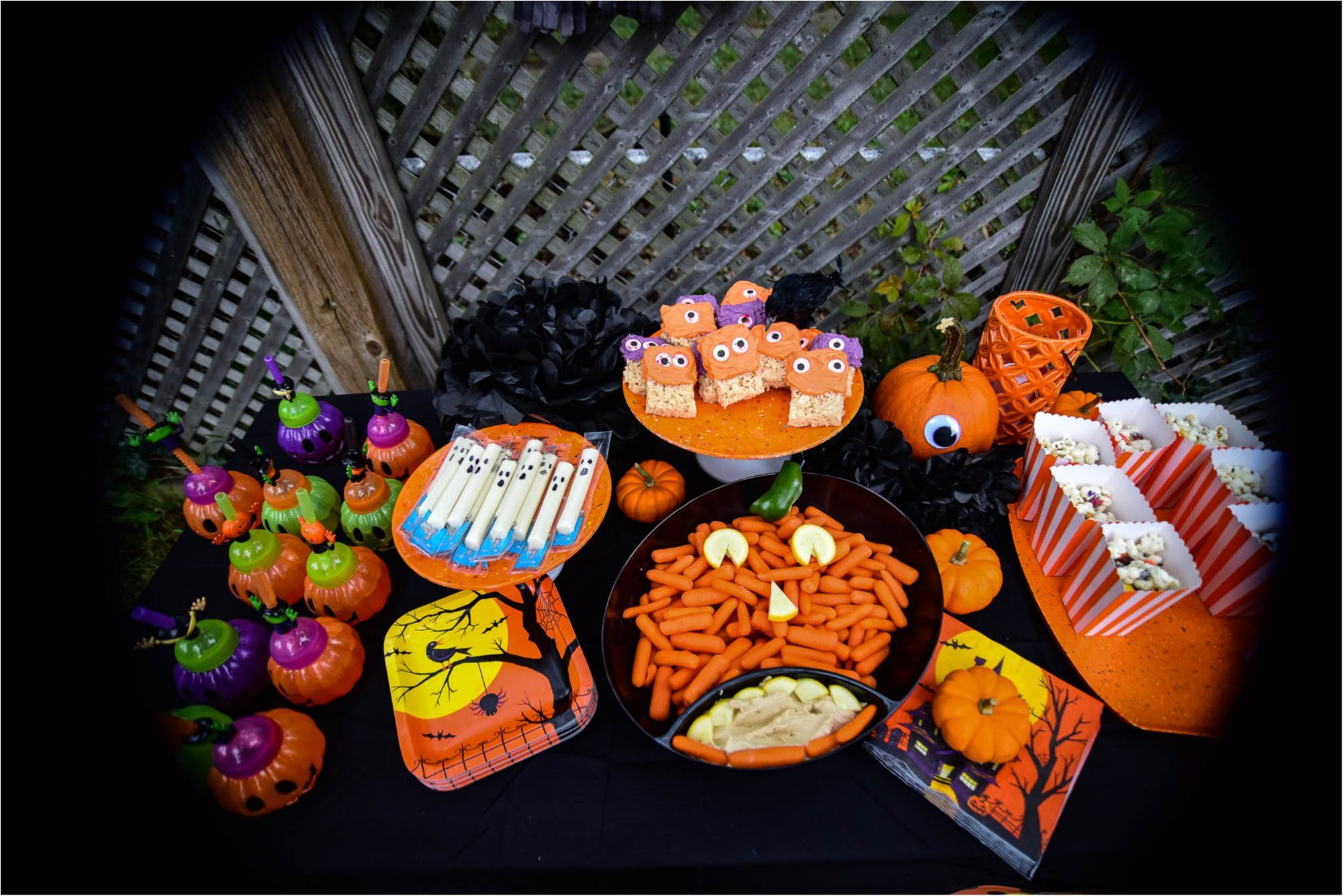 Use your imagination and get as wild as you want in terms of spooky décor—but make sure you keep things appropriate for your guests. Most of the families on our block have very young children, so we kept things festive without getting too frightening. To set a friendly Fall-ish mood, my daughter and I transformed a pile of pumpkins using glue dots and craft store wiggle eyes.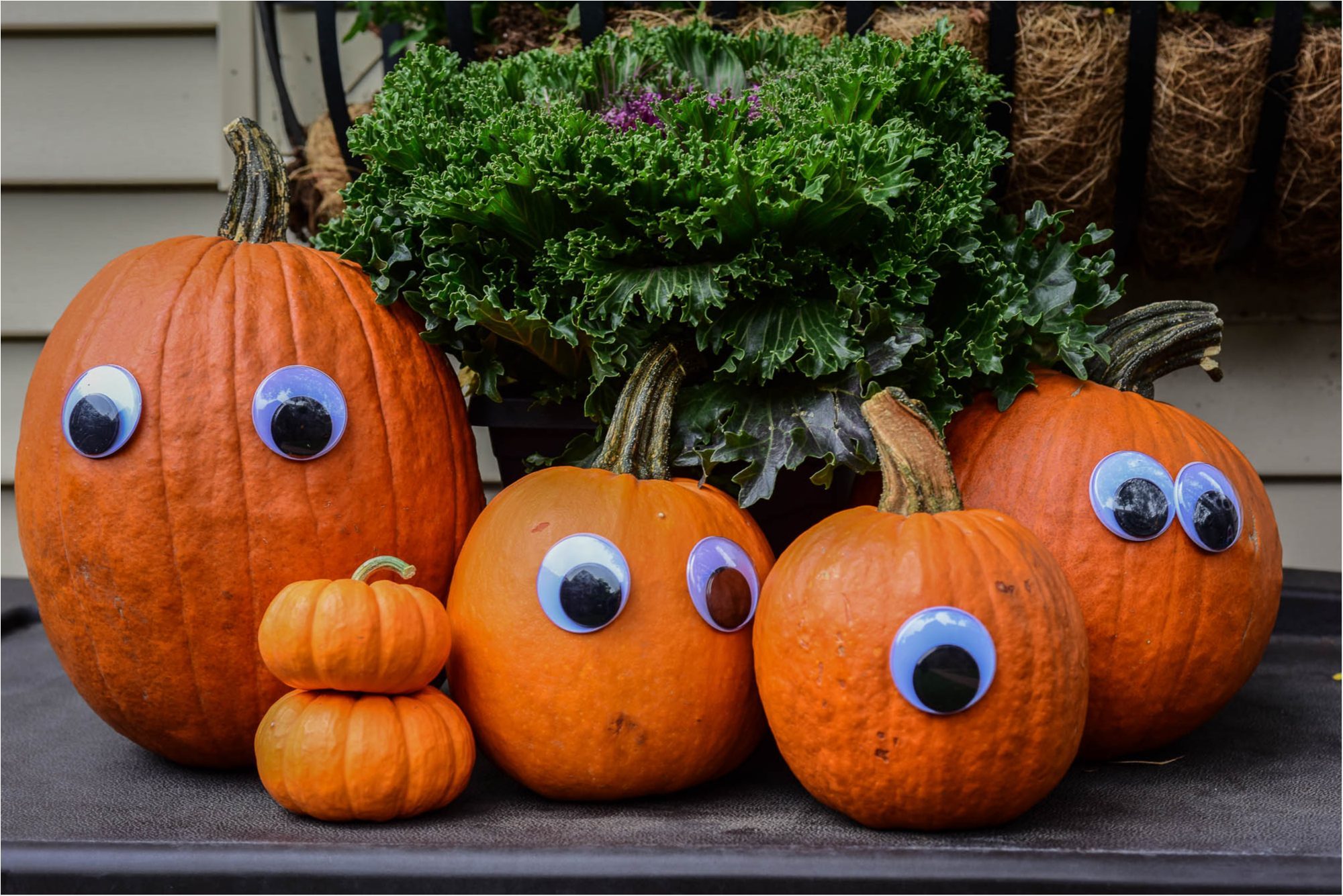 At the treat table, black tassel garlands and tissue paper pompoms from Dress My Cupcake mingled with orange paper lanterns and bunting for a festive and fun Halloween look. Colorful, themed drink cups, plates and paper partyware added a whimsical touch.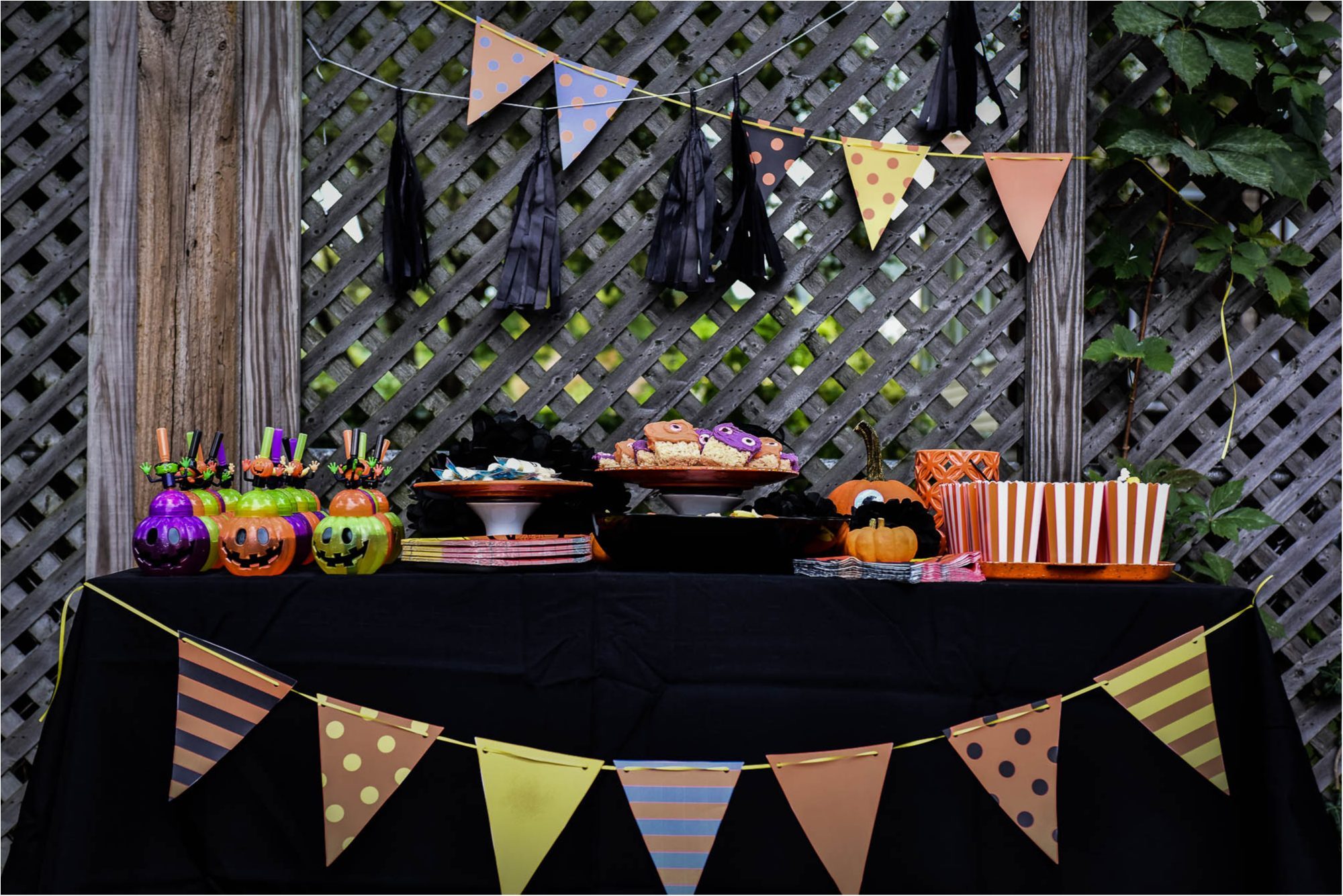 We offered a variety of wholesome and sweet treats, hot and cold apple cider and a few beverages for the adults. All of the treats were easy to make using a mix of store-bought and homemade items.

Everyone loved the Monster Marshmallow Crispy Treats — crispy rice cereal squares got a major transformation festooned with Wilton Candy Melts and Candy Eyeballs (scroll down for the easy recipe).
The veggie platter featured baby carrots, yellow squash and hummus. The plate made an awesome centerpiece, arranged to look like a jack-o-lantern in a round black chip-and-dip dish provided by ZAK! Designs.
String cheese sticks transformed into ghoulish ghosts with spooky faces drawn with a black marker.
Monster Munch popcorn mix looked adorable in orange striped boxes supplied by Dress My Cupcake.
The kids loved sipping cider from the cute Pumpkin People Straw Bottles, provided by Cool Gear. They made an adorable take home gift to boot.

Of course, the best part of any Halloween party is the costumes. To encourage everyone to pose for the camera, we set up a fun photo backdrop using an old gray bed sheet and pinned on a spooky moon, stars and some bats cut from felt. Kids and adults alike enjoyed getting hammy for the camera.
And of course, the kids looked adorable in their costumes: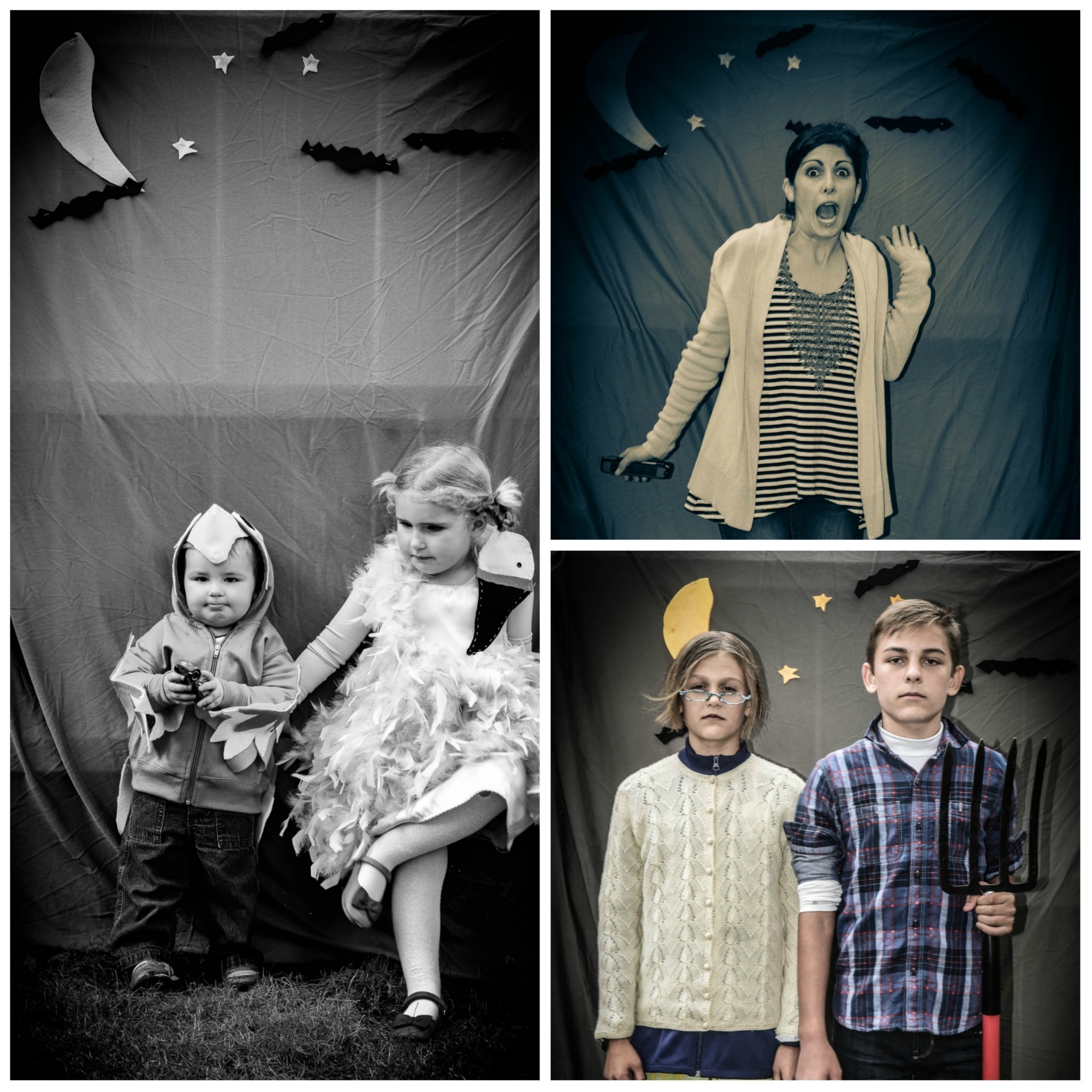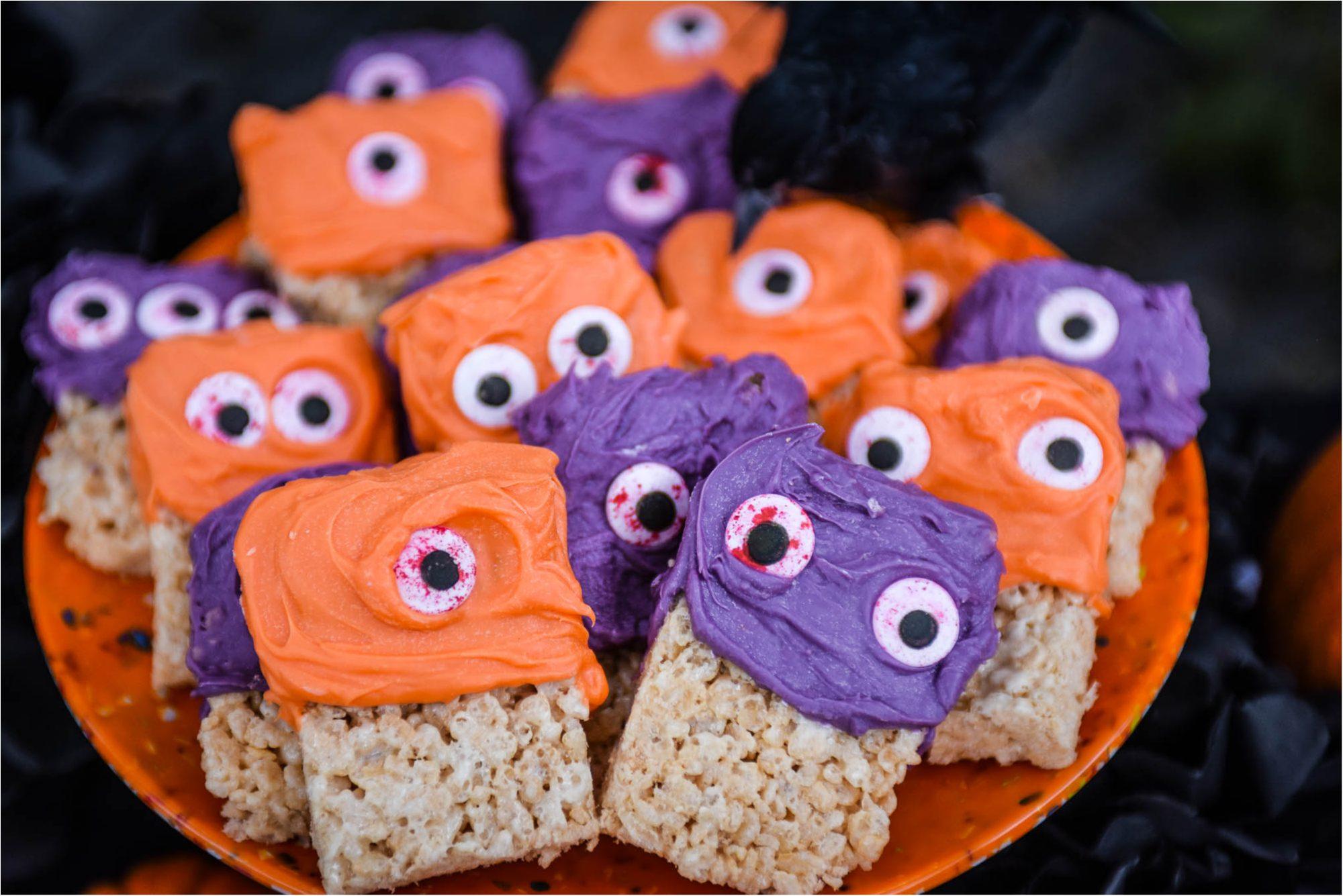 Monster Marshmallow Crispy Treats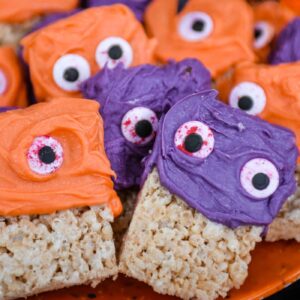 INGREDIENTS
3 tablespoons butter
4 cups mini marshmallows
6 cups crispy rice cereal
1 bag orange Wilton candy melts (or your color of choice)
1 bag purple Wilton candy melts (or your color of choice)
1 package Wilton candy eyes
INSTRUCTIONS
Melt butter and marshmallows in large pot over low heat until mixture is smooth, according to crispy rice cereal package directions. Remove from heat,
Stir in crispy rice cereal.
Spread mixture into a 13" x 9" baking pan coated with cooking spray and use a piece of wax paper to press mixture evenly into pan.
Allow to cool completely before cutting into 16 squares
Meanwhile, melt one color of Wilton candy melts in microwave or on stovetop according to package directions.
Use a spoon to coat top 2/3 of each crispy treat square with melted candy then place treat on a piece of waxed paper. Decorate with candy eyes and allow to dry. Repeat with 7 additional crispy treat squares.
Melt second color of Wilton candy melts and repeat decorating process with remaining 8 treat squares.
When completely cooled, store treats in an airtight container. Treats will keep for about 24 hours.