The Art of Spanish Entertaining: Creating an Authentic Tapas Experience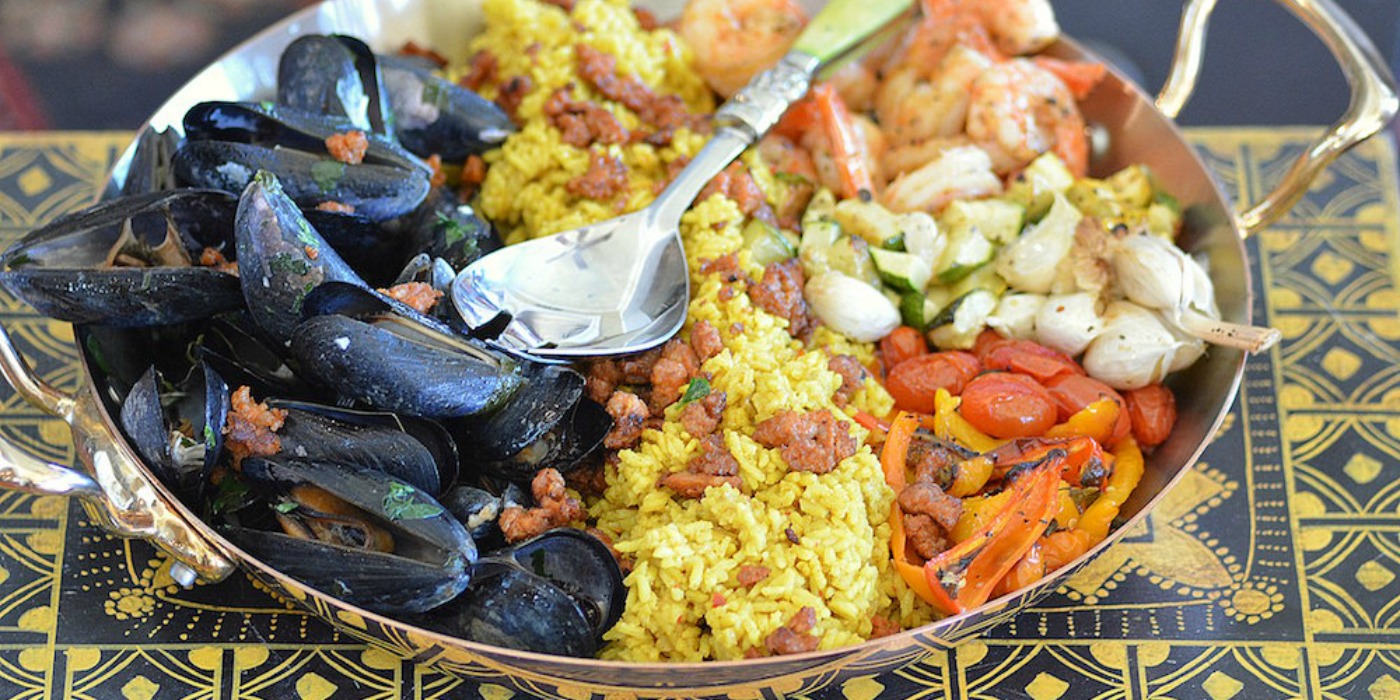 The Games of the XXV Olympiad were in Barcelona, Spain during the summer of 1992. Yes, I was there at the opening ceremonies and for a jam-packed almost ten days, I experienced exhilarating competitions and food! Probably the two things that are seared in my memory from those days are the 1992 Basketball Dream Team who won the Gold Medal and the array of Spanish foods and eating—in particular, the tapas that were popular at establishments and with our groups' dining and merriment!
Since coming back from Spain, I've embraced on my own table and in my entertaining and dining the concept of tapas. There's history in food, in fact, it would be a sell-out history class if history was taught using food. The legends of the origins of tapas go back to King Alfonso XIII or King Fernando XVII while some say King Fernando VII.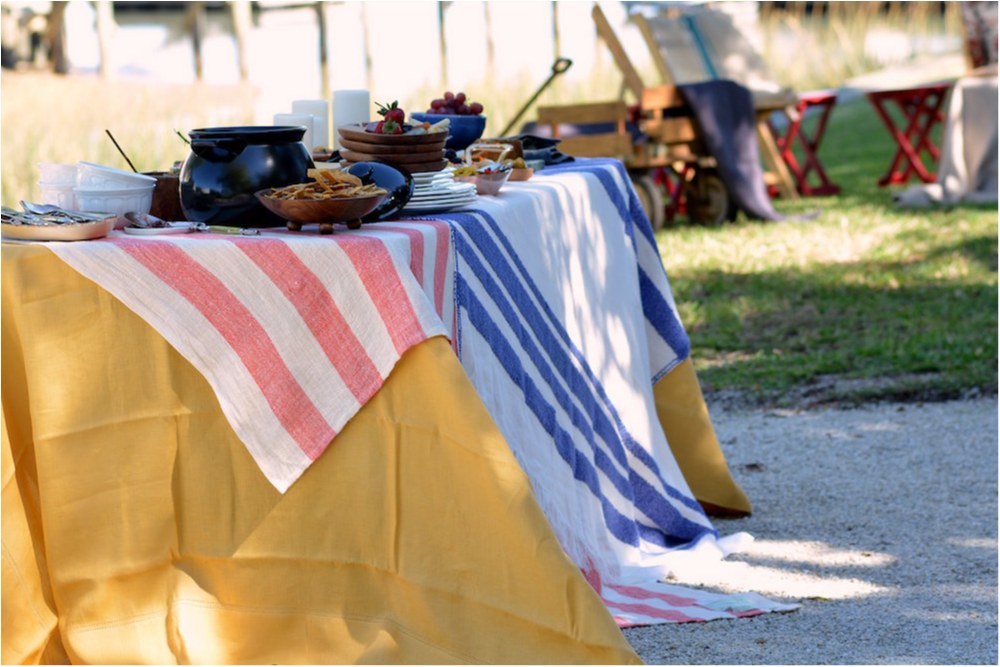 Regardless of which king, the basic story is the same. After a long, arduous voyage along one of the longest routes in Andalusia, the king and his court landed and went to a restaurant. When the king was served a glass of wine, a slice of cheese, bread, or meat was put over the top of the glass. This 'tapadera' protected the wine from flies, bugs or dust. After that, the King always asked for a 'tapas' when he ordered wine.
Tapas are small plates of food. When in Spain, some bars give them to patrons who order wine or drinks and there is no charge. They are simply small items for nibbling and enjoying the beverages. They are not too heavy nor too much. Many times tapas are finger foods that create casual eating moments with friends, savoring the array of flavors, and appreciating unique ingredients and textures. Today, tapas are trendy; synonymous with a style of eating out. Similar to a sushi bar, folks seek out 'tapas bars'! In the U.S. many tapas restaurants have sprung up.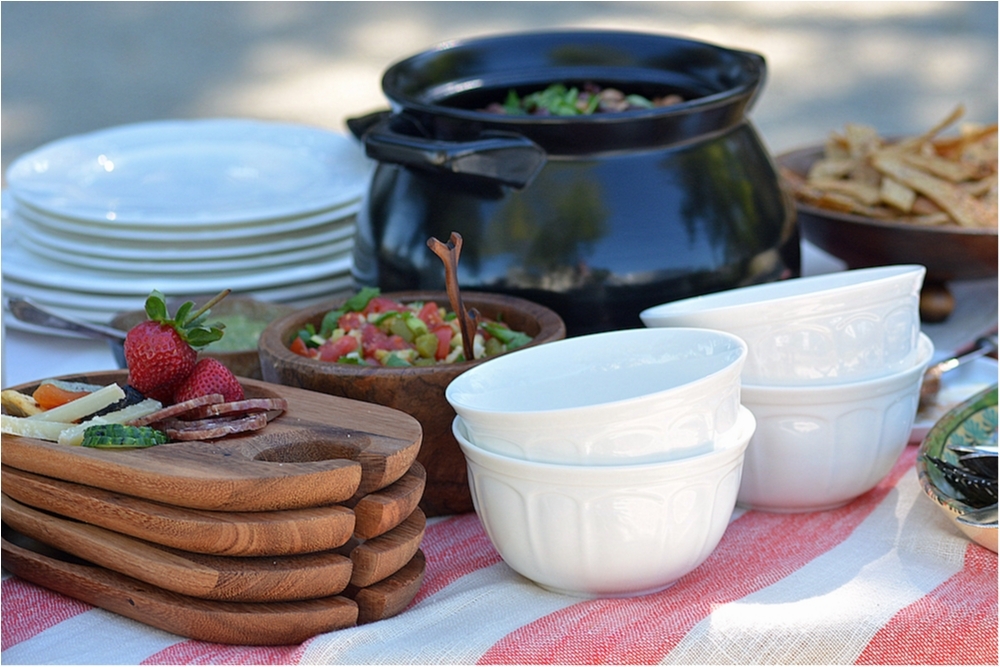 Spanish establishments rarely serve tapas without alcohol and most are at bars. That's why in Spain there are no "tapas restaurants" only tapas bars. Creating your own tapas experience in your home isn't difficult at all. It's an easy, carefree kind of engagement that's meant to be eclectic, whimsical and fun. There's no need to worry or fret about "Am I doing it right?" or "What's the etiquette?" for this party. You simply follow some basic guidelines, and you'll have a magical evening!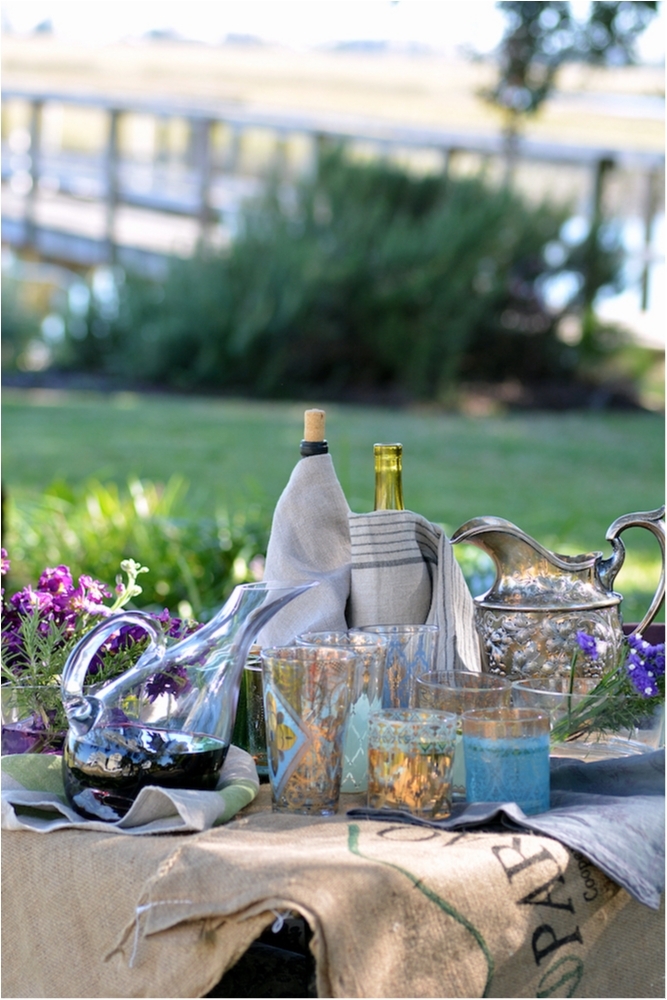 Yes, there are categories of tapas as explained in Joyce Goldstein's cookbook, Tapas: Sensational Small Plates from Spain. So when you're planning, have some of each on your table. The "Cosas de picar" are things you nibble, like finger foods; grab an olive or deviled egg! The second type of tapas is the "pincho" or one that means you need a utensil, even if it's a toothpick. It may be battered and fried fish bites or a skewer of grilled chicken. The last kind of tapas requires a small plate or dish and a utensil. Yes, the sauce type, and it's called a "cazuela" (little dish). So, if you've got some meatballs in sauce, have those small plates or maybe a small serving of pasta with creamy sauce.
The important thing is to gather up your friends and be in a merriment mood for libations and eating. With the "tapeo," the art of eating tapas, you want lively conversation, relaxation, laughter and nothing really prim and proper. You want laughter, chatter, gaiety and fun. Isn't that the kind of entertaining we want to do? It's something memorable and charming that friends will talk about around the water cooler for days following the soiree!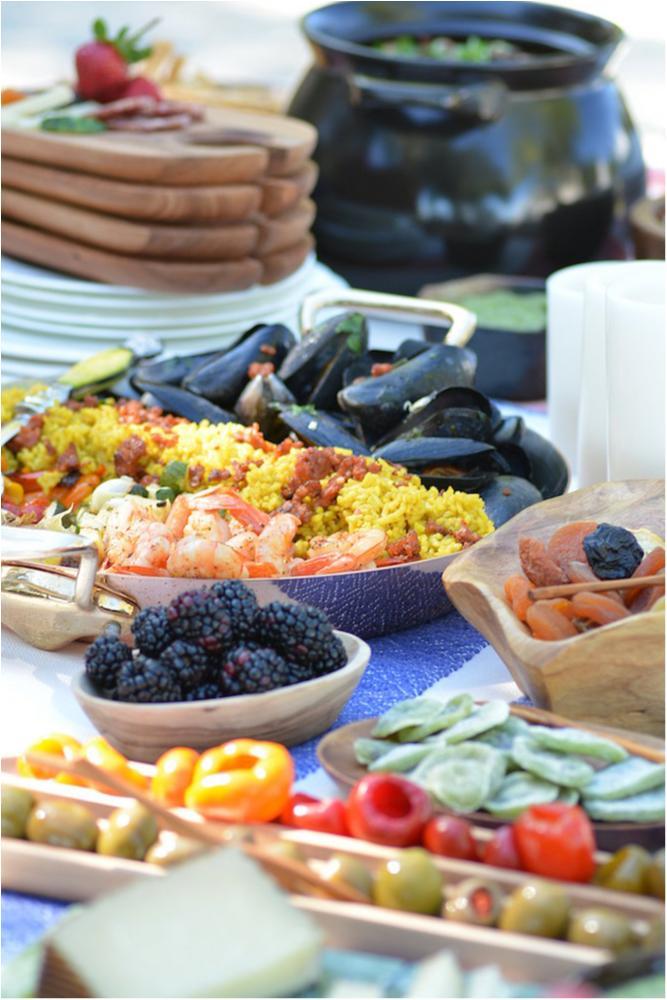 Now how do you pull off this tapas gathering? Just some basics to get you going. And remember, always add your own special signature touches!
Embrace the Spanish attitude about tapas—it's not so much the food, however, that's the glue that holds together this Spanish way of eating! Spin and create your Spanish tapas party with your creative spirit using some of these basic ideas!
I love combining rustic wood with delicate china. The striking olive canoes, round cheese and cracker board and cocktail wood plates from Ironwood Gourmet all have distinct and unique graining. Marble cheese plates with a built-in slicer makes it easy for friends to decide just how thick they want their cheese! For scoops of beans and small plates of goodliness, I'm using the Tabletops Unlimited fine bone china in the Astoria pattern. Offering up options to guests with different serving pieces allows ones' culinary personalities to emerge.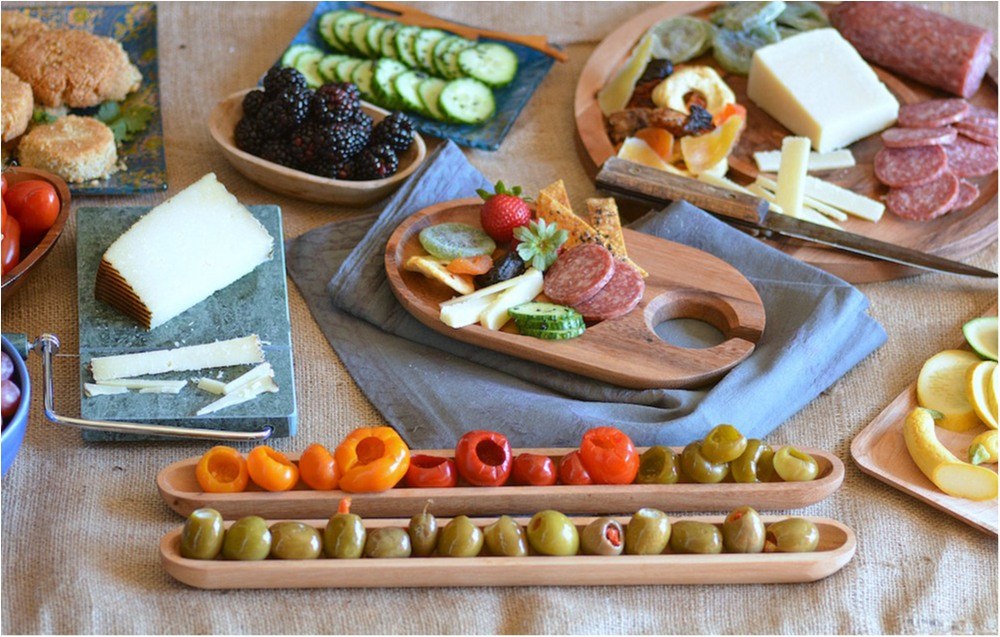 Yes, one large table for the showcase treats, but other tables with several serving pieces are filled with nibbles and bits!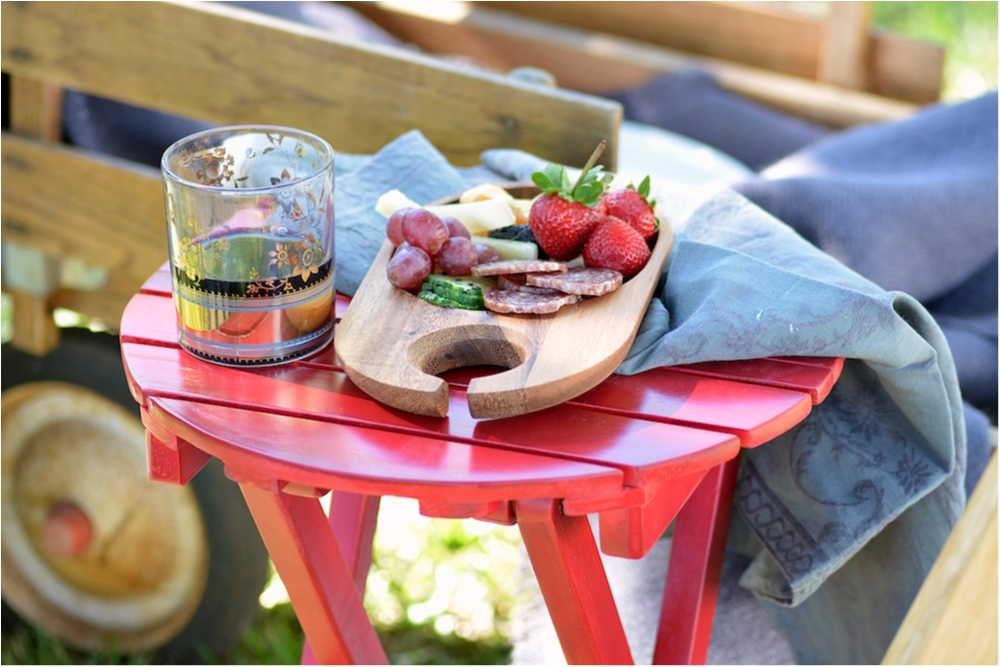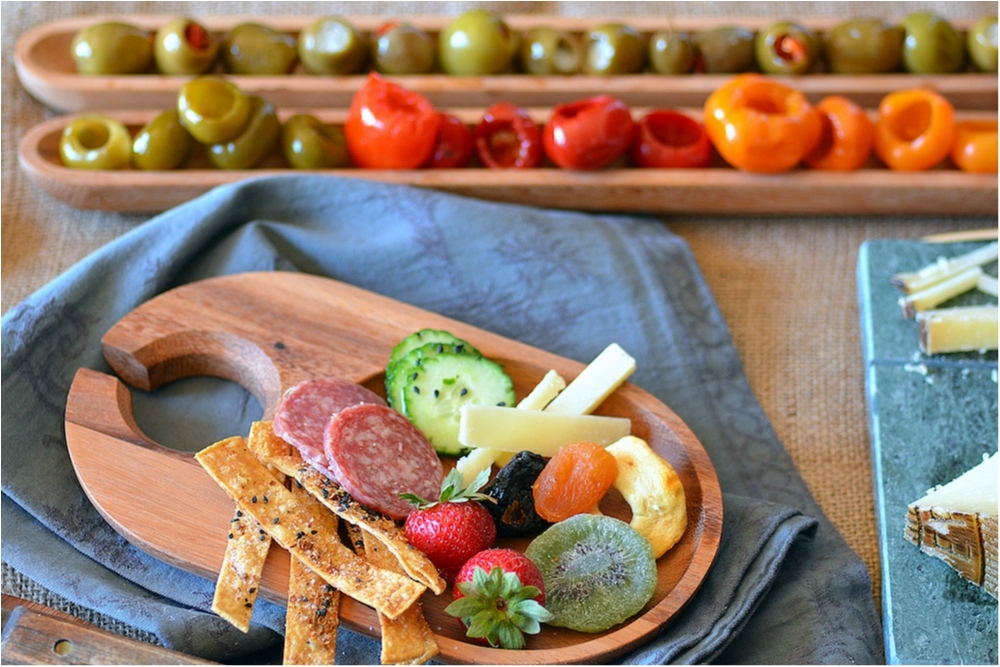 Have various hot and cold dishes. Serve fresh and dried fruit. A selection of cheeses, vibrant olives, sauces, and dips will not only satisfy your guests' palate but will capture their eyes with beauty. Small portions of meats, breads, crackers, nuts, fish, vegetables, and eggs will add to the festivity! Virtually anything that you can transform into small bites will add to the "tapas experience." Don't be overwhelmed; many foods can be found at the market ready for you to plate. Other homemade dishes don't have to be time consuming either, for example, my paella is the showiest yet easiest tapas dish ever. And, if you're serving a bean soup, then you want to showcase with a cool pot like this one from IMUSA. The pot will keep the beans warm and is a gorgeous piece on your table.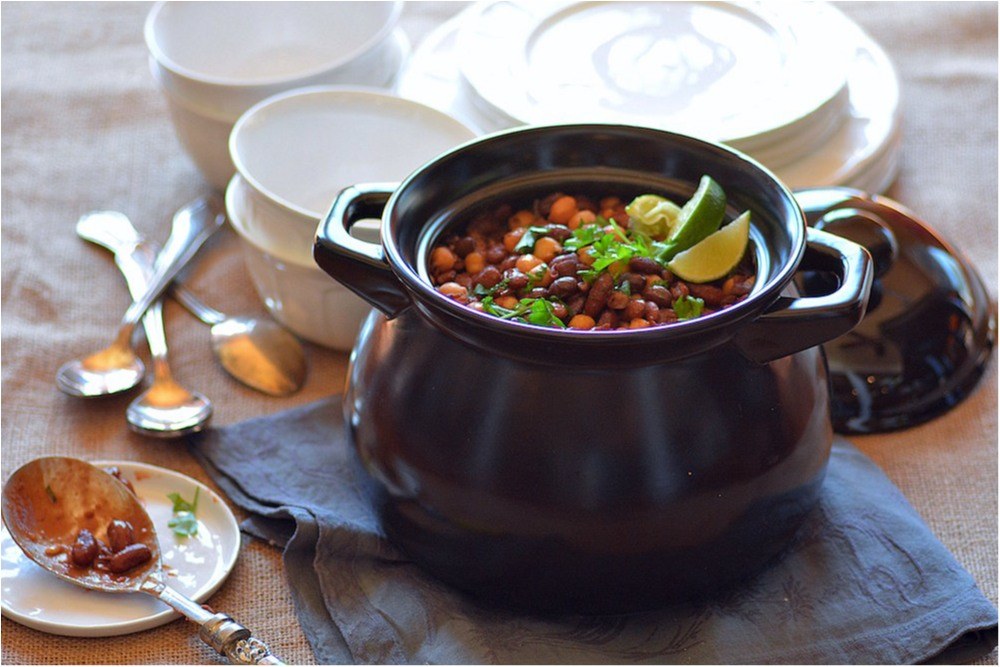 Nothing is more communal and endearing when friends and family gather, than being able to spoon out a small helping onto a small dish and enjoy the nibble. For that, we're going to have as our table's centerpiece this stunning and beautiful copper paella pan from Mauviel. With paella, the basic foundational ingredient is rice and spices and from there you can add vegetables, seafood and/or both. And, who says you can't showcase that paella differently than what you'd expect—that's the whimsy of a Spanish Tapas party—traditional dishes with contemporary twists on presentation.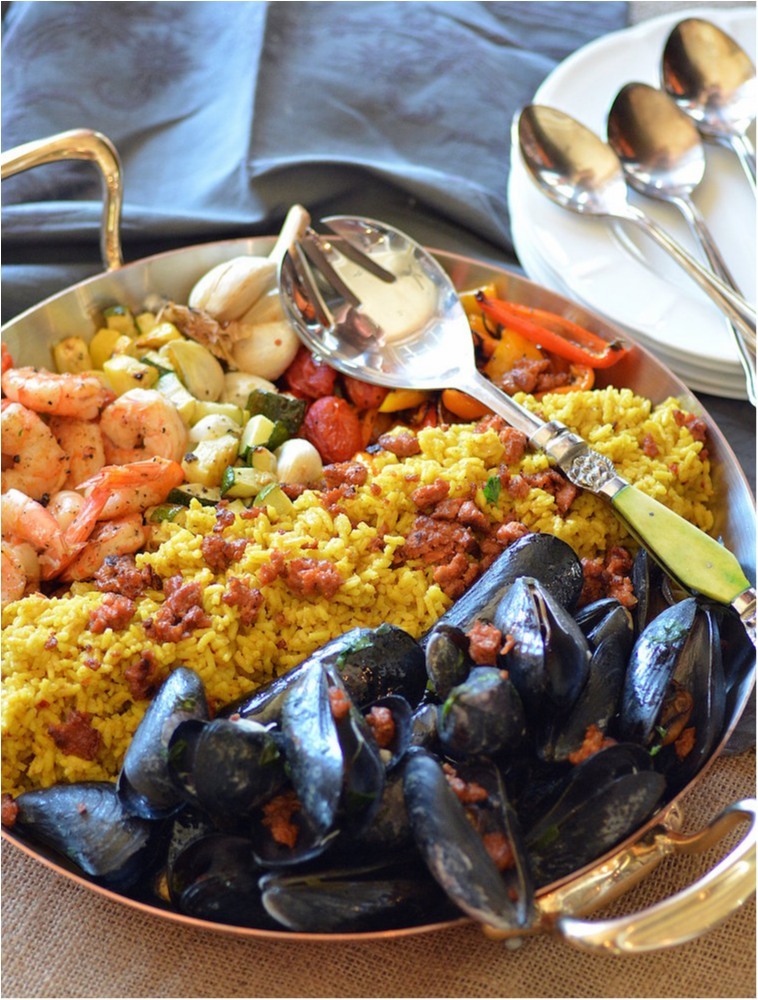 And, there's nothing better than infusing water with the refreshing taste of cucumbers then have red wine breathing and white wine chilled and ready to pour. The Patina Vie glassware from Zrike Brands is reminiscent of old Spain with its rich gold etching and beautiful designs and colors. In the rays of the setting sun the shimmering effects of these ethnic glasses add to the festivity of the food and friends.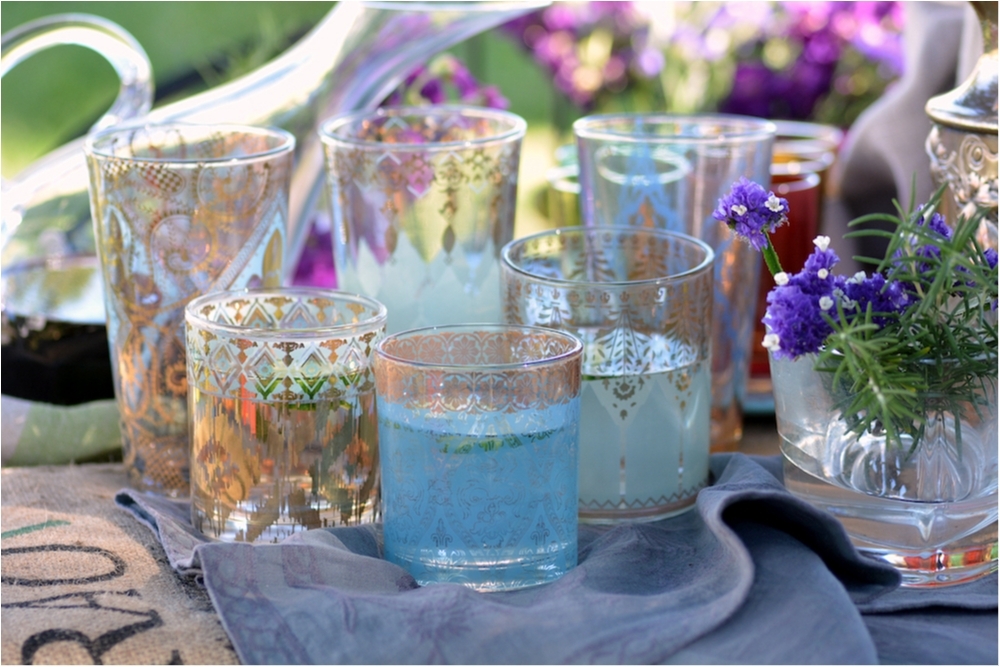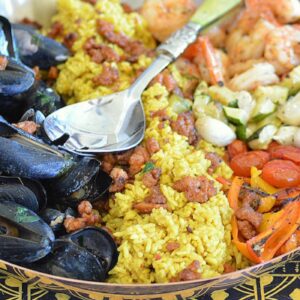 INGREDIENTS
4 cups water
8 Tbl. Butter, salted (divided)
1 ½ tsp. sea salt (divided)
½ tsp. ground turmeric
½ tsp. ground cumin
2 cups uncooked yellow rice
2 cups zucchini, cut into bite size cubes
2 cups yellow squash, cut into bite size cubes
1 garlic bulb, break off a few pieces, peel most of paper from these pieces & the bulb
2 cups mini sweet peppers, cut into strips
1 cup cherry tomatoes
Cooking spray, canola
1 Tbl. Lemon pepper seasoning
1 cup chicken broth
2 cups pinot grigio
1 Tbl. fresh ginger, grated
1 lb. fresh mussels, cleaned, beards removed
1/3 cup flat parsley, chopped
1 (3 ounce) link chorizo, removed from casing and crumbled
1 lb. large shrimp, peeled, deveined, tail-on
½ large lemon, juice
INSTRUCTIONS
Combine the water, 4 tablespoons of butter, turmeric and cumin in a large microwavable bowl. Blend and stir. Add the rice. Cover tightly and microwave on high for 14 minutes. Remove, blend and fluff with a fork, recover with the lid and let the rice steam for about 30 minutes. Stir occasionally. Set aside until ready to put in the paella serving pan.
Combine the zucchini, squash, garlic bulb, peppers, and tomatoes on a parchment paper covered cookie sheet. Coat well with cooking spray then sprinkle with the lemon pepper. Roast in a preheated 400 oven for about 17-20 minutes then remove and set aside until ready to put in the paella serving pan.
Combine chicken broth, wine, ginger and two tablespoons of butter in a large skillet over medium high heat and bring to a boil. Add the mussels. Cover with a lid and bring to a boil cooking until for about 3 minutes. Flip and turn the mussels over and cook another 2-3 minutes. Toss in the parsley. Set aside.
In a medium sized non-stick skillet over medium heat. Add the chorizo and brown and cook about 5-6 minutes breaking it into crumbles. Remove the chorizo to a small bowl. Add two tablespoons of butter to the chorizo skillet (do not clean out). Add the shrimp, sprinkle with ½ teaspoon of salt and cook about 2 minutes each side. Squeeze on the lemon, toss and blend, and set aside.
Arranging the Paella Pan
Put the cooked rice in the center of the pan in a long "strip." Add the chorizo crumbles to the top. Put the mussels on one side of the rice. On the other side of the rice place the vegetables/garlic and shrimp.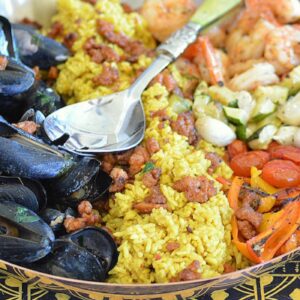 INGREDIENTS
1 large green bell pepper
1 medium white onion, roughly chopped
3 medium cloves of garlic, cut in halves
1 1/2 cups fresh cilantro leaves and some stems
1 1/2 cups fresh parsley leaves
1/2 tablespoon freshly grated gingerroot
1/2 medium Serrano pepper, stem and seeds removed
1 tablespoon plain rice vinegar
1 tablespoon balsamic vinegar
1/2 tablespoon sea salt
1/4 teaspoon ground black pepper
2 ripe avocados, peel and pit removed
2 tablespoons canola oil
INSTRUCTIONS
Cut bell pepper into halves and remove seeds and membrane. Roast on gas flame or under HIGH broiler until blistered. Cover charred bell pepper under a tea towel until slightly cooled. Scrape most of the charred pepper skin off with a paring knife. Quarter the pepper and place in food processor.
Add remaining ingredients to the bell pepper in the food processor. Pulse until smooth. Season with additional salt or vinegar, to desired taste.