Blueberry Rosemary Focaccia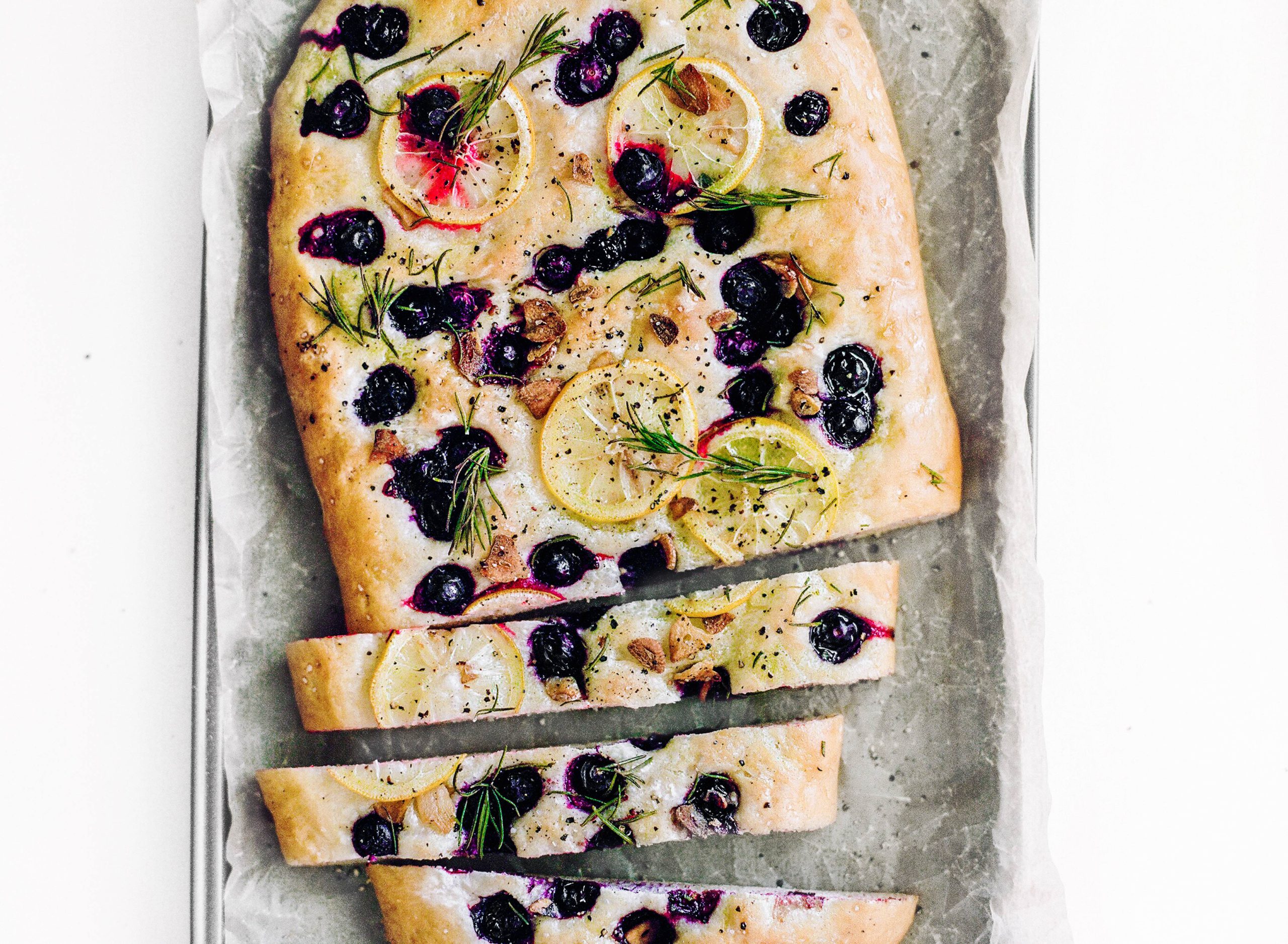 A genius idea for a sweet & herbaceous summer bread.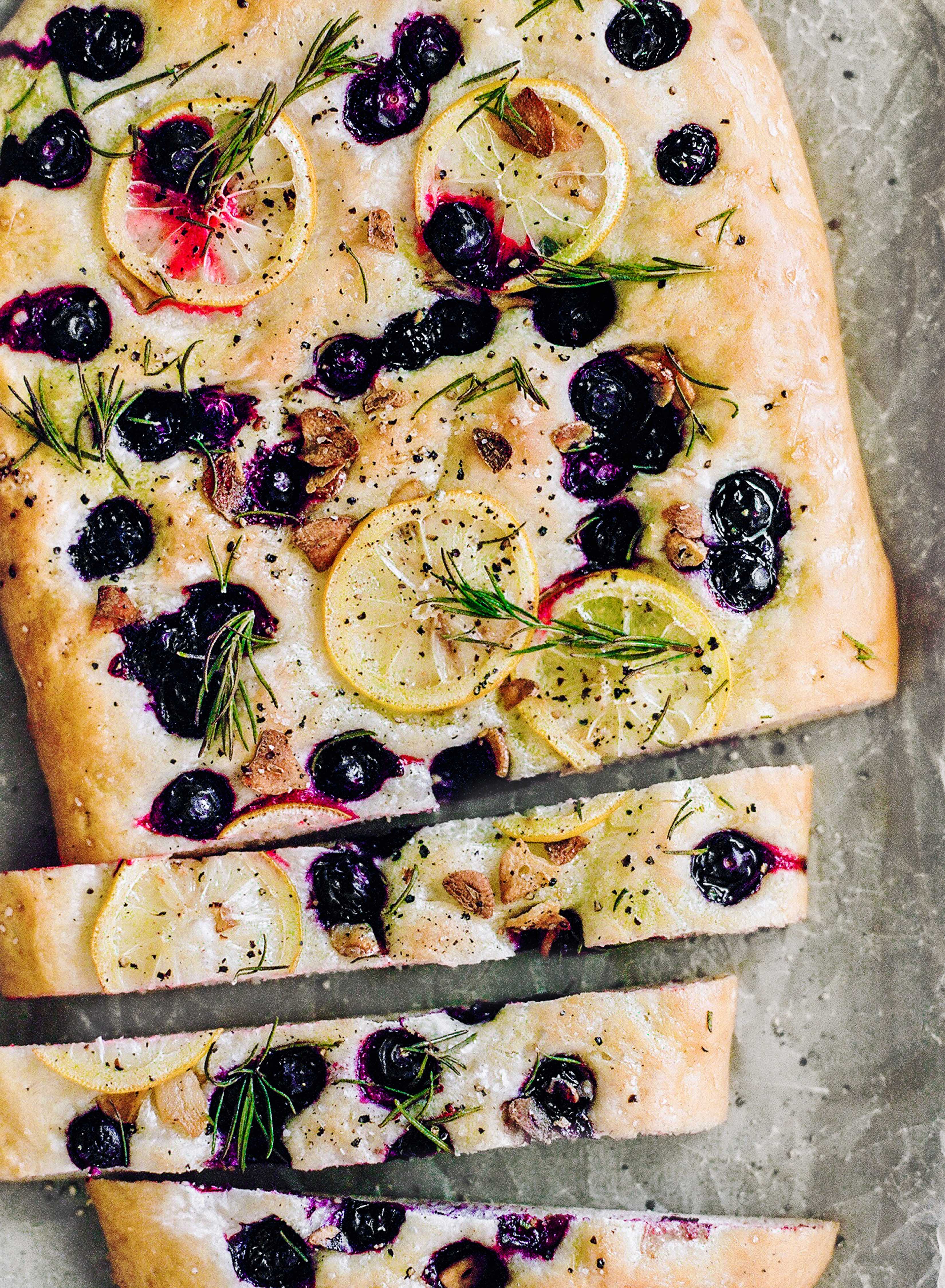 Blueberry Rosemary Focaccia Recipe
A genius idea for a sweet & herbaceous summer bread.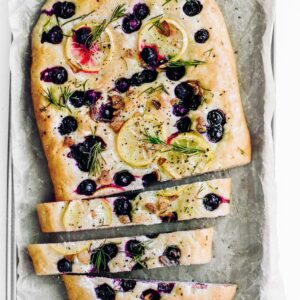 Ingredients
1

cups

warm water (110° F)

1

packet active dry yeast, (2 ¼ teaspoons)

.25

tsp

honey

.25

cups

olive oil

2.5

cups

all-purpose flour

1

tsp

kosher salt

2

garlic cloves, thinly sliced

.25

cups

blueberries

1

lemon, thinly sliced into wheels

1

tbsp

fresh rosemary, whole leaves

.25

cups

shaved parmesan

salt and pepper
Instructions
In an electric mixing bowl, combine the warm water, yeast and honey. Stir a few times then let sit for 5 minutes. Yeast will begin to foam slightly. If it doesn't, start over. (Water was either too cold or too hot and did not activate the yeast).

Add olive oil and slowly mix in flour and salt. Using the dough hook attachment of an electric mixer, on medium speed, knead the dough 10 to 15 times until smooth. (Can also be kneaded by hand on a lightly floured surface).

Transfer dough to a large oiled bowl, cover with plastic wrap and a warm, damp towel and let rise for 1 hour. (let the dough rise in a warmer area of your kitchen).

In a small pan on low heat, slowly cook garlic in additional ¼ cup of olive oil, stirring occasionally, for 5 to 10 minutes.

After dough has risen for an hour, heat oven to 450 degrees. Lightly oil a sheet pan, transfer dough to pan, and form into a loaf shape. Use your fingers to dimple the dough, and drizzle with olive oil and garlic mixture.

Scatter lemon wheels, blueberries, and rosemary leaves over the loaf. Set aside and let rise for an additional 20 minutes.

Sprinkle with parmesan cheese, salt, and cracked black pepper, and bake until golden, about 15 to 20 minutes. Set aside and cool on a wire rack.

Slice into strips and serve.
Nutrition
Serving:
1
g
Calories:
114
kcal
Carbohydrates:
17
g
Protein:
2.8
g
Fat:
4
g
Saturated Fat:
0.8
g
Cholesterol:
1
mg
Sodium:
165
mg
Fiber:
0.8
g
Sugar:
0.5
g
Check out some of our other fave blueberry recipes:
Blueberry Almond Chocolate Chip Cookies