Date Night In: Beer Cheese Fondue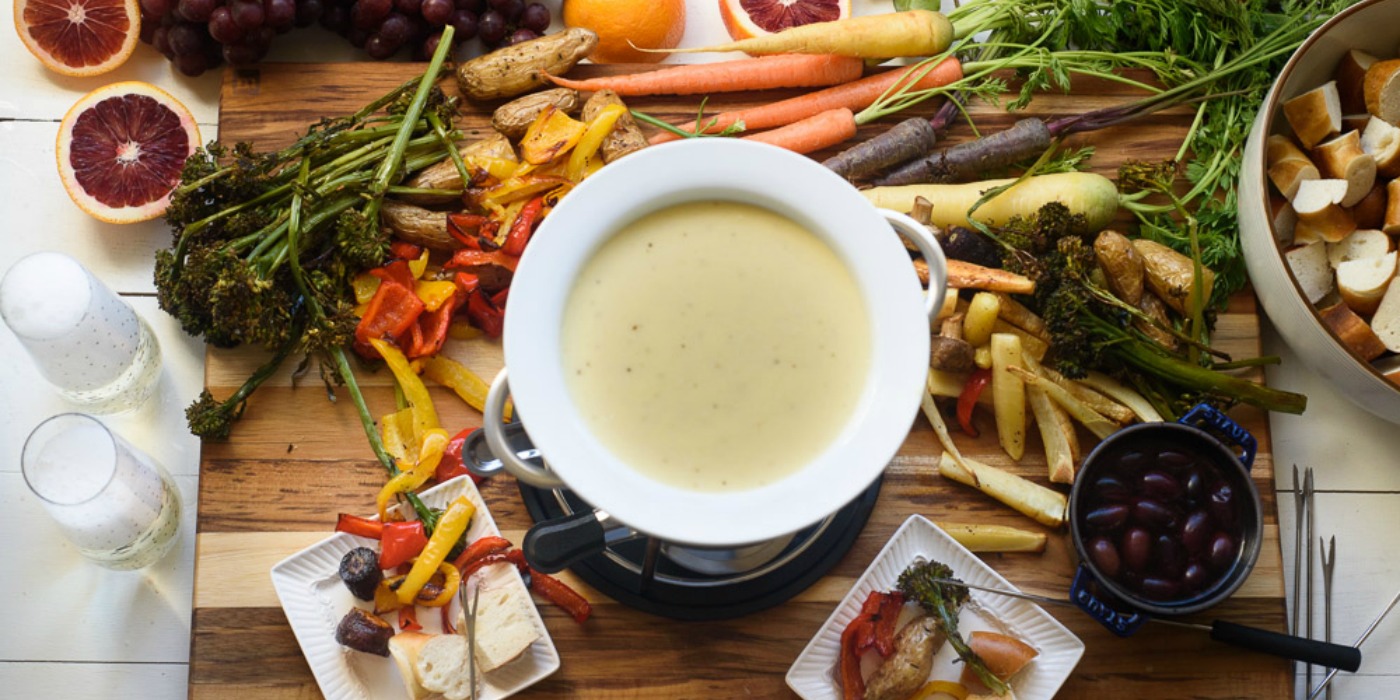 Beer cheese fondue is the perfect recipe for a romantic date night in! We love serving tons of gorgeous roasted vegetables and fluffy pretzel pieces for dippers with ours.
Cheese, beer and a cute person to hang out with? Sounds like the perfect date night to me.
Our kiddos are still little guys so sneaking out for date nights has always been a challenge for us. My husband's mom started taking them once a week overnight this past year so we can have date night and I have to be honest…it's life changing. We feel super blessed and it has made us realize just how important carving out that time for each other in the craziness of raising kids is.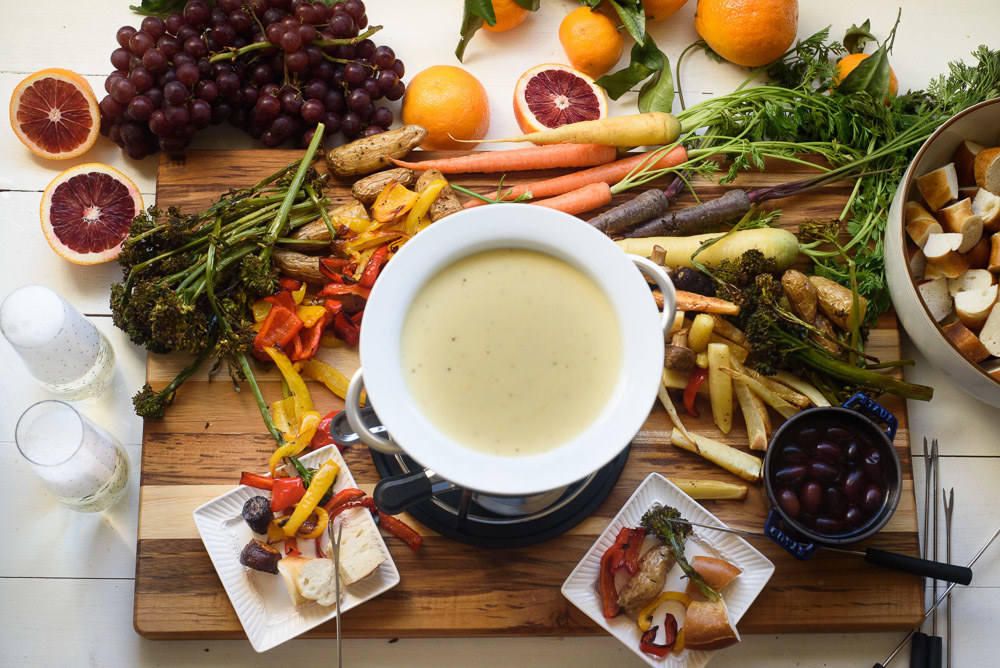 We do around a 75/25 ratio of cooking in vs going out and when we stay in we always try to make it something special. We've done everything from making pupusa's from scratch to trying our hand at making sushi and udon noodles and it is always so much fun!
This week we decided to double date it up and have some good friends over we hadn't seen in a while. And it's a good thing because I cooked way too much food as usual! But with produce this spectacular how could I turn it down?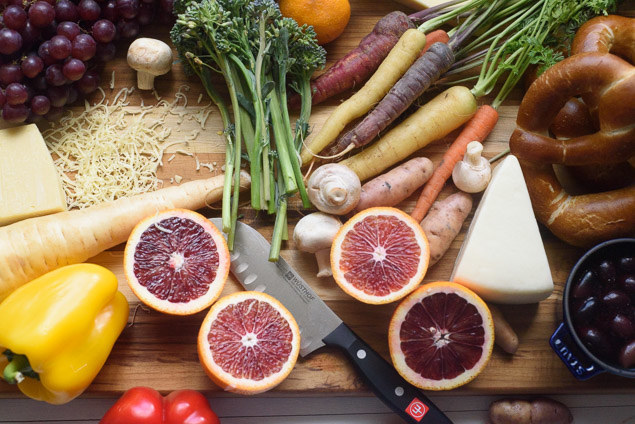 I am absolutely in love with my Wüsthof knives, this little 5 inch Wüsthof Classic 5-Inch Hollow Ground Santoku Knife is my favorite out of the set for chopping veggies. It fits my hands perfectly and is razor sharp making prep work so much faster!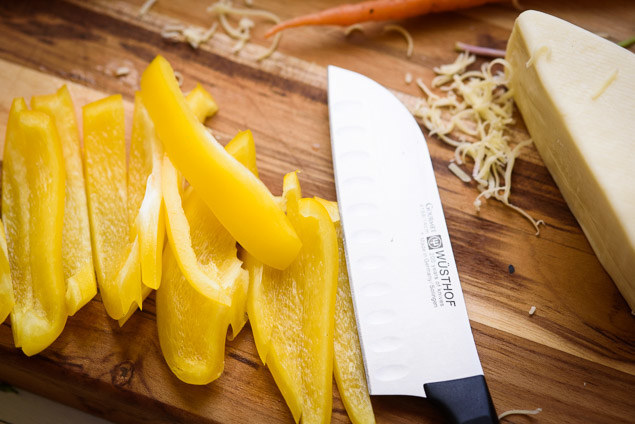 I like to roast the veggies until they are cooked through,
but still have a bit of a bite to them so they don't completely fall apart in
the fondue.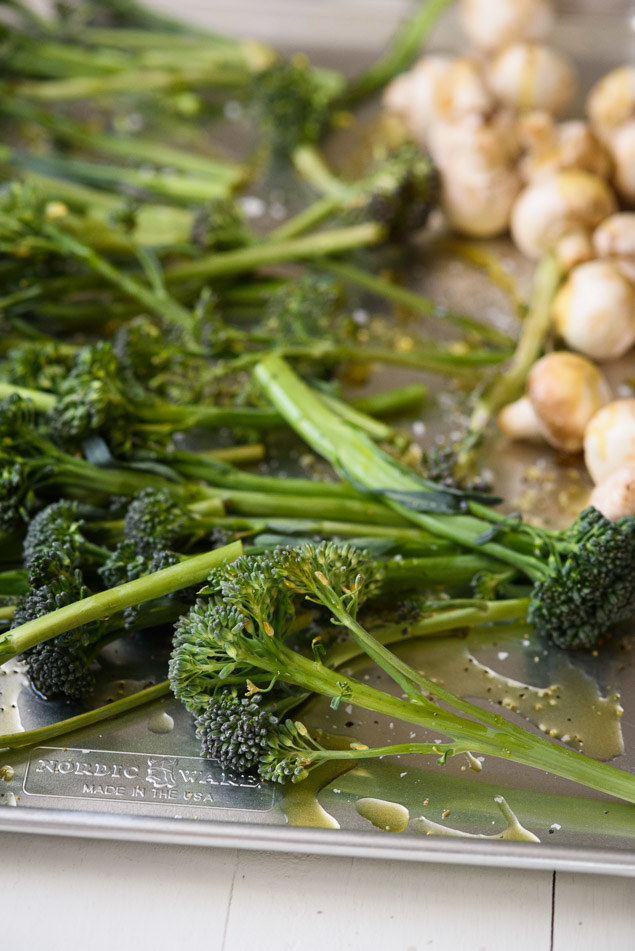 Chop up all your veggies into reasonable size chunks, season them with salt and pepper and toss in olive oil. Roast them in the oven at 400 degrees until they are cooked. I check each kind of veggie since they finish at different times and pull them as they finish cooking.
These big sheets make quick work of that. They are oversized which means they completely fill my oven all the way to the edges which is amazing! I didn't realize how much space I was missing and more space equals less dishes to do. Which in my book=winning.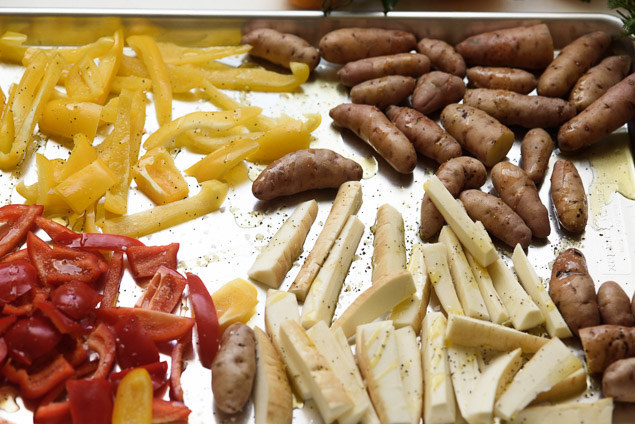 For bread dippers we love using these big soft fluffy
pretzels when we can find them. They have a great texture and really hold up
better in the fondue than traditional bread. A variety of fruits is also a
must.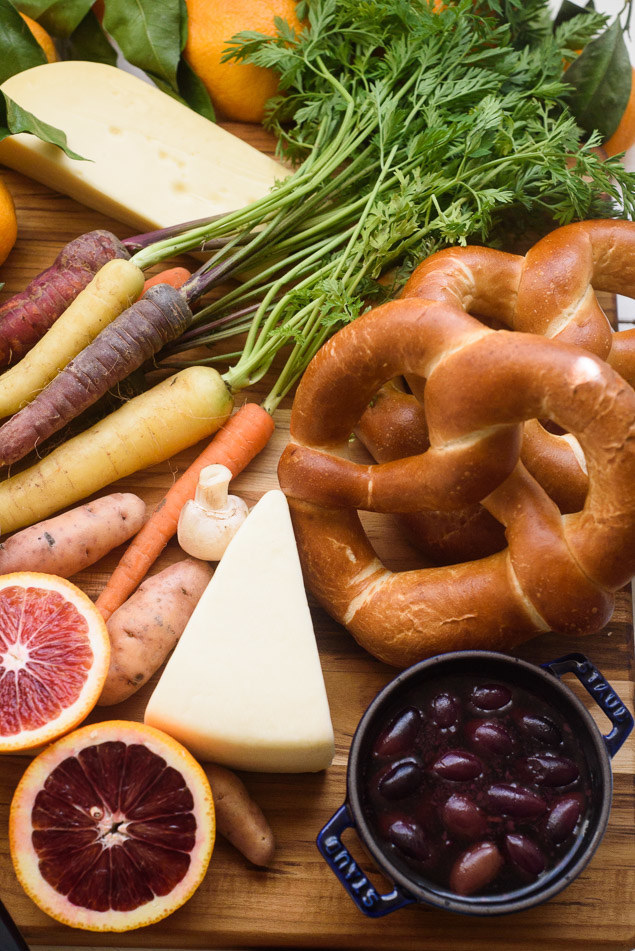 And finally my personal obsession, kalamata olives. I love
how their acidity really cuts the cheese sauce when you need a little palate
cleanser.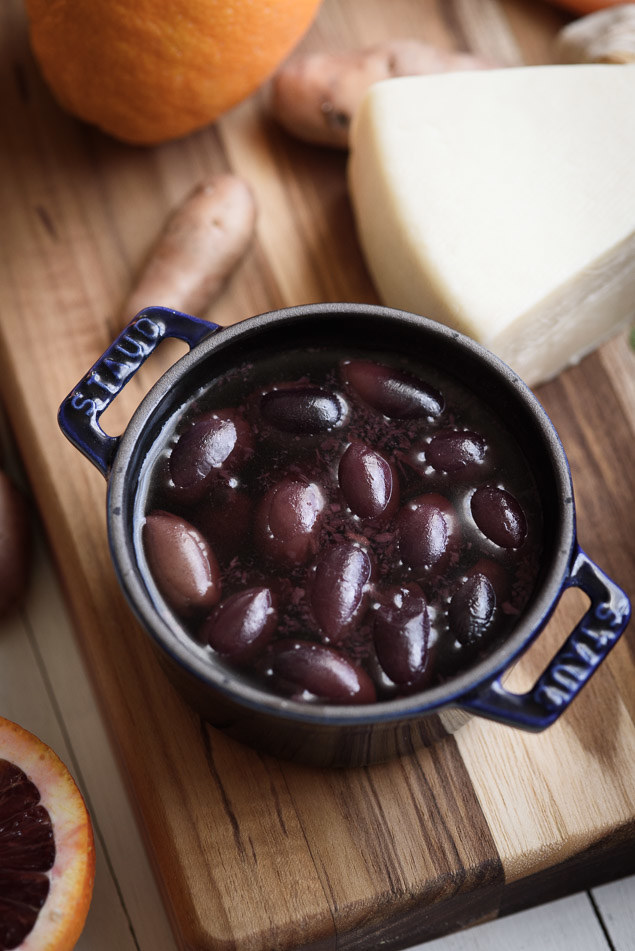 The cheese sauce is a simple affair that I've detailed out
for you below. Once it is finished coming together serve it up in your fondue
pot and light the warmer under it! I like to arrange all my dippers around the
pot on a gorgeous cutting board and serve it with cute little plates and long
fondue forks.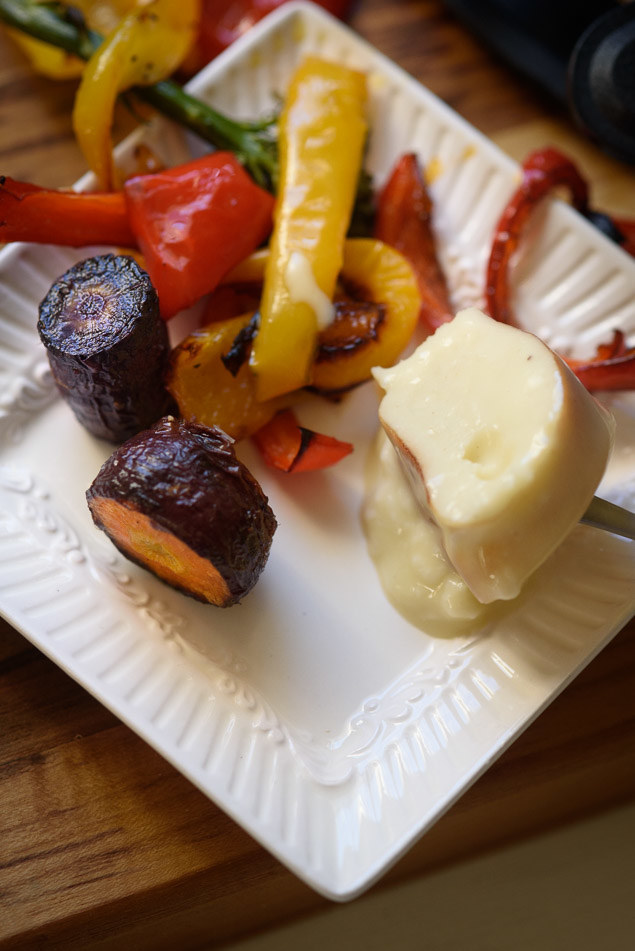 Grab a bottle of champagne for an extra special night or pour yourself a glass of wine.
Happy date night!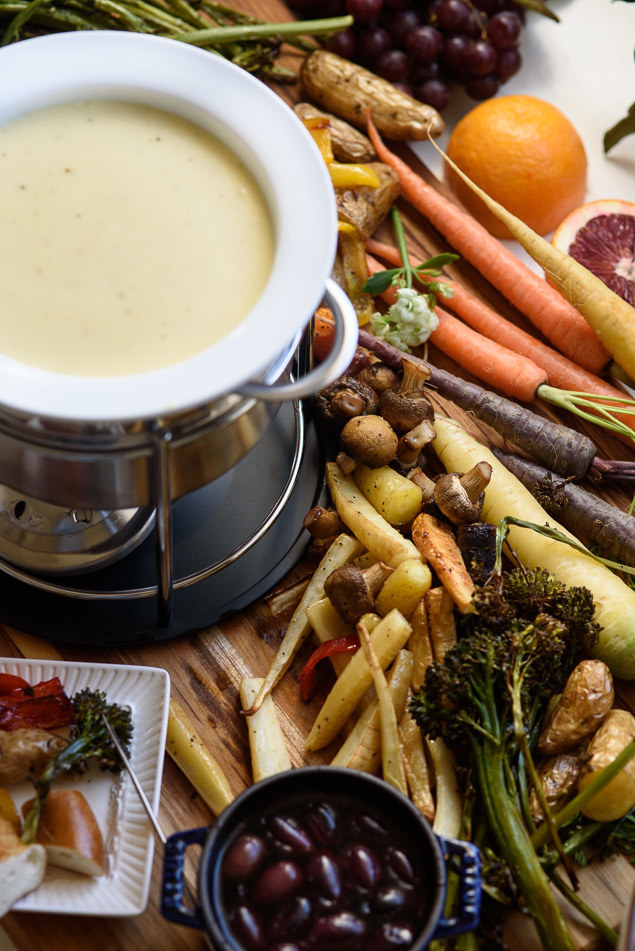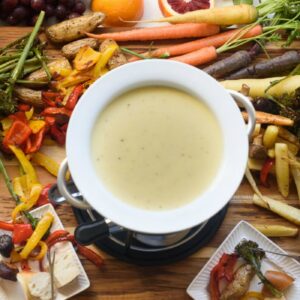 INGREDIENTS
1 garlic clove
1 (12 ounce) can of light lager beer (Samuel Adams is a good choice or a Kolsch)
1 pound of cheese (I used equal parts Fontina, Gruyere and White Chedder, Emmenthaler cheese is traditional but can be harder to find)
juice of 1/4 -1/2 a lemon (to taste)
ground pepper (to taste)
ground nutmeg (to taste)
Serve with your choice: roasted veggies, olives, bread or pretzel dippers, sausage, etc.
INSTRUCTIONS
Select a nice heavy medium saucepan for this recipe. Smash a garlic clove and rub the inside of the pot with it vigorously. Dice up the garlic clove and add it to pot. Add the beer to your sauce pan and bring it up to almost boiling.
Cube or grate the cheeses (I used a combination of Fontina, Gruyere, White Chedder and a mixed white cheese). Softer cheeses are easier to cube than to grate.
Add the cheese and melt stirring constantly over medium low heat. A squeeze of lemon juice and seasoning it to taste with pepper and nutmeg is my favorite finish. Continue stirring until sauce comes together. It usually needs more time than you think so just keep stirring!
Tips: Fondue with all that cheese can be a bit finicky so my fail safe back up is this: If it looks clumpy or just isn't coming together, continue heating and stirring. It's usually just that you haven't gotten it hot enough. Keep it on no higher than medium heat though, don't rush it and very importantly don't let it boil!
If it still isn't coming together or is lumpy you can whisk in up to 3 tablespoons of cornstarch with a bit more beer to help it come together. I start with 1 tablespoon and whisk into about ¼ of a cup of beer and slowly whisk it into sauce. Watch it for a few minutes as you continually whisk it over medium heat. Continue adding one tablespoon at a time if it doesn't start the bind. The cornstarch will minorly alter the flavor but...it can save your evening if you need it!
Once it's the perfect consistency transfer to your fondue pot with the flame lit and dig in right away!
Want more ideas? Check out this raclette party walkthrough. It's perfect for date nights.