Football Traditions to Start With Your Family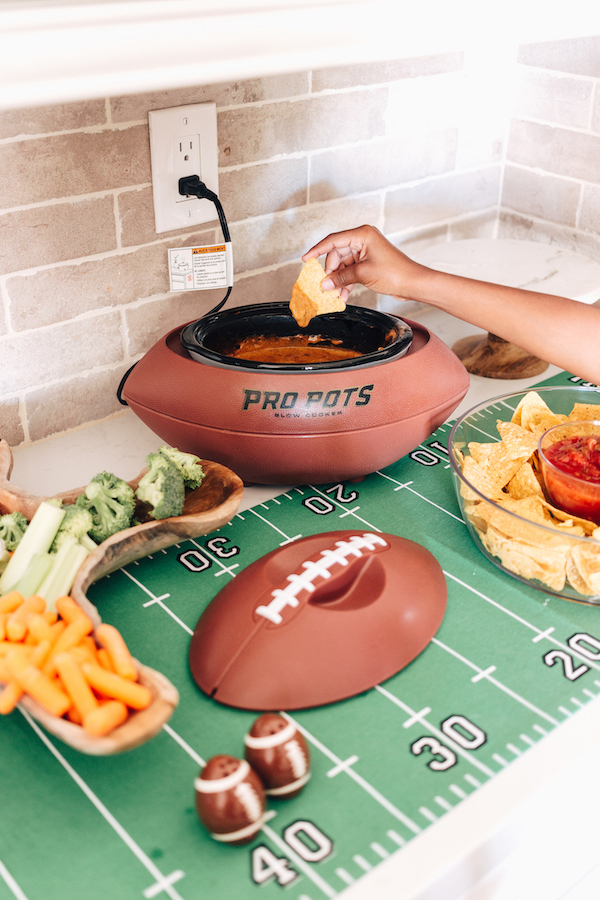 We are DEEP in football season over here! We love having friends and family over to watch the game, especially the Super Bowl. It's even more fun when we have family members who are fans of the opposing team! Our get-togethers are nothing fancy but they are tons of fun.
Have plenty of food for your guests to munch on during the game, halftime, and even after! Pizza, sliders, drinks, treats, and appetizers are all a good idea for a great mix of options. You can also make things festive by adding some football decorations like a table runner, special salt & pepper shakers, and even a banner! Hosting friends can become one of your favorite family traditions during football season.
So get out your favorite recipes, decorations and turn up the game!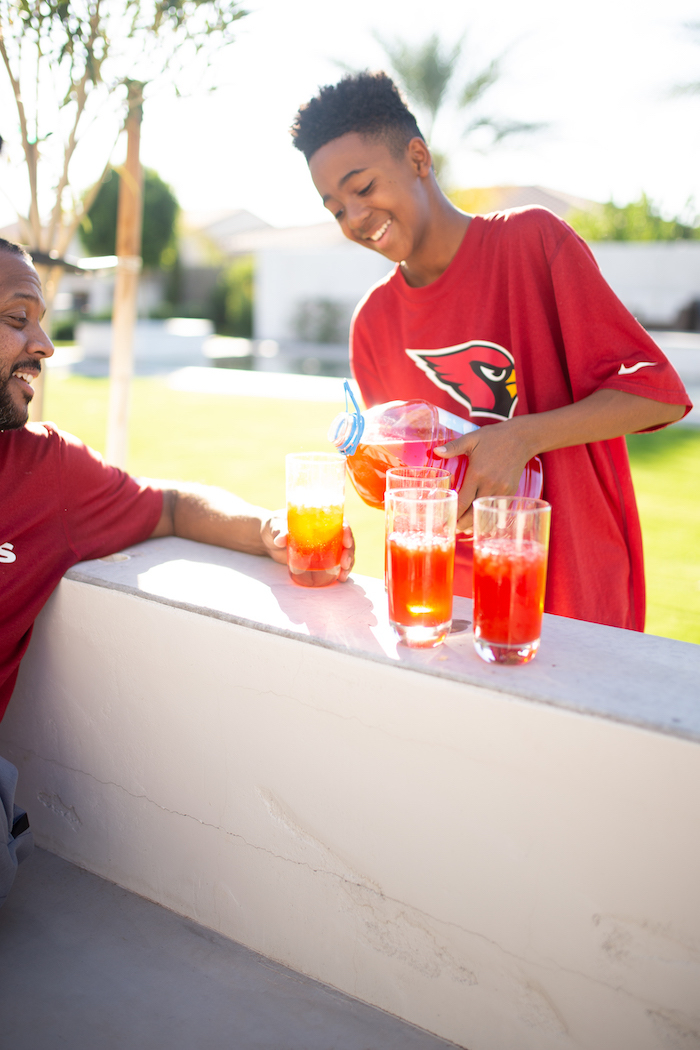 1. We Dip
There's nothing more fun than snacking and dipping during football season! We dip chips, veggies, fruit, cake and just about anything that can be dipped. Make your favorite warm dip and put in this festive football-shaped slow cooker (chili cheese dip, BBQ chicken dip… the list goes on) by Pro Pots does the job perfectly and also adds to the atmosphere!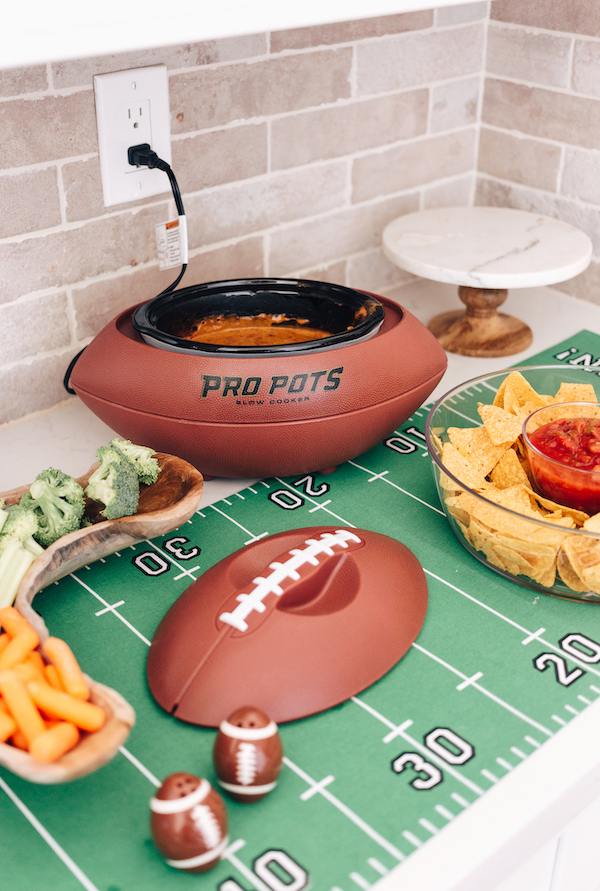 Game Day Salt & Pepper Shakers

By Design Imports

Shop Now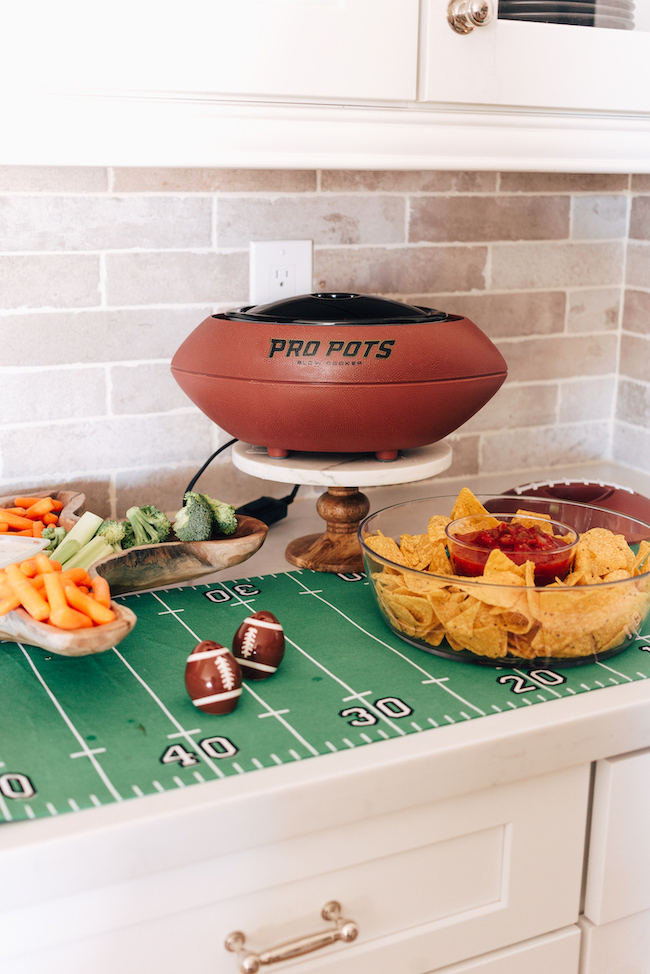 Football Slow Cooker

By Pro Pots

Shop Now
Another simple idea is to cut up some pound cake and dip it into chocolate and cream. Use toothpicks to dip each piece for each individual piece of cake to make dipping easier. You can also cut up fruit like strawberries, grapes and even pineapple for even more options.
Touchdown Table Runner

By Design Imports

Shop Now
We Grill
We usually order a ton of pizza for game day because it's super easy for kids! But we also crank up the grill because it just feels right. If you're hosting in a small area, tailgating or hanging out in the garage with some neighbor friends this portable grill by Cuisinart is the perfect sidekick during football season.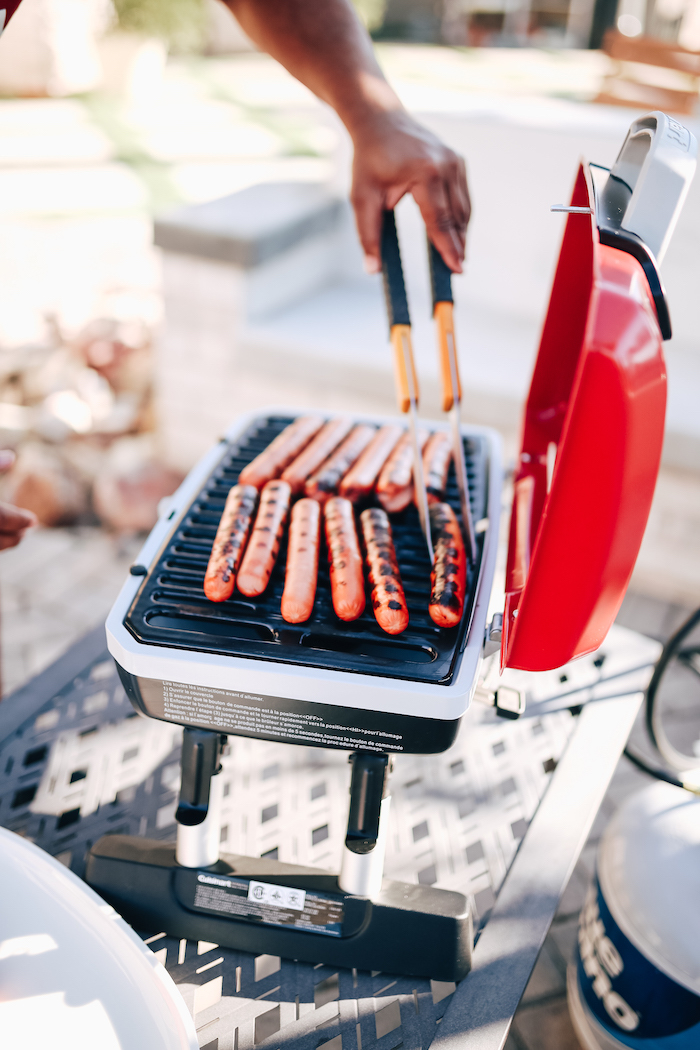 Petit Gourmet Portable Tabletop Outdoor Gas Grill

By Cuisinart

Shop Now
It's fueled by propane and you can take it anywhere and you automatically have a grill! Our favorite thing to grill is hot dogs. Then some of our guests love to load the chili cheese dip on top for one spectacular chili cheese dog!
We Drink
We have some fun non-alcoholic drinks available for everyone to enjoy. We usually set up a station that is dedicated just for drinks. Which makes it easier for kids to access.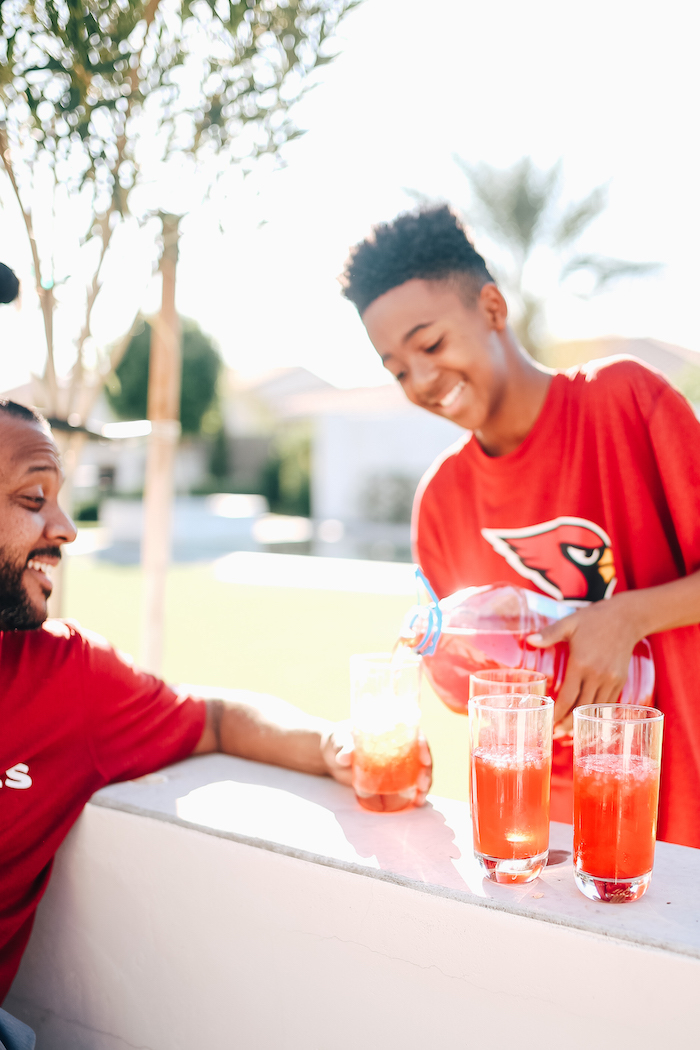 Polaris 16-Piece Tumbler & Rocks Glass Set

By Libbey

Shop Now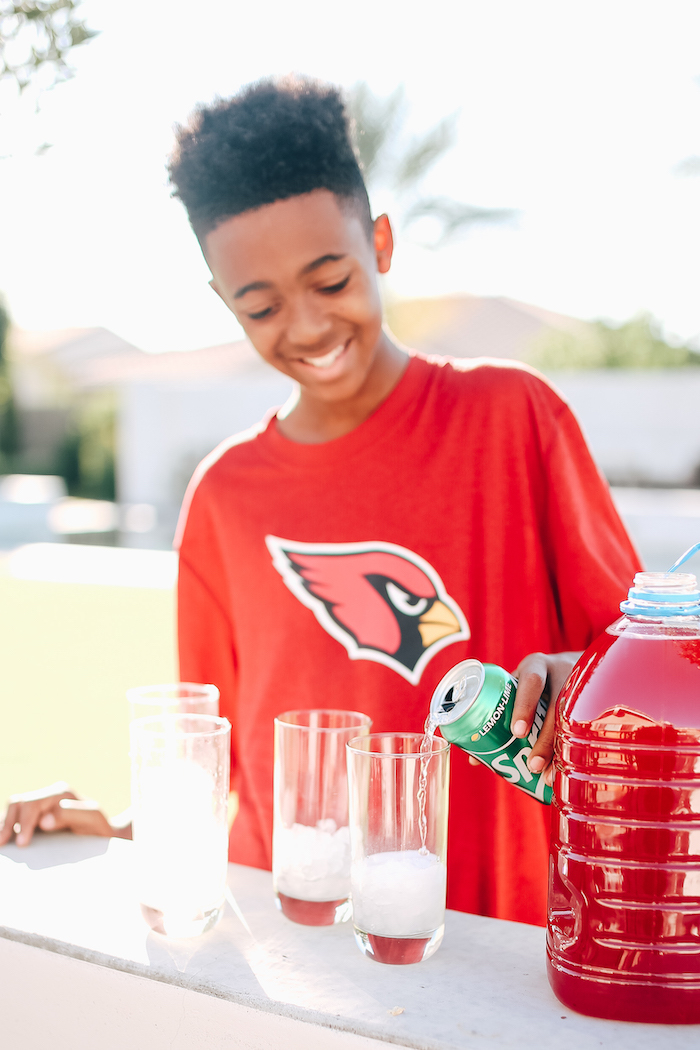 You can fill a punch bowl or large pitcher or jug with your favorite punch, pack a cooler of adult-only drinks, or set out a galvanized bucket for even more options.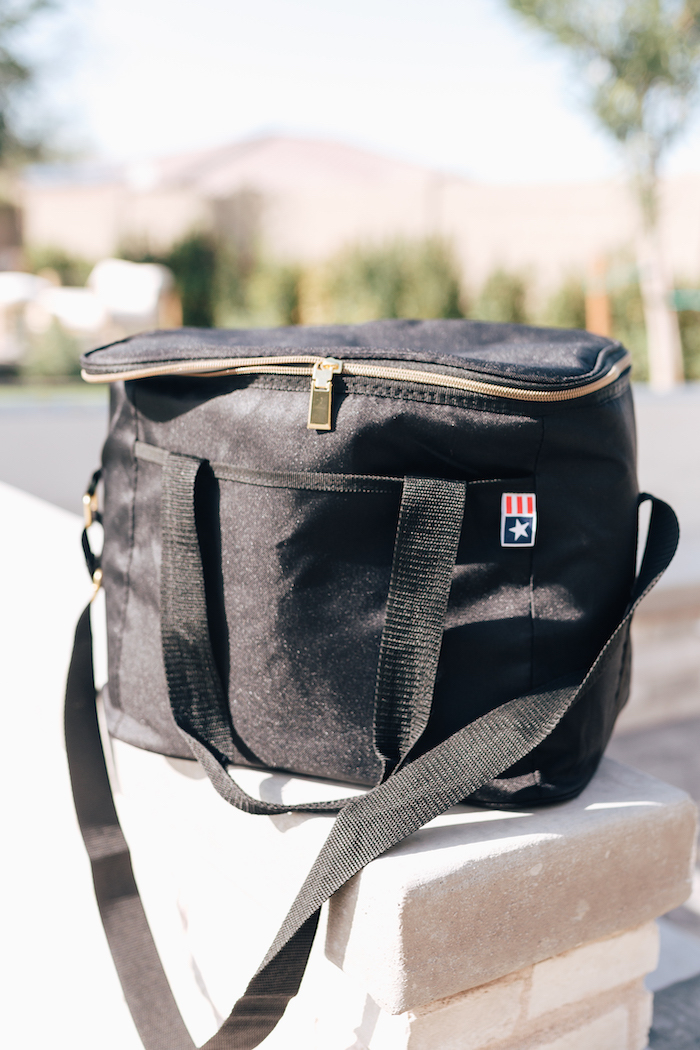 We Dress
Finally one of our favorite family traditions is to dress the part! We get on our favorite cardinal gear and we all wear it during the game. Jerseys, t-shirts, headbands and even kids friendly tattoos. The more festive we are the better we feel about our chances! Plus even if we end up winning or losing at least we gave our team all the spirit and made some memories!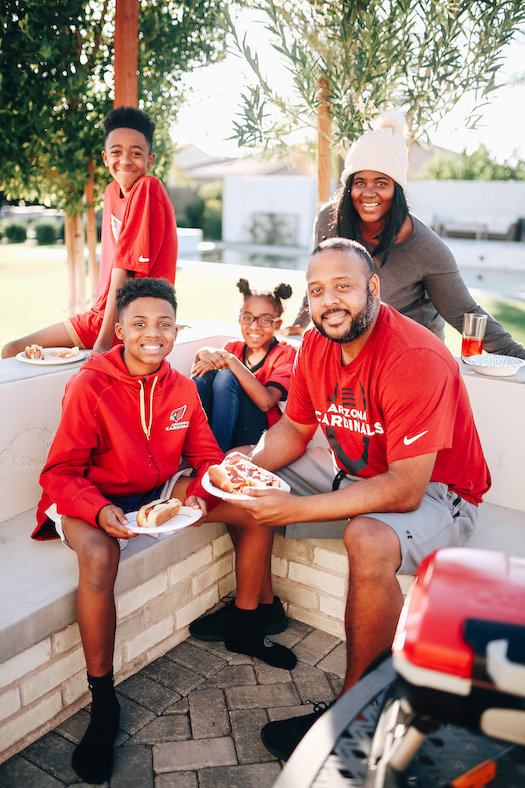 Here are some other fun appetizers to serve to your guests this football season!
A Super Bowl nacho bar adds so much fun to any football party!
Here is a healthier loaded nachos recipe for those looking to keep it toned and trim.
This DIY Guacamole bar is literally to die for.