You Need This Cranberry Goat Cheese Salad on Your Holiday Menu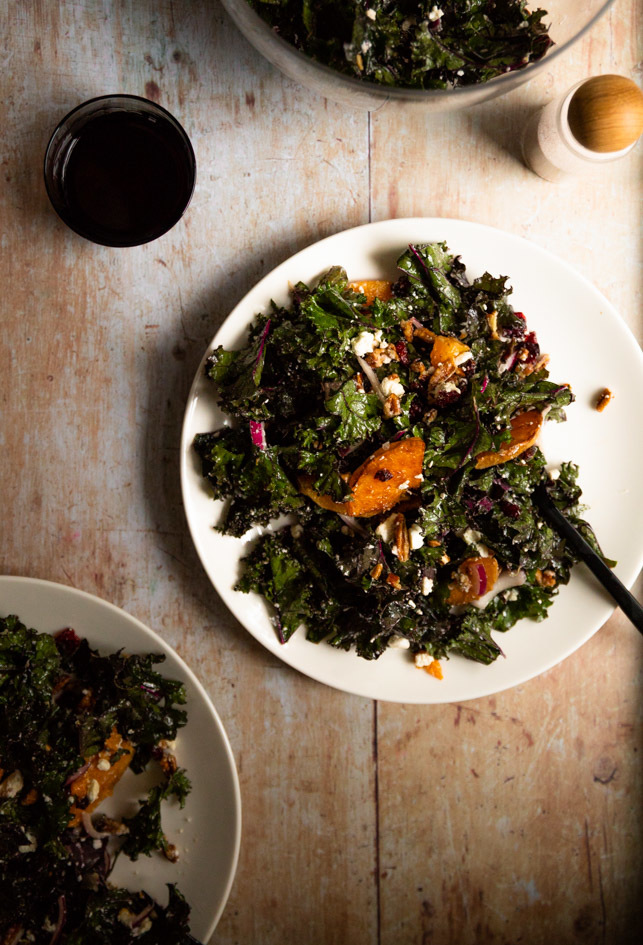 I love a themed salad. You know, one with purpose. Maybe it follows the seasons, maybe it's a really unique flavor combination. Regardless, it's always a great opportunity for me to break out of my every-veggie-in-the-fridge-plus-cheese-salad rut that I so often find myself in. I especially love winter salads. There's something so nourishing about hearty winter vegetables mixed with the flavors of the season. I'm talking nuts, dried fruits, all the cheese, and yummy roasted squash. And that's exactly what this salad delivers.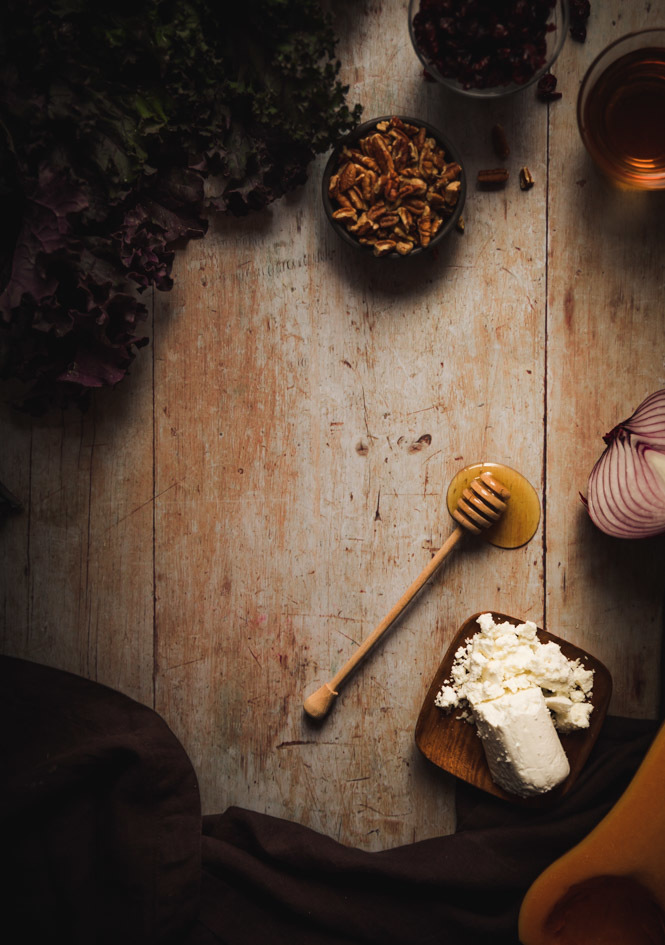 My holiday salad can certainly stand its own alongside the classics or as a delicious weeknight meal. And I promise it will actually get eaten. I think part of what makes this salad so special, aside from the easy homemade dressing, is the mashup of tastes/textures.
It delivers chewy sweet from the dried cranberries; crunchy bitter from the pecans; tangy creamy from the goat cheese; bitter fragrance from the raw red onion; and umami from the roasted butternut squash and kale. Add the flaked salt garnish and it's just a feast for the senses.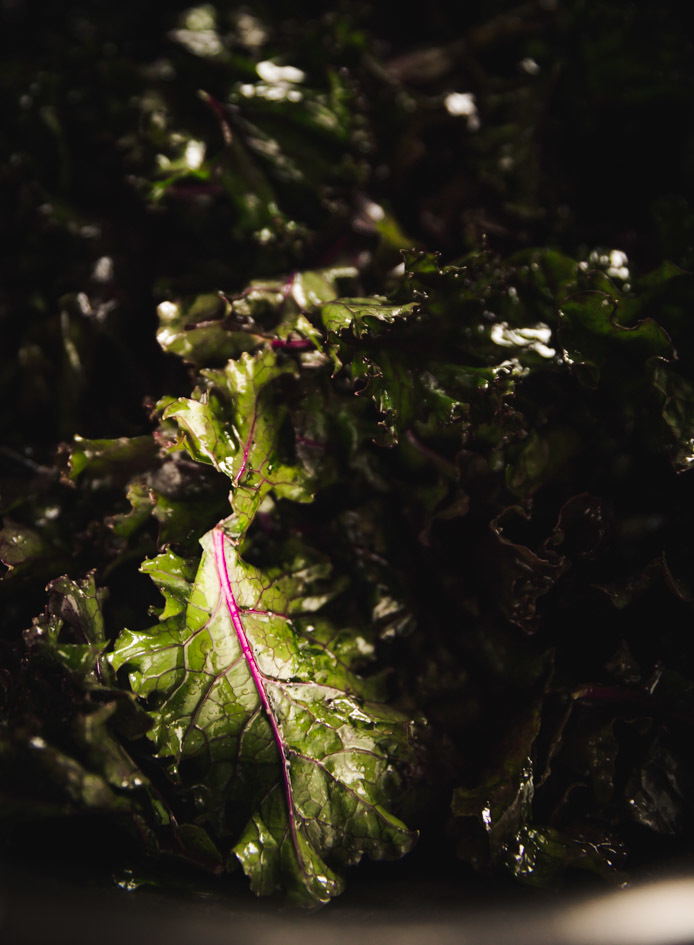 If you're looking to substitute some of the ingredients, well, don't. Okay, okay just kidding.
Here are some swaps if need be:
Butternut Squash:
Go ahead and roast any squash you have on hand. Maybe even do a few! I even wondered how roasted mushrooms would taste in here. Not totally sold on that yet, but food for thought.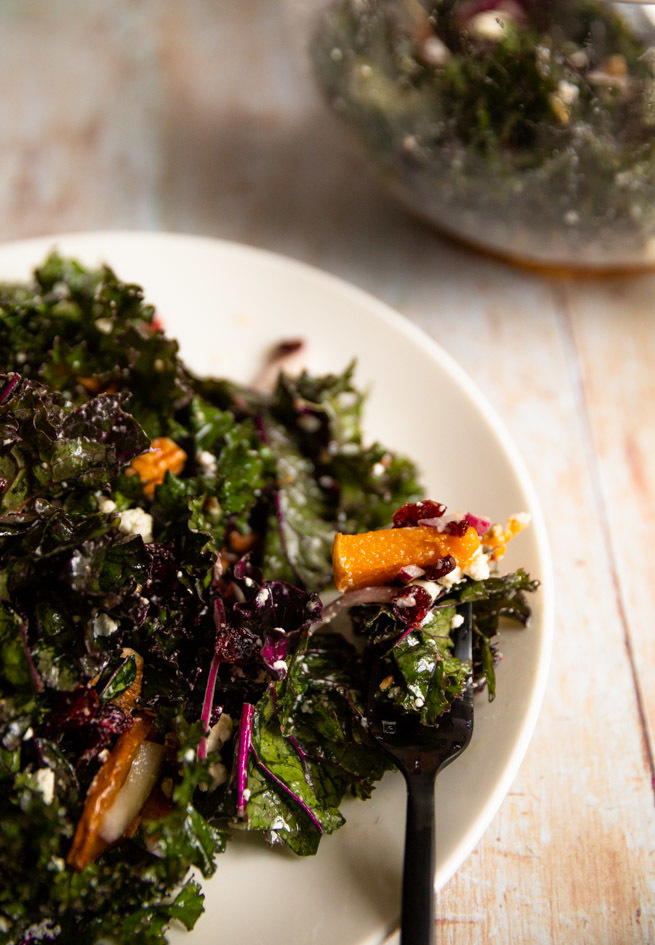 Kale:
Okay, hear me out. Massaged kale is actually tender compared to completely raw. What is massaged kale? Well, it's tenderizing the kale by working some of the dressing (or salt and olive oil) into it before adding any toppings. I instruct you to do this in the recipe, and I have to emphasize: do not skip this step.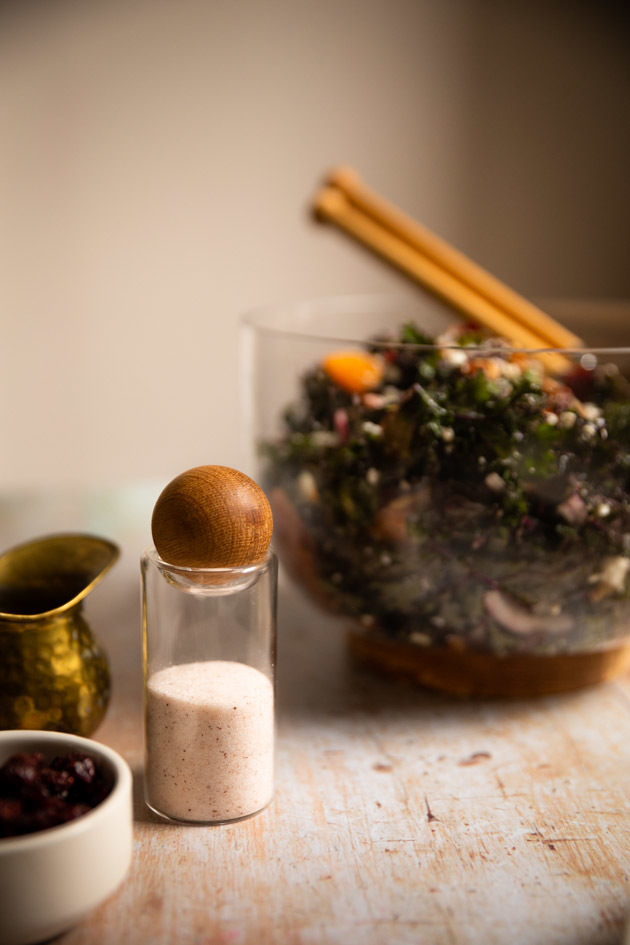 Nature Collection Salt & Pepper Glass Shakers

By Sagaform

Shop Now
I specifically put kale in this recipe because it's so strong and hearty that it can really support all the toppings of this salad. I suppose if you totally hate kale, I can't fault you for that. Try spinach instead. Oh and, if it's purple kale you can't track down, any variety will do.
Homemade Dressing:
This one is super easy and absolutely worth a try. But I understand sometimes the energy to do it just isn't there, no matter how simple. Any vinaigrette will do, however, I prefer something with a honey base.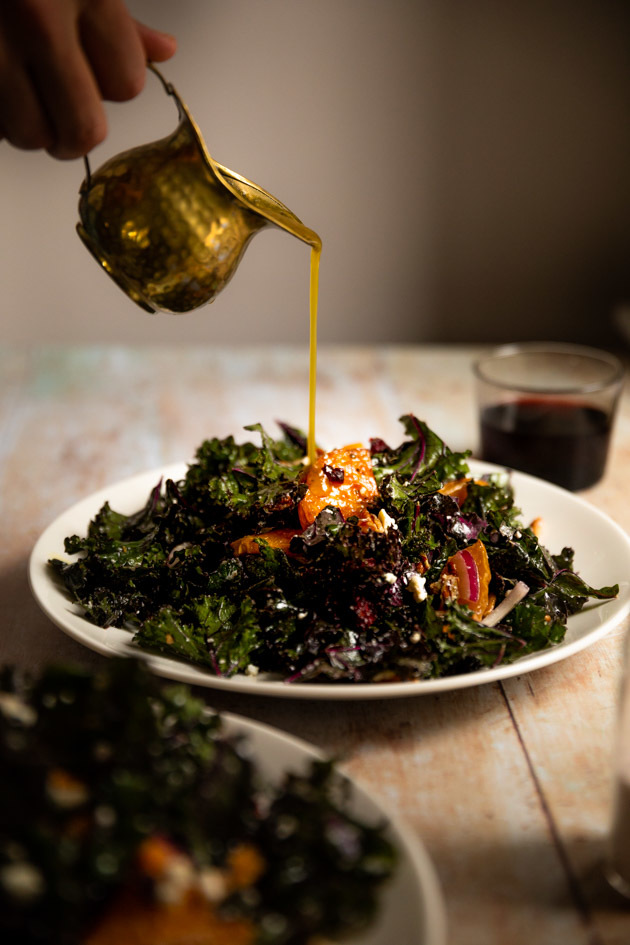 Goat Cheese:
I think a type of blue cheese would work here well. Or even a Humboldt Fog for the ashier flavor of goat cheese. Cheese can certainly be omitted, but maybe add avocado for creaminess if you do.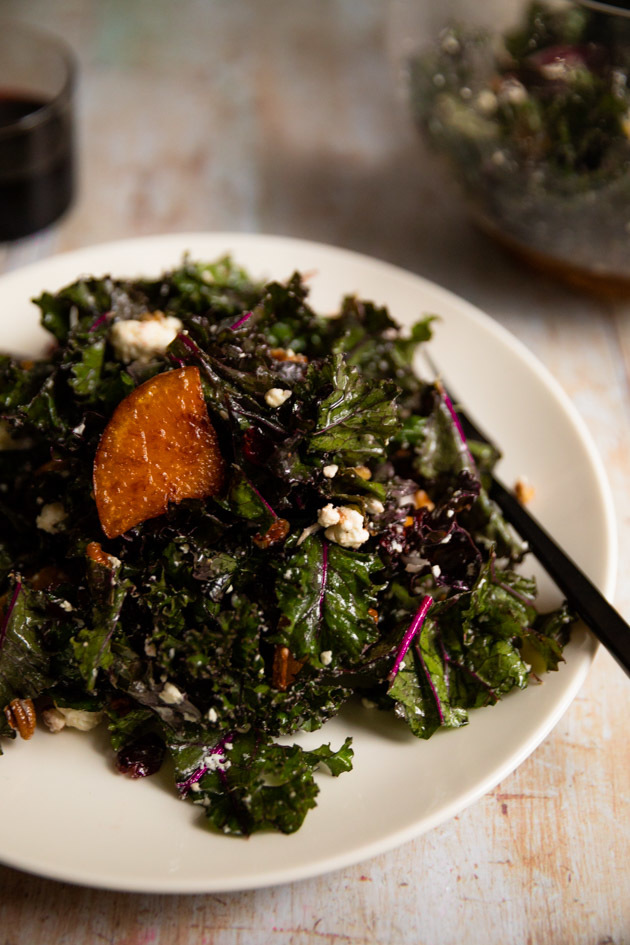 Pecans:
I love how delicate yet substantial pecans are, but chopped walnuts or sliced almonds would work great. If it's a tree-nut allergy you're swapping for, roasted pumpkin seeds would be awesome! If you love pecans salted and roasted, by all means. Adjust the overall salt in the salad as needed.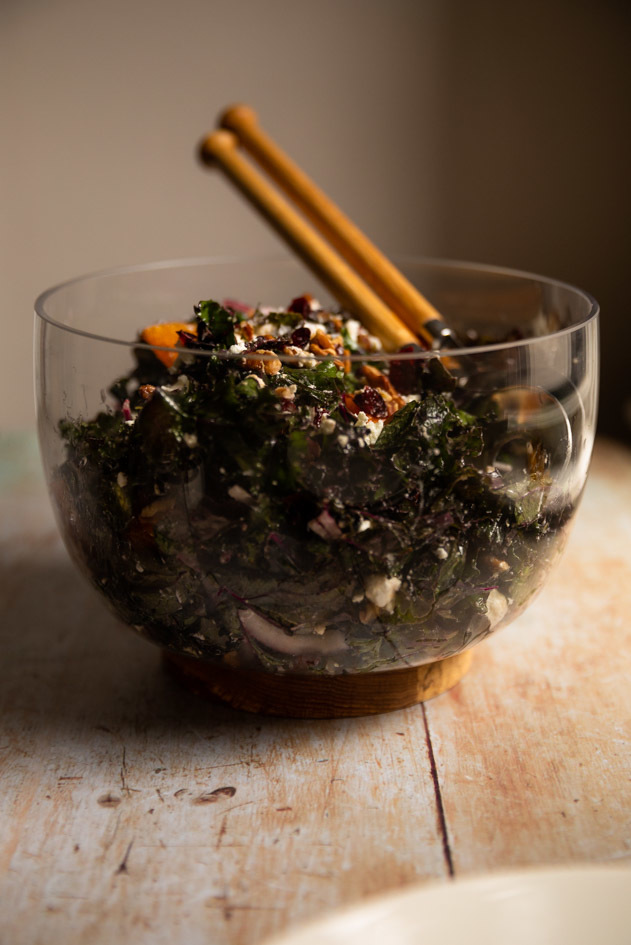 Oval Glass Salad Bowl

By Sagaform

Shop Now
Cranberries:
I debated adding golden raisins to this recipe to support the orange color of the squash. If you totally hate Craisins, go ahead and make that switch. Dried apricots or even dates would taste yummy, too.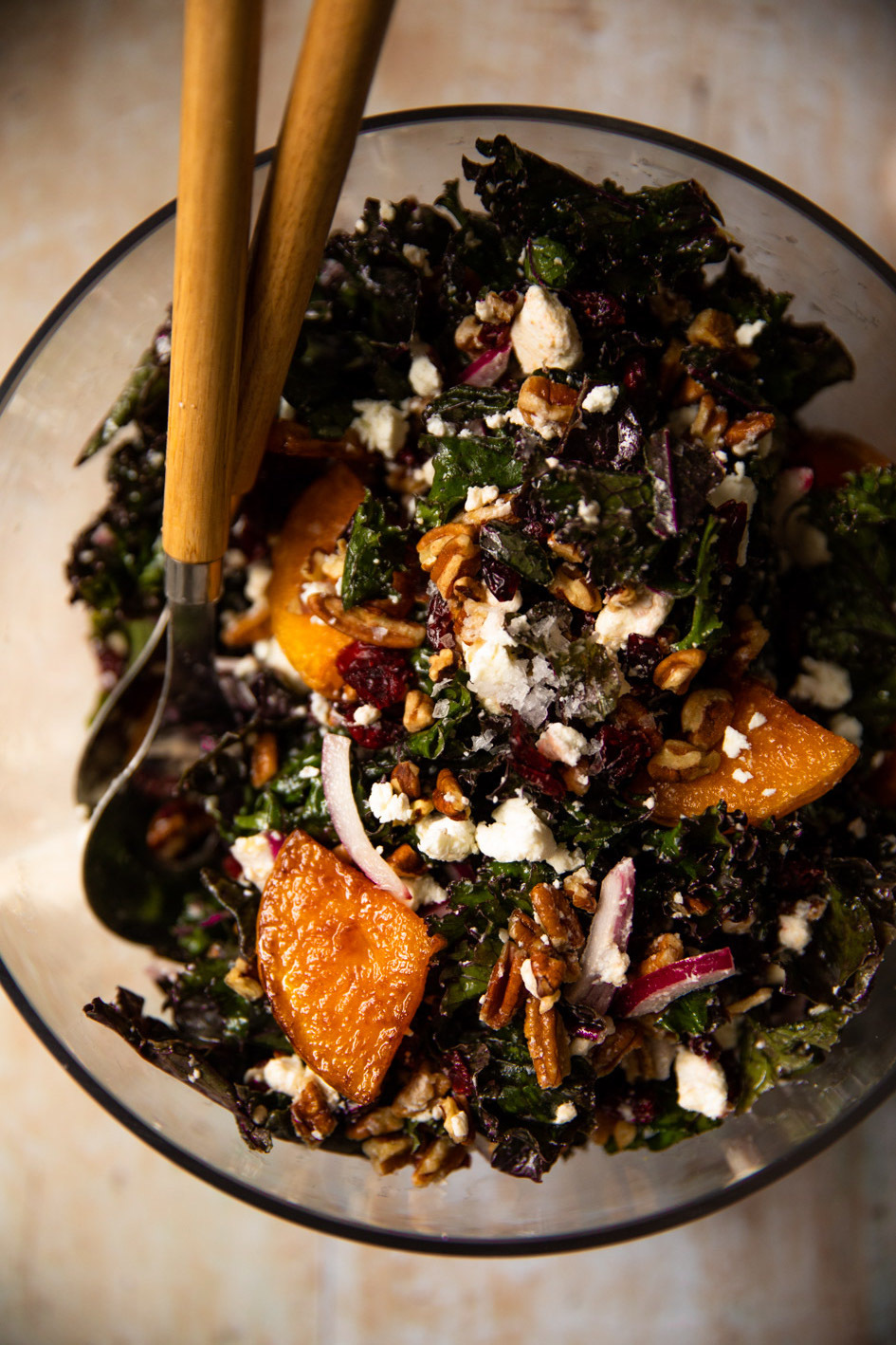 Oak Serving Utensils

By Sagaform

Shop Now
Freeze-dried Sage:
I specifically ask for this, rather than fresh or even ground. If you can't find it, either chop up some raw or dial down the measurement to a ¼ teaspoon of ground then add up from there to taste.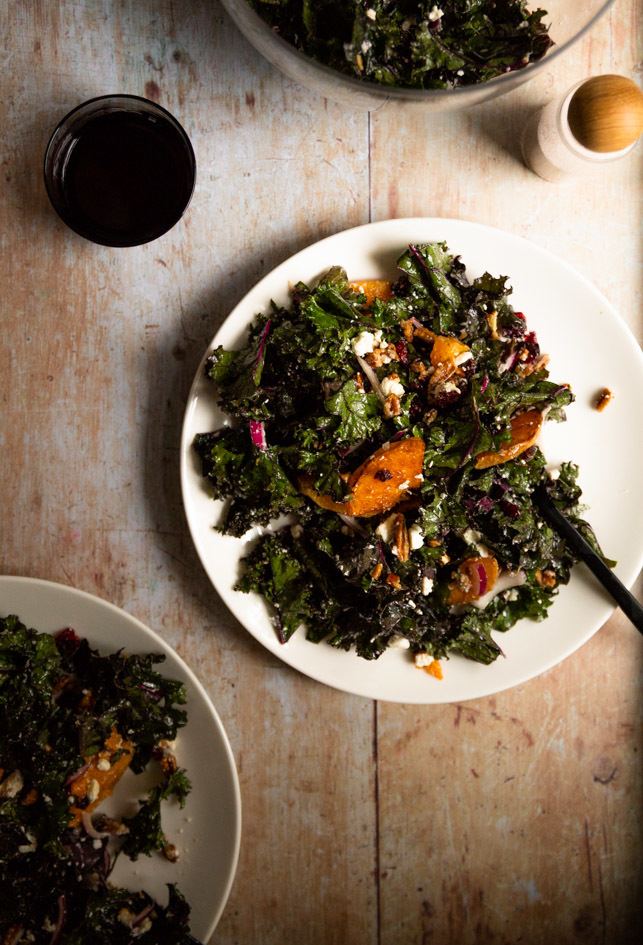 Cranberry Goat Cheese Salad with Roasted Butternut Squash and Homemade Lemon Honey Vinaigrette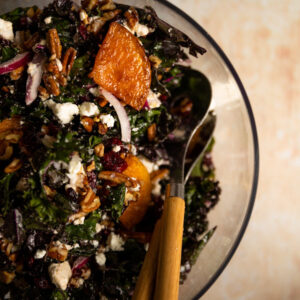 INGREDIENTS
½ medium butternut squash, cut in half (2 quarters) then cut into ¼" thick triangles
2 bunches purple kale, trimmed and washed
2 tablespoons honey
2 tablespoons lemon juice (about 1 lemon, juiced)
½ teaspoon salt plus more for roasting
½ teaspoon freeze-dried sage
freshly ground pepper
¾ cup olive oil, plus 2 tablespoons for roasting
1 cup goat cheese
1 cup chopped pecans (pieces)
1 cup dried cranberries (such as craisins)
½ large red onion, cut in half (2 quarters) and sliced thin
Flaked Salt to taste for garnish
INSTRUCTIONS
Preheat oven to 450. Place prepared butternut squash on a baking tray and pour 2 tablespoons of olive oil over top. Salt generously. Bake for 10-15 minutes, flipping the squash over halfway through cooking. Remove from the oven once the squash is tender and has a bit of golden brown color on either side. Set aside.
While squash roasts, rip the kale into large bite-sized pieces and place in an extra-large bowl. Prepare the dressing by mixing together honey, lemon juice, and seasonings in a liquid measuring cup. Quickly whisk the honey lemon mixture while slowly and constantly pouring in the olive oil. Taste and adjust seasoning as necessary.
Pour a few tablespoons of the dressing over the prepared kale and, using clean hands, massage the kale for 5 minutes until tender. The kale should be a bit softer and almost halved in volume. Taste for texture and continue if necessary.
Add goat cheese, pecans, cranberries, red onion, roasted squash, and ½ cup dressing. Toss and garnish with flaked salt. Add more dressing as needed (this salad can handle it!).