Affogato: The Perfect Coffee and Ice Cream Dessert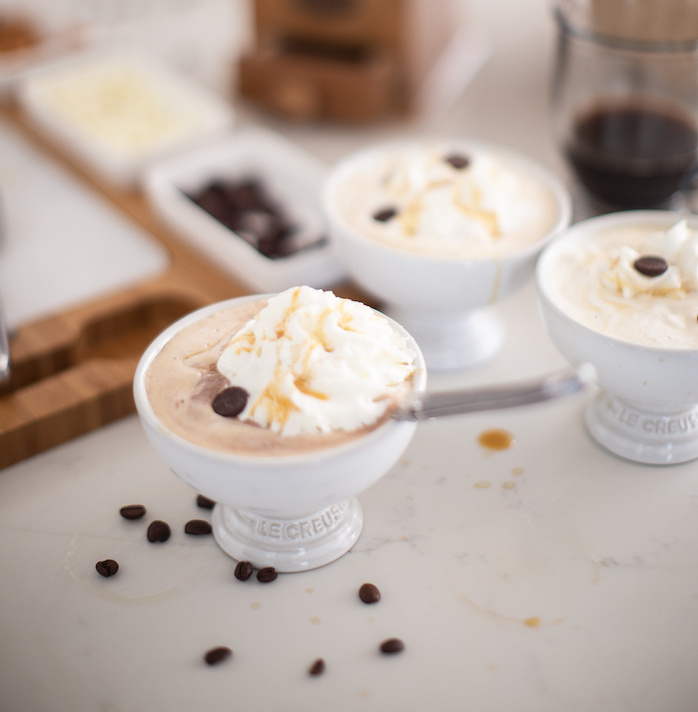 We've been pairing food since the beginning of time. Salt with pepper. Peanut butter with jelly. Eggs with bacon. And toast with butter. But every now and then we come across a combination that makes perfect sense. One that makes your taste buds dance and your foodie brain happy.
Hello, coffee and ice cream.
Ice cream drowned in coffee is called affogato. Which literally means "drowned" in Italian. It's simple to make and easy to consume. All you really need is really good vanilla ice cream and even better coffee.
But in true American style I added a few delicious things to this classic combo to make this treat decadent and your new favorite dessert go-to.
How do you make affogato?
First, you're going to want to brew some coffee. All coffee isn't made equal. Ground coffee is good, but fresh ground coffee is even better. So I used my cute little mill to hand grind my favorite coffee beans just for this recipe. I know it's not just ME. We all know anything grinded by hand just tastes better!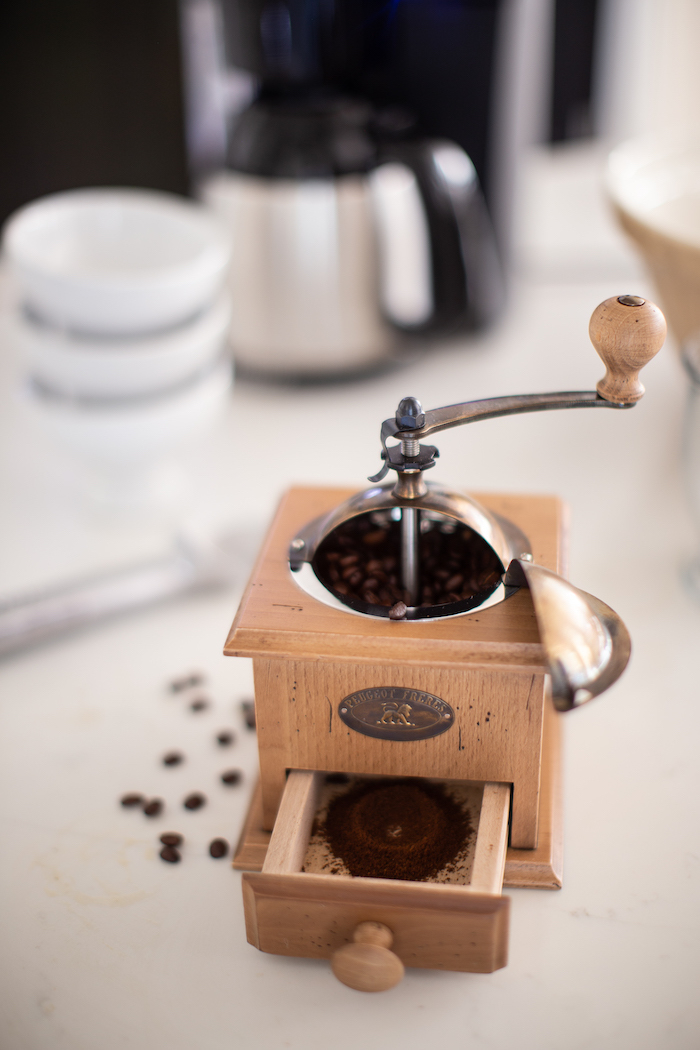 Antique Collection Coffee Mill

By Peugeot Saveurs

Shop Now
After you've grinded your fresh beans (or bought them at the store, it's ok, I'm not judging), you're going to want to brew some coffee. If you plan on serving a crowd, then I suggest you make a big batch of coffee to pour over all the cups. But if it's just you and Netflix then go ahead and make a single serving.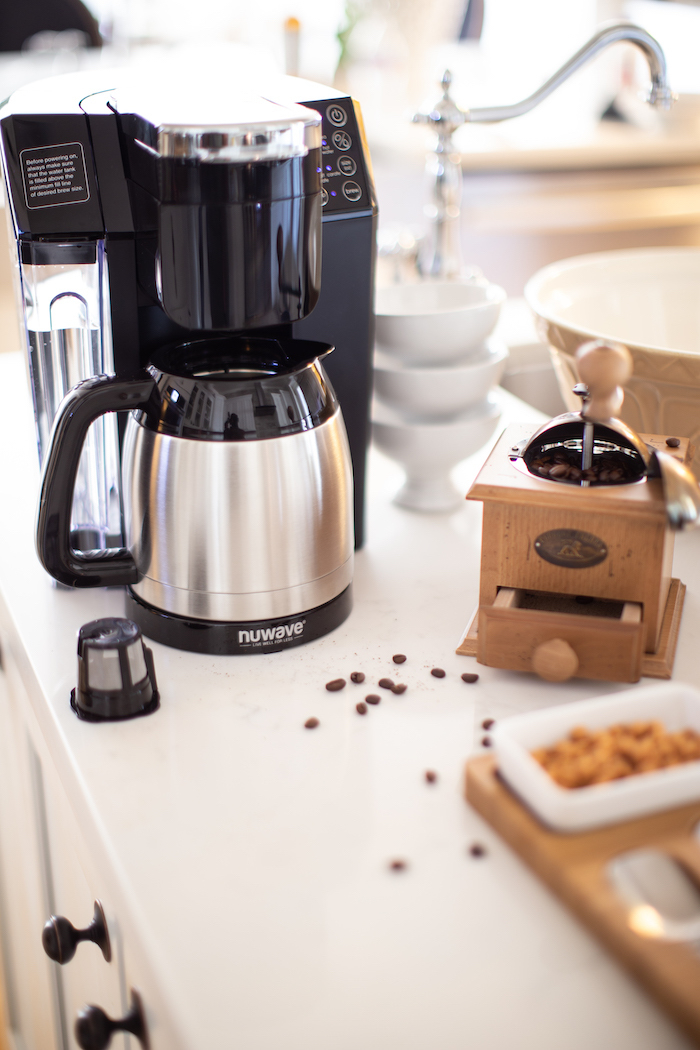 I love the Nuwave Coffee maker for this very reason. You can do both and use your own ground coffee. Simply just change out the filters at the top. I'm using the coffee carafe for a large batch so I switched it out. It also comes with a filter that's easy to change out and some really easy instructions so you can get to your dessert.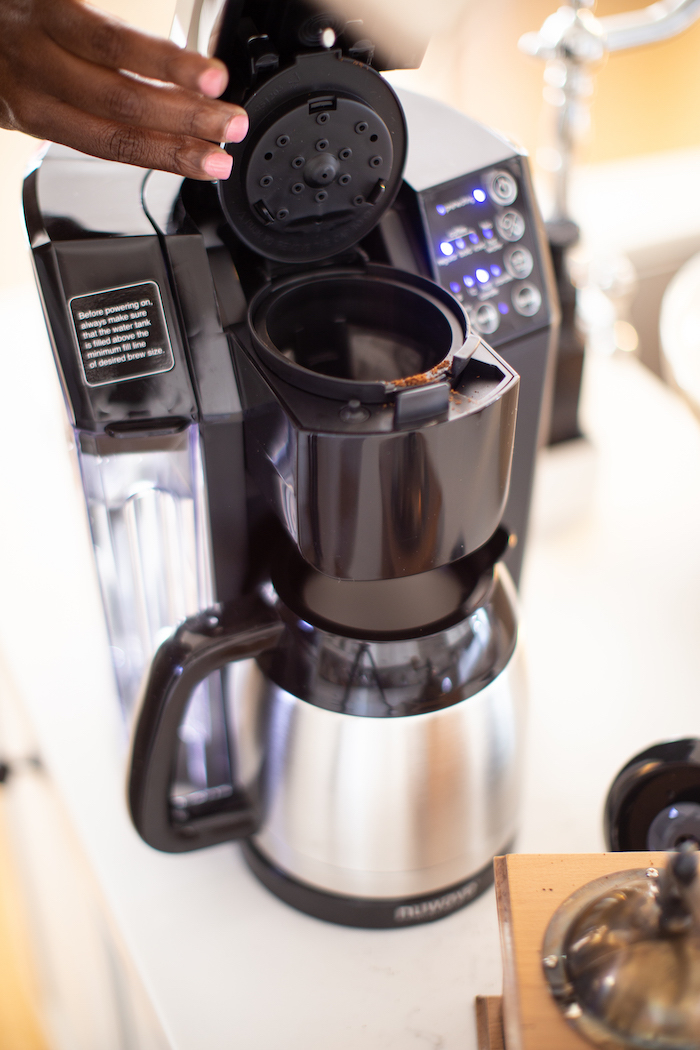 BruHub Deluxe Coffee Machine

By Nuwave

Shop Now
Next, we scoop out a few scoops of ice cream onto a cool marble ice cream mixing set from Picnic Time. Mix vanilla and chocolate, coffee and chocolate, or even chocolate and chocolate ice cream! Whatever your heart desires.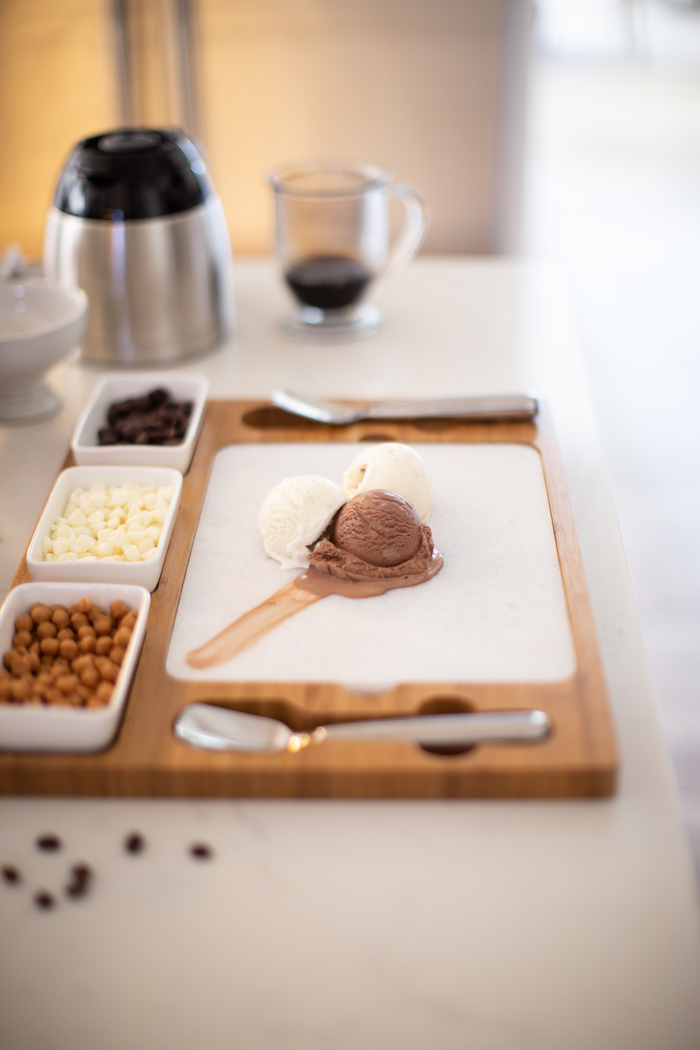 Parlor Ice Cream Mixing/Serving Set

By Toscana

Shop Now
This little set up makes you feel like one of those pros behind the counter at your favorite ice cream shop! The marble keeps the ice cream cold and the tools help you fold and mix in different toppings! The entire thing comes as a set and is a staple for ice cream night at the Alfonso house!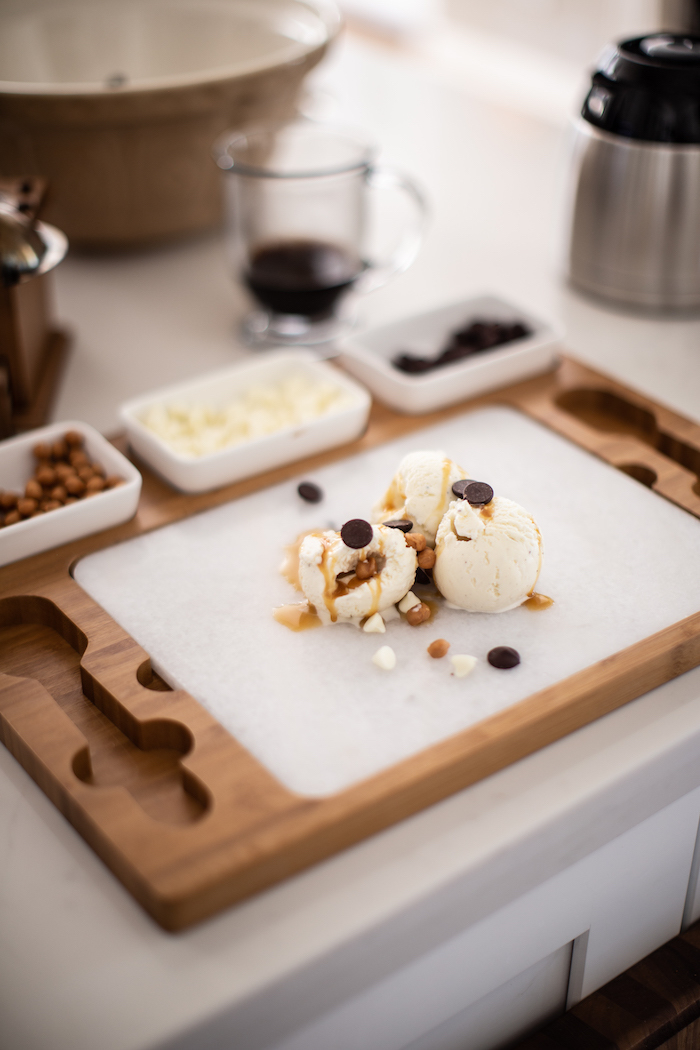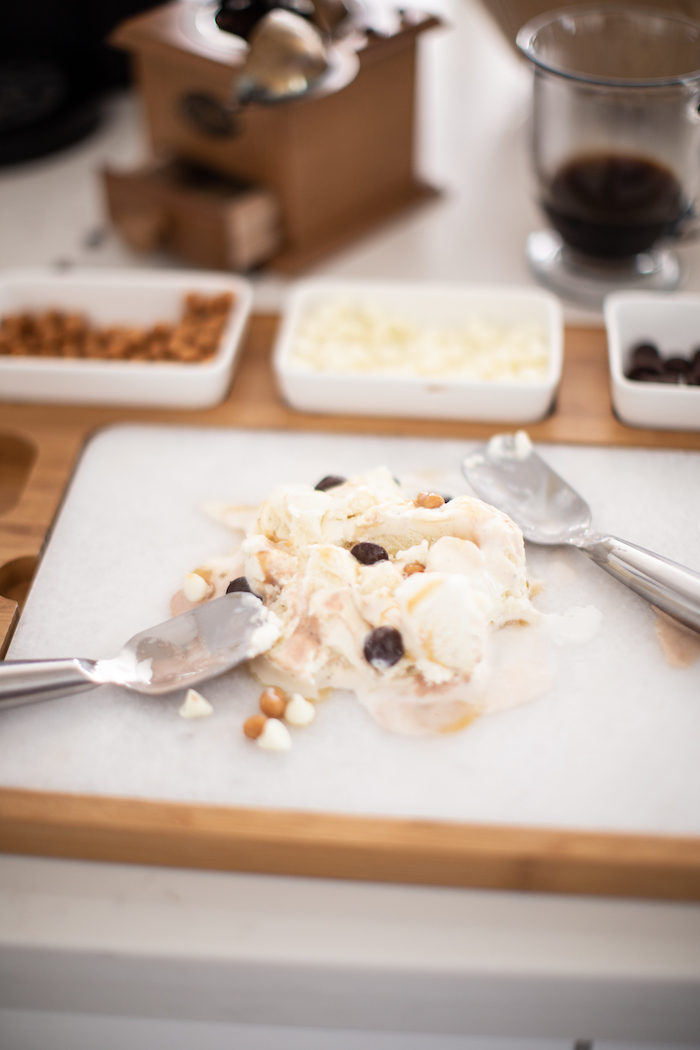 Now drop your mixed creation into a beautiful bowl to feel extra fancy, and pour the coffee over it! You can also pour your coffee into the bowl first and then add the ice cream. Either way it's simply delicious!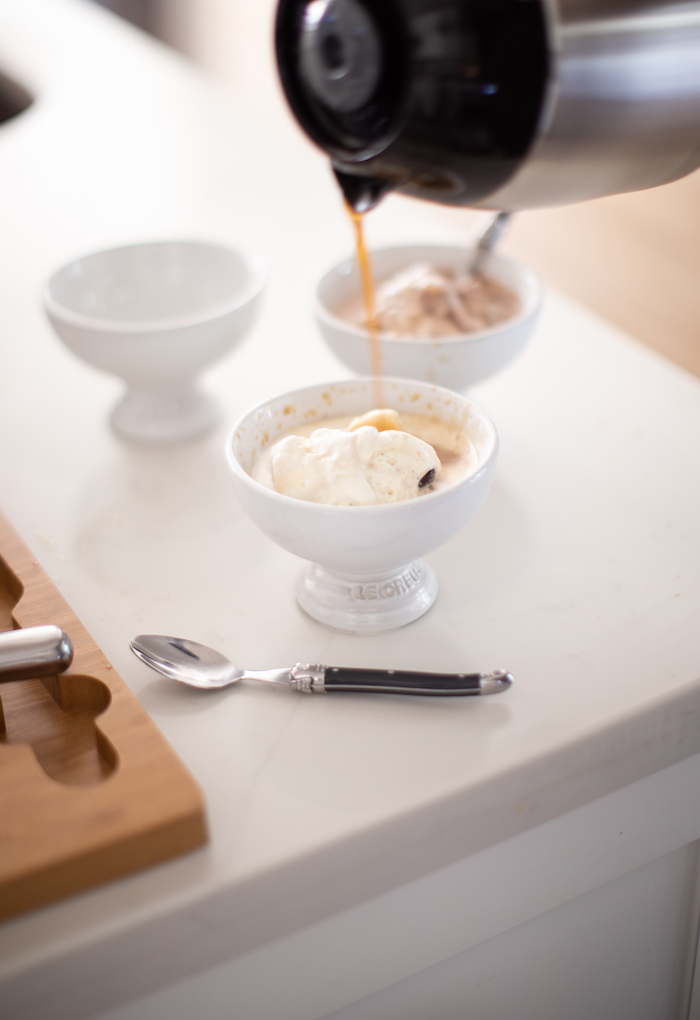 White Stoneware Footed Ice Cream Bowl

By Le Creuset

Shop Now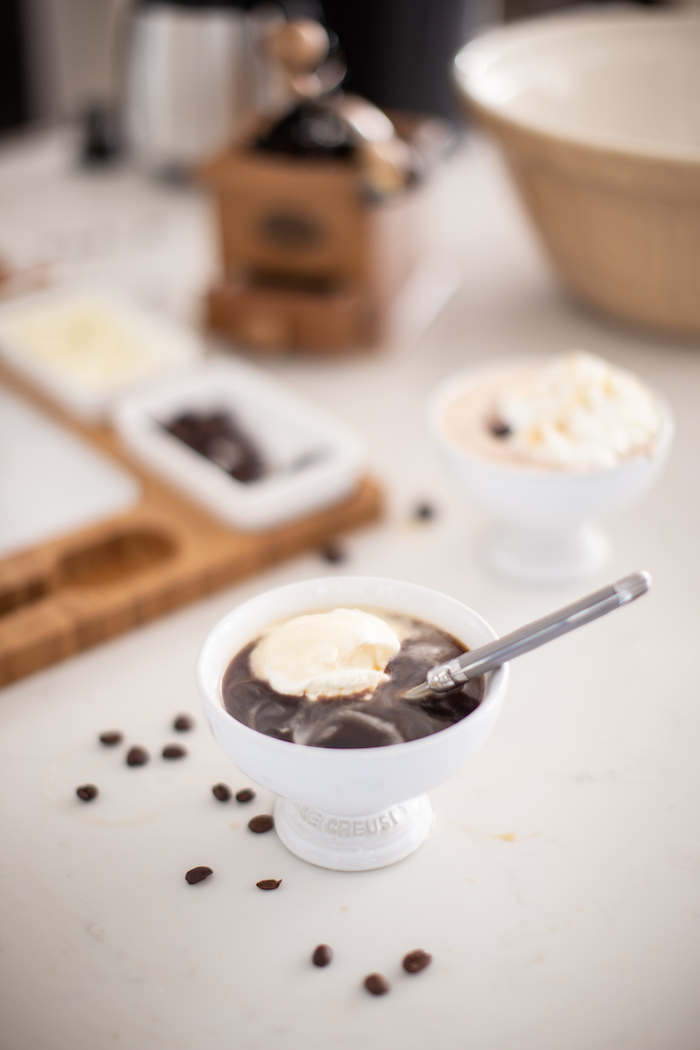 Add some whipped topping, fresh coffee grounds, or even caramel to the top to finish it off!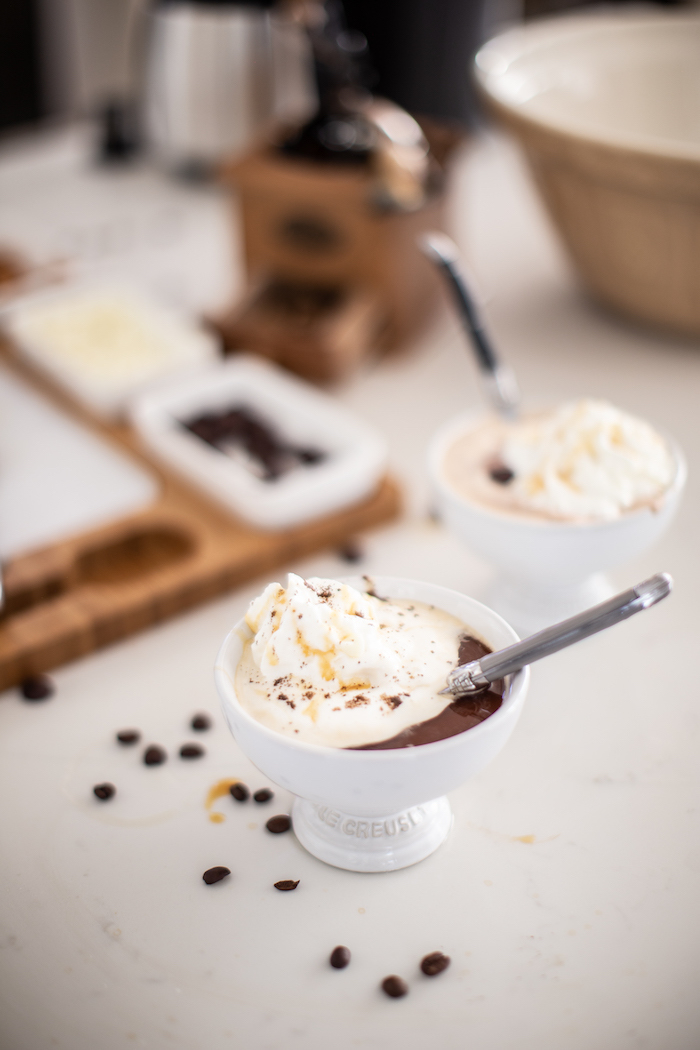 Enjoy!