Fig-Onion Burger with Crispy Bacon, Brie + Blue Cheese with Garlic Butter Truffle Fries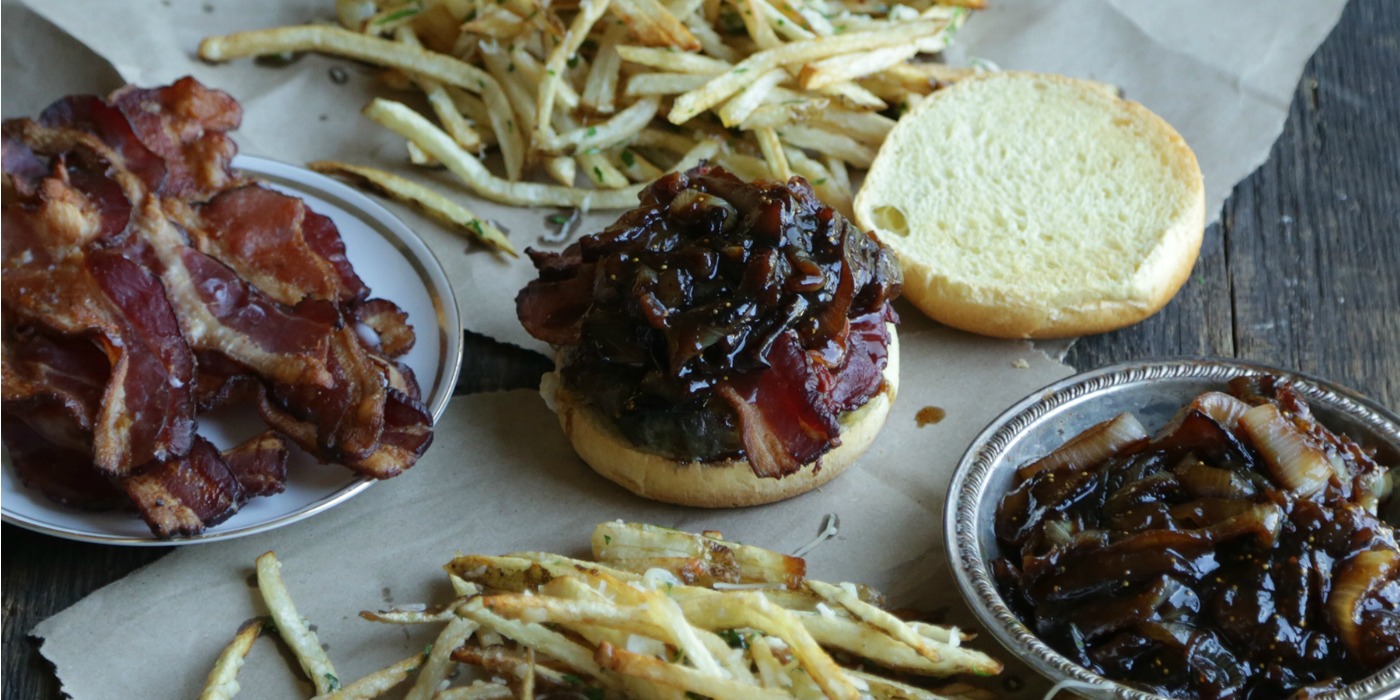 One of the things that I'm absolutely obsessed with doing is making gourmet burgers and next level fries. By next level I mean upping the ante and really making some delicious awesome flavors from simple French fries. For this recipe I was looking for the ultimate sweet and savory combo and I was able to find it in the delicious truffle flavor on the fries and from the fig jam on the burger.
This is actually a fairly quick recipe to make once the onions are done caramelizing, however that is one procedure you don't want to skip or barely do. There is nothing more delicious than roasted caramelized onions… Especially ones that are finished in fig jam.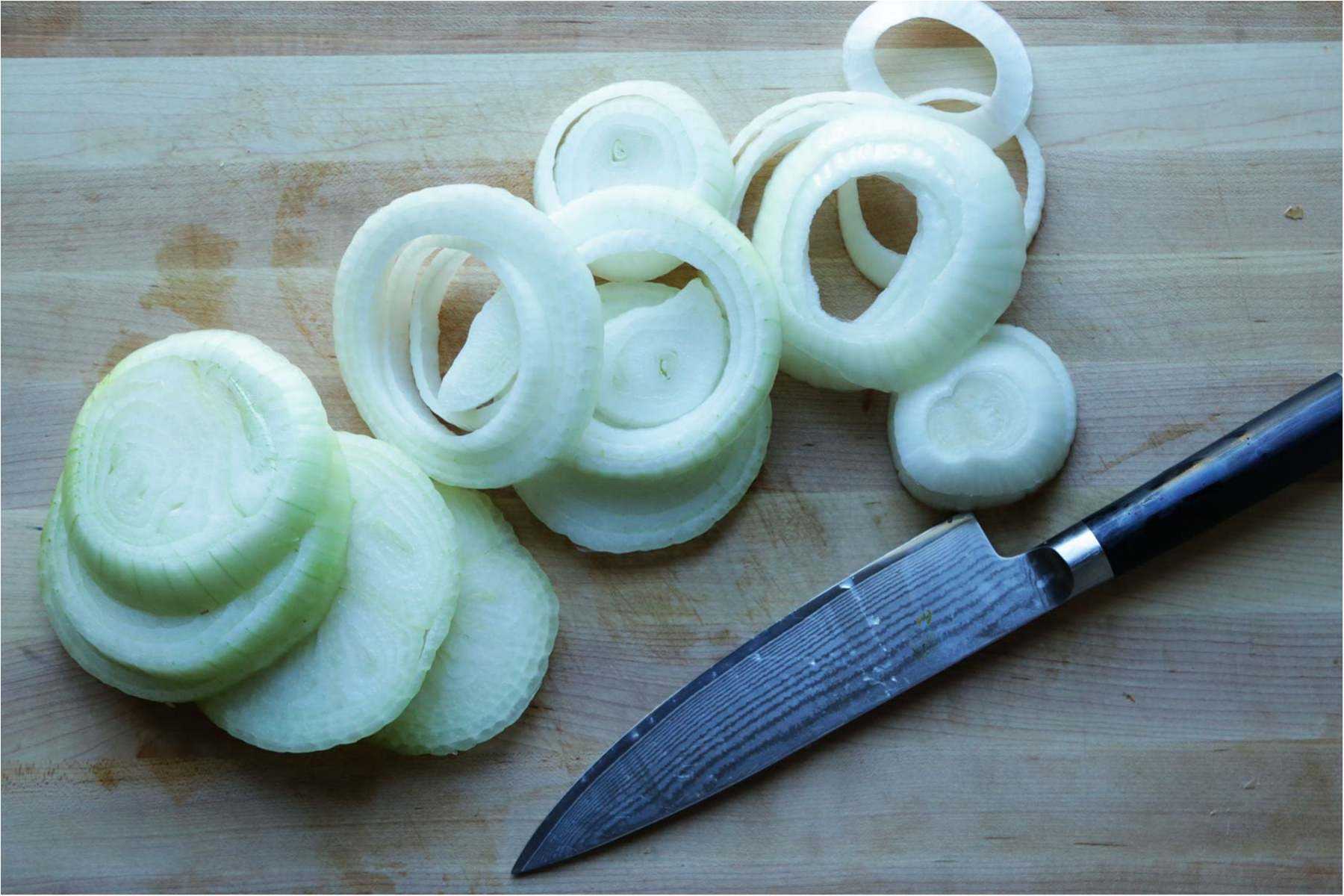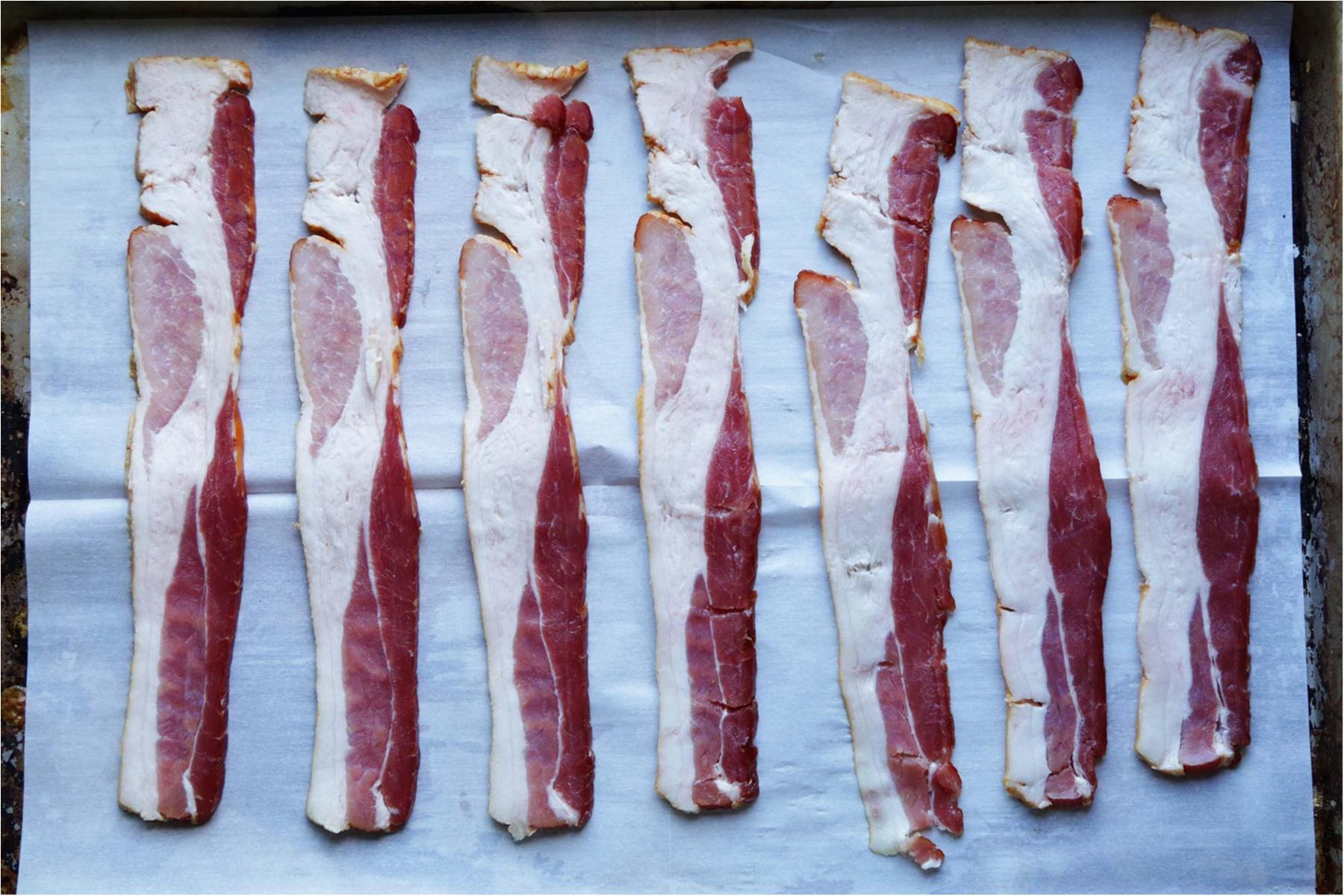 When it comes to hamburger meat, I am a huge fan of blending 80/20 ground chuck with 90/10 ground sirloin. If you're wondering what those ratios are, it's lean meat to fat. Too lean and your burger will fall apart, too fatty and your burger will just be… Good haha! However, I wouldn't recommend doing an overly fatty burger.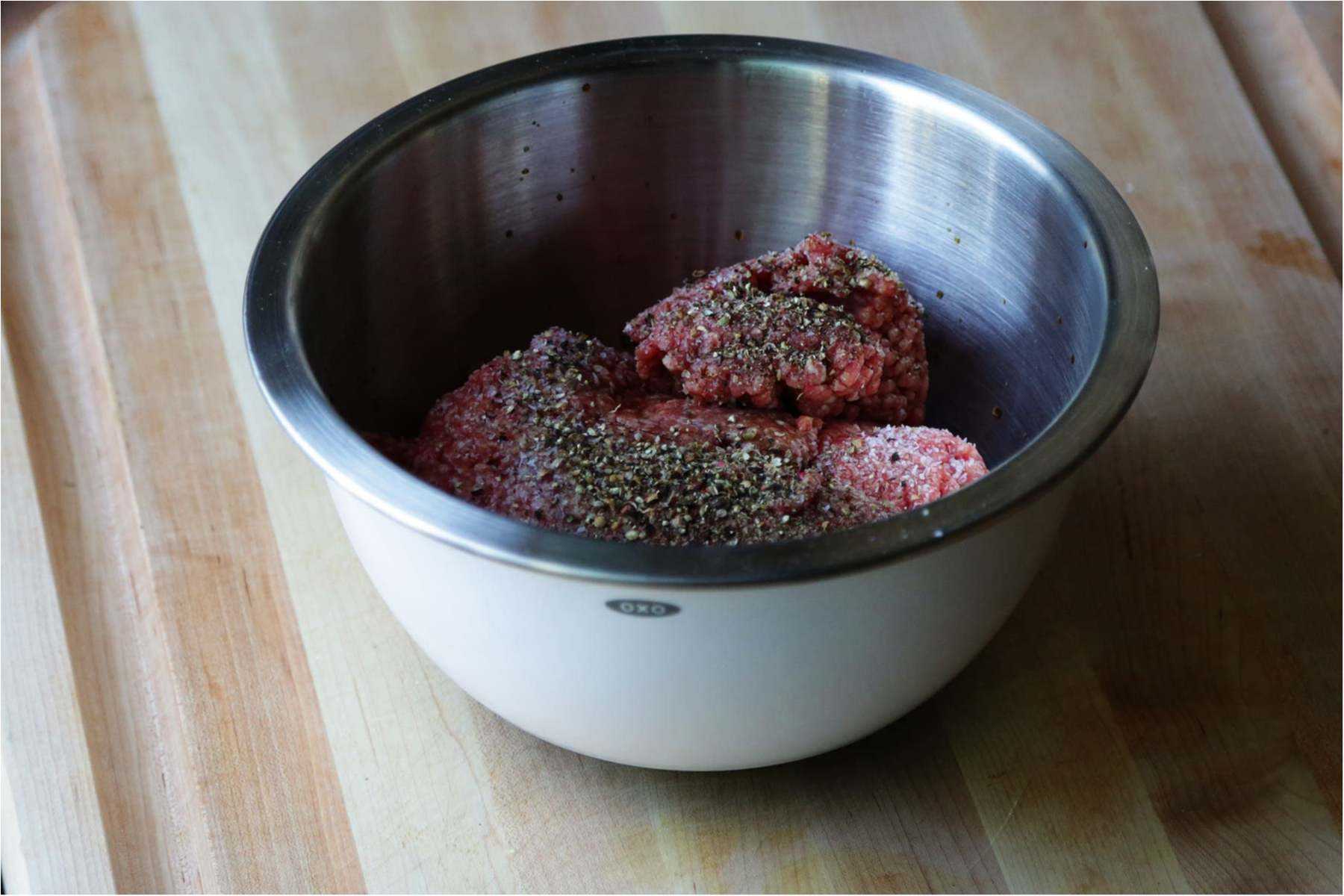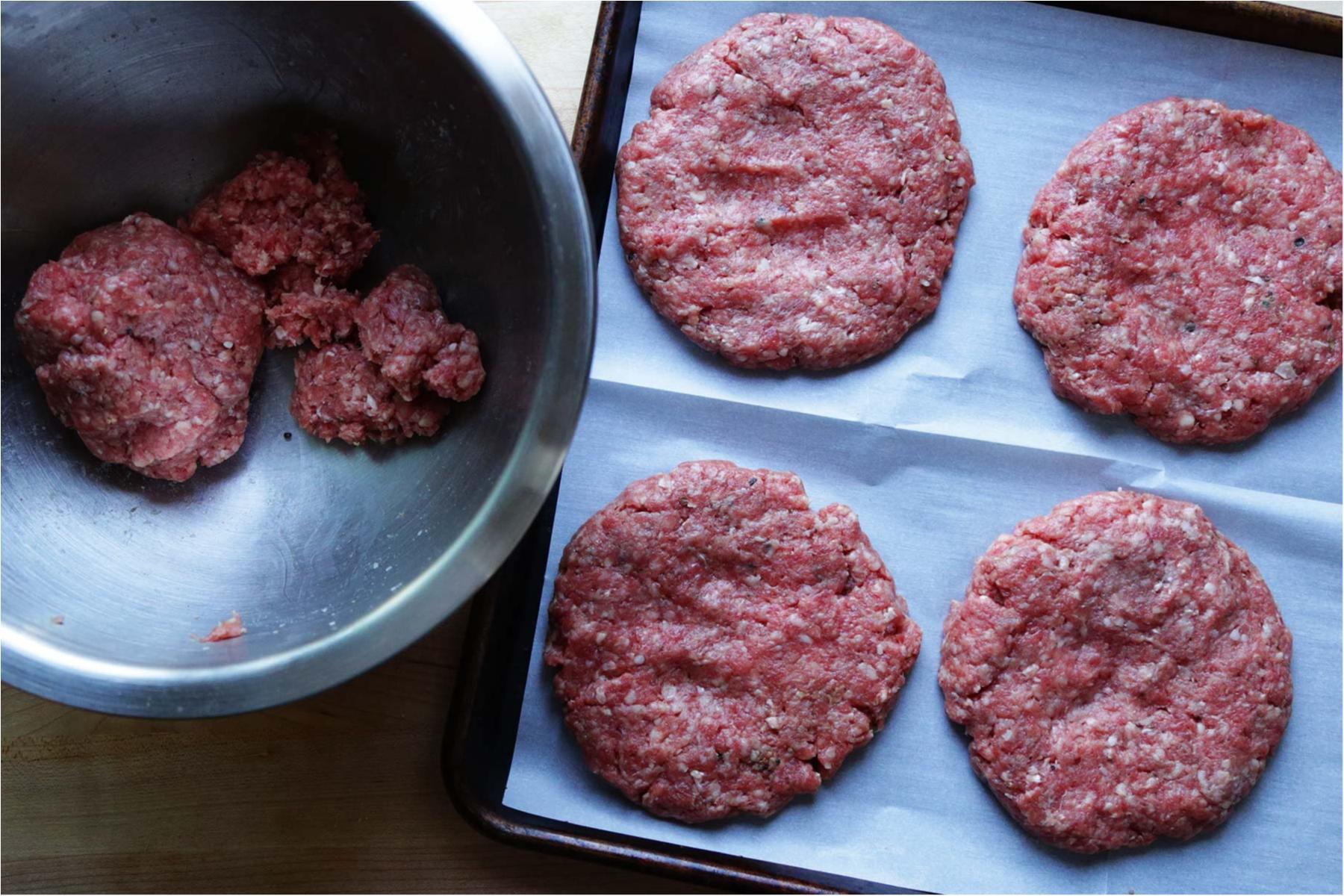 I am all about simplicity, so when it comes to seasoning up my burgers, I mix in some Worcestershire sauce, Tabasco, salt and pepper, and that's it! I love the OXO rubber grip bowls when mixing things like this because it really helps to stabilize the bowl so it's not moving all over the place. I served up these burgers from the grill with a combo of brie and blue cheese, some crispy bacon, and fig-onion jam on a brioche bun. If you're looking to add on some green, definitely put on some fresh arugula.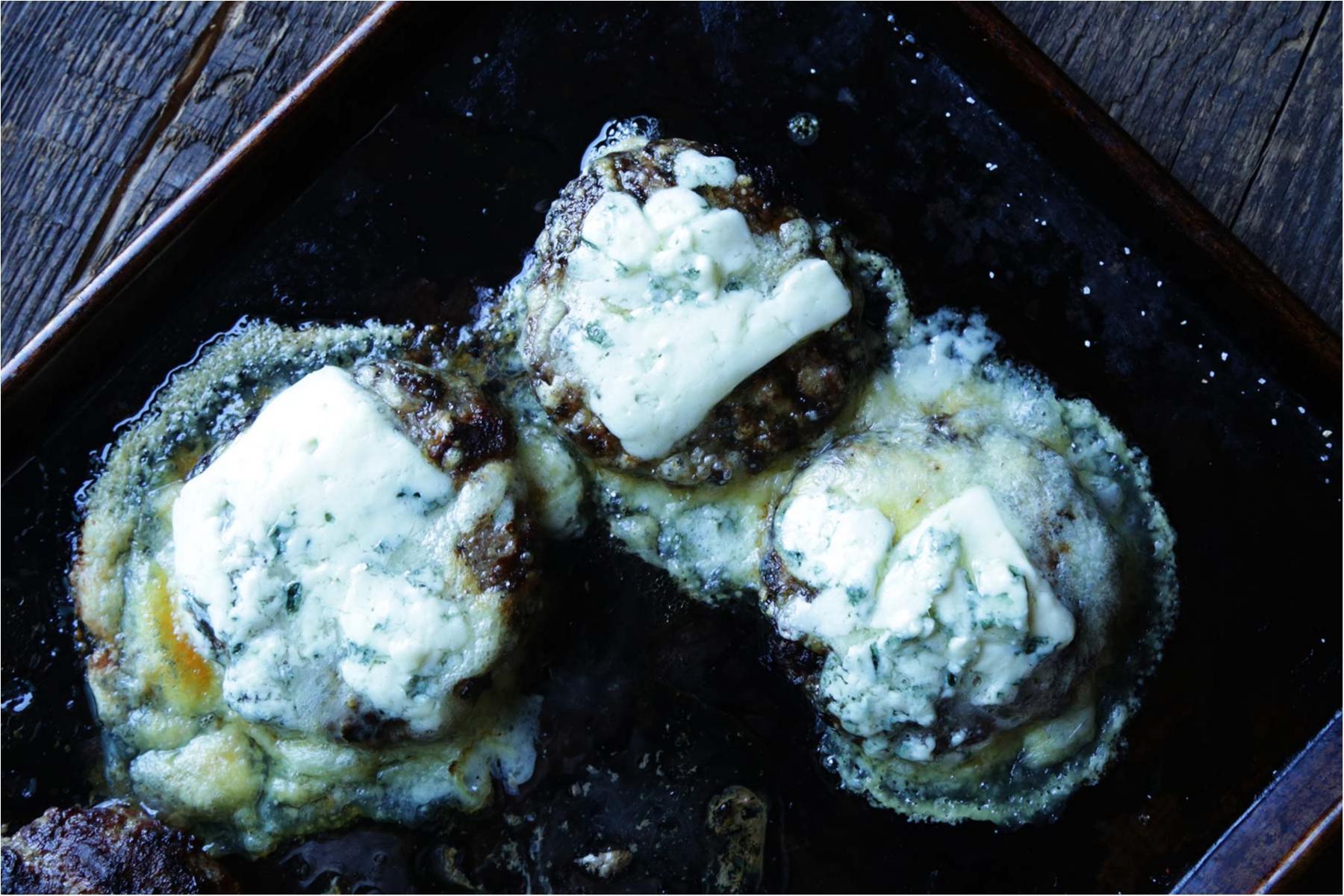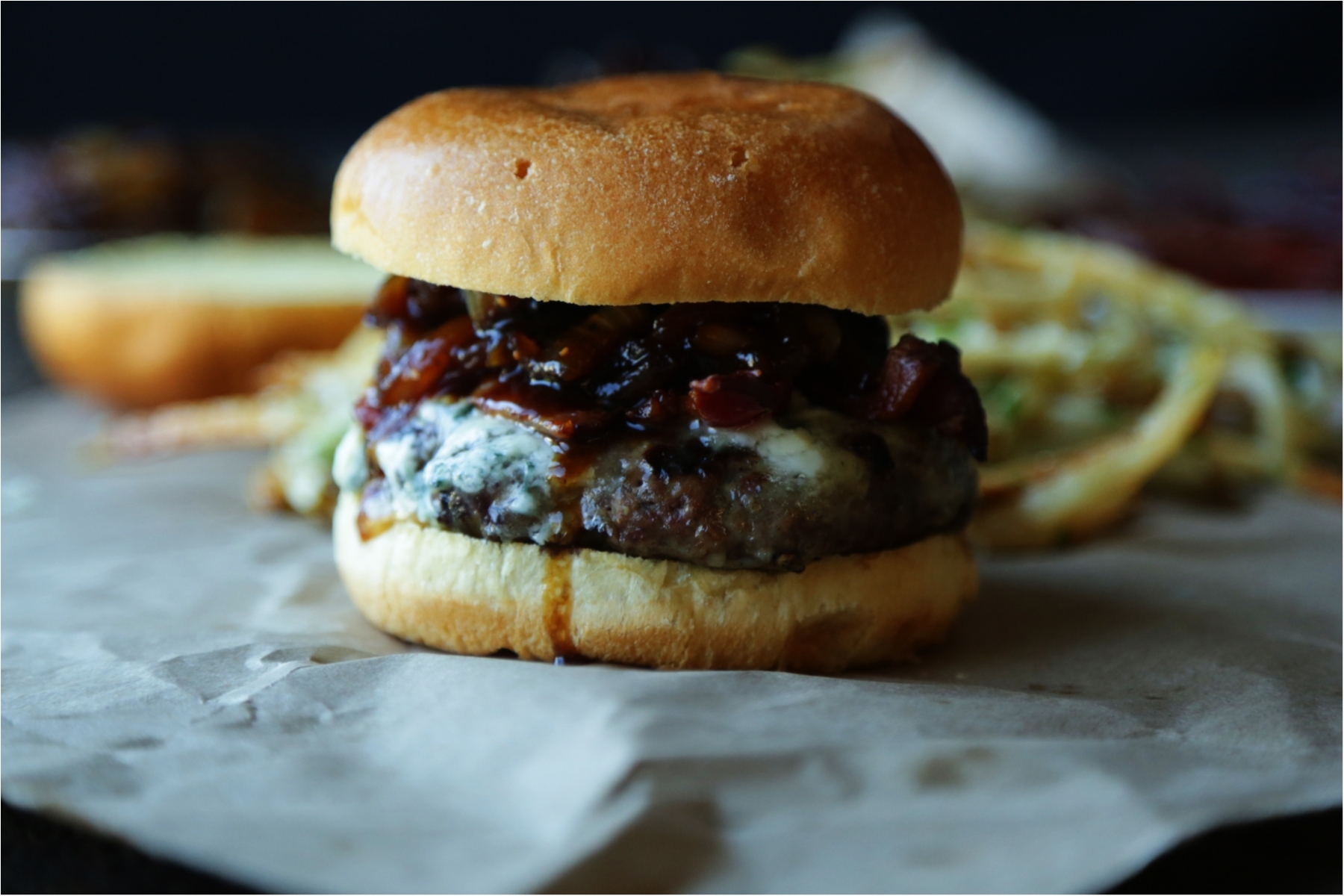 Now for the fries! I like really small thin cut fries, so thanks to my Shun chef's knife I got them to the perfect consistency. I fried them in canola oil in a really easy to use Waring deep fryer. It's perfect for the home cook who loves to fry and it's really easy to clean. It has 2 dials, one for a timer and the other for the temperature. I cooked the fries at 350° for 9 minutes. I like'em crispy brown so mine may cook a little longer than yours.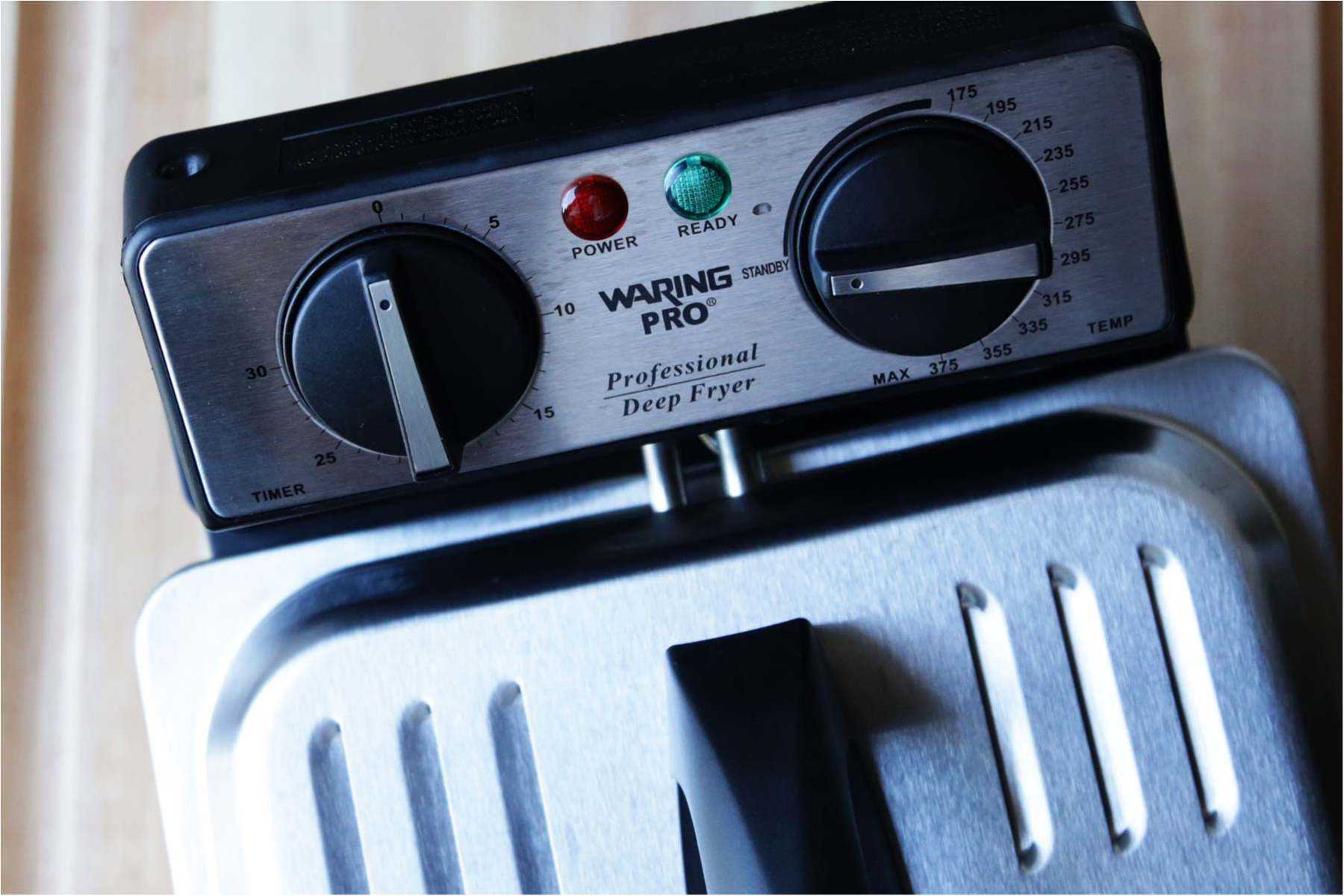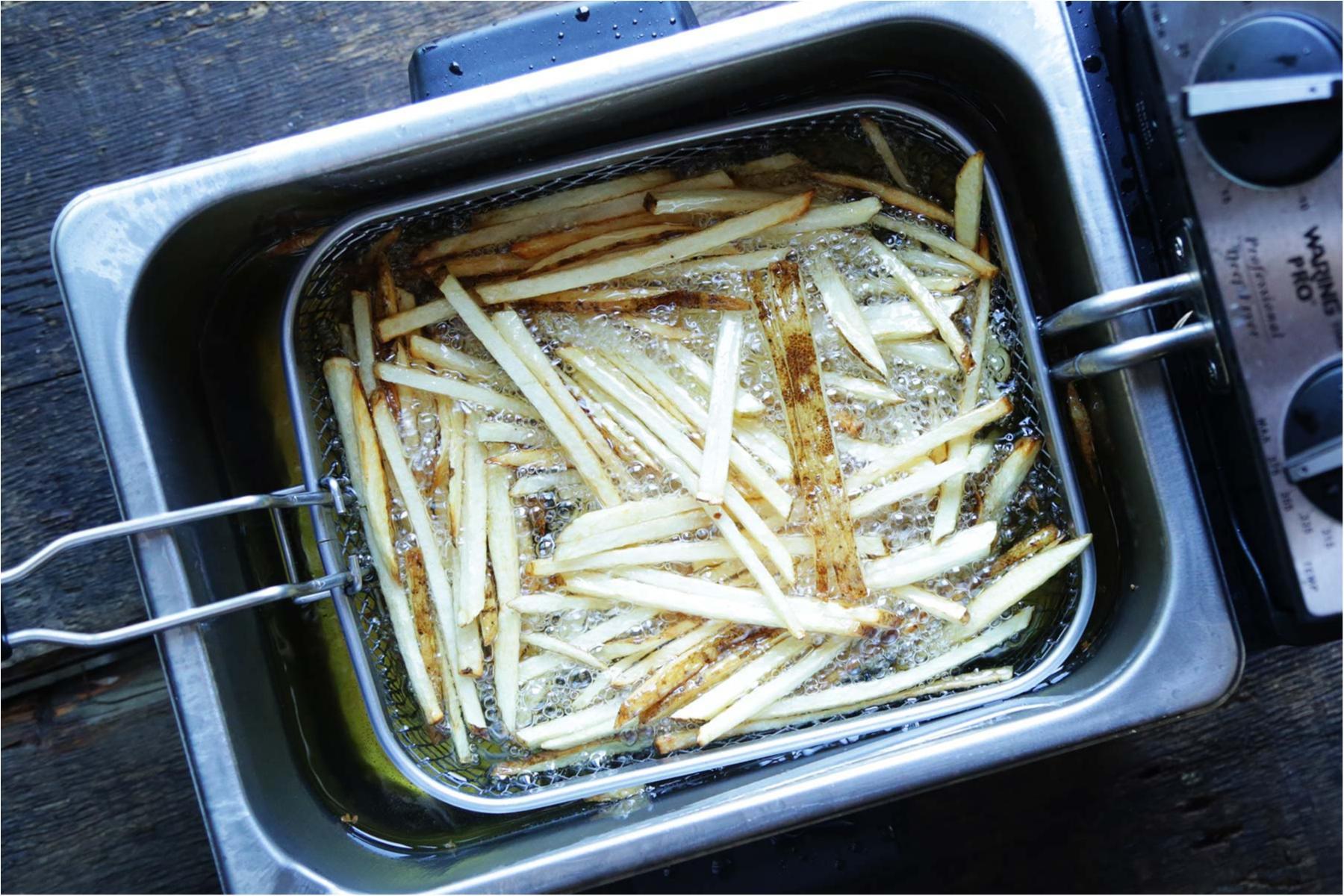 Once the fries drained in the basket after cooking, I tossed'em up with garlic, butter, shredded asiago cheese, truffle oil, salt and parsley and WOW were they delicious. The combo and balance of flavors between the savory fries and semi-sweet burger is out of this world. This recipe is a must make, and thanks to the fryer, it was a homerun!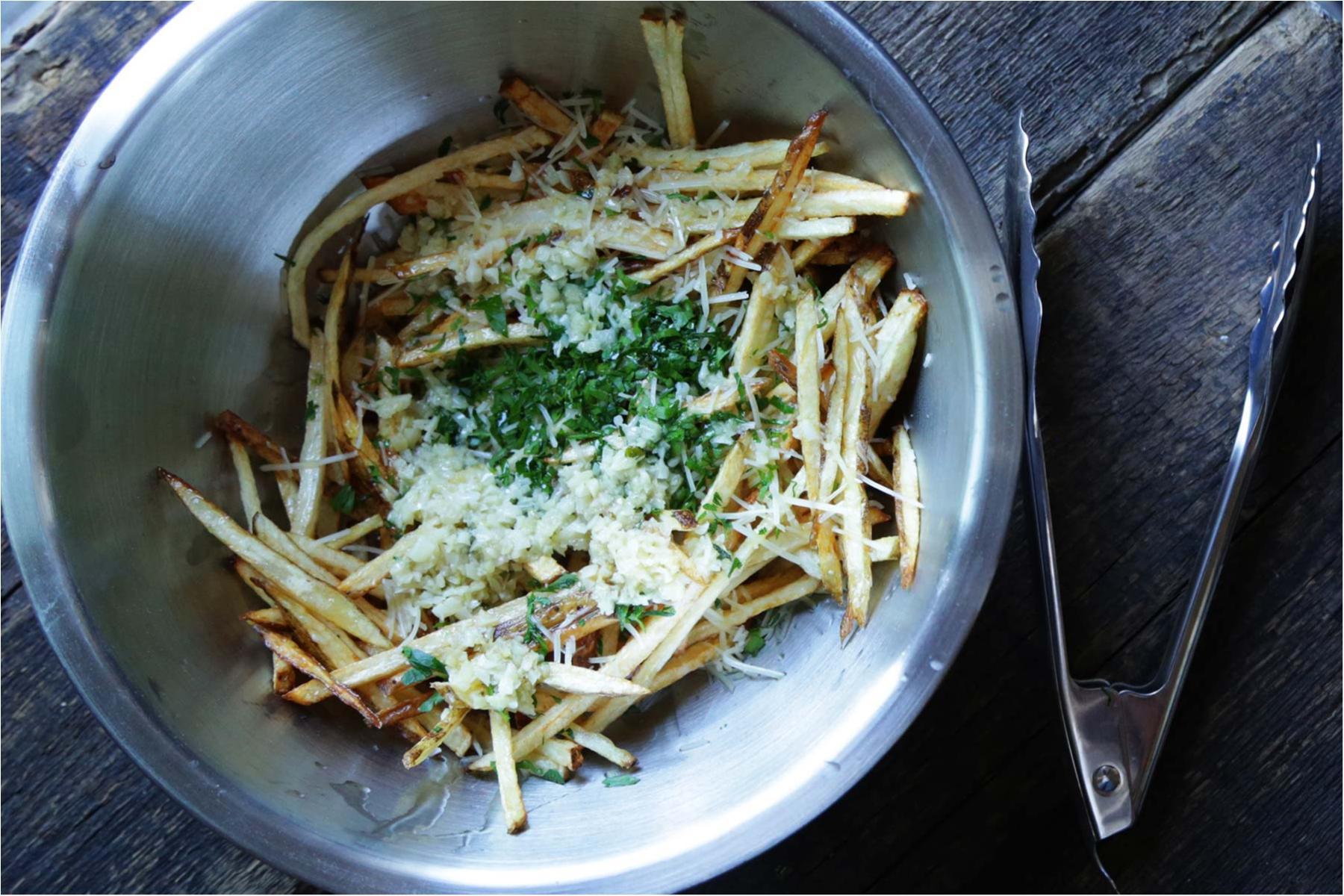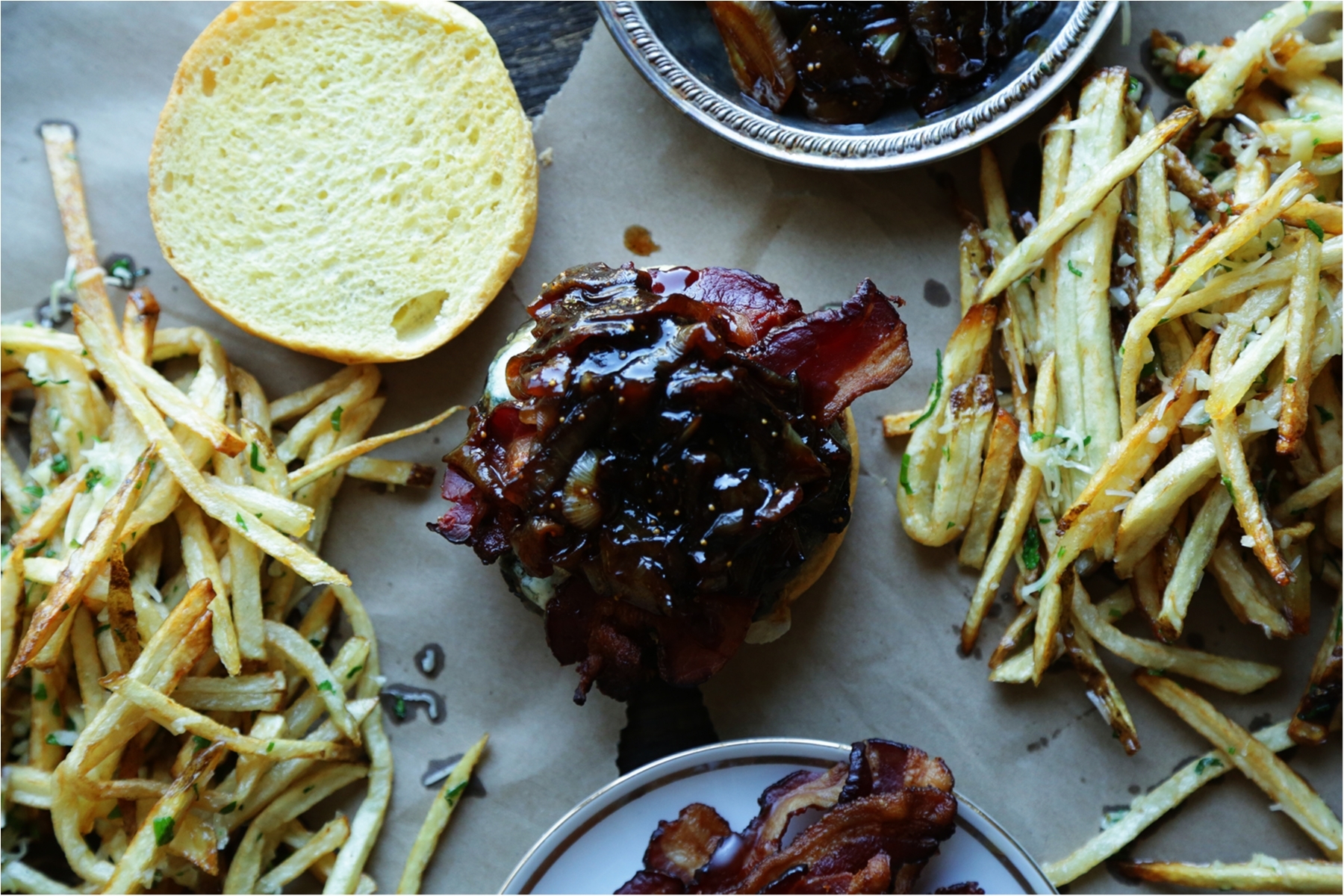 Fig Onion Burger with Crispy Bacon, Brie + Blue Cheese with Garlic Butter Truffle Fries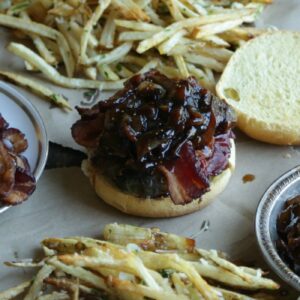 INGREDIENTS
For the Burgers
1 sweet onion cut into 1" inch rings
1 tablespoon of unsalted butter
2 tablespoons of fig jam
1 pound of 80/20 ground chuck
1 pound of 90/10 ground sirloin
12 strips of crispy cooked bacon
6 ounces of crumbled blue cheese
8 ounces of brie cheese, sliced as thin as possible
Worcestershire sauce to taste
Tabasco to taste
Kosher salt and fresh cracked pepper to taste
For the Fries:
2 Idaho potatoes cut into battonets
3 tablespoons of unsalted butter
5 finely minced cloves of garlic
1 ounce of white truffle oil
¼ cup of shredded asiago cheese
1 tablespoon of chopped fresh parsley
Kosher salt and cracked pepped to taste
INSTRUCTIONS
For the Burgers:
Preheat the grill to high heat.
In a large sauté pan on medium heat with butter, caramelize the onion rings until they are deeply brown and soft, about 30 to 40 minutes. Finish by stirring fig jam in with the onions, set aside.
Next, in a large bowl combine the ground chuck, ground sirloin, Worcestershire sauce, Tabasco sauce, Kosher salt and pepper and mix until completely combined. Form 6 patties from the beef and cook on a very hot grill on both sides until the desired internal temperature is achieved.
Top off the burgers with both brie and blue cheese, crispy bacon and some of the fig-onion jam and serve them on a toasted brioche bun.
For the Fries:
Pour in 1 gallon of canola oil and preheat the Waring deep fryer to 350°.
In a small saute pan on medium heat, cook the garlic and butter until it is lightly browned, about 4 to 5 minutes.
Add the cut potatoes to the fryer basket, submerge and cook for 9 minutes or until crispy and brown.
Next, transfer the fries to a large bowl and toss together with the garlic and butter, truffle oil, Asiago, parsley, salt and pepper and serve alongside the burger.