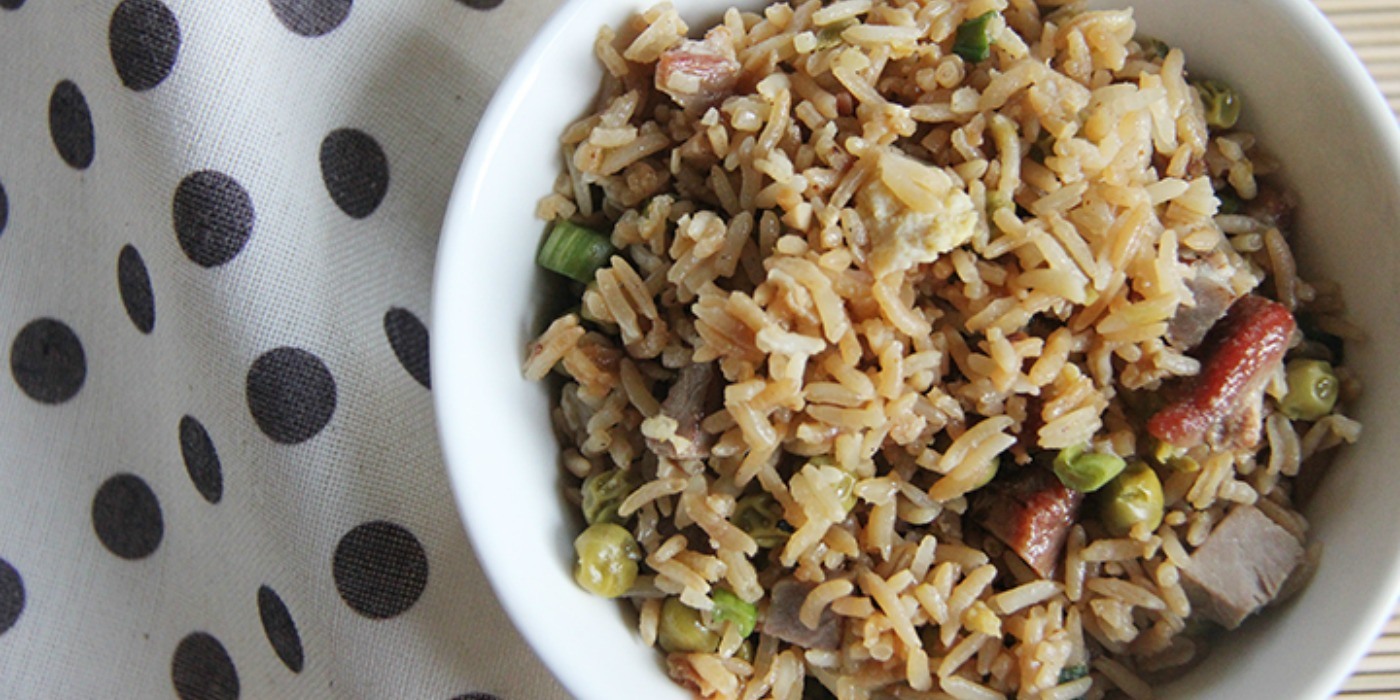 This post is something that you probably already familiar with. It is fried rice.
Growing up in Indonesia, I was introduced to many kinds of fried rice… from Garlic Fried Rice, fried rice with sweet soy sauce, Shrimp Paste (Belacan) Fried Rice, Salted Fish Fried Rice, to Cheese Fried Rice. I am not sure about the latter one since people often modify the ingredients and name it something new. To be honest, some of them are not even valid.
A few years ago, my family and I, and a bunch of friends traveled to Seattle and we stopped by a well-known homey Malaysian restaurant. Malaysian and Indonesian food are quite the same; hence our taste buds can totally relate. We got a chance to meet the owner, who was also the chef, and introduced ourselves. Knowing that we have Indonesian taste buds, they suggested some Chef specials which were not on the menu.
To my surprise, they cooked Durian Fried Rice. I seriously cannot take cheese and rice together; so when Durian Fried Rice came from their kitchen, I was literally scratching my head thinking how and what were they thinking. I dared myself to take a bite. It was bizarre but delicious at the same time and I probably ordered it after I finished their famous Squid Ink Pasta.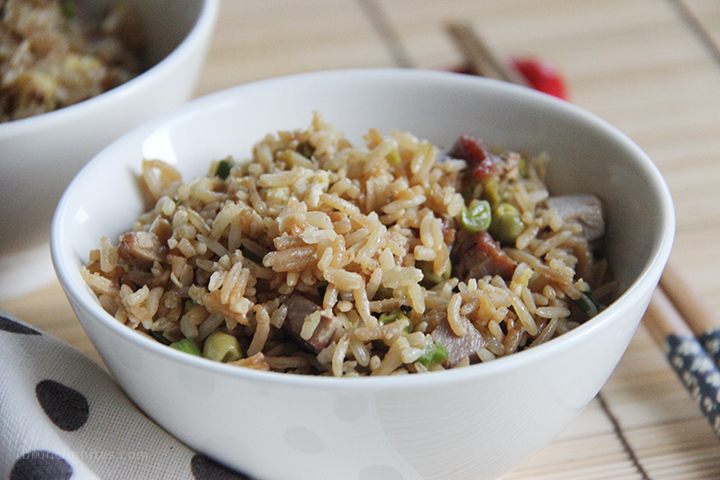 Everyone loves fried rice! It is a quick and easy way to use up leftover bits in the refrigerator. The best is of course using day-old rice because it has dried out and is perfect for frying. There will be a morning when you crave fried rice for dinner. Well, I don't blame you for that.
There are two ways to cook your rice. You can use less water when cooking your rice. Let's say cooking 2 cups rice, instead of adding 2 cups water, try adding 1.5 cups water. Another way is to make friends with your freezer. So make a batch of rice and spread it in a thin layer on a sheet tray, refrigerate it for 20 minutes, and move it to the freezer. However, you need to let the rice thaw before frying it.
I suggest using Aroma Rice Cooker. Like many Asian families, we own a rice cooker at home. When we were not married yet, we only used mini rice cooker that is good and small enough for traveling. Once we got married, we made an upgrade to something more decent for a family.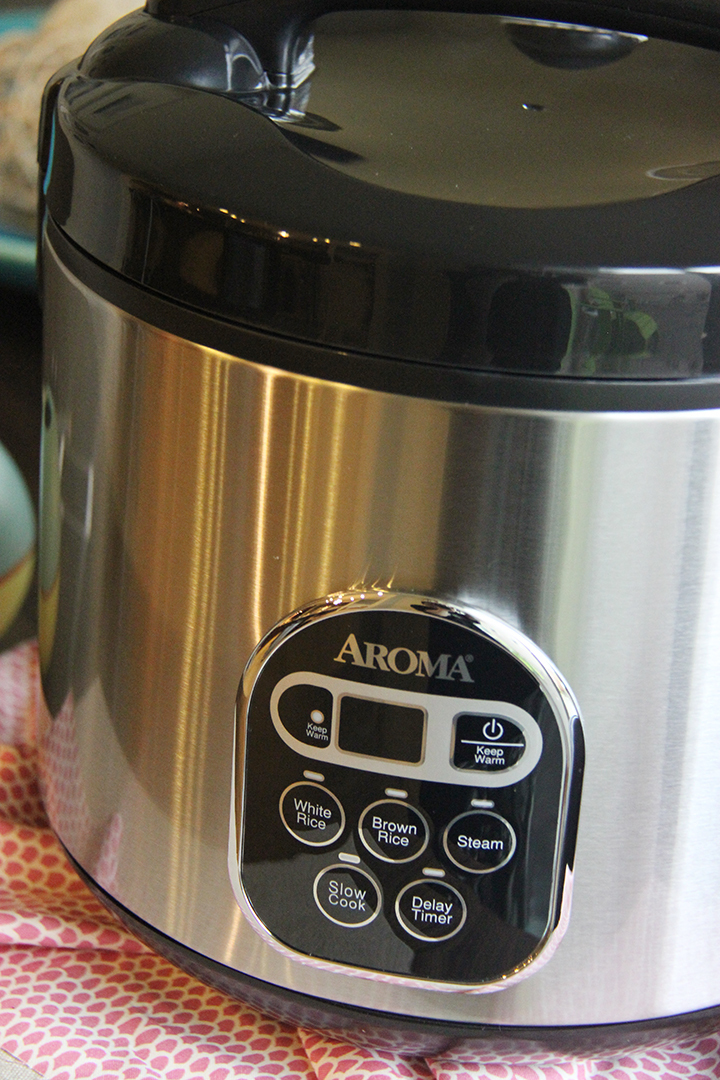 There are so many types of rice cookers out there – the one that gives you option to cook porridge, as a warmer, or even multifunctional options. I like this Aroma Rice Cooker because it gives the function as food steamer. The programs are easy to read and cook your rice to fluffy perfection. The programmable steam setting allows the rice cooker to double as a digital food steamer or make a healthy, complete meal in just one pot by steaming meat and vegetables while rice cooks below!
The programmable 15-hour delay timer is perfect for hectic weekdays as rice and water can be added in the morning and set to be hot and ready when needed at night. This versatile meal maker is also great for cooking oatmeal, soup, stew and more. Once the cooking is done, the nonstick inner cooking pot, inner lid and all accessories remove for quick cleanup. Clearly, cooking a delicious meal just gets easier with this.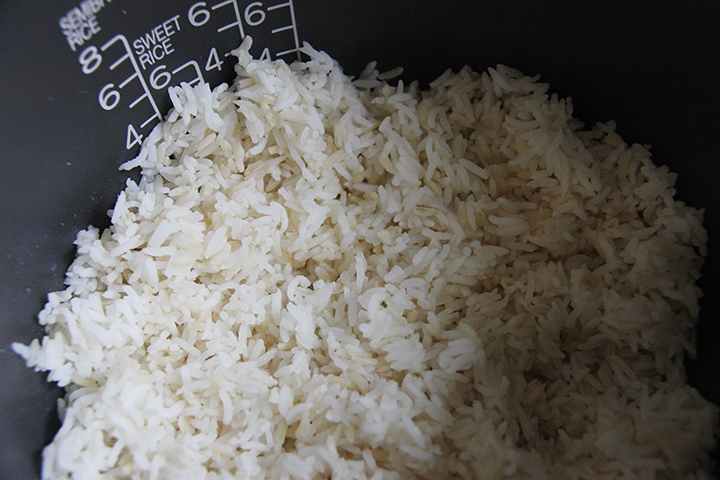 And oh, don't forget to invest in a good wok. I'm serious about this one. My mom, especially, tried so many wok in the past and most of them gone bad after few months. So, invest in a good one like this Calphalon Stainless Steel Wok because this one is versatile and strong, and I guarantee it will create a heavenly stir-fry dishes, including this fried rice. I normally don't like a stainless steel wok because it's too heavy, especially when you transfer your food to your plate; but this one is light and easy to carry.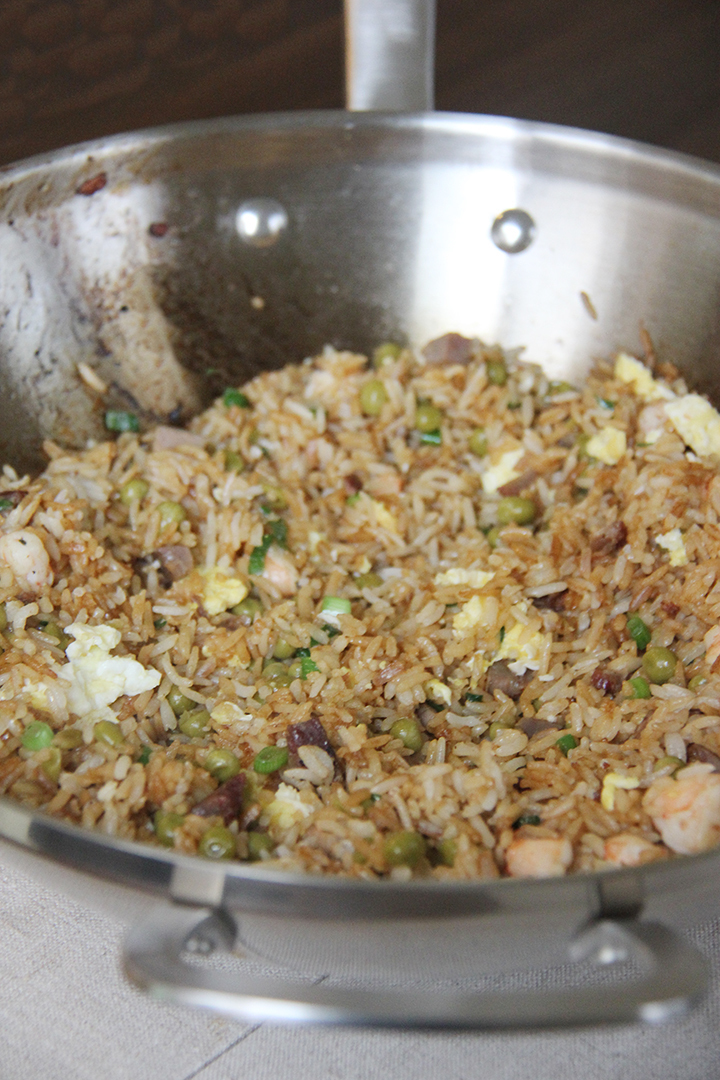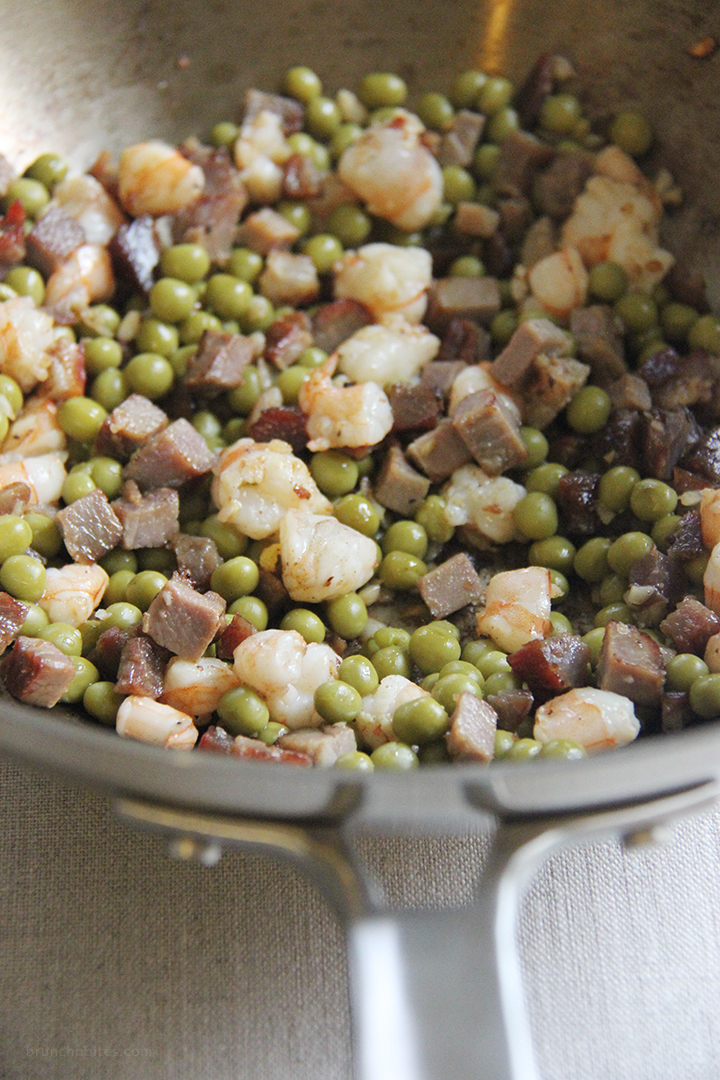 Yang Chow Fried Rice (扬州炒饭) is fried rice that you often see on Chinese Restaurant menus. This is a quick way to use any leftovers in the fridge. I am using barbecue pork for this dish, just like the original; however you can substitute barbecue pork with Chinese sausage or ham. You can also add finely chopped lettuce that will add crispiness to this fried rice and make it more special. The best way it cook Asian dish is using high heat because that's how you get all the flavors to come out and since this is considered fast cooking, be sure to have your ingredients ready.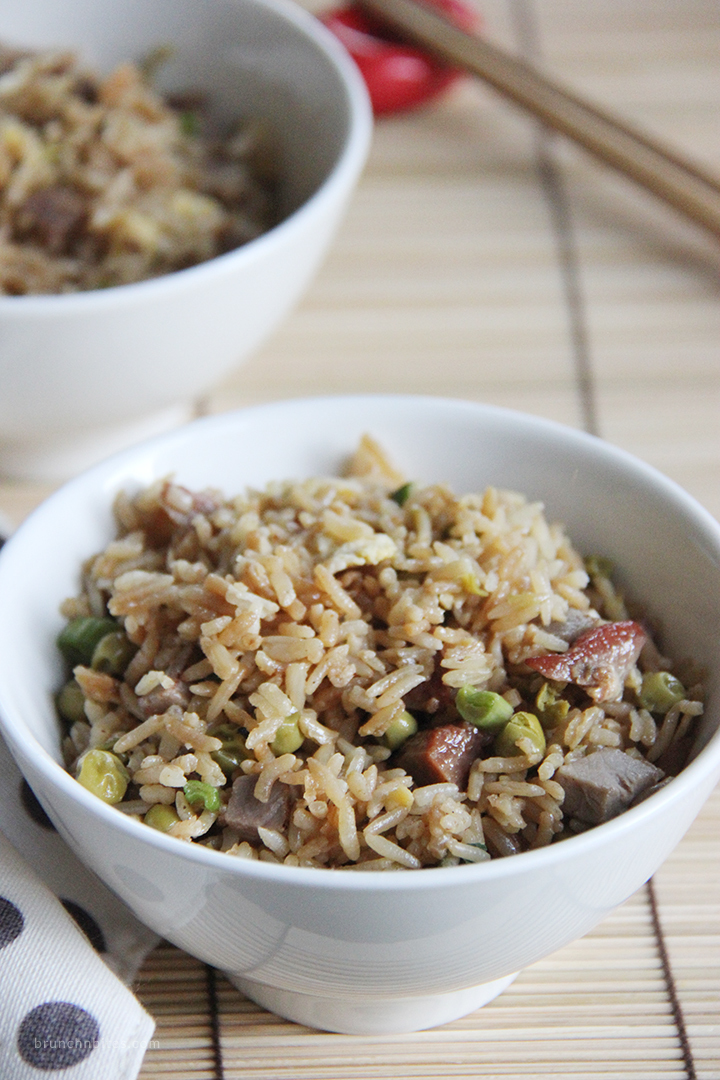 Yang Chow Fried Rice Recipe
This post is something that you probably already familiar with. It is fried rice.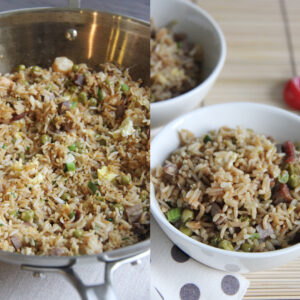 Ingredients
2

cups

cold, cooked white rice

3

tbsp

oil

1

small onion, peeled and chopped

3

cloves garlic, peeled and minced

.5

cups

Chinese BBQ pork, diced (you can substitute this with Chinese sausage)

.25

lb

shrimp, peeled, deveined, and chop into smaller size

.5

cups

sweet peas, thawed

1.5

tbsp

lite soy sauce or tamari sauce

2

green onions, finely chopped

2

eggs

salt

white pepper
Instructions
Heat the wok over medium high heat and add 1 tbs of oil. Add eggs, fold and scramble them gently. Set aside.

Heat the wok now over high heat. Add another 1 tbs of oil, diced onion and garlic. Stir-fry until the onions are translucent. Next, add the pork and stir-fry for 2-3 minutes.

Add shrimp to the wok and green peas, and cook for 30 seconds. Set aside.

Heat the wok and add the remaining oil. Add rice and stir-fry for 2 minutes. Make sure to flatten out and break up any remaining rice clumps using wok spatula.

Add the pork mixture and stir continuously for another 3 minutes until rice is heated through.

Add the rice and stir-fry for 2 minutes, being sure to heat the rice uniformly. Use your wok spatula to flatten out and break up any remaining rice clumps.

Add the shrimp and peas, and stir fry continuously for another 2 minutes until the rice is heated through.

Add soy sauce and adjust seasoning with salt. Mix everything to ensure the seasonings are uniformly incorporated. If the rice a little dry, sprinkle in some water or a touch of sesame oil.

Add in the scrambled eggs, scallions, and white pepper. Stir fry to combine and serve.