With This Pan, Making a Gingerbread House with the Kids Is a Piece of Cake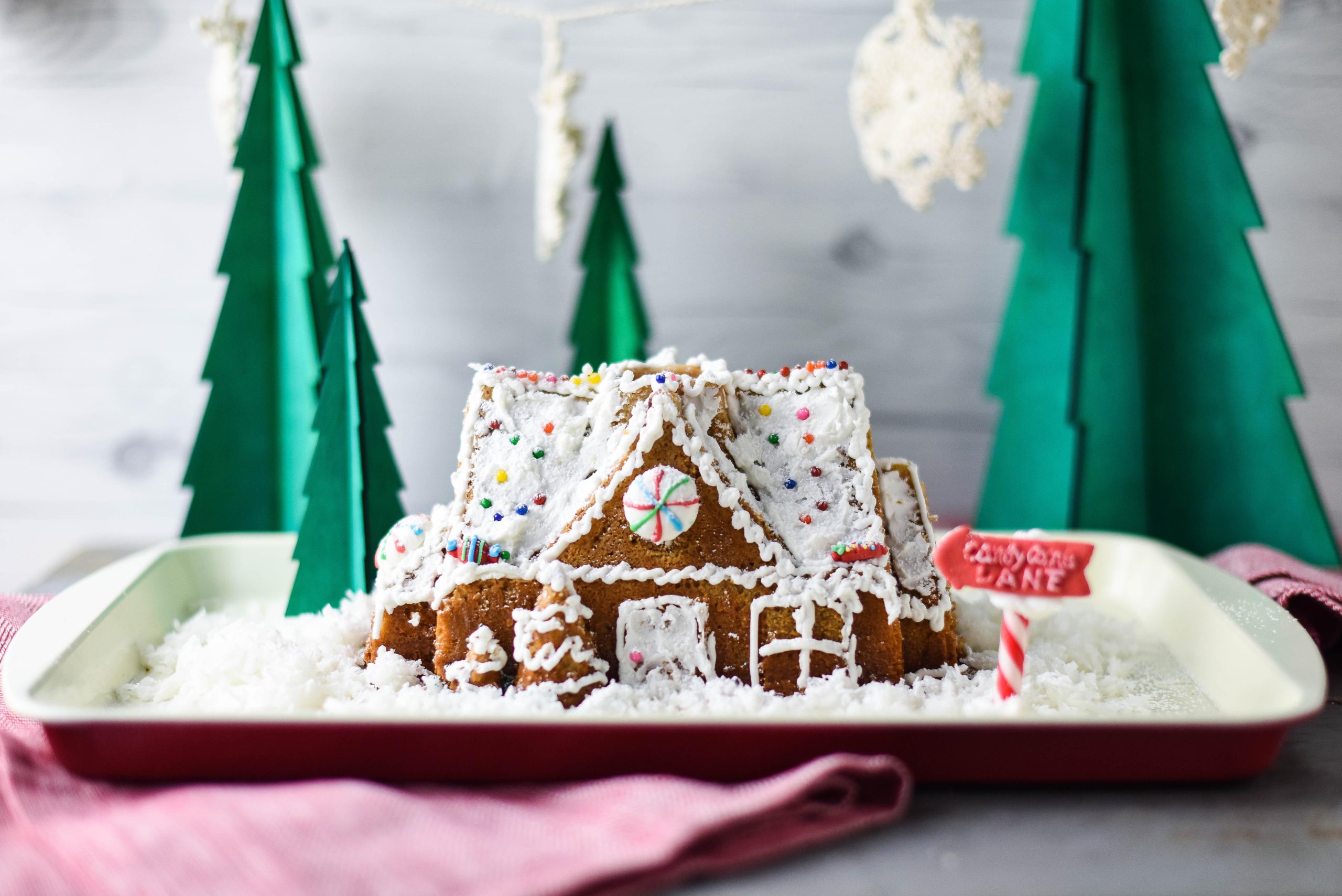 Assembling a traditional gingerbread house can be an intimidating prospect, especially when kids are involved. This year, skip the stale, store-bought cookie kits and instead bake a moist, delicious and (most important) easy-to-make gingerbread cake using a festive house-shaped cake pan. Made with ground ginger, cinnamon and cloves, this moist, yummy gingerbread cake has a delicate, not-too-spicy gingerbread flavor that's kids and adults will both enjoy. Even better, after baking, the cake is surprisingly easy to un-mold, letting you skip right to the fun part — decorating!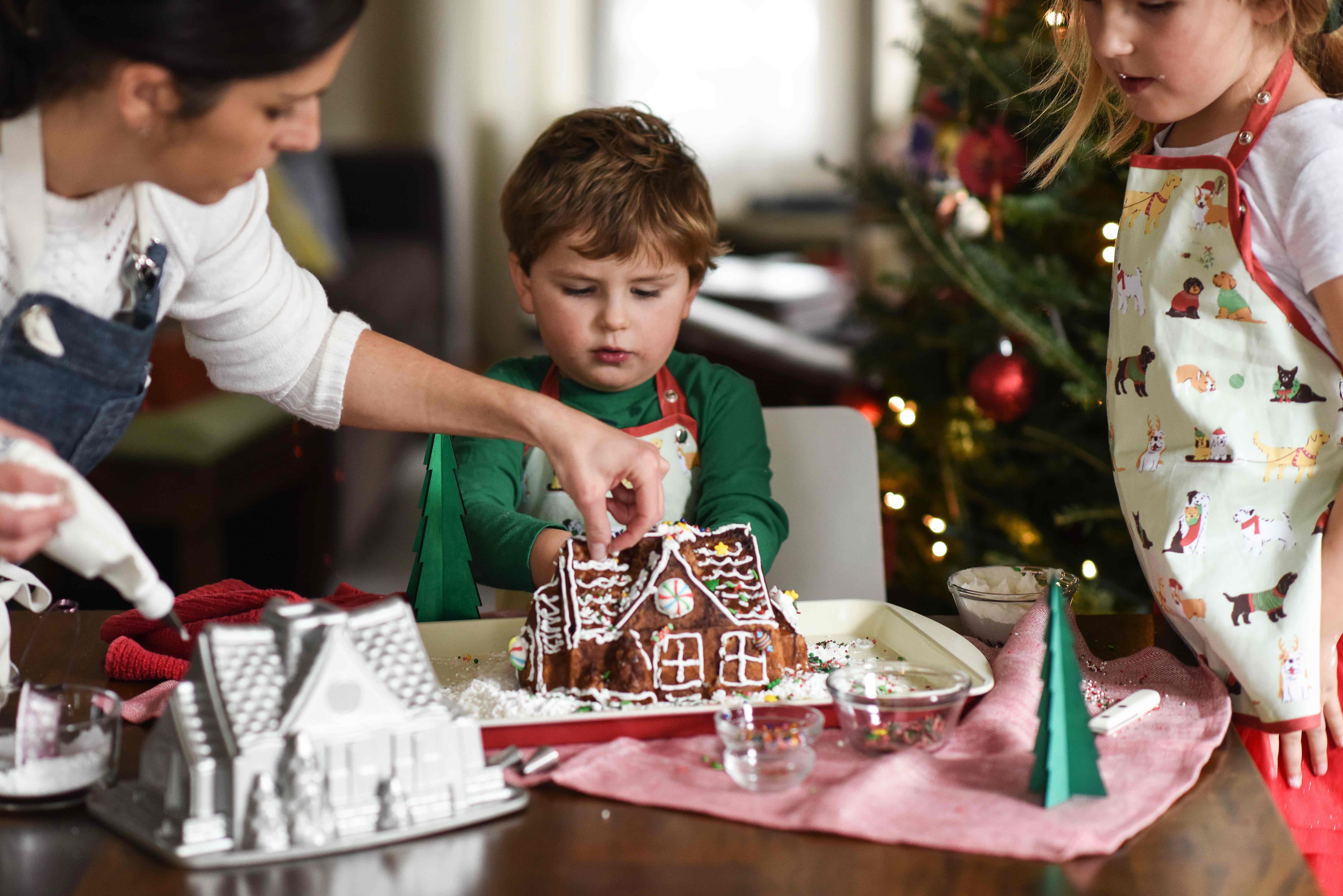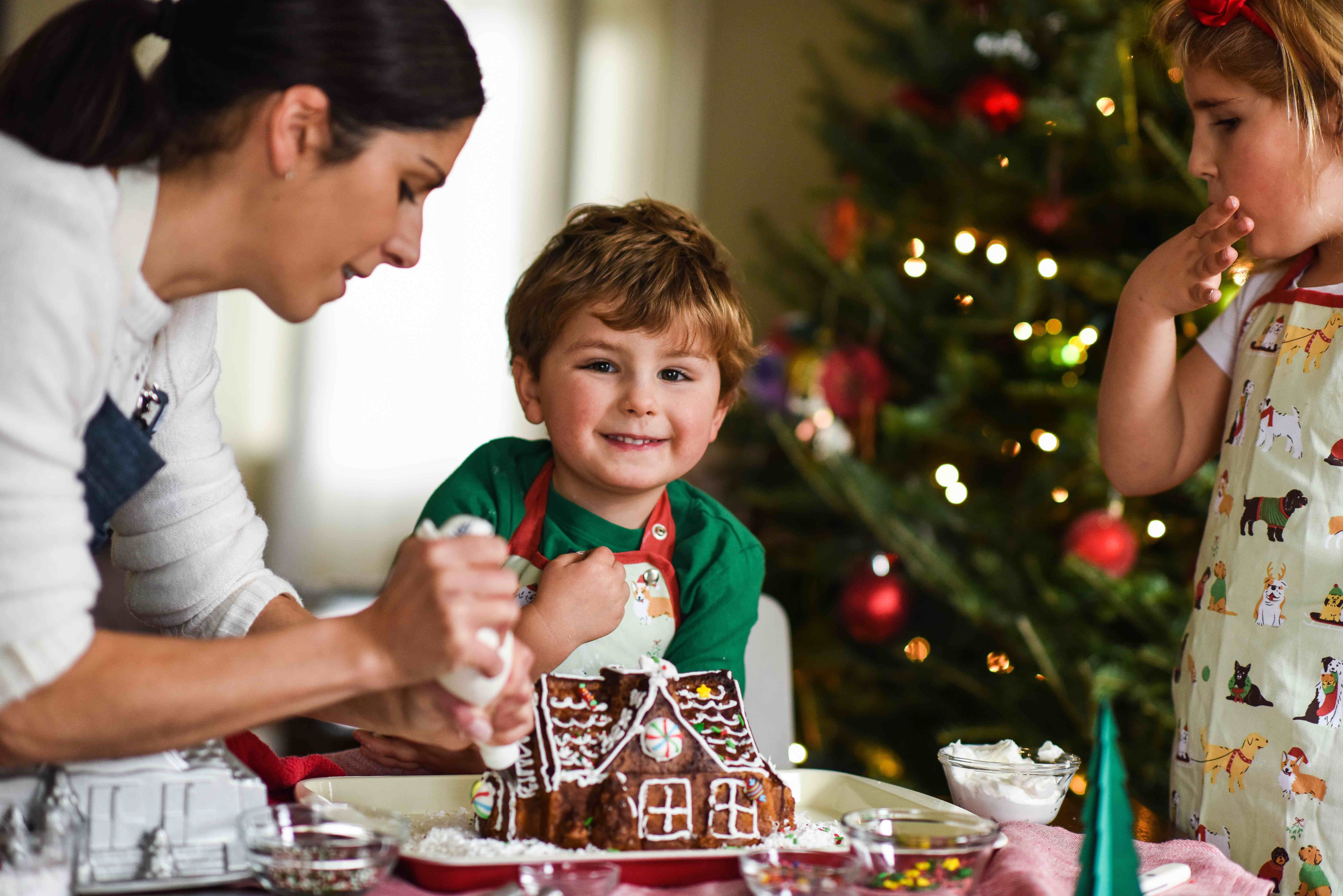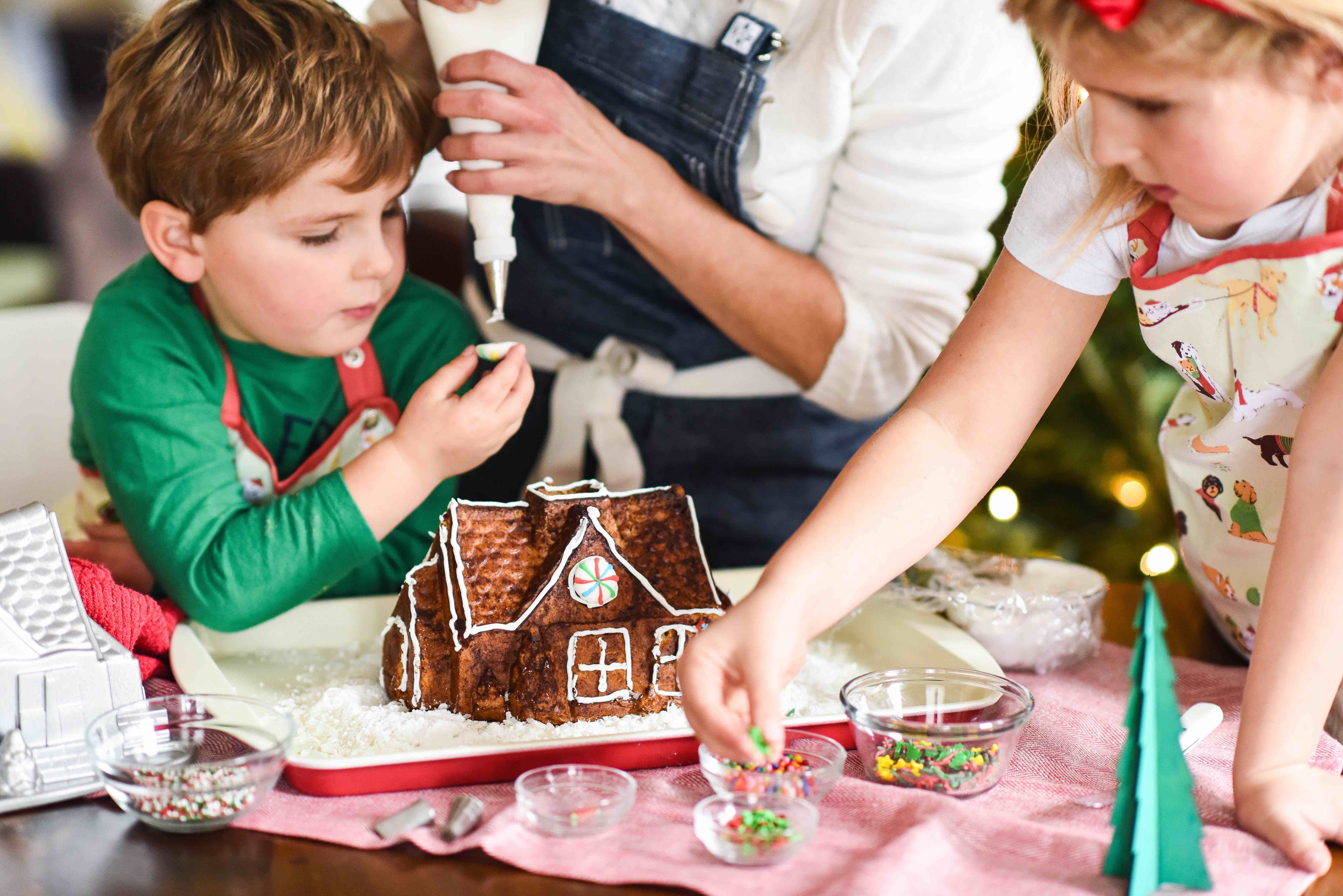 We placed our gingerbread cake on a pretty rimmed baking sheet sprinkled with coconut flakes to resemble a bed of snow. Then we piped the cake using traditional royal icing and added all sorts of festive candy decorations. For food safety reasons, we made our icing using meringue powder since I knew the kids would be doing plenty of "sampling" but pasteurized egg whites are an easy and safe choice as well.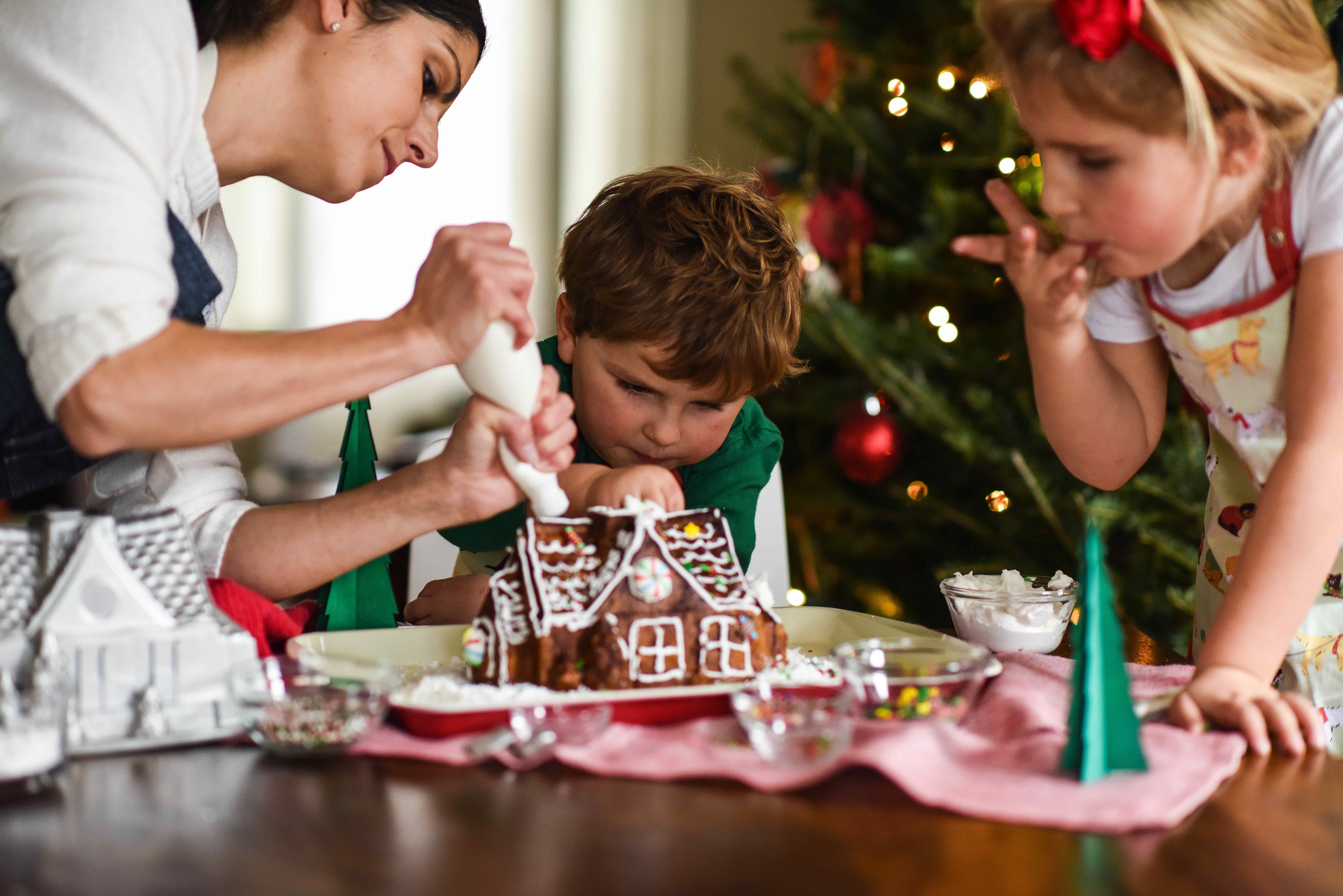 The kids absolutely loved adding all of the decorative candy toppings. To complete the festive fairytale look we added peppermint stick signs and small wooden trees around the house. They enjoyed making up fun stories about the family that lives in this magical house.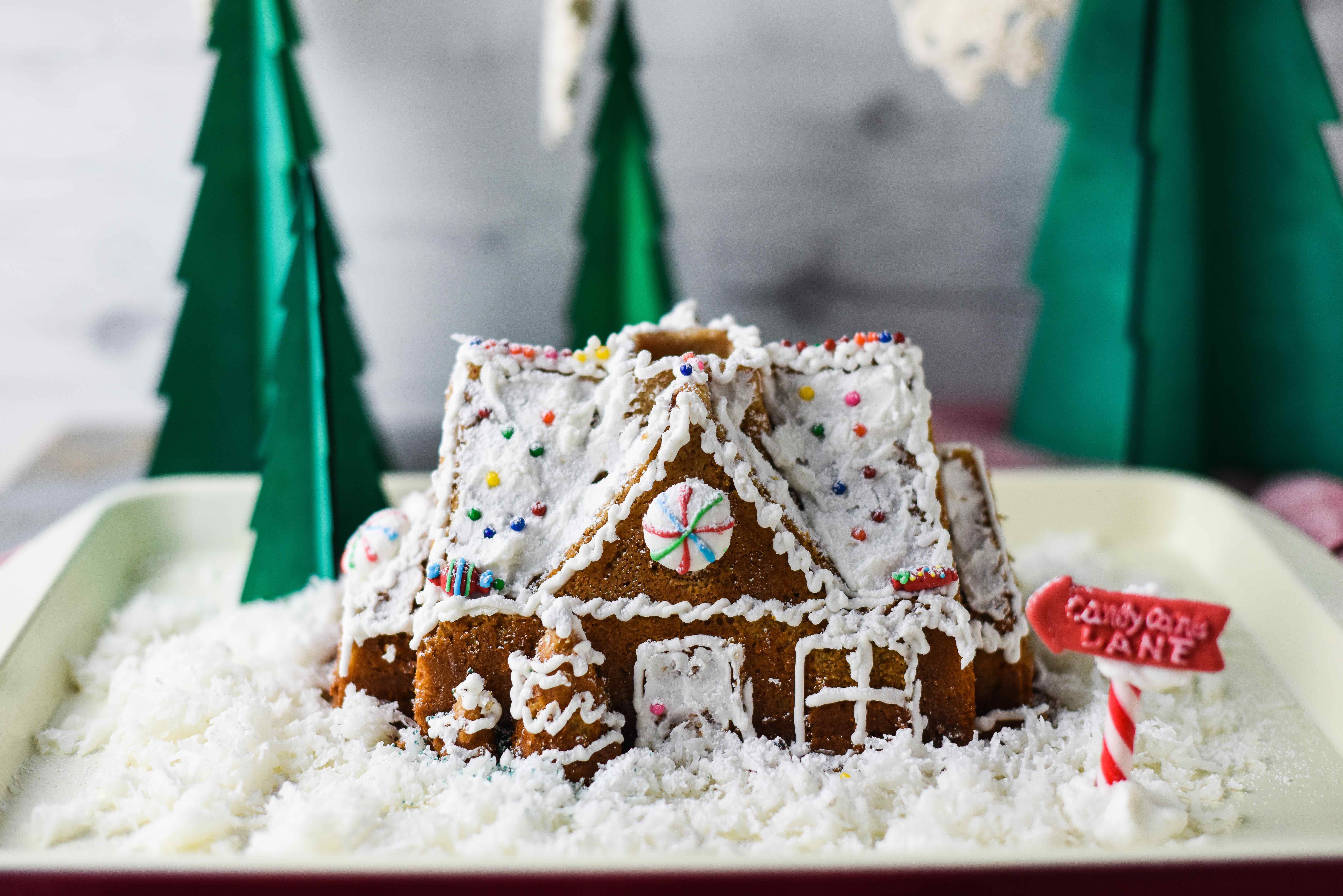 Of course, the best part about making a gingerbread cake is tasting it!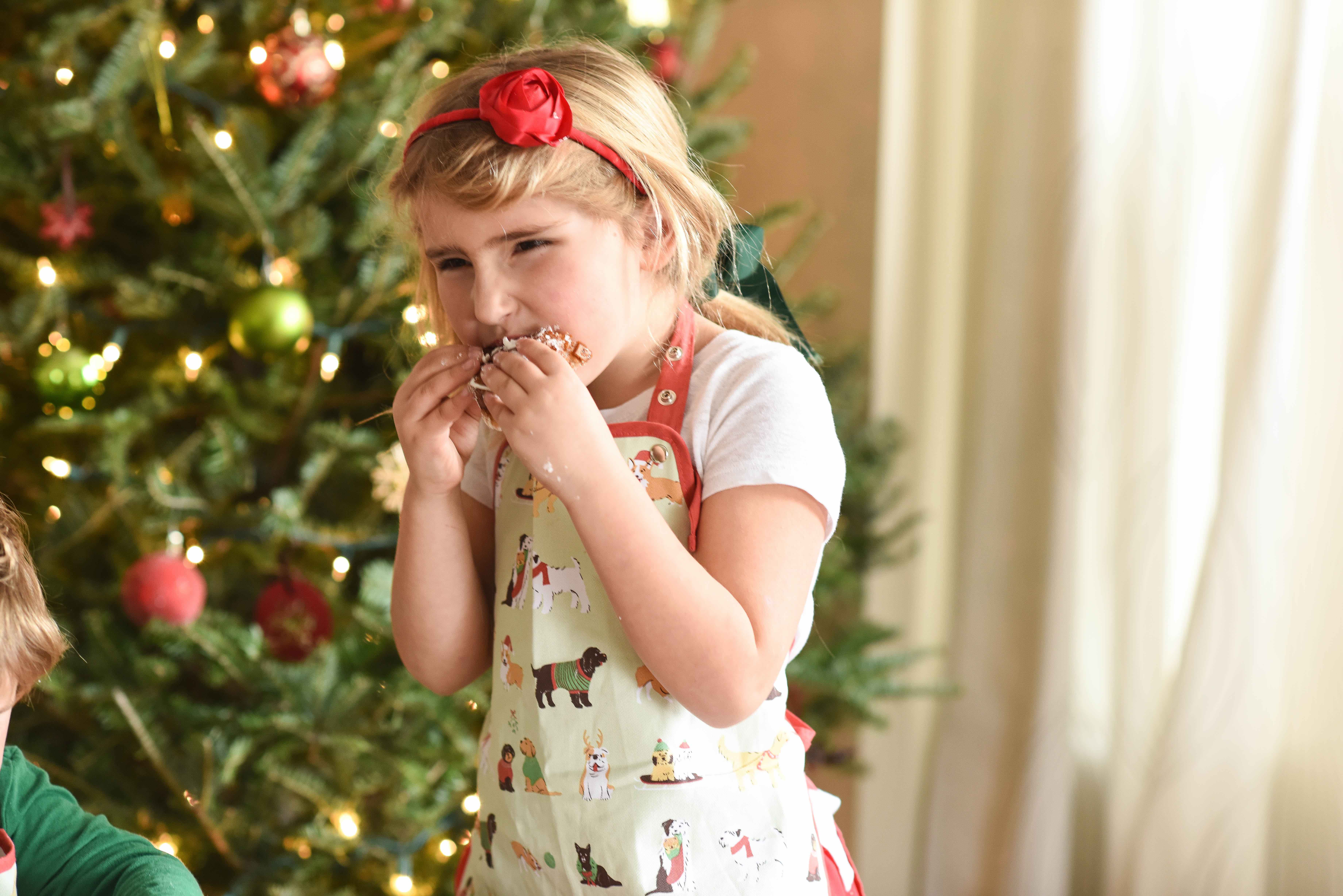 Unlike traditional gingerbread, which can become stale and requires an enormous amount of icing to hold it all together, this adorable cake is moist and flavorful. It would make an absolutely delicious and impressive dessert after Christmas dinner. One the kids will be proud of too!
This year, skip the stale, store-bought cookie kits and instead bake a moist, delicious and (most important) easy-to-make gingerbread cake using a festive house-shaped cake pan.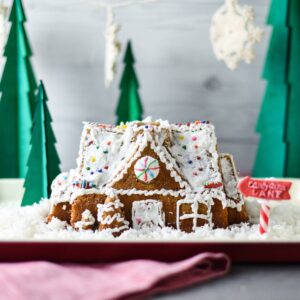 Ingredients
For the Gingerbread Cake:

2.75

cups

cake flour

2

tsp

ground ginger

1

tsp

ground cinnamon

.25

tsp

ground cloves

.25

tsp

ground nutmeg

1

tsp

salt

2

tsp

baking powder

1

cups

butter softened

1

cups

sugar

.67

cups

packed brown sugar

4

large eggs

1

tsp

vanilla extract

1.25

cups

milk

Melted butter and flour for greasing cake pan

For the Royal Icing:

4

cups

confectioners' sugar

.5

tsp

cream of tartar
Instructions
For the Gingerbread Cake: Preheat oven to 325 degrees F. Brush the inside of cake pan with melted butter and dust lightly with flour, being sure to get in every crevice. Set pan aside.

Sift together flour, ginger, cinnamon, cloves, nutmeg, salt and baking powder in a medium bowl until completely blended. Set aside.

In a large bowl, cream together butter and both kinds of sugar. Beat with an electric mixer for 3 minutes, scraping bowl often, until light and fluffy. Add eggs, one at a time, beating well after each addition. Blend in vanilla.

Reduce mixer speed and add 1/3 of flour mixture, followed by 1/3 of the milk. Continue alternating flour and milk until completely blended.

Pour batter into prepared pan, spreading slightly up onto edges of the pan. Place pan on a baking sheet and bake in preheated oven for 55 - 66 minutes, until a toothpick inserted in the center comes out clean.

Cook cake upright in pan for 10 minutes then carefully loosen edges of cake before inverting onto a serving platter to finish cooling. When cake is cooled, decorate as desired.

For the Royal Icing: Combine the egg whites or reconstituted meringue powder, powdered sugar and cream of tartar in a large, clean, dry bowl. Using a whisk attachment, begin beating ingredients on low speed until combined.

Scrape down the sides of the bowl then restart mixer on medium speed and beat until the icing is very thick, shiny and white, about 7-10 minutes.

Transfer the icing to a bowl and cover immediately with plastic wrap, making sure the plastic wrap is touching the icing to prevent drying. If using with a pastry bag, transfer icing to bag, twist bag tightly to close and cover tip with a wet paper towel to prevent drying.

When used, royal icing will dry to a very hard finish in about 15 minutes. Do not refrigerate finished items, as icing will become soft and sticky.
Nutrition
Serving:
1
g
Calories:
726
kcal
Carbohydrates:
126.6
g
Protein:
8.4
g
Fat:
21.4
g
Saturated Fat:
12.7
g
Cholesterol:
126
mg
Sodium:
292
mg
Fiber:
1.2
g
Sugar:
31.2
g