What to Cook for Dinner Tonight: Skillet Salmon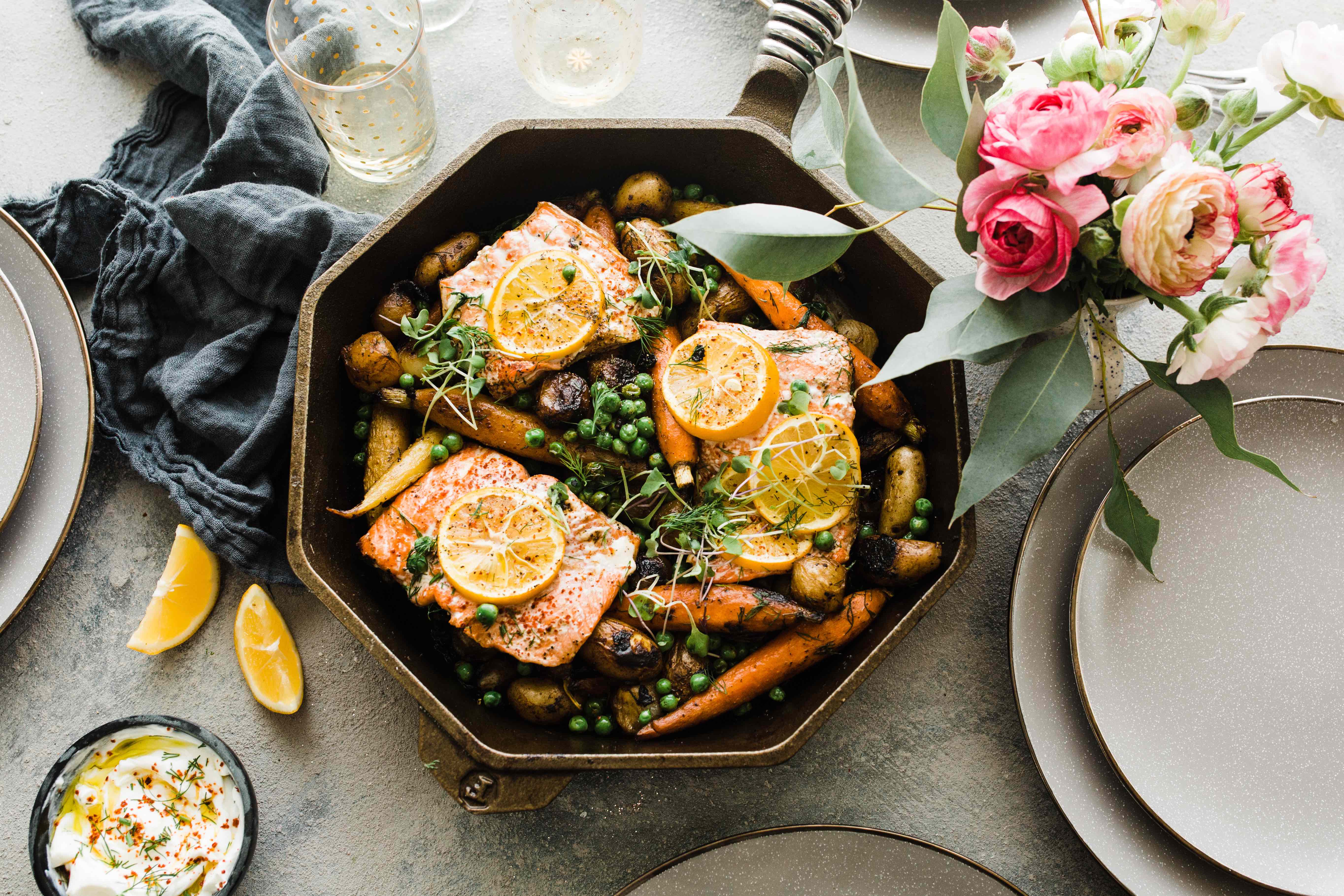 Well, we did it. We've officially sprung forward. Daylight Saving Time has come and gone. Clocks moved ahead one hour. And unless you're in one of the Nor'easter states, buried 6 feet under snow, the signs of Spring are starting to show. Peas and carrots and spring onions cropping up in the produce aisle.
It's time to toss aside that creamy comfort food of winter. Let's lighten up the weekly menu with an easy skillet salmon, served with garlicky potatoes, carrots and pearl onions.
This dish is everything your heart desires in a spring meal. Light, simple and full of classic flavors. It's unfussy and tasty. Haute enough for nights when you wish you could eat out, but would rather stay in. Relaxed enough to put on the table after a long work day. Pour yourself a big glass of wine, pull out your Finex Cast Iron pan and crank up the jazz. Tonight, you dine in. And you'll be so glad you did.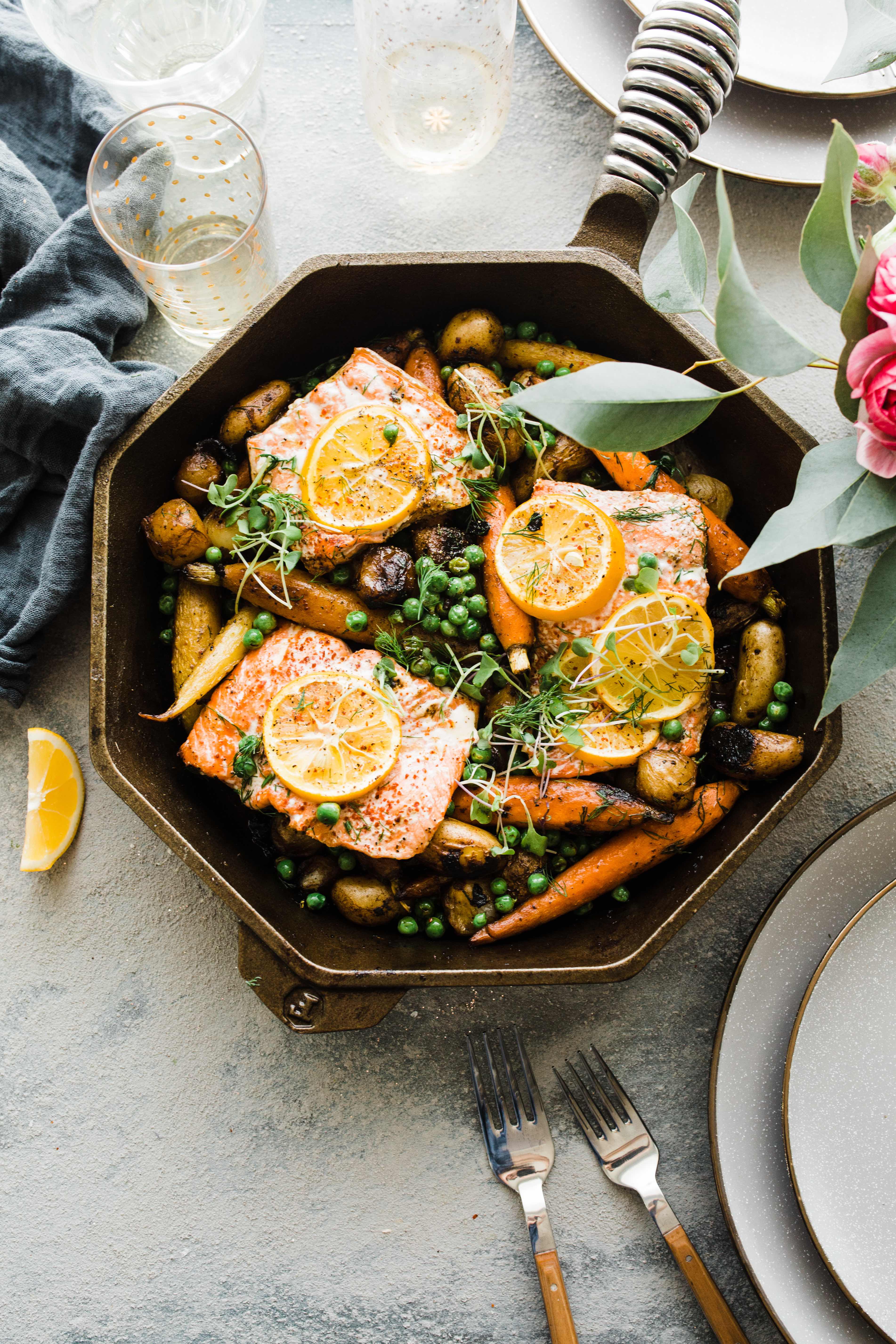 Before You Cook
This recipe needs about 15 minutes of hands-on attention before it slides into the oven to bake. Kick off your shoes and cozy around the kitchen while you prep the first steps. Chop garlic, brown the potatoes and carrots. Drizzle in a bit of white wine, and let the veggies cook. Once tender, add salmon on top, then slide your cast iron pan from stovetop to oven.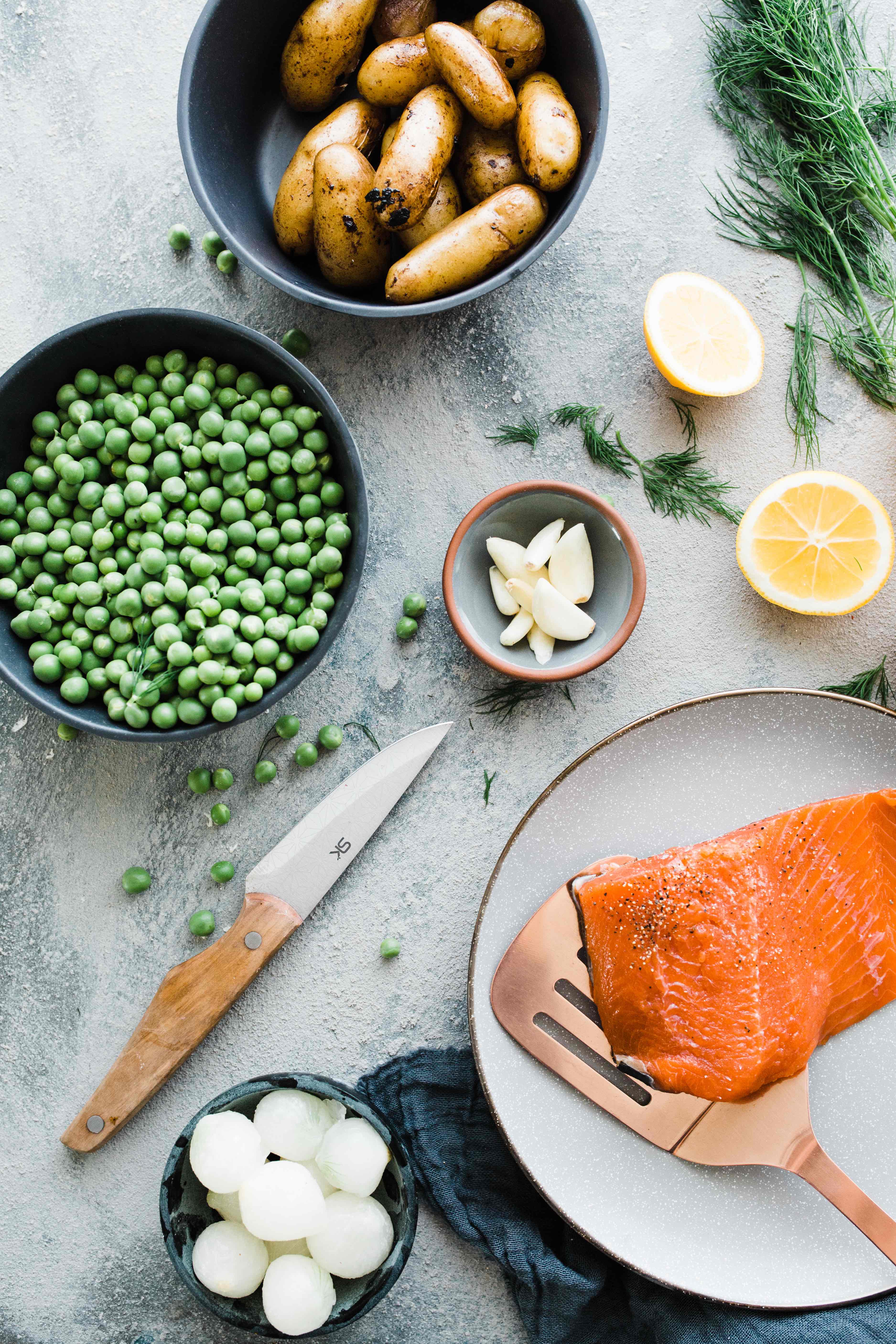 This is the beauty of cast iron. It makes one-skillet meals so simple, because the sturdy pans stand up to high temperatures, both on the stovetop and in the oven. No need to transfer your veggies to another baking pan. Your cast iron does double duty, serving both as a skillet and deep-dish baker.
Get the Look
You've got just enough time to set the table while the salmon bakes. We're currently obsessed with the stone-speckled look of this Mikasa dinnerware set. Set with navy or grey linens and the Hampton Forge tableware, for a table that looks casual but cozy. A kiss of rustic with modern sensibilities.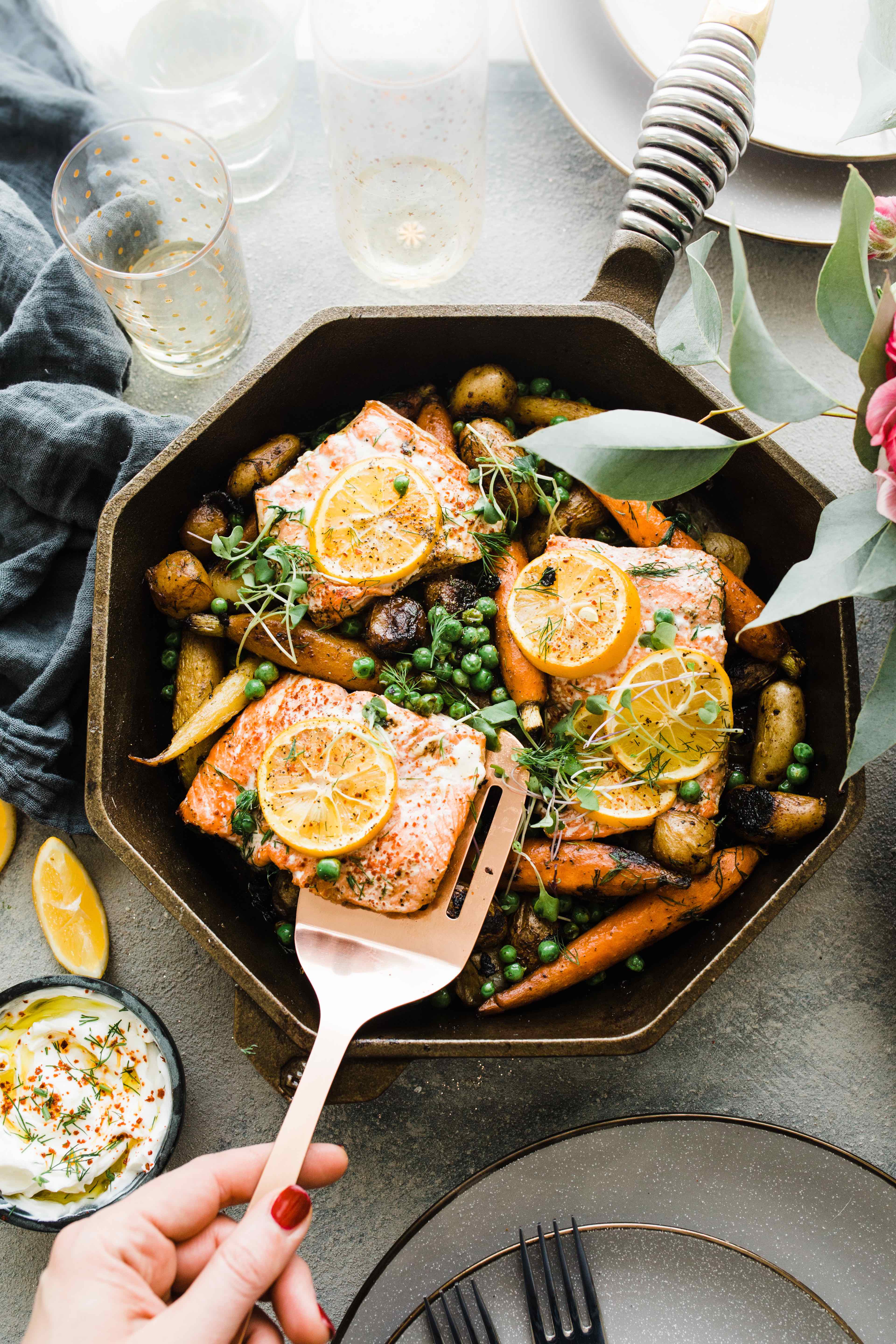 Garnish Like a Pro
Add a little more elegance to your table with a skillet that looks like it belongs in the pages of a magazine. You don't have to be artistic to steal some secrets from the pros.
Once your skillet is removed from the oven, allow it to cool for 3-5 minutes, then sprinkle with fresh chopped dill. Schmear a small amount of Greek yogurt onto each plate, and arrange salmon atop with fresh veggies on the side. So easy, and so gorgeous!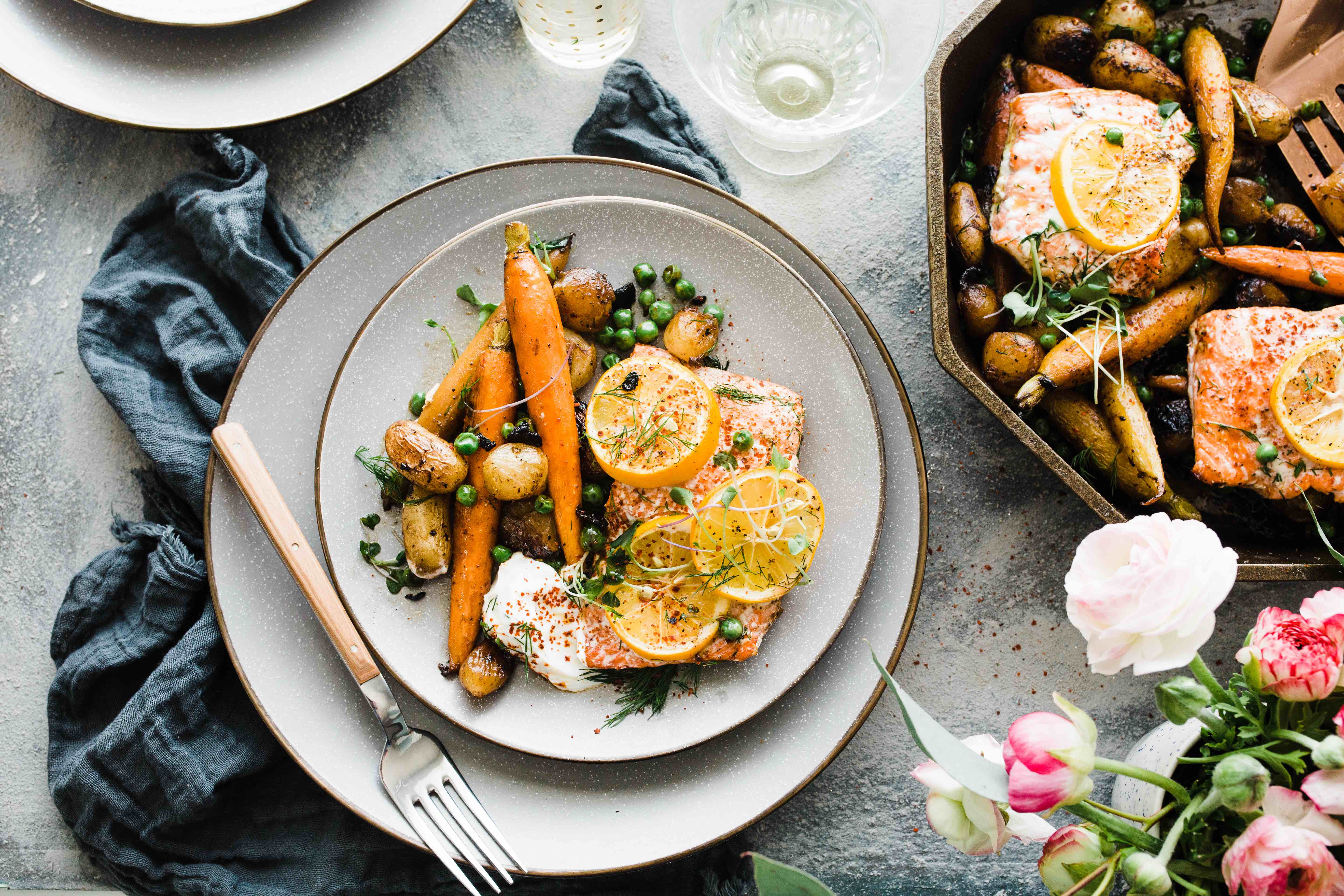 Spring Veggies & Salmon Skillet
This dish is everything your heart desires in a spring meal. Light, simple and full of classic flavors. It's unfussy and tasty.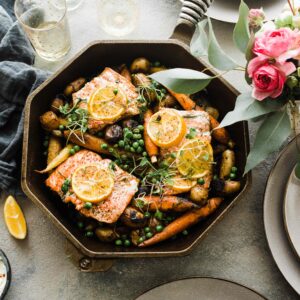 Ingredients
4

tbsp

olive oil

3

cloves garlic, finely chopped

1.5

cups

mini potatoes

8

mini carrots, stems removed

1

cups

peeled pearl onions (frozen or fresh)

.67

cups

dry white wine or chicken broth

4

salmon filets

1

Meyer Lemon, sliced thin

Salt to taste

Fresh ground pepper

1.5

cups

fresh or frozen peas

2

tbsp

fresh chopped dill

.5

cups

plain Greek yogurt
Instructions
Heat oven to 450 degrees F.

Drizzle a cast iron skillet with 3 Tbsp olive oil, heat on stovetop over medium-high heat.

Once hot, add garlic, potatoes, carrots and onions. Salt and pepper lightly. Saute just until potatoes begin to turn a slight golden brown. Add wine to skillet. Cover with a lid. Turn heat to medium and cook until potatoes and carrots are tender.

Remove lid, arrange salmon atop. Salt and pepper, place lemons atop each slice of salmon.

Transfer skillet to oven. Bake for 17 minutes, then add peas and 1 Tbsp dill.

Cook 5-6 minutes more, or until the salmon flakes.

Whisk together 1 Tbsp olive oil, 1 Tbsp chopped dill and yogurt.

Garnish salmon with fresh dill. Serve with a dollop of yogurt.

Enjoy!
Nutrition
Serving:
1
g
Calories:
563
kcal
Carbohydrates:
69.6
g
Protein:
34.3
g
Fat:
15.2
g
Saturated Fat:
2
g
Cholesterol:
46
mg
Sodium:
377
mg
Fiber:
9.5
g
Sugar:
23
g