30 Minute Beef Stir Fry with Vegetables and Rice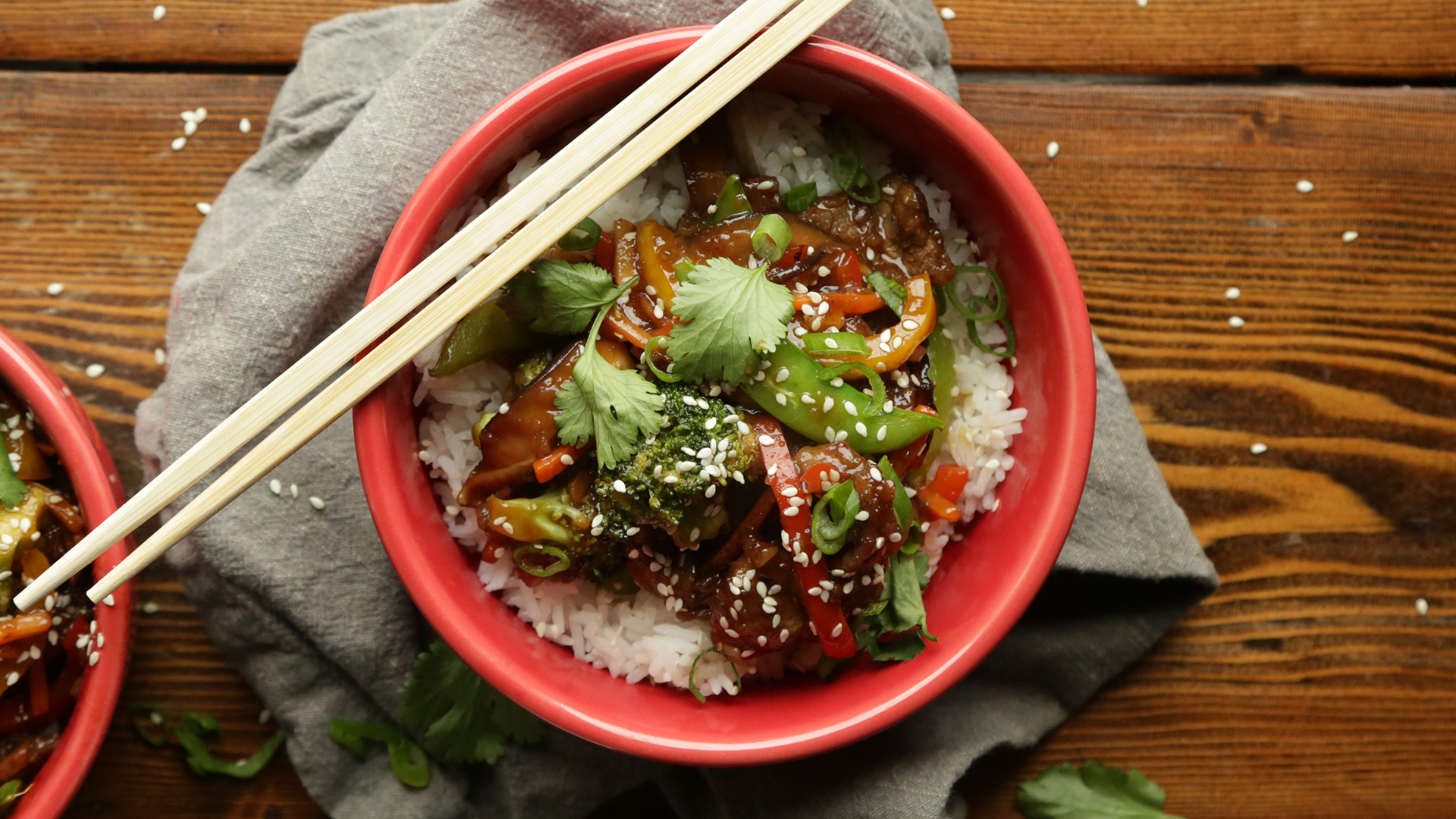 I just can't help myself when making comfort food; I have to make enough for the entire block. I don't know what it is or what that little voice inside my head tells me every time I go to make soup, or BBQ, or heck really anything I make way too much. My cousin told me it's because I'm Italian and I want to make sure there is plenty for everyone. It's way better to have too much then too little, especially when you have hungry kids.
This Beef Stir Fry with Vegetables and Rice, like quite a few of my recipes, are really versatile in the fact that you can swap out ingredients without losing any flavor or quality. For example, you can absolutely use a different cut of meat. Maybe you have some sirloin in the freezer or skirt steak was cheap at the grocery store, by all means use it! The vegetables can be 100% swapped out for whatever you'd like.
You can use things like bok choy, snow peas, peas, green peppers, button mushrooms, bean sprouts, kale, tomatoes, literally the possibilities are endless. The reason you can swap out the cut of beef or vegetables without losing the flavor is because the sauce takes care of just about everything. This is easy to make and honestly comes together in under 30 minutes total! Happy Cooking!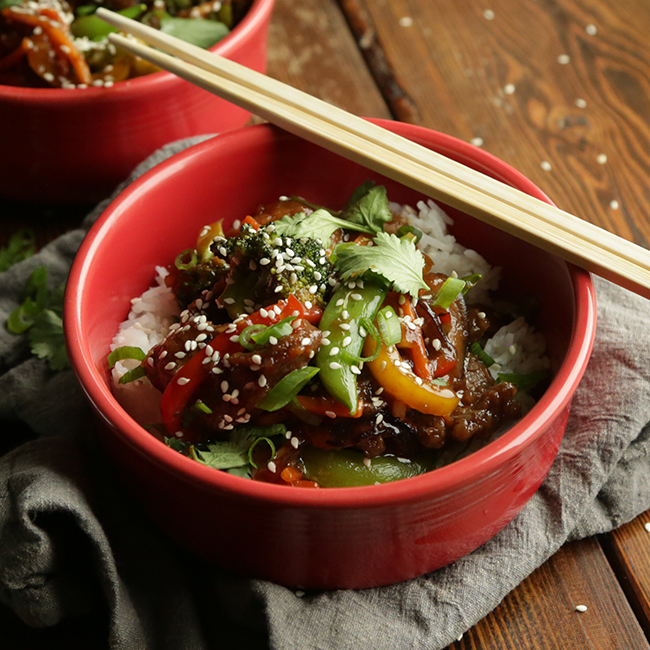 Beef Stir Fry with Vegetables and Rice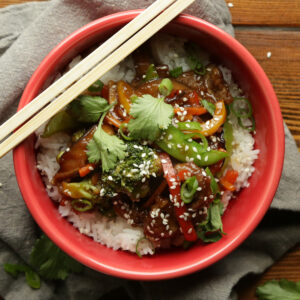 INGREDIENTS
5 to 6 cups of cooked jasmine rice
1 pound of thinly sliced flank steak
½ cup of corn starch
4 tablespoons of sesame oil
1 cup of thinly sliced carrots
1 cup each of thinly sliced red and yellow bell peppers
1 cup of trimmed broccoli florets
1 cup of sugar snap peas
1 cup of thinly sliced shiitake mushrooms
4 cloves of roughly chopped garlic
1 cup of soy sauce
1 cup of lightly packed light brown sugar
1 cup of chicken stock
Optional garnishes: sesame seeds, sliced green onions and cilantro leaves
INSTRUCTIONS
Cook the rice according to its measurement instructions in the Tiger rice cooker. Keep warm.
Coat the sliced flank steak in the corn starch in a large bowl and set aside.
Heat the sesame oil in a large wok skillet over high heat until it begins to lightly smoke. Add in the beef and stir fry until all of the pink is gone. Set the meat side.
Add the vegetables to the same skillet and stir-fry for 2 to 4 minutes. Ad back in the beef.
In a separate medium size bowl, whisk together the soy sauce, brown sugar and chicken stock until combined and pour it into the wok and cook over medium heat until it becomes thick.
Serve the beef stir-fry with the cooked jasmine rice and add on optional garnishes.