The Healthy Pad Thai Recipe That Will Make You Forget About Postmates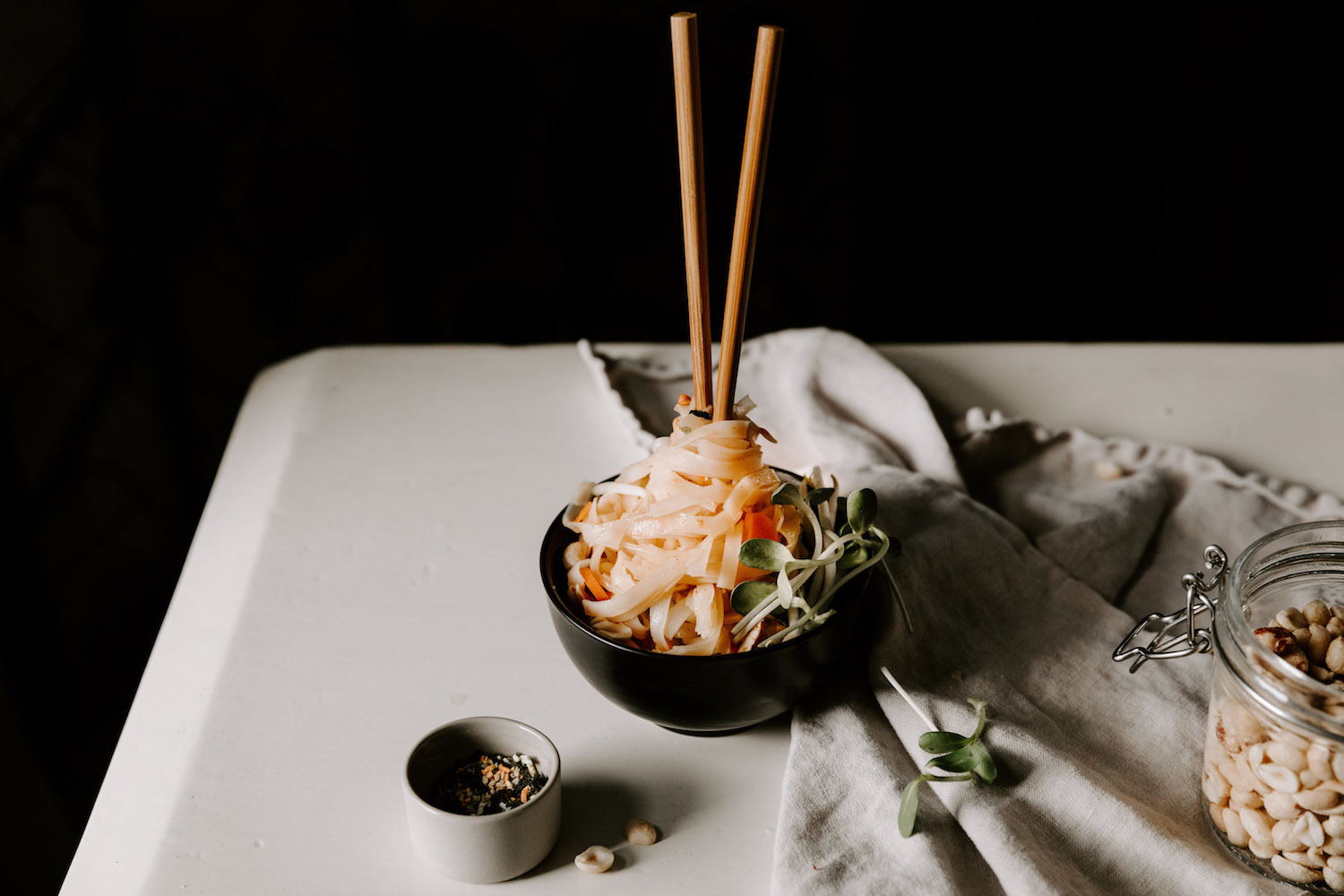 This recipe is really special to me. I created it 6 years ago in the midst of my private cheffing days. I lived and worked in NYC where takeout is king. My clients were extremely busy and when they weren't eating my food they were eating anything that could be delivered. And the truth is, who doesn't love take out every once in a while? It's easy and it certainly tastes great.
However, when you love Pad Thai as much as this client (and me!), once in a while just isn't enough. I wanted to create a dish to help satisfy my client's cravings in the healthiest way possible. My requirements were that it had to taste just like the real thing, be simple to prepare and contain only the highest quality ingredients like free range eggs and sprouted tofu, with way less sodium and zero mystery ingredients like MSGs. I'm excited to report that I developed this Healthy Pad Thai recipe to be all of those things; yummy and authentic, easy, and healthy and now I'm excited to share it with you!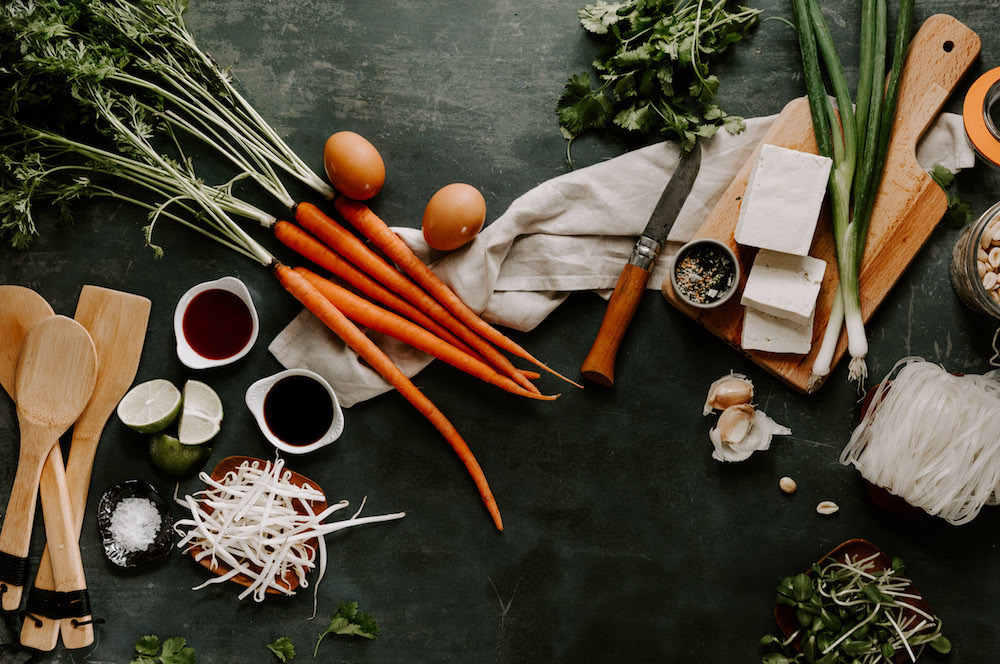 Recipe Notes
Rice Noodles.
A classic, but kelp noodles would be delicious and super healthy, too! If you've never cooked with rice noodles, be sure to add plenty of sesame oil to the noodles after they've cooked to keep them from sticking and breaking before adding them to the dish.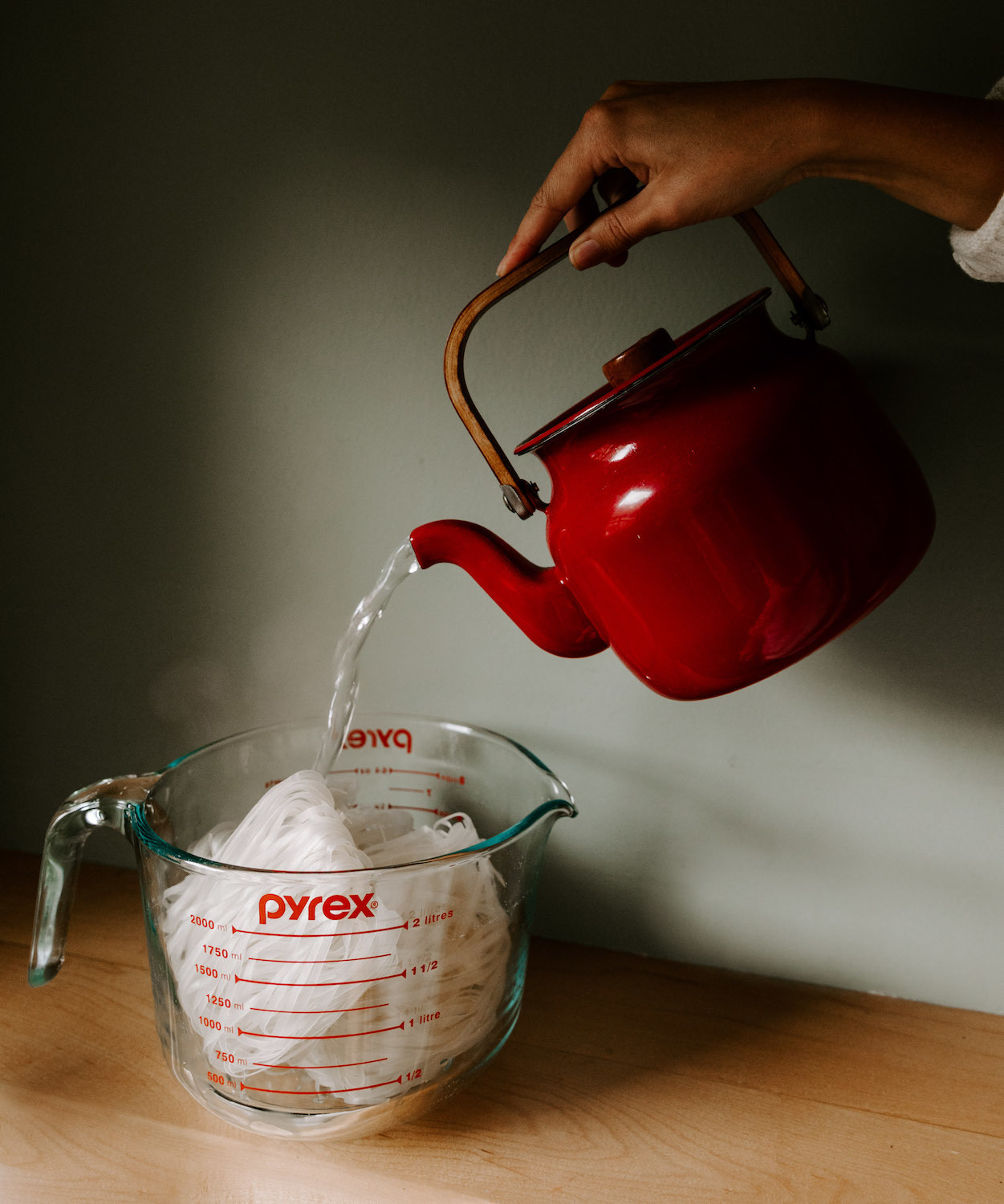 Fish Sauce.
I personally love a good quality fish sauce. It really adds the authentic flavor, but if you are a vegan or allergic I recommend liquid aminos or tamari in it's place. Speaking of the sauce. This amazingly yummy dish is flavored with only 3 ingredients. You could make the sauce ahead of time and store it in the fridge and grab it like you would a pre-made sauce purchased at the store.
Ghee.
When using a wok I like to get the temperature nice and hot. Using an animal fat such as ghee, butter, bacon fat, etc. is actually the safest fats to use at high temperatures. Vegetarian alternatives would be coconut oil or avocado oil.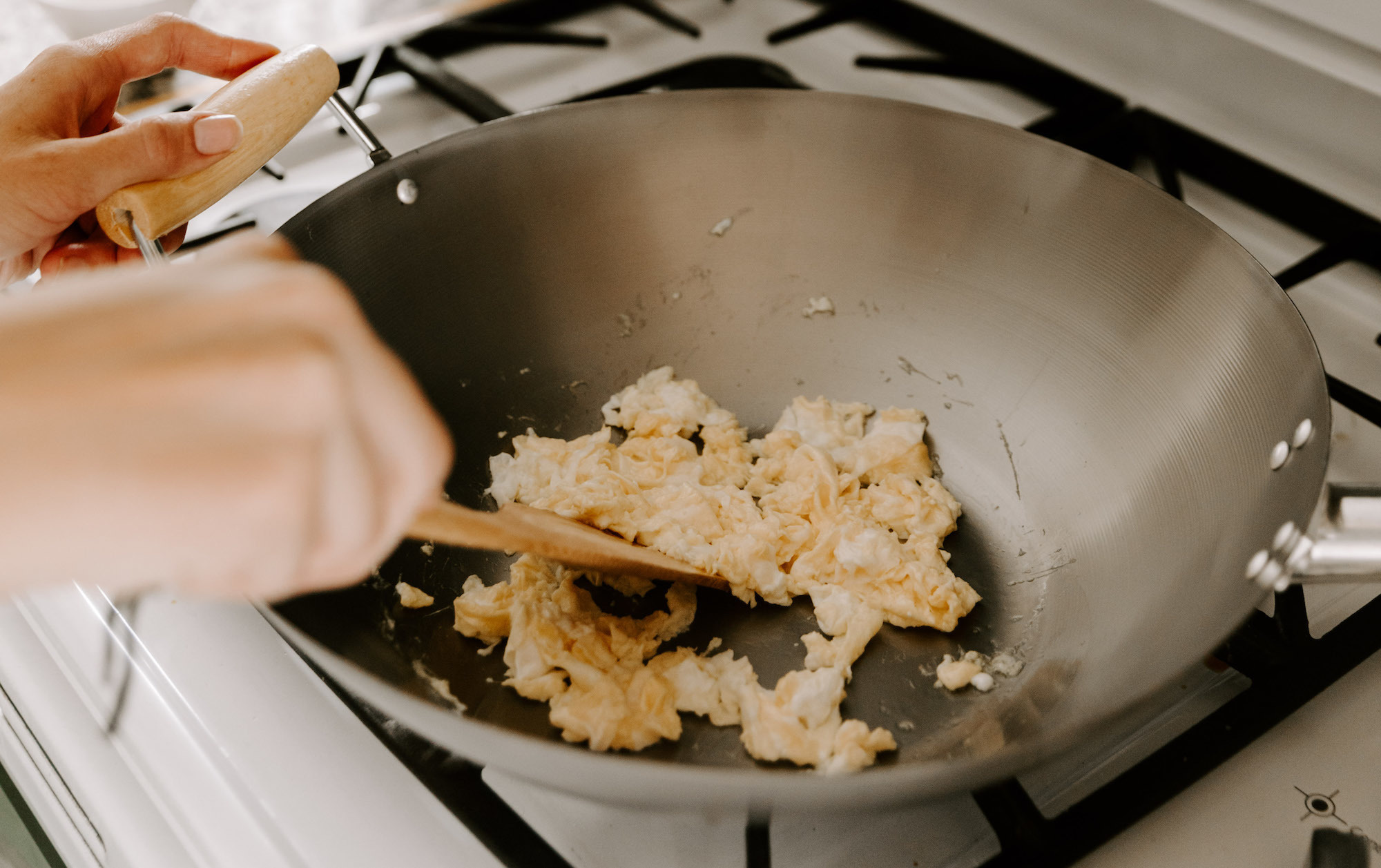 Wok.
The best equipment for this job for sure! The shape of a Wok helps the noodles cook and absorb the sauce evenly without clumping and breaking.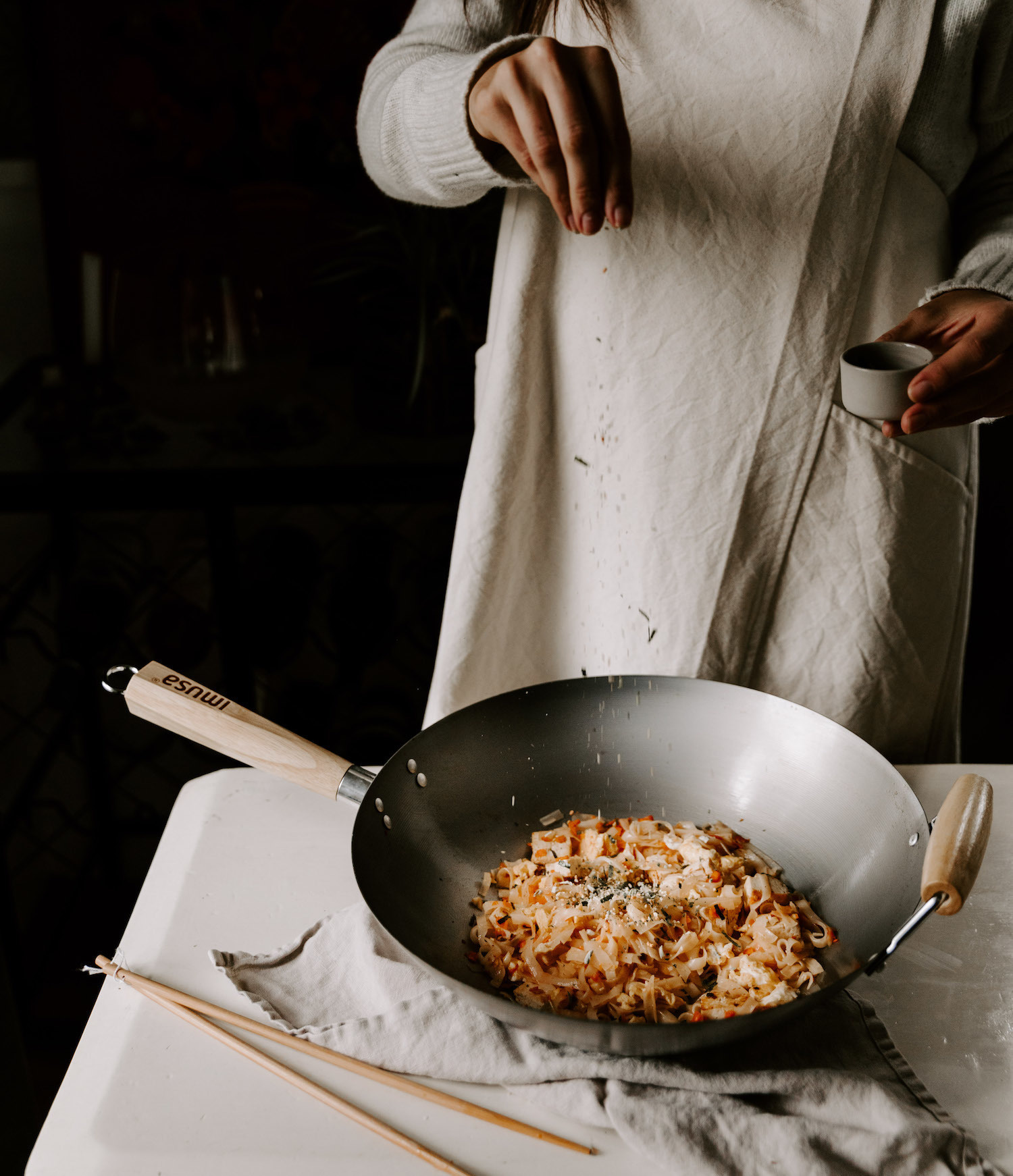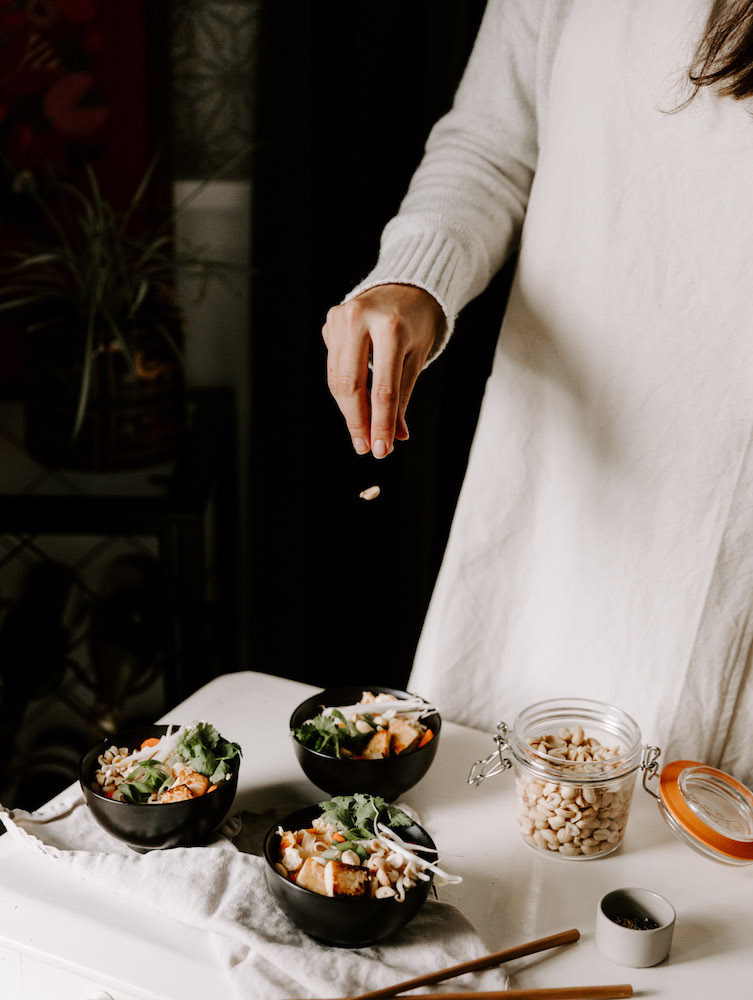 Veggies.
Feel free to add whatever vegetables you have on hand to make this veggie-packed! Snow peas, bok choy, and Chinese cabbage come to mind as some delicious additions!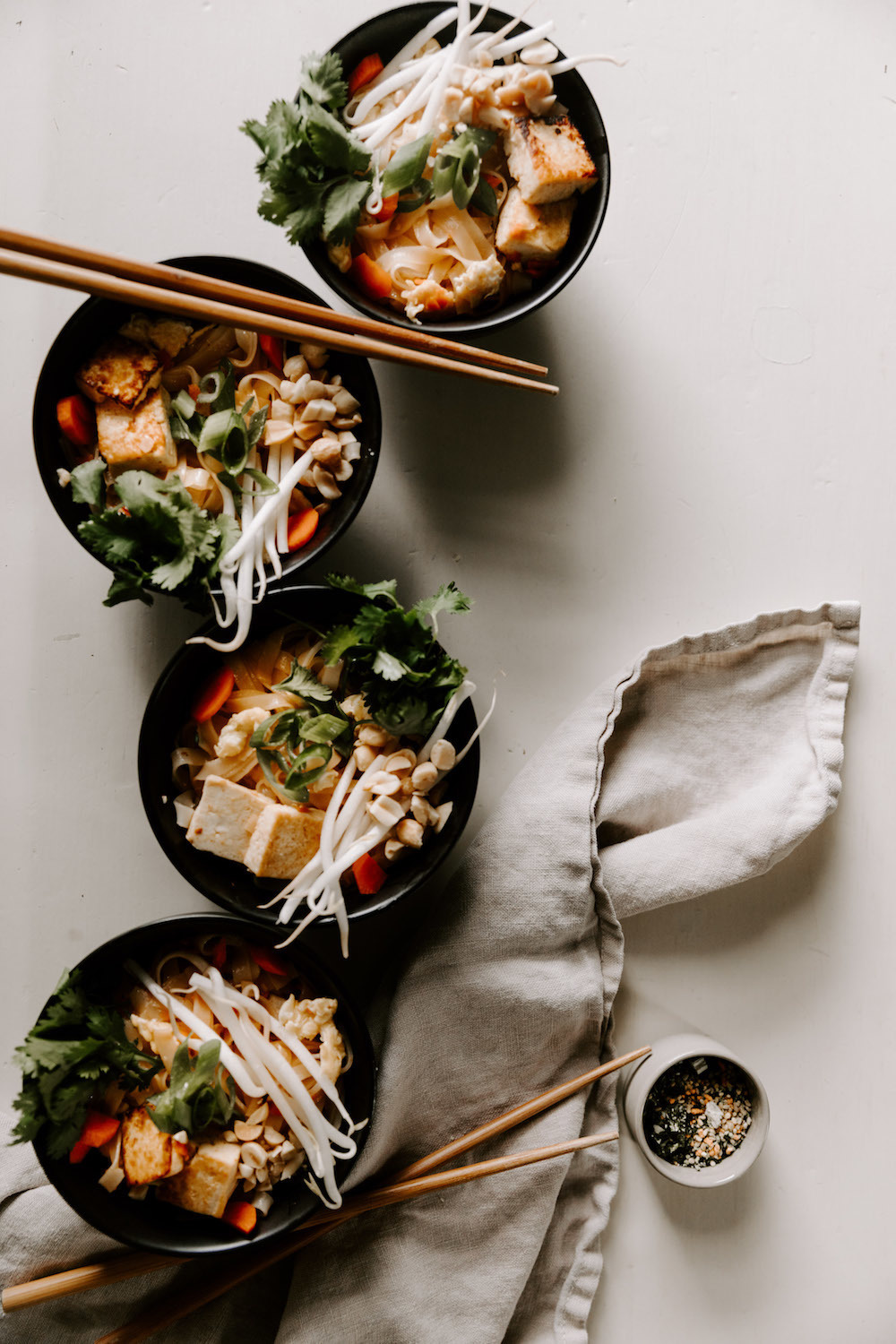 This Healthy Pad Thai recipe is the best way to curb those takeout cravings in the healthiest way possible. It's yummy, authentic, easy and nutritious!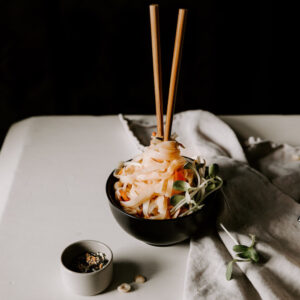 Ingredients
8

oz

dried wide, flat rice noodles

.25

cups

fresh lime juice, about 2 limes

3

tbsp

fish sauce, or tamari/liquid aminos

1

tbsp

chili sauce, such as Sriracha

1

tbsp

packed dark-brown sugar

2

tbsp

ghee or high heat cooking oil

2

large eggs, lightly beaten

1

package (14 ounces) firm tofu, drained, cubed, and patted dry

2

medium carrots, peeled and shredded

2

garlic cloves, minced

8

scallions, white and green parts separated and thinly sliced

Flaked salt

1

cups

bean sprouts

2

tbsp

roasted salted peanuts, chopped

.25

cups

fresh cilantro leaves
Instructions
Using boiling water, soak noodles according to package instructions; drain and drizzle with sesame oil or any light-colored flavorless oil and set aside. In a small bowl, whisk together lime juice, fish sauce, chili sauce, and brown sugar.

In a wok, heat 1 tablespoon of ghee over medium-high. Add eggs, swirl to coat bottom, and cook until just set, about 1 minute. Transfer eggs to a cutting board, loosely roll up, and cut crosswise into thin strips. Add a little more ghee to wok and heat. Add tofu in a single layer and cook until golden brown on both sides, about 5-7 minutes, flipping halfway through. Transfer to cutting board.

Add remaining ghee, carrots, garlic, and scallion whites to wok and cook until softened, about 3-5 minutes. Add lime-juice mixture and bring to a simmer. Add noodles and cook, stirring frequently, 1 minute. Add eggs and tofu and gently toss to combine. Season to taste with flaked salt. Divide among four plates and top with bean sprouts, peanuts, cilantro, and green scallion tops.
Nutrition
Serving:
1
g
Calories:
589
kcal
Carbohydrates:
103.7
g
Protein:
16
g
Fat:
13.5
g
Saturated Fat:
5.4
g
Cholesterol:
109
mg
Sodium:
1340
mg
Fiber:
6.3
g
Sugar:
4.1
g