We're Making This Harvest Grain Bowl with Sweet Curry Sauce All Winter Long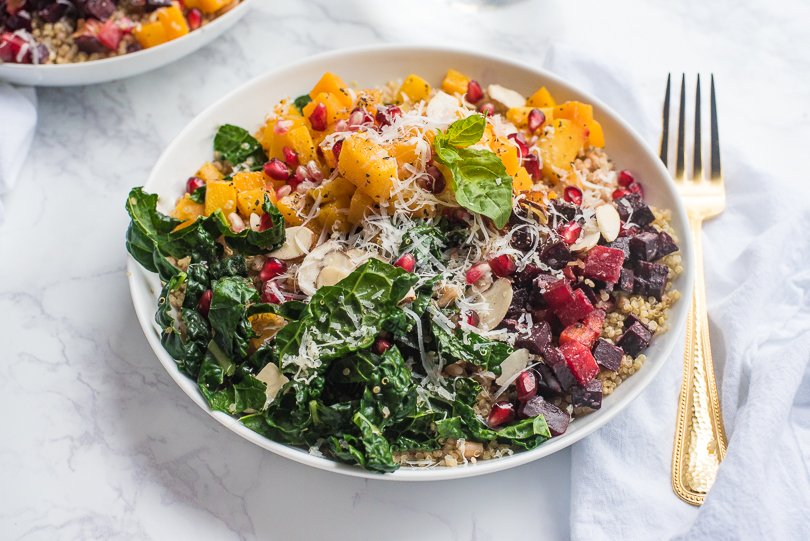 It's the holiday season and with it, brings all the cookies, cakes and heavy laden dishes your brain and family can dream up. It's easy to get a bit overwhelmed with it all and sometimes, coming back to the basics is just what your body is screaming for. This winter harvest grain bowl is packed with beets, butternut squash and kale over a mixture of farro and quinoa for the perfect nutty, chewy combination.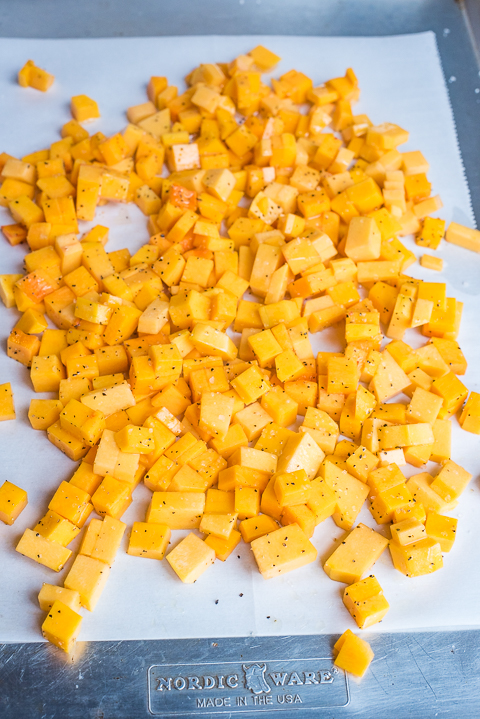 This isn't the fastest recipe, but it's all pretty hands off, so you can buzz around the house doing other tasks while everything roasts. It's also a perfect idea for using up day old roasted veggies and grains!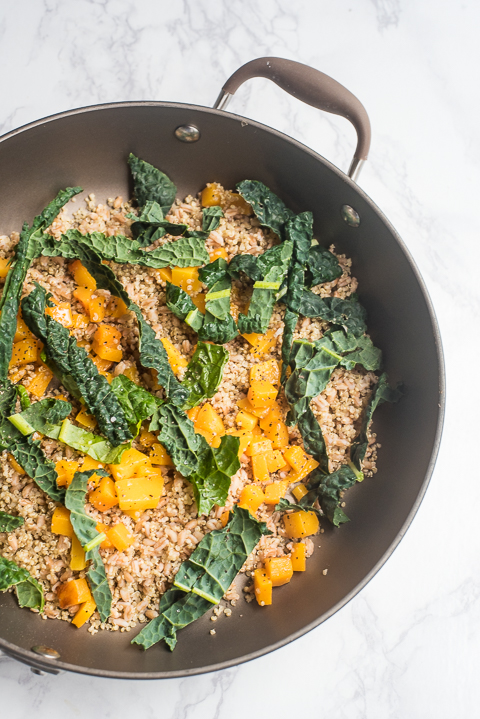 Roasting the butternut squash and beets in cubes brings out their sweet earthy flavor but also gives them just a hint of crisp on the outside which you lose if you roast them whole and then cube them. And let's not forget the garlic! I don't know about you, but roasted garlic is my weakness. I could literally eat it with a spoon. It's so easy to wrap up a few extra heads with recipes like this so I'll often do that so we can pop them out and spread them on bread with dinner. Holy yum.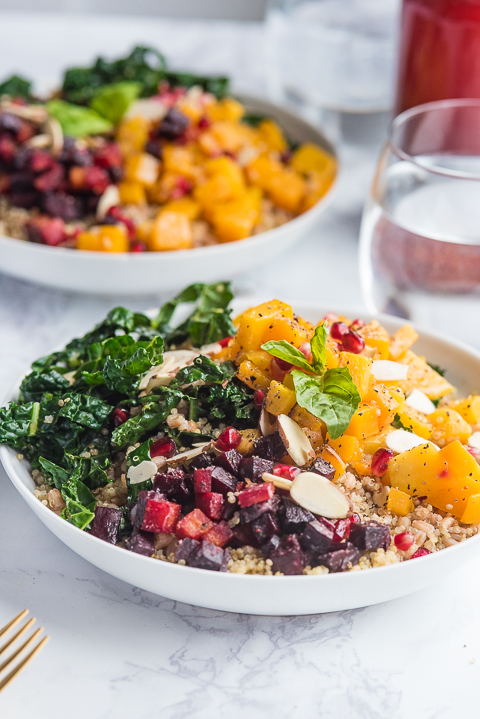 While your veggies are roasting, this simple curry yogurt sauce can be mixed up. If you don't love curry, start with half of the curry powder… but I can't get enough of it. The sweet chili sauce can be scaled up and down depending on how sweet you want it. So easy!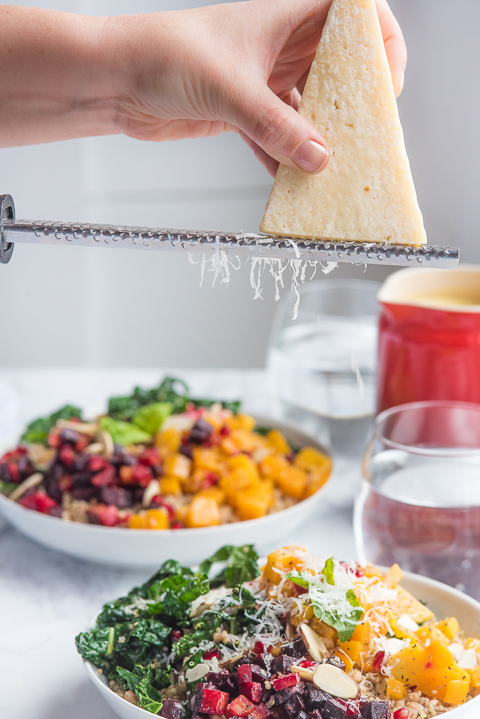 Once your veggies are done and your grains are cooked, it's a simple toss in a skillet to get them nice and toasted. Add in the kale here and give it just a few minutes to wilt down nicely. I like to add a few squeezes of fresh lemon juice here to really pull the dish together and help that kale to wilt down.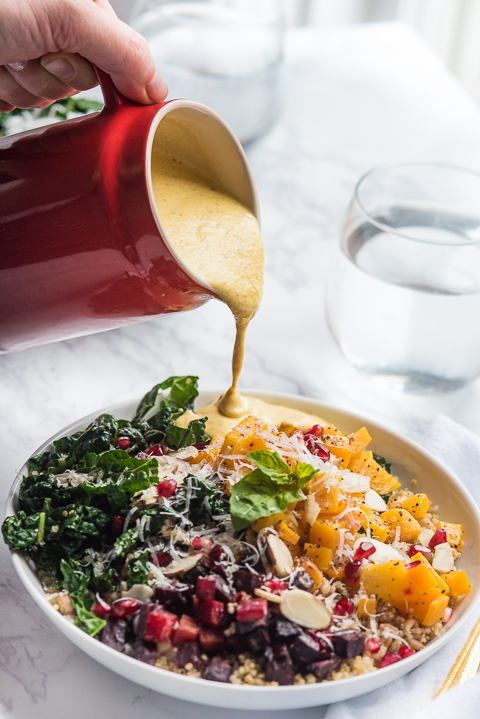 Pile everything into the bowl and top with plenty of parmesan cheese, pomegranate seeds and that delicious curry sauce. Enjoy!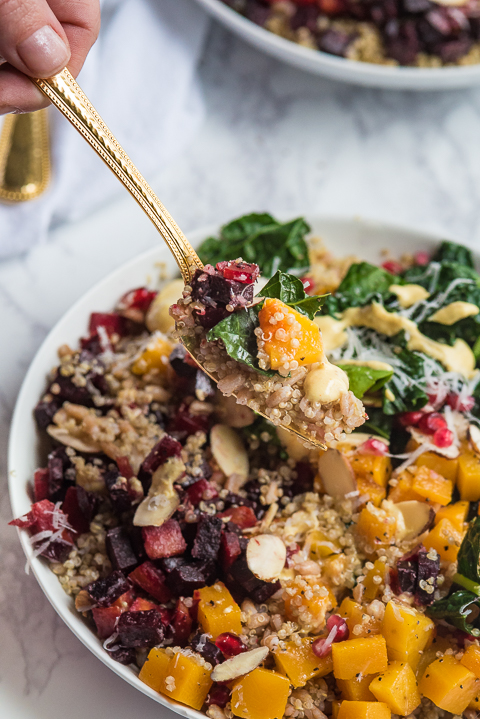 Butternut Squash Winter Harvest Grain Bowl with Curry Sauce
This winter harvest grain bowl is packed with beets, butternut squash and kale over a mixture of farro and quinoa for the perfect nutty, chewy combination.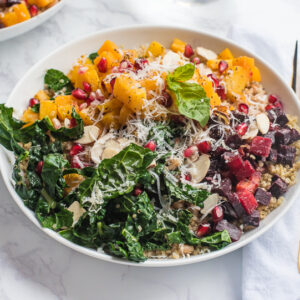 Ingredients
For the Salad:

1

large butternut squash (about 3 pounds), peeled and cut into ½" cubes

3

large beets, peeled and cut into ¼" cubes

Olive oil

Kosher salt

Freshly ground black pepper

1

whole head garlic

1.5

lb

Tuscan kale (about 2 large bunches), stemmed, leaves thinly sliced

Fresh lemon

2

cups

cooked quinoa

2

cups

farro

.5

cups

finely grated Parmesan cheese

1

cups

pomegranate seeds (from 1 large pomegranate)

For the Yumm Sauce:

.5

cups

Greek-style plain full or low-fat yogurt

1.5

tsp

fresh lemon juice

1

tsp

curry powder

1

tsp

turmeric powder

2

tsp

sweet chili sauce
Instructions
Heat oven to 425°F.

Peel and cube butternut squash and lay out on a foil lined cookie sheet.

Toss together squash, 2 tsp. olive oil, 1/2 tsp. salt, and 1/4 tsp. pepper.

Repeat with beets (I like to put them on a separate cookie sheet so I can remove if they finish faster).

Place whole head of garlic on a sheet of aluminum foil, drizzle with 1 tsp. oil, wrap securely in foil and place on baking sheet with squash.

Roast, stirring squash and beets occasionally after the first 15 minutes, until squash is golden and tender and garlic is tender, 35–40 minutes. Garlic may require more time than squash.

While squash is roasting make yum sauce by blending all ingredients together.

Remove garlic and squash from oven and set aside to cool.

Cut off the top of the garlic head and squeeze all of the softened garlic into a medium bowl.

Toss grains into a saute pan with 1-2 tablespoons of olive oil, add farro, quinoa, and roasted squash to pan. Cook until grains are warm and toasty. Add kale.

Saute for 2-3 minutes until kale begins to wilt.

Top with parmesan, almonds, pomegranate seeds and yumm sauce.

Transfer to a serving bowl, and sprinkle with toppings.
Nutrition
Serving:
1
g
Calories:
945
kcal
Carbohydrates:
152.5
g
Protein:
42.4
g
Fat:
22.1
g
Saturated Fat:
8.1
g
Cholesterol:
33
mg
Sodium:
507
mg
Fiber:
19
g
Sugar:
19.2
g